Video: Top Big Ten basketball classes
April, 12, 2013
4/12/13
2:19
PM ET
By
RecruitingNation
| ESPN.com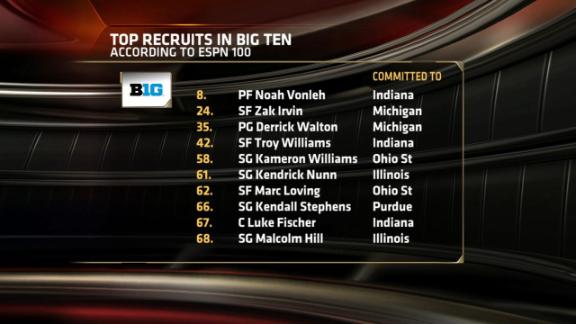 Dave Telep and Paul Biancardi break down the top recruiting classes in the Big Ten. Fourth-ranked Indiana leads the pack with the conference's only top-20 player.
New ESPN 300 Top 10 Revealed
National recruiting analysts Tom Luginbill and Craig Haubert count down the top 10 recruits in the latest ESPN 300 player rankings update. The complete ESPN 300 will be released April 16.
Tags:
Tim Settle
,
CeCe Jefferson
,
Torrance Gibson
,
Mitch Hyatt
,
Terry Beckner Jr.
,
Byron Cowart
,
Josh Sweat
,
Kevin Toliver II
,
Martez Ivey
,
Trevon Thompson
,
ESPN 300
,
RecruitingNation
,
high school football recruiting
,
Tom Luginbill
,
Craig Haubert
New ESPN 300 Top 10 Revealed
VIDEO PLAYLIST
New ESPN 300 Top 10 Revealed

New ESPN 300 Top 10 Revealed

National recruiting analysts Tom Luginbill and Craig Haubert count down the top 10 recruits in the latest ESPN 300 player rankings update. The complete ESPN 300 will be released April 16.

Tags: Tim Settle

,

CeCe Jefferson

,

Torrance Gibson

,

Mitch Hyatt

,

Terry Beckner Jr.

,

Byron Cowart

,

Josh Sweat

,

Kevin Toliver II

,

Martez Ivey

,

Trevon Thompson

,

ESPN 300

,

RecruitingNation

,

high school football recruiting

,

Tom Luginbill

,

Craig Haubert

Spring Game Wrap-Up

Spring Game Wrap-Up

Ohio State Secondary Improving

Ohio State Secondary Improving

Ohio State's secondary has shown signs of improvement this spring when facing off against the Buckeyes' offense at the team's spring game.

Tags: Austin Ward

,

Spring Game
BUCKEYENATION RECRUITING NEWS
OSU FB RECRUITING SCORECARD
Rawlings Ohio State Buckeyes Hail Mary Youth-Size Football Shop »
rustymillerap

Rusty Miller


#Pens 4, #CBJ 3. Two 2nd-period PP goals w/i a minute erased CBJ's 3-1 lead, Sutter goal in 3rd wins it.
about 4 hours ago

11W

Eleven Warriors


From earlier: Two minutes of @SlamIAm12 getting sub-orbital. http://t.co/LdCk6UG4ux
about 5 hours ago

11W

Eleven Warriors


An open letter to The Ohio State University (or, free advice on how to price the spring game). http://t.co/3EhVJ989V3
about 6 hours ago

Brutus_Buckeye

Brutus Buckeye


RT @OhioState_MHKY: Good luck to #OhioState alums in the #StanleyCupPlayoffs: @Umby18/#CBJ, Guenin/#Avs, Bartkowski/BOS, @Heeter1/PHI. http…
about 6 hours ago

Brutus_Buckeye

Brutus Buckeye


RT @OhioState_MHKY: Good luck! #CBJ RT @BlueJacketsNHL: #BattleOn http://t.co/161o91Gzew
about 6 hours ago

chris_spielman

Chris Spielman


RT @JohnTelich8: "I'm very excited about the challenge that it is in front of me," said Blackledge, a former Hoover varsity basketball play…
about 7 hours ago

Brutus_Buckeye

Brutus Buckeye


.@OhioStAthletics @BlueJacketsNHL @StingerCBJ Bearded and ready! LET'S GO JACKETS!!! #BattleOn #NHLplayoffs http://t.co/pwkaA0nMOY
about 7 hours ago

chris_spielman

Chris Spielman


RT @ceasterlingINDE: Don't forget tomorrow night is the Massillon Tiger Spring Kickoff at Eagles 190. Guest speaker is @chris_spielman. Doo…
about 7 hours ago

Brutus_Buckeye

Brutus Buckeye


I'm ready to CARRY THE FLAG! #BattleOn #CBJ #StanleyCup Playoffs http://t.co/VieAsMH2gm
about 7 hours ago

ESPN_BigTen

ESPN BigTen


@marcmorehouse yeah the sense I get is they just want to keep him involved even if Jake is the guy. They seem to like Beathard a lot.
about 8 hours ago

rustymillerap

Rusty Miller


RT @Aportzline: Console Energy Center, quiet w one hour to go: http://t.co/L2e1nU0pH1
about 8 hours ago

bigtenconf

Big Ten Conference


The #Hawkeyes host the #Gophers this weekend at Duane Banks Field in Iowa City. #B1GBaseball
about 8 hours ago

bigtenconf

Big Ten Conference


Dan Potempa & @UIBaseball are 2nd in #B1GBaseball w/ 14 HRs and lead the conference in batting average and RBIs. http://t.co/gVpPFVk6GU
about 8 hours ago

ESPN_BigTen

ESPN BigTen


Lot of praise for Q Alston's leadership at MLB. Will be tough to replace C Kirksey's unique skills. Competition ongoing at 1 CB and 1 S spot
about 8 hours ago

ESPN_BigTen

ESPN BigTen


About only major concern on offense, according to Greg Davis, is finding 2nd-string line. Likes starting five but looking for depth.
about 8 hours ago

ESPN_BigTen

ESPN BigTen


Few #Iowa notes before heading home. CJ Beathard should have role even if Rudock remains top QB. Could have package of plays, some zone read
about 8 hours ago

ESPN_BigTen

ESPN BigTen


Video: Iowa DT Carl Davis http://t.co/4UzSMrXA0r
about 9 hours ago

ESPN_BigTen

ESPN BigTen


Linemen getting after it https://t.co/y9of3uGeC9
about 9 hours ago

ESPN_BigTen

ESPN BigTen


Mark Weisman leads the RB line https://t.co/egXSlM2brC
about 9 hours ago

ESPN_BigTen

ESPN BigTen


Quarterbacks and tight ends https://t.co/oG6HnGGx8n
about 9 hours ago

ESPN_BigTen

ESPN BigTen


Offensive coordinator Greg Davis and QB Jake Rudock http://t.co/2FEUdhcPrQ
about 9 hours ago

rustymillerap

Rusty Miller


RT @norgillespie: At Boston Marathon, a Chance to Finally Finish (from @AlexSanz) http://t.co/Tw7cTCd2Rw
about 9 hours ago

joe11w

joe11w


New 11W... Eleven Dubcast: The 2014 Spring Game in Review: Spring football is over at Ohio State and the off... http://t.co/tlzLhe4r3P
about 9 hours ago

11W

Eleven Warriors


11W wraps up spring football and special guest Kyle Rowland breaks down the OSU Spring Game. http://t.co/RoS7OcOTUb
about 9 hours ago

ESPN_BigTen

ESPN BigTen


The Hawkeyes are on the field for practice at a windy Kinnick Stadium http://t.co/B48R46TtBz
about 9 hours ago

ESPN_BigTen

ESPN BigTen


RT @AFRO_THUNDER80: Soooo the objective is to protect players from getting hurt? There's a solution for that. Don't play. We know what we s…
about 10 hours ago

ESPNOhioState

ESPN Ohio State


Big Ten Wednesday mailbag http://t.co/0D9NAXOCmK
about 10 hours ago

ESPN_BigTen

ESPN BigTen


RT @AFRO_THUNDER80: Ummmm what? You can't tackle the quarterback below the knee when he drops back? NCAA, you've out done yourself with tha…
about 10 hours ago

ESPN_BigTen

ESPN BigTen


Big Ten Wednesday mailbag http://t.co/SrP0EDspU0
about 10 hours ago

11W

Eleven Warriors


Nice! RT @tomproulx13 Here's a shot from The Shoe I took during the spring game. #GoBucks #OhioState http://t.co/kl4PhqxFop
about 10 hours ago

joe11w

joe11w


New 11W... Around the Oval on Wednesday, April 16th: The dominating spring continues for Ohio State's non-re... http://t.co/PQOJgaGG0m
about 10 hours ago

Brutus_Buckeye

Brutus Buckeye


RT @NoahRose8: Thanks for the shirt @Brutus_Buckeye !!! http://t.co/EJAaBzc9Fw
about 10 hours ago

11W

Eleven Warriors


Around the Oval: Updates on the tennis team's winning streak, the gymnastics NCAA Championships and more. http://t.co/PlK4XbwVX4
about 10 hours ago

Brutus_Buckeye

Brutus Buckeye


RT @OhioState_WTRK: Free admission to the #JOClassic this weekend! #GoBucks http://t.co/nQzWKHXSA1
about 11 hours ago

bigtenconf

Big Ten Conference


Kan guided the #Boilermakers to a 2nd-place finish at the 6,228-yard, par-72 Kampen Course at the Birck Boilermaker Golf Complex.
about 11 hours ago

bigtenconf

Big Ten Conference


#Boilermakers Kan claimed individual medalist honors at Purdue Rainy Day Shootout after carding a 2-round score of 149.
about 11 hours ago

bigtenconf

Big Ten Conference


Aurora Kan of @PurdueGolf named women's #B1G Golfer of the Week, earning the 3rd conference weekly honor of her career.
about 11 hours ago

bigtenconf

Big Ten Conference


Ihm fired 2 rounds of 69 (69-71-69) at the 7,239-yard, par-72 Finkbine Golf Course to help the #Hawkeyes win the team title by 15 strokes.
about 11 hours ago

bigtenconf

Big Ten Conference


#Hawkeyes Ihm earned individual medalist honors for 2nd year in a row with a 7-under par score at Hawkeye-Great River Entertainment Invite.
about 11 hours ago

bigtenconf

Big Ten Conference


Steven Ihm of @IowaHawkeyeGolf named men's #B1G Golfer of the Week, collecting the 4th weekly conference accolade of his career.
about 11 hours ago

joe11w

joe11w


New 11W... Slamacolypse, Volume One, Starring Sam Thompson: https://t.co/wxSmVWUCXQHere'... http://t.co/Mci4aq5h6b
about 12 hours ago

11W

Eleven Warriors


Wednesday afternoons are tough. Here's a Sam Thompson dunklight video to get you through. http://t.co/vMvbVeO636
about 12 hours ago

bigtenconf

Big Ten Conference


#NittanyLions Waithe's mark of 16.04 meters is currently 1st in the #B1G & 4th in the country this season.
about 12 hours ago

bigtenconf

Big Ten Conference


Steve Waithe of @PennStateTFXC named men's #B1G Field Athlete of the Week, after a 1st-place finish in the triple jump at the Bison Classic.
about 12 hours ago

bigtenconf

Big Ten Conference


Joseph's time is the 2nd-fastest in #Hoosiers history & ranks 1st in the nation this season.
about 12 hours ago

bigtenconf

Big Ten Conference


Vanier Joseph of @IlliniTrackXC named men's #B1GTrack Athlete of the Week, after 1st-place finish in 110-meter hurdles at Illinois Twilight.
about 12 hours ago

bigtenconf

Big Ten Conference


#Hoosiers Ahbe's mark of 4.32 meters broke a meet & stadium record & currently ranks 1st in the #B1G & 5th in the nation this season.
about 12 hours ago

bigtenconf

Big Ten Conference


Kelsie Ahbe of @IUTrackXC named women's #B1G Field Athlete of the Week, posting a 1st-place effort in the pole vault at the Border Battle.
about 12 hours ago

bigtenconf

Big Ten Conference


#NittanyLions Jones' time of 22.93 in the 200-meters is 1st in the #B1G & 6th in the nation this season.
about 12 hours ago

bigtenconf

Big Ten Conference


Mahagony Jones of @PennStateTFXC named women's #B1GTrack Athlete of the Week, placing 2nd in 100 & 200-meter dashes at Sun Angel Classic.
about 12 hours ago

ESPN_BigTen

ESPN BigTen


Illinois 're-brands' with new uniforms http://t.co/k5hM5EBvWP
about 12 hours ago

ESPN_BigTen

ESPN BigTen


RT @McMurphyESPN: Aug. 30: Penn St.-UCF in Ireland 8:30 a.m. ET ESPN2; FSU-Okla. St. in Dallas 8 p.m. ET ABC; LSU-Wis. in Houston 9 p.m. ET…
about 12 hours ago

KyleRowland

Kyle Rowland


Three Toledoans — DerJuan Gambrell, Kenny Hayes and Jayme Thompson — have transferred from Ohio State during Urban Meyer era.
about 12 hours ago

11W

Eleven Warriors


RT @KyleRowland: Jayme Thompson tells @11W "I just needed a change of scenery." http://t.co/I3LKWaYXab
about 13 hours ago

bucksinsider

Ohio State News


Redshirt Freshman Safety Jayme Thompson to Transfer from Ohio State: Just days after play... http://t.co/GbSEFbMLSY #buckeyes #ohiostate
about 13 hours ago

KyleRowland

Kyle Rowland


Jayme Thompson tells @11W "I just needed a change of scenery." http://t.co/I3LKWaYXab
about 13 hours ago

ESPN_BigTen

ESPN BigTen


Oh, hello, Iowa. Did you miss me? Good to be back. http://t.co/OG0bmQTppC
about 13 hours ago

Brutus_Buckeye

Brutus Buckeye


RT @OSUPeerEducator: @Brutus_Buckeye help us spread the word about Buckeye Wipeout @ McCorkle this Saturday 5-9pm! Free to all students w/ …
about 13 hours ago

BuckeyesBeat

Austin Ward


Jayme Thompson was credited with 3 tackles in spring game. Early in camp, wasn't included by Meyer in list of DBs with chance to play.
about 13 hours ago

ESPN_BigTen

ESPN BigTen


Spartans offense says it can take lead http://t.co/j1fmQVvCtY
about 14 hours ago

bucksinsider

Ohio State News


Grading Ohio State's Post-Spring Depth Chart: At Ohio State, most position battles are wo... http://t.co/0oBFygpwcW #buckeyes #ohiostate
about 14 hours ago

BuckeyesBeat

Austin Ward


According to BuckeyeGrove and Eleven Warriors, OSU safety Jayme Thompson is transferring. No official confirmation yet from school.
about 14 hours ago

KyleRowland

Kyle Rowland


Kentucky, Penn State, Louisville, Missouri, Syracuse, Rutgers and West Virginia are all potential transfer targets for Jayme Thompson.
about 14 hours ago

joe11w

joe11w


New 11W... Safety Jayme Thompson Granted Ohio State Release, Will Visit Kentucky: Redshirt freshman safety J... http://t.co/x4yW6hz0e0
about 14 hours ago

KyleRowland

Kyle Rowland


Redshirt freshman safety Jayme Thompson will transfer from Ohio State http://t.co/I3LKWaYXab
about 14 hours ago

11W

Eleven Warriors


Safety Jayme Thompson has been granted his release by OSU. He will reportedly visit Kentucky's spring game. http://t.co/ebSiRuS8Hq
about 14 hours ago

ESPNOhioState

ESPN Ohio State


Big Ten lunch links http://t.co/IX5C0LmFSR
about 15 hours ago

ESPN_BigTen

ESPN BigTen


Big Ten lunch links http://t.co/g1NfS3qhyw
about 15 hours ago

ESPN_BigTen

ESPN BigTen


RT @chrissolari: Mark Dantonio again puts out the call for MSU to draw 50K fans for April 26 spring game while talking to @timstaudt10.
about 15 hours ago

ESPNOhioState

ESPN Ohio State


ESPN 300: Top Big Ten targets http://t.co/5J9c7F5aYM
about 15 hours ago

Brutus_Buckeye

Brutus Buckeye


.@Buckeye_Corner Love them all! Do you have an extra large neck option? Not the easiest head to slide a T over, ya know! Ha. #GoBucks
about 15 hours ago

Brutus_Buckeye

Brutus Buckeye


RT @Buckeye_Corner: Hey @Brutus_Buckeye we have some new tees for you!#GoBucks http://t.co/8P99xFQs2I
about 15 hours ago

ESPN_BigTen

ESPN BigTen


ESPN 300: Top Big Ten targets http://t.co/UKkPwZzK2t
about 15 hours ago

joe11w

joe11w


New 11W... An Open Letter to Ohio State: I should start by introducing myself as a stakeholder, enthusiast -... http://t.co/1cL8zwAx7c
about 15 hours ago

bigtenconf

Big Ten Conference


Congratulations to Jillian Smith and John Wojciechowski, the 2014 Big Ten Medal of Honor recipients for @umich: http://t.co/KzobECEaN7
about 15 hours ago

11W

Eleven Warriors


Ohio State tried to charge $20 for its Spring Game, then backed off citing "good weather." Have a seat, Ohio State: http://t.co/3EhVJ989V3
about 15 hours ago

Brutus_Buckeye

Brutus Buckeye


This mascot has a game! Talkin' baseball vs Ball State! #GoBucks @CLBClippers @LCCaptains @CarolinaMudcats @AkronRubberDuck
about 15 hours ago

Brutus_Buckeye

Brutus Buckeye


RT @BlockOVball: ICYMI: @ohiostatewvball will take on OU tonight at 7:45 at SJA!! Come get a sneak peek at the Buckeyes before fall!!
about 16 hours ago

Brutus_Buckeye

Brutus Buckeye


No worries! I have them covered! @971thefan @BlueJacketsNHL #BattleOn #CBJ #playoffbeard http://t.co/aZldsbCaoi
about 16 hours ago

Brutus_Buckeye

Brutus Buckeye


LET'S GO JACKETS!! #BattleOn #NHLplayoffs @BlueJacketsNHL @StingerCBJ http://t.co/MZIY2oTEwS
about 16 hours ago

ESPN_BigTen

ESPN BigTen


Need questions for the Wednesday mailbag. Send 'em here: http://t.co/Zd6aQ5KkB5 or tweet us.
about 16 hours ago

ESPN_BigTen

ESPN BigTen


Video: Michigan OT Erik Magnuson http://t.co/Sq4ePnRPBk
about 16 hours ago

Brutus_Buckeye

Brutus Buckeye


RT @TheLantern: Ohio State football to play in at least 3 primetime games in 2014 http://t.co/eZoELhsrkV
about 16 hours ago

KyleRowland

Kyle Rowland


After Year of Turmoil, Marcus Baugh Focuses Forward http://t.co/Lg7HIabfQf
about 17 hours ago

rustymillerap

Rusty Miller


RT @ToddSharrock: It is a beautiful morning in the Steel City. Mother Nature must know it is a #CBJ Playoff Game Day. #BattleOn http://t.co…
about 17 hours ago

rustymillerap

Rusty Miller


RT @ESPNStatsInfo: Last major league hockey team from Ohio to win a playoff game? '79 Cincinnati Stingers. On that WHA team- Mark Messier a…
about 17 hours ago

joe11w

joe11w


New 11W... After Year of Turmoil, Marcus Baugh Focuses Forward: The first year of college creates indelible ... http://t.co/9JX59EKSeI
about 17 hours ago

11W

Eleven Warriors


Marcus Baugh's troubles are in the past. And that's the way Baugh and Urban Meyer want to keep it. http://t.co/Gc4gsYHQTi
about 17 hours ago

ESPN_BigTen

ESPN BigTen


Wisconsin's Gordon reaches for next level http://t.co/NyptuJQ0VH
about 18 hours ago

joe11w

joe11w


New 11W... Wednesday Skull Session: Are old men allergic to towels in gym locker rooms? This is a very serio... http://t.co/ql28iWH5SL
about 20 hours ago

11W

Eleven Warriors


Skull Session: OSU-related quick hits, NCAA eases food laws, why most college kickers suck and more. http://t.co/912ZIBuXEr
about 21 hours ago

Brutus_Buckeye

Brutus Buckeye


RT @OhioState_WLAX: Check out highlights from the win over Notre Dame right here, right now! #GoBucks http://t.co/QOBdejg3Y3
1 day ago

ESPN_BigTen

ESPN BigTen


RT @isaac_griff: Probably my favorite picture. Blood couldn't make us closer. Will always look to this guy for anything… http://t.co/wp6SK3…
1 day ago

Brutus_Buckeye

Brutus Buckeye


RT @BuckeyeChive: @Brutus_Buckeye check out my new avi. It's you as #FreedomBrutus
1 day ago

Brutus_Buckeye

Brutus Buckeye


RT @OSURec: It's @TeamBuckeye week at the RPAC! Attend a fitness class this week and learn more. http://t.co/9wvYGJUQrz
1 day ago

rustymillerap

Rusty Miller


Between #CBJ practices this week and Springsteen tonight, I ought to pay a hotel tax to #NationwideArena
1 day ago

Brutus_Buckeye

Brutus Buckeye


RT @OhioState_MSwim: The Men got their Varsity jackets this evening. Congratulations! #GoBucks #varsityO http://t.co/qiMAG6rSpj
1 day ago

11W

Eleven Warriors


Will big-time 2015 QB Brandon Wimbush visit Ohio State this weekend? http://t.co/An8BBOMMYv
1 day ago

rustymillerap

Rusty Miller


#CBJ don't mind all those who doubt them (from @AP) http://t.co/F9wVZBUPbj
1 day ago

bigtenconf

Big Ten Conference


RT @B1GMBBall: Thank you to all our great fans for helping us achieve the highest average attendance figure in nearly 15 years. http://t.co…
1 day ago
BIG TEN SCOREBOARD
Thursday, 8/28
Saturday, 8/30
BLOG ARCHIVE:
CATEGORIES: