BuckeyeNation recruiting mailbag
December, 28, 2012
12/28/12
10:00
AM ET
It's time to dip into the BuckeyeNation recruiting mailbag and answer some of your questions.
We'll keep it at five a week to give everyone a shot.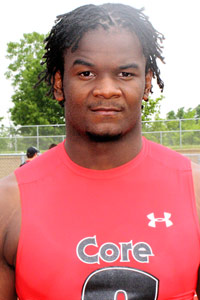 Chantel Jennings/ESPN.comPlainfield, Ill., linebacker Clifton Garrett is one of several elite 2014 prospects that the Buckeyes are in good position for.
We encourage you to send your questions by Twitter at @bbournival, e-mail at brad.bournival.espn@gmail.com or by posting a question in the Horseshoe Pit forum.
To continue reading this article you must be an Insider
Insider
CFP Firm On Dates
Brett McMurphy discusses the resistance from College Football Playoff officials to alter the dates of future matchups.
CFP Firm On Dates
VIDEO PLAYLIST
OSU FB RECRUITING SCORECARD
11W

Eleven Warriors


Maryland's Melo Trimble's mid-season highlight reel is ridiculous: http://t.co/sudlPlrN90
about a minute ago

Mattaritaville

Mattaritaville


Guys, we need to make sure to send the Fightin' Franklins home sad tonight. CC: @BuckeyeNutHouse @Brutus_Buckeye http://t.co/rmTsbUHai0
4 minutes ago

rustymillerap

Rusty Miller


#OHSAA may consider boys high school lacrosse as varsity sport in next year or two.
7 minutes ago

Brutus_Buckeye

Brutus Buckeye


😂😂😂 "@BuckeyeNutHouse: .@Brutus_Buckeye this would've been so much more appropriate... http://t.co/VObvAijwTN"
17 minutes ago

Brutus_Buckeye

Brutus Buckeye


COWABUNGA! $10 D.O.G. tix for Bucks & 🐢 on sale 6PM tonight in tix window at corner of Lane & Olentangy. #GoBucks http://t.co/atYOYfSlyf
24 minutes ago

Brutus_Buckeye

Brutus Buckeye


COWABUNGA! $10 D.O.G. tix for Bucks & 🐢 on sale 6PM tonight in tix window at corner of Lane & Olentangy. #GoBucks http://t.co/atYOYfSlyf
25 minutes ago

journalgsports

JG Sports


Purdue wins in latest chapter of rivalry with Indiana. http://t.co/YRfuA5c4Rp
43 minutes ago

ESPN_BigTen

ESPN BigTen


Position that needs improvement: Illinois http://t.co/19J5UWLIOf
48 minutes ago

ESPN_BigTen

ESPN BigTen


Five non-Ohio State playmakers to watch in 2015 http://t.co/pupjceX1zh
48 minutes ago

rustymillerap

Rusty Miller


#OHSAA commish Dan Ross: "I don't think (state HS fball finals) could have gone any better" in Columbus last Dec.
54 minutes ago

CgoffJG

Chris Goff


Purdue coach Matt Painter: "This was the best crowd we've had probably in three years." #iubb #pubb
about an hour ago

rustymillerap

Rusty Miller


#OHSAA commish says state high school football finals most likely at #OhioState in 2016 due to construction at NFL HOF.
about an hour ago

OhioStFootball

Ohio State Football


Recruiting: 4-star CB Carlton Davis (Miami, FL) has decommited from Ohio State
about an hour ago

darrenrovell

Darren Rovell


Former Rutgers AD Tim Pernetti named president of @IMGCollege Multimedia, will oversee biz with 90+ schools
about an hour ago

Brutus_Buckeye

Brutus Buckeye


DT from WAAAAYYY downtown! RT @U2hunter: Spectacular DeShaun Thomas basket http://t.co/V5PhS0gmji via @fcbarcelona @Brutus_Buckeye
about an hour ago

Brutus_Buckeye

Brutus Buckeye


DT from WAAAAYYY downtown! RT @U2hunter: Spectacular DeShaun Thomas basket http://t.co/V5PhS0gmji via @fcbarcelona @Brutus_Buckeye
about an hour ago

tommyvitox

Tommy Vito


@Fathead ..I'm a happy Buckeye fan today...@Brutus_Buckeye http://t.co/MXww04SiaY
about an hour ago

ESPN_BigTen

ESPN BigTen


PSU prez: Not a fan of Freeh report http://t.co/iunvbFncXN
about an hour ago

11W

Eleven Warriors


Thad Matta has thrown most of his preseason plans overboard. When he has done so in the past, it has mostly worked. http://t.co/M99h8nzEMU
about an hour ago

ESPN_BigTen

ESPN BigTen


Season report card: Ohio State http://t.co/rxbrtNrDBv
about an hour ago

KyleRowland

Kyle Rowland


Notre Dame Notebook: Vasturia an unlikely hero http://t.co/ZMr1K6JfLC
about an hour ago

KyleRowland

Kyle Rowland


Win No. 1,001 will have to wait for Mike Krzyzewski. Instead, it was loss No. 309 for the legendary Duke coach. http://t.co/kaVSSbXyHm
about 2 hours ago

joe11w

JoeSports


Carlton Davis decommits from Ohio State: The Buckeyes are back down to 24 verbal commits. Following in the fo... http://t.co/MjQKG1MMma
about 2 hours ago

ESPN_BigTen

ESPN BigTen


Big Ten morning links http://t.co/S8OnUbzicV
about 2 hours ago

joe11w

JoeSports


How to watch Ohio State vs. Maryland: Preview, Game time, and TV schedule: Ohio State welcomes Maryland into V... http://t.co/7Q756zK1nc
about 3 hours ago

JMUCoachWithers

Everett Withers


Less than a week away. Life changing decisions will be made and the JMU Family will grow. #BallersOnCampus #NewEra http://t.co/gJobMSpz8P
about 3 hours ago

11W

Eleven Warriors


D'Angelo Russell vs. Melo Trimble. That alone is worth the price of admission. Your Ohio State-Maryland game preview http://t.co/eVjai6CkdZ
about 3 hours ago

ESPN_BigTen

ESPN BigTen


On The Trail Show (Noon ET) http://t.co/gF3XVv6ir4
about 3 hours ago

EzekielElliott

EzekielElliott#?1?5?


Me and my day one http://t.co/fTaMmT3TBZ
about 4 hours ago

OSUManagers

OSU BBall Managers


Hey @JayBilas because we like you, we have decided to comp your ticket to tonight's manager game. Be there, or be ⬛️ http://t.co/Gb1hksWkJj
about 4 hours ago

11W

Eleven Warriors


Skull Session: MLB also in on OSU five-star target, Samuel is ready for more, Tom Herman always knew, and more. http://t.co/LX8ITO6thg
about 5 hours ago

joe11w

JoeSports


Ohio State recruiting: State Secrets, 1/29 - Buckeyes in good position for Porter Gustin?: With NSD 2015 appro... http://t.co/IyQ0erqXyd
about 5 hours ago

JeffRabjohns

Jeff Rabjohns


The past 9 games in the Indiana-Purdue rivalry have been decided by double figures. Purdue 5-4 in that stretch.
about 11 hours ago

KyleRowland

Kyle Rowland


Fort Wayne. RT @BoilerBall Painter: Bryson was very good. He could get to the rim, and when he drove the ball he really helped us. #BoilerUp
about 11 hours ago

KyleRowland

Kyle Rowland


Monumental win for Purdue tonight. Boilers now 5-3 in the conference, NCAA tournament hopes alive and well. Confidence soaring.
about 12 hours ago

CgoffJG

Chris Goff


Seven swats for Hammons ties a career high. #iubb #pubb
about 12 hours ago

CgoffJG

Chris Goff


FINAL: Purdue 83, IU 67. Lot to digest, but this one certainly raises some questions. Life without HMP ain't such a breeze anymore. #iubb
about 12 hours ago

11W

Eleven Warriors


ICYMI: Our UNDISPUTED poster, from @mwaltonkeys. Hi-res here: http://t.co/fVWRp5sOvA http://t.co/PSpKARdy8B
about 12 hours ago

TimShoemaker

Tim Shoemaker


This seems unfair. RT @OSUManagers: Greg Oden will start at center for our manager squad tonight.
about 12 hours ago

ESPN_BigTen

ESPN BigTen


Early Offer: Isaiah Prince gives Terps hope of closing strong in state http://t.co/zBXoV2CNVS
about 12 hours ago

11W

Eleven Warriors


The Cavs are 6–0 since Urban Meyer spoke to the team. You're welcome, Cleveland.
about 13 hours ago

KyleRowland

Kyle Rowland


Final: No. 8 Notre Dame 77, No. 4 Duke 73. Statement win for the Irish.
about 14 hours ago

KyleRowland

Kyle Rowland


Unbelievable clutch shooting by Notre Dame. Unreal. Incredible environment.
about 14 hours ago

bucksinsider

Ohio State News


Maryland basketball meets D'Angelo Russell, Ohio State seeking better defense: By Roman S... http://t.co/f4DDuTG4Yl #buckeyes #ohiostate
about 14 hours ago

KyleRowland

Kyle Rowland


Not so fast. Notre Dame with six straight points. It's 65-61 Duke. Crowd back in it.
about 14 hours ago

KyleRowland

Kyle Rowland


Duke, on 12-2 run, leads Notre Dame 63-53 with 12:38 left.
about 15 hours ago

KyleRowland

Kyle Rowland


Duke in the bonus final 15 minutes. That could be difference in the game.
about 15 hours ago

CgoffJG

Chris Goff


And a longer discussion about this game and state of Indiana and Purdue with @KyleRowland -- http://t.co/yGqSdmFvtT #iubb #pubb
about 15 hours ago

CgoffJG

Chris Goff


Breaking down the matchups in the starting five with @KyleRowland -- http://t.co/WcTsTjyeRC #iubb
about 15 hours ago

KyleRowland

Kyle Rowland


Halftime: Duke 39, Notre Dame 36. Both teams shot 50 percent, but they also combined for 15 turnovers.
about 15 hours ago

KyleRowland

Kyle Rowland


Jahlil Okafor hurt. Trainer tending to his right knee on Duke bench.
about 15 hours ago

Buckeye_Nation

Buckeye Nation


Ohio State football: Looking back at Joey Bosa / #OSUDispatch / http://t.co/W7a1mNlwRG
about 15 hours ago

KyleRowland

Kyle Rowland


ND on 14-2 run. Purcell Pavilion just a tad loud as Jerian Grant 3 Drew Duke timeout. Irish lead 25-18.
about 15 hours ago

KyleRowland

Kyle Rowland


Duke leads ND 16-13 at under-12 timeout. Blue Devils with four sloppy turnovers.
about 16 hours ago

11W

Eleven Warriors


The Hurry Up: Latest on a pair of potential defectors , Terry Beckner, Jr. and Isaiah Prince discussion. http://t.co/kv3hg6layQ
about 16 hours ago

bucksinsider

Ohio State News


Grading Ohio State's 2014 Recruiting Class 1 Year Later: COLUMBUS, Ohio — After initially... http://t.co/rj0vmkDfbn #buckeyes #ohiostate
about 16 hours ago

KyleRowland

Kyle Rowland


On Notre Dame's basketball hype video, it hypes 15 Sweet 16 appearances. Oh boy.
about 16 hours ago

OSUManagers

OSU BBall Managers


Hey @JayBilas because we like you, we have decided to comp your ticket to tonight's manager game. Be there, or be ⬛️ http://t.co/Gb1hksWkJj
about 17 hours ago

B1GLacrosse

B1GLacrosse


As we preview the inaugural men's & women's #B1GLax season, tweet us your questions for a #B1G coach by tomorrow AM.
about 17 hours ago

JG_GregJones

Greg Jones


Homestead's Caleb Swanigan named to West squad for McDonald's All-American game
about 17 hours ago

KyleRowland

Kyle Rowland


Duke-Notre Dame, a game where four percent of each fan base is actually a graduate of the university.
about 17 hours ago

joe11w

JoeSports


Why is this news?: Ohio State to expand financial aid for athletes, Big Ten bowl season helps recruiting: All ... http://t.co/4gmYwHvPp2
about 17 hours ago

KyleRowland

Kyle Rowland


Greetings from Purcell Pavilion, where No. 8 Notre Dame plays No. 4 Duke. http://t.co/FxPyhFMGlt
about 17 hours ago

rustymillerap

Rusty Miller


#CBJ put left wing Jeremy Morin on injured list (from @AP) http://t.co/NsUfnF0dRo
about 18 hours ago

rustymillerap

Rusty Miller


#Buckeyes' Matta switches to man, then goes to smaller lineup (from @AP) http://t.co/jYkgxkxheG
about 18 hours ago

Buckeye_Nation

Buckeye Nation


Proud to be a #Buckeye! #Juice
about 18 hours ago

KyleRowland

Kyle Rowland


At 19-2, Notre Dame's off to its best start since 1973-74. The eighth-ranked Irish host No. 4 Duke tonight. http://t.co/CZGN5m7SvC
about 19 hours ago

KyleRowland

Kyle Rowland


At 19-2, Notre Dame's off to its best start since 1973-74. The eighth-ranked Irish host No. Duke tonight. http://t.co/CZGN5m7SvC
about 19 hours ago

joe11w

JoeSports


Handicapping the Ohio State quarterback competition w/ advanced metrics: Comparing the three Ohio State quarte... http://t.co/BiHxP4aOl1
about 19 hours ago

11W

Eleven Warriors


"We know that we have to beat the best in order to become the best." OSU with chance for statement win vs. Maryland. http://t.co/hpvoYmAbo2
about 19 hours ago

OhioStAthletics

Ohio State Buckeyes


#DYK: Ohio State is 1st team in college football history to beat four 11-or-more-win FBS teams in one season #GoBucks http://t.co/i8lvKwSa7v
about 20 hours ago

KyleRowland

Kyle Rowland


.@CgoffJG will have coverage of IU-Purdue (9 p.m. tip) tonight. I'll be at top-10 showdown between No. 4 Duke and No. 8 Notre Dame.
about 20 hours ago

11W

Eleven Warriors


Eleven Dubcast: Ohio State commits @ShowTime_Stump and Denzel Ward discuss the recruiting life. http://t.co/a4AprTgxpO
about 20 hours ago

ESPN_BigTen

ESPN BigTen


Position that needs improvement: Purdue http://t.co/Yif5gyD0JZ
about 20 hours ago

bigtenconf

Big Ten Conference


#B1GLax fans, be sure to check out @B1GLacrosse today as we hear from each men's & women's head coach on the inaugural season.
about 20 hours ago

nickmangold

Nick Mangold


I could definitely go for seconds of these @PepsiCo #GameDayGrubMatch dishes. Who will be the champ @CIACulinary? http://t.co/wcrPZzceL4
about 20 hours ago

OSUADAthComm

Dan Wallenberg


Maryland travels to @OhioStateHoops for 1st B1G meeting Thurs (7 p.m./ESPN. Check out Matta, Scott, Tate interviews. http://t.co/fywLX3caqQ
about 21 hours ago

11W

Eleven Warriors


Here it is. Your UNDISPUTED poster from @mwaltonkeys. Grab the hi-res: http://t.co/fVWRp5sOvA http://t.co/akF3QjcFLa
about 21 hours ago

ESPN_BigTen

ESPN BigTen


Season report card: Northwestern http://t.co/MQWj8DSVmx
about 21 hours ago

AWardESPN

Austin Ward


Has anybody ever had good luck with @United? About to lose a day of vacation thanks to what appeared to be problems counting correctly.
about 22 hours ago

KyleRowland

Kyle Rowland


Irish hosting biggest game in decade http://t.co/LQ8jOw1vWE
about 22 hours ago

11W

Eleven Warriors


We're not going to argue with Eddie George's muscles on this one (via @IFC): https://t.co/ZTeWIxZR9g
about 22 hours ago

11W

Eleven Warriors


The unselfish 2014 Buckeyes put themselves in front of nobody else. They ended up on top of the world. http://t.co/T0dluSimOq
about 22 hours ago

joe11w

JoeSports


Sam Thompson, Ohio State basketball's secret x-factor: He's scoring, he's leading, he's defending. Are we see... http://t.co/5N7yHJvxbk
about 22 hours ago

ESPN_BigTen

ESPN BigTen


Position that needs improvement: Penn State http://t.co/AQqwPzQeyB
about 22 hours ago

ESPN_BigTen

ESPN BigTen


Big Ten recruiting breakdown http://t.co/pjFlO4MsdG
about 23 hours ago

Buckeye_Nation

Buckeye Nation


***Notice of Meetings: Ohio State University trustees and committees to meet Jan. 27– 30 / #OSUnews / http://t.co/5UcUy0bshO
about 23 hours ago

ESPN_BigTen

ESPN BigTen


Season report card: Nebraska http://t.co/yrrhJQO7qo
about 23 hours ago

ESPN_BigTen

ESPN BigTen


Our favorite plays of the year http://t.co/IqFwAHOqMG
1 day ago

KyleRowland

Kyle Rowland


Purdue Notebook: Boilers, Hoosiers enter rivalry game confident http://t.co/q9zJzH8TJf
1 day ago

ESPN_BigTen

ESPN BigTen


Big postseason big boost for B1G recruiting http://t.co/T6JnTLM5C9
1 day ago

ESPN_BigTen

ESPN BigTen


Position that needs improvement: Maryland http://t.co/z2yKqyLN5Z
1 day ago

bucksinsider

Ohio State News


Ohio State Football: National Title Could Trigger Recruiting Dominance for OSU: Ohio Stat... http://t.co/Tz8CRlswsF #buckeyes #ohiostate
1 day ago

KyleRowland

Kyle Rowland


Realignment didn't hurt ACC hoops after all. League will flex muscle tonight in top-10 showdown between Duke and ND. http://t.co/CZGN5m7SvC
1 day ago

OhioState_WGOLF

Ohio State W Golf


2017 NCAA Women's Golf Regional Coming to Columbus ---> http://t.co/WgSzOCGtZI#GoBucks
1 day ago

AnnieMPeterson

Anne M. Peterson


Well deserved! RT @pgaofamerica: .@ronsirak named 2015 PGA Lifetime Achievement Award in Journalism recipient http://t.co/9X6F9K2GAX
1 day ago

ESPN_BigTen

ESPN BigTen


Malzahn leads list of best play-callers http://t.co/s18ZDtPTlP
1 day ago

rustymillerap

Rusty Miller


#Buckeyes' Russell gets a nod: A look at player of year candidates in men's hoops (from @AP) http://t.co/3iEpdgNwA1
1 day ago
BLOG ARCHIVE:
CATEGORIES: