OT Jones first for Buckeyes in 2014
December, 25, 2012
12/25/12
12:30
PM ET
Urban Meyer's 2012 Christmas got a whole lot nicer Tuesday morning when
Marcelys Jones
(Cleveland/Glenville) committed to Ohio State.
[+] Enlarge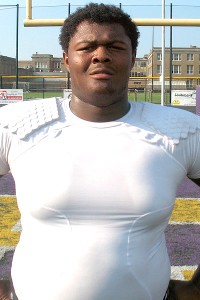 Brad Bournival/ESPN.comMarcelys Jones became Ohio State's first member of the class of 2014.
In doing so, the 6-foot-4, 325-pound offensive tackle became the first commitment in the class of 2014 for the Buckeyes.
While the junior isn't sure whether or not he'll stay on the offensive side of things with Ohio State, he is quite certain he picked the right school.
To continue reading this article you must be an Insider
Insider
Easiest Path To The 2015 College Football Playoff
Heather Dinich takes a look at which schools have the easiest path to the 2015 College Football Playoffs.
Easiest Path To The 2015 College Football Playoff
VIDEO PLAYLIST
OSU FB RECRUITING SCORECARD
Brutus_Buckeye

Brutus Buckeye


.@OhioSt_Drumline You have permission to take any necessary action as you see fit ...
12 minutes ago

11W

Eleven Warriors


Urban Meyer is not only the most followed CFB coach on Twitter; his "real follower percentage" is elite too. http://t.co/ogZfbsJkcE
21 minutes ago

bigtenconf

Big Ten Conference


Hassan Mead of @GopherMCCTF was a four-time All #B1G and earned Academic All-Big Ten honors in 2012.
25 minutes ago

bigtenconf

Big Ten Conference


Hassan Mead of @GopherMCCTF was the outdoor track #B1G Athlete of the Year in 2009 and four-time Big Ten Champion. http://t.co/LgnsYOmHoc
25 minutes ago

11W

Eleven Warriors


The Recruiting Mailbag talks Nick Bosa, 2016 wide receivers and defensive tackles and more. http://t.co/0mZIr11uPc
26 minutes ago

ESPN_BigTen

ESPN BigTen


Watch: Kiper on Gophers TE Maxx Williams http://t.co/uospnJCX1N
31 minutes ago

bucksinsider

Ohio State News


Oregon-Ohio State national title game could be a shootout for the ages: (RNN) – After 21 ... http://t.co/UVtezxVJKa #buckeyes #ohiostate
about an hour ago

11W

Eleven Warriors


Against Purdue, Ohio State's seniors came to life in what was perhaps the most stirring win of the season. http://t.co/y3FWVUDif4
about an hour ago

joe11w

JoeSports


Ohio State baseball: 3 things we learned from OSU's series loss at UAB: The Buckeyes suffered a second consecu... http://t.co/NIbdFtJB92
about 2 hours ago

bucksinsider

Ohio State News


Ohio State self-reported accidental text sent to recruit by assistant's son: Ohio State ... http://t.co/knOtp8HBAz #buckeyes #ohiostate
about 2 hours ago

ESPN_BigTen

ESPN BigTen


Minnesota spring preview http://t.co/mdDHWsG4xF
about 2 hours ago

RyanJohansen19

Ryan Johansen


His wallet is now bigger than himself. Congratulations @CamAtkinson13 love you!! #$ http://t.co/xZtvA8f7z1
about 3 hours ago

bucksinsider

Ohio State News


Spring football's 10 burning questions: Commentary Defending national champion Ohio Stat... http://t.co/YITbONcTU7 #buckeyes #ohiostate
about 3 hours ago

BlueJacketsNHL

NHL Blue Jackets


#CBJ Head Coach Todd Richards confirms Sergei Bobrovsky will start tonight against the #Caps. http://t.co/IY61bHyVGM
about 3 hours ago

ESPN_BigTen

ESPN BigTen


Ten prospects to watch this spring http://t.co/v5HoOr1BYm
about 4 hours ago

ESPN_BigTen

ESPN BigTen


Spring preview: Big Ten players with the most to prove http://t.co/8UjyFY73Zt
about 4 hours ago

11W

Eleven Warriors


Running back Curtis Samuel is behind Ezekiel Elliott but will still make a big leap forward in 2015. http://t.co/xfv0xSF7z4
about 5 hours ago

ESPN_BigTen

ESPN BigTen


Sights and sounds: Nike Football The Opening Orlando Regional http://t.co/mLSiqcxCgQ
about 5 hours ago

BucksGoPro

BucksGoPro


Look who is included. @OhioStAthletics SportsMoneyBlog: The Best Organizations To Work For In Sports http://t.co/HzATsvXBoy via @forbes"
about 5 hours ago

OhioStAthletics

Ohio State Buckeyes


⌚️This time next week the nation's No. 1 wrestling conference will hold its tournament of champions in Columbus: http://t.co/8XXJTwnY6K 🏆
about 5 hours ago

ESPN_BigTen

ESPN BigTen


Big Ten morning links http://t.co/ztBmKvQIbq
about 5 hours ago

11W

Eleven Warriors


It's the final week of the regular-season. What's on deck for the top teams in the Big Ten and how will it play out? http://t.co/VcnptNIcU1
about 6 hours ago

Jus10Dam

Justin Damron


Happy 1st spring training game day #Reds fans!!! It's finally here!
about 6 hours ago

Brutus_Buckeye

Brutus Buckeye


.@EzekielElliott Where do you want me to sign? 📝 😀 #GoBucks
about 6 hours ago

rustymillerap

Rusty Miller


Can't make this stuff up II / Woman admits digging up dad's grave in search of 'real will' (from @AP) http://t.co/0BvoZCihSJ
about 6 hours ago

rustymillerap

Rusty Miller


Can't make this stuff up / Nebraska police find pot inside container labeled 'Not Weed' (from @AP) http://t.co/sqmiUQCaoy
about 6 hours ago

joe11w

JoeSports


Ohio State recruiting: State Secrets - Terrell Hall commits, latest on Kevin Mensah: Get caught up with the la... http://t.co/z25c5zOjhV
about 8 hours ago

11W

Eleven Warriors


Skull Session: 2016's new brick, an anti-rock star policy, the greatest image ever, and more. http://t.co/nwRPGIibd5 http://t.co/ZZQk4J0RyK
about 8 hours ago

11W

Eleven Warriors


The 11W community delivers again. This masterpiece is courtesy of @DustinsThots. http://t.co/AF7exvrL24
about 15 hours ago

si_ncaabb

SI College Hoops


College hoops is facing a crisis. It's time for an extreme makeover. (via @SethDavisHoops)http://t.co/XYeOferdhm http://t.co/8KbwlMUhIV
about 15 hours ago

Brutus_Buckeye

Brutus Buckeye


Big No. 33 is our 3rd Birthday Buckeye today! #HBD to Pete Johnson 🎂 #GoBucks http://t.co/qHTPGAXFuU
about 15 hours ago

shannon_karcher

Shannon Karcher


@Brutus_Buckeye #snowday #OH #GoBucks #Brutus #BuckeyeNation http://t.co/bdKJJfldDS
about 16 hours ago

kristadsen

Kristopher Tadsen


@Brutus_Buckeye http://t.co/MY385NjEem
about 16 hours ago

_TrillTrell_

Terrell Hall


It's OFFICIAL!!! I'm FULLY committed to THE Ohio State university🅾🙌 #GoBucks #BuckeyeNation http://t.co/hCBseriTH2
about 16 hours ago

AP

The Associated Press


Teacher found dead of apparent suicide in Southern California high-school classroom: http://t.co/3WrFMR2tPR
about 17 hours ago

ramzy

Ramzy Nasrallah


Attention @11W shirt enthusiasts: Look what's back in stock in all sizes http://t.co/4XcLQ9qnPs http://t.co/CSHlSmdXKH
about 17 hours ago

Art_Thiel

Art Thiel


My laptop was stolen in a coffee shop. I gave chase. I got it back. But not in a way I imagined. http://t.co/ktkoYaTedH
about 17 hours ago

BDubi17

Brandon Dubinsky


Tough day to say goodbye to a great friend and teammate! @jameswisniewski we'll miss you bud! Good luck in Cali!
about 17 hours ago

_youhadonejob

You had one job


Some how I doubt that. http://t.co/iXeiktY1b6
about 17 hours ago

WKarlsson71

William Karlsson


But now a new chapter of my life begins. Im excited! @BlueJacketsNHL
about 17 hours ago

JStretch2012

John Streicher


Can't wait for phase two of the APC swagafication. The JMU locker room is soon to be one of the best in the nation! http://t.co/rVlsQnTeYL
about 18 hours ago

joe11w

JoeSports


Terrell Hall commits to Ohio State: BOOOOOOOM! The Buckeyes pick up another key defensive player for the class... http://t.co/5zsF5uRe4V
about 18 hours ago

Lima_Naveau

Jim Naveau


Ryan Patton-Jim Tressel connection led to Tress giving pre-race pep talk message to Jimmie Johnson's team. http://t.co/HftS0INxjE #Delphos
about 18 hours ago

11W

Eleven Warriors


The Hurry Up: Hausmann gets high praise, Menet still major target, Austin Andrews hoping for looks and more. http://t.co/fn8HZQGaIA
about 18 hours ago

Birm

Jeremy Birmingham


Hall was very close to committing during his January 25th visit to #OhioState but wanted to take a little time to let it soak in.
about 19 hours ago

Birm

Jeremy Birmingham


Terrell Hall (@_TrillTrell_) is one of the fastest rising prospects in the country - and the 2nd big-time DE to commit to the #Buckeyes.
about 19 hours ago

GrahamRahal

Graham Rahal


Pretty pumped to wear my new shirt to the Alabama race @BarberMotorPark. All those Bama fans gonna love this 1! @11W http://t.co/OkL84Z3FTD
about 19 hours ago

11W

Eleven Warriors


The Boom Train refuses to slowdown: 2016 Washington, D.C. DE Terrell Hall has committed to Ohio State. #BOOM http://t.co/TiUhwBueuS
about 19 hours ago

rustymillerap

Rusty Miller


#CBJ trade Wisniewski, Leopold, sign Atkinson to 3-year deal (from @AP) http://t.co/syDsS2S35n
about 19 hours ago

journalgsports

JG Sports


Your look at The Journal Gazette's front page of its sports section is here. http://t.co/hOn2G6a80w
about 19 hours ago

bigtenconf

Big Ten Conference


See the full list of 2015 #B1GWBBall postseason honors including All-Big Ten teams: http://t.co/RQRlXwfvVD
about 19 hours ago

jameswisniewski

James Wisniewski


Very excited for my family and I to join the @AnaheimDucks. Looking forward to getting to Anaheim and on the ice with some great teammates.
about 20 hours ago

jameswisniewski

James Wisniewski


I would like to thank the @BlueJacketsNHL organization and all #thefans for everything the past 4 years. Great city and great people.
about 20 hours ago

Brutus_Buckeye

Brutus Buckeye


🏆Congrats @Kelz_Hoop 🏀 "@OhioState_WBB: Just the 2nd freshman to be named B1G Player of the Year. Congrats Kelsey! http://t.co/3X8cKPTERR"
about 20 hours ago

bucksinsider

Ohio State News


Inside the Mindset of Ohio State's National Championship Defense: COLUMBUS, Ohio — Wrappi... http://t.co/M12wRywpp7 #buckeyes #ohiostate
about 21 hours ago

Buckeye_Nation

Buckeye Nation


Letter to the editor: USG election offers Ohio State students chance to vote on divestment / #Lantern / http://t.co/Vo163MqSak
about 21 hours ago

OhioStAthletics

Ohio State Buckeyes


Buckeye Best: Last week's biggest & brightest S & G moments in pics, GIFs & vids! https://t.co/BvdLFM17od #GoBucks http://t.co/WOdTB7xpD6
about 22 hours ago

joe11w

JoeSports


NCAA Tournament 2015 Bracketology: What seed is Ohio State in the mix for?: Ohio State's looking better after ... http://t.co/bIBj0f60th
about 22 hours ago

journalgsports

JG Sports


A Kendall Stephens 3 on Jan. 17 at Penn State changed Purdue's season outlook, writes @KyleRowland http://t.co/7y6cAh6e01
about 22 hours ago

Coley_Quit

Thomas Cole


Ohio's moon at the #Alhambra in Granada, Epaña. #BuckeyesAbroad @11W #iseriouslyonlyhaveOSUgraphictees http://t.co/SBSaXEsK9r
about 23 hours ago

Brutus_Buckeye

Brutus Buckeye


SING IT W/ ME:🎶 Happy Birthday to Nuge 🎶🎶 Happy Birthday to Nuge 🎶🎂🎂🎂🎂🎂🎂🎂🎂🎂🎂🎂@MikeNugent85 is 33 today! #GoBucks http://t.co/f
about 23 hours ago

_youhadonejob

You had one job


I'm not sure they understand the meaning of free. http://t.co/9SWTFDZjTS
about 23 hours ago

11W

Eleven Warriors


Cardale Jones was in Ohio State's student section as the Buckeyes mounted a comeback vs. Purdue. Coincidence? Nope. http://t.co/bQQzlrxDzE
about 23 hours ago

jkekalainen

Jarmo Kekalainen


It isn't always just about business...http://t.co/uVDV3K2Nky""
about 23 hours ago

Brutus_Buckeye

Brutus Buckeye


⚠️FLASH SALE⚠️"Hockey Hour" 5pm Friday @TheSchott @OhioState_MHKY vs Minnesota http://t.co/s66EYTtvil #GoBucks http://t.co/vpilx8HVoN
about 23 hours ago

bucksinsider

Ohio State News


Prices For Early Stage 2015 Big Ten Tournament Tickets Averaging Under $200: http://t.co/Up06Y2FKql
1 day ago

ChadGraff

Chad Graff


Jordan Leopold's 11-year-old daughter Jordyn wrote this letter before the trade, according to @KFAN1003. http://t.co/8RpWT9LpgL
1 day ago

11W

Eleven Warriors


As Ohio State's head coach, Thad Matta is now 13-0 at home in the month of March. That seems like a good thing. http://t.co/3dfk0MCqVw
1 day ago

rustymillerap

Rusty Miller


Saying good by to Tark, by the incomparable Charles P. Pierce: http://t.co/5jnZ3VXozj
1 day ago

bigtenconf

Big Ten Conference


.@umichwgym, @GopherWGym and @HuskersWGym claim weekly #B1G women's gymnastics honors: http://t.co/mxPp20z6ry
1 day ago

bigtenconf

Big Ten Conference


.@PennStateMGYM sweeps weekly #B1G men's gymnastics awards: http://t.co/wyMdWMtPnJ
1 day ago

11W

Eleven Warriors


D'Angelo Russell named Big Ten Co-Freshman of the Week, sharing the honor with Maryland's Melo Trimble. http://t.co/cJMXQbNc29
1 day ago

BrettRybak

Brett Rybak


Russell Earns Seventh Big Ten Freshman of the Week Honor http://t.co/0ahGdgnWQY #GoBucks http://t.co/ZsqTRslcEd
1 day ago

B1GMBBall

Big Ten Men\'s Hoops


Melo Trimble of @TerrapinHoops & D'Angelo Russell of @OhioStateHoops named Co-Freshmen of the Week. #B1GMBBall http://t.co/R7abvDhRPH
1 day ago

chrisbrockman

Chris Brockman


J.K. Simmons tells @RichEisenShow he became @OhioStAthletics fan after father took job at OSU and family moved to area at age 10.
1 day ago

Brutus_Buckeye

Brutus Buckeye


#WhiteOutWisconsin #GoBucks http://t.co/6BdBfk3r0s
1 day ago

OSUADAthComm

Dan Wallenberg


Four Corners: Who is the next Shabazz Napier? @OhioStatehoops D'Angelo Russell? http://t.co/ccIg0xLud2 via @espncbb
1 day ago

11W

Eleven Warriors


After a pair of wins, the Basketbucks have returned to the AP Poll, finding themselves at No. 23 this week. http://t.co/vAIKuUhCgb
1 day ago

rustymillerap

Rusty Miller


In arena, awaiting word on #CBJ deals at deadline. So far writers have spent more time at Tim Horton's than over laptops.
1 day ago

BrettRybak

Brett Rybak


Russell Named a Finalist for Wayman Tisdale Award http://t.co/czkhoa1Ya3 #GoBucks http://t.co/uWvupKbAlr
1 day ago

rustymillerap

Rusty Miller


#Dayton Flyers on cusp of AP Top 25, just missing out at No. 26.
1 day ago

rustymillerap

Rusty Miller


Oh, and #Kentucky again a unanimous No. 1. Shocking.
1 day ago

rustymillerap

Rusty Miller


Big Ten in latest AP men's poll: No. 6 #Wisconsin, #Terps No. 10, #OhioState 23rd.
1 day ago

rustymillerap

Rusty Miller


#Buckeyes back in AP men's Top 25, in at No. 23 in latest poll.
1 day ago

bucksinsider

Ohio State News


Ohio State men rally to edge Purdue: Published: Monday, 3/2/2015 – Updated: 3 hours ago D... http://t.co/o477ZE8EwE #buckeyes #ohiostate
1 day ago

KyleRowland

Kyle Rowland


Purdue enters final week of season within striking distance of NCAA tournament bid. Current run started on Jan. 17. http://t.co/bDUwqsisAI
1 day ago

rustymillerap

Rusty Miller


Big Ten in latest AP women's hoops poll: 4-Maryland, 14-Iowa, 24-Northwestern. #Buckeyes just miss T25 at No. 28.
1 day ago

ESPN_BigTen

ESPN BigTen


Maryland spring preview http://t.co/Qao0m2Xtde
1 day ago

11W

Eleven Warriors


On the Big Ten teleconference Monday morning, Tom Izzo compared Thad Matta to the underappreciated Lloyd Carr. http://t.co/PnQTEKfCGK
1 day ago

11W

Eleven Warriors


Switch, show, blitz, or zone? How should the Buckeyes defend the pick and roll? Let's take a look. http://t.co/4DsLxAuzwo
1 day ago

Brutus_Buckeye

Brutus Buckeye


Happy Birthday HOP! #Buckeyes 1955 @HeismanTrophy winner Howard "Hopalong" Cassady turns 81 today! #GoBucks https://t.co/Q8pe60R266
1 day ago

GreggDoyelStar

Gregg Doyel


Purdue's defense is so good, it usually covers for its horrible offense. Just not Sunday. Column from Ohio St game - http://t.co/I1yS2QWMow
1 day ago

Brutus_Buckeye

Brutus Buckeye


Good puck stuff right here! Early 5pm "Hockey Hour" start vs my fury friend from the north -- The Gopher! #GoBuckshttps://t.co/t2RySBsHjL
1 day ago

Willie_Mitch33

Willie Mitchell


What most @NHL players are feeling right about now. #TradeCentre #NHLtrade http://t.co/mxnviS7fle
1 day ago

Pblatshaw

Paul B. Latshaw, MSM


90 days to the Memorial Tournament. Need Mother Nature to let up with the cold and snow. http://t.co/xkiTuiaarX
1 day ago

11W

Eleven Warriors


With the Ohio State-Wisconsin showdown looming, it's a good time to reflect on Frank Kaminsky's tremendous season. http://t.co/31QHVSOBdJ
1 day ago
BIG TEN SCOREBOARD
Thursday, 9/3
Friday, 9/4
Saturday, 9/5
Sunday, 9/6
Monday, 9/7
BLOG ARCHIVE:
CATEGORIES: