Buckeyes hoping for a special LB package
December, 12, 2012
12/12/12
10:00
AM ET
While Ohio State is trying to boost its linebacker depth chart in the recruiting class of 2013, an even brighter future might sit just one year away.
To finish their 2013 class, the Buckeyes are after
Mike Mitchell
(Plano, Texas/Prestonwood Christian),
Trey Johnson
(Lawrenceville, Ga./Central Gwinnett) with the possibility of signing
Tommy Sanders
(Cordele, Ga./Butler Community College) or flipping
James Hearns
(Tallahassee, Fla./Lincoln).
[+] Enlarge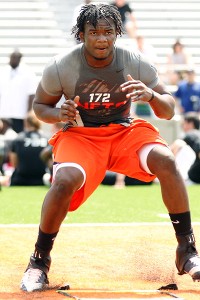 Tom Hauck/ESPNHSAfter the Michigan-Ohio State game, Clifton Garrett talked about wanting to play in college with Raekwon McMillan and Drew Barker.
But the dream Ohio State fans are hoping for in the class of 2014 isn't that much of a stretch as
Raekwon McMillan
(Hinesville, Ga./Liberty County),
Clifton Garrett
(Plainfield, Ill./Plainfield South) and
Dante Booker
(Akron, Ohio/St. Vincent-St. Mary) are very much still plausible options as a package deal.
To continue reading this article you must be an Insider
Welcome
!
We see that you are not an ESPN Insider. Upgrade today and gain access to our exclusive coverage.
ESPN The Magazine subscribers

Need more information?
Building the Big Ten championship teams
RecruitingNation's Tom VanHaaren looks at how the rosters for Michigan State and Ohio State were put together.
Building the Big Ten championship teams
VIDEO PLAYLIST
BUCKEYENATION RECRUITING NEWS
OSU FB RECRUITING SCORECARD
ESPN_BigTen

ESPN BigTen


Dantonio closes by quoting Muhammad Ali. "We're going to find out how great we are."
5 minutes ago

ESPN_BigTen

ESPN BigTen


Dantonio: "This didn't start last February. This started on Nov. 26, 2006, when I became the head coach at Michigan State."
5 minutes ago

KyleRowland

Kyle Rowland


"I don't know if he'll have green on tomorrow night --- maybe" -Dantonio on Jim Tressel
8 minutes ago

KyleRowland

Kyle Rowland


Dantonio said he talks to Jim Tressel every once in a while. Said they talk life, not X's and O's. Dantonio said he talks to Nick Saban too.
8 minutes ago

ESPN_BigTen

ESPN BigTen


Dantonio has talked to Jim Tressel often throughout season. "I don't know if he has green on tomorrow night. But maybe."
8 minutes ago

ESPN_BigTen

ESPN BigTen


Dantonio stressing that MSU must adjust to the speed as the game progresses. Ohio State's no-huddle package an additional challenge.
10 minutes ago

11W

Eleven Warriors


So hard to dislike Dantonio. The man is all business.
15 minutes ago

KyleRowland

Kyle Rowland


Dantonio says Jim Bollman is like a brother to him. Called him loyal, great team guy.
16 minutes ago

ESPN_BigTen

ESPN BigTen


Dantonio on team's mood: "I hope it's loose and it's focused." … "When we saw Lucas Oil, it wasn't like, 'Wow, we haven't been here.'"
16 minutes ago

Brutus_Buckeye

Brutus Buckeye


RT @OhioStAthletics: More Dantonio: Carlos Hyde is a bull of a runner. He's not just tough, he's fast. We've go to be able to control him. …
18 minutes ago

Brutus_Buckeye

Brutus Buckeye


RT @OhioStAthletics: Dantonio: In terms of Braxton Miller; I see a magician. A guy with a sixth sense. We have to defend the loose plays.#…
18 minutes ago

ESPN_BigTen

ESPN BigTen


Dantonio: "There is no question in my mind that Braxton Miller is the most physical quarterback we've played this year."
19 minutes ago

ESPN_BigTen

ESPN BigTen


Dantonio says Saturday's game bigger than the 1998 contest "because it sends you someplace."
21 minutes ago

KyleRowland

Kyle Rowland


Mark Dantonio reliving the 1998 Ohio State-Michigan State game. Reciting every detail, even the halftime score. Dino was MSU's DC that year.
22 minutes ago

ESPN_BigTen

ESPN BigTen


Dantonio on '98 MSU win against OSU: "As the game progressed, we became more confident." Won game with four straight blitzes.
22 minutes ago

11W

Eleven Warriors


RT @mwaltonkeys: Urban http://t.co/GLL3J9jovZ
23 minutes ago

ESPN_BigTen

ESPN BigTen


Damion Terry and Trey Kilgore worked as Braxton Miller on MSU's scout team. They did good job but can't truly replicate what Miller does.
24 minutes ago

KyleRowland

Kyle Rowland


In describing Braxton Miller, Dantonio used the word "magician."
26 minutes ago

KyleRowland

Kyle Rowland


"Carlos Hyde is a bull of a runner. He's not just big, he's fast. He also has the ability to catch the football." -Mark Dantonio
26 minutes ago

ESPN_BigTen

ESPN BigTen


Dantonio: "In terms of Braxton Miller, I see a magician." Can create good plays out of bad plays. "We have to defend the loose plays."
27 minutes ago

ESPN_BigTen

ESPN BigTen


Dantonio says he has no regrets about not running up the score in some games. MSU took knee deep in opponent's territory a few times.
27 minutes ago

KyleRowland

Kyle Rowland


Loss at ND was turning point, Dantonio said. Spartans came out with positive vibes, built on good D, opportunistic O. MSU 8-0 since.
28 minutes ago

ESPN_BigTen

ESPN BigTen


Dantonio: "They're in a life moment. They're in a moment they should remember for the rest of their lives. … It's a special moment."
30 minutes ago

KyleRowland

Kyle Rowland


Dreaming big is part of sports, Dantonio said. That's why MSU talks about the Rose Bowl, team embracing the moment.
31 minutes ago

BuckeyesBeat

Austin Ward


Bucks didn't suffer any drop off with Elflein replacing Hall last week at Michigan. No matter how long Hall is out, OSU should be fine.
31 minutes ago

ESPNOhioState

ESPN Ohio State


Video: Big Ten championship preview http://t.co/KkpcsOHMPT
31 minutes ago

ESPN_BigTen

ESPN BigTen


Dantonio knew offense would find an identity eventually this season. Last year, every game close b/c MSU was one dimensional. No longer case
32 minutes ago

ESPN_BigTen

ESPN BigTen


Video: Big Ten championship preview http://t.co/PsB0eMlAGX
33 minutes ago

ESPN_BigTen

ESPN BigTen


Dantonio says you feel electricity in game like this because it can propel you to Rose Bowl. Shows how Playoff will be next year.
34 minutes ago

11W

Eleven Warriors


Marcus Hall will not start the B1G Championship Game for Ohio State. http://t.co/cSUj6lFLG5
34 minutes ago

KyleRowland

Kyle Rowland


Dantonio heaps praise on OSU defense. Called the personnel outstanding and believes a lot of yardage at Michigan came on broken plays.
35 minutes ago

ESPN_BigTen

ESPN BigTen


MSU coach Mark Dantonio taking questions http://t.co/5g727BFsiP
35 minutes ago

Brutus_Buckeye

Brutus Buckeye


RT @OhioStAthletics: A look at @LucasOilStadium on @B1Gfootball champ. eve. #Buckeyes are about to conduct their walkthrough. #GoBucks http…
35 minutes ago

Brutus_Buckeye

Brutus Buckeye


RT @OhioStAthletics: Meyer: I know 1 thing. We are facing an excellent team tomorrow night. I have always really admired Michigan State ove…
35 minutes ago

Brutus_Buckeye

Brutus Buckeye


RT @OhioStAthletics: Meyer on '12 MSU: Similar, very good def. Offensively they are a lot different. Much more explosive than they were. ht…
35 minutes ago

ESPN_BigTen

ESPN BigTen


Dantonio says Ohio State has outstanding personnel on defense. Lot of yards allowed to Michigan on screen passes, broken plays.
36 minutes ago

ESPN_BigTen

ESPN BigTen


Mark Dantonio: "It's good to be back. … When we made that turn on the highway and saw Lucas Oil, it became a reality."
38 minutes ago

KyleRowland

Kyle Rowland


Meyer: Marcus Hall Will Not Start in Big Ten Championship Game http://t.co/wMJovteIdC
38 minutes ago

joe11w

joe11w


New 11W... Meyer: Marcus Hall Will Not Start in Big Ten Championship Game: INDIANAPOLIS — The Ohio State of... http://t.co/WB7mWwuwda
38 minutes ago

11W

Eleven Warriors


"Whatcha thinking about?" "Nothing. You?" http://t.co/edjc7NYF5n
39 minutes ago

KyleRowland

Kyle Rowland


Urban Meyer and Mark Dantonio, probably discussing dinner plans. http://t.co/qgqErQOcpH
39 minutes ago

ESPN_BigTen

ESPN BigTen


Urban Meyer and Mark Dantonio share a moment https://t.co/N9n1Im1iL7
39 minutes ago

KyleRowland

Kyle Rowland


RT @11W: Meyer on Curtis Grant: "He's practiced all week. Still a little bit of a wobble, but he's getting better." Meyer anticipates Grant…
41 minutes ago

OhioStFootball

Ohio State Football


Are you making your way to #indianapolis for the game tomorrow? #BuckeyeNation
41 minutes ago

ESPN_BigTen

ESPN BigTen


Meyer said he anticipates LB Curtis Grant will play tomorrow. Said Grant still has "a little bit of wobble" but is improving.
41 minutes ago

11W

Eleven Warriors


Meyer on Curtis Grant: "He's practiced all week. Still a little bit of a wobble, but he's getting better." Meyer anticipates Grant will go.
41 minutes ago

KyleRowland

Kyle Rowland


Now confirmation from Meyer that Curtis Grant will play on Saturday.
42 minutes ago

ESPN_BigTen

ESPN BigTen


Meyer said he anticipates a 50-50 split at Lucas Oil but hopes for more Buckeyes fans.
42 minutes ago

KyleRowland

Kyle Rowland


Meyer said he doesn't sleep well before games. Said he'll be up and down all night.
42 minutes ago

BuckeyesBeat

Austin Ward


RT @ESPN_BigTen: Meyer says OL Marcus Hall won't start on Saturday. "Other than that, we'll see what happens."
43 minutes ago

KyleRowland

Kyle Rowland


Meyer said the negatives of watching last year's film is seeing how bad the offense was a year ago. "Much improved this year."
44 minutes ago

KyleRowland

Kyle Rowland


"I think Josh Perry has solidified himself as a Big Ten linebacker." -Meyer
46 minutes ago

KyleRowland

Kyle Rowland


Pat Elflein is the top backup on O-line, Meyer said. Coaching staff has lots of confidence he cam play well on the line.
46 minutes ago

ESPN_BigTen

ESPN BigTen


Reporter notes to Meyer that he can't go unbeaten forever. Meyer says, "Appreciate that."
48 minutes ago

KyleRowland

Kyle Rowland


"Appreciate that," -Urban Meyer to reporter who said at some point Ohio State will lose.
48 minutes ago

11W

Eleven Warriors


"Urban at some point, you're going to lose a football game at Ohio State. You can't not lose forever."Meyer: "Appreciate that."
48 minutes ago

KyleRowland

Kyle Rowland


Meyer credits his team for not talking about the national picture at all this week. "Everybody gets it. We have a very smart team."
49 minutes ago

ESPN_BigTen

ESPN BigTen


Meyer says "there's not been one peep" about national title among team this week. Says focus squarely on MSU.
49 minutes ago

KyleRowland

Kyle Rowland


Preparing for Tressel and Dantonio is similar, according to Meyer. I think we all know what he did against that Tressel-coached team.
50 minutes ago

ESPN_BigTen

ESPN BigTen


Meyer said Ohio State spent a lot of time researching and preparing for possible fakes in kicking game from Michigan State
50 minutes ago

KyleRowland

Kyle Rowland


SEC is known for their great defenses during Meyer's time in the south, but he said Michigan State's unit is top 3 he's ever faced.
51 minutes ago

ESPN_BigTen

ESPN BigTen


Meyer says Michigan State among the top three defenses he's ever faced, including SEC
51 minutes ago

KyleRowland

Kyle Rowland


Christian Bryant's injury had a galvanizing effect on OSU, Meyer said. Mentioned Ryan Shazier specifically as a player who grew as leader.
51 minutes ago

ESPN_BigTen

ESPN BigTen


Meyer said he saw "a team that went to work" in practice this week. Said he was impressed with how defense responded after Michigan game
53 minutes ago

KyleRowland

Kyle Rowland


Meyer said he saw a team that worked hard this week, worked together. It trickles down from the top with a staff that works well together.
53 minutes ago

KyleRowland

Kyle Rowland


Meyer lauds Guiton for improving Braxton's preparation. Said Miller did not practice well last year, totally different 12 months later.
54 minutes ago

ESPN_BigTen

ESPN BigTen


Meyer said Kenny Guiton has had a great influence on Braxton Miller. Said Miller hadn't prepared the way coaches wanted until last 2 months.
about an hour ago

11W

Eleven Warriors


Q: "Urban, do you like conference championship games?"Meyer: "I like them when we win them."
about an hour ago

KyleRowland

Kyle Rowland


On MSU offense, Meyer said the O-line is "rugged", passing game much improved from beginning of season to now. Impressed with Connor Cook.
about an hour ago

Brutus_Buckeye

Brutus Buckeye


RT @B1Gfootball: #Buckeyes Urban Meyer at the #B1GFCG Coaches Press Conference. http://t.co/HCx1h9CUZy
about an hour ago

ESPN_BigTen

ESPN BigTen


Meyer says MSU has "a very rugged offensive line." Says offense "is much more balanced than you think."
about an hour ago

KyleRowland

Kyle Rowland


RT @TroyBaumgartner: Today on the Pregame @KyleRowland at 4:30, @KegsnEggs at 5:10 PM. Plus @MikeLiljeBCSN will join us live from Indianapo…
about an hour ago

KyleRowland

Kyle Rowland


Playing indoors could help OSU's offense, but Meyer said it won't make the game plan any more aggressive for the Buckeyes.
about an hour ago

ESPN_BigTen

ESPN BigTen


Meyer on Hall: "I'm just very, very disappointed in his actions."
about an hour ago

KyleRowland

Kyle Rowland


"As of Friday afternoon, I'm happy with our focus." -Meyer
about an hour ago

KyleRowland

Kyle Rowland


Meyer says Marcus Hall will not start on Saturday. From there, Meyer didn't say what Hall's status will be.
about an hour ago

11W

Eleven Warriors


Meyer confirms Marcus Hall will not start the game tomorrow for Ohio State. "Other than that, we'll see what happens."
about an hour ago

ESPN_BigTen

ESPN BigTen


Meyer says OL Marcus Hall won't start on Saturday. "Other than that, we'll see what happens."
about an hour ago

KyleRowland

Kyle Rowland


Curtis Grant and Philly Brown are banged up, Meyer said. Brown will play, didn't really elaborate on grant's status.
about an hour ago

ESPN_BigTen

ESPN BigTen


Meyer says WR Philly Brown has small stress fracture in leg. Won't be 100 pct but will be close.
about an hour ago

ESPN_BigTen

ESPN BigTen


Meyer says his previous championship game experience has helped. Mostly in logistic angles.
about an hour ago

KyleRowland

Kyle Rowland


Michigan State is very similar defensively compared to last season when OSU won 17-16 last year, Meyer said. But he added OSU played poorly.
about an hour ago

ESPN_BigTen

ESPN BigTen


Meyer said Ohio State watched last year's game against Michigan State "quite a bit. ... We did not play great. "
about an hour ago

11W

Eleven Warriors


Urban Meyer at the podium. Live coverage on BTN. More at http://t.co/FE8kV06NRm. http://t.co/eLjNWkhG8A
about an hour ago

ESPN_BigTen

ESPN BigTen


Ohio State coach Urban Meyer is here http://t.co/xiMCgrxVAw
about an hour ago

ESPN_BigTen

ESPN BigTen


Urban Meyer here for Big Ten championship game press conference
about an hour ago

Brutus_Buckeye

Brutus Buckeye


RT @B1GLLL: PregameNote: Two @OhioStAthletics players could break the 3,000-yd career rushing mark Sat.: CarlosHyde (2,967 yds) & BraxtonMi…
about an hour ago

KyleRowland

Kyle Rowland


Urban Meyer at the podium for pre-Big Ten Championship Game press conference. We'll have updates on Twitter and at http://t.co/nVRi3fVV2o.
about an hour ago

Brutus_Buckeye

Brutus Buckeye


RT @OhioStAthletics: This is what's on the line tomorrow night in O-H-Indy!!@OSUCoachMeyer coming up shortly on @BigTenNetwork #GoBucks ht…
about an hour ago

Brutus_Buckeye

Brutus Buckeye


RT @OhioStAthletics: COMING UP: Coach Meyer's B1G Championship press conference LIVE on @BigTenNetwork at 3:30pm ET. #GoBucks #BeatSparty h…
about an hour ago

11W

Eleven Warriors


IT'S A SPARTY BEAT PROFILE ON MARK DANTONIO, DREAMBOAT. http://t.co/YHjc6uPgy1
about an hour ago

ESPN_BigTen

ESPN BigTen


Miller, Hyde, Borland up for Silver Football http://t.co/m61pSg0JSq
about an hour ago

ESPNOhioState

ESPN Ohio State


Miller, Hyde, Borland up for Silver Football http://t.co/VbkzVtRnSC
about an hour ago

bbournival

Brad Bournival


The view from the D-I I state final. I'm thinking Glenville and Loveland will be running more than usual tonight... http://t.co/jngH1qU4xk
about an hour ago

Brutus_Buckeye

Brutus Buckeye


Snowed in? Tune into @BigTenNetwork for last moments of 2012 17-16 win @MSU_Football. OSUCoachMeyer press conf at 3:30. #GoBucks #BeatSparty
about an hour ago

11W

Eleven Warriors


30 minutes until Urban Meyer's presser at Lucas Oil Stadium. http://t.co/VuuVZyGMLg
about an hour ago

Brutus_Buckeye

Brutus Buckeye


.@leefitting @CollegeGameDay @MSU_Football @OhioStAthletics Weather? I don't see no weather! #GoBucks #BeatSparty
about an hour ago

joe11w

joe11w


New 11W... Sparty Beat: 11W Interviews Dreamboat Mark Dantonio: Mark Dantonio has proven himself time and t... http://t.co/yE8q7grbcj
about an hour ago

11W

Eleven Warriors


This guy. http://t.co/GuTWmG9nhH
about 2 hours ago

11W

Eleven Warriors


What's this? http://t.co/KPrzOWBwsp
about 2 hours ago
BLOG ARCHIVE:
CATEGORIES: