Video: Buckeyes DE pledge Tyquan Lewis
December, 11, 2012
12/11/12
1:48
PM ET
By
Miller Safrit
| ESPN.com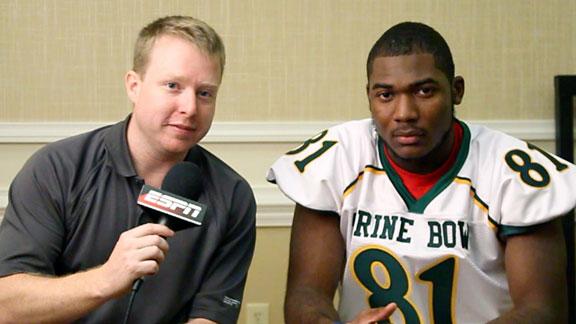 At the Shrine Bowl, Miller Safrit talks with Ohio State commit Tyquan Lewis (Tarboro, N.C./Tarboro) and finds out what the defensive end is looking forward to about enrolling early.
Clemson, Ohio St. Looking For Redemption
After disappointing finishes, both Clemson and Ohio State are looking for redemption in the Orange Bowl.
Tags:
Orange Bowl
,
BCS
Clemson, Ohio St. Looking For Redemption
VIDEO PLAYLIST
Clemson, Ohio St. Looking For Redemption

Clemson, Ohio St. Looking For Redemption

After disappointing finishes, both Clemson and Ohio State are looking for redemption in the Orange Bowl.

Tags: Orange Bowl

,

BCS

BCS Bowl Selections Announced

BCS Bowl Selections Announced

Defeated Urban Meyer Eats Post-Loss Pizza In Bowels Of Stadium

Defeated Urban Meyer Eats Post-Loss Pizza In Bowels Of Stadium
BUCKEYENATION RECRUITING NEWS
OSU FB RECRUITING SCORECARD
joe11w

joe11w


New 11W... Welcome to the Orange Bowl, where Punting is Optional and Defense Won't Matter: The last time Cl... http://t.co/sp0mE9kTMP
25 minutes ago

11W

Eleven Warriors


Welcome to the Orange Bowl, where punting is optional and defense won't matter. http://t.co/aHLdD8oM72
31 minutes ago

ESPN_BigTen

ESPN BigTen


Big Ten pick rewind: Championship game http://t.co/l44RDpfLWu
45 minutes ago

ESPNOhioState

ESPN Ohio State


Big Ten pick rewind: Championship game http://t.co/QXYYUVV3eo
46 minutes ago

ESPN_BigTen

ESPN BigTen


Most important targets: Big Ten http://t.co/aIHj4mM1W3
about an hour ago

ESPNOhioState

ESPN Ohio State


Most important targets: Big Ten http://t.co/dsH5gwWp8k
about an hour ago

joe11w

joe11w


New 11W... Tuesday Skull Session: The Orange Bowl is not the bowl game anyone hoped for a few days ago. Ins... http://t.co/LbXAYwyyPX
about 3 hours ago

11W

Eleven Warriors


Skull Session: Urban's trip to Clemson, LaQuinton Ross art is on fire, and Braxton will have to wait a year for NYC. http://t.co/jtUYD7FGHd
about 3 hours ago

ESPNOhioState

ESPN Ohio State


3-point stance: Penalty on Buckeyes http://t.co/KHlBZ2eTl8
about 4 hours ago

Buckeye_Nation

Buckeye Nation


Bielema vs. Meyer again? Hogs coach votes #Buckeyes 12th // http://t.co/WbNCFkTV0F
about 10 hours ago

Brutus_Buckeye

Brutus Buckeye


Signing off tonight with a message from coach Woody Hayes ... #GoBucks http://t.co/us11HsVWNk
about 10 hours ago

11W

Eleven Warriors


Gruden. RT @coachingsearch Hearing some surprising news about the UConn search. Trying to get more confirmation...
about 10 hours ago

ESPN_BigTen

ESPN BigTen


Travis Frederick messed up the protection there but still sports a tremendous beard.
about 10 hours ago

bbournival

Brad Bournival


RT @madrelondon: Cant wait for my in home visit Thursday from Michigan State love making my ***** proud
about 11 hours ago

Buckeye_Nation

Buckeye Nation


RT @HistoryInPix: Jesse Owens, in a suit, practices aboard the SS Manhattan on the way to the Olympic Games in Berlin, 1936 http://t.co/PJy…
about 11 hours ago

Buckeye_Nation

Buckeye Nation


#Heisman finalists: Jordan Lynch, Johnny Manziel, AJ McCarron, Jameis Winston, Tre Mason, Andre Williams.
about 11 hours ago

Buckeye_Nation

Buckeye Nation


RT @JeffBoals: #Buckeyes #Family #Team #Together http://t.co/qmSruhYhrH
about 11 hours ago

Buckeye_Nation

Buckeye Nation


RT @ashley_city: @Brutus_Buckeye is VERY excited that the #Buckeyes are playing in the #OrangeBowl! @Buckeye_Nation http://t.co/zoTAC2PphG
about 11 hours ago

KyleRowland

Kyle Rowland


Ohio State assistants will almost certainly be targeted. RT @schadjoe: As many others also reporting, BGSU's Dave Clawson to Wake Forest
about 11 hours ago

bucksinsider

Ohio State News


The Craziest Tradition in College Football Is OSU's Mirror Lake Jump: The craziest tradit... http://t.co/FPno5ti9UJ #buckeyes #ohiostate
about 12 hours ago

KyleRowland

Kyle Rowland


RT @coachingsearch: A source tells me Ohio State assistant Everett Withers will not be the guy at FAU.
about 12 hours ago

rustymillerap

Rusty Miller


RT @ToddSharrock: Malkin's goal snaps #CBJ shutout streak at 162:01.
about 12 hours ago

Brutus_Buckeye

Brutus Buckeye


RT @OhioStAthletics: Full slate of HOOPS over next 2 weeks! Get to @TheSchott & CHEER ON YOUR #BUCKEYES!!! http://t.co/3dkhYm5PIi #GoBucks …
about 12 hours ago

bbournival

Brad Bournival


RT @David_Njoku80: In-home visit with Ohio state on Wednesday.
about 12 hours ago

Brutus_Buckeye

Brutus Buckeye


.@ashley_city @Buckeye_Nation Gotta get that vitamin C in the winter!! #GoBucks
about 12 hours ago

chris_spielman

Chris Spielman


RT @Godly_Life: When fear comes knocking at your door, you must answer it with faith. Nothing else is effective against it.
about 13 hours ago

KyleRowland

Kyle Rowland


RT @ClemsonInsider: Ohio State's Meyer fond of Clemson http://t.co/4n1Iphh8UN
about 13 hours ago

joe11w

joe11w


New 11W... B1G Football Recruiting Rankings: 12/9: Will Raekwon McMillan commit to Ohio State?With the regu... http://t.co/DeEE8wHbwY
about 14 hours ago

ESPN_BigTen

ESPN BigTen


RT @AWardESPN: Ohio State left tackle Jack Mewhort has accepted an invitation to the Senior Bowl next month. Big opportunity to boost his d…
about 14 hours ago

BuckeyesBeat

Austin Ward


Ohio State left tackle Jack Mewhort has accepted an invitation to the Senior Bowl next month. Big opportunity to boost his draft stock.
about 15 hours ago

BuckeyesBeat

Austin Ward


@TravHaneyESPN Would think so. If he doesn't miss three games in September, might be there anyway. I'm a broken record with that.
about 15 hours ago

BuckeyesBeat

Austin Ward


@TravHaneyESPN Braxton, too.
about 15 hours ago

BuckeyesBeat

Austin Ward


As @JeffSvoboda points out, Johnny Manziel will be back for presentation, but Archie Griffin's status as lone double-winner seems safe.
about 15 hours ago

BuckeyesBeat

Austin Ward


Last year when Braxton Miller finished fifth, only three players were invited to NYC. Speaks to how open race was late in the season.
about 15 hours ago

BuckeyesBeat

Austin Ward


Injury absence played a big part in missing out on trip to NYC for Braxton. In wide-open race, loss to MSU might've knocked him out.
about 15 hours ago

BuckeyesBeat

Austin Ward


There are six Heisman Trophy finalists this year: Braxton Miller is not one of them.
about 15 hours ago

ESPN_BigTen

ESPN BigTen


Was there preseason before moving to safety RT @TomMulhernWSJ: Tanner McEvoy back taking snaps at QB at #Badgers practice today.
about 16 hours ago

chris_spielman

Chris Spielman


RT @God_Loved: Everything we run away from has power over us; everything we go through, we conquer.
about 16 hours ago

ESPN_BigTen

ESPN BigTen


Big Ten Monday chat wrap http://t.co/3E0n4NUnIQ
about 16 hours ago

KyleRowland

Kyle Rowland


RT @dkurtenbach: All signs point to Stan Drayton. RT @coachingsearch: A source tells me Ohio State assistant Everett Withers will not be th…
about 17 hours ago

ESPN_BigTen

ESPN BigTen


Mark Dantonio is a finalist for Eddie Robinson coach of the year award. Others: Cutcliffe, Fisher, Shaw, Pinkel, Malzahn, O'Leary, Briles.
about 17 hours ago

ESPN_BigTen

ESPN BigTen


Player of the week: Big Ten http://t.co/q0NYAyhVJ4
about 17 hours ago

rustymillerap

Rusty Miller


RT @djoneshoop: Braxton Miller shows in B1G title game whiff he's just another incomplete Ohio State QB http://t.co/vfpPyfsgEi
about 18 hours ago

rustymillerap

Rusty Miller


RT @THNRyanKennedy: Rick Nash and Alex Ovechkin almost fought last night; kinda wish they had dropped the gloves. Not sure who would win th…
about 18 hours ago

rustymillerap

Rusty Miller


RT @Globe_Pics: Winter Night in Austria http://t.co/3dkYlbw24I
about 18 hours ago

Brutus_Buckeye

Brutus Buckeye


RT @OSUBuckeyeClub: Want to watch OSU in the @OrangeBowl? Check out the all-inclusive Buckeye Club Bowl Tour! http://t.co/YBqGw2rtzb http:/…
about 18 hours ago

ESPN_BigTen

ESPN BigTen


Video: Penn State QB Hackenberg http://t.co/UzjuGhrJeU
about 18 hours ago

Brutus_Buckeye

Brutus Buckeye


RT @OhioStAthletics: Get a recap of this past weekend's action w/ Scarlet & Gray Today: http://t.co/oOQO61BM0g #GoBucks
about 18 hours ago

Brutus_Buckeye

Brutus Buckeye


RT @HistoryInPix: Jesse Owens, in a suit, practices aboard the SS Manhattan on the way to the Olympic Games in Berlin, 1936 http://t.co/PJy…
about 18 hours ago

bucksinsider

Ohio State News


What Happened to the Ohio State Buckeyes? (Yahoo Contributor Network): COMMENTARY | Headi... http://t.co/uT8GUY8lMP #buckeyes #ohiostate
about 19 hours ago

Brutus_Buckeye

Brutus Buckeye


Bowl Gear! NEW women's Orange Bowl bound fan T-shirt. Follow me on Pinterest for more! #GoBucks http://t.co/1UU9TTnMN4
about 19 hours ago

joe11w

joe11w


New 11W... The Ohio State Fan's Five Stages of Grief: What happened is hard to deal with. Ohio State, winne... http://t.co/3XcFt6pPG0
about 19 hours ago

Brutus_Buckeye

Brutus Buckeye


Bowl Gear! NEW Orange Bowl bound long sleeve T-Shirt! #GoBucks http://t.co/Yo3Mtc2v8m
about 19 hours ago

11W

Eleven Warriors


The five stages of Buckeye grief. Where are you in the process? http://t.co/DROXN0RGWo
about 19 hours ago

ESPNOhioState

ESPN Ohio State


Looking at this season's B1G bowl swag http://t.co/T6lEJfMdSi
about 19 hours ago

ESPN_BigTen

ESPN BigTen


Reminder: Big Ten Monday chat coming up at the top of the hour. Join the fun: http://t.co/AuF2oliz4e
about 19 hours ago

ESPN_BigTen

ESPN BigTen


Looking at this season's B1G bowl swag http://t.co/pA1gDK5O0K
about 19 hours ago

Brutus_Buckeye

Brutus Buckeye


Movin' on up! @OhioStateHoops ranked No. 2 in this week's @USATODAY Coaches Poll! #GoBucks http://t.co/hyzuw6ErtJ
about 19 hours ago

ESPN_BigTen

ESPN BigTen


Nation's top walk-on (now former). Well deserved RT @BadgerFootball: Jared Abbrederis accepts 2013 Burlsworth Trophy http://t.co/dbqxlHXZ9m
about 19 hours ago

Brutus_Buckeye

Brutus Buckeye


.@OrangeBowl @OhioStAthletics First question: How do I get one of those orange jackets?! #GoBucks
about 19 hours ago

Brutus_Buckeye

Brutus Buckeye


.@OrangeBowl @OhioStAthletics And the media barrage begins!! Rep meets with Columbus' own @ABC6 @claywsyx6 #GoBucks http://t.co/y8Pmqr646N
about 19 hours ago

ESPN_BigTen

ESPN BigTen


Video: One Good Thing -- MSU closes http://t.co/B6TCf1Be4h
about 19 hours ago

rustymillerap

Rusty Miller


RT @AP_Sports: Former slugger Magglio Ordonez elected mayor in Venezuela http://t.co/SIfmdNBHXa #mlb
about 19 hours ago

rustymillerap

Rusty Miller


RT @DBriggsBlade: Fans sour on Orange Bowl? Get-in prices for BCS games on Stubhub: Title game: $925 Rose Bowl: $374. Sugar $179. Fiesta: $…
about 19 hours ago

ESPN_BigTen

ESPN BigTen


Wish Ohio State had signed this guy, if only for the hair and the beard. Tremendous. … http://t.co/gP228k5ksd
about 19 hours ago

rustymillerap

Rusty Miller


Big Ten in AP men's hoops poll: No. 3 #OhioState, 4, #Wisconsin, 5 #MichiganState, No. 23 #Iowa. Getting pts: #Michigan, #indiana
about 19 hours ago

rustymillerap

Rusty Miller


#Buckeyes up to No. 3 in latest weekly AP men's hoops poll. Top 5: Ariz, Syr, #OhioState, Wisc, MSU
about 19 hours ago

bucksinsider

Ohio State News


Ohio State: Five Things We Learned From the Buckeyes' Big Ten Title Loss (Yahoo Contribut... http://t.co/mH5ujPiDRU #buckeyes #ohiostate
about 20 hours ago

bigtenconf

Big Ten Conference


For more on this week's Women's #B1G Indoor Track & Field weekly accolades: http://t.co/aVR9VrsYza
about 20 hours ago

bigtenconf

Big Ten Conference


Dani Bunch earns 1st #B1G weekly award, with both of her scores as school records & her shot put mark ranking 2nd in the nation this season.
about 20 hours ago

bigtenconf

Big Ten Conference


Women's #B1G Field Athlete of the Week is Dani Bunch of @PurdueTrackXC, placing 1st in shot put & weight throw at Mastodon Opener.
about 20 hours ago

bigtenconf

Big Ten Conference


Megan Plenus earns 1st #B1G weekly award, her time on a short, flat track converts to 2:12.40, which is best in the country this season.
about 20 hours ago

bigtenconf

Big Ten Conference


Women's #B1GTrack Athlete of Week is Megan Plenus of @PurdueTrackXC finishing 1st at Mastodon Opener with time of 2:13.92 in 800-meter dash.
about 20 hours ago

bigtenconf

Big Ten Conference


For more on the Men's #B1G Track & Field weekly awards: http://t.co/l2m99RNipJ
about 20 hours ago

bigtenconf

Big Ten Conference


Chukwuebuka Enekwechi earns 1st #B1G weekly award, his mark in weight throw is #Boilermaker record & currently ranks 1st in country this yr.
about 20 hours ago

bigtenconf

Big Ten Conference


Men's #B1G Field Athlete of Week is Chukwuebuka Enekwechi of @PurdueTrackXC placing 1st in weight throw & 2nd in shot put at Mastodon Opener
about 20 hours ago

bigtenconf

Big Ten Conference


Brandon Winters earns his 1st #B1GTrack weekly award, with his 60-meter time ranking 1st in the #B1G & 9th in the nation this season.
about 20 hours ago

bigtenconf

Big Ten Conference


Men's #B1GTrack Athlete of Week is Brandon Winters of @PurdueTrackXC, placing 1st in 60-meter hurdles at Mastodon Opener w/ a time of 8.04.
about 20 hours ago

OSUADAthComm

Dan Wallenberg


RT @DWarner_OSU: @OhioStateHoops moves up to No. 3 in AP Poll and No. 2 in Coaches. #GoBucks Full rankings: http://t.co/lbiqps3Bkk
about 20 hours ago

bigtenconf

Big Ten Conference


This makes 2013 the highest-rated, most-watched ever #B1GFCG, surpassing previous record set in 2011. http://t.co/Fun0rvNYCb
about 20 hours ago

bigtenconf

Big Ten Conference


13.9M viewers tuned in to Saturday's #B1GFCG, making it the highest-rated CFB telecast for @CFBONFOX since the '10 Fiesta Bowl.
about 20 hours ago

ESPNOhioState

ESPN Ohio State


First impressions: Big Ten bowl lineup http://t.co/BRmfbkVYtc
about 20 hours ago

ESPN_BigTen

ESPN BigTen


First impressions: Big Ten bowl lineup http://t.co/EjGCx1LzQr
about 20 hours ago

OSUADAthComm

Dan Wallenberg


RT @JeffBoals: #Buckeyes #2 with 1 first place vote: @USATODAYsports: Big changes in our NCAAB Coaches Poll. http://t.co/sXur5dDYjw http:/…
about 20 hours ago

Brutus_Buckeye

Brutus Buckeye


RT @OhioStAthletics: OSU to join OU as ONLY schools to appear in ALL 5 BCS bowls during era (1998-2013). https://t.co/t0zrp1STQy #GoBucks h…
about 20 hours ago

ESPN_BigTen

ESPN BigTen


Pelini the pitchman? Huskers need it http://t.co/LBYZQkk1Xv
about 20 hours ago

rustymillerap

Rusty Miller


RT @ESPNStatsInfo: Urban Meyer: 1st to lead 3 schools to BCS bowl games (Utah, Fla, #OhioState) // And last, too.
about 21 hours ago

ESPN_BigTen

ESPN BigTen


How does 7-6 team become B1G champ? MSU outscored nine B1G foes 81-14 in the fourth quarter. Last year: 54-36 (opp had more points 3 times)
about 21 hours ago

bucksinsider

Ohio State News


Average ticket price for the Orange Bowl is $191 -- down $25 in the past week. Get-in the door for $72 here: http://t.co/c5sl60ZWQs
about 21 hours ago

bbournival

Brad Bournival


Jordan Overton adds an offer from #Toledo #Rockets. Outstanding 2016 WR
about 21 hours ago

ESPN_BigTen

ESPN BigTen


Big Ten's lunch links http://t.co/Ds42G479ys
about 21 hours ago

ESPNOhioState

ESPN Ohio State


Big Ten's lunch links http://t.co/H4oOeBstnv
about 21 hours ago

BuckeyesBeat

Austin Ward


With @ESPN_ACC looking at Clemson, we break down the Discover Orange Bowl with a first peek at the matchup. http://t.co/kHkv6O1IBi
about 21 hours ago

11W

Eleven Warriors


The B1G Championship game drew 100,000 more people than the Iron Bowl, making it the most watched game of the year. http://t.co/ozZ1qvfEN5
about 21 hours ago

BuckeyesBeat

Austin Ward


The wounds are still fresh, but Ohio State is already trying to move on and embrace an Orange Bowl opportunity. http://t.co/TXgKTVg5uN
about 21 hours ago

11W

Eleven Warriors


RT @richarddeitsch: Fox says Michigan State-Ohio State drew 13.9 million viewers, topping Alabama-Auburn (13.8M) as the most-watched CFB ga…
about 21 hours ago

ESPN_BigTen

ESPN BigTen


RT @Shrine_Game: Ricardo Allen of @BoilerFootball has accepted an invitation to play in the 2014 East-West Shrine Game.
about 21 hours ago

KyleRowland

Kyle Rowland


Buckeye fans, follow Clemson beat writer @Aaron_Brenner of the Charleston Post & Courier.
about 22 hours ago

11W

Eleven Warriors


Hartline's fancy feet, an injury ends Boom's season and updates from every former Buckeye in Week 14 NFL action. http://t.co/jdRJG6H6AG
about 22 hours ago

ESPN_BigTen

ESPN BigTen


Big Ten Monday chat at 3 p.m. ET http://t.co/r722XguItU
about 22 hours ago
BLOG ARCHIVE:
CATEGORIES: