Buckeyes' Roby earned national attention
December, 10, 2012
12/10/12
2:57
PM ET
COLUMBUS, Ohio -- There was no real hype for
Bradley Roby
before the season, no watch lists building buzz and giving a head start on becoming a nationally recognized name.
Even within the program, the conversations in August typically focused more on getting consistent effort instead of praising all the natural gifts Ohio State's top cornerback possessed.
[+] Enlarge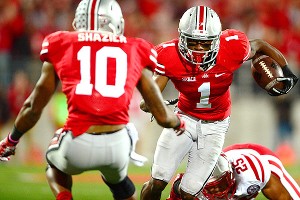 Andrew Weber/US PresswireBradley Roby made two interceptions in the victory over Nebraska.
Roby essentially had to go the old-fashioned way to start generating attention and picking up accolades -- the redshirt sophomore had to earn it with his play instead of his reputation.
To continue reading this article you must be an Insider
Insider
College Football Minute
Ohio State might try multiple quarterbacks, injuries hit Clemson, and sad news coming from Kent State. It's all ahead in the "College Football Minute."
College Football Minute
VIDEO PLAYLIST
OSU FB RECRUITING SCORECARD
11W

Eleven Warriors


May have to grab a new number this year. RT @Ame_DV_33 Just moved in my new apartment in Cbus. #Juniorlife
6 minutes ago

rustymillerap

Rusty Miller


SKorea has put up a 7 spot on Japan in the 2nd, incl. a liner off the pitcher's hip that ricocheted into LF for a 3-run 2b.
10 minutes ago

AP_Sports

AP Sports


Mayor: Jackie Robinson West 'pride of Chicago' as #LLWS showdown looms vs Las Vegas http://t.co/2JU2ItMvK6
14 minutes ago

rustymillerap

Rusty Miller


International title game between SKorea and Japan under way at #LLWS. US final to follow between Chicago and Vegas.
53 minutes ago

AP_Sports

AP Sports


Las Vegas has dominated #LLWS heading into rematch vs Jackie Robinson West of Chicago http://t.co/4bzMN22jrh (@rustymillerAP)
about an hour ago

11W

Eleven Warriors


Freshman kicker Sean Nuernberger lost his black stripe today. http://t.co/foMosfJD08
about an hour ago

joe11w

JoeSports


Money, Cash, & Joe's: A look at the Ohio State and Big Ten preseason prop bets: The start of the college footb... http://t.co/aqDdRI0glH
about an hour ago

bucksinsider

Ohio State News


Just one week until the Bucks kick things off with Navy in Baltimore. Lower Level tickets available from $50 here: http://t.co/AjA1wFUrAJ
about an hour ago

chris_spielman

Chris Spielman


Tanner McEvoy getting start for badgers vs LSU sat night @ESPNCFB ; Coach Anderson want dual threat should be a fun game
about an hour ago

11W

Eleven Warriors


We're obviously biased – the man torched part of our childhood – but objectively, is there another analyst with more half-baked takes?
about an hour ago

BTN_Ohio_State

Ohio State on BTN


East top tradition? Two of our panelists picked @OhioStAthletics "Script Ohio." http://t.co/Odua69tSyB http://t.co/R55KxGTCAt
about an hour ago

Brutus_Buckeye

Brutus Buckeye


Only two? C'mon, @BTNBrentYarina! Script > TTUN All day. Every day. #GoBucks @BTN_Ohio_State @OhioStAthletics
about an hour ago

11W

Eleven Warriors


Wednesday: Desmond Howard has Michigan, at No. 6, his highest ranked B1G team.Saturday: Desmond Howard picks Wisconsin to win the B1G.
about an hour ago

11W

Eleven Warriors


Ohio State's first football depth chart won't be out until Monday, but here's a sneak peek. http://t.co/GApc1TkOii
about 2 hours ago

11W

Eleven Warriors


O'Bannon lawyers seek $46,856,319 in attorneys' fees. Goodness. http://t.co/qnJYIHGZEv
about 2 hours ago

PinkyOdoyle

Pinky O'doyle


Putting the "O-H" in South Carolina. #gobuckeyes #BuckeyeNation #GoBucks #ohiostate #OHIO http://t.co/VNFtsKVT4b
about 3 hours ago

KyleConley614

ITS MY BIRTHDAY !!!!


@Brutus_Buckeye can I get a bday tweet from the Greatest Mascot ??? #BUCKEYEFOREVER
about 3 hours ago

buckeyefansonly

Buckeye Fans Only


#BuckeyeNation, @Brutus_Buckeye will compete (& win) @CapitalOne 2014 Mascot Challenge crown!" #GoBrutus & #GoBucks! http://t.co/L1vA9CekUP
about 3 hours ago

Brutus_Buckeye

Brutus Buckeye


.@OhioStResLife @SiebertHall @ParkStradley Think anyone can keep up with me?!
about 3 hours ago

OhioStResLife

Ohio State Res Life


Valet by @Brutus_Buckeye outside of @SiebertHall currently. Was last seen heading towards @ParkStradley on foot:) http://t.co/m26PQyKqaz
about 3 hours ago

CameronFontana

Cameron Fontana


Look who showed up to help #MoveInDay2014 @OhioState! I LOVE @Brutus_Buckeye! #nw2osu @OhioStResLife http://t.co/iu1zAmfWJw
about 3 hours ago

JMUCoachWithers

Everett Withers


7 Days. JMU Nation are you ready?! http://t.co/jhw3BG6Y5Y
about 3 hours ago

BuckeyesBeat

Austin Ward


One last Saturday until it's really back. Here's where I'll be at this time next week. http://t.co/mRNbua43MP
about 3 hours ago

joe11w

JoeSports


How often will preseason unranked teams make the College Football Playoff?: In case you somehow missed it, on ... http://t.co/jrUVLBUvNz
about 4 hours ago

11W

Eleven Warriors


Great photo of the Lunar TR1 Ohio States, courtesy of the football program. On sale 8/27. http://t.co/2quid4iU1V http://t.co/hzZsyA7PcI
about 4 hours ago

11W

Eleven Warriors


At T-minus one week, we gathered for a roundtable for #realtalk on Ohio State's season. http://t.co/jn3tVBdSmY
about 5 hours ago

Danimal_18

Danni


No reserves. No retreats. No regrets. #jmu @JMUCoachWithers
about 5 hours ago

11W

Eleven Warriors


ONE. WEEK. http://t.co/sDLLeD0ou9
about 6 hours ago

11W

Eleven Warriors


Curtis Grant enters his final rodeo with newfound poise and purpose. http://t.co/xhAwuKXQo0
about 7 hours ago

OhioState_WSOC

OhioState_WSOC


Ohio State Opens 2014 with 1-0 Win over No. 18 Duke http://t.co/9Kyb0OmHn9 #GoBucks http://t.co/yXohZ4vyUy
about 15 hours ago

OSUCoachMeyer

Urban Meyer


Buckeye Nation!!!! http://t.co/KyDluFN0VE
about 15 hours ago

OhioState_WSOC

OhioState_WSOC


And that's it! Buckeyes win their 2014 opener, 1-0, over No. 18 Duke! #GoBucks
about 15 hours ago

rustymillerap

Rusty Miller


Davis' accomplishments still inspire despite loss (from @AP) http://t.co/kUwVX2qvfd
about 16 hours ago

rustymillerap

Rusty Miller


Washington Post strikes 'Redskins' from editorials (from @AP) http://t.co/NA6osgmCnZ
about 16 hours ago

SpielmanFund

The Spielman Fund


This morning, @Chris_Spielman participated in the ALS #IceBucketChallenge! http://t.co/C3CksAjjZh
about 16 hours ago

Brutus_Buckeye

Brutus Buckeye


👍 --> RT @OhioState_WSOC: And that's it! Buckeyes win their 2014 opener, 1-0, over No. 18 Duke! #GoBucks
about 17 hours ago

rustymillerap

Rusty Miller


Philly and Mo'ne Davis may be out of #LLWS, but her impact has been astonishing: http://t.co/gTPbFaswBt
about 18 hours ago

Brutus_Buckeye

Brutus Buckeye


Michigan coach Brady Hoke: 'I feel terrible for Braxton Miller'@umichfootball #GoBucks http://t.co/YHuf9lA6Mv
about 18 hours ago

BuckeyesBeat

Austin Ward


If J.T. Barrett is drawing comparisons to Chris Leak, who might that make Cardale Jones? http://t.co/XiexUP13A8
about 18 hours ago

joe11w

JoeSports


Why is this news? Students not going to football games, Navy tickets and more: All the big Ohio State news, in... http://t.co/71O5mmWI16
about 18 hours ago

11W

Eleven Warriors


Congratulations to @Meech_Dream14, an 11Wer community member, on losing his black stripe. http://t.co/d3GGDfBoyK
about 18 hours ago

KyleRowland

Kyle Rowland


Purdue named four football captains Friday – three seniors and one junior. http://t.co/PraDl5OeIK
about 19 hours ago

IowaHawkeyeGolf

Iowa Hawkeye Golf


Please welcome back to Iowa former Hawkeye Tyler Stith as the new head men's golf coach! #onceahawkeyealwaysahawkeye http://t.co/dBwHobK21P
about 20 hours ago

ESPN_BigTen

ESPN BigTen


Big Ten Friday mailbag http://t.co/NaOf5KwpaP
about 20 hours ago

KyleRowland

Kyle Rowland


Former walk-ons Neal Beshears and Stephen Toyra are now scholarship basketball players for Purdue. http://t.co/JkmXeiRsSy
about 20 hours ago

ESPN_BigTen

ESPN BigTen


McEvoy pick signals QB shift for Badgers http://t.co/AUW5FPGxBu
about 20 hours ago

ESPN_BigTen

ESPN BigTen


Two-QB system could be option for Meyer http://t.co/Jc1JjTA4Iv
about 21 hours ago

joe11w

JoeSports


Ohio State recruiting: Who is left on defense for the class of 2015?: Land Grant Holy-Land breaks down the pos... http://t.co/2Jn28KPpjM
about 22 hours ago

ESPN_BigTen

ESPN BigTen


Sudfeld is Indiana's man on a mission http://t.co/u18JVhefpZ
about 22 hours ago

11W

Eleven Warriors


Four-star quarterback prospect Dwayne Haskins (@dh_simba7) stops by for an 11W Community Interview. http://t.co/erPS3PfbAH
about 22 hours ago

KyleRowland

Kyle Rowland


RT @carminjc: Kugler, Sinz, Sean Robinson, Russell #Purdue captains
about 23 hours ago

chris_spielman

Chris Spielman


ALS Ice Bucket Challenge with Chris Spielman http://t.co/VfZmSox1m7
about 23 hours ago

Brutus_Buckeye

Brutus Buckeye


.@OSUengineering @NASA_Johnson This is crazy! Like crazy Awesome! (Just tell him the mascot job is taken though #fellintheheat) #GoBucks
about 23 hours ago

OSUengineering

OSUengineering


Can you do the RO-H-I-Obot? Thanks to #BuckeyeEngineer & @NASA_Johnson co-op Jennifer Turner, this robonaut can http://t.co/LCN9K2Dxog
about 23 hours ago

bigtenconf

Big Ten Conference


The 2014 #B1G women's soccer season is officially underway. All 14 conference teams in action on opening day. #B1G http://t.co/WAYuTUVcgr
1 day ago

KyleRowland

Kyle Rowland


Kevin Wilson: "They have worked hard to earn their scholarships and we appreciate their efforts."
1 day ago

11W

Eleven Warriors


Here's a headline we never expected to read: "Dad Wants Craig Krenzel Charged for 'Pee Wee Fracas.'" http://t.co/0d8hqeyrA1
1 day ago

KyleRowland

Kyle Rowland


Kevin Wilson awards scholarships to walk-ons Damon Graham, Michael Cooper, Collin Rahrig, Isaiah Roundtree, Erich Toth and Anthony Corsaro.
1 day ago

11W

Eleven Warriors


Ohio State's national title hopes took a hit, but it still figures to play prominently in Big Ten affairs. http://t.co/pPNX4BnVsB
1 day ago

bigtenconf

Big Ten Conference


Women's #B1GSoccer kicks off this weekend: http://t.co/TnnCnrr9B3
1 day ago

Brutus_Buckeye

Brutus Buckeye


.@Habitat_org @KatieGarnerTV Was dangerous for me though. Didn't have a hard hat big enough for my head!
1 day ago

Habitat_org

Habitat for Humanity


@KatieGarnerTV @Brutus_Buckeye Great photo!
1 day ago

joe11w

JoeSports


Ohio State 2014-2015 basketball schedule: What it means: The full schedule, including Big Ten games, was forma... http://t.co/EAKDbxSFuJ
1 day ago

11W

Eleven Warriors


We spoke with the men behind @Focus3Culture on the team's pulse, J.T. Barrett's leadership and OSU's opportunity. http://t.co/b4bZpkp83x
1 day ago

Brutus_Buckeye

Brutus Buckeye


Here's your first chance to see @ohiostatewvball in action! (They have a DYNAMITE avi btw) #GoBucks http://t.co/GdTW6rBjSU
1 day ago

MetLifeCentral

MetLife Central


Wishing our friends @nickmangold and @Weatherford5 and their respective teams the best of luck tonight!#MetLifeBowl #NYFootballStartsNow
1 day ago

KyleRowland

Kyle Rowland


Question: Why did James Andrews not perform Braxton Miller's first surgery? He's only the most renowned orthopedist in the country.
1 day ago

bucksinsider

Ohio State News


Ohio State Football: 3 Players Who Must Step Up After Braxton Miller's Injury: In the wak... http://t.co/wzF4Zt3Uft #buckeyes #ohiostate
1 day ago

KyleRowland

Kyle Rowland


Oh. RT @DBriggsBlade Pole-dancing contest between strippers from Toledo and Detroit ends in deadly hail of bullets http://t.co/cPeuLAiNMR
1 day ago

11W

Eleven Warriors


Braxton Miller's set for shoulder surgery Tuesday, according the Columbus Dispatch. http://t.co/5fnMwK9yYq
1 day ago

ESPN_BigTen

ESPN BigTen


Big Ten mailbag coming up today: send questions to @ESPNRittenberg
1 day ago

nickmangold

Nick Mangold


Snoopy is packed, headed to stadium, see you there. #MetLifeBowl #JETS @MetLifeCentral http://t.co/Osr4xIaieJ
1 day ago

11W

Eleven Warriors


ESPN ran thousands of computer simulations, and Ohio State is still the clear-cut Big Ten favorites. http://t.co/SpGchByE3J
1 day ago

11W

Eleven Warriors


It's been a rough week, so we're giving something cool away. http://t.co/k6aznnFp2a
1 day ago

bucksinsider

Ohio State News


Ohio State Football: Depth Chart Analysis, Complete 2014 Preview and Predictions: What a ... http://t.co/tyApbyggDQ #buckeyes #ohiostate
1 day ago

11W

Eleven Warriors


Welcome to life in 2014, which means getting up to play Rutgers and Maryland every year. http://t.co/ocqDEvk9ij
1 day ago

ESPN_BigTen

ESPN BigTen


Best case/Worst case: Big Ten http://t.co/yP82tmnhGz
1 day ago

journalgsports

JG Sports


Big Ten releases hoop schedules. http://t.co/mI5l93YkE3
1 day ago

ESPN_BigTen

ESPN BigTen


Michigan down, but not out http://t.co/xxVkfexr1W
1 day ago

11W

Eleven Warriors


Really hard to dislike this guy. https://t.co/w0O2dmck0l
1 day ago

ESPN_BigTen

ESPN BigTen


Paging U-M: Big Ten needs you! http://t.co/i20swkV5OC
1 day ago

ESPN_BigTen

ESPN BigTen


Football's a week away. Make sure to follow @BennettESPN, @ESPNRittenberg, @mitchsherman, @ESPNJoshMoyer & @AWardESPN for full B1G coverage.
1 day ago

BeauBishop

BEAU BISHOP


JT will likely be more than fine, but too many have dismissed what Braxton is/was ... here is a reminder via @11W https://t.co/mQKYcMkx5g
1 day ago

norgillespie

Noreen Gillespie


More schools are mixing beer, football at stadiums, says @ericolson64 http://t.co/bsOakIEzz1
1 day ago

11W

Eleven Warriors


Our season preview continues with a look at Ohio State's (hopefully) improved Ohio State secondary. http://t.co/naXgSFqm0q
1 day ago

ESPN_BigTen

ESPN BigTen


Big Ten morning links http://t.co/3YRfyAWCXs
1 day ago

JMcCarthy86

Joseph McCarthy, Jr


@JeffSvoboda don't sleep on Navy -@chris_spielman
1 day ago

joe11w

JoeSports


Ohio State recruiting: State Secrets, 8/22 - One new offer, Venzell Boulware to announce: Land-Grant Holy Land... http://t.co/LdYWKJPq0d
1 day ago

11W

Eleven Warriors


Skull Session: Five sophs with most to prove, OSU no longer B1G favorite, Bucks pick up the tempo and more. http://t.co/bowF3qZsCy
1 day ago

Brutus_Buckeye

Brutus Buckeye


Must see TV right now on @BigTenNetwork -> 2010 @rosebowlgame vs @WinTheDay (ducks didn't win that day) #GoBucks http://t.co/VWflPMTSBa
1 day ago

KyleRowland

Kyle Rowland


Wilson: cusp, Hazell: hungry. RT @ESPN_BigTen Big Ten coaches describe team in one word http://t.co/oEjxwopMTX
1 day ago

KyleRowland

Kyle Rowland


Boilermakers release 2014-15 men's basketball schedule http://t.co/keqd9gqWZb
1 day ago

Brutus_Buckeye

Brutus Buckeye


.@CapitalOne Nuts don't need luck. Nuts dominate!
1 day ago

CapitalOne

Capital One


@Brutus_Buckeye will compete for the 2014 Mascot Challenge crown! Good luck, Brutus. #Buckeyes http://t.co/S5bALw6NZj
1 day ago

Brutus_Buckeye

Brutus Buckeye


.@robportman @MittRomney @Reds @hoeven4senate Thanks for the challenge. Already got after it with @OhioStateHoops & Coach Matta last week!
1 day ago

rustymillerap

Rusty Miller


In Williamsport tonight before picking up AP coverage of Little League WS. What a beautiful place.
1 day ago

AP_Sports

AP Sports


No Mo'ne on mound, Philly loses to Chicago in #LLWS. It's Jackie Robinson West vs Las Vegad for US title: http://t.co/1w28qPqoWB
1 day ago

joe11w

JoeSports


Mickey Mitchell decommits from Ohio State: 2015 forward Mickey Mitchell de-commits from Ohio State, following ... http://t.co/ZXnVuFcoqN
1 day ago

KyleRowland

Kyle Rowland


Tough blow, but not surprising. RT @Landgrant33 '15 SF Mickey Mitchell has announced his decommitment from Ohio State http://t.co/MXIgf2UIY2
1 day ago

11W

Eleven Warriors


LB Mike Mitchell left Ohio State in January. Tonight, his brother, Mickey, a 2015 Top 15 SF, decommitted from OSU. http://t.co/M48rkzG2eM
1 day ago
BIG TEN SCOREBOARD
Thursday, 8/28
Friday, 8/29
Saturday, 8/30
BLOG ARCHIVE:
CATEGORIES: