Eight OSU commits hope to sway visitors
December, 5, 2012
12/05/12
10:00
AM ET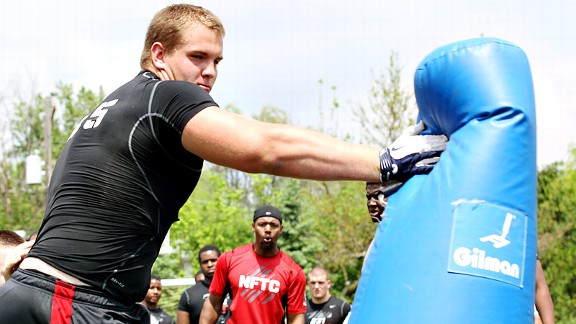 Tom Hauck for ESPN.comBilly Price will be among the Ohio State pledges in Columbus on official visits this weekend.
Ohio State coach Urban Meyer is looking for a little help from his friends, and not just his assistant coaches.
That's why the two-time national champion and first-year Buckeyes coach isn't resting on his resume this weekend.
To continue reading this article you must be an Insider
Insider
College Football Top Plays: Week 13
Check out the top plays from Week 13 of college football.
College Football Top Plays: Week 13
VIDEO PLAYLIST
OSU FB RECRUITING SCORECARD
11W

Eleven Warriors


Big Ten Recap: Wisconsin and Minnesota each pass tests, Michigan is in the dumps and Sparty caters to the big guys. http://t.co/NB5xqvdtgj
11 minutes ago

joe11w

JoeSports


Ohio State Stock Market Report: Indiana: Who's up and who's down, now that this one is in the books. Woof. ... http://t.co/tzuQuuKRGc
about an hour ago

11W

Eleven Warriors


It's officially Michigan Week. Your game notebook looks ahead to The Game and examines OSU's run-stopping troubles. http://t.co/o7rbQcA64F
about an hour ago

Brutus_Buckeye

Brutus Buckeye


Officially THE GA_E week! Wear your SCARLET &GRAY all week! #GoBucks Beat Blue!! http://t.co/XPYFhlmDRz
about 5 hours ago

TomOrr4

To? Orr


Michigan football has five 6+ loss seasons since 2008.Ohio State football has four 6+ loss seasons since 1944.
about 6 hours ago

bucksinsider

Ohio State News


Out of control: FSU, OSU just win, baby: Skip to search. New User? Register Sign in Help... http://t.co/HugyaYCEuv #buckeyes #ohiostate
about 7 hours ago

BuckeyeHumor

FUCK MICHIGAN


#BeatMichigan , everyone else does.
about 7 hours ago

11W

Eleven Warriors


Another amazing Saturday of Twitter, but this may have been the best part of it. http://t.co/w4vUqhzWJH
about 7 hours ago

taylorstepp

Taylor Stepp


Amen http://t.co/ffoT4CrBHT
about 7 hours ago

MartineSaad

Martine Saad


@Brutus_Buckeye crowd surfing! @Buckeye_Nation #GoBucks 🏈⭕️🙌🙏⭕️ http://t.co/ChYVt4X25T
about 8 hours ago

JasonKirkSBN

Jason Kirk


Our Indiana site is already hanging banners http://t.co/L1FSHzRYdS
about 8 hours ago

11W

Eleven Warriors


Per Ohio State, next Saturday's clash with Michigan will be broadcast on ABC.
about 8 hours ago

Buckeye_Nation

Buckeye Nation


#BeatMichigan #TheGame
about 8 hours ago

Buckeye_Nation

Buckeye Nation


Hey #Buckeyes, what time is it?
about 9 hours ago

mikeweber25

Mikey


I'm decommiting from the university of Michigan thank you Michigan for the love and support I'll remake my decision at the army bowl
about 9 hours ago

ESPNStatsInfo

ESPN Stats & Info


Michigan has 6+ losses for 5th time in 7 seasons post-Lloyd Carr. Wolverines had 1 6-loss season in previous 40 seasons before this stretch
about 9 hours ago

Buckeye_Nation

Buckeye Nation


UCLA 38 - USC 14 in the 3rd.
about 9 hours ago

CollegeGameDay

College GameDay


JT Barrett is four TDs shy of tying Purdue QB Drew Brees (42 in '98) for the most TDs responsible for in Big Ten single-season history.
about 9 hours ago

joe11w

JoeSports


Watch Jalin Marshall's 4 touchdown day as a 2:38 supercut: We know Ohio State's Jalin Marshall had himself a d... http://t.co/ddoRSndiZj
about 9 hours ago

joe11w

JoeSports


Considering how well they played against us, Penn State shouldn't be losing games against teams like Illinois.
about 10 hours ago

Chitownbuckeye5

Martin Plush


#Buckyenation. #bestfansinsports. @Brutus_Buckeye @spinnershells http://t.co/QumwfUHoRE
about 10 hours ago

joe11w

JoeSports


Hmmm...something tells me Ole Miss is no longer a playoff contender.
about 10 hours ago

11W

Eleven Warriors


Ohio State fans felt slighted by ESPN headlines last week. Imagine what they'd do if OSU got the Baylor treatment. http://t.co/gzhSrO3ESD
about 10 hours ago

bucksinsider

Ohio State News


Despite Early Scare vs. Indiana, Ohio State Still Controls Its Playoff Fate: COLUMBUS, Oh... http://t.co/ZAXc0nqABM #buckeyes #ohiostate
about 10 hours ago

FlemmingDave

Dave Flemming


Also great fun for me to work with @chris_spielman and @McShay13 - now McDonough can return and take you guys the rest of the way
about 10 hours ago

11W

Eleven Warriors


Ohio State's day at the office wasn't perfect, but it was a lot better than Michigan's. http://t.co/5X43tZcURG http://t.co/ETzVKkOVCd
about 11 hours ago

11W

Eleven Warriors


VIDEO: Ohio State sings Carmen Ohio after beating Indiana and clinching a return to the Big Ten title game. http://t.co/wvg2L854jc
about 11 hours ago

11W

Eleven Warriors


Women's hockey picked up a couple crucial conference points this week. Here's how the series went down. http://t.co/sOa8IDZCE9
about 11 hours ago

ESPN_BigTen

ESPN BigTen


What we learned in the Big Ten: Week 13 http://t.co/72eKuJadIO
about 11 hours ago

ESPN_BigTen

ESPN BigTen


Video: Maryland 23, Michigan 16 http://t.co/yjNhuRBS2I
about 11 hours ago

MartineSaad

Martine Saad


@Brutus_Buckeye crowd surfing! @Buckeye_Nation #GoBucks 🏈⭕️🙌🙏⭕️ http://t.co/ChYVt4X25T
about 11 hours ago

ESPN_BigTen

ESPN BigTen


Welcome to the new normal at Nebraska http://t.co/ITVSJcwm6A
about 11 hours ago

Brutus_Buckeye

Brutus Buckeye


.@elguapo @EzekielElliott http://t.co/5W8jXy9rj7
about 11 hours ago

11W

Eleven Warriors


After rumblings of a possible reinstatement for Noah Spence, Urban Meyer offered this: "I think there is an appeal." http://t.co/tzofwRBRaY
about 11 hours ago

ESPN_BigTen

ESPN BigTen


Video: No. 16 Wisconsin 26, Iowa 24 http://t.co/7P5G9bSkrL
about 12 hours ago

11W

Eleven Warriors


#Dream14 Tracker: Curtis Samuel leads the way against Indiana. http://t.co/BeqTmomF3S
about 12 hours ago

11W

Eleven Warriors


Tough day for the Wolverines. Losing to Maryland is bad enough, but they also lost a four-star RB commit mid-game. http://t.co/SAlUKhd6mx
about 12 hours ago

chris_spielman

Chris Spielman


Great game Iowa Wisc Huge victory for badgers gutty perform by the Hawkeyes. #physical football
about 12 hours ago

ESPN_BigTen

ESPN BigTen


Melvin Gordon has TIED the B1G single-season rushing record set in 1996 by Ron Dayne with 2,109 yards. Wiscy took a knee late, gets the W
about 12 hours ago

AWardESPN

Austin Ward


Michigan loses another commitment, falls at home to Maryland. Nails in the coffin for Brady Hoke. Will it make the move before The Game?
about 12 hours ago

ESPN_BigTen

ESPN BigTen


FINAL: Maryland 23, Michigan 16. Terps move to 7-4. Wolverines need to upset OSU to get to a bowl.
about 12 hours ago

11W

Eleven Warriors


How did Jalin Marshall respond to all of last week's critics? By scoring four touchdowns against Indiana, of course. http://t.co/PSt2RKl57s
about 12 hours ago

Buckeye_Nation

Buckeye Nation


Infamous Jameis and the #Criminoles escape on a last second FG... 20-17
about 12 hours ago

ESPN_BigTen

ESPN BigTen


More bad news for U-M. Just as Terps take the lead - putting a dent in U-M's bowl hopes - a 4-star recruit decommits https://t.co/1OtjyrdbkW
about 12 hours ago

ESPN_BigTen

ESPN BigTen


3rd-and-15 -- and Rudock scrambles for a first down. Great awareness. This game isn't over just yet ...
about 12 hours ago

brittndunaway

Brittany Dunaway


I can't stand FSU
about 12 hours ago

NickyHaps

Nick Haspel


FSU should drop to 5
about 12 hours ago

bucksinsider

Ohio State News


Indiana vs. Ohio State: Game Grades, Analysis for the Buckeyes: Coming off back-to-back r... http://t.co/KdFft1Hhf2 #buckeyes #ohiostate
about 12 hours ago

Buckeye_Nation

Buckeye Nation


Block that kick.
about 12 hours ago

ESPN_BigTen

ESPN BigTen


Maryland takes the lead on a Wes Brown TD with six minutes to play. 22-16 with extra point coming soon.
about 12 hours ago

Buckeye_Nation

Buckeye Nation


BC misses the go ahead FG. 17-17. Less then 5 minutes to go.
about 13 hours ago

C_Bass419

Chris Bassitt


Let's go Boston College!!!!
about 13 hours ago

11W

Eleven Warriors


Something was off from the start, but Ohio State kept itself in the national picture after beating Indiana. http://t.co/vBu2sPAhEK
about 13 hours ago

ESPN_BigTen

ESPN BigTen


Craddock lines up for a FG, nails it -- and U-M is called for roughing the kicker. Terps' drive continues ... and leads to a TD. #That'sUM
about 13 hours ago

ESPN_BigTen

ESPN BigTen


Brad Craddock's 4th field goal is pre-empted by a roughing the kicker penalty. Maryland 1st-and-goal now with a chance to tie.
about 13 hours ago

BleacherReport

Bleacher Report


VIDEO: Jameis Winston shoves a referee, somehow doesn't get flagged http://t.co/NoHUrX2QlY http://t.co/ZksFubPClq
about 13 hours ago

ESPN_BigTen

ESPN BigTen


After three quarters at Michigan, Wolverines lead Maryland 16-9, but Terps are in the red zone.
about 13 hours ago

JonathanFlora

Jonathan Flora


Not sure what's worse, FSU QB Winston shoving the ref out of the way & no flag or the announcers laughing about it. Unbelievable!
about 13 hours ago

Buckeye_Nation

Buckeye Nation


Jameis shoved an official, no flag... #criminoles
about 13 hours ago

Buckeye_Nation

Buckeye Nation


BC 17 - FSU 17, end of the third qtr.
about 13 hours ago

ESPN_BigTen

ESPN BigTen


ICYMI: Melvin Gordon has crossed the 2,000-yard mark. He now has 2,050 yards on the season and needs just 60 more to break a Wiscy record
about 13 hours ago

RustyMillerAP

Rusty Miller


#Hoosiers believe #Buckeyes were looking past them: http://t.co/4gW9v2wBir
about 13 hours ago

RustyMillerAP

Rusty Miller


Jalin Marshall was the problem last week, the solution on Saturday for No. 7 #Buckeyes: http://t.co/Jkp36BBOzJ
about 13 hours ago

ESPN_BigTen

ESPN BigTen


Devin Gardner's rushing TD gives Michigan a 16-9 lead early in the third quarter. Gardner ran for 37 yards on the drive.
about 13 hours ago

bucksinsider

Ohio State News


Ohio State football: Everything Urban Meyer said after Buckeyes' 42-27 win over Indiana: ... http://t.co/TvYwxTcBjm #buckeyes #ohiostate
about 14 hours ago

LilBrooke12_

Brooke Smith


Why doesn't Michigan sink into the Great Lakes? Because crap floats.#BeatMichigan
about 14 hours ago

rustymillerap

Rusty Miller


#Hoosiers believe #Buckeyes were looking past them: http://t.co/4gW9v2wBir
about 14 hours ago

rustymillerap

Rusty Miller


Jalin Marshall was the problem last week, the solution on Saturday for No. 7 #Buckeyes: http://t.co/Jkp36BBOzJ
about 14 hours ago

joe11w

JoeSports


Podcast: Ohio State-Indiana postgame show: That was a completely stupid football game, but it's over. Let's ta... http://t.co/tcZkJFCASe
about 14 hours ago

ESPN_BigTen

ESPN BigTen


Michigan-Maryland goes to half with yet another field goal. It's 9-9 in Ann Arbor.
about 14 hours ago

ESPN_BigTen

ESPN BigTen


Think touchdowns are boring? This Maryland-Michigan game is for you.All tied up, 9-9, at halftime.
about 14 hours ago

ESPN_BigTen

ESPN BigTen


Maryland starts a drive on Michigan's 8-yard line. But decides to stick with the vogue scoring option today. FG makes it 9-6 Terps.
about 14 hours ago

ESPN_BigTen

ESPN BigTen


Will Likely has had a busy day. Big punt return, PI call and now INT to set Maryland up on the 8-yard line.
about 14 hours ago

11W

Eleven Warriors


95 of the best photos you'll see from Ohio State's 42–27 win over Indiana today. http://t.co/Ymy7aqwYG7 http://t.co/3nY3lu98Hi
about 14 hours ago

ESPN_BigTen

ESPN BigTen


It's 6-6 in Ann Arbor with 3:32 to play in the first half. Craddock's 40-yard field goal ties the game.
about 14 hours ago

bucksinsider

Ohio State News


J.T Barrett Sets New Ohio State Record for Total Offense, Most Touchdown Passes: When Bra... http://t.co/zZW1ngETSV #buckeyes #ohiostate
about 14 hours ago

AWardESPN

Austin Ward


Had the pleasure of covering Oklahoma's Samaje Perine early in the year. It was clear then he was a special back. http://t.co/7mJ6Jpa8ar
about 14 hours ago

ESPN_BigTen

ESPN BigTen


Field goal battle in Ann Arbor continues. Matt Wile hits a 33-yarder to put Michigan up 6-3 over Maryland in the second quarter.
about 14 hours ago

elguapo

Carlos Hyde


Welcome to the club! @EzekielElliott #1k
about 14 hours ago

Buckeye_Nation

Buckeye Nation


No. 25 Minnesota beats No. 23 Nebraska, 28-24. Should help the #Buckeyes strength of schedule.
about 14 hours ago

Brutus_Buckeye

Brutus Buckeye


#Repost espncfb with repostapp.⁰・・・⁰J.T. Barrett set the school mark for touchdown passes (33) in a… http://t.co/MRSgRrRsdU
about 14 hours ago

ESPN_BigTen

ESPN BigTen


Minnesota uses 'Dilly Bar Dan' to celebrate its victory over Nebraska http://t.co/f05tDpYwBd
about 14 hours ago

ESPN_BigTen

ESPN BigTen


Maryland ties the game 3-3 with a 38-yard field goal, but QB C.J. Brown needed help to get off the field after final play of the drive.
about 14 hours ago

AWardESPN

Austin Ward


It's not quite as Instant as it once was, but ICYMI, Instant Analysis from No. 6 Ohio State 42, Indiana 27. http://t.co/vbK8SBDf9b
about 14 hours ago

Buckeye_Nation

Buckeye Nation


No. 8 Ole Miss 0 - Arkansas 17 at the end of the 1st.
about 14 hours ago

Buckeye_Nation

Buckeye Nation


West Carolina 7 - Alabama 7 in the 1st.
about 15 hours ago

joe11w

JoeSports


I'd love to make a comment about this game but it's just too dull.
about 15 hours ago

Buckeye_Nation

Buckeye Nation


Samaje Perine breaks Gordon's 1 week old NCAA single game rushing record with 427 yards on 34 carries.
about 15 hours ago

ESPNJoshMoyer

Josh Moyer


Gordon's record has gone down -- but last week's game still more impressive than Perine's. Gordon had fewer carries, played better opponent
about 15 hours ago

ESPN_BigTen

ESPN BigTen


And Melvin Gordon's week-old NCAA record for most rushing yards in a game (408) has just been broken. Oklahoma's Perine has 427 yards.
about 15 hours ago

11W

Eleven Warriors


Loving these shots of Jalin Marshall from @mwaltonkeys today. http://t.co/t79vzykUSD
about 15 hours ago

ESPN_BigTen

ESPN BigTen


Video: Northwestern 38, Purdue 14 http://t.co/InyZq5L5Co
about 15 hours ago

ESPN_BigTen

ESPN BigTen


Michigan leads Maryland 3-0 after one quarter. A 52-yard run on a fake punt set up the only points so far.
about 15 hours ago

bucksinsider

Ohio State News


Why 'game control' does not apply to these Buckeyes: © Jamie Sabau/Getty Images Ezekiel ... http://t.co/sEUG3rLONy #buckeyes #ohiostate
about 15 hours ago

11W

Eleven Warriors


J.T. Barrett is now tied with Drew Brees (Purdue, 1998) with 42 total touchdowns in a season for the B1G record for one season.
about 15 hours ago

ESPN_BigTen

ESPN BigTen


Video: Illinois 16, Penn State 14 http://t.co/2CE4jX4rSO
about 15 hours ago

aclaircrawford

Clair Crawford


@shimmerboudoir I ❤️ my Buckeyes!!!! #GoBucks #buckeyes http://t.co/UOnMaiJ8m0
about 15 hours ago

Buckeye_Nation

Buckeye Nation


Perine with 375 yrds rushing in the 3rd qtr. Gordon's record may fall after just a week.
about 15 hours ago

ESPN_BigTen

ESPN BigTen


Video: No. 11 Michigan State 45, Rutgers 3 http://t.co/aOUwdPIzL8
about 15 hours ago

AWardESPN

Austin Ward


Jeff Heuerman asked a style-points question, channels Belichick: "On to the Team Up North." http://t.co/Scno06Rv1E
about 15 hours ago
BLOG ARCHIVE:
CATEGORIES: