Ohio State commits to square off in finals
November, 29, 2012
11/29/12
10:00
AM ET
Ohio State commit
Cam Burrows
has no doubt heard the hype. Ditto for Buckeyes commit
Jayme Thompson
, Ohio State target
DeShone Kizer
and Michigan pledge
Mike McCray II
.
[+] Enlarge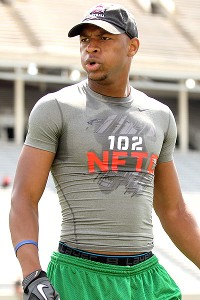 Tom Hauck/ESPNHSJayme Thompson will see some familiar faces on the field this weekend.
The quartet is becoming a huge storyline as the Division II state title game awaits Toledo (Ohio) Central Catholic and defending champ Trotwood-Madison on Friday.
Thompson and Kizer play for Central Catholic, while Burrows and McCray wear Trotwood-Madison colors.
To continue reading this article you must be an Insider
Insider
Meyer Depressed At Florida
Adam Rittenberg discusses Urban Meyer's comments about being depressed while coaching at Florida in 2009.
Meyer Depressed At Florida
VIDEO PLAYLIST
OSU FB RECRUITING SCORECARD
smshelton1

Susan Shelton


@Brutus_Buckeye thanks for cheering us on at the start! #finishonthe50 http://t.co/BpCYPRkoX4
14 minutes ago

MiamiDolphins

Miami Dolphins


TOUCHDOWN @BrianHartline!!! #StrongerTogether #KCvsMIAhttps://t.co/KNJBmcDkht
22 minutes ago

Brutus_Buckeye

Brutus Buckeye


Another Buckeye finds the end zone! @brianhartline for SIX! @MiamiDolphins #GoBucks
22 minutes ago

ESPN_BigTen

ESPN BigTen


RB Paul James' injury huge blow to Rutgers http://t.co/TvesdXx3lk
24 minutes ago

49ers

San Francisco 49ers


Carlos Hyde… What. A. Run. TOUCHDOWN #49ers.
about an hour ago

OhioStFootball

Ohio State Football


In the latest rankings: OSU moves up and down, up in the AP to #22 and down in the Coaches to #20
about an hour ago

Brutus_Buckeye

Brutus Buckeye


That's a Buckeye! RT @Eagles: Defensive leader @MalcolmJenkins grabs the INT for the second game in a row. #FlyEaglesFly // #GoBucks
about 2 hours ago

Brutus_Buckeye

Brutus Buckeye


OSKIE!!! @MalcolmJenkins @Eagles #GoBucks
about 2 hours ago

Brutus_Buckeye

Brutus Buckeye


An absolutely GORGEOUS day for the 2nd annual Ohio State 4Miler as 12,000 runners/walkers finished the… http://t.co/wIbS6K6DDA
about 3 hours ago

amandaJeberly

Amanda Eberly


Hey @Brutus_Buckeye thanks for the high five! #FinishOn50 #GoBucks #runchat http://t.co/mIgY2gR8tI
about 4 hours ago

ESPN_BigTen

ESPN BigTen


Big Ten Power Rankings: Week 4 http://t.co/ONuebucPNq
about 4 hours ago

Hlas

Mike Hlas


Hlas column: Hawkeyes have no reason to lightly dismiss Purdue this week. http://t.co/FipdWJJ60m #oniowa
about 5 hours ago

bucksinsider

Ohio State News


Ohio State recruiting: Elite '15 MVP, 9/18-9/20 – How OSU commits fared in high school fo... http://t.co/qxXWRWI2bt #buckeyes #ohiostate
about 5 hours ago

joe11w

JoeSports


College football rankings: Ohio State drops to 20 in Coaches Poll Top 25: More information means revisiting OS... http://t.co/dHog2i2UG5
about 5 hours ago

KyleRowland

Kyle Rowland


Indiana Notebook: Hoosiers benefit from pass interference http://t.co/SERaRjEjR4
about 6 hours ago

Brutus_Buckeye

Brutus Buckeye


Mascot approved! @rollerCD @DispatchAlerts @ProFootballHOF #GoBucks http://t.co/TuadtFWoU4
about 6 hours ago

11W

Eleven Warriors


Ohio State commitments and targets were back on the field this weekend even though the Buckeyes had some time off. http://t.co/oZNZVzxAg0
about 6 hours ago

joe11w

JoeSports


Ohio State recruiting: Elite '15 MVP, 9/18-9/20 - How OSU commits fared in high school football: It's time to ... http://t.co/c9B9XHcNxU
about 7 hours ago

ESPN_BigTen

ESPN BigTen


Best of the visits: Big Ten http://t.co/GEUR8Pu8KH
about 7 hours ago

765at33RPM

Eric D. Wygle


I just did it. #FinishOn50 http://t.co/qdhJVByt36
about 7 hours ago

AndyMulz

A. Mull K He


#FinishOn50 http://t.co/tcHXPvZ33l
about 7 hours ago

ZabonikAlex

Alex Zabonik


Proud of my love @amy_zabonik worked her tail off to finish 4 mile run today! #finishon50 http://t.co/cDAfT2ikog
about 7 hours ago

kelsey_gaffney

Kelsey Gaffney


O.H.I.O! #finishon50 #gobucks #ohiostate4miler #finishonthe50 http://t.co/ldzFcFuSkG
about 7 hours ago

ESPN_BigTen

ESPN BigTen


Meyer: 'I thought I was dying' in '09 http://t.co/A0M6KI6Ejl
about 7 hours ago

joe11w

JoeSports


Big Ten football statistical review: Week 4: With the Buckeyes set to open Big Ten play in two weeks, how did ... http://t.co/G9rSG0Ud8g
about 8 hours ago

pjkaler

Pamela


Hello to the best place in the world! #GoBucks #FinishOn50 http://t.co/1FOYhYT7rF
about 8 hours ago

MattFinkes

Matt Finkes


Let's go #BuckeyeNation #FinishOn50 http://t.co/dkeqtpY3Ku
about 8 hours ago

KyleRowland

Kyle Rowland


Missouri gained 155 of their 498 yards on three plays. IU defense finished with 11 TFLs, two sacks, forced two Mizzou field goals.
about 8 hours ago

KyleRowland

Kyle Rowland


On Kevin Wilson's "program-changing" win: http://t.co/i5SHQJ66GI
about 8 hours ago

KyleRowland

Kyle Rowland


Capturing the scene of Indiana's historic win at Missouri: http://t.co/viwOcNZT65
about 9 hours ago

ESPN_BigTen

ESPN BigTen


Big Ten helmet stickers: Week 4 http://t.co/BCGicuXLrX
about 9 hours ago

11W

Eleven Warriors


For one glorious Saturday, the B1G watched as the Indiana Hoosiers upstaged the whole dang conference. http://t.co/GHbMP4S9Ir
about 9 hours ago

joe11w

JoeSports


The 2014 Big Ten All-Heist Team: Their mission: rescue a floundering conference from the dreaded #Narrative, a... http://t.co/AvqqavGryr
about 10 hours ago

11W

Eleven Warriors


The Big Ten had a great week, going 12-1 and looking fantastic (except for That Team Up North). http://t.co/imTqW6Nqv1
about 11 hours ago

11W

Eleven Warriors


Will J.T. Barrett have to make a game-winning play for Ohio State this year? http://t.co/ybLZGOdTu0
about 12 hours ago

chris_spielman

Chris Spielman


Celebrating a @ToledoFB victory at Steak and Shake at 150 am. I'm going back to college http://t.co/URRQrn9MvE
about 16 hours ago

rustymillerap

Rusty Miller


Indiana upsets No. 18 Missouri 31-27 (from @AP) http://t.co/ulpgk5M5Mn
about 16 hours ago

rustymillerap

Rusty Miller


Abdullah key in No. 24 Neb's 41-31 win over Miami (from @AP) http://t.co/muCNb3SZLU
about 16 hours ago

MassiveReport

Massive Report


@RustyMillerAP I wonder if you would be the first writer to consider using code replacements :-)
about 16 hours ago

danwade18

Dan Wade


@RustyMillerAP A reading from the letter of Leviticus, no, er, Munchie.
about 16 hours ago

rustymillerap

Rusty Miller


Cannot wait to type #Bearcats names Silverberry Mouhon, Leviticus Payne and Munchie Legaux this week. #Buckeyes
about 17 hours ago

rustymillerap

Rusty Miller


Convinced media love Oregon QB Mariota for Heisman because they think he'll give them Mariota hotel rewards points.
about 17 hours ago

ESPN_BigTen

ESPN BigTen


What we learned in the Big Ten: Week 4 http://t.co/py4ER6uLar
about 18 hours ago

ESPN580Nick

Nick Gryniewicz ESPN


Didn't have good feeling watching Winston celebrate the win. He's talented & immature. Too much of a suspended player in game/broadcast #FSU
about 18 hours ago

BennettESPN

Brian Bennett


Very solid Week 4 by Big Ten. Still, today highlighted how Wisconsin and Ohio State really missed opportunities. Va Tech & LSU so beatable.
about 18 hours ago

BennettESPN

Brian Bennett


Very solid Week 4 by Big Ten. Still, today highlighted how Wisconsin and Ohio State really missed opportunities. Va Tech & LSU so beatable.
about 18 hours ago

AP_Top25

AP Top 25


No. 1 Florida St survives, beats No. 22 Clemson 23-17in OT without QB Jameis Winston http://t.co/bx8C0YyKFC (@kareemcopeland) #FSU
about 18 hours ago

AP_Top25

AP Top 25


Stars, top performances and stats so far from around college football today. Who'd we forget? http://t.co/11AGVQeIug
about 18 hours ago

ESPN_BigTen

ESPN BigTen


Video: Nebraska RB Ameer Abdullah http://t.co/FiGrU7nvDm
about 18 hours ago

ToledoFB

Toledo Football


End of the 3rd QTR. Rockets lead Ball State 27-16. #MACtionAfterMidnight #ToledoTough #GoRockets
about 18 hours ago

ESPN_BigTen

ESPN BigTen


Nebraska 41, Miami 31 http://t.co/71ugOcfk2b
about 18 hours ago

KyleRowland

Kyle Rowland


What's colossal choke by Clemson.
about 18 hours ago

OhioStFootball

Ohio State Football


_ichigan is the only Big Ten team to lose today. Just the way we like it!
about 18 hours ago

AWardESPN

Austin Ward


Mike Stoops greets media with a smile and joked: "Little better than last time we were here." http://t.co/NlSxVcpZ6B
about 18 hours ago

AWardESPN

Austin Ward


This corner of the stadium stayed full until the Sooners hit the locker room. http://t.co/Lhz1Ctx9L0
about 19 hours ago

ESPN_BigTen

ESPN BigTen


Stormy night clouds Michigan's future http://t.co/N95QtGpPZO
about 19 hours ago

ESPN_BigTen

ESPN BigTen


Abdullah breaks through for a 10-yard TD to all but ice it for Nebraska. Huskers lead 41-24 with 4:13 to play. #MIAvsNEB
about 19 hours ago

joe11w

JoeSports


Dang, that looks like the end of Vandy's upset bid.
about 19 hours ago

ESPN_BigTen

ESPN BigTen


Tyriq McCord tackles Abdullah by the head. Another 15-yard flag. #MIAvsNEB
about 19 hours ago

joe11w

JoeSports


I guess Mississippi State is for real. This is a signature win.
about 19 hours ago

chris_spielman

Chris Spielman


From the Big House to the Glass Bowl. I Love CFB http://t.co/xIA7DZCNtk
about 19 hours ago

AWardESPN

Austin Ward


There's the defensive play the Sooners have been waiting for, sack and forced fumble to set up good field position for offense again.
about 19 hours ago

ESPN_BigTen

ESPN BigTen


Canes back to 31-24 on 34-yard field goal. As much as Nebraska has controlled play since mid-second quarter, this is very much still a game.
about 19 hours ago

ESPN_BigTen

ESPN BigTen


If Miami goes in to score here, that roughing-the-passer penalty on Nebraska is officially a game-changing play. #MIAvsNEB
about 19 hours ago

AWardESPN

Austin Ward


Guess who? Samaje Perine again finds the end zone, this time without having to bowl over defenders. Third TD tonight.
about 19 hours ago

AWardESPN

Austin Ward


And forget about everything, Sooners get it right back after Trickett returns the favor. Back to Square One.
about 20 hours ago

AWardESPN

Austin Ward


Well, could cost the Sooners. They do still have Eric Striker.
about 20 hours ago

SportsiCohn

Justin A. Cohn


This from @KyleRowland on IU coach Kevin Wilson: "It was a walk so pure Mark Twain might have found it unspoiled." In Journal Gazette Sunday
about 20 hours ago

AWardESPN

Austin Ward


Terrible throw by Trevor Knight. He's been behind his targets numerous times tonight, and that one will cost the Sooners.
about 20 hours ago

ESPN_BigTen

ESPN BigTen


Randy Gregory is slow to get up for Nebraska after that Kaaya completion. Bad sign for Nebraska. #MIAvsNEB
about 20 hours ago

AWardESPN

Austin Ward


Little conservative for West Virginia there, no? Field goals are nice, but this one is going to require touchdowns.
about 20 hours ago

ESPN_BigTen

ESPN BigTen


Kaaya to Malcolm Lewis for a 9-yard score. Miami answers in a big way. Nebraska leads 24-21. #MIAvsNEB
about 20 hours ago

ESPN_BigTen

ESPN BigTen


Miami's defense badly needs its offense to do something right now. #MIAvsNEB
about 20 hours ago

joe11w

JoeSports


The OBC needs to fire his special teams coach.
about 20 hours ago

ESPN_BigTen

ESPN BigTen


Video: Illinois 42, Texas State 35 http://t.co/PW4FqusjZs
about 20 hours ago

RKaipustOWH

Rich Kaipust


Nebraska has run 33 of the last 36 offensive snaps in this game. Unreal. #Huskers
about 20 hours ago

AWardESPN

Austin Ward


Miss the memo? Take on Samaje Perine at your own peril. Sooners roll down the field and the freshman RB bowls over defenders for TD.
about 20 hours ago

ESPN_BigTen

ESPN BigTen


Nebraska has started the second half with the same kind of physical play that put it ahead. Good sign for Huskers. #MIAvsNEB
about 20 hours ago

ESPN_BigTen

ESPN BigTen


Utah 26, Michigan 10 http://t.co/SjZTMs1Fp5
about 20 hours ago

joe11w

JoeSports


Someone should send Kyle Kalis some transfer papers.
about 20 hours ago

joe11w

JoeSports


Indiana came up with the kind of win that Michigan would love to get.
about 20 hours ago

joe11w

JoeSports


RT @MattRHinton: Title: Exercise Coach. RT @Andy_Staples: Brady Hoke's Wikipedia page was updated rather quickly. http://t.co/vSLhtxFTw8
about 20 hours ago

Buckeye_Nation

Buckeye Nation


Has there every been a #Heisman winner who was suspended for game? // http://t.co/KnoLJIlD6c
about 20 hours ago

joe11w

JoeSports


UM fandom in the 5 stages of grief...http://t.co/gdEDNISLQO
about 20 hours ago

BTNTomDienhart

Tom Dienhart


#Michigan is 4-8 in its last 12 games. The wins are vs. Indiana, Northwestern, App State, Miami (Ohio).
about 20 hours ago

ESPN_BigTen

ESPN BigTen


Nebraska leads 17-14 at the half. Huskers owned final several minutes of second quarter to overcome 7-point deficit. #MIAvsNEB
about 20 hours ago

Buckeye_Nation

Buckeye Nation


Nice to see a lot of fans at the #BigHouse.... #MichiganStillSucks http://t.co/KRvggWFyV7
about 20 hours ago

ESPN_BigTen

ESPN BigTen


Video: Indiana coach Kevin Wilson http://t.co/dgv3upEaD1
about 21 hours ago

bucksinsider

Ohio State News


Do you feel bad for the team up north after seeing them loose to Utah 10-26?
about 21 hours ago

Hot_For_Food

Melissa Pfeister


What do the Michigan Football team and a Michigan Cheerleader have in common??They both suck for 4 quarters.
about 21 hours ago

ESPN_BigTen

ESPN BigTen


Powerful showing by Nebraska up front on the past couple possessions. Need to cash in with points here to take halftime lead. #MIAvsNEB
about 21 hours ago

joe11w

JoeSports


Nussmeier is calling Saban right now asking for his job back.
about 21 hours ago

AWardESPN

Austin Ward


Clearly West Virginia left too much time on the clock before halftime. Like, even a second was too much. KO return for TD, tied again.
about 21 hours ago

AWardESPN

Austin Ward


That first quarter was a tease. The shootout is officially on now. Mountaineers back on top 24-17.
about 21 hours ago

joe11w

JoeSports


Word .. RT @SurvivinAmerica: Having Jameis on the sidelines is not just poor leadership, it's bad PR.
about 21 hours ago

ESPN_BigTen

ESPN BigTen


Utah finishes off its 26-10 victory over Michigan. Wolverines drop to 2-2 this season.
about 21 hours ago

AWardESPN

Austin Ward


It's starting to look like 2012 in here. Sooners respond as well with strong drive. All tied up again at 17.
about 21 hours ago

ESPN_BigTen

ESPN BigTen


A 14-play TD drive is Nebraska's longest of the season, capped by Abdullah 3-yard catch. Tied at 14 in Lincoln. #MIAvsNEB
about 21 hours ago

AWardESPN

Austin Ward


An official got mixed up in a post-play scrum, and I don't think he'll be continuing. Struggling to put weight on his leg.
about 21 hours ago

joe11w

JoeSports


Ha...I jinxed Vandy.
about 21 hours ago
BLOG ARCHIVE:
CATEGORIES: