Star recruits psyched for OSU-Michigan
November, 21, 2012
11/21/12
9:00
AM ET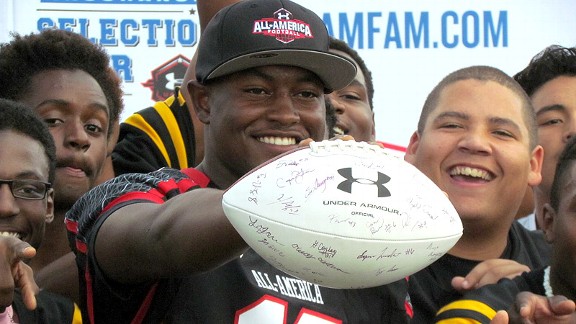 Zach Perry/Intersport ESPN 150 linebacker Trey Johnson, an Auburn pledge, is among a parade of big-time recruits who will be attending the Michigan-Ohio State game on Saturday.
The laundry list of players scheduled to visit The Horseshoe this weekend is a virtual who's who among the top recruits in the nation.
In fact, it would have been even stronger if some individuals weren't still in their respective high school playoffs.
Still, with names such as ESPN 150 linebackers
Daniel McMillian
and
Trey Johnson
, and wide receiver
James Quick
scheduled to make official visits, it's an impressive collection.
To continue reading this article you must be an Insider
Insider
The latest from Gustin at The Opening
ESPN 300 athlete Porter Gustin (Salem, Utah/Salem Hills) took time out to talk recruiting and more with WeAreSC's Garry Paskwietz on Tuesday at The Opening.
The latest from Gustin at The Opening
VIDEO PLAYLIST
The latest from Gustin at The Opening

The latest from Gustin at The Opening

Ohio State Adds Two Five-Star Recruits

Ohio State Adds Two Five-Star Recruits

Moving Day For Maryland And Rutgers

Moving Day For Maryland And Rutgers

It's moving day for Maryland and Rutgers. Adam Rittenberg takes a look at how -- and why -- the two schools are making a move to the Big Ten.

Tags: Big Ten

,

Maryland

,

Rutgers

,

Jim Delany
OSU FB RECRUITING SCORECARD
Nike Women's Ohio State Buckeyes White #5 Football Game Jersey Shop »
cavsdan

Dan Gilbert


My 8-year-old: "Daddy, does this mean I can finally wear my Lebron jersey, again?"...Yes it does, son. Yes it does!
3 minutes ago

cavsdan

Dan Gilbert


Welcome Home @kingjames. I am excited for the fans and people of Cleveland and Ohio. No fans and people deserve a winner more than them.....
3 minutes ago

11W

Eleven Warriors


Living up to the standard of Ed Warriner's 2013 offensive line won't be possible but all hope is not lost this fall. http://t.co/3DtsOOOZtp
3 minutes ago

BraxtonMiller5

BRAXTON MILLER


Could it be? Hmmm http://t.co/cylmxhnD8n
5 minutes ago

bucksinsider

Ohio State News


What's the bet that LBJ show up at the Buckeyes home opener? Secondary ticket market hasn't moved much yet: http://t.co/u46SRzIsO1
6 minutes ago

WojYahooNBA

Adrian Wojnarowski


Dan Gilbert tells Yahoo: "Just happy for the people of Cleveland. We are driven at core by one thing: Delivering the city a championship."
6 minutes ago

KyleRowland

Kyle Rowland


*tears* RT @KingJames: Just posted a photo http://t.co/RXyqyUe44p
10 minutes ago

Brutus_Buckeye

Brutus Buckeye


Hey @KingJames ... still a few hours left to #VoteScript. Whaddya say? VOTE: http://t.co/yqHD447BI8 #GoBucks http://t.co/jvVPu9ULXz
16 minutes ago

Brutus_Buckeye

Brutus Buckeye


WELCOME BACK! Big day by the lake for my buddy @CavsMoondog ! @OhioStAthletics @KingJames @OhioStateHoops @cavs http://t.co/AGypkHj9Sa
18 minutes ago

OhioStAthletics

Ohio State Buckeyes


Welcome home @KingJames ... O-H! #GoBucks http://t.co/EWARD9uSPR
20 minutes ago

OSU_AD

gene smith


Welcome home @KingJames! Hope to see you in #TheShoe & @TheSchott more often! #GoBucks @cavs http://t.co/BeLjAuh6zB
21 minutes ago

Buckeye_Nation

Buckeye Nation


LeBron is coming home to the #Cavs.
22 minutes ago

OhioStFootball

Ohio State Football


Buckeye fan @KingJames is coming home to Ohio
23 minutes ago

joe11w

joe11w


New 11W... Braxton Miller Prophesied LeBron James' Return to Cleveland: The wait is over. LeBron James is of... http://t.co/n3zir9zxcO
28 minutes ago

KyleRowland

Kyle Rowland


Wooooo!!!!!!! He's coming home!!!!!!!!!
28 minutes ago

11W

Eleven Warriors


Braxton Miller foresaw the return of LeBron James earlier this morning. http://t.co/kK1izWQc5i
30 minutes ago

ESPN_BigTen

ESPN BigTen


Big Ten country is the place to be, obviously RT @AschoffESPN: Lebron and Johnny Football in the same city! Awesome
31 minutes ago

ESPN_BigTen

ESPN BigTen


Big Ten represented at The Opening http://t.co/f7Yt0RGjLu
33 minutes ago

whadatboynameis

Jordanowski


@Brutus_Buckeye get famous buckeyes @PatriciaHeaton @johnlegend @TheRichardLewis @RL_Stine @NickSwisher to help http://t.co/gN3LfBp8zK
39 minutes ago

OhioStFootball

Ohio State Football


Only 50 days left till #BuckeyeFootball #FallIsComing
40 minutes ago

bucksinsider

Ohio State News


Breaking: LeBron James is coming home to Cleveland!
41 minutes ago

ESPN_BigTen

ESPN BigTen


Big Ten lunch links http://t.co/fx58wDEtzV
about an hour ago

bucksinsider

Ohio State News


The Biggest Takeaways from Ohio State Recruits' Performances at The Opening: A number of ... http://t.co/pBUxas2Os3 #buckeyes #ohiostate
about an hour ago

lilhamma

Chorsie Calbert IV


LET'S GO BUCKS!!! #VoteScript http://t.co/zBTV4lmVDx @Brutus_Buckeye @OhioState
about an hour ago

AndyBaggotWSJ

Andy Baggot


Appreciate Melvin Gordon's moxie: SEC backs, beware: Wisconsin's Melvin Gordon says RB race is 'on' http://t.co/Xab0uysfDZ via @cbssports
about an hour ago

BraxtonMiller5

BRAXTON MILLER


Could it be? Hmmm http://t.co/cylmxhnD8n
about an hour ago

Brutus_Buckeye

Brutus Buckeye


http://t.co/yqHD447BI8 "@cdrone92: Alright @TBDBITL @OhioSt_Drumline we recruited @CalBand to help the cause...keep spreading the word!"
about an hour ago

SeanMcL216

Sean McLaughlin


Done. Vote Script Ohio! RT @Brutus_Buckeye @11W Thanks for the S/O, guys! #VoteScript http://t.co/WD4lbqseOB It's closing time! #GoBucks
about an hour ago

Brutus_Buckeye

Brutus Buckeye


.@MekkaDonMusic Sorry, man. Fumes got to me. Thanks for having my back. Now... Let's #GoBucks! #VoteScript http://t.co/fETclPWJYB
about an hour ago

joe11w

joe11w


New 11W... Baker Spurns Ohio State for Florida: CLEVELAND — A Clevelander is heading to Florida.This was... http://t.co/nnrFYY3iB1
about an hour ago

Brutus_Buckeye

Brutus Buckeye


It sure would STINK to lose to a Badger. VOTE: http://t.co/yqHD447BI8 #GoBucks http://t.co/eazHViqJXk
about an hour ago

11W

Eleven Warriors


In a bizarre announcement ceremony, four-star linebacker Jerome Baker spurned his home-state Buckeyes for Florida. http://t.co/ti0DzPXf2y
about an hour ago

Brutus_Buckeye

Brutus Buckeye


.@Brutus_Buckeye Good call, peeps! Couldn't think straight with those fumes. We can't LOSE to a stinkin' Badger!
about an hour ago

11W_Michael

Michael Citro


Sorry, but Jump Around, as a tradition, can't even match the Mirror Lake Jump, let alone Script Ohio.
about an hour ago

Brutus_Buckeye

Brutus Buckeye


It sure would STINK to loose to a Badger. VOTE: http://t.co/yqHD447BI8 #GoBucks http://t.co/eazHViqJXk
about an hour ago

Brutus_Buckeye

Brutus Buckeye


.@11W Thanks for the S/O, guys! #VoteScript http://t.co/yqHD447BI8 It's closing time! #GoBucks http://t.co/KSHb1Zerqb
about an hour ago

11W

Eleven Warriors


"Jump Around" is a better tradition than "Script Ohio"? Psh! The Best Damn Band in the Land needs your help. http://t.co/3CKh6MTgHa
about an hour ago

TBDBITL

OSU Marching Band


Buckeye fans, it's time to rally! Vote for Script Ohio as the #1 College Tradition here: http://t.co/ZmbpkzFcHZ http://t.co/6MZ1njiulw
about an hour ago

11W

Eleven Warriors


The CFB Playoff will unveil a new national championship trophy at 11 a.m. Monday. You had a good run, Fabergé. http://t.co/tLakYXONUH
about an hour ago

joe11w

joe11w


New 11W... Braxton Miller's Three Month Interview: We've all been on a big interview. In the lead-up, palms ... http://t.co/YmJk1HQfg0
about an hour ago

mattstierhoff

Matthew Stierhoff


Great morning volunteering at the West Ohio Food Bank with @Brutus_Buckeye and the #buckeyebus14
about an hour ago

EbonyMadonna

Ebony Smith


#buckeyevisit selfie with @Brutus_Buckeye! Love our summer Admissions events! #GoBucks http://t.co/On3dNkBIqj
about an hour ago

11W

Eleven Warriors


Braxton Miller's next challenge: a three-month job interview in which to impress NFL scouts. http://t.co/Qv22VIklun
about 2 hours ago

Brutus_Buckeye

Brutus Buckeye


Which is better - Script Ohio or Jump Around? That's what we thought. Thx, fellas! VOTE: http://t.co/yqHD447BI8 http://t.co/2MUmGFSmYx
about 2 hours ago

MattFinkes

Matt Finkes


We talk #Buckeye recruiting w/ @11w @Birm next on @TheBIGShow955 @TheOpening2014
about 2 hours ago

11W

Eleven Warriors


Yes, plz. RT @OSUManagers #PlotTwist #Sources #D1Dreams #LeBronWatch2014 http://t.co/r0HW48cyU3
about 2 hours ago

theoskaris

Jim Hampton


MT @Brutus_Buckeye: C'mon Bucks! RT to tell your friends & fam. VOTE: http://t.co/DD4kpAPivp #GoBucks http://t.co/Dhpa3e92tE
about 2 hours ago

CFBPlayoff

CFB Playoff


A new era, a new trophy. Coming July 14. http://t.co/hQT3zE0Uy3
about 2 hours ago

Brutus_Buckeye

Brutus Buckeye


They're running away w/ it. C'mon Bucks! RT to tell your friends & fam. VOTE: http://t.co/04P0XP65U8 #GoBucks http://t.co/LAkdTQ8jBC
about 2 hours ago

KyleRowland

Kyle Rowland


Jerome Baker and Benedictine head coach Joe Schaefer declined to talk to the media.
about 2 hours ago

11W

Eleven Warriors


Ohio State is in pretty good shape at linebacker (http://t.co/HNC3yHubmb), but Baker is a special talent and Meyer won't give up easily.
about 2 hours ago

11W

Eleven Warriors


Four-star Cleveland Benedictine linebacker Jerome Baker chooses Florida. Expect Ohio State to pursue Baker up to Signing Day.
about 2 hours ago

KyleRowland

Kyle Rowland


Cleveland Benedictine linebacker Jerome Baker is a Florida Gator. http://t.co/p3qSBKsLS6
about 2 hours ago

11W

Eleven Warriors


Four-star Cleveland Benedictine linebacker Jerome Baker chooses Florida. Expect Ohio State to pursue Baker up to Signing Day.
about 2 hours ago

KyleRowland

Kyle Rowland


Ohio's top-rated player (Rivals) four-star linebacker Jerome Baker chooses Florida over Ohio State and Tennessee.
about 2 hours ago

KyleRowland

Kyle Rowland


Jerome Baker (white shirt) minutes away from announcing his decision. http://t.co/W7KSaKlklZ
about 2 hours ago

KyleRowland

Kyle Rowland


Jerome Baker (white shirt) minutes away from announcing his decision. http://t.co/W7KSaKlklZ
about 2 hours ago

ESPN_BigTen

ESPN BigTen


B1G on Thorpe Award watch list: I Campbell, B Countess, K Drummond, J Lucas, T Waynes. MSU's @DDennard21 won it last year.
about 2 hours ago

ESPN_BigTen

ESPN BigTen


Five Big Ten players to root for http://t.co/GHcoIlYuOH
about 3 hours ago

Brutus_Buckeye

Brutus Buckeye


Rally caps on! VOTE Script Ohio for Best CFB tradition. (http://t.co/yqHD447BI8) We've been here before... #GoBucks http://t.co/RBEpvkjSGh
about 3 hours ago

KyleRowland

Kyle Rowland


The scene at Benedictine High School (Rich Paul's alma mater) for Jerome Baker's announcement. http://t.co/iYKXVmpkCF
about 3 hours ago

KyleRowland

Kyle Rowland


The scene at Benedictine High School (Rich Paul's alma mater) for Jerome Baker's announcement. http://t.co/iYKXVmpkCF
about 3 hours ago

joe11w

joe11w


New 11W... Ohio State Basketball Commits Throw Up the O-H-I-O at the LeBron Skills Academy: The four Ohio St... http://t.co/RdygMfp3bb
about 3 hours ago

11W

Eleven Warriors


Ohio State basketball commits rock the O-H-I-O at the LeBron James Skills Academy in Las Vegas. http://t.co/AruSeS5QPa
about 3 hours ago

ESPN_BigTen

ESPN BigTen


Field looks great RT @PennStateFball: Today marks 50 days until the @CrokePkClassic pitch sees kickoff. #PSUnrivaled http://t.co/VSUs753sK4
about 3 hours ago

joe11w

joe11w


New 11W... #PhenomenalSwag: The Top Ten Old-Timey Ohio State Football Programs: Nostalgia is overrated. Ask ... http://t.co/C9OLoujrs1
about 3 hours ago

11W

Eleven Warriors


The 10-best old-timey Ohio State football programs since 1901. http://t.co/d7ZObrqJkz
about 3 hours ago

KyleRowland

Kyle Rowland


Proof that the sun is indeed shining on Cleveland, Ohio. http://t.co/PzDPL4wzHD
about 3 hours ago

ESPN_BigTen

ESPN BigTen


Pac-12 commish going green RT @joerexrode: Morning RT, MSU lands Ohio RB with stars, rankings and offers galore. http://t.co/RoAjdkS5b1
about 3 hours ago

11W

Eleven Warriors


@CoachVrabel50 Have a safe trip, coach.
about 3 hours ago

ESPN_BigTen

ESPN BigTen


Fitting the criteria of a Big Ten champion http://t.co/WKU5rTuMRR
about 4 hours ago

TheRealMikeEpps

Mike Epps


THIS WKND I'LL BE LIVE IN DAYTON OHIO !!! S|O to Buck Eyes QB @BraxtonMiller5 MIDWEST SALUTE!! #AfterDarkTour
about 4 hours ago

11W

Eleven Warriors


Four-star LB prospect Jerome Baker chooses a school at 10 a.m. @KyleRowland will have live coverage from Benedictine high school.
about 4 hours ago

ESPN_BigTen

ESPN BigTen


Taking your Big Ten football Twitter questions (Adam) for today's mailbag. Send 'em in!
about 4 hours ago

joe11w

joe11w


New 11W... Buckeyes Loading Up on Linebackers: Ohio State's linebackers have frustrated Urban Meyer more tha... http://t.co/z0OZkEJGqt
about 4 hours ago

11W

Eleven Warriors


Urban Meyer targeted the linebacker position as an area of need and so far, he's delivering on the recruiting trail. http://t.co/HNC3yHubmb
about 4 hours ago

11W

Eleven Warriors


Go Buck Eyes. RT @TheRealMikeEppsTHIS WKND I'LL BE LIVE IN DAYTON OHIO !!! S|O to Buck Eyes QB @BraxtonMiller5
about 4 hours ago

11W

Eleven Warriors


This is great. RT @KegsnEggs Neon, speed and swoosh: How Nike and Oregon Created College Football's Perfect Brand http://t.co/28jcZF8kdi
about 5 hours ago

11W

Eleven Warriors


Four-star LB prospect Jerome Baker chooses a school at 10 a.m. @KyleRowland will have live coverage from Benedictine high school.
about 5 hours ago

11W

Eleven Warriors


Happy birthday, Thad Matta. All of your biggest fans are here for your party. http://t.co/MKWItDk9gU
about 5 hours ago

joe11w

joe11w


New 11W... Friday Skull Session: Glad I'll be working for ELEVEN WARRIORS WORLDWIDE LLC during next year's g... http://t.co/FRqK2t8eox
about 6 hours ago

11W

Eleven Warriors


Skull Session: Jerome Baker's judgment day, 2015 RB dominoes falling, Jim Stillwagon is suing everyone & more. http://t.co/UdfWXJtgKM
about 7 hours ago

KyleRowland

Kyle Rowland


Yep. Agree 100 percent. RT @BenAxelrod LeBron's demand for the max was a facade. LeBron-Wade-Bosh-Melo in Miami. Book it.
about 12 hours ago

BraxtonMiller5

BRAXTON MILLER


Blessed
about 12 hours ago

Brutus_Buckeye

Brutus Buckeye


G'night #Buckeyes! VOTE Script Ohio 4 Best College Football tradition b4 dozing off > http://t.co/TncGfzu111 #GoBucks http://t.co/vrNtVdey8N
about 13 hours ago

rustymillerap

Rusty Miller


#Buckeyes at #Spartans on Nov. 8 to be night game (from @AP) http://t.co/yd4vwejwtJ
about 13 hours ago

rustymillerap

Rusty Miller


17-year-old builds lead to 3 strokes at Ohio Am (from @AP) http://t.co/LmVGMZrBfo
about 13 hours ago

rustymillerap

Rusty Miller


108th Ohio Amateur 3rd-round scores (from @AP) http://t.co/W22J5YQLv3
about 13 hours ago

rustymillerap

Rusty Miller


1960s #OhioState star sues over road rage arrest (from @AP) http://t.co/BKE1iDci5m
about 13 hours ago

AP

The Associated Press


Owner of Whoops Towing (no joke) arrested after allegedly trying to illegally haul off an undercover police car: http://t.co/pudESAG7MZ
about 13 hours ago

Birm

Jeremy Birmingham


Another pic of Damien Harris (@Damien_D1Harris) and Justin Hilliard (@JHilliard47) following tonight's championship. http://t.co/hzmyyu1ogp
about 14 hours ago

JHilliard47

Justin Hilliard


Hopefully I can get my dude @Damien_D1Harris to be a Buckeye 🅾🙌 http://t.co/5iy85hSQwH
about 14 hours ago

a_forny32

Alex Fornwalt


@Brutus_Buckeye EVERYONE VOTE NOW! Buckeye Pride! #GoBucks #VoteScript http://t.co/77UnSmnFLh
about 14 hours ago

Fagen99

Josh Feigenbaum®


@BadgerFootball Needs @umichfootball to help them beat @OhioStAthletics.... SAD http://t.co/V1SjpfAi1B
about 14 hours ago

bucksinsider

Ohio State News


Future Buckeye 5-Star Duo Hilliard and Cornell Destroy The Opening: The 2014 edition of N... http://t.co/6EMB6nRQdg #buckeyes #ohiostate
about 14 hours ago

ourhonordefend

Vico


I don't mind losing LJ Scott to MSU. Better to lose out on these kids to B1G schools than continue the exodus to Kentucky or Alabama.
about 15 hours ago

OSUCoachMeyer

Urban Meyer


Thank you everyone for the birthday wishes!
about 15 hours ago

JORT614

Jeremy Ortman


@Brutus_Buckeye @BadgerFootball that's what we call checkmate. nice going Brutus! #GoBucks #scriptOHIO #best #tradition
about 15 hours ago

Birm

Jeremy Birmingham


Hilliard with his award. http://t.co/J6YNYYcXLn
about 16 hours ago

BadgerFootball

Badger Football


No baby is writing Ohio in script: http://t.co/gcR4C30czS RT @UWMadison: How to raise a #futurebadger: http://t.co/qtsK2bSfIj #JumpAround
about 16 hours ago
BIG TEN SCOREBOARD
Thursday, 8/28
Friday, 8/29
Saturday, 8/30
BLOG ARCHIVE:
CATEGORIES: