Jamarco Jones excited for trip to OSU
October, 15, 2012
10/15/12
2:33
PM ET
Jamarco Jones
(Chicago/De La Salle) hasn't been back to Columbus since he was getting instruction from Orlando Pace and LeCharles Bentley back in July at Ohio State's Friday Night Lights camp.
The ESPN Watch List offensive tackle has gone to Michigan and Michigan State on unofficial visits and was at Soldier Field when Notre Dame took on Miami (Fla.) on Oct. 6 in a 41-3 win by the Fighting Irish.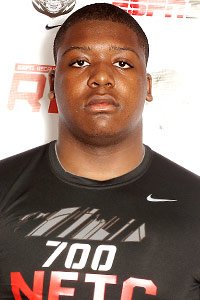 Tom Hauck for ESPN.comOffensive tackle Jamarco Jones is planning to be among many potential recruits attending the Ohio State-Michigan game on Nov. 24.
But that doesn't mean the 6-foot-5, 285-pound Jones has forgotten about the Buckeyes.
To continue reading this article you must be an Insider
Insider
Easiest Path To The 2015 College Football Playoff
Heather Dinich takes a look at which schools have the easiest path to the 2015 College Football Playoffs.
Easiest Path To The 2015 College Football Playoff
VIDEO PLAYLIST
OSU FB RECRUITING SCORECARD
Nike Youth Ohio State Buckeyes #5 Scarlet Football Game Jersey Shop »
11W

Eleven Warriors


Switch, show, blitz, or zone? How should the Buckeyes defend the pick and roll? Let's take a look. http://t.co/4DsLxAuzwo
10 minutes ago

Brutus_Buckeye

Brutus Buckeye


Happy Birthday HOP! #Buckeyes 1955 @HeismanTrophy winner Howard "Hopalong" Cassady turns 81 today! #GoBucks https://t.co/Q8pe60R266
17 minutes ago

GreggDoyelStar

Gregg Doyel


Purdue's defense is so good, it usually covers for its horrible offense. Just not Sunday. Column from Ohio St game - http://t.co/I1yS2QWMow
31 minutes ago

Brutus_Buckeye

Brutus Buckeye


Good puck stuff right here! Early 5pm "Hockey Hour" start vs my fury friend from the north -- The Gopher! #GoBuckshttps://t.co/t2RySBsHjL
about an hour ago

AdamJardy

Adam Jardy


#CrewSC will unveil stadium naming rights Tuesday at 10 a.m.
about an hour ago

Willie_Mitch33

Willie Mitchell


What most @NHL players are feeling right about now. #TradeCentre #NHLtrade http://t.co/mxnviS7fle
about an hour ago

Pblatshaw

Paul B. Latshaw, MSM


90 days to the Memorial Tournament. Need Mother Nature to let up with the cold and snow. http://t.co/xkiTuiaarX
about an hour ago

11W

Eleven Warriors


With the Ohio State-Wisconsin showdown looming, it's a good time to reflect on Frank Kaminsky's tremendous season. http://t.co/31QHVSOBdJ
about an hour ago

ESPN_BigTen

ESPN BigTen


Spring overview: 10 burning Big Ten questions http://t.co/JidXrcjFzB
about an hour ago

KyleRowland

Kyle Rowland


On the first day of March, Purdue received a rude introduction to the month's maddening ways. http://t.co/PFGemJ5nOo
about 2 hours ago

ESPN_BigTen

ESPN BigTen


Big Ten morning links http://t.co/N0sGBrHzIb
about 2 hours ago

OhioState_MHKY

Ohio State M Hockey


Get ready! A flash sale is coming tomorrow morning for tickets to Friday's game vs. Minnesota. #GoBucks http://t.co/nQUl3Autwv
about 2 hours ago

11W

Eleven Warriors


"It's March," Ohio State coach Thad Matta said. "You've got to find ways to win basketball games." http://t.co/jz05tDT4h5
about 3 hours ago

joe11w

JoeSports


Ohio State recruiting: State Secrets - Chauncey Gardner names top 3, basketball targets visit Columbus: It was... http://t.co/BGoa9Fk2nj
about 5 hours ago

11W

Eleven Warriors


Skull Session: Matta season is open, Cardale was ready, three footballers exit, OSU's 47 NCAA violations, and more. http://t.co/RKkri8FEOT
about 6 hours ago

bucksinsider

Ohio State News


D'Angelo Russell's 28 points help Ohio State rally past Purdue: Updated MAR 02, 2015 2:2... http://t.co/RNuDAkgoSm #buckeyes #ohiostate
about 8 hours ago

AndrewWSYX6

Andrew Michael


Life hands you a LOT of snow... you dot the "I" GREAT pic from Amber in West Jefferson, OH #OhioWX @Brutus_Buckeye http://t.co/GP2pVfclnE
about 10 hours ago

bucksinsider

Ohio State News


Scott's foul shots, Russell's 28 lead Ohio State past Purdue: COLUMBUS, Ohio (AP) — D'An... http://t.co/RnXSIcDrBW #buckeyes #ohiostate
about 10 hours ago

11W

Eleven Warriors


"I could get used to this. This is great." Ohio State finally finds itself on the right side of a close game. http://t.co/GotpVwaJ2m
about 12 hours ago

rustymillerap

Rusty Miller


Scott's foul shots, Russell's 28 lead Ohio State past Purdue (from @AP) http://t.co/y8vFMXuxO5
about 12 hours ago

OhioStAthletics

Ohio State Buckeyes


WIN COLUMN: @OhioStateHoops improves to 13-0 at home in March under Thad Matta #GoBucks http://t.co/QFOLxtwFGp
about 12 hours ago

BrettRybak

Brett Rybak


Recap, stats, notes and quotes from @OhioStateHoops 65-61 win over Purdue http://t.co/dFuDWzNoZL #GoBucks http://t.co/h9hnFHHUX7
about 12 hours ago

IMGAudio

IMG College Audio


BIG BOY win tonight by @OhioStateHoops... BIG BOY radio calls from Paul Keels ---> http://t.co/4BoklgoHud! #GoBucks http://t.co/vPbKRsQ3Pk
about 13 hours ago

ABSolutlypostiv

Abby


Brutus, I can't see! @Brutus_Buckeye @BuckeyeNutHouse ❤️🏀❤️🌰❤️ http://t.co/SeOYoso24W
about 13 hours ago

joe11w

JoeSports


Ohio State vs. Purdue 2015 final score: 3 things we learned from OSU's 65-61 win: OSU bounced back from a doub... http://t.co/D6hVAHBgty
about 13 hours ago

OSUADAthComm

Dan Wallenberg


Final Stats: Ohio State 65, Purdue 61. http://t.co/WLPIyhtJCY
about 13 hours ago

OSUADAthComm

Dan Wallenberg


Sam Thompson and D'Angelo Russell with Shon Morris after 65-61 @OhioStateHoops win over Purdue. http://t.co/kNZTUnUPZD
about 13 hours ago

OhioStAthletics

Ohio State Buckeyes


FINAL: @OhioStateHoops derails Boilermakers with 2nd-half comeback // Recap: http://t.co/85zLFndSNK #GoBucks http://t.co/JzGqoVeD1b
about 13 hours ago

Brutus_Buckeye

Brutus Buckeye


.@TheRealPUPete Anytime, my man! You know you're one of my faves! Great game tonight! http://t.co/c5nrBIUaGS
about 13 hours ago

KyleRowland

Kyle Rowland


Final: Ohio State 65, Purdue 61. Blown opportunity for the Boilermakers.
about 13 hours ago

Brutus_Buckeye

Brutus Buckeye


Gonna have to propose a name change after tonight ... Premature Pete, perhaps? Hmmmm? @TheRealPUPete http://t.co/NGeJoG5wTb
about 13 hours ago

Brutus_Buckeye

Brutus Buckeye


Boiler DOWN! @ohiostatehoops avenges early conference loss w/ strong 2nd half. #GoBucks https://t.co/Z13Oxw5qrk
about 13 hours ago

Chris11W

Chris Lauderback


Buckeyes outrebounded Purdue 35-32, posted 11-4 edge in 2nd chance pts, 14-7 edge in pts off turnovers and racked up 10 steals in 65-61 win.
about 13 hours ago

11W

Eleven Warriors


Behind D'Angelo Russell's 28 points, Ohio State rallied past Purdue, 65-61, Sunday night in Columbus. http://t.co/url8dEefsf
about 13 hours ago

Brutus_Buckeye

Brutus Buckeye


Down 12 at the half ... meh. Like I had any doubts. 😉@OhioStateHoops 65Purdue 61 More @OhioStAthletics #GoBucks http://t.co/3L7GcprsQu
about 13 hours ago

TimShoemaker

Tim Shoemaker


FINAL: Ohio State 65, Purduel 61. D'Angelo Russell scores 28 as Buckeyes overcome 12-point halftime deficit to get a huge win.
about 13 hours ago

11W

Eleven Warriors


AMIRRRRRR (lol)
about 13 hours ago

TimShoemaker

Tim Shoemaker


Ohio State is a bad free-throw shooting team, but Shannon Scott & Kam Williams just hit four HUGE ones down the stretch.
about 13 hours ago

11W

Eleven Warriors


Game, scarlet and gray blouses.
about 13 hours ago

OSUADAthComm

Dan Wallenberg


Purdue scores, K Williams fouled with 3.7 left, makes 2 FTs, 65-61 Buckeyes
about 13 hours ago

OSUADAthComm

Dan Wallenberg


Scott with another big OSU rebound, fouled, makes 2 FTS, OSU leads 63-59 with 11 seconds left
about 13 hours ago

Brutus_Buckeye

Brutus Buckeye


Time for the knockout blow #Buckeyes Let's D-up! #GoBucks http://t.co/NY7c3IlsTF
about 13 hours ago

KyleRowland

Kyle Rowland


Purdue ball, down 2 with 17.3 seconds left.
about 14 hours ago

OSUADAthComm

Dan Wallenberg


A. Williams huge block and rebound, Scott fouled, makes 1 FT, OSU leads 61-59, Purdue timeout with 17.3 to play.
about 14 hours ago

KyleRowland

Kyle Rowland


Bizarre offense for Purdue in final minutes. Amir Williams has four fouls and AJ Hammons has barely touched the ball.
about 14 hours ago

11W

Eleven Warriors


AMIRRRRRRR
about 14 hours ago

KyleRowland

Kyle Rowland


Ohio State up 1 with 59.2 seconds left. Purdue ball.
about 14 hours ago

Brutus_Buckeye

Brutus Buckeye


Let's go @BuckeyeNutHouse get NUTS RIGHT NOW! Need. A.Stop. #GoBucks http://t.co/WK7Nc7h6gk
about 14 hours ago

OSUADAthComm

Dan Wallenberg


Russell drives and scores, OSU up 1 with just under 1 min to play. Russell with 28 pts,, Thompson has 14.
about 14 hours ago

OSUADAthComm

Dan Wallenberg


Thompson with the huge rebound, timeout Buckeyes, Russell checks in with OSU down 1 and 1:14 to play.
about 14 hours ago

Brutus_Buckeye

Brutus Buckeye


DEE-fense 👏👏DEE-fense 👏👏#GoBucks
about 14 hours ago

rustymillerap

Rusty Miller


Boilers with ball and 59-58 lead with 1:36 left.
about 14 hours ago

bucksinsider

Ohio State News


Cleveland sports legends visit Cleveland Auto Show: National Champion Buckeyes, as well a... http://t.co/pTHIKGsvXU #buckeyes #ohiostate
about 14 hours ago

OSUADAthComm

Dan Wallenberg


timeout Purdue with 1-pt lead 1:39 to play and 18 on the shot clock. Boilers 2 timeouts left, OSU 3. PU has the arrow.
about 14 hours ago

OSUADAthComm

Dan Wallenberg


Loving fouled by Hammons, his fourth, Loving makes 1 FT, 59-58 PU with 1:57 to play
about 14 hours ago

OSUADAthComm

Dan Wallenberg


Russell called with 4th foul, PU makes 2 FTs, up 59-57 with 2:22 to play
about 14 hours ago

OSUADAthComm

Dan Wallenberg


PU 3 puts Boilers up 57-56, Russell fouled on the drive by Hammons, DR makes 1 FT, game tied at 57
about 14 hours ago

rustymillerap

Rusty Miller


Tied at 54 with 3:38 left, Marc Loving going to line to shoot double bonus.
about 14 hours ago

rustymillerap

Rusty Miller


Ohio State up 55-54 with 3:38 left, Marc Loving going to line to shoot double bonus.
about 14 hours ago

OSUADAthComm

Dan Wallenberg


Under 4 timeout, Loving at the line for 2 after PU foul. Game tied at 54, 3 timeouts each team.
about 14 hours ago

Buckeye_Nation

Buckeye Nation


The Mailbox: Browns' new logo is the final straw for longtime fan / #OSUDispatch / http://t.co/3yA5bjBlC8
about 14 hours ago

KyleRowland

Kyle Rowland


OSU-Purdue tied at 54 with 3:38 left. Boilers have scored last four after it looked like game might totally slip away.
about 14 hours ago

OSUADAthComm

Dan Wallenberg


We are tied at 54.
about 14 hours ago

OSUADAthComm

Dan Wallenberg


54-50 Buckeyes.
about 14 hours ago

OSUADAthComm

Dan Wallenberg


Russell fouled on the drive, Edwards fouls out for PU, DR makes 2 FTs, 54-40 Buckeyes.
about 14 hours ago

BTN_Ohio_State

Ohio State on BTN


A.J. Hammons? No big deal, says @OhioStAthletics' Sam Thompson on this athletic And-1. #IntelGoesB1G #MarchOnBTN http://t.co/x51jHmdU7b
about 14 hours ago

OSUADAthComm

Dan Wallenberg


McDonald fouls out, Hammons makes 1 FT, OSU leads 52-50
about 14 hours ago

OSUADAthComm

Dan Wallenberg


We have 5:30 to play, Buckeyes have made 4 of last 5 FGs, each team with 3 timeouts, Boilers have the arrow. OSU 52-49
about 14 hours ago

rustymillerap

Rusty Miller


#Buckeyes up 52-49 on Sam Thompson driving three-point play with 5:30 left.
about 14 hours ago

OSUADAthComm

Dan Wallenberg


Hammons misses, Russell finds Thompson for the drive, score and foul on Hammons, ST, makes FT, timeout OSU with the 52-49 lead
about 14 hours ago

OSUADAthComm

Dan Wallenberg


PU fouled on a 3, hit 1 of 3 FTs, tied at 49
about 14 hours ago

Brutus_Buckeye

Brutus Buckeye


Back to back Js from @D_Russ0 has @OhioStateHoops ahead 49-48 Let's go @BuckeyeNutHouse NOISE! #GoBucks
about 14 hours ago

OSUADAthComm

Dan Wallenberg


Russell again, 49-48 Buckeyes
about 14 hours ago

OSUADAthComm

Dan Wallenberg


Purdue misses front end of 1-1, Russell scores and Purdue answers 48-47 Boilers.
about 14 hours ago

BTN_Ohio_State

Ohio State on BTN


What a highlight! Sam Thompson's big-time block leads to @OhioStAthletics transition dunk. #IntelGoesB1G #MarchOnBTN http://t.co/hmLssJTL2D
about 14 hours ago

Brutus_Buckeye

Brutus Buckeye


.@FauxPeliniYSU @TheRealPUPete @BoilerBall And has a girlfriend! http://t.co/GZ9cSq30zp
about 14 hours ago

OSUADAthComm

Dan Wallenberg


Russell has 19 pts, 5 rebs., Thompson 11 pts, 5-5 at the line, steal, block.
about 14 hours ago

OSUADAthComm

Dan Wallenberg


Under 8 timeout on OSU foul...1 pt game. Purdue at the line for the 1-1 upon return. A. Williams with 4th foul.
about 14 hours ago

Brutus_Buckeye

Brutus Buckeye


.@TheRealPUPete @BoilerBall PSST ... Hey Pete ... #GoBucks http://t.co/izApElwD4I
about 14 hours ago

KyleRowland

Kyle Rowland


Purdue reeling. Buckeyes on 14-4 run, trail 46-45. 8:10 left.
about 14 hours ago

Brutus_Buckeye

Brutus Buckeye


TO for PU!!!!! Make Some Noise @BuckeyeNutHouse ‼️‼️‼️#Buckeyes within one 46-45 on a 12-4 run #GoBucks
about 14 hours ago

OSUADAthComm

Dan Wallenberg


Buckeyes have made 4 of last 5 FGs, Purdue 2 of last 8 and 1 of last 5.
about 14 hours ago

rustymillerap

Rusty Miller


#Buckeyes have hit 4 of 5 FGs, suddenly down just 46-45 with 8:10 left.
about 14 hours ago

OSUADAthComm

Dan Wallenberg


Thompson blocks Hammons, Russell finds A. Williams for the dunk, timeout Purdue with the 46-45 lead. 8:10 to play.
about 14 hours ago

OSUADAthComm

Dan Wallenberg


Teams trade hoops, Russell for OSU, 46-43 Boilers,
about 14 hours ago

OSUADAthComm

Dan Wallenberg


Attendance: 15,978
about 14 hours ago

Brutus_Buckeye

Brutus Buckeye


Did you 👀 @D_Russ0 do that? #GoBucks http://t.co/Vl77va8w3c
about 14 hours ago

OSUADAthComm

Dan Wallenberg


Thompson goes to the line after foul on def rebounds, makes both FTs, 44-41 PU
about 14 hours ago

OSUADAthComm

Dan Wallenberg


Kam Williams steals, Russell spins and scores, 5 pt game.
about 14 hours ago

OSUADAthComm

Dan Wallenberg


Thompson drives and scores, 44-37 PU.
about 14 hours ago

KyleRowland

Kyle Rowland


Purdue leads OSU 44-35 at the under-12. Boilers hanging tough when it seemed like Buckeyes would make runs.
about 14 hours ago

OSUADAthComm

Dan Wallenberg


Under 12 timeout, OSU possession on held ball, PU leads 44-35.
about 14 hours ago

BTN_Ohio_State

Ohio State on BTN


We've seen this before: @OhioStAthletics' Sam Thompson explodes for the dunk. #MarchOnBTN #IntelGoesB1G http://t.co/57yCP4o6Mx
about 14 hours ago

Brutus_Buckeye

Brutus Buckeye


And we have LIFTOFF!!! @SlamIAm12 #GoBucks http://t.co/QiugSy7Jis
about 14 hours ago

Brutus_Buckeye

Brutus Buckeye


.@TheRealPUPete @BoilerBall Stillllll plenty of time to ... #GoBucks http://t.co/TJNP8eOaDT
about 14 hours ago

jkenny_ns

Justin Kenny


If the #NCAATournament committee puts a lot of stock into teams playing their best basketball in March, @BoilerBall is in and #iubb is out
about 14 hours ago

LordHolley

buckeye11


Thank you for the tickets @Brutus_Buckeye ! #GOBUCKS http://t.co/AtazP4bP2Y
about 14 hours ago

OSUADAthComm

Dan Wallenberg


Under 16 timeout, Purdue leads 40-29. OSU ball after PU block goes out of bounds.
about 14 hours ago

KyleRowland

Kyle Rowland


Jon Octeus to the bench with his third foul.
about 14 hours ago

OSUADAthComm

Dan Wallenberg


Russell steals and scores, 35-27 PU
about 14 hours ago
BIG TEN SCOREBOARD
Thursday, 9/3
Friday, 9/4
Saturday, 9/5
Sunday, 9/6
Monday, 9/7
BLOG ARCHIVE:
CATEGORIES: