Dick Vitale's Preseason Top 40
October, 8, 2012
10/08/12
2:01
PM ET
By
RecruitingNation staff
| ESPN.com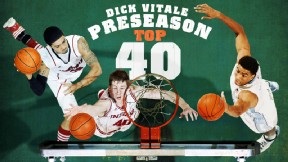 ESPN.com Illustration
Midnight Madness is just days away, so it's time to take at the college basketball landscape and identify the top teams in 2012-13, starting in Kentucky... Louisville, Kentucky that is.
There are a lot of quality contenders looking to cut down the nets in Atlanta.
Where are the Buckeyes ranked?
Dick Vitale's Preseason Top 40
Scene and Heard: Top 10 Predictions
In a conversation with ESPN's Antonietta Collins, national recruiting reporter Gerry Hamilton breaks down the recruiting momentum building at Auburn and offers predictions for where the top 10 recruits will commit.
Tags:
Trenton Thompson
,
Kerryon Johnson
,
Jeffery Holland
,
Martez Ivey
,
Torrance Gibson
,
Cece Jefferson
,
ESPN 300
,
RecruitingNation
,
high school football recruiting
,
Gerry Hamilton
Scene and Heard: Top 10 Predictions
VIDEO PLAYLIST
Scene and Heard: Top 10 Predictions

Scene and Heard: Top 10 Predictions

In a conversation with ESPN's Antonietta Collins, national recruiting reporter Gerry Hamilton breaks down the recruiting momentum building at Auburn and offers predictions for where the top 10 recruits will commit.

Tags: Trenton Thompson

,

Kerryon Johnson

,

Jeffery Holland

,

Martez Ivey

,

Torrance Gibson

,

Cece Jefferson

,

ESPN 300

,

RecruitingNation

,

high school football recruiting

,

Gerry Hamilton

New ESPN 300 Top 10 Revealed

New ESPN 300 Top 10 Revealed

National recruiting analysts Tom Luginbill and Craig Haubert count down the top 10 recruits in the latest ESPN 300 player rankings update. The complete ESPN 300 will be released April 16.

Tags: Tim Settle

,

CeCe Jefferson

,

Torrance Gibson

,

Mitch Hyatt

,

Terry Beckner Jr.

,

Byron Cowart

,

Josh Sweat

,

Kevin Toliver II

,

Martez Ivey

,

Trevon Thompson

,

ESPN 300

,

RecruitingNation

,

high school football recruiting

,

Tom Luginbill

,

Craig Haubert

Spring Game Wrap-Up

Spring Game Wrap-Up
OSU FB RECRUITING SCORECARD
Nike Youth Ohio State Buckeyes #10 Scarlet Football Game Jersey Shop »
joe11w

joe11w


New 11W... There's No 'I' in Defensive Juggernaut: Marrying coaching philosophies and ideologies is easier t... http://t.co/beGMHdwJ7e
about a minute ago

11W

Eleven Warriors


Ohio State's remixed defensive staff is clicking and that could mean a return of the Silver Bullets. http://t.co/lVKUsdlfcP
4 minutes ago

ESPN_BigTen

ESPN BigTen


… but neither Northwestern nor CAPA can meet with or contact players in 24 hours before vote. So players would have to see this themselves.
15 minutes ago

ESPN_BigTen

ESPN BigTen


Today's vote would allow big conferences to provide more for athletes. Would seem to boost anti-union case made by Northwestern officials …
16 minutes ago

ESPN_BigTen

ESPN BigTen


Two big days ahead for college sports. Today: D1 Board votes whether to give big conferences more autonomy. Friday: Northwestern union vote
19 minutes ago

Brutus_Buckeye

Brutus Buckeye


Green Power!@OhioState designated Conference Champion in EPA's College & University Green Power Challenge #GoBucks http://t.co/TW3TAHAAOl
45 minutes ago

joe11w

joe11w


New 11W... Thursday Skull Session: C! B! J! C! B! J! C! B! J! Damn I love this town. COOMBS SAYS SOME ST... http://t.co/mAE7ZyTHra
about 2 hours ago

11W

Eleven Warriors


Skull Session: Coombs on secondary cohesion, Meyer's honest self-assessment, an early line for Navy and more. http://t.co/3cD3qQaTDL
about 2 hours ago

rustymillerap

Rusty Miller


AP Photo: #CBJ Nick Foligno, Sergei Bobrovsky celebrate Game 4 win (from @AP) http://t.co/6YdGijuKsO
about 7 hours ago

rustymillerap

Rusty Miller


AP Photo: #CBJ Mark Letestu, #Pens Matt Niskanen (from @AP) http://t.co/7Kf25wPCgH
about 7 hours ago

rustymillerap

Rusty Miller


RT @smitchcd: Rough night in in C-Bus: http://t.co/03a2F6KkxP
about 7 hours ago

rustymillerap

Rusty Miller


RT @AP_Sports: Party in Columbus: Jackets beat Penguins for 1st home playoff win #nhl http://t.co/tD7l4E7Y5Q
about 7 hours ago

rustymillerap

Rusty Miller


RT @BDubi17: Unbelievable atmosphere tonight! #WeAreThe5thLine stuck behind us and the boys showed a lot of character pulling this one out!…
about 7 hours ago

rustymillerap

Rusty Miller


RT @JackJohnson3: Wait what? Don't think I can hear anymore. The rink was absolutely rocking. #deafening Thank you 5th line! #BattleOn http…
about 7 hours ago

rustymillerap

Rusty Miller


RT @TheHockeyVines: Niskanen tells these fans off 😂😂😂https://t.co/W7G9Zfh40U
about 7 hours ago

rustymillerap

Rusty Miller


RT @jameswisniewski: What a night @NationwideArena the #WeAreThe5thLine was rockin it LOUD. #CBJ with #BattleStix we're comin back for Game…
about 7 hours ago

rustymillerap

Rusty Miller


RT @PR_NHL: CBJ/PIT is first series in NHL history in which four consecutive games have been won by a team trailing by two or more goals. @…
about 7 hours ago

rustymillerap

Rusty Miller


RT @Umby18: Been waiting 6 yrs to give the fans here in Columbus a playoff win at nationwide! What an atmosphere tonight. Thank u fans!#wea…
about 7 hours ago

rustymillerap

Rusty Miller


RT @CamAtkinson13: @NationwideArena was going bananas, what a feeling for the boys. Let's keep it rolling. #WeAreThe5thLine #bestfans
about 8 hours ago

rustymillerap

Rusty Miller


#CBJ get first home playoff win ever on huge comback capped by Foligno's called shot: http://t.co/A6QbEiiMQg #Pens
about 8 hours ago

11W

Eleven Warriors


Early line from 5Dimes offshore. MT @Johnny_Detroit Ohio State Buckeyes favored by 14 points over Navy Midshipmen in opener.
about 9 hours ago

Brutus_Buckeye

Brutus Buckeye


He's a Buckeye! Congrats to @Umby18 & @BlueJacketsNHL on the THRILLING win in OT tonight. #BattleOn #CBJ http://t.co/2qX8SPEJBY
about 9 hours ago

BuckeyesBeat

Austin Ward


True story. RT @JeffSvoboda: Told @AWardESPN when it was 3-0 that if the #CBJ came back to win that we'd have a story we'd never forget.
about 9 hours ago

ESPN_BigTen

ESPN BigTen


RT @bstrauss1: Inside Northwestern's campaign to defeat Friday's union vote; including a look at emails from Coach Fitz to players. http://…
about 10 hours ago

Brutus_Buckeye

Brutus Buckeye


RT @TheCBJArtillery: 4-3 BLUE JACKETS WIN! WHAT A COME BACK!! #BOOM
about 10 hours ago

11W

Eleven Warriors


First home playoff win, coming in overtime after tying it at the end with the goalie pulled. Jealous of everyone at NWA tonight.
about 10 hours ago

KyleRowland

Kyle Rowland


This team is unreal. No quit whatsoever. Blue Jackets might not win series, but NHL is on notice. They aren't going anywhere.
about 10 hours ago

rustymillerap

Rusty Miller


Foligno wrister at 2:49 of OT. #Pens and #CBJ going to Pittsburgh tied at 2-2.
about 10 hours ago

11W

Eleven Warriors


GOOOOOOAAAAAAAAAAAAALLLLLLLLLL
about 10 hours ago

rustymillerap

Rusty Miller


Here we go. Everyone -- all 18,970 -- standing in #NationwideArena for the OT. #Pens #CBJ
about 10 hours ago

rustymillerap

Rusty Miller


So, in the fourth game of the series, the final score will once again be 4-3. But will winner be #CBJ? Or #Pens
about 10 hours ago

11W

Eleven Warriors


RT @LoriSchmidt: PHOTO: Brandon Dubinsky nets the game-tying goal. http://t.co/uuoieCWxj6
about 10 hours ago

Brutus_Buckeye

Brutus Buckeye


Extra Hockey!!! #CBJ #BattleOn #DefendNWA http://t.co/cc1KxOdhGi
about 10 hours ago

Brutus_Buckeye

Brutus Buckeye


CBJ!!!! OT! Way to fight. Go even this series up! #CBJ @BlueJacketsNHL
about 10 hours ago

KyleRowland

Kyle Rowland


RT @RustyMillerAP: After 13 seasons of late goals breaking fans' hearts at home, #CBJ finally make up for all of that. Crowd is howling. OT…
about 10 hours ago

rustymillerap

Rusty Miller


After 13 seasons of late goals breaking fans' hearts at home, #CBJ finally make up for all of that. Crowd is howling. OT upcoming.
about 10 hours ago

11W

Eleven Warriors


Free hockey. Let's get this, Jackets.
about 10 hours ago

rustymillerap

Rusty Miller


That sonic boom you just heard? Brandon Dubinsky takes advantage of Fleury's mishandled puck to tie it at 3 with :22.5 left in reg.
about 10 hours ago

KyleRowland

Kyle Rowland


Baffling play by Fleury. So boneheaded. That's a high school goalie-esque mistake.
about 10 hours ago

KyleRowland

Kyle Rowland


Absolutely incredible.
about 10 hours ago

rustymillerap

Rusty Miller


This will not go into James Wisniewski's scrapbook.
about 11 hours ago

rustymillerap

Rusty Miller


Matt Calvert catches crossbar on break, denied tying goal with exactly 10 minutes left in regulation.
about 11 hours ago

rustymillerap

Rusty Miller


Crowd still into it, roaring on every rush, as #Pens hang on to 3-2 lead over #CBJ with 12:18 left in regulation.
about 11 hours ago

rustymillerap

Rusty Miller


Attendance: 18,970
about 11 hours ago

11W

Eleven Warriors


Thad Matta checked in on 2015 shooting guard Andrew Fleming, a top 200 player nationally. http://t.co/SqnssKC7K1
about 11 hours ago

Brutus_Buckeye

Brutus Buckeye


RT @Consano: @ConsanoKara got some love from @Brutus_Buckeye at #NACCDOPAN. Come chat w/her tomorrow @ #crowdfunding #research! http://t.co…
about 11 hours ago

BraxtonMiller5

BRAXTON MILLER


"@RyanShazier: GOD ONLY CHOOSES A FEW CHOSEN ONES @BraxtonMiller5" 💰
about 11 hours ago

Brutus_Buckeye

Brutus Buckeye


RT @naccdopan: Shout out to @Brutus_Buckeye and the #OhioState Cheerleaders for stopping by #NACCDOPAN! http://t.co/cFJUHBDdLu
about 11 hours ago

rustymillerap

Rusty Miller


Since #Pens went up 3-0, shots on goal 25-8 in favor of #CBJ.
about 11 hours ago

rustymillerap

Rusty Miller


With 2:00 left in 2nd period and #CBJ PP, Columbus has 31-17 (and counting) edge in shots on goal.
about 11 hours ago

rustymillerap

Rusty Miller


Niskanen with a trip, #CBJ on PP for final 2:00 of 2nd, down 3-2.
about 11 hours ago

rustymillerap

Rusty Miller


Johansen with PP goal, cuts lead to 3-2. Still over 1 minute left on second penalty.
about 11 hours ago

rustymillerap

Rusty Miller


Full 2 minutes of 5 on 3 after a delay of game on #Pens.
about 12 hours ago

rustymillerap

Rusty Miller


Stempniak off for a high stick on Johansen. Double minor. #CBJ #Pens
about 12 hours ago

rustymillerap

Rusty Miller


#CBJ applying pressure with a good opening 7:10, have edge in shots on goal 20-14, but still trail 3-1 on board. #Pens
about 12 hours ago

KyleRowland

Kyle Rowland


After looking at Browns' schedule, 16-0 looks like a near certainty.
about 12 hours ago

Brutus_Buckeye

Brutus Buckeye


RT @BigTenNetwork: The debut of @OhioStAthletics University Showcase: O-H-I-O #301 airs after Penn State/Ohio State Softball on BTN & BTN2G…
about 12 hours ago

rustymillerap

Rusty Miller


Boone Jenner tip-in off Letestu shot on PP, #CBJ have #Pens right where they want them, down 3-1.
about 12 hours ago

rustymillerap

Rusty Miller


#Pens with 1:02 of 5 on 3 in a game they already lead 3-0.
about 12 hours ago

rustymillerap

Rusty Miller


Fans not happy with that holding call. Anisimov took puck from Maatta.
about 12 hours ago

rustymillerap

Rusty Miller


2 faceoff wins, one on PP, one even strength, lead to quick #Pens goals 33 seconds apart. Niskanen and Neal with goals. 3-0, Pens.
about 13 hours ago

rustymillerap

Rusty Miller


Team scoring first has lost every game so far. Maybe #CBJ hoping #Pens also go up 3-1, which has been poison in first 3 games.
about 13 hours ago

rustymillerap

Rusty Miller


Craig Adams with a shortie after Wiz fails to keep it in the zone. #Pens up 1-0 at 6:09.
about 13 hours ago

rustymillerap

Rusty Miller


#Pens get picked on. RT @TheHockeyNews: Jimmy Fallon's NHL Awards: Chara most likely 2 humans sewn together - http://t.co/8fbsjRD40H
about 13 hours ago

rustymillerap

Rusty Miller


RT @Matt_NBC4: Ryan Murray will not play tonight. Just saw him walk in hallway in a suit and a boot on his right foot #CBJ
about 13 hours ago

rustymillerap

Rusty Miller


No #CBJ D Ryan Murray (hit with puck during morning skate) on ice during warmups for Game 4. #Pens
about 14 hours ago

joe11w

joe11w


New 11W... Video: Ohio State Football Game Day Experience 2013: https://t.co/lCRyLgqpSDI... http://t.co/R21ZP4nhcA
about 14 hours ago

11W

Eleven Warriors


Can't say enough good things about the work @davidtrichel does with these videos. Tremendous recruiting weapon. http://t.co/5TGBEuWjai
about 15 hours ago

bigtenconf

Big Ten Conference


41 #B1GMOH100 honorees have won Olympic medals, including 21 golds. Learn more: http://t.co/4C6SEPB47r http://t.co/sJ0bKQ12l4
about 15 hours ago

Brutus_Buckeye

Brutus Buckeye


No way! Mascots have more fun! @umichfootball Follow me at http://t.co/PqsRSkrMig #GoBucks
about 15 hours ago

Brutus_Buckeye

Brutus Buckeye


Hmmm after watching this sweet video Coach just tweeted, I'd probably skip the surf & sand https://t.co/nk57nzORcE@spinnershells #GoBucks
about 15 hours ago

11W

Eleven Warriors


Ohio State's latest football hype video is a reminder that football is beautiful and we can't wait for its return. http://t.co/av8xPGYxjP
about 15 hours ago

Brutus_Buckeye

Brutus Buckeye


RT @OSUCoachMeyer: Gameday Experience - Buckeye style! https://t.co/TunoPLfmMt
about 15 hours ago

ESPN_BigTen

ESPN BigTen


Big Ten Wednesday mailbag http://t.co/9BBndlnxmu
about 15 hours ago

ESPN_BigTen

ESPN BigTen


PSU should address Paterno's legacy http://t.co/dkrmkRlAVq
about 15 hours ago

rustymillerap

Rusty Miller


Lines formed for Game 4 tickets 3.5 hours before start. #Pens #CBJ http://t.co/Rpx8p9SYdc
about 16 hours ago

rustymillerap

Rusty Miller


#NationwideArena main entrance 3.5 hours before Game 4 of #Pens-#CBJ. http://t.co/95Apmj3Nif
about 16 hours ago

joe11w

joe11w


New 11W... Around the Oval on Wednesday, April 23rd: Finals week is upon us and summer is nigh. Championship... http://t.co/ZJCRMel8jQ
about 16 hours ago

11W

Eleven Warriors


Updates from the lacrosse, rowing and tennis teams as they gear up for championship season. http://t.co/Mmd4mpbu7R
about 16 hours ago

ESPN_BigTen

ESPN BigTen


RT @JoeCStrib: Claeys ($600,000) and Limegrover ($550,000) received sizeable raises in their new three-year deals: http://t.co/O85nrbZ7OI
about 16 hours ago

joe11w

joe11w


New 11W... Virginia LB Ricky DeBerry Recaps Buckeye Visit: Ohio State's 2015 recruiting class hosted a numbe... http://t.co/AZWBLlcvUh
about 16 hours ago

11W

Eleven Warriors


Ricky DeBerry, one of the country's best OLB prospects, breaks down his recent Ohio State visit for us. http://t.co/G831Uxu6gc
about 17 hours ago

bucksinsider

Ohio State News


Chad Lindsay Will Give Ohio State Help Where Buckeyes Need It Most: Protecting quarterbac... http://t.co/Q2cRyzwmIJ #buckeyes #ohiostate
about 17 hours ago

joe11w

joe11w


New 11W... Ohio State Basketball Recruiting Notebook: 4-23: In the final days of the recruiting period, coac... http://t.co/MJErsLkMs0
about 17 hours ago

Brutus_Buckeye

Brutus Buckeye


RT @abunny13: @Brutus_Buckeye hanging at the festoval yesterday @ouab #coolkid http://t.co/qyEochp2QO
about 17 hours ago

11W

Eleven Warriors


Thad Matta and staff have been busy lately with recruiting stops in Georgia, Tennessee, New Jersey and California. http://t.co/zl8qalkF3h
about 17 hours ago

ESPN_BigTen

ESPN BigTen


Some questioned decision to come out. Wow. RT @DustinDopirak: Kiper on Cody Latimer: "I'd be shocked if he didn't go in the first round."
about 17 hours ago

ESPN_BigTen

ESPN BigTen


Huskers' Mitchell hopes to stand tall in fall http://t.co/gTCNMYNfbC
about 18 hours ago

ESPN_BigTen

ESPN BigTen


RT @ESPNJoshMoyer: Will have a story published shortly on the new Paterno statue, which should be completed by next fall. Will be by The Ta…
about 18 hours ago

bigtenconf

Big Ten Conference


#Boilermakers Bunch added 7th & 14th-place finishes in the hammer throw (55.06 meters) & discus throw (42.24 meters), respectively.
about 18 hours ago

bigtenconf

Big Ten Conference


Dani Bunch of @PurdueTrackXC named women's #B1G Field Athlete of the Week, after 1st-place effort in shot put (16.34 meters) at KY Relays.
about 18 hours ago

bigtenconf

Big Ten Conference


#Spartans O'Connor's 3,000-meter steeplechase time leads the #B1G by more than 10 sec & is the 2nd-fastest mark in the #NCAA this season.
about 18 hours ago

bigtenconf

Big Ten Conference


#Spartans O'Connor posted a personal-best time of 9:44.35 in 3,000-meter steeplechase at the Larry Ellis Invite.
about 18 hours ago

bigtenconf

Big Ten Conference


Leah O'Connor of @MSUTrackFieldXC named women's #B1GTrack Athlete of Week, collecting 1st #B1G outdoor track weekly award of her career.
about 18 hours ago

11W

Eleven Warriors


Congrats to @WFNYScott and the WFNY team for earning @Cleveland_Scene's best sports blog honor. Amazing work. http://t.co/BoncB7vciM
about 18 hours ago

bigtenconf

Big Ten Conference


#Hawkeyes Amosu's triple jump mark of 15.97 meters was a personal best & ranks 6th in the #NCAA this year.
about 18 hours ago

bigtenconf

Big Ten Conference


Babatunde Amosu of @IowaXC_TF named men's #B1G Field Athlete of the Week, after posting a 1st-place effort in triple jump at Mt. SAC Relays.
about 18 hours ago

bigtenconf

Big Ten Conference


#Huskers Ukaoma's 400-meter hurdles time of 49.76 seconds ranks 1st in the #B1G and 3rd in the nation this season.
about 18 hours ago

bigtenconf

Big Ten Conference


Miles Ukaoma of @NUTrackandField named men's #B1GTrack Athlete of Week finishing 2nd in elite section of 400-meter hurdles at Mt SAC Relays.
about 18 hours ago

JMUCoachWithers

Everett Withers


"Service to others is the rent you pay for your room here on Earth" -Muhammad Ali #Dukes #NewEra http://t.co/YHE7mLKkZN
about 18 hours ago
BIG TEN SCOREBOARD
Thursday, 8/28
Saturday, 8/30
BLOG ARCHIVE:
CATEGORIES: