Recruits line up for Ohio State-Nebraska
October, 4, 2012
10/04/12
11:00
AM ET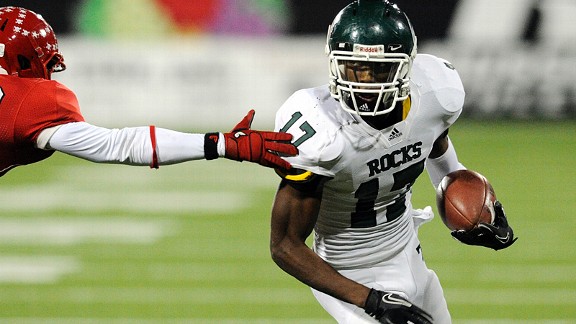 AP Photo/Joe ImelLouisville (Ky.) Trinity wide receiver James Quick, the No. 57 prospect in the ESPN 150, will visit Ohio State for this weekend's game against Nebraska.
Saturday's home game against Nebraska isn't just a chance to impress the pollsters as much as it is an opportunity to grab the attention of some of the biggest recruits for Ohio State.
The list for the primetime game against the Cornhuskers reads like a who's who of candidates for the Buckeyes starting with former Penn State commit
Dorian Johnson
(Belle Vernon, Pa./Belle Vernon). No. 27 in the ESPN 150, the second-ranked offensive tackle leads the list of headliners planning to attend and is followed by
James Quick
(Louisville, Ky./Trinity) at wide receiver.
Both have Ohio State in their top three. Johnson rounds out his list with Pitt and Virginia Tech, while Quick (No. 57) comes in with Louisville and Oregon.
To continue reading this article you must be an Insider
Welcome
!
We see that you are not an ESPN Insider. Upgrade today and gain access to our exclusive coverage.
ESPN The Magazine subscribers

Need more information?
Building the Big Ten championship teams
RecruitingNation's Tom VanHaaren looks at how the rosters for Michigan State and Ohio State were put together.
Building the Big Ten championship teams
VIDEO PLAYLIST
BUCKEYENATION RECRUITING NEWS
OSU FB RECRUITING SCORECARD
11W

Eleven Warriors


RT @mrandrewhaer: If you're an #OSU fan in Indy tonight & not at the @11w tailgate at the Claddagh...come on over, jerks! #gobucks
3 minutes ago

ESPN_BigTen

ESPN BigTen


What I'm paying for. Bennett let me off easy http://t.co/OILfyglXkD
6 minutes ago

rustymillerap

Rusty Miller


Thru 2 periods, #CBJ 2, #MNWild 0
14 minutes ago

Brutus_Buckeye

Brutus Buckeye


RT @JohnKasich: Everyone ready for the big game tomorrow? Go #Buckeyes! http://t.co/JiKAh4D9j0
23 minutes ago

Brutus_Buckeye

Brutus Buckeye


I KNOW I AM!!! @JohnKasich Same state. Same mission. #GoBucks #BeatSparty in O-H-Indy!
23 minutes ago

rustymillerap

Rusty Miller


#CBJ with 14 shots this period (23 overall) with #Wild just 13 for game.
30 minutes ago

rustymillerap

Rusty Miller


#CBJ weather 1:13 of 3 on 5, still up 2-0 at 10-minute mark of 2nd.
32 minutes ago

ESPN_BigTen

ESPN BigTen


First course of picks contest dinner. St. Elmo shrimp cocktail. Sinuses, beware! http://t.co/jpKlcHz2it
34 minutes ago

rustymillerap

Rusty Miller


Then Nick Foligno's 2nd crack at a rebound finds net for his 8th on PP. 2-0 #CBJ midway thru 2nd.
36 minutes ago

rustymillerap

Rusty Miller


Catching up: Cam Atkinson wrister from top of right circle puts #CBJ up 1-0. ...
36 minutes ago

bbournival

Brad Bournival


For those keeping score. Five turnovers by Glenville 34 points by Loveland. All in the first half.
36 minutes ago

Brutus_Buckeye

Brutus Buckeye


RT @OhioStAthletics: T minus 24 hours. Same state. Same mission. Video: https://t.co/3v4IRsN5ob O-H-Indy! #GoBucks #BeatSparty http://t.c…
44 minutes ago

bbournival

Brad Bournival


Pick six by Loveland's Beau Ngu and it's no 27-0 Tigers over Glenville w/ 3:13 left before halftime.
44 minutes ago

bbournival

Brad Bournival


Three Glenville turnovers, three touchdowns for Loveland. 21-0 w/ 3:25 left in the first half of the D-II final.
48 minutes ago

bbournival

Brad Bournival


Glenville turnover No. 3 and it's now first-and-10 on the Tarblooders 20 after 2 big runs. Loveland has scored 14 points off first 2 gaffes
about an hour ago

bbournival

Brad Bournival


Loveland through the air and it's now 14-0 Tigers over Glenville. Tre Heath the recipient of the Drew Plitt toss. 8:34 left in the second
about an hour ago

bbournival

Brad Bournival


Weather definitely a factor. 12:58 played, four turnovers. 2 apiece in Glenville-Loveland tilt.
about an hour ago

bbournival

Brad Bournival


Loveland averaging 12 yards a rush after the first 12 minutes.
about an hour ago

bbournival

Brad Bournival


Lovleland absolutely blowing Glenville off the ball 7-0 after one. 132 first quarter yards. No surprise, all rushing.
about an hour ago

OSUADAthComm

Dan Wallenberg


RT @SammySilv: Buckeyes are heating up! 7-0! @qross2011 @CoachCSpartz @JeffBoals @Greg_Paulus @CoachJDiebler #SammySilvDesigns http://t.co/…
about an hour ago

bbournival

Brad Bournival


Glenville returns favor with fumble on frist down. Loveland takes over on 34 and scores on next play. 66-yard TD. Luke Wadell does honors
about an hour ago

11W

Eleven Warriors


Wow. Ohio State fans are out in full force at Claddagh tonight. This is going to be a good night.
about an hour ago

rustymillerap

Rusty Miller


RJ Umberger playing his 400th game with #CBJ tonight, 628th in his NHL career.
about an hour ago

bbournival

Brad Bournival


Loveland going in for score but Terrell Goss strips and recovers ball on the 1. Glenville now has ball
about an hour ago

bucksinsider

Ohio State News


Meyer benches Marcus Hall for Big Ten title game: INDIANAPOLIS (AP) -- Ohio State coach U... http://t.co/yc4IUN7jgB #buckeyes #ohiostate
about an hour ago

rustymillerap

Rusty Miller


RT @AP_Top25: No. 2 Buckeyes decide to bench OL Marcus Hall for start of Big Ten championship game http://t.co/EOlyfQ3cHs (@apmarot)
about 2 hours ago

ESPN_BigTen

ESPN BigTen


Notes from Mark Dantonio in Indy http://t.co/NqRTTWzQ7o
about 2 hours ago

KyleRowland

Kyle Rowland


Very in-depth. Quality stuff. RT @JBrandon11W Perfect '12: Examining the Ohio State Sophomore Class' Historic Run http://t.co/ohlBdlwkMS
about 2 hours ago

KyleRowland

Kyle Rowland


Interesting that Braxton Miller wore gloves on both hands at Ohio State's walk-through on Friday. http://t.co/HnCHxXeDOD
about 2 hours ago

KyleRowland

Kyle Rowland


Some good photos by @mwaltonkeys at Friday's Big Ten championship game festivities. http://t.co/Fn9v9cztha
about 2 hours ago

11W

Eleven Warriors


A few of the better photos from media day in Indianapolis. http://t.co/i8h8g13KbP
about 2 hours ago

bucksinsider

Ohio State News


Maryland-Ohio St. Preview (The Associated Press): Ohio State and Maryland aren't all that... http://t.co/lNMLbPiTcr #buckeyes #ohiostate
about 2 hours ago

bucksinsider

Ohio State News


OSU didn't miss beat without Marcus Hall: After nearly two full seasons always knowing ex... http://t.co/7SRgrQm8Mk #buckeyes #ohiostate
about 2 hours ago

bucksinsider

Ohio State News


OSU didn't miss beat without Marcus Hall: After nearly two full seasons always knowing ex... http://t.co/hJZntpfifw #buckeyes #ohiostate
about 2 hours ago

bucksinsider

Ohio State News


Column: FSU, Ohio St wins should eliminate SEC: ATLANTA (AP) -- Sorry, Southeastern Confe... http://t.co/pkioRRVbgr #buckeyes #ohiostate
about 2 hours ago

bucksinsider

Ohio State News


Ohio State vs. Michigan State: Impact Players to Watch in Big Ten Championship: After Ala... http://t.co/5F7i39kUaO #buckeyes #ohiostate
about 2 hours ago

ESPNOhioState

ESPN Ohio State


Notes from Urban Meyer in Indy http://t.co/S0DqoIMtFb
about 2 hours ago

ESPN_BigTen

ESPN BigTen


Notes from Urban Meyer in Indy http://t.co/0uoDdzIEur
about 2 hours ago

11W

Eleven Warriors


Two years later, a detailed look at Urban Meyer's 2012 class, their contributions and expectations. http://t.co/lU08rgm8Ck
about 2 hours ago

bbournival

Brad Bournival


RT @Steltz_78: Heading up to Minnesota for my official visit! #gonnabeagoodweekend
about 3 hours ago

11W

Eleven Warriors


Urban Meyer, a snow-covered Horseshoe star in new Nike commercial. http://t.co/9J9Sfv8Dia
about 3 hours ago

BuckeyesBeat

Austin Ward


Regardless of how long Marcus Hall is out of the lineup, Buckeyes have evidence they will be just fine. http://t.co/BilYREGbiE
about 3 hours ago

ESPN_BigTen

ESPN BigTen


OSU didn't miss beat without Marcus Hall http://t.co/NV6Ew1hLip
about 3 hours ago

ESPNOhioState

ESPN Ohio State


OSU didn't miss beat without Marcus Hall http://t.co/QJP0WzHysL
about 3 hours ago

OSUADAthComm

Dan Wallenberg


RT @AdamWidman: Walk through at Lucas Oil Stadium #GoBucks #TheChase http://t.co/GSMB2fISBs
about 3 hours ago

OhioStFootball

Ohio State Football


Don't be fooled this weekend, #Buckeyes home in Indy is @ColtsGrille. 10% off food w/ BuckID. http://t.co/8u4fM1qks6
about 3 hours ago

Brutus_Buckeye

Brutus Buckeye


All I want for the holidays, coach, is a B1G present under the tree! #GoBucks #BeatSparty http://t.co/LJFHKspraI
about 3 hours ago

Brutus_Buckeye

Brutus Buckeye


RT @OhioStAthletics: "We are facing an excellent team tomorrow. I've always really admired Michigan State over the years." - Urban Meyer ht…
about 3 hours ago

Brutus_Buckeye

Brutus Buckeye


RT @OhioStAthletics: "I've seen a team and a coaching staff that went to work. Very impressed w/ how our defense responded." - Urban Meyer …
about 3 hours ago

BuckeyesBeat

Austin Ward


Last week with Marcus Hall in game, OSU averaged 8.3 yards/carry. With Elflein: 8.6. Doesn't necessarily mean better, but no drop off.
about 4 hours ago

joe11w

joe11w


New 11W... Perfect '12: Examing the Sophomore Class' Historic Run: While Urban Meyer has always been though... http://t.co/3WElo52IQY
about 4 hours ago

ESPN_BigTen

ESPN BigTen


Dantonio closes by quoting Muhammad Ali. "We're going to find out how great we are."
about 4 hours ago

ESPN_BigTen

ESPN BigTen


Dantonio: "This didn't start last February. This started on Nov. 26, 2006, when I became the head coach at Michigan State."
about 4 hours ago

KyleRowland

Kyle Rowland


"I don't know if he'll have green on tomorrow night --- maybe" -Dantonio on Jim Tressel
about 4 hours ago

KyleRowland

Kyle Rowland


Dantonio said he talks to Jim Tressel every once in a while. Said they talk life, not X's and O's. Dantonio said he talks to Nick Saban too.
about 4 hours ago

ESPN_BigTen

ESPN BigTen


Dantonio has talked to Jim Tressel often throughout season. "I don't know if he has green on tomorrow night. But maybe."
about 4 hours ago

ESPN_BigTen

ESPN BigTen


Dantonio stressing that MSU must adjust to the speed as the game progresses. Ohio State's no-huddle package an additional challenge.
about 4 hours ago

11W

Eleven Warriors


So hard to dislike Dantonio. The man is all business.
about 4 hours ago

KyleRowland

Kyle Rowland


Dantonio says Jim Bollman is like a brother to him. Called him loyal, great team guy.
about 4 hours ago

ESPN_BigTen

ESPN BigTen


Dantonio on team's mood: "I hope it's loose and it's focused." … "When we saw Lucas Oil, it wasn't like, 'Wow, we haven't been here.'"
about 4 hours ago

Brutus_Buckeye

Brutus Buckeye


RT @OhioStAthletics: More Dantonio: Carlos Hyde is a bull of a runner. He's not just tough, he's fast. We've go to be able to control him. …
about 4 hours ago

Brutus_Buckeye

Brutus Buckeye


RT @OhioStAthletics: Dantonio: In terms of Braxton Miller; I see a magician. A guy with a sixth sense. We have to defend the loose plays.#…
about 4 hours ago

ESPN_BigTen

ESPN BigTen


Dantonio: "There is no question in my mind that Braxton Miller is the most physical quarterback we've played this year."
about 4 hours ago

ESPN_BigTen

ESPN BigTen


Dantonio says Saturday's game bigger than the 1998 contest "because it sends you someplace."
about 4 hours ago

KyleRowland

Kyle Rowland


Mark Dantonio reliving the 1998 Ohio State-Michigan State game. Reciting every detail, even the halftime score. Dino was MSU's DC that year.
about 4 hours ago

ESPN_BigTen

ESPN BigTen


Dantonio on '98 MSU win against OSU: "As the game progressed, we became more confident." Won game with four straight blitzes.
about 4 hours ago

11W

Eleven Warriors


RT @mwaltonkeys: Urban http://t.co/GLL3J9jovZ
about 4 hours ago

ESPN_BigTen

ESPN BigTen


Damion Terry and Trey Kilgore worked as Braxton Miller on MSU's scout team. They did good job but can't truly replicate what Miller does.
about 4 hours ago

KyleRowland

Kyle Rowland


In describing Braxton Miller, Dantonio used the word "magician."
about 4 hours ago

KyleRowland

Kyle Rowland


"Carlos Hyde is a bull of a runner. He's not just big, he's fast. He also has the ability to catch the football." -Mark Dantonio
about 4 hours ago

ESPN_BigTen

ESPN BigTen


Dantonio: "In terms of Braxton Miller, I see a magician." Can create good plays out of bad plays. "We have to defend the loose plays."
about 4 hours ago

ESPN_BigTen

ESPN BigTen


Dantonio says he has no regrets about not running up the score in some games. MSU took knee deep in opponent's territory a few times.
about 4 hours ago

KyleRowland

Kyle Rowland


Loss at ND was turning point, Dantonio said. Spartans came out with positive vibes, built on good D, opportunistic O. MSU 8-0 since.
about 4 hours ago

ESPN_BigTen

ESPN BigTen


Dantonio: "They're in a life moment. They're in a moment they should remember for the rest of their lives. … It's a special moment."
about 4 hours ago

KyleRowland

Kyle Rowland


Dreaming big is part of sports, Dantonio said. That's why MSU talks about the Rose Bowl, team embracing the moment.
about 4 hours ago

BuckeyesBeat

Austin Ward


Bucks didn't suffer any drop off with Elflein replacing Hall last week at Michigan. No matter how long Hall is out, OSU should be fine.
about 4 hours ago

ESPNOhioState

ESPN Ohio State


Video: Big Ten championship preview http://t.co/KkpcsOHMPT
about 4 hours ago

ESPN_BigTen

ESPN BigTen


Dantonio knew offense would find an identity eventually this season. Last year, every game close b/c MSU was one dimensional. No longer case
about 4 hours ago

ESPN_BigTen

ESPN BigTen


Video: Big Ten championship preview http://t.co/PsB0eMlAGX
about 4 hours ago

ESPN_BigTen

ESPN BigTen


Dantonio says you feel electricity in game like this because it can propel you to Rose Bowl. Shows how Playoff will be next year.
about 4 hours ago

11W

Eleven Warriors


Marcus Hall will not start the B1G Championship Game for Ohio State. http://t.co/cSUj6lFLG5
about 4 hours ago

KyleRowland

Kyle Rowland


Dantonio heaps praise on OSU defense. Called the personnel outstanding and believes a lot of yardage at Michigan came on broken plays.
about 4 hours ago

ESPN_BigTen

ESPN BigTen


MSU coach Mark Dantonio taking questions http://t.co/5g727BFsiP
about 4 hours ago

Brutus_Buckeye

Brutus Buckeye


RT @OhioStAthletics: A look at @LucasOilStadium on @B1Gfootball champ. eve. #Buckeyes are about to conduct their walkthrough. #GoBucks http…
about 4 hours ago

Brutus_Buckeye

Brutus Buckeye


RT @OhioStAthletics: Meyer: I know 1 thing. We are facing an excellent team tomorrow night. I have always really admired Michigan State ove…
about 4 hours ago

Brutus_Buckeye

Brutus Buckeye


RT @OhioStAthletics: Meyer on '12 MSU: Similar, very good def. Offensively they are a lot different. Much more explosive than they were. ht…
about 4 hours ago

ESPN_BigTen

ESPN BigTen


Dantonio says Ohio State has outstanding personnel on defense. Lot of yards allowed to Michigan on screen passes, broken plays.
about 4 hours ago

ESPN_BigTen

ESPN BigTen


Mark Dantonio: "It's good to be back. … When we made that turn on the highway and saw Lucas Oil, it became a reality."
about 4 hours ago

KyleRowland

Kyle Rowland


Meyer: Marcus Hall Will Not Start in Big Ten Championship Game http://t.co/wMJovteIdC
about 4 hours ago

joe11w

joe11w


New 11W... Meyer: Marcus Hall Will Not Start in Big Ten Championship Game: INDIANAPOLIS — The Ohio State of... http://t.co/WB7mWwuwda
about 4 hours ago

11W

Eleven Warriors


"Whatcha thinking about?" "Nothing. You?" http://t.co/edjc7NYF5n
about 4 hours ago

KyleRowland

Kyle Rowland


Urban Meyer and Mark Dantonio, probably discussing dinner plans. http://t.co/qgqErQOcpH
about 4 hours ago

ESPN_BigTen

ESPN BigTen


Urban Meyer and Mark Dantonio share a moment https://t.co/N9n1Im1iL7
about 4 hours ago

KyleRowland

Kyle Rowland


RT @11W: Meyer on Curtis Grant: "He's practiced all week. Still a little bit of a wobble, but he's getting better." Meyer anticipates Grant…
about 4 hours ago

OhioStFootball

Ohio State Football


Are you making your way to #indianapolis for the game tomorrow? #BuckeyeNation
about 4 hours ago

ESPN_BigTen

ESPN BigTen


Meyer said he anticipates LB Curtis Grant will play tomorrow. Said Grant still has "a little bit of wobble" but is improving.
about 4 hours ago

11W

Eleven Warriors


Meyer on Curtis Grant: "He's practiced all week. Still a little bit of a wobble, but he's getting better." Meyer anticipates Grant will go.
about 4 hours ago

KyleRowland

Kyle Rowland


Now confirmation from Meyer that Curtis Grant will play on Saturday.
about 4 hours ago

ESPN_BigTen

ESPN BigTen


Meyer said he anticipates a 50-50 split at Lucas Oil but hopes for more Buckeyes fans.
about 4 hours ago

KyleRowland

Kyle Rowland


Meyer said he doesn't sleep well before games. Said he'll be up and down all night.
about 4 hours ago
BLOG ARCHIVE:
CATEGORIES: