Wide receivers headline OSU visitors
September, 13, 2012
9/13/12
11:00
AM ET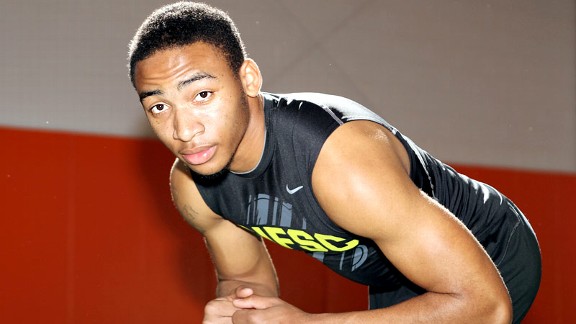 Tom Hauck for ESPN.com2014 WR Thaddeus Snodgrass is among a handful of receivers slated to visit this weekend.
Call the Ohio State-Cal game the weekend of the wide receivers in term of unofficial visits.
Thaddeus Snodgrass
(Springfield, Ohio/Springfield) is hoping the third time is the charm as he was derailed the two previous weeks in terms of unofficial visits.
He has got company, however, as
Dominique Booth
(Indianapolis/Pike) and
Zach Yousey (
Columbus, Ohio/Harvest Preparatory) have plans to find their way to The Horseshoe.
To continue reading this article you must be an Insider
Insider
Meyer Depressed At Florida
Adam Rittenberg discusses Urban Meyer's comments about being depressed while coaching at Florida in 2009.
Meyer Depressed At Florida
VIDEO PLAYLIST
OSU FB RECRUITING SCORECARD
ESPN_BigTen

ESPN BigTen


Canes back to 31-24 on 34-yard field goal. As much as Nebraska has controlled play since mid-second quarter, this is very much still a game.
about a minute ago

ESPN_BigTen

ESPN BigTen


If Miami goes in to score here, that roughing-the-passer penalty on Nebraska is officially a game-changing play. #MIAvsNEB
4 minutes ago

AWardESPN

Austin Ward


Guess who? Samaje Perine again finds the end zone, this time without having to bowl over defenders. Third TD tonight.
9 minutes ago

AWardESPN

Austin Ward


And forget about everything, Sooners get it right back after Trickett returns the favor. Back to Square One.
18 minutes ago

AWardESPN

Austin Ward


Well, could cost the Sooners. They do still have Eric Striker.
18 minutes ago

SportsiCohn

Justin A. Cohn


This from @KyleRowland on IU coach Kevin Wilson: "It was a walk so pure Mark Twain might have found it unspoiled." In Journal Gazette Sunday
18 minutes ago

AWardESPN

Austin Ward


Terrible throw by Trevor Knight. He's been behind his targets numerous times tonight, and that one will cost the Sooners.
19 minutes ago

ESPN_BigTen

ESPN BigTen


Randy Gregory is slow to get up for Nebraska after that Kaaya completion. Bad sign for Nebraska. #MIAvsNEB
19 minutes ago

AWardESPN

Austin Ward


Little conservative for West Virginia there, no? Field goals are nice, but this one is going to require touchdowns.
24 minutes ago

ESPN_BigTen

ESPN BigTen


Kaaya to Malcolm Lewis for a 9-yard score. Miami answers in a big way. Nebraska leads 24-21. #MIAvsNEB
30 minutes ago

ESPN_BigTen

ESPN BigTen


Miami's defense badly needs its offense to do something right now. #MIAvsNEB
37 minutes ago

joe11w

JoeSports


The OBC needs to fire his special teams coach.
38 minutes ago

ESPN_BigTen

ESPN BigTen


Video: Illinois 42, Texas State 35 http://t.co/PW4FqusjZs
40 minutes ago

RKaipustOWH

Rich Kaipust


Nebraska has run 33 of the last 36 offensive snaps in this game. Unreal. #Huskers
42 minutes ago

AWardESPN

Austin Ward


Miss the memo? Take on Samaje Perine at your own peril. Sooners roll down the field and the freshman RB bowls over defenders for TD.
43 minutes ago

ESPN_BigTen

ESPN BigTen


Nebraska has started the second half with the same kind of physical play that put it ahead. Good sign for Huskers. #MIAvsNEB
45 minutes ago

ESPN_BigTen

ESPN BigTen


Utah 26, Michigan 10 http://t.co/SjZTMs1Fp5
49 minutes ago

joe11w

JoeSports


Someone should send Kyle Kalis some transfer papers.
53 minutes ago

joe11w

JoeSports


Indiana came up with the kind of win that Michigan would love to get.
about an hour ago

joe11w

JoeSports


RT @MattRHinton: Title: Exercise Coach. RT @Andy_Staples: Brady Hoke's Wikipedia page was updated rather quickly. http://t.co/vSLhtxFTw8
about an hour ago

Buckeye_Nation

Buckeye Nation


Has there every been a #Heisman winner who was suspended for game? // http://t.co/KnoLJIlD6c
about an hour ago

joe11w

JoeSports


UM fandom in the 5 stages of grief...http://t.co/gdEDNISLQO
about an hour ago

BTNTomDienhart

Tom Dienhart


#Michigan is 4-8 in its last 12 games. The wins are vs. Indiana, Northwestern, App State, Miami (Ohio).
about an hour ago

ESPN_BigTen

ESPN BigTen


Nebraska leads 17-14 at the half. Huskers owned final several minutes of second quarter to overcome 7-point deficit. #MIAvsNEB
about an hour ago

Buckeye_Nation

Buckeye Nation


Nice to see a lot of fans at the #BigHouse.... #MichiganStillSucks http://t.co/KRvggWFyV7
about an hour ago

ESPN_BigTen

ESPN BigTen


Video: Indiana coach Kevin Wilson http://t.co/dgv3upEaD1
about an hour ago

bucksinsider

Ohio State News


Do you feel bad for the team up north after seeing them loose to Utah 10-26?
about an hour ago

Hot_For_Food

Melissa Pfeister


What do the Michigan Football team and a Michigan Cheerleader have in common??They both suck for 4 quarters.
about an hour ago

ESPN_BigTen

ESPN BigTen


Powerful showing by Nebraska up front on the past couple possessions. Need to cash in with points here to take halftime lead. #MIAvsNEB
about an hour ago

joe11w

JoeSports


Nussmeier is calling Saban right now asking for his job back.
about an hour ago

AWardESPN

Austin Ward


Clearly West Virginia left too much time on the clock before halftime. Like, even a second was too much. KO return for TD, tied again.
about an hour ago

AWardESPN

Austin Ward


That first quarter was a tease. The shootout is officially on now. Mountaineers back on top 24-17.
about an hour ago

joe11w

JoeSports


Word .. RT @SurvivinAmerica: Having Jameis on the sidelines is not just poor leadership, it's bad PR.
about an hour ago

ESPN_BigTen

ESPN BigTen


Utah finishes off its 26-10 victory over Michigan. Wolverines drop to 2-2 this season.
about an hour ago

AWardESPN

Austin Ward


It's starting to look like 2012 in here. Sooners respond as well with strong drive. All tied up again at 17.
about an hour ago

ESPN_BigTen

ESPN BigTen


A 14-play TD drive is Nebraska's longest of the season, capped by Abdullah 3-yard catch. Tied at 14 in Lincoln. #MIAvsNEB
about an hour ago

AWardESPN

Austin Ward


An official got mixed up in a post-play scrum, and I don't think he'll be continuing. Struggling to put weight on his leg.
about an hour ago

joe11w

JoeSports


Ha...I jinxed Vandy.
about an hour ago

ESPN_BigTen

ESPN BigTen


A fourth Michigan turnover pretty much kills any chance of a miracle comeback. Utah leading 26-10 with the ball and 2:10 remaining.
about an hour ago

joe11w

JoeSports


If South Carolina loses to a 1-2 Vandy squad, will there be a "bad day for the SEC" narrative on tap?
about an hour ago

AWardESPN

Austin Ward


Quick answer from West Virginia. Great throw and catch with Mario Alford getting a foot down for the TD. The offenses are alive.
about an hour ago

The_Chi_Josh

JP


Ready 2 Run tomorrow!! #FinishOn50 #GoBucks @M3SSports @OhioStateAlumni @OhioStAthletics @Brutus_Buckeye http://t.co/psENKtF1Og
about an hour ago

bucksinsider

Ohio State News


"@FakeUrban: The Ute House. http://t.co/T1BwalWhp0" The state of Michigan football
about an hour ago

ESPN_BigTen

ESPN BigTen


Michigan and Utah back in action after a 144-minute delay.
about an hour ago

ESPN_BigTen

ESPN BigTen


Brad Kaaya is not playing like a freshman tonight. So far, 11 of 15 for 166 yards, 1 TD, 1 INT. #MIAvsNEB
about an hour ago

AWardESPN

Austin Ward


That Knight-to-Neal combination wasn't working a couple drives ago. Obviously the fix was flipping it to Neal-to-Knight.
about an hour ago

AWardESPN

Austin Ward


That's one way to score in the red zone. Sooners break out the reverse pass and Durron Neal finds Trevor Knight for a TD to tie game.
about an hour ago

AWardESPN

Austin Ward


West Virginia drops a TD, then nearly blows the 3 points with a holding on the FG. Still hit a 54-yarder to take a 10-3 lead.
about an hour ago

SportsiCohn

Justin A. Cohn


Indiana football gets its biggest victory in, well, a loooong time @KyleRowland is on the spot with this early update http://t.co/5aTdEOFHYS
about an hour ago

AWardESPN

Austin Ward


Mountaineers are putting some pressure on Knight, but these problems for the Sooners are self-inflicted wounds.
about 2 hours ago

ESPN_BigTen

ESPN BigTen


LB David Santos with a timely interception for the Huskers, who take over at their own 5. #MIAvsNEB
about 2 hours ago

AWardESPN

Austin Ward


Ugly three-and-out series for Sooners. Two drops for Durron Neal and an incompletion thrown into double coverage. WVU leads at end of 1st.
about 2 hours ago

kylegoon

Kyle Goon


No way Utah ever agrees to a no contest with the lead. Reschedule makes no sense. Michigan doesn't want to concede, so we all wait.
about 2 hours ago

ESPN_BigTen

ESPN BigTen


A deflating first drive for the Nebraska defense and 90,000-plus at Memorial Stadium. MIami leads 7-0. #MIAvsNEB
about 2 hours ago

SBNation

SB Nation


The Big House is flooding. http://t.co/J0fPkEMdmp (Pic: @Mark__Snyder) http://t.co/hDbCy09FP3
about 2 hours ago

Buckeye_Nation

Buckeye Nation


Utes up 26-10 over Michigan in a rain delay. #MichiganStillSucks
about 2 hours ago

ESPN_BigTen

ESPN BigTen


Indiana 31, No. 18 Missouri 27 http://t.co/cs7vv1dpfb
about 2 hours ago

AWardESPN

Austin Ward


As soon as I say that, Sooners get burned deep. Clint Trickett with a strike down the sideline to Kevin White, and West Virginia leads.
about 2 hours ago

AWardESPN

Austin Ward


Mountaineers and Sooners locked in a defensive battle. Just like everybody expected.
about 2 hours ago

ESPN_BigTen

ESPN BigTen


Very impressive drive by Miami to start. Hurricanes in the red zone. #MIAvsNEB
about 2 hours ago

AWardESPN

Austin Ward


Sooners with three straight defensive stops to open the game. Obviously an improvement over last visit to West Virginia.
about 2 hours ago

AWardESPN

Austin Ward


Oklahoma getting pretty much whatever it wants on the ground. Knight looks a little shaky early, but nice drive leads to a FG. 3-0.
about 2 hours ago

Todd_Blackledge

Todd Blackledge


IMO Jameis Winston forfeited his PRIVILEGE (not entitled right) to not only play in the game tonight but to be anywhere near game or team.
about 2 hours ago

AWardESPN

Austin Ward


Trevor Knight off target on third-down pass in plus territory. Sterling Shepard had room to run. That throw has to be better.
about 2 hours ago

KyleRowland

Kyle Rowland


Indiana had lost its previous 36 games to top-20 opponents. Ranked Mizzou team had not lost at home to unranked team since 1979.
about 2 hours ago

ESPN_BigTen

ESPN BigTen


OK, now it's a final: Indiana 31, Missouri 27.
about 3 hours ago

KyleRowland

Kyle Rowland


Incredible. Indiana wins at No. 18 Missouri 31-27. Huge win for Kevin Wilson, Hoosier football program.
about 3 hours ago

ESPN_BigTen

ESPN BigTen


Missouri has one shot left at a Hail Mary after flag.
about 3 hours ago

ESPN_BigTen

ESPN BigTen


Not so fast. One more play.
about 3 hours ago

ESPN_BigTen

ESPN BigTen


That does it in Columbia. Hoosiers beat a real SEC team -- 31-27. Nice moment in a not-so-nice month for the B1G. #IUvsMIZZ
about 3 hours ago

AWardESPN

Austin Ward


That didn't take long. Eric Striker -- wow. Flies around the edge for a sack on the second play of the game.
about 3 hours ago

ESPN_BigTen

ESPN BigTen


Twenty-two seconds is a lot of time for Indiana.
about 3 hours ago

ESPN_BigTen

ESPN BigTen


Penn State 48, UMass 7 http://t.co/HAtdtjd0zN
about 3 hours ago

ESPN_BigTen

ESPN BigTen


Roberts' plunge from the 3 for the IU touchdown. Big upset about to happen in Columbia. It's 31-27 Hoosiers. #IUvsMIZZ
about 3 hours ago

BraxtonMiller5

BRAXTON MILLER


"@WilletteJon: http://t.co/AWM4gUY10k @BraxtonMiller5 so far this season" 😂😂😂
about 3 hours ago

KyleRowland

Kyle Rowland


TD Indiana. Hoosiers 22 seconds away from biggest win in decades.
about 3 hours ago

KyleRowland

Kyle Rowland


Wow. IU with a huge gain from Tevin Coleman. Hoosiers have ball 2nd-and-goal from 2. 26 seconds left.
about 3 hours ago

ESPN_BigTen

ESPN BigTen


Indiana is in business. Tevin Coleman leading the way. #IUvsMIZZ
about 3 hours ago

DanMurphyESPN

Dan Murphy


Michigan's end zone starts to flood as lightning continues to strike. http://t.co/RUzpP0BAIS
about 3 hours ago

ESPN_BigTen

ESPN BigTen


The Hoosiers are one good drive away from securing far and away the best win by a B1G team so far this month. Think about that. #IUvsMIZZ
about 3 hours ago

ESPN_BigTen

ESPN BigTen


Win or lose, Kevin Wilson's team has shown it has a side much different than what we saw against Bowling Green. #IUvsMIZZ
about 3 hours ago

ESPN_BigTen

ESPN BigTen


Andrew Baggett connects from 40 yards to put Tigers up 27-24 with 2:20 to play. Hoosiers have a chance. #iUvsMIZZ
about 3 hours ago

ESPN_BigTen

ESPN BigTen


Not sure if throwing for the end zone was the best call for Mizzou on that third and 12. #IUvsMIZZ
about 3 hours ago

KyleRowland

Kyle Rowland


Missouri makes 40-yard FG with 2:20 left. Tigers lead IU 27-24.
about 3 hours ago

AWardESPN

Austin Ward


Pretty cool entrance by the West Virginia band. Stadium filling up. Should be a fun night. http://t.co/EwuCA54qGk
about 3 hours ago

KyleRowland

Kyle Rowland


Indiana defense has played well all day. But this current Mizzou drives looks a lot like BG's game-winner last week.
about 3 hours ago

ESPN_BigTen

ESPN BigTen


Mizzou drives across midfield. Tigers would be advised not to give IU offense another chance in final minutes of tie game. #IUvsMIZZZ
about 3 hours ago

KyleRowland

Kyle Rowland


Missouri on the move for potential game-winning TD. Tigers have it first down at the IU 42.
about 3 hours ago

AWardESPN

Austin Ward


How about Craig Bohl and Wyoming? 3-1 start without the personnel for his system. Guy can coach. Visits Michigan State next weekend.
about 3 hours ago

KyleRowland

Kyle Rowland


Indiana gets inside Mizzou territory, but Hoosiers are forced to punt. Tigers take over at own 8, 6:34 left in game.
about 3 hours ago

ESPN_BigTen

ESPN BigTen


Tevin Coleman looks fresh (and fast) here in the fourth quarter. #IUvsMIZZ
about 3 hours ago

KyleRowland

Kyle Rowland


Indiana with critical stop. Hoosiers take over at own 6 with 8:39 left.
about 3 hours ago

ESPN_BigTen

ESPN BigTen


There's that IU defense with a key stop of the Tigers. Hoosiers get it back with under nine minutes left. #IUvsMIZZ
about 3 hours ago

ESPN_BigTen

ESPN BigTen


Rutgers wins 31-24, a quality victory over a Navy team that had not lost at home in nearly two years. Bounce back for the Scarlet Knights.
about 3 hours ago

KyleRowland

Kyle Rowland


Att. at Faurot Field: 66,755
about 3 hours ago

ESPN_BigTen

ESPN BigTen


Another sack by the Scarlet Knights, and Navy has one play to score from the 19 with 17 seconds left.
about 3 hours ago

ESPN_BigTen

ESPN BigTen


Huge sack by Rutgers' Andre Hunt for a loss of 10 back to the 16 as Navy drives toward tying score.
about 3 hours ago

KyleRowland

Kyle Rowland


If Indiana wins, it would be highest ranked opponent Hoosiers have beaten on road since 1987 -- No. 9 Ohio State.
about 3 hours ago

bucksinsider

Ohio State News


Why is this news?: Curtis Grant mentoring Raekwon McMillan, cost of Ohio State men's bask... http://t.co/waU4dwDFjW #buckeyes #ohiostate
about 3 hours ago

ESPN_BigTen

ESPN BigTen


Gut check time for the Hoosiers. #IUvsMIZZ
about 3 hours ago
BLOG ARCHIVE:
CATEGORIES: