Class of 2014 amped for OSU/UCF contest
September, 6, 2012
9/06/12
10:00
AM ET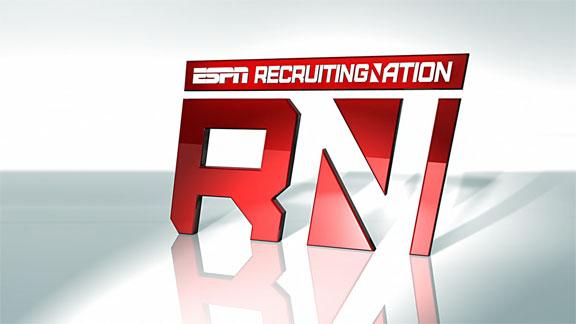 Ohio State's game with Central Florida has the eye of the junior class.
Keeping an eye extra close on the game will be wide receiver
Thaddeus Snodgrass
(Springfield, Ohio/Springfield), quarterback
Joey Duckworth
(Louisville, Ohio/Louisville), offensive guard
Nathaniel Devers
(Massillon, Ohio/Washington), safety
Darius West
(Lima, Ohio/Central Catholic), offensive tackle
Kyle Trout
(Lancaster, Ohio/Lancaster) and wide receiver
Marcus Whitfield
(Massillon, Ohio/Washington), as they have scheduled unofficial visits.
To continue reading this article you must be an Insider
Welcome
!
We see that you are not an ESPN Insider. Upgrade today and gain access to our exclusive coverage.
ESPN The Magazine subscribers

Need more information?
Michigan State Downs Ohio State
Michigan State Downs Ohio State
VIDEO PLAYLIST
Michigan State Downs Ohio State

Michigan State Downs Ohio State

BCS Projections

BCS Projections

Corso's Pick: Ohio State-Michigan State

Corso's Pick: Ohio State-Michigan State
BUCKEYENATION RECRUITING NEWS
OSU FB RECRUITING SCORECARD
joe11w

joe11w


New 11W... Why Doesn't This Hurt Worse?: Michigan State has robbed Ohio State of a national championship ye... http://t.co/IGyOJ3mrvu
5 minutes ago

ESPN_BigTen

ESPN BigTen


Video: MSU coach Mark Dantonio http://t.co/5dCFfnJLWh
about 2 hours ago

bucksinsider

Ohio State News


Ohio State vs. Michigan State: 10 Things We Learned in 2013 Big Ten Championship: The No.... http://t.co/i4drmIS4qN #buckeyes #ohiostate
about 3 hours ago

ESPN_BigTen

ESPN BigTen


Spartans feeling rosy after taking final step http://t.co/TdDK1P7IaT
about 4 hours ago

11W

Eleven Warriors


Would love to go read some of this person's tweets on Kimmel some day... https://t.co/0XMukvmRM2
about 4 hours ago

ESPN_BigTen

ESPN BigTen


Buckeyes try to cope with rare, painful loss http://t.co/Us9Sll4Tkl
about 4 hours ago

ESPNOhioState

ESPN Ohio State


Buckeyes try to cope with rare, painful loss http://t.co/b7C1vMLMWP
about 4 hours ago

11W

Eleven Warriors


"If you're asking me to measure the levels of hurt, I'm not sure I can do that." – Urban Meyer
about 4 hours ago

11W

Eleven Warriors


Photos from Ohio State's 34-24 loss to Michigan State in the Big Ten Championship Game. http://t.co/ImztlzBDpi
about 4 hours ago

11W

Eleven Warriors


Video: Luke Fickell meets with reporters following Ohio State's 34-24 loss to Michigan State. http://t.co/k6VGYZP8bD
about 4 hours ago

joe11w

joe11w


New 11W... Ohio State's Championship Hopes Dashed by Michigan State. Again.: INDIANAPOLIS – For 24 straight... http://t.co/kEACOJ1jWy
about 4 hours ago

11W

Eleven Warriors


Ohio State's championship hopes dashed by Michigan State. Again. http://t.co/SCFl74xMdE
about 4 hours ago

Buckeye_Nation

Buckeye Nation


Cold pizza after the loss. Pic of Urban Meyer by @DaPatBrennan. http://t.co/Ue1Ie5zgLk
about 4 hours ago

Buckeye_Nation

Buckeye Nation


"It is what it is, guys gotta make plays." - Luke Fickell
about 4 hours ago

11W

Eleven Warriors


Video: Carlos Hyde talks to reporter following the Big Ten Championship Game. http://t.co/xUaVZQaguJ
about 4 hours ago

Buckeye_Nation

Buckeye Nation


East Lansing Set Ablaze As Michigan State Upsets Ohio State // http://t.co/jXqCcf8LvX
about 4 hours ago

11W

Eleven Warriors


Incredibly impressed with how everyone on 11W is handling it. Pretty cool that we don't have to post kittens/insult rival fans after a loss.
about 5 hours ago

Buckeye_Nation

Buckeye Nation


Ohio State up 24-17....Carlos Hyde only got 4 more carries all night @BuckeyeSioux
about 5 hours ago

Buckeye_Nation

Buckeye Nation


RT @BenAxelrod: Asked what's wrong with his unit, Ohio State defensive coordinator Luke Fickell admitted "There's a lot."
about 5 hours ago

Buckeye_Nation

Buckeye Nation


RT @TheKennyRoda: Urban Meyer when asked if he should have given Carlos Hyde the ball more, his answer - "Yeah." #OSU
about 5 hours ago

Buckeye_Nation

Buckeye Nation


Time and change will surely show, How firm thy friendship ... OHIO! #GoBucks
about 5 hours ago

bucksinsider

Ohio State News


No. 10 Michigan St. shocks No. 2 Ohio St. 34-24: INDIANAPOLIS (AP) -- Michigan State shoo... http://t.co/7ukwaHJJc2 #buckeyes #ohiostate
about 5 hours ago

11W

Eleven Warriors


RT @lowKeyG_13: That one hurt...
about 5 hours ago

Buckeye_Nation

Buckeye Nation


Defense - F // http://t.co/Vnluyf1rJU
about 6 hours ago

Buckeye_Nation

Buckeye Nation


RT @BeauBishop: 2) a lot of blame to go around the 4th down call will be questioned forever but I can't get past the inability to get a sto…
about 6 hours ago

Buckeye_Nation

Buckeye Nation


#FireFickell #SilverBlanks
about 6 hours ago

rustymillerap

Rusty Miller


RT @Rosenberg_Mike: RIP, Legends and Leaders, 2011-2013.
about 6 hours ago

ESPN_BigTen

ESPN BigTen


Video: BCS bowl projections http://t.co/jVFzjrSCju
about 6 hours ago

11W

Eleven Warriors


Stop with your insane Tom Herman tweets, people. He's an outstanding OC.
about 6 hours ago

Buckeye_Nation

Buckeye Nation


RT @MeroWavy: it all started with wristbands at mirror lake #BlameOSU17
about 6 hours ago

Buckeye_Nation

Buckeye Nation


#OhioState vs #Clemson in the Orange Bowl?
about 6 hours ago

OhioStFootball

Ohio State Football


RT @JPSwagopek: BREAKING NEWS: Michigan will play akron (the highschool) in the Ramen noodles bowl... They are predicted to lose by 24 poin…
about 6 hours ago

11W

Eleven Warriors


Tom Herman on the 4th down play: "We had actually practiced that play against that blitz." Said Allen just made a play.
about 6 hours ago

Buckeye_Nation

Buckeye Nation


RT @DougLesmerises: Ohio State ignored Carlos Hyde and the power run game too long and it helped cost the Buckeyes a Big Ten title http://t…
about 6 hours ago

Buckeye_Nation

Buckeye Nation


Good luck to #MSU in the #RoseBowl! #BeatStanford
about 6 hours ago

KyleRowland

Kyle Rowland


Tom Herman said OSU practiced fourth-down play in practice. Said MSU just executed better.
about 6 hours ago

ESPN_BigTen

ESPN BigTen


More from the locker room https://t.co/4HDXeMGLpk
about 6 hours ago

Buckeye_Nation

Buckeye Nation


RT @AbbyNewYear: All I want for Christmas is: #FireFickell @Buckeye_Nation
about 6 hours ago

ESPN_BigTen

ESPN BigTen


Dance party in MSU locker room https://t.co/AtpPDjy5rM
about 6 hours ago

11W

Eleven Warriors


Linsley, when asked what it's going to be like to pull themselves up off the canvas: "It sucks. I mean it just sucks."
about 6 hours ago

KyleRowland

Kyle Rowland


RT @11W: Center Corey Linsley: "I just screwed up. The first quarter was probably my worst quarter ever."
about 6 hours ago

KyleRowland

Kyle Rowland


RT @11W: Meyer on Marcus Hall: "I just didn't think it was right to play him." Said he made the decision "a while back."
about 6 hours ago

11W

Eleven Warriors


Center Corey Linsley: "I just screwed up. The first quarter was probably my worst quarter ever."
about 6 hours ago

rustymillerap

Rusty Miller


No. 10 Michigan St. shocks No. 2 Ohio St. 34-24 (from @AP) http://t.co/2agL7tRyC5
about 6 hours ago

Buckeye_Nation

Buckeye Nation


RT @FMAB_LOVER: #B1GChampionship Finally @OSUCoachMeyer at least mentions the pass defense problem in the press conference. Gotta work on i…
about 6 hours ago

Buckeye_Nation

Buckeye Nation


RT @Kyle_Bencko: Luke Fickell on the victory over Michigan,"we won didn't we?" Maybe next time you could say,"it needs to be better" #Fir…
about 6 hours ago

rustymillerap

Rusty Miller


FSU rolls, OSU upset , Auburn heads to title game (from @AP) http://t.co/uYElIklSOp
about 6 hours ago

11W

Eleven Warriors


RT @ramzy: The @11W vent thread. If you're looking for delicious Buckeye schadenfreude, you'll be...disappointed? http://t.co/FdeszPCXnN
about 6 hours ago

11W

Eleven Warriors


Hyde: "We're hurt right now. We haven't had a loss in two years, but we are going to move on and get ready for a bowl game."
about 6 hours ago

ESPN_BigTen

ESPN BigTen


Jeremy Langford and Marcus Rush feeling rosy http://t.co/dCG2JPhy7l
about 6 hours ago

11W

Eleven Warriors


Hyde on the 4th down call: "I thought it was a great call."
about 6 hours ago

bbournival

Brad Bournival


RT @OHSAASports: Thank you Stark County for 24-straight years of hosting #OHSAA football championships. Good night from Massillon http://t.…
about 6 hours ago

ESPN_BigTen

ESPN BigTen


Big Ten champs -- Michigan State Spartans http://t.co/xnxSse44KP
about 6 hours ago

ESPN_BigTen

ESPN BigTen


Michigan State's Fou Fonoti on flag duty http://t.co/xa8JYIFXz4
about 6 hours ago

11W

Eleven Warriors


Meyer on Marcus Hall: "I just didn't think it was right to play him." Said he made the decision "a while back."
about 6 hours ago

ESPN_BigTen

ESPN BigTen


Former MSU star Gene Washington with offensive coordinator Dave Warner http://t.co/7u1ofi28iw
about 6 hours ago

ESPNOhioState

ESPN Ohio State


Instant analysis: Michigan State 34, OSU 24 http://t.co/tAcgWr444f
about 6 hours ago

ESPN_BigTen

ESPN BigTen


Connor Cook celebrates Big Ten title with his family https://t.co/wgWyXwZfPr
about 6 hours ago

11W

Eleven Warriors


Orange. RT @gplataz Bowl Projection?
about 6 hours ago

11W

Eleven Warriors


Don't enjoy seeing this, but legitimately happy for Sparty. http://t.co/vH8O41rxo0
about 6 hours ago

11W

Eleven Warriors


This was Carmen Ohio following tonight's game. http://t.co/dUKBq2y4ki
about 6 hours ago

joe11w

joe11w


RT @Birm: Three years ago - a loss like this would have ruined me for a month. Just a game people, be proud of who you support.
about 6 hours ago

11W

Eleven Warriors


Appreciate it! RT @JHoeflinger @11W screw u ***** fa#got idiot!
about 6 hours ago

11W

Eleven Warriors


Gut-wrenching. http://t.co/BSprqb62rc
about 6 hours ago

11W

Eleven Warriors


This is still tough to process. http://t.co/Ze6Tbei5x4
about 6 hours ago

ESPN_BigTen

ESPN BigTen


Connor Cook named title game MVP
about 6 hours ago

joe11w

joe11w


New 11W... Ohio State Loses for the First Time Under Urban Meyer: So, we lost. For the first time in the Urba... http://t.co/Bc6pUIsoZ2
about 7 hours ago

ESPN_BigTen

ESPN BigTen


Instant analysis: Big Ten title game http://t.co/3f2gnrc5Va
about 7 hours ago

joe11w

joe11w


Cannot tolerate the post-game interviews. Switching over to the golf channel. #escape
about 7 hours ago

rustymillerap

Rusty Miller


You can't spell Sparty without party.
about 7 hours ago

OhioStFootball

Ohio State Football


Thoughts on game?
about 7 hours ago

KyleRowland

Kyle Rowland


It's been a quarter century since Michigan State played in the Rose Bowl. Evident by their fans' reaction. Pure joy.
about 7 hours ago

OhioStFootball

Ohio State Football


Final Score: 34-24.
about 7 hours ago

BuckeyesBeat

Austin Ward


Based on the comments pouring in on Twitter right now, I don't think Luke Fickell will enjoy returning to Columbus tonight.
about 7 hours ago

ESPN_BigTen

ESPN BigTen


Ohio State should still go to a BCS game. Most likely Sugar or Orange. Possible foes are Alabama, Clemson and Oklahoma
about 7 hours ago

ESPN_BigTen

ESPN BigTen


Congrats to Michigan State. A program-defining win. Will play Stanford in Spartans' first Rose Bowl since 1988.
about 7 hours ago

Brutus_Buckeye

Brutus Buckeye


RT @OhioStAthletics: FINAL: Ohio State 24, Michigan State 34 #GoBucks http://t.co/oJweztqhQP
about 7 hours ago

joe11w

joe11w


OSU gave up 433 yards and 34 points to a Jim Bollman offense. Some work to do, gentlemen.
about 7 hours ago

Buckeye_Nation

Buckeye Nation


#Buckeyes will be lucky if they get to the #OrangeBowl. And the only reason why would be how well #BuckeyeNation travels.
about 7 hours ago

joe11w

joe11w


Ok Sparty, you win. Just don't embarrass the conference in the Rose Bowl. Please.
about 7 hours ago

ESPN_BigTen

ESPN BigTen


Time to party Sparty http://t.co/WKvKJp6Fdk
about 7 hours ago

BuckeyesBeat

Austin Ward


Fourth-down pass hits the turf. The Ohio State winning streak is over, and The Chase for a national title is gone as well.
about 7 hours ago

joe11w

joe11w


It would have been nice to go down swinging, rather than just flinging.
about 7 hours ago

Buckeye_Nation

Buckeye Nation


Congrats to #MichiganState, #BigTenChamps.
about 7 hours ago

OhioStFootball

Ohio State Football


Michigan State stops them on 4th down.
about 7 hours ago

11W

Eleven Warriors


It was a hell of a run. Congrats, Sparty. You came to play.
about 7 hours ago

joe11w

joe11w


This offensive concept really fell apart quickly, didn't it?
about 7 hours ago

OhioStFootball

Ohio State Football


Why was the clock running?
about 7 hours ago

joe11w

joe11w


This offense can score quickly when they're actually willing to put the ball up.
about 7 hours ago

joe11w

joe11w


BTW, it's still not over.
about 7 hours ago

BuckeyesBeat

Austin Ward


Unless the Buckeyes have a miracle up their sleeves, it appears they are headed to the Orange Bowl.
about 7 hours ago

joe11w

joe11w


Too bad, because this was a pretty special team most of the season.
about 7 hours ago

OhioStFootball

Ohio State Football


Michigan State scores and go up 34-24
about 7 hours ago

Buckeye_Nation

Buckeye Nation


#FireFickell
about 7 hours ago

BuckeyesBeat

Austin Ward


Langford right up the middle, and the Spartans are on the brink of snapping Ohio State's 24-game winning streak.
about 7 hours ago

joe11w

joe11w


Ohio State is apparently not ready for prime time.
about 7 hours ago

ESPN_BigTen

ESPN BigTen


Langford breaks free up the middle for a 26-yard TD with 2:16 left. Michigan State -- and Auburn -- fans going nuts
about 7 hours ago

11W

Eleven Warriors


Welp
about 7 hours ago

joe11w

joe11w


Ok defense, now you REALLY need to step up.
about 7 hours ago

joe11w

joe11w


They got the completion because they were not afraid to go for a completion.
about 7 hours ago
BLOG ARCHIVE:
CATEGORIES: