Notes, quotes: Simon forced to sit for a day
August, 21, 2012
8/21/12
4:31
PM ET
COLUMBUS, Ohio -- The training staff knows better than to give
John Simon
an option.
If it were up to the Ohio State defensive end, he'd never be forced to the sideline to spend a practice as an observer.
Even when they slapped a brace on his left ankle on Monday and kept the senior out of action for precautionary reasons, Simon apparently still snuck into a few drills before the workout was over. Then he made clear he'd be right back in action again on Tuesday.
[+] Enlarge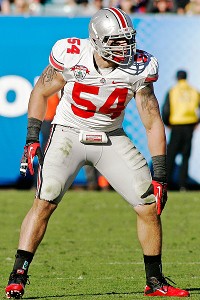 Phil Sears/US PresswireThe Ohio State coaching staff is finding it's hard to keep John Simon off the practice field.
"I'm perfectly fine," Simon said. "I'd be out there today if it was my call. I'm good. ... It's just precautionary stuff right now, just a little rehab here and there.
"I kind of got out there towards the end. I found a way to get out there, so I might annoy the people inside a little bit, but they're just trying to help and doing a great job."
Trying to rein in the tireless Simon might be the toughest job of all for the Buckeyes as August begins to wind down and the attention shifts to the season opener on Sept. 1.
The priority, of course, is to make sure Simon is healthy and ready to go against Miami (Ohio), which occasionally means the trainers telling him to relax or coaches having to pull him out of drills -- whether he likes it or not. After all, the Buckeyes already know what the captain is capable of, so if they can spare some wear and tear on Simon and give some other guys a few extra first-team reps, now is a perfect time to do it.
"It's a great thing to have, believe me, to have to pull a guy back instead of pushing him forward," defensive coordinator Luke Fickell said. "But it gives us an opportunity to get guys reps. If you want to ask who has competitive excellence and who's ready to play, John Simon is ready to play. He has plenty of reps out there in the stadium and we know how he's going to react and respond at noon on Sept. 1.
"Some of those other guys, you don't know, so the more reps you can get, the better opportunities you have."
Simon can't get enough of them for himself though, and he's going right back out looking for them after just one day off.
Air it out:
The eye-popping numbers strongly suggested improvement in
Braxton Miller
and the passing game.
But that wasn't how offensive coordinator Tom Herman was evaluating his quarterback on Saturday.
Certainly he'll be glad to take outings like Miller delivered in the scrimmage that wrapped up training camp, one which included 27 completions in 39 attempts for 358 yards with a pair of touchdowns in work that came mostly against the second-team defense. But it was something more intangible that convinced Herman the progress was real for the Buckeyes.
"It was the first time, really, that I felt like he looked comfortable with what we were doing and wasn't thinking, but rather playing," Herman said. "With him, the biggest thing is repetition, repetition, repetition. Coach Meyer uses a phrase with our team about competitive excellence and doing something so many times, over and over and over again, against all the different looks a defense can present to you, that eventually the game slows down and becomes second nature to you.
"I felt like Saturday he looked that way a lot of the time in the scrimmage."
Progress report:
The talented freshmen have shown the physical ability to contribute right away on the defensive line.
Now Fickell has to check back to see how much they've learned mentally before figuring out how much they can offer when the season opens.
For starters,
Noah Spence
and
Adolphus Washington
have certainly presented themselves as viable options for early playing time thanks to the speed of the former and the size and strength of the latter. But as Fickell and the coaching staff begin to install a game plan for Miami, it's important first to find out how much of the playbook the newcomers have absorbed.
"We know we're going to play those guys," Fickell said. "At some point in time, we've got to figure out how much. I think they've shown they have the opportunity to get out there, how much they retain is what we have to see.
"That's where this week, we start to hone in on what we do and do it against the offense we're going to see, we'll see how they react and respond. You know, we like to play eight guys up front, and in order to play eight guys we're going to have to have some freshmen play."
Bumps and bruises:
Corey "Philly" Brown was limited during the open portion of practice on Tuesday morning, at one point jogging off the field to have his ankles taped by a team trainer. The junior wide receiver didn't appear to be dealing with any sort of significant injury and was warming up on the side when the viewing period ended.
Freshman linebacker
Joshua Perry
was working out with the injured players on the sideline as well with an undisclosed ailment, joining
Jordan Hall
,
Nathan Williams
and
Frank Epitropoulos
.