Top 14 Ohio State targets of 2014: 14-8
August, 21, 2012
8/21/12
2:41
PM ET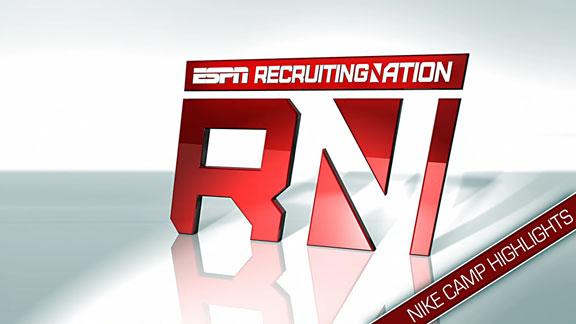 With the recruiting season of 2013 winding down, it's time to turn our eyes to the Class of 2014, and more importantly, the top 14 of '14.
This will be a two-part look at the class updated monthly throughout the school year.
To continue reading this article you must be an Insider
Welcome
!
We see that you are not an ESPN Insider. Upgrade today and gain access to our exclusive coverage.
ESPN The Magazine subscribers

Need more information?
Braxton Miller, Ohio State Begin Spring Drills
Braxton Miller, Ohio State Begin Spring Drills
VIDEO PLAYLIST
Braxton Miller, Ohio State Begin Spring Drills

Braxton Miller, Ohio State Begin Spring Drills

Ohio State Focused

Ohio State Focused

Ohio State Preparations

Ohio State Preparations
OSU FB RECRUITING SCORECARD
Nike Men's Ohio State Buckeyes Grey 'Truth Earn It' Mantra T-Shirt Shop »
joe11w

joe11w


haha...who predicted that Shannon Scott would be outscoring Stauskis at this point?
less than a minute ago

OSUADAthComm

Dan Wallenberg


Scott jumper, UM 58-53
about a minute ago

joe11w

joe11w


Scott continues to be on fire.
about a minute ago

KyleRowland

Kyle Rowland


Thad Matta not happy with Larry Scirotto. Taps him on the shoulder, complains about no-call and shots, "You called it down there!"
about a minute ago

joe11w

joe11w


That's when it hurts to have Craft out of the game.
about a minute ago

joe11w

joe11w


Greg Anthony illustrates our ball-screen ineptitude on defense.
3 minutes ago

OSUADAthComm

Dan Wallenberg


Craft goes to the bench with 9 pts, 6 rebs., 6 assists, 1 steal. Della Valle checks in.
3 minutes ago

joe11w

joe11w


Another shot that Lenzelle needs to make. It was right there for him and he was on his favorite spot.
5 minutes ago

KyleRowland

Kyle Rowland


Ohio State within five points. But Aaron Craft has four fouls and there's 11:44 left. That's a problem for the Buckeyes.
5 minutes ago

KyleRowland

Kyle Rowland


Ohio State within five points. But Aaron Craft has four fouls and there's 11:44 left. Columbus, we have a problem.
6 minutes ago

joe11w

joe11w


What a terrible foul.
6 minutes ago

joe11w

joe11w


Shannon Scott is possessed by the spirit of Jon Diebler.
6 minutes ago

OSUADAthComm

Dan Wallenberg


Scott for 3, UM 56-51
7 minutes ago

OSUADAthComm

Dan Wallenberg


Smith Jr and Williams score to cut UM lead to 56-48, timeout Michigan at 13:10. UM shooting 62 pct (21-34), OSU 51 pct (19-37).
9 minutes ago

Brutus_Buckeye

Brutus Buckeye


Thanks for the graphic shoutout @tracywolfson @CBS Beat TTUN! #GoBucks @OhioStateHoops @SammySilv http://t.co/4cnD80f2tb
9 minutes ago

joe11w

joe11w


Please start hedging on those ball screens. There are way too many easy shots for UM.
12 minutes ago

joe11w

joe11w


On the plus side, OSU is 5/6 from the line today.
13 minutes ago

joe11w

joe11w


UM still shooting 66% and they have only 7 fouls. OSU needs to get stronger; stop playing their game.
15 minutes ago

OSUADAthComm

Dan Wallenberg


Under 16 timeout, 54-44 Michigan. UM ball.
17 minutes ago

joe11w

joe11w


Nice two-man game there.
17 minutes ago

BraxtonMiller5

BRAXTON MILLER


Let's go bucks
17 minutes ago

joe11w

joe11w


Obviously we didn't foul him hard enough.
19 minutes ago

Brutus_Buckeye

Brutus Buckeye


RT @OhioStAthletics: 2nd 20 underway! #GoBucks Beat Blue! #B1GTourney
22 minutes ago

OSUADAthComm

Dan Wallenberg


Michigan ball to start the second half, here we go.
25 minutes ago

Brutus_Buckeye

Brutus Buckeye


#ACManOfSteal Tracker: 333 9 pts, 3 ast, 2 reb, stl in 1st half. #GoBucks #B1GTourney http://t.co/xAAQyCalvf
27 minutes ago

bigtenconf

Big Ten Conference


RT if a Michigan Dawg (bleu cheese coleslaw, bacon, golden mustard) looks like a good halftime snack. #B1GBites http://t.co/CPuZgiy5Re
29 minutes ago

Brutus_Buckeye

Brutus Buckeye


RT @OhioStAthletics: HALFTIME: Wolverines 41, #Buckeyes 37 @3SScott: 10 pts, 4 ast, 2 reb, 2 stl #GoBucks #B1GTourney http://t.co/nJqU9jGyM5
34 minutes ago

Brutus_Buckeye

Brutus Buckeye


RT @GregAnthony50: .@umichbball dominates first 16 minutes @OhioStAthletics owned the last 4 to make it a game! Good stuff, should be a dra…
34 minutes ago

11W

Eleven Warriors


Keep gunning. http://t.co/L7nV94nDrP
35 minutes ago

OSUADAthComm

Dan Wallenberg


Scott with 2 steals, tied for No. 10 spot all-time in career steals at OSU with Michael Redd (1998-00).
38 minutes ago

OSUADAthComm

Dan Wallenberg


Ohio State shooting 14 of 27 (.519), 4 of 9 from 3 (.444). Scott with 10 pts., Craft 9, Ross 8. UM 16 of 25 (.640), 8 of 13 from 3 (.615).
39 minutes ago

joe11w

joe11w


It's hard to maintain defensive intensity when you're up by so much. And UM is not that physical to begin with.
39 minutes ago

KyleRowland

Kyle Rowland


14 players scored in the first half. The only one in double figures is Shannon Scott (10). Bizarre.
40 minutes ago

KyleRowland

Kyle Rowland


Halftime: Michigan 41, Ohio State 37. Buckeyes trailed 32-16. Both teams over 50 percent from the field. OK Corral comes to the Midwest.
41 minutes ago

Brutus_Buckeye

Brutus Buckeye


Only down 4. I'll take it. 20 to play. #GoBucks Beat Blue!!
41 minutes ago

11W

Eleven Warriors


Matta on Michigan's hot start: "That was one of the greatest shooting exhibitions I've ever seen in my life."
41 minutes ago

joe11w

joe11w


Pretty soft defense by UM on that last possession. No one challenged Williams.
41 minutes ago

11W

Eleven Warriors


Ohio State closes the half on 15-4 run to cut Michigan's lead to 41-37 at the half. Thad Matta has to feel great about that.
41 minutes ago

OSUADAthComm

Dan Wallenberg


UM fouls on loose ball, Scott finds Williams for the layup, UM 41-37 at the half.
41 minutes ago

joe11w

joe11w


UM with only 5 fouls. Need to force more.
42 minutes ago

joe11w

joe11w


Smith really needs to make that shot. It's right there for him.
44 minutes ago

joe11w

joe11w


Ross cuts it to six!
45 minutes ago

KyleRowland

Kyle Rowland


Once down 16, Buckeyes claw back, trail Michigan by six with 2:47 left in half.
46 minutes ago

OSUADAthComm

Dan Wallenberg


Ross scores, UM 37-31
46 minutes ago

OSUADAthComm

Dan Wallenberg


UM turns it over, Williams fouled, hits 2 FTs, UM up 37-29
46 minutes ago

joe11w

joe11w


I hope McGary throws out his back cheering them on. #rivalhate
48 minutes ago

joe11w

joe11w


Compute this: OSU is 4/7 from distance, higher % than inside the arc.
49 minutes ago

joe11w

joe11w


Haha...calling an offense a "juggernaut" is the kiss of death. You're doomed, Michigan. #Jinx
51 minutes ago

OSUADAthComm

Dan Wallenberg


Ross hits a pair of FTs, OSU forces a UM timeout on inbounds attempt, 37-27 Michigan.
52 minutes ago

OSUADAthComm

Dan Wallenberg


UM is 8-12 from 3, OSU is 4-7. Buckeyes shooting 10 of 21 (.476), UM 14-21 (.667). Teams tied with 9 rebs each. UM 17 pts off 7 OSU trnvers.
54 minutes ago

11W

Eleven Warriors


Honestly, as well as Michigan has been bombing, down 12 doesn't feel as awful as it should.
54 minutes ago

KyleRowland

Kyle Rowland


37-25 Michigan with 4:15 left in first half. Wolverines' shooting will subside, but so too will Buckeyes'. UM making 2/3 of shots, OSU half.
about an hour ago

joe11w

joe11w


Need to come up with some kind of plan for defending this team.
about an hour ago

OSUADAthComm

Dan Wallenberg


Under 4 timeout, OSU foul, UM up 37-25. Scott has 11 pts, off the bench.
about an hour ago

joe11w

joe11w


Something tells me OSU can't win a shootout with UM.
about an hour ago

KyleRowland

Kyle Rowland


Shannon Scott with 10 points, 4-5 from field with two threes.
about an hour ago

joe11w

joe11w


UM shooting over 70% right now.
about an hour ago

KyleRowland

Kyle Rowland


Michigan spreading the ball around offensively. Seven players have scored, none in double figures.
about an hour ago

joe11w

joe11w


Gonna start a bake shop with all these turnovers. #rimshot
about an hour ago

Brutus_Buckeye

Brutus Buckeye


I got you @3SScott ... I got you
about an hour ago

Brutus_Buckeye

Brutus Buckeye


No. 3 came to play! @3SScott w/ 7 pts & 2 stl off the bench. #GoBucks
about an hour ago

KyleRowland

Kyle Rowland


If you told me Ohio State would be 50 percent from the field, I wouldn't have guessed it'd be facing eight-point deficit.
about an hour ago

KyleRowland

Kyle Rowland


The Italian sensation is at the scorer's table.
about an hour ago

OSUADAthComm

Dan Wallenberg


Michigan has 10 pts off 4 OSU turnovers. UM has assisted on 7 of 9 buckets, OSU on 4 of 6, Craft with 3 helpers early.
about an hour ago

KyleRowland

Kyle Rowland


Glenn Robinson III playing another nice game. Looks like he's rounding into form just in time for NCAA Tournament run.
about an hour ago

KyleRowland

Kyle Rowland


Buckeyes trail 24-14 with 10:35 left in half. Michigan is 6-8 from three. Wolverines have already had six different players score.
about an hour ago

OSUADAthComm

Dan Wallenberg


Under 12 timeout, LeVert fouls Ross on the drive, UM leads 24-14 on 9 of 13 shooting, 6 of 8 from distance. OSU is 6-13 from field.
about an hour ago

KyleRowland

Kyle Rowland


Michigan is solid, but if it gets into the Sweet 16 against a good team and doesn't hit 3s, it'll probably lose.
about an hour ago

OSUADAthComm

Dan Wallenberg


Stauskas, a bank, and Scott trade 3s, UM 18-10
about an hour ago

KyleRowland

Kyle Rowland


Sam Thompson and Nik Stauskas smile at each other after the banked three.
about an hour ago

rustymillerap

Rusty Miller


RT @ConanOBrien: Do you think Putin just misunderstood the term "March Madness"?
about an hour ago

OSUADAthComm

Dan Wallenberg


Craft and Scott score, 15-7 UM.
about an hour ago

rustymillerap

Rusty Miller


#Buckeyes have #Wolverines right where they want them. #doubledigitsdown
about an hour ago

KyleRowland

Kyle Rowland


Buckeyes are just 1-6 from field. Aaron Craft with team's lone two points.
about an hour ago

joe11w

joe11w


Looking for that magical 18-point deficit before getting started.
about an hour ago

OSUADAthComm

Dan Wallenberg


Under 16 timeout, Smith Jr. fouled, at the line for 2 FTs, UM leads 15-2 on 6-7 shooting from the field. OSU is 1-6.
about an hour ago

KyleRowland

Kyle Rowland


Woeful start for Ohio State. Buckeyes trail 15-2 at first media timeout. Nearly 36 minutes left, but OSU in trouble.
about an hour ago

11W

Eleven Warriors


Under 4 timeout in Indy. Michigan 15, Ohio State 2. The Buckeyes are 1-6 from the field while the Wolverines are hitting everything.
about an hour ago

KyleRowland

Kyle Rowland


Timeout Ohio State. Michigan up 11-2. A slow start was about the last thing Buckeyes could afford. Wolverines 3-3 from three-point range.
about an hour ago

OSUADAthComm

Dan Wallenberg


UM takes an 11-2 lead, on 3-4 shooting from 3, 4 of 5 overall. timeout Buckeyes.
about an hour ago

KyleRowland

Kyle Rowland


Back-to-back threes from Michigan. Will be long day for Ohio State is Wolverines get hot from long range. Can't get into a shootout.
about an hour ago

11W

Eleven Warriors


No worries. This Ohio State team can trade threes with anyone. Wait.
about an hour ago

OSUADAthComm

Dan Wallenberg


Craft jumper after a Stauskas 3.
about an hour ago

KyleRowland

Kyle Rowland


Buckeyes employ a zone defense on first possession. Michigan struggled mightily against Illinois' zone.
about an hour ago

OSUADAthComm

Dan Wallenberg


Here we go, Ohio State wins tip
about an hour ago

KyleRowland

Kyle Rowland


Final words of wisdom from Thad Matta. http://t.co/mgCdoLqO7E
about an hour ago

OSUADAthComm

Dan Wallenberg


Final Thoughts. http://t.co/WEhkgpMDL8
about an hour ago

Brutus_Buckeye

Brutus Buckeye


All hands on deck for TTUN! #GoBucks BEAT BLUE!!! @OSUCoachMeyer @OhioStateHoops http://t.co/KwmMyplcn8
about an hour ago

KyleRowland

Kyle Rowland


Thad Matta and Mitch McGary just had a lengthy conversation. Lots of smiles and laughs exchanged.
about an hour ago

OSUADAthComm

Dan Wallenberg


Michigan starters: Levert, Robinson, Morgan, Walton Jr., Stauskas
about an hour ago

OSUADAthComm

Dan Wallenberg


Ohio State starters: Craft, Smith Jr., Ross, Thompson, Amir Williams.
about an hour ago

Brutus_Buckeye

Brutus Buckeye


Waiting on #CUSAChamp to finish up on CBS. Tip time for pushed back to 1:53pm per @OSUADAthComm. What's up w/ that court?
about an hour ago

KyleRowland

Kyle Rowland


Lenzelle: "It's Michigan. There's no other team we'll pull together and have energy for more than those guys. We're looking forward to it."
about an hour ago

KyleRowland

Kyle Rowland


Michigan is 0-6 all time against Ohio State in the Big Ten Tournament, that includes Evan Turner's shot and 22-point beatdown in 2012.
about an hour ago

KyleRowland

Kyle Rowland


Ross had career-high 26 points against Nebraska and career-high 15 rebounds against Purdue.
about an hour ago

KyleRowland

Kyle Rowland


LaQuinton Ross is averaging 22.5 points and 14 rebounds in the Big Ten Tournament.
about an hour ago

11W

Eleven Warriors


It's time for that hate date. This is your open thread. #BeatMichigan http://t.co/QVst28OgSX
about an hour ago

OSUADAthComm

Dan Wallenberg


The Buckeyes have an all-time record of 157-241 (4-3 in 2013-14) vs. ranked opponents in the Associated Press Top 25.
about 2 hours ago

OSUADAthComm

Dan Wallenberg


In overall games when both teams enter with a Top 25 ranking, Ohio State is 75-67 all time.
about 2 hours ago

Brutus_Buckeye

Brutus Buckeye


Tourney Tidbits: @OhioStateHoops is 4-0 against TTUN in #B1GTourney games (2007, '10, '11 & '12). #GoBucks http://t.co/AJ4xkH9CkU
about 2 hours ago
BIG TEN SCOREBOARD
Saturday, 12/21
Monday, 12/23
Tuesday, 12/24
Thursday, 12/26
Friday, 12/27
Saturday, 12/28
Monday, 12/30
Tuesday, 12/31
Wednesday, 1/1
Thursday, 1/2
Friday, 1/3
Saturday, 1/4
Sunday, 1/5
Monday, 1/6
BLOG ARCHIVE:
CATEGORIES: