Top 14 Ohio State targets of 2014: 14-8
August, 21, 2012
8/21/12
2:41
PM ET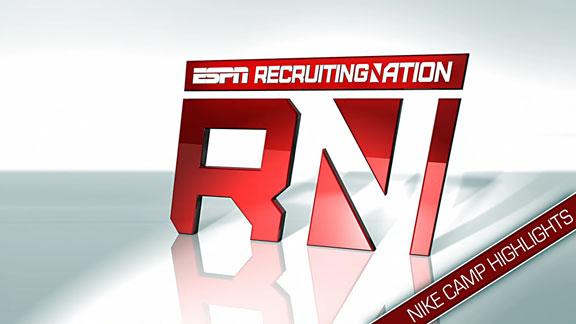 With the recruiting season of 2013 winding down, it's time to turn our eyes to the Class of 2014, and more importantly, the top 14 of '14.
This will be a two-part look at the class updated monthly throughout the school year.
To continue reading this article you must be an Insider
Insider
Urban Meyer calls into Finebaum
Ohio State head coach Urban Meyer called into The Paul Finebaum Show to talk about the Buckeyes' matchup vs. Bama.
Urban Meyer calls into Finebaum
VIDEO PLAYLIST
OSU FB RECRUITING SCORECARD
11W

Eleven Warriors


Ohio State knows it will get the Crimson Tide's best shot, but the Buckeyes say they're ready give Alabama the same. http://t.co/vcbpE3MXob
20 minutes ago

OSUADAthComm

Dan Wallenberg


No. 12 @OhioStateHoops travels to face No. 24 North Carolina at 1 p.m. Sat. in Chicago. News, notes, interviews at http://t.co/LsSfmY0jwb
33 minutes ago

bucksinsider

Ohio State News


Ohio State Football: Joey Bosa's Crazy History with Nick Saban: COLUMBUS, Ohio — Joey Bos... http://t.co/1L5bzw354r #buckeyes #ohiostate
35 minutes ago

AWardESPN

Austin Ward


Sugar Bowl is getting closer. @AlexS_ESPN and I picked X Factors for Bama and OSU on O: http://t.co/7OrNYNh9m9; D: http://t.co/tcLUqWhag6
37 minutes ago

SIPeteThamel

Pete Thamel


Source: BCs Steve Addazio agrees to contract extension, he was Mich target (after Harbaugh). http://t.co/pCxwnaeXyH
about an hour ago

bucksinsider

Ohio State News


Urban Meyer Will Once Again Reload Ohio State Roster with Top-10 Class: Ohio State has be... http://t.co/Vn3NOh3emV #buckeyes #ohiostate
about an hour ago

11W

Eleven Warriors


Tom Herman's departure can shed light on the importance of Thad Matta's assistants, as well. http://t.co/U3LRzdivjv
about an hour ago

Brutus_Buckeye

Brutus Buckeye


I love L.A.!! @ESPNCFB @Disneyland #GoBucks @CFBPlayoff http://t.co/yUBLFzQPtR
about an hour ago

B1GVolleyball

B1G Volleyball


.@IlliniVBall's McMahon was named to the Dean's List 3 times & earned 2 consecutive Big Ten Distinguished Scholar awards. #B1GVolleyball
about an hour ago

B1GVolleyball

B1G Volleyball


.@IlliniVBall's McMahon is a 3-time Academic All-Big Ten honoree who garnered Academic All-District honors this fall. #B1GVolleyball
about an hour ago

B1GVolleyball

B1G Volleyball


Congrats to @IlliniVBall's Liz McMahon, the 2014 @SnrCLASSAward winner: http://t.co/AXWnBVXd5V #B1G #B1GVolleyball http://t.co/oBaVcGEJ37
about an hour ago

ESPN_BigTen

ESPN BigTen


Roundtable: Big Ten's biggest surprise http://t.co/6iAw21uFYN
about 2 hours ago

AWardESPN

Austin Ward


Buckeyes continue to be unamused by SEC questions. Ezekiel Elliott: "What exactly is SEC speed?" http://t.co/FRESfA7VsF
about 2 hours ago

AWardESPN

Austin Ward


Joshua Perry asked about SEC speed compared to OSU: "I hate that question. Just flip on the film." http://t.co/AzXtUY1gvQ
about 2 hours ago

joe11w

JoeSports


Urban Meyer Sugar Bowl press conference: Preparing for Alabama and life after Tom Herman: For the last time un... http://t.co/GZdRwNnb7z
about 2 hours ago

AWardESPN

Austin Ward


Chris Ash: "If Amari Cooper has a big game, it's going to be a long night for us." http://t.co/9IlICunhaO
about 3 hours ago

11W

Eleven Warriors


Can Ohio State compete with Alabama? "Absolutely," says Urban Meyer. "(We're) a good young team that matured." http://t.co/Vg39d4vml9
about 3 hours ago

11W

Eleven Warriors


Alabama's success starts with recruiting. Incredible, insanely good recruiting. http://t.co/bmnNBJGQCe
about 3 hours ago

AWardESPN

Austin Ward


Urban Meyer isn't worried about Tom Herman juggling two jobs right now, even though he looks like "he got hit by a bat."
about 3 hours ago

AWardESPN

Austin Ward


Urban Meyer said Dontre Wilson is "50-50 at best" for the Sugar Bowl. http://t.co/JVUhaiPuHX
about 3 hours ago

ESPN_BigTen

ESPN BigTen


Purdue Boilermakers season review http://t.co/UyM1zXB5Nf
about 3 hours ago

11W

Eleven Warriors


OSU's 19th outright Big Ten title is already being claimed in the Woody (via @TimShoemaker): http://t.co/MNoejPRAlP http://t.co/KDmQ0GjvK8
about 3 hours ago

Brutus_Buckeye

Brutus Buckeye


Hail! to the victors valiant #WorstDateIn5Words https://t.co/C1cYFqxB6d
about 3 hours ago

Brutus_Buckeye

Brutus Buckeye


Hail! to the victors valiant #WorstDateIn5Words https://t.co/6KCBFus4JS http://t.co/L2co8Xbl4K
about 3 hours ago

11W

Eleven Warriors


The first bowl games are on Saturday. FCS has its semifinals and D2 and D3 crown its champions. Your viewing guide: http://t.co/HIgQxpm49N
about 4 hours ago

ESPN_BigTen

ESPN BigTen


Sugar Bowl X factors: Defense http://t.co/w0Tj1KcUU8
about 4 hours ago

Brutus_Buckeye

Brutus Buckeye


.@GinnySnap @OSU_SpiritSquad Uhhh ... AWESOME! 👍😁 #GoBucks
about 4 hours ago

GinnySnap

Jessi M


brutus_buckeye @osu_spiritsquad #TBT to #OhioState flying cheerleaders! #GoBucks http://t.co/z8yofmKE6d
about 4 hours ago

NomaanMerchant

Nomaan Merchant


She started with Manson, she ends with Manson. Linda Deutsch, AP's legendary courts writer, to retire: http://t.co/cIWhXdqiCV
about 4 hours ago

joe11w

JoeSports


Ohio State recruiting: Breaking down Torrance Gibson's state championship performance: Torrance Gibson's Plant... http://t.co/am95sHKWY6
about 5 hours ago

ESPN_BigTen

ESPN BigTen


Penn State Nittany Lions season review http://t.co/UdDyqLx3cr
about 5 hours ago

AWardESPN

Austin Ward


.@AlexS_ESPN and I both highlighted Alabama and Ohio State wide receivers who could swing the Sugar Bowl. http://t.co/7OrNYNh9m9
about 5 hours ago

Brutus_Buckeye

Brutus Buckeye


This little nut is ready for the Holidays! #GoBucks (via @buckeyediva1) http://t.co/YycDfgRBKp
about 5 hours ago

ESPN_BigTen

ESPN BigTen


Sugar Bowl X factors: Offense http://t.co/FEfhCfER6p
about 6 hours ago

11W

Eleven Warriors


Here's former Alabama coach Gene Stallings doing an O-H-I-O cheer (via @Brutus_Buckeye): http://t.co/XGdzfArGNh http://t.co/al9rr7V226
about 6 hours ago

bucksinsider

Ohio State News


Ohio State Buckeyes season review: December, 18, 2014 The team-by-team look back at the ... http://t.co/8ljRB3XOjE #buckeyes #ohiostate
about 6 hours ago

11W

Eleven Warriors


Columbus city officials reportedly believe the city has nabbed Browns' training camp. http://t.co/551p6O76MX
about 6 hours ago

B1Gwbball

B1G Women\'s Hoops


.@pennstatewbb's Maggie Lucas holds the #B1G career three-point field goal record with 365 between 2010-14 #TBT http://t.co/jjZvMHwsYN
about 7 hours ago

Brutus_Buckeye

Brutus Buckeye


"I" can't believe this ... former @AlabamaFTBL coach Gene Stallings doing O-H-I-O 😧😱🙀 #TBT #GoBucks http://t.co/YLVYVwGq3e
about 7 hours ago

Brutus_Buckeye

Brutus Buckeye


.@ldbunnell4 we're fame! We're No. 1! We better get agents! #GoBucks
about 7 hours ago

Joshf45

Josh Frohnapfel


Kids had fun @OhioStateHoops @Brutus_Buckeye #GoBucks http://t.co/Af3nIjiqdc
about 7 hours ago

Brutus_Buckeye

Brutus Buckeye


.@brianhartline #truer http://t.co/W8VSOpfAOd
about 7 hours ago

ESPN_BigTen

ESPN BigTen


Ohio State Buckeyes season review http://t.co/G6MtGbvTBw
about 7 hours ago

ProFootballTalk

ProFootballTalk


For those who think Jim Harbaugh wouldn't use his alma mater as leverage, he already has http://t.co/YXXHKI3Vta
about 7 hours ago

ThayerEvansSI

Thayer Evans


Former Purdue coach Danny Hope is expected to be South Florida's new OL coach per a source.
about 7 hours ago

Brutus_Buckeye

Brutus Buckeye


Buy it (obviously not free) but ship it 🚚 FOR FREE‼️ TODAY ONLY at http://t.co/hdt6G6P4vF#GoBucks #HappyHolidays http://t.co/7qxHQ7mTBf
about 7 hours ago

bucksinsider

Ohio State News


'We still love Ohio' – Ohio State basketball still in V.J. King sweepstakes: Buckeyes rec... http://t.co/hfbzcq4xtE #buckeyes #ohiostate
about 8 hours ago

AP_Sports

AP Sports


Golf: Inverness Club to host US Junior Amateur in 2019: http://t.co/r4bfDYUZJ4
about 8 hours ago

PrayInFaith

Faith In God


Whatever is true, whatever is noble, right, pure, lovely, admirable, excellent or praiseworthy - think of such things. -Phil 4:8
about 8 hours ago

11W

Eleven Warriors


Amari Cooper is a special player. But Doran Grant welcomes the challenge of facing Alabama's star receiver. http://t.co/FMM0DzgCe3
about 9 hours ago

ESPN_BigTen

ESPN BigTen


Big Ten morning links http://t.co/GzZEMBVQpY
about 9 hours ago

joe11w

JoeSports


Ohio State recruiting: State Secrets, 12/18 - Rashod Berry update, Carter Coughlin names top three: Get caught... http://t.co/1Wc326HXIB
about 11 hours ago

11W

Eleven Warriors


Skull Session: Tim Tebow spurs Bucks, 5-year-old OSU fan tried to save UAB football, student appreciation, and more. http://t.co/HLaaSlKCBd
about 11 hours ago

bucksinsider

Ohio State News


Men's college basketball: Ohio State handles North Carolina A&T, turns its attention to a... http://t.co/uwjAyUmPzm #buckeyes #ohiostate
about 15 hours ago

rustymillerap

Rusty Miller


Pelini ripped Neb's AD in last talk with players (from @AP) http://t.co/YsmqnJsfl2
about 16 hours ago

rustymillerap

Rusty Miller


Russell's 21 lifts No. 12 Ohio State past A&T, 97-55 (from @AP) http://t.co/lH2Z0YAenL
about 16 hours ago

rustymillerap

Rusty Miller


Lauren Hill to become honorary coach (from @AP) http://t.co/cZW5oW9QcE
about 16 hours ago

11W

Eleven Warriors


Joey Bosa is Ohio State's first unanimous All-American since 2007 and 27th in school history. He's only a sophomore. http://t.co/xQwWMyPCVB
about 18 hours ago

Brutus_Buckeye

Brutus Buckeye


.@Kevin_Noon @sportsphotos @GettyImages Au contraire ... needed a wide angle for this nut noggin! #GoBucks http://t.co/wCxoGOVfB0
about 18 hours ago

Brutus_Buckeye

Brutus Buckeye


.@sportsphotos @GettyImages I needed a hi-res ... smart phones don't get it done for me! http://t.co/DZxLKITWPj
about 18 hours ago

sportsphotos

Sports Photos


.@Brutus_Buckeye uses a press photographer's camera to take selfies on the court. (@GettyImages) http://t.co/9G6vdSjYnI
about 18 hours ago

11W

Eleven Warriors


Different venue, same result. Ohio State is rolling again as it prepares for a showdown with No. 24 North Carolina. http://t.co/CI4o2jx0py
about 19 hours ago

rustymillerap

Rusty Miller


#Buckeyes do all right against 1st North Carolina school. Next one is a truer test: http://t.co/rzLzGLLglj
about 19 hours ago

ESPN_BigTen

ESPN BigTen


Paul Chryst knows what he's getting with Wisconsin http://t.co/DhpsnkcBLt
about 19 hours ago

BrettRybak

Brett Rybak


Recap, stats, notes and quotes from @OhioStateHoops 97-55 win over N.C. A&T http://t.co/45cgy8i8Bd #GoBucks http://t.co/ILiTZV0LYy
about 19 hours ago

ESPN_BigTen

ESPN BigTen


Jim Harbaugh 'considering' Michigan http://t.co/7cTnL2QsSI
about 20 hours ago

OSUCoachMeyer

Urban Meyer


Privileged to have one of the greatest competitors in this sport @TimTebow speak to the team tonight http://t.co/skGFtM9ZCa
about 20 hours ago

joe11w

JoeSports


Ohio State vs. North Carolina A&T final score: 3 things we learned from OSU's 97-55 win: The Buckeyes finish f... http://t.co/uQvIn3cFMZ
about 20 hours ago

KyleRowland

Kyle Rowland


Decent night for Purdue basketball: NC State defeats Tennessee, Arkansas State beats Mississippi State.
about 20 hours ago

bucksinsider

Ohio State News


D'Angelo Russell Emerging as Top 2015 NBA Draft Guard Prospect in College Hoops: Though n... http://t.co/Ka2kyVRe5V #buckeyes #ohiostate
about 20 hours ago

Brutus_Buckeye

Brutus Buckeye


FINAL: @ohiostatehoops 97, NC A&T 55 ... Next Up: UNC - 1pm Saturday (Chicago, IL) #GoBucks http://t.co/1t36wra7qc
about 20 hours ago

OhioStAthletics

Ohio State Buckeyes


FINAL: Buckeye backcourt fuels @OhioStateHoops in 97-55 win ... Complete recap at http://t.co/dwwpirT2Av #GoBucks http://t.co/pIUv3c0xgT
about 20 hours ago

OSUADAthComm

Dan Wallenberg


Final Stats: Ohio State 97, NCAT 55, http://t.co/cj3PkFLkw3
about 20 hours ago

chris_spielman

Chris Spielman


I would think he would keep Coach Mattison good move. Greg worked for his brother John in Baltimore
about 20 hours ago

Brutus_Buckeye

Brutus Buckeye


.@LoriSchmidt Shhhh. Trying to file a story here! "Scoop" Brutus 😉📰
about 20 hours ago

LoriSchmidt

Lori Schmidt


Press row: One hard working crew! http://t.co/Wb8RiT8Ykh
about 20 hours ago

11W

Eleven Warriors


After a shaky first half, Ohio State rolled in the second en route to a 97-55 win over North Carolina A&T. http://t.co/Ha8JNz83U7
about 20 hours ago

ColdIsSallaska

Grant Sallaska


@chris_spielman yeah but 6 years 48 million for a coach? Wow
about 20 hours ago

OSUADAthComm

Dan Wallenberg


Shannon Scott with a career high 7 steals to go with 12 assists. Buckeyes have 18 steals, tied for No. 3 all-time in a single game.
about 20 hours ago

OSUADAthComm

Dan Wallenberg


Attendance: 14,585
about 21 hours ago

OSUADAthComm

Dan Wallenberg


Under 4 timeout, 90-47 Buckeyes.
about 21 hours ago

OSUCoachMeyer

Urban Meyer


Privileged to have one of the greatest competitors in this sport @TimTebow speak to the team tonight http://t.co/skGFtM9ZCa
about 21 hours ago

pshuck

Patrick Shuck


@chris_spielman but if they swing and miss it could set the program back for many years.
about 21 hours ago

rustymillerap

Rusty Miller


The crowd is now doing The Wave at Nationwide Arena. Gives 'em something to cheer about at a glorified practice.
about 21 hours ago

OSUADAthComm

Dan Wallenberg


Under 8 timeout, Buckeyes 79-38. OSU shooting 79 pct this half (15-19), 57 pct for the game (28-49). OSU 17-18 from the line.
about 21 hours ago

chris_spielman

Chris Spielman


If Michigan can get Harbaugh great for them great for Big 10. Not Settling .
about 21 hours ago

OSUADAthComm

Dan Wallenberg


Scott with 4 consecutive assists, now has 11 for the game. Buckeyes 13 of 17 shooting this half, 26-47 for the game.
about 21 hours ago

OSUADAthComm

Dan Wallenberg


Under 12 timeout, 67-36 Buckeyes, Russell with 21, Loving 15, Scott with 7 assists
about 21 hours ago

chemeliz

chels


Whatcha typing on there @Brutus_Buckeye ?? http://t.co/XYXog1apNr
about 21 hours ago

Brutus_Buckeye

Brutus Buckeye


.@chemeliz Hacking @SteveHelwagen ... Don't leave your handle unattended w/ a mascot roaming, bro! https://t.co/xlDlYjERfA
about 21 hours ago

rustymillerap

Rusty Miller


The half started but Buckeyes still doing layup drills. Up 66-34 with a 27-8 start and Russell going to line for an and-1
about 21 hours ago

Brutus_Buckeye

Brutus Buckeye


.@GerdOZone @2PuttBogey All in a day's work. 📠📷📝 http://t.co/u0xn0PgJnU
about 21 hours ago

OSUADAthComm

Dan Wallenberg


Scott goes behind the back on the break to find Thompson for the layup, 60-34 Buckeyes.
about 21 hours ago

OSUADAthComm

Dan Wallenberg


NCAT with 14 turnovers, Ohio State up 23-4 on pts off TOs.
about 21 hours ago

rustymillerap

Rusty Miller


#Buckeyes 14 for 14 at line, A&T has yet to toe the charity stripe, as they used to say. Brutus' favorite team up 58-32 at 15:57.
about 21 hours ago

OSUADAthComm

Dan Wallenberg


Under 16 timeout, Buckeyes 58-32. Russell with 18 pts, Loving 11, Buckeyes shooting 6-6 from field, 2-2 from 3, 5-5 at the line this half.
about 21 hours ago

OSUADAthComm

Dan Wallenberg


Amir scores, and is fouled, makes the FT, 58-32 Buckeyes.
about 21 hours ago

OSUADAthComm

Dan Wallenberg


Buckeyes start second half 5-5 from the field, 2-2 from 3, 4-4 at the line, lead 55-30
about 21 hours ago

OSUADAthComm

Dan Wallenberg


Thompson steals and dunks for the second time this game, 50-28 Buckeyes.
about 21 hours ago

OSUADAthComm

Dan Wallenberg


A Williams starts the half with a pair of FTs, Buckeyes are 11-11 at the stripe.
about 21 hours ago
BIG TEN SCOREBOARD
Saturday, 12/20
Monday, 12/22
Tuesday, 12/23
Wednesday, 12/24
Friday, 12/26
Saturday, 12/27
Monday, 12/29
Tuesday, 12/30
Wednesday, 12/31
Thursday, 1/1
Friday, 1/2
Saturday, 1/3
Sunday, 1/4
Monday, 1/12
BLOG ARCHIVE:
CATEGORIES: