Video: Urban Meyer Sunday Conversation
August, 25, 2013
Aug 25
11:00
AM ET
By
ESPN.com staff
| ESPN.com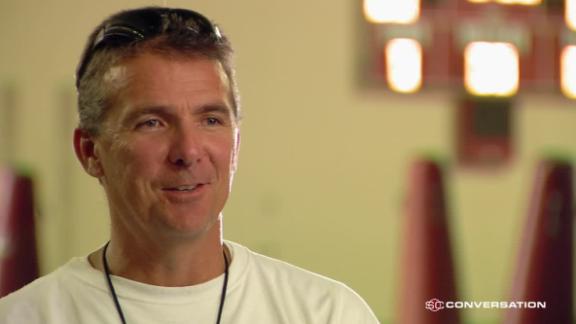 Ohio State football coach Urban Meyer sits down with Chris Fowler to discuss being a magnet for criticism and his team's off-the-field issues.
Ohio State Class Moves Into Top 5
Ohio State kicked off the week by landing five-star ILB Raekwon McMillan and followed it up by adding No. 4 wide receiver Johnnie Dixon. On the strength of those two key pickups, the Buckeyes' class jumped to No. 5.
Ohio State Class Moves Into Top 5
VIDEO PLAYLIST
Ohio State Class Moves Into Top 5

Ohio State Class Moves Into Top 5

Ohio State kicked off the week by landing five-star ILB Raekwon McMillan and followed it up by adding No. 4 wide receiver Johnnie Dixon. On the strength of those two key pickups, the Buckeyes' class jumped to No. 5.

Ohio State Adds WR Johnnie Dixon

Ohio State Adds WR Johnnie Dixon

Ohio State Lands No. 1 ILB McMillan

Ohio State Lands No. 1 ILB McMillan
OSU FB RECRUITING SCORECARD
rustymillerap

Rusty Miller


AP recap: Everybody has off days. #Buckeyes did, still won by 12: http://t.co/Mrdz2ujDGz
about 4 hours ago

rustymillerap

Rusty Miller


#MountUnion jr. QB Kevin Burke wins Gagliardi Trophy as top player in NCAA Division III: http://t.co/f3OCZwPjTb
about 4 hours ago

OSUADAthComm

Dan Wallenberg


RT @DWarner_OSU: No. 3 #Buckeyes are 76-64 winners over Delaware. #GoBucks Recap/Notes/Quotes/Photos/Highlights and Press Conferences. http…
about 5 hours ago

bigtenconf

Big Ten Conference


Congrats! RT "@IUTrackXC Derek Drouin is the winner of #TheBowerman http://t.co/7rWJDJXKho"
about 5 hours ago

bigtenconf

Big Ten Conference


Fill in the blank: ________ is my favorite #B1G sport to watch during the holiday season.
about 6 hours ago

OSUADAthComm

Dan Wallenberg


Final box score from Ohio State win over Delaware. http://t.co/wA9HEUCEMF
about 6 hours ago

Buckeye_Nation

Buckeye Nation


RT @JeffSvoboda: Is there any coach in the country that recruits better from December-Signing Day than Urban Meyer? Domination all three ye…
about 6 hours ago

OSUADAthComm

Dan Wallenberg


Final from Columbus. http://t.co/RxgIUe33JG Buckeyes move to 11-0.
about 6 hours ago

Brutus_Buckeye

Brutus Buckeye


RT @OhioStAthletics: FINAL: #Buckeyes 76, Blue Hens 64@OhioStateHoops improves to 11-0, faces ND Saturday at MSG. #GoBucks http://t.co/BQ7…
about 6 hours ago

joe11w

joe11w


New 11W... Ross Leads Buckeyes Past Blue Hens: LaQuinton Ross paced five Buckeyes in double figures with 19... http://t.co/aC85ic7XJa
about 6 hours ago

Brutus_Buckeye

Brutus Buckeye


BAH! You know you miss this ...@OrangeBowl @OhioStAthletics #GoBucks http://t.co/OJIxwELjdu
about 6 hours ago

OSUADAthComm

Dan Wallenberg


Delaware scores, cuts OSU lead to 68-58, calls timeout. 2:10 remaining. OSU 4 timeouts, Blue Hens 2.
about 6 hours ago

OSUADAthComm

Dan Wallenberg


Under 4 timeout, Craft called for the travel, Buckeyes lead 68-54. Ross has 19 pts, Williams with 11, Craft and ADV 10 each.
about 6 hours ago

bucksinsider

Ohio State News


Ohio State Basketball: Amir Williams Is the Buckeyes' Key to Success in 2013-14: Former N... http://t.co/3asez7MYlm #buckeyes #ohiostate
about 6 hours ago

OSUADAthComm

Dan Wallenberg


Williams now with 11 points and 10 rebs, third career double double.
about 6 hours ago

OSUADAthComm

Dan Wallenberg


Williams has two career double doubles, both this year vs. Ohio and Wyoming.
about 7 hours ago

OSUADAthComm

Dan Wallenberg


Under 8 timeout, Williams at the line for 2 shots, now with 9 pts, 9 rebs. Buckeyes 62-50
about 7 hours ago

Brutus_Buckeye

Brutus Buckeye


Is it just me ... ? #GoBucks http://t.co/s0tcFSEKGU
about 7 hours ago

OSUADAthComm

Dan Wallenberg


Amir Williams checks in with 9 pts, 8 rebs. Ohio State up 62-50
about 7 hours ago

OSUADAthComm

Dan Wallenberg


Attendance: 14,420
about 7 hours ago

OSUADAthComm

Dan Wallenberg


Scott finds ADV again for 3. 60-44 Buckeyes, Delaware calls timeout, media timeout
about 7 hours ago

Brutus_Buckeye

Brutus Buckeye


ADV for 3!!! Bucks up 60-44 on the Blue Hens w/ 10:07 to go in the game. #GoBucks
about 7 hours ago

KyleRowland

Kyle Rowland


RT @RustyMillerAP: My vote for Duchess of the Game is @Kevin_Noon.
about 7 hours ago

OSUADAthComm

Dan Wallenberg


Scott finds ADV on the break for the 3. Buckeyes lead 55-40. Foul Ohio State to force under 12 timeout.
about 7 hours ago

bucksinsider

Ohio State News


Miller confident his skills will translate to NFL: COLUMBUS, Ohio -- The focus for now is... http://t.co/c6sCCcIAoE #buckeyes #ohiostate
about 7 hours ago

OSUADAthComm

Dan Wallenberg


Under 16 timeout, Williams called for the foul on Delaware drive. Buckeyes lead 45-31. Ross has 14 pts, Craft 10.
about 7 hours ago

rustymillerap

Rusty Miller


Upset Alert over: Thanks to 15-0 run, No. 3 #Buckeyes up 45-31 early 2nd half. In command.
about 7 hours ago

OSUADAthComm

Dan Wallenberg


Scott steals, Smith finishes with the layup and foul...Buckeyes lead 45-31 after Smith Jr made FT.
about 7 hours ago

OSUADAthComm

Dan Wallenberg


Delaware will start the second half with the ball...here we go.
about 7 hours ago

rustymillerap

Rusty Miller


Delaware came in averaging 83 points a game -- 7 more than the #Buckeyes. But Blue Hens held to 26 in 1st half.
about 7 hours ago

OSUADAthComm

Dan Wallenberg


Buckeyes started 1-9 from the field but finished 12 of 24 heading into the break.
about 7 hours ago

Brutus_Buckeye

Brutus Buckeye


RT @OhioStAthletics: HALFTIME: #Buckeyes finish half on a 12-0 run, 11-pt lead at the break.Ross-11pts Williams-9pts Craft-8pts #GoBucks h…
about 7 hours ago

OSUADAthComm

Dan Wallenberg


Ohio State ended the half on a 12-0 run over last 3:15. Delaware was 0-4 shooting during that stretch.
about 7 hours ago

OSUADAthComm

Dan Wallenberg


Ohio State shooting 13-33/.394. Delaware 9-26/.346. OSU leads 25-16 on the boards and have a 20-4 edge in paint points.
about 7 hours ago

rustymillerap

Rusty Miller


#Buckeyes end half on 12-0 run over last 3:30. Lead 37-26 at break.
about 7 hours ago

OSUADAthComm

Dan Wallenberg


At the half, Ohio State 37-26. Ross with 11 pts, Williams 9, Craft 8.
about 7 hours ago

rustymillerap

Rusty Miller


Technical called on Delaware coach Monte' Ross during timeout with 4.2 seconds left in half. Craft hits both FTs, 37-26 at half.
about 7 hours ago

OSUADAthComm

Dan Wallenberg


Delaware assessed a technical foul on head coach. Craft with 2 shots, makes both, Ohio State 37-26 with the ball and 4.2 seconds
about 7 hours ago

Brutus_Buckeye

Brutus Buckeye


RT @OSUBuckeyeClub: Buckeye Club donors enjoying the view at @OhioStateHoops game v. Delaware. #GoBucks http://t.co/AK8b9QCetK
about 7 hours ago

OSUADAthComm

Dan Wallenberg


Craft tied with Mike Kelley of Wisconsin for No. 3 all time in career steals in Big Ten history. Next is No. 2 UM's Gary Grant with 300.
about 7 hours ago

rustymillerap

Rusty Miller


Order has been restored: #Buckeyes up 35-26 with 28 seconds left in half, Delaware at line.
about 7 hours ago

OSUADAthComm

Dan Wallenberg


Craft steal, Ross scores. 35-26 Buckeyes.
about 7 hours ago

OSUADAthComm

Dan Wallenberg


ADV with the block at one end, Williams at the line at the other after foul, makes both, Ohio State 33-26.
about 7 hours ago

rustymillerap

Rusty Miller


#Buckeyes up 30-26 with 2:49 left in half. Q Ross with nine, Williams 7, Craft 6. ADV at line.
about 7 hours ago

Brutus_Buckeye

Brutus Buckeye


RT @OhioStAthletics: Amedeo Della Valle goes coast to coast for the layup, fouled. Chance for a 3-pt play after timeout. #Buckeyes 30, Blue…
about 7 hours ago

OSUADAthComm

Dan Wallenberg


At the under 4 timeout, OSU 12-28, 43 pct. Delaware is 9-23, 39 pct. Ross has 9 pts, Williams 7, Craft 6.
about 7 hours ago

OSUADAthComm

Dan Wallenberg


Della Valle goes coast to coast after rebound, scores and is fouled. Ohio State 30-26 with ADV at the line for the And One.
about 8 hours ago

Brutus_Buckeye

Brutus Buckeye


Q!!! #GoBucks
about 8 hours ago

rustymillerap

Rusty Miller


A team (Delaware) that lost at home to Charleston Southern is tied at 21 with No. 3 Ohio State at 5:20 mark of 1st.
about 8 hours ago

Brutus_Buckeye

Brutus Buckeye


RT @BTNSean: Aaron Craft is now tied with Scoonie Penn at No. 42 on Ohio State's all-time scoring list via @OhioStAthletics http://t.co/qYl…
about 8 hours ago

rustymillerap

Rusty Miller


Nail-biter here at Value City Arena: #Buckeyes lead Blue Hens 19-17 at 7:50 mark. Not exactly 'Nova vs. Georgetown FG shooting.
about 8 hours ago

rustymillerap

Rusty Miller


As it turns out, Delaware's Carl Baptiste only slightly more mobile than @BBaptisthoops.
about 8 hours ago

OSUADAthComm

Dan Wallenberg


Under 8 timeout, 19-17 Buckeyes with Delaware at the line for 2 shots after Scott foul.
about 8 hours ago

OSUADAthComm

Dan Wallenberg


Buckeyes force Delaware timeout on inbounds attempt. Buckeyes 19-17 after Della Valle free throw.
about 8 hours ago

OSUADAthComm

Dan Wallenberg


Craft tied with Scoonie Penn with 1,076 points, No. 43 all-time, next up is No. 42 Mel Nowell at No. 42 with 1,100.
about 8 hours ago

OSUADAthComm

Dan Wallenberg


Craft layup puts Ohio State up 18-17.
about 8 hours ago

rustymillerap

Rusty Miller


My vote for Duchess of the Game is @Kevin_Noon.
about 8 hours ago

OSUADAthComm

Dan Wallenberg


Under 12 timeout, Delaware 14-13, Craft at the line for 2 shots after drive and foul.
about 8 hours ago

OSUADAthComm

Dan Wallenberg


Craft hits a 3, now has 1,073 career points, tied with Carter Scott for No. 44 all-time, Scoonie Penn is next with 1,076.
about 8 hours ago

BuckeyesBeat

Austin Ward


Braxton Miller hasn't made a decision yet, but he's confident his skills will translate to NFL. http://t.co/8Yhy3rDDM0
about 8 hours ago

rustymillerap

Rusty Miller


RT @slapschotts: @RustyMillerAP And who had Keith Richards making to 70 years old today.
about 8 hours ago

rustymillerap

Rusty Miller


OK, who had Delaware ahead even at the first media timeout? Anyone? Bueller? Blue Hens lead #Buckeyes 9-7 at 14:47.
about 8 hours ago

OSUADAthComm

Dan Wallenberg


Under 16 timeout, Delaware 9-7, Williams leads Buckeyes with 5 pts. Buckeyes start 3-11 shooting, Delaware is 4-6.
about 8 hours ago

rustymillerap

Rusty Miller


RT @ConanOBrien: Gift cards: the best way to say "Here. You figure it out."
about 8 hours ago

rustymillerap

Rusty Miller


#Buckeyes 1 for 7 FG, trail Delaware 7-3 at 16:30 mark.
about 8 hours ago

OSUADAthComm

Dan Wallenberg


Craft with two steals early to move into a tie for 4th all-time in Big Ten history with 274, next up Mike Kelley at No. 3 with 275.
about 8 hours ago

ESPN_BigTen

ESPN BigTen


Miller confident his skills will translate to NFL http://t.co/UBImlFMPnw
about 8 hours ago

ESPNOhioState

ESPN Ohio State


Miller confident his skills will translate to NFL http://t.co/nYdzTTZPXU
about 8 hours ago

KyleRowland

Kyle Rowland


RT @NHiltbrand: Scratch that. Guests needed to be switched. My interview with @KyleRowland is on now on @Mix967WBVI @WFOBFostoria
about 8 hours ago

OSUADAthComm

Dan Wallenberg


Here we go, Ohio State wins tip
about 8 hours ago

joe11w

joe11w


New 11W... Ohio State Basketball: Delaware Open Thread: TIPTELEVISIONInternet... http://t.co/P4ZoObuGNn
about 8 hours ago

rustymillerap

Rusty Miller


Is the BlackRock Gotham Classic really a classic if @DougLesmerises isn't here? (Yes.) #Buckeyes #BlueHens
about 8 hours ago

rustymillerap

Rusty Miller


RT @crhoffman99: Rob Ford at it again…dancing! http://t.co/lACwRoKbwW I was just waiting for his coat to rip open Tommy Boy style...
about 8 hours ago

OSUADAthComm

Dan Wallenberg


Delaware starters: Usher, Threatt, Anderson, King-Davis, Baptiste.
about 8 hours ago

OSUADAthComm

Dan Wallenberg


Ohio State starters: Craft, Smith Jr., Scott, Ross, Amir Williams.
about 8 hours ago

Brutus_Buckeye

Brutus Buckeye


How many times will @SlamIAm12 'RISE' tonight? Final home game of @GothamClassic tips off at 7pm on BTN. #GoBucks http://t.co/i9C9uuivMW
about 9 hours ago

chris_spielman

Chris Spielman


RT @ShortAgenda: @chris_spielman appreciate Apostle Paul in your talk at Groveport-Madison HS this morning. 1 Corinthians 16:13-14. God b…
about 9 hours ago

chris_spielman

Chris Spielman


RT @SupportGMSchool: Look what happens when a community works together! Chris Spielman and Ronald McDonald presented Groveport Madison... h…
about 9 hours ago

rustymillerap

Rusty Miller


It'll be Pitino (Rick) vs. Pitino (Richard) when #Louisville meets #Minnesota in Armed Forces Classic next Nov. 14 in Puerto Rico
about 9 hours ago

Brutus_Buckeye

Brutus Buckeye


RT @SkipMosic: #Buckeye hoops host Delaware tonight. Statewide coverage from Columbus begins at 6:30p. http://t.co/6bVuKMIOl1 http://t.co/R…
about 9 hours ago

joe11w

joe11w


New 11W... Around the Oval on Wednesday, December 18th: Around the Oval is Eleven Warriors' weekly love letter... http://t.co/NrekRvFqhG
about 9 hours ago

KyleRowland

Kyle Rowland


RT @NHiltbrand: @KyleRowland and I talk orange bowl, if braxton/shazier are staying, and the emergence of Amir Williams at 715 on @Mix967WB…
about 9 hours ago

Brutus_Buckeye

Brutus Buckeye


.@OhioStateHoops in ... "HOLIDAY HULK": http://t.co/4vyGqtsnwo @youtube Get to @TheSchott tonight 7pm vs Delaware. #GoBucks
about 9 hours ago

rustymillerap

Rusty Miller


Big question at #Buckeyes men's hoops game tonight: Is #Delaware big man Carl Baptiste related to @BBaptisthoops?
about 9 hours ago

Brutus_Buckeye

Brutus Buckeye


RT @OhioStAthletics: "Going against me & Kenny all year should help our defense prepare for (Boyd's) skill set."-@BraxtonMiller5 #GoBucks h…
about 9 hours ago

bucksinsider

Ohio State News


Urban Meyer shoots down any talk of Texas: COLUMBUS, Ohio -- The rumors, conversation and... http://t.co/xYy2qYdHMU #buckeyes #ohiostate
about 9 hours ago

Brutus_Buckeye

Brutus Buckeye


RT @OhioStAthletics: Food drive night @TheSchott! Bring a non-perishable food item tonight for @OhioStateHoops vs Delaware. #GoBucks http:/…
about 9 hours ago

Brutus_Buckeye

Brutus Buckeye


RT @BigTenNetwork: Which #B1G player do you want taking a big trey for you? Check out @stephenbardo's list - http://t.co/8ftWFzLSlI http://…
about 10 hours ago

ESPNOhioState

ESPN Ohio State


Big Ten Wednesday mailbag http://t.co/S1qOmB52aQ
about 10 hours ago

BuckeyesBeat

Austin Ward


Before any rumors can really even get hot about Texas, Urban Meyer preemptively doused the flames. http://t.co/fyY75Bxf6C
about 10 hours ago

ESPN_BigTen

ESPN BigTen


Big Ten Wednesday mailbag http://t.co/gef78n24uD
about 10 hours ago

Brutus_Buckeye

Brutus Buckeye


RT @OhioStAthletics: WATCH: Buckeye WR @Cfields_8Zero using help of @DynavisionIntl to keep hand-eye coordination razor sharp. https://t.co…
about 10 hours ago

bbournival

Brad Bournival


RT @ESPN_BigTen: Urban Meyer shoots down any talk of Texas http://t.co/F3jsECtyF3
about 10 hours ago

ESPNOhioState

ESPN Ohio State


Urban Meyer shoots down any talk of Texas http://t.co/toKMBr69pR
about 10 hours ago

ESPN_BigTen

ESPN BigTen


Urban Meyer shoots down any talk of Texas http://t.co/F3jsECtyF3
about 10 hours ago

joe11w

joe11w


New 11W... Eleven Dubcast: Oh, We Get Letters: Hey everyone, welcome to a special hiatus version of the Ele... http://t.co/f0e3sOYB7C
about 11 hours ago

ESPN_BigTen

ESPN BigTen


Illini extend Cubit, plan to keep entire staff http://t.co/RYCPKxRJ7Y
about 11 hours ago

ESPNOhioState

ESPN Ohio State


Draft experts differ on B1G prospects http://t.co/dEO6yAwFyL
about 11 hours ago

ESPN_BigTen

ESPN BigTen


Draft experts differ on B1G prospects http://t.co/3g22ggTJaQ
about 11 hours ago

OSUADAthComm

Dan Wallenberg


Officials for Delaware at Ohio State: Bo Boroski, Kevin Ferguson, Lamar Simpson
about 11 hours ago
BIG TEN SCOREBOARD
Saturday, 12/21
Monday, 12/23
Tuesday, 12/24
Thursday, 12/26
Friday, 12/27
Saturday, 12/28
Monday, 12/30
Tuesday, 12/31
Wednesday, 1/1
Thursday, 1/2
Friday, 1/3
Saturday, 1/4
Sunday, 1/5
Monday, 1/6
BLOG ARCHIVE:
CATEGORIES: