ESPN 300: July 30 update
July, 30, 2013
Jul 30
12:00
PM ET
By
RecruitingNation
| ESPN.com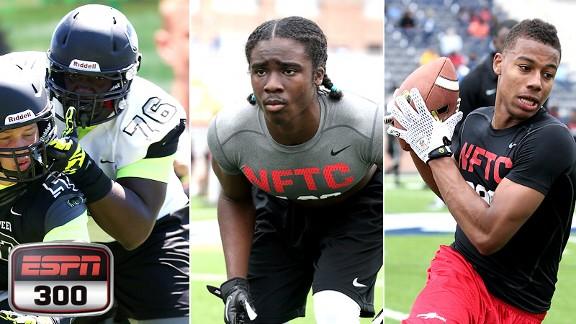 Tom Luginbill breaks down the significant movers in the
ESPN 300
rankings, including a new player in the top three, players who made massive jumps further down in the rankings and new positional No. 1s at wide receiver and outside linebacker.
Clemson, Ohio St. Looking For Redemption
After disappointing finishes, both Clemson and Ohio State are looking for redemption in the Orange Bowl.
Tags:
Orange Bowl
,
BCS
Clemson, Ohio St. Looking For Redemption
VIDEO PLAYLIST
Clemson, Ohio St. Looking For Redemption

Clemson, Ohio St. Looking For Redemption

After disappointing finishes, both Clemson and Ohio State are looking for redemption in the Orange Bowl.

Tags: Orange Bowl

,

BCS

BCS Bowl Selections Announced

BCS Bowl Selections Announced

Defeated Urban Meyer Eats Post-Loss Pizza In Bowels Of Stadium

Defeated Urban Meyer Eats Post-Loss Pizza In Bowels Of Stadium
BUCKEYENATION RECRUITING NEWS
OSU FB RECRUITING SCORECARD
bucksinsider

Ohio State News


Ohio State Football: The State of the Program After 2013 Season: Urban Meyer and the Ohio... http://t.co/rCzoW8C3XM #buckeyes #ohiostate
about 2 hours ago

rustymillerap

Rusty Miller


You can't make this stuff up: Man made calls to prominent coaches (from @AP) http://t.co/4xGSFpQEt8
about 4 hours ago

11W

Eleven Warriors


RT @isokero: 井上なっちん@11wちゃん、がんばれー!
about 4 hours ago

rustymillerap

Rusty Miller


Foligno gives #CBJ 5-4 win over Devils (from @AP) http://t.co/aRo0r1Yyg7
about 4 hours ago

bbournival

Brad Bournival


#OhioState legacy James Daniels offered by the #Buckeyes. His father LeShun Daniels Sr. was an offensive guard for #OSU
about 5 hours ago

bbournival

Brad Bournival


#Northwestern offered Justin HIlliard today. #MichiganState and #Kentucky stopping by tomorrow. #Oregon coming in January.
about 5 hours ago

KyleRowland

Kyle Rowland


RT @JWagner11W: Luke Fickell and Everett Withers visited Raekwon McMillan today. Tons more on 11W: http://t.co/v4LkJrqVdD
about 5 hours ago

Brutus_Buckeye

Brutus Buckeye


SIGNING OFF Classic holiday movie scene reenactment starring me @OrangeBowl Obie! http://t.co/AGtnqFE7FS #GoBucks http://t.co/ZYBstGaXZl
about 6 hours ago

ESPN_BigTen

ESPN BigTen


Urschel earns prestigious academic award http://t.co/H3ovlUMY7U
about 6 hours ago

rustymillerap

Rusty Miller


Ryan Johansen's shot skitters off Nick Foligno's skate and past Mary Brodeur with 91 seconds left, giving #CBJ 5-4 win over #Devils.
about 6 hours ago

11W

Eleven Warriors


#MikeShulaForBama
about 6 hours ago

11W

Eleven Warriors


It's a busy week on the recruiting trail. The latest on Raekwon McMillan, Johnnie Dixon and other targets. http://t.co/aiyuSiftWB
about 7 hours ago

bucksinsider

Ohio State News


Tommie Frazier finally enters College Hall of Fame: NEW YORK (AP) -- Tommie Frazier waite... http://t.co/3tF6gHeHqL #buckeyes #ohiostate
about 7 hours ago

Buckeye_Nation

Buckeye Nation


Michigan - Ohio State was the most watched game of the CFB season. #TheGame
about 7 hours ago

Buckeye_Nation

Buckeye Nation


Rumor has it Nick Saban bought a house in Austin, Mack Brown resigned....
about 8 hours ago

rustymillerap

Rusty Miller


Atkinson now with 2 goals and an assist after #CBJ scored twice in a minute to tie #Devils at 3-3.
about 8 hours ago

KyleRowland

Kyle Rowland


Welcome to the Orange Bowl, where Punting is Optional and Defense Won't Matter http://t.co/IlwzS50gM8
about 8 hours ago

bucksinsider

Ohio State News


Michigan St revels in Rose Bowl bid: DETROIT (AP) -- For Michigan State athletic director... http://t.co/qgjkc0M9sD #buckeyes #ohiostate
about 8 hours ago

joe11w

joe11w


New 11W... Football Recruiting: Crunch Time News and Notes: It's going to be a busy week on the recruiting tra... http://t.co/OoNnDxjHI3
about 8 hours ago

rustymillerap

Rusty Miller


Ugly Prout turnover leads to Michael Ryder goal. #Devils up 2-1 midway thru 1st.
about 8 hours ago

rustymillerap

Rusty Miller


#CBJ wait 7:21 for 1st shot, make it count: Dubinsky rebound off Brodeur's leg pad goes in off Cam Atkinson's right calf. 1-1.
about 9 hours ago

Brutus_Buckeye

Brutus Buckeye


RT @brianhartline: @OhioStAthletics @nfl @CamHeyward yes, but not good enough lol good game buddy
about 9 hours ago

rustymillerap

Rusty Miller


#CBJ had not allowed a goal at home in 124:21 over 3 games. But 32 seconds into this one, streak's over.
about 9 hours ago

rustymillerap

Rusty Miller


That didn't take long: Travis Zajac wrister from right dot beats McElhinney. #Devils up 1-0 just 32 seconds in. #CBJ
about 9 hours ago

11W

Eleven Warriors


Ohio State's line will have to replace four starters next year, but Pat Elflein's emergence will help. http://t.co/IjELZ8fh9z
about 9 hours ago

rustymillerap

Rusty Miller


A wonderful Christmas story -- thanks to a Canadian airline: http://t.co/KLXumw3GZF
about 9 hours ago

Brutus_Buckeye

Brutus Buckeye


RT @OhioStAthletics: #Buckeyes in the @nfl - Week 14--> http://t.co/xlj5hGHiYt@CamHeyward had an AVALANCHE of a game Sunday!#GoBucks htt…
about 9 hours ago

ESPN_BigTen

ESPN BigTen


Caught up with @mighty_mouse_20. Aware of Clowney hit in 2013 Outback Bowl. "Everybody's seen it. We have to do a great job blocking him."
about 9 hours ago

ESPN_BigTen

ESPN BigTen


RT @jaypo1961: #Badgers Gordon would like to win Heisman. Dad wants him to stay.
about 9 hours ago

ESPN_BigTen

ESPN BigTen


As expected. Will be interesting. RT @jaypo1961: #Badgers Gordon will seek feedback on draft from NFL advisory board.
about 10 hours ago

KyleRowland

Kyle Rowland


Ohio State Football Notebook: Meyer Heaps Praise on Clemson http://t.co/CJAFhtyDZL
about 10 hours ago

ESPN_BigTen

ESPN BigTen


@Jake_Trotter Kirk Ferentz also same year as Stoops
about 10 hours ago

Buckeye_Nation

Buckeye Nation


#OhioState legend Jesse Owens' Olympic gold medal sells for a record $1.4M // http://t.co/PV8DxFPBNO
about 10 hours ago

ESPN_BigTen

ESPN BigTen


RT @ChantelJennings: Hoke says Gardner has turf toe- the crutches/boot are precautionary. He's not worried about him missing the bowl. Didn…
about 10 hours ago

11W

Eleven Warriors


Sun & Bluesday concludes the season with four lessons learned about Michigan football. http://t.co/uh5kgwnqec
about 11 hours ago

joe11w

joe11w


New 11W... Ohio State Football Notebook: Meyer Heaps Praise on Clemson: Ohio State might be unfamiliar with... http://t.co/qnfK7PHzzQ
about 11 hours ago

ESPN_BigTen

ESPN BigTen


B1G bowl opponent primer: Syracuse http://t.co/2KWjk8Rgog
about 11 hours ago

11W

Eleven Warriors


Big site happenings this week. Tomorrow sees the first of an exclusive two-part behind-the-scenes look at Youngstown Boys. #30for30
about 11 hours ago

chris_spielman

Chris Spielman


Congratulations MSU DC Pat Narduzzi for winning Broyles Award #EarnedanDeserved
about 11 hours ago

Brutus_Buckeye

Brutus Buckeye


B1G mascot congrats to @Johnnidijulius! Named @B1GWrestling WOW! @wrestlingbucks #GoBucks http://t.co/5dFtFmFfhm
about 11 hours ago

11W

Eleven Warriors


Orange Bowl tickets: still cheap on the secondary market, starting at just $33. http://t.co/CwRVJiQXi9
about 11 hours ago

Brutus_Buckeye

Brutus Buckeye


RT @OhioStAthletics: Aaron Craft recorded his 12th career game w/ 5-or-more steals, Dec 4 vs UMD. @Lowes #NeverStopImproving #GoBucks http:…
about 12 hours ago

11W

Eleven Warriors


A schematic look at what went right and wrong for Ohio State's offense Saturday night. http://t.co/45KwTSUtSS
about 12 hours ago

Brutus_Buckeye

Brutus Buckeye


Took 'Lil Juice' around campus. Calling it O-B-I-E Meets O-H-I-O! Pics: http://t.co/QgiDvaw4VS #GoBucks @OrangeBowl http://t.co/Yw0x7tgQC4
about 12 hours ago

joe11w

joe11w


New 11W... Links: Big Games, X-Rays, and Outdoor Hockey: College hockey is winding down to the winter break... http://t.co/gna9ERBwDm
about 12 hours ago

KyleRowland

Kyle Rowland


RT @footballscoop There is real belief within the profession that Saban will happen. Absolutely fascinating times.
about 12 hours ago

bbournival

Brad Bournival


RT @JWagner11W: Nick Saban visited Glenville today to see Marshon Lattimore, Erick Smith and Marcelys Jones.
about 12 hours ago

bigtenconf

Big Ten Conference


For more on this week's Women's Swimming & Diving Weekly Honors: http://t.co/z2toZh3KxZ
about 12 hours ago

ESPN_BigTen

ESPN BigTen


Pat Narduzzi wins Broyles Award http://t.co/MRoySBqenQ
about 12 hours ago

bigtenconf

Big Ten Conference


Gia Dalesandro earns her 2nd #B1G weekly honor, swimming on the 200-yd medley relay team that recorded 5th-fastest time in #Hoosier history.
about 12 hours ago

bigtenconf

Big Ten Conference


#B1GSwim Freshman of Week is Gia Dalesandro of @IUSwimAndDive, posting 1 #NCAA qual.mark & 3 prov. qual.marks at USA Swimming Winter Nat'ls.
about 12 hours ago

bigtenconf

Big Ten Conference


Anna Filipcic collects 1st #B1G weekly award, both her 3-meter & 1-meter dives meeting NCAA Zone Diving standards.
about 12 hours ago

bigtenconf

Big Ten Conference


Women's #B1G Diver of the Week is Anna Filipcic of @HuskerSwim after placing 1st in 3-meter diving competition at Hawkeye Invitational.
about 12 hours ago

bigtenconf

Big Ten Conference


Vrooman earns 2nd #B1G weekly accolade, her qualifying mark in the 1,650-yd freestyle ranking 3rd fastest in #Hoosier history.
about 12 hours ago

bigtenconf

Big Ten Conference


Women's #B1G Swimmer of Week is Lindsay Vrooman of @IUSwimAndDive, earning an #NCAA automatic qual. mark at USA Swimming Winter Nationals.
about 12 hours ago

bigtenconf

Big Ten Conference


For more on this week's Men's Swimming & Diving Weekly Honors: http://t.co/WplHacjnn7
about 12 hours ago

bigtenconf

Big Ten Conference


Daryl Turner collects 3rd #B1G weekly award, placing 1st in the 50-yd freestyle, 100-yd backstroke & various relays.
about 12 hours ago

bigtenconf

Big Ten Conference


#B1GSwim Freshman of the Week is Daryl Turner of @gopherswimming after posting 6 1st-place finishes at the Jean Freeman Invite.
about 12 hours ago

bigtenconf

Big Ten Conference


Addison Boschult earns 1st #B1G weekly accolade, his platform score of 373.85 set a new #Hawkeye record.
about 12 hours ago

bigtenconf

Big Ten Conference


Men's #B1G Diver of Week is Addison Boschult of @IowaHawkeyeSwim, placing 1st in platform diving competition, earning #NCAA Zone qual. mark.
about 12 hours ago

bigtenconf

Big Ten Conference


Bosch earns 1st #B1G weekly award, posting 2 #NCAA automatic qualifying marks w/ 200-yd butterfly time currently top in the nation.
about 12 hours ago

bigtenconf

Big Ten Conference


Men's #B1G Swimmer of the Week is Dylan Bosch of @umichswimdive after recording 4 top-3 finishes at USA Swimming Winter Nationals.
about 12 hours ago

ESPN_BigTen

ESPN BigTen


RT @TomVH: JUCO Joe Keels RT @Officially___: Just decommitted. And flipped to play for Nebraska #BlackShirt. Cant wait to prove all the dou…
about 13 hours ago

KyleRowland

Kyle Rowland


Michigan State defensive coordinator Pat Narduzzi wins the Broyles Award (assistant coach of the year).
about 13 hours ago

rustymillerap

Rusty Miller


RT @Todd_Jones: Sam Wyche "You don't live in Cleveland" speech on this day in 1989: http://t.co/rFo3lKtbIT via @youtube
about 13 hours ago

KyleRowland

Kyle Rowland


Elflein's Emergence on Offensive Line Brightens 2014 Outlook http://t.co/PFfUkCOqqy
about 13 hours ago

rustymillerap

Rusty Miller


RT @DougLesmerises: Before Mack Brown, Texas coach was John Mackovic. He was hired from Illinois. Stay by the phone Tim Beckman.
about 13 hours ago

joe11w

joe11w


New 11W... Elflein's Emergence on Offensive Line Brightens 2014 Outlook: On a scale of 1-10, the loss of fo... http://t.co/nwO50rcjTF
about 13 hours ago

KyleRowland

Kyle Rowland


RT @ChipBrownOB High-level sources tell http://t.co/vl23FBD7Sp Mack Brown will step down after 16 years at Texas. http://t.co/jbeyMMiSw2
about 13 hours ago

Brutus_Buckeye

Brutus Buckeye


RT @OSURec: RT @aharvence: Just walked out of the rpac to a @OrangeBowl and @Brutus_Buckeye #happypostfinals #gobucks
about 13 hours ago

ESPN_BigTen

ESPN BigTen


That's some SEC speed! RT @ESPN_SEC: Clowney ticketed for going 110 mph http://t.co/VvXwaMAr5t
about 13 hours ago

ESPN_BigTen

ESPN BigTen


Iowa's Ferentz sees parallels with '08 team http://t.co/8PL3dBrxFf
about 13 hours ago

ESPN_BigTen

ESPN BigTen


RT @LynchFor6: Lynch: "I talked to Coach Kill this morning...He found out last night at 11 PM. He called me 12 times while I was sleeping."
about 14 hours ago

bucksinsider

Ohio State News


Wow @ChipBrownOB: High-level sources tell http://t.co/BkpuMjKrgd Mack Brown will step down as coach at Texas after 16 years.
about 14 hours ago

Brutus_Buckeye

Brutus Buckeye


RT @ohiounion: .@OrangeBowl's mascot, Obie, and @Brutus_Buckeye visited the Ohio Union today! #GoBucks http://t.co/MOvmvchBKg http://t.co/l…
about 14 hours ago

Brutus_Buckeye

Brutus Buckeye


RT @Eyyonickk: Spotted @Brutus_Buckeye and the orange @OrangeBowl jackets on campus! Thanks for the free stuff! 🍊👍#GoBucks #Obie http://t.c…
about 14 hours ago

bigtenconf

Big Ten Conference


RT @B1GVolleyball: The @AVCAVolleyball regional awards are out and 31 #B1G standouts earned recognition! http://t.co/nwxlmpKzXB
about 14 hours ago

bigtenconf

Big Ten Conference


No. 1 @PennStWrestling, No. 2 @GopherWrestling & No. 3 @Hawks_Wrestling top this week's poll.
about 14 hours ago

bigtenconf

Big Ten Conference


10 #B1G wrestling teams are ranked in this week's USA Today/NWCA/AWN Division I Coaches poll, including 5 squads earning top 10 status.
about 14 hours ago

joe11w

joe11w


New 11W... Big Ten Championship: Offensive Breakdown: An erratic opening offensive game plan and miscues he... http://t.co/jHfSMJ790H
about 14 hours ago

KyleRowland

Kyle Rowland


RT @CoachVrabel50: Want to thank the police officer in Detroit that just bought me and @OsuCoachCoombs lunch!! Buckeyes are everywhere. #…
about 14 hours ago

KyleRowland

Kyle Rowland


RT @OrangeBowl: Well this looks like trouble! Be on the lookout @OhioStAthletics fans. Walking the campus with free stuff, find us! http://…
about 14 hours ago

KyleRowland

Kyle Rowland


RT @OrangeBowl: Not sure if that was #Obie 's first ever attempt at a snow angel or if @Brutus_Buckeye pushed him over... http://t.co/1vxnO…
about 14 hours ago

ESPNOhioState

ESPN Ohio State


Grading our over-under predictions http://t.co/Kc5OcXaaGl
about 14 hours ago

ESPN_BigTen

ESPN BigTen


Grading our over-under predictions http://t.co/4uqtHJE2kU
about 14 hours ago

Brutus_Buckeye

Brutus Buckeye


Workin on that Florida figure! @OrangeBowl #GoBucks @OSURec http://t.co/lwIYtzYM5d
about 15 hours ago

Brutus_Buckeye

Brutus Buckeye


Quite the welcome from all the worker outers at RPAC!!!@OSURec @OrangeBowl #GoBucks http://t.co/uAhAzyXAve
about 15 hours ago

Brutus_Buckeye

Brutus Buckeye


Study buddy break is now through. RPAC @OSURec we're coming for YOU! @OrangeBowl #GoBucks http://t.co/f6FCNJXPEf
about 15 hours ago

Brutus_Buckeye

Brutus Buckeye


Congrats to @eliaseje! Our LAST winner of (2) tickets to @OhioStateHoops vs Bryant - 7:30pm Wed. Check back Fri for more HOOPS tix! #GoBucks
about 15 hours ago

Brutus_Buckeye

Brutus Buckeye


I'm on the loose with The Juice. Watch out Thompson Library! @OrangeBowl #GoBucks http://t.co/Vocy30VNox
about 15 hours ago

Brutus_Buckeye

Brutus Buckeye


Opponents are shooting 22% from 3 vs @OhioStateHoops this season. Send 22nd tweet w/ #PerimeterD for 2 tix to Bryant. http://t.co/gMKB5R7t8F
about 15 hours ago

Brutus_Buckeye

Brutus Buckeye


Congrats to @kellham21! Winner of (2) tickets to @OhioStateHoops vs Bryant - 7:30pm Wed. FINAL pair to give away at 12:50! #GoBucks
about 15 hours ago

Brutus_Buckeye

Brutus Buckeye


We've decided @OhioState students need more Vitamin C at lunchtime!! @OrangeBowl #GoBucks http://t.co/1b0KCVFsOM
about 15 hours ago

KyleRowland

Kyle Rowland


RT @dkurtenbach: Fun story — I was once Obie the Orange Bowl Bowl for about an hour. It's probably the highlight of my 2.5 years in South F…
about 15 hours ago

Brutus_Buckeye

Brutus Buckeye


Keep the tweets coming! No winner yet.
about 15 hours ago

ESPN_BigTen

ESPN BigTen


Ranking all 35 bowl games http://t.co/xxr2sb5UR1
about 15 hours ago

ESPN_BigTen

ESPN BigTen


Uh oh , Badgers ...RT @CapitalOneBowl: Just got word that this year's game officials will come from the Pac-12.
about 15 hours ago

Brutus_Buckeye

Brutus Buckeye


These shoes are about to storm @OhioState campus. Be on your toes #Buckeyes @OrangeBowl #GoBucks http://t.co/NEXFmJ8evZ
about 16 hours ago

Brutus_Buckeye

Brutus Buckeye


Coach Matta is 57-9 in December as @OhioStateHoops head coach. Send 57th tweet w/ #MattInDecember for 2 tix to Bryant http://t.co/pnhvAgelS9
about 16 hours ago

KyleRowland

Kyle Rowland


RT @JeffSvoboda: Clemson's backup quarterback is Cole Stoudt, who prepped at Dublin Coffman in nearby Columbus
about 16 hours ago
BLOG ARCHIVE:
CATEGORIES: