Borrowing Blue: Team could use Long
July, 10, 2013
7/10/13
10:45
AM ET
COLUMBUS, Ohio -- Forget about the blasphemy.
Also disregard for a moment that there are no trades in college football.
But as the all-time draft festivities start winding down this week, a proposal was sent to the various general managers in charge of filling out the rosters for two programs at the heart of The Game and its passionate rivalry. What if one player selected for a Michigan squad could be added to an Ohio State team, or vice versa?
[+] Enlarge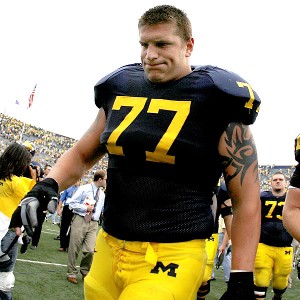 Gregory Shamus/Getty ImagesTackle Jake Long never beat Ohio State during his Michigan career, which makes adding him to an all-time Buckeyes roster a bit easier to take.
For Team Ward, that answer was pretty simple.
After missing out on a number of high-profile Buckeyes on the offensive line, the clear choice to provide a boost for my defensively-loaded, skill-position-heavy roster would be a physical, nasty blocker to provide some protection and rushing lanes from the tackle spot. So if I could poach from That Draft Up North, I'd be stealing from my beat-writing colleague Michael Rothstein and taking his first-round pick, Jake Long.
No offense to Chris Ward or Jim Daniell, but Long is a former No. 1 overall pick in the NFL draft and undoubtedly would provide a lift with his strength and athleticism up front, keeping Braxton Miller clean in the pocket and helping clear the way for Eddie George and Pete Johnson out of the backfield.
Plus, if this squad was forced to have a representative from the Wolverines, who better than somebody who did so much to help the Buckeyes during his career?
He couldn't beat the Buckeyes. If a trade was absolutely necessary, Long would be welcome to join them on Team Ward.
Ohio State/Big Ten reporter
Covers Ohio State and the Big Ten.
Joined ESPN in 2012.
Attended the University of Wyoming.
CFP Firm On Dates
Brett McMurphy discusses the resistance from College Football Playoff officials to alter the dates of future matchups.
CFP Firm On Dates
VIDEO PLAYLIST
OSU FB RECRUITING SCORECARD
11W

Eleven Warriors


We're not going to argue with Eddie George's muscles on this one (via @IFC): https://t.co/ZTeWIxZR9g
14 minutes ago

11W

Eleven Warriors


The unselfish 2014 Buckeyes put themselves in front of nobody else. They ended up on top of the world. http://t.co/T0dluSimOq
18 minutes ago

joe11w

JoeSports


Sam Thompson, Ohio State basketball's secret x-factor: He's scoring, he's leading, he's defending. Are we see... http://t.co/5N7yHJvxbk
30 minutes ago

ESPN_BigTen

ESPN BigTen


Position that needs improvement: Penn State http://t.co/AQqwPzQeyB
31 minutes ago

ESPN_BigTen

ESPN BigTen


Big Ten recruiting breakdown http://t.co/pjFlO4MsdG
about an hour ago

Buckeye_Nation

Buckeye Nation


***Notice of Meetings: Ohio State University trustees and committees to meet Jan. 27– 30 / #OSUnews / http://t.co/5UcUy0bshO
about an hour ago

ESPN_BigTen

ESPN BigTen


Season report card: Nebraska http://t.co/yrrhJQO7qo
about an hour ago

ESPN_BigTen

ESPN BigTen


Our favorite plays of the year http://t.co/IqFwAHOqMG
about an hour ago

KyleRowland

Kyle Rowland


Purdue Notebook: Boilers, Hoosiers enter rivalry game confident http://t.co/q9zJzH8TJf
about an hour ago

ESPN_BigTen

ESPN BigTen


Big postseason big boost for B1G recruiting http://t.co/T6JnTLM5C9
about 2 hours ago

ESPN_BigTen

ESPN BigTen


Position that needs improvement: Maryland http://t.co/z2yKqyLN5Z
about 2 hours ago

bucksinsider

Ohio State News


Ohio State Football: National Title Could Trigger Recruiting Dominance for OSU: Ohio Stat... http://t.co/Tz8CRlswsF #buckeyes #ohiostate
about 2 hours ago

KyleRowland

Kyle Rowland


Realignment didn't hurt ACC hoops after all. League will flex muscle tonight in top-10 showdown between Duke and ND. http://t.co/CZGN5m7SvC
about 2 hours ago

OhioState_WGOLF

Ohio State W Golf


2017 NCAA Women's Golf Regional Coming to Columbus ---> http://t.co/WgSzOCGtZI#GoBucks
about 2 hours ago

AnnieMPeterson

Anne M. Peterson


Well deserved! RT @pgaofamerica: .@ronsirak named 2015 PGA Lifetime Achievement Award in Journalism recipient http://t.co/9X6F9K2GAX
about 3 hours ago

ESPN_BigTen

ESPN BigTen


Malzahn leads list of best play-callers http://t.co/s18ZDtPTlP
about 3 hours ago

rustymillerap

Rusty Miller


#Buckeyes' Russell gets a nod: A look at player of year candidates in men's hoops (from @AP) http://t.co/3iEpdgNwA1
about 3 hours ago

rustymillerap

Rusty Miller


Can't make this stuff up III / After being hit by car Tampa cat crawls back from grave (from @AP) http://t.co/ulmst4yQXz
about 3 hours ago

rustymillerap

Rusty Miller


Can't make this stuff up II / Woman faces charges of stealing police cruiser while cuffed (from @AP) http://t.co/KgUtDbB4jE
about 3 hours ago

rustymillerap

Rusty Miller


Can't make this stuff up / Man hid cocaine inside prosthetic leg in his car, police say (from @AP) http://t.co/FdOCypHLIr
about 3 hours ago

KyleRowland

Kyle Rowland


.@CGoffJG and I preview the Indiana-Purdue game. http://t.co/kQ14BEVpXw
about 3 hours ago

Brutus_Buckeye

Brutus Buckeye


😏 THEY SAID IT: "This is the breakfast of weirdos." https://t.co/7DhtAiNmTU 😯#GoBucks
about 3 hours ago

11W

Eleven Warriors


"I think we'll see our big guys back in that game." Exactly how long can Ohio State's small ball lineup last? http://t.co/n97rNTcltl
about 3 hours ago

KyleRowland

Kyle Rowland


Kentucky's lost 3 football recruits to Big Ten schools this week, class now ranked 48th nationally. MN, IU, Rutgers, NW all ranked higher.
about 3 hours ago

chris_spielman

Chris Spielman


Those who share faith. Plz pray for three men J,V, and D and their wives has they start their cancer journey . Strength and Courage
about 3 hours ago

ESPN_BigTen

ESPN BigTen


Season report card: Minnesota http://t.co/fmiwJBRsDQ
about 3 hours ago

NaismithTrophy

The Naismith Trophy


Congratulations to D'Angelo Russell! He has been named the #NaismithTrophy Player of the Week! @OhioStAthletics http://t.co/8UBoo7DRPk
about 3 hours ago

Johnubacon

John U. Bacon


Super Bowl ads cost $4.5M each. Tickets cost $6000. And the NFL asks for volunteers to work the event because, you know, they can't pay them
about 3 hours ago

KyleRowland

Kyle Rowland


Story I wrote last week about Purdue's Navy SEAL training. Rapheal Davis said it helped team get W against Iowa. http://t.co/JfeSyFhuWI
about 3 hours ago

rollerCD

Rob Oller


Twits worried that Urban Meyer might someday leave for NFL can rest easy. Sort of. NBA more his future. Cavs 5-0 since Urb addressed team.
about 3 hours ago

OhioStAthletics

Ohio State Buckeyes


#SuperBowl Week Scarlet & Gray Slate #GoBucks Live It. http://t.co/7kRXo3wTSS http://t.co/Tx0FbGlTFm
about 3 hours ago

BeschlossDC

Michael Beschloss


Challenger Space Shuttle crew perished after launch from Cape Canaveral this morning 1986: #NASA http://t.co/d5qiANV0I8
about 3 hours ago

ESPN_BigTen

ESPN BigTen


Big Ten tipping point classes http://t.co/0U3Tj4cCpk
about 4 hours ago

Brutus_Buckeye

Brutus Buckeye


💘 It'll be here before you know it fellas!No better year to buy Buckeye for your Valentine! http://t.co/hdt6G6P4vF http://t.co/lsknH7agdj
about 4 hours ago

ESPN_BigTen

ESPN BigTen


Big Ten morning links http://t.co/gcTkdzhbAE
about 4 hours ago

journalgsports

JG Sports


It's size versus speed in tonight's IU/Purdue rivalry game. http://t.co/RxwEH62UoI
about 4 hours ago

journalgsports

JG Sports


The front page of The Journal Gazette sports section is available for your enjoyment. http://t.co/e69k1mpOls
about 4 hours ago

11W

Eleven Warriors


Our retrospective of the 2014 season continues with Ohio State's obliteration of Kent State and loss of Noah Spence. http://t.co/Syc0nQmdMo
about 4 hours ago

AP

The Associated Press


Los Angeles jury awards $5 million to funk legend Sly Stone in breach-of-contract lawsuit: http://t.co/LSA9yDCZDo
about 6 hours ago

rustymillerap

Rusty Miller


Great work by @mridenourABJ Tears flow as UA pays tribute to late Dan Peters http://t.co/3oAyZ9Ik6r via @MRidenourABJ #Zips @ZipsMBB
about 6 hours ago

Bible_Time

Bible Time


Greater love has no one than this, that one lay down his life for his friends. -John 15:13
about 6 hours ago

11W

Eleven Warriors


Skull Session: Picking an #Elite15 Heisman winner, OSU football is booming, Russell might be an alien, and more. http://t.co/EkU9KwAiop
about 7 hours ago

joe11w

JoeSports


Ohio State recruiting: State Secrets, 1/28 - Patrick Bethel offered, EJ Price considering OSU: Get caught up w... http://t.co/M8tMH3hd6v
about 7 hours ago

bucksinsider

Ohio State News


Ohio St. Basketball: Each Buckeyes Starter's Biggest Area to Improve in 2014-15: Charlie... http://t.co/gfyOefqaRU #buckeyes #ohiostate
about 9 hours ago

rustymillerap

Rusty Miller


Atkinson, Tyutin lead Blue Jackets past Capitals 4-3 (from @AP) http://t.co/vLJ489tpfF
about 13 hours ago

SportsNation

SportsNation


The REAL savior of Cleveland may not be LeBron... http://t.co/rqBrsP4aKZ
about 14 hours ago

clubtrillion

Mark Titus


#NeverForget http://t.co/tMO4jyqXuQ
about 15 hours ago

AP_Top25

AP Top 25


Shooters find not every basketball is the same in college game http://t.co/ZHg0EYXCLA (@ericolson64) http://t.co/t6NAGtsPan
about 15 hours ago

rustymillerap

Rusty Miller


Atkinson and Tyutin each had a goal and an assist and McElhinney had 25 saves to lead #CBJ to 4-3 win over #Caps.
about 15 hours ago

rustymillerap

Rusty Miller


#CBJ lead #Caps 4-3 with 4:41 left in regulation. Atkinson, who already has a goal and assist, just clanked a post after a steal.
about 16 hours ago

rustymillerap

Rusty Miller


Kuznetsov goes to one knee to blast in a rebound and #Caps trail just 4-3 with under 8 minutes left in regulation.
about 16 hours ago

rustymillerap

Rusty Miller


Cam Atkinson off loose puck in high slot beats Holtby high stick side and #CBJ up 4-2. Get ready, here comes a #Caps counter.
about 16 hours ago

rustymillerap

Rusty Miller


Attendance 16,514. Not bad for 2 nights after the NHL ASG. On a Tuesday.
about 16 hours ago

rustymillerap

Rusty Miller


Again teams trade goals inside a minute: Tyutin scores to put #CBJ up 3-1, then Brouwer with tip, both in last minute of 2nd.
about 16 hours ago

B1GLLL

Mike Pearson


Happy 31st Birthday to @OhioStAthletics football grad @JayRichardson99. He played in the NFL for the @RAIDERS, @Seahawks & @Saints.
about 17 hours ago

rustymillerap

Rusty Miller


There's your ASG MVP scoring: Johansen rips a 1-timer from Connauton. But Niskanen counters 33 seconds later. #CBJ up 2-1.
about 17 hours ago

Brutus_Buckeye

Brutus Buckeye


.@FakeEzekiel For real? 😏
about 17 hours ago

rustymillerap

Rusty Miller


How can they perfect a Gatling gun that shoots T-shirts, yet an NHL official's mic seldom works when announcing a penalty?
about 17 hours ago

rustymillerap

Rusty Miller


#CBJ 15-5-1 when scoring first; just 5-17-2 when down 1-0. #Caps 23-1-4 when scoring first, 1-12-5 when opponent scores first.
about 17 hours ago

rustymillerap

Rusty Miller


Jared Boll nice play to set up Tropp's nifty setup for Letestu goal at 3:45. #CBJ up 1-0 on #Caps.
about 17 hours ago

B1GLacrosse

B1GLacrosse


Tune in tomorrow to hear from all 12 men's & women's #B1GLax coaches on what to expect for the inaugural season. http://t.co/hGzmOc1u2r
about 17 hours ago

KyleRowland

Kyle Rowland


Open with Ohio State on Labor Day. RT @KevinOnCFB Report: Virginia Tech won't host Thursday night game in 2015 http://t.co/Joj8wnlxdB
about 17 hours ago

11W

Eleven Warriors


The Hurry Up: Damon Arnette is the next man up, Porter Gustin may be a more viable option than we thought and more. http://t.co/tAVr4E3Q4V
about 17 hours ago

Adam_Jacobi

Adam Jacobi


So many talented and good people at @11W that I am proud to share an Internet dot com with. This is worth a read: http://t.co/EPLxOeXmej
about 17 hours ago

rustymillerap

Rusty Miller


Ovechkin hangs head after his third or fourth prime scoring chance is stopped by McElhinney. #CBJ fortunate to be 0-0 after 1.
about 17 hours ago

rustymillerap

Rusty Miller


#Capitals-#CBJ about as exciting as the NHL ASG was, only without all the goals.
about 18 hours ago

bucksinsider

Ohio State News


Video: A closer look at 2015 Ohio State football recruits: 2015 Ohio State Commits – Top... http://t.co/7Q0o2apk3m #buckeyes #ohiostate
about 18 hours ago

Buckeye_Nation

Buckeye Nation


#OhioAgainstTheWorld
about 18 hours ago

rustymillerap

Rusty Miller


Curtis McElhinney between the pipes in 1st game with Bob on IR. #CBJ
about 18 hours ago

Buckeye_Nation

Buckeye Nation


President Michael Drake discusses Jon Waters, National Championship / #Lantern / http://t.co/5PZbO06kTv
about 18 hours ago

AP

The Associated Press


MORE: Jury convicts ex-Vanderbilt football players of raping woman; they could face decades in prison: http://t.co/Tbd0DACmJ8
about 18 hours ago

joe11w

JoeSports


Why is this news?: D'Angelo Russell not surprised by success, projecting 2015 Ohio State depth chart: All the ... http://t.co/WHToboB0ZZ
about 19 hours ago

bucksinsider

Ohio State News


Late Recruiting Flips Are the Key to Urban Meyer's Success at Ohio State: COLUMBUS, Ohio ... http://t.co/9x3qIYTogU #buckeyes #ohiostate
about 20 hours ago

BrianHamiltonSI

Brian Hamilton


Stopping flopping? College hoops coaches will take a look at it, but a solution isn't an easy call. http://t.co/xbUGa6mWsg
about 20 hours ago

OhioStAthletics

Ohio State Buckeyes


ICYMI: Buckeye Best - GIFs, pics & vids recapping last week's Scarlet & Gray action https://t.co/ioz9WToMPL #GoBucks http://t.co/f73MP2fa1V
about 21 hours ago

11W

Eleven Warriors


Nine years after suffering an injury that left him unable to walk, Tyson Gentry is still paying forward. http://t.co/dlm0owjcAj
about 22 hours ago

ESPN_BigTen

ESPN BigTen


Position that needs improvement: Iowa http://t.co/kG3LKXi0Hn
about 22 hours ago

Brutus_Buckeye

Brutus Buckeye


.@kcwelch330 @CavsMoondog I love ya pal, but here's me busting out 55 w/o breaking a sweat. https://t.co/MHXUq8TRHB
about 22 hours ago

bigtenconf

Big Ten Conference


Erin Larner of @NUWildcatTennis tabbed #B1G Women's Tennis Athlete of the Week: http://t.co/T3sGfwAoFE http://t.co/vRETO5DgfO
about 23 hours ago

11W

Eleven Warriors


This isn't his championship poster – that's coming – but @mwaltonkeys has a gift for you. http://t.co/J9wrOy8qWA http://t.co/aDbZASn9TH
about 23 hours ago

slmandel

Stewart Mandel


Easier to transcribe. RT @AlbertBreer: Marshawn Lynch answering every question: "I'm here so I won't get fined."
about 23 hours ago

bigtenconf

Big Ten Conference


.@OhioState_MTEN's Ralf Steinbach named #B1G Men's Tennis Athlete of the Week: http://t.co/6tTAYf8jUG http://t.co/J8SQwRTg26
about 23 hours ago

11W

Eleven Warriors


Inked: Nick Conner wanted to be a Buckeye, so he went out and earned it. http://t.co/2ASS12jkCH
about 23 hours ago

ESPN_BigTen

ESPN BigTen


Season report card: Michigan State http://t.co/om85wrCLsx
about 23 hours ago

KyleRowland

Kyle Rowland


Joe Kotoch, who runs http://t.co/W8wlPUxIiq, lists Russell as No. 4 overall prospect. Nineteen of top 50 are freshmen, including top five.
about 23 hours ago

KyleRowland

Kyle Rowland


Russell, Blackmon and Trimble are three of top 7 scorers in Big Ten. Trio's won eight of 11 conference freshman of week awards.
about 23 hours ago

KyleRowland

Kyle Rowland


D'Angelo Russell, James Blackmon Jr. and Melo Trimble are 3 Big Ten freshmen furthering trend of first-year reliance. http://t.co/9Onl59M4hD
about 23 hours ago

OSUADAthComm

Dan Wallenberg


Ohio State's men's (80.0 ppg), women's (81.0) hoops teams both avg 80 or more pts. Notre Dame is only other school to do so (M-81.9/W-85.3).
about 23 hours ago

11W

Eleven Warriors


Chase Complete: To appreciate what Ohio State did, you have understand the "albatross" that was the VT loss. http://t.co/RGAzFrflk4
1 day ago

bigtenconf

Big Ten Conference


.@MSU_Hockey's Jeff Lerg was a three-time Academic All-Big Ten honoree and two-time Academic All-American. #B1G
1 day ago

bigtenconf

Big Ten Conference


.@MSU_Hockey's Jeff Lerg holds a school record with 3,996 career saves from 2005-09. #TraditionTuesday http://t.co/B8sEjWpwDX
1 day ago

OSUADAthComm

Dan Wallenberg


Congrats to Ohio State's D'Angelo Russell, the Oscar Robertson National Player of the Week as selected by the USBWA. http://t.co/g7PW2nT2Zq
1 day ago

Brutus_Buckeye

Brutus Buckeye


Thanks for playing #Buckeyes! See you Thursday at @TheSchott. @OhioStateHoops vs No. 16 Maryland 7PM tip. #GoBucks Beat the Terps!
1 day ago

bigtenconf

Big Ten Conference


.@PurdueMSwimDive's Johnson named #B1G Diver and Freshman of the Week http://t.co/X0iKjb02Wg
1 day ago

bigtenconf

Big Ten Conference


.@umichswimdive's Bosch claims #B1G Swimmer of the Week plaudits http://t.co/Ktp1jz4Fos
1 day ago

bigtenconf

Big Ten Conference


.@umichswimdive's Smiddy is named #B1G Freshman of the Week http://t.co/Zaz1SNwN4y
1 day ago

ESPN_BigTen

ESPN BigTen


Position that needs improvement: Nebraska http://t.co/wISUofHVV8
1 day ago

bigtenconf

Big Ten Conference


.@GopherSwimDive's Zhou earns #B1G Diver of the Week plaudits
1 day ago

bigtenconf

Big Ten Conference


.@GopherSwimDive's Smith earns #B1G Swimmer of the Week honors http://t.co/gg4OAJctIu
1 day ago

Brutus_Buckeye

Brutus Buckeye


SHELLSHOCK THE TERPS! @Kdj36Kristin will be there, will you? $10 D.O.G. tix available beginning 6PM Thu. #GoBucks http://t.co/b1BqCJRpab
1 day ago
BLOG ARCHIVE:
CATEGORIES: