Confident WR likes pass-happy OSU
April, 15, 2013
4/15/13
10:05
AM ET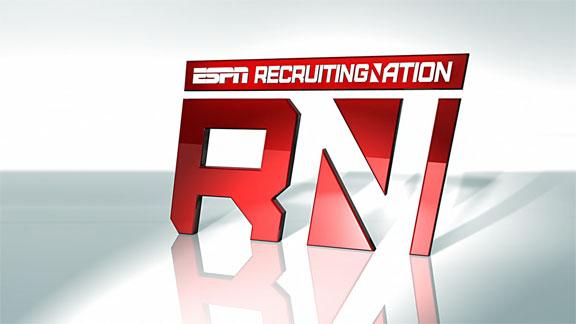 After watching Ohio State in person Saturday at the spring game,
Lonnie Johnson
(Gary, Ind./West Side) said it all in a single tweet.
Afterward, the junior wide receiver said even more.
To continue reading this article you must be an Insider
Insider
Rivalry Week: Michigan-Ohio State
Can Devin Gardner and Michigan pull off a miracle against Ohio State?
Rivalry Week: Michigan-Ohio State
VIDEO PLAYLIST
OSU FB RECRUITING SCORECARD
maksimuspatrick

Patrick Maks


Girl: "Will you jump in with me?"Ohio State senior center Anthony Lee: "Hell no."
about an hour ago

11W

Eleven Warriors


DAMN RT @WorldofIsaac You won't see a better block in college basketball this year. https://t.co/x3t3DAqHcw
about an hour ago

Buckeye_Nation

Buckeye Nation


Hey #BuckeyeNation, O --- H!
about an hour ago

maksimuspatrick

Patrick Maks


#College http://t.co/2VvEVlB1IM
about an hour ago

maksimuspatrick

Patrick Maks


Mirror Lake 2014 http://t.co/AnQtLr2Kyg
about an hour ago

maksimuspatrick

Patrick Maks


Devin Smith and Doran Grant http://t.co/LmfnB9ArV2
about an hour ago

Brutus_Buckeye

Brutus Buckeye


.@BTNJourney @umichfootball Whew! I'm worn out after watching that! LET'S DO IT AGAIN! Whatta ya say Blue? See you in #TheShoe! #GoBucks
about an hour ago

BTNJourney

The Journey


Hey @umichfootball and @Brutus_Buckeye how about a walk down #BTNJourney memory lane? http://t.co/TknM97MkpP.
about an hour ago

Brutus_Buckeye

Brutus Buckeye


🏊 ❄️⛄️ Brrrrrr! #GoBucks Beat Blue! http://t.co/YTuG8JbG2b
about 2 hours ago

lizyoungosu

Liz Young


A man just streaked and jumped into the lake. Fully naked.
about 2 hours ago

11W

Eleven Warriors


So #B1G RT @TerrapinHoops TERPS WIN!! Upset No. 13 Iowa State 72-63 to win the CBE Classic Championship! #WeWill
about 2 hours ago

maksimuspatrick

Patrick Maks


Mirror Lake http://t.co/mBooFSemfF
about 2 hours ago

TheLantern

The Lantern


Some OSU football players are watching from the hill http://t.co/m4qfO0J3Ha
about 2 hours ago

11W

Eleven Warriors


If you're looking for a new follow, we sent @maksimuspatrick to Mirror Lake for tonight's festivities. #nevergraduate
about 2 hours ago

maksimuspatrick

Patrick Maks


This kid is running around like a mad man, bellowing: "WE'VE BEEN WAITING ALL YEAR; GET IN THE F***ING LAKE!" http://t.co/ry7FGQ8LFa
about 2 hours ago

Buckeye_Nation

Buckeye Nation


#OhioState remains No. 6.
about 3 hours ago

bucksinsider

Ohio State News


Ohio State's Noah Spence is permanently ineligible: COLUMBUS, Ohio (AP) — Ohio State def... http://t.co/E2g5coVdcy #buckeyes #ohiostate
about 3 hours ago

Buckeye_Nation

Buckeye Nation


#ItsTimeForWar #BeatMichigan
about 3 hours ago

Buckeye_Nation

Buckeye Nation


It is the NCAA that classifies MDMA as a performance enhancing drug. @gavindillow
about 3 hours ago

Buckeye_Nation

Buckeye Nation


It is the @NCAA that classifies MDMA has a performance enhancing drug. @rinder1983
about 3 hours ago

Buckeye_Nation

Buckeye Nation


#Buckeyes DE Noah Spence ruled permanently ineligible after using ecstasy.
about 3 hours ago

rustymillerap

Rusty Miller


Bama, FSU, Oregon, Miss St keep playoff rankings (from @AP) http://t.co/W0uPUhx9zh
about 4 hours ago

rustymillerap

Rusty Miller


#OhioState's Noah Spence is permanently ineligible (from @AP) http://t.co/dRjl5sGqn5
about 4 hours ago

AWardESPN

Austin Ward


Big Ten denies appeal for Ohio State's Noah Spence, ending his career with the program. http://t.co/tGVxMY5V7s
about 4 hours ago

joe11w

JoeSports


Ohio State's Noah Spence ruled permanently ineligible: The talented pass rusher's Ohio State career is sadly o... http://t.co/m0a6e7rxeF
about 4 hours ago

bucksinsider

Ohio State News


Ohio State football: Buckeyes DE Noah Spence ruled permanently ineligible by the Big Ten:... http://t.co/0uJVS4b2Rd #buckeyes #ohiostate
about 4 hours ago

JMUMRD

Marching Royal Dukes


First 2,500 students at Saturday's game will get FREE T-SHIRTS thanks to @JMUSports!http://t.co/hYOurn8D1d for tix http://t.co/yqRTdnBsSP
about 4 hours ago

11W

Eleven Warriors


Noah Spence's Ohio State career comes to an end as the Big Ten declares the end permanently ineligible. http://t.co/NznJC6gRVz
about 4 hours ago

AWardESPN

Austin Ward


This was always the most likely outcome given the failed drug tests, but the matter is officially closed now for Noah Spence.
about 5 hours ago

AWardESPN

Austin Ward


The appeal for Noah Spence has been denied. He is ruled permanently ineligible by the Big Ten.
about 5 hours ago

11W

Eleven Warriors


Smith's full statement on Noah Spence: http://t.co/a4rntkdqPv
about 5 hours ago

11W

Eleven Warriors


It looks like Noah Spence's Ohio State career is finished. Per a statement from Gene Smith, he's been declared permanently ineligible.
about 5 hours ago

AWardESPN

Austin Ward


HD has answer about The Game, whether OSU needs convincing W. MT @CFBHeather Long said committee understands "rivalry games are special."
about 5 hours ago

Mattaritaville

?attaritaville


Throwback to last year: there's nothing quite like getting a "Stadiu* O-H-I-O" going in the Big House! http://t.co/aqpOf5mmXW #Beat_ichigan
about 5 hours ago

JeffBoals

Jeff Boals


Everyone says you can tell how good a coach is based on their conference record and championships won... Thad Matta! http://t.co/8IsgxXbfSv
about 5 hours ago

11W

Eleven Warriors


The Hurry Up: Ohio State's running back options in 2015 and beyond, Da'Von Hamilton's hears from OSU and more. http://t.co/gV6C4Bboem
about 5 hours ago

bigtenconf

Big Ten Conference


Coach Jerry Kill on #Gophers playing for a chance to represent the West in #B1GFCG. For more: http://t.co/2yqLFTxVQ9. http://t.co/QQrw5d0hKh
about 5 hours ago

ESPN_BigTen

ESPN BigTen


Big Ten bowl projections: Week 13 http://t.co/ELuWTMmtZi
about 5 hours ago

Buckeye_Nation

Buckeye Nation


The greatest rivalry in all of sport! #TheGame #BeatMichigan - view the 2014 trailer -> https://t.co/J9YLHXxS7u
about 5 hours ago

ESPN_BigTen

ESPN BigTen


Playoff breakdown: If the games were today http://t.co/LtwktZo0cz
about 5 hours ago

JMUCoachWithers

Everett Withers


7 Dukes earned All-Conference recognition today. Our players will be judged in the post-season. #NewEra #ItsWhatWeDo http://t.co/TyAGehdrU6
about 5 hours ago

OhioStFootball

Ohio State Football


BREAKING: Ohio State remains at No.6 in the College Football Playoff #CFB http://t.co/9sdOEhQKFa
about 6 hours ago

Brutus_Buckeye

Brutus Buckeye


theohiostatefootball holds at No. 6 in College Football Playoff rankings this week. #GoBucks http://t.co/pz1XbHmnj3
about 6 hours ago

joe11w

JoeSports


College Football Playoff rankings: Ohio State remains at 6: After a lackluster win over Indiana, and a lack of... http://t.co/K7yayHXXGB
about 6 hours ago

bucksinsider

Ohio State News


Buckeyes on Cusp of Special Season Entering Game Against Michigan: Michigan week has arri... http://t.co/Mj98U5Wk27 #buckeyes #ohiostate
about 6 hours ago

bucksinsider

Ohio State News


Out of control: FSU, OSU just win, baby: unable to retrieve full-text contentOhio State f... http://t.co/Szqf49McdB #buckeyes #ohiostate
about 6 hours ago

AWardESPN

Austin Ward


The real winner tonight in the selection show is Jerry Kill. Lot of free advertising for recruits about the job he's done with Gophers.
about 6 hours ago

11W

Eleven Warriors


Ohio State stays at No. 6 in College Football Playoff rankings with regular-season finale against Michigan looming. http://t.co/ZEqlXTvygW
about 6 hours ago

AWardESPN

Austin Ward


As expected, no move for Ohio State this week. Buckeyes still sitting at No. 6, remain in good shape if they win next two games.
about 6 hours ago

JMUCoachWithers

Everett Withers


Shoutout to the JMU Captains for earning All-Conference awards. The foundation is set and the bar has been raised! http://t.co/oB4Vjz15b2
about 6 hours ago

AWardESPN

Austin Ward


Wisconsin now at No. 14. Michigan State has moved into the top 10 once again.
about 6 hours ago

AWardESPN

Austin Ward


Minnesota moves up to No. 18. Committee still digging the Gophers.
about 6 hours ago

Brutus_Buckeye

Brutus Buckeye


Hey @ESPNCFB I'm using this one again. You caught my good side! @CFBPlayoff rankings coming up! #GoBucks http://t.co/e685ouBkTh
about 6 hours ago

KyleRowland

Kyle Rowland


Davis productive in paradise | Former South Side star leads Purdue past Mizzou with defense, career-high 22 points http://t.co/01IfVDaSic
about 6 hours ago

11W

Eleven Warriors


Ohio State's football trailer for The Game is here and you might need to jump into Mirror Lake to cool down. http://t.co/DN76raugCp
about 6 hours ago

joe11w

JoeSports


Joey Bosa named a 2014 Bednarik Award finalist: The award goes annually to the nation's best defensive player.... http://t.co/pZS2Imeswh
about 7 hours ago

Buckeye_Nation

Buckeye Nation


#BeatMichigan
about 7 hours ago

Hot_For_Food

Melissa Pfeister


FYI kids...TTUN has five 6+ loss seasons since 2008.THE OSU has four 6+ loss seasons since 1944.#Boom#Buckeyes #Badass
about 7 hours ago

AWardESPN

Austin Ward


I expect Ohio State to stay at No. 6. But is Michigan State back in the top 10 yet? Will Wisconsin climb? Where does Minnesota land?
about 7 hours ago

AWardESPN

Austin Ward


About 40 minutes until the latest College Football Playoff rankings are released, and the B1G again has some pressing questions.
about 7 hours ago

joe11w

JoeSports


Why is this news?: Chris Carter and Antonio Underwood not playing in 2015, Noah Spence possible return?: All t... http://t.co/lnYhJtQ1qJ
about 7 hours ago

rustymillerap

Rusty Miller


Is it possible for The Game to be a distraction for No. 7 #OhioState? http://t.co/5pjlAcqxA4
about 7 hours ago

bigtenconf

Big Ten Conference


We're on Snapchat, are you? Don't miss out on any snaps this season & add us at bigtenconf. http://t.co/vcaRNuq0AP
about 7 hours ago

bucksinsider

Ohio State News


After Michigan, Buckeyes have big game waiting: COLUMBUS, Ohio (AP) — The Ohio State Buc... http://t.co/rTkcdu4rdS #buckeyes #ohiostate
about 8 hours ago

bucksinsider

Ohio State News


After Michigan, Buckeyes have big game waiting: COLUMBUS, Ohio (AP) – The Ohio State Buck... http://t.co/4jrGD4H1lA #buckeyes #ohiostate
about 8 hours ago

bucksinsider

Ohio State News


Ohio State Vs. Michigan 2014: Prediction, Betting Odds, Preview For Big Ten Football Riva... http://t.co/2ErEcQsEoz #buckeyes #ohiostate
about 8 hours ago

KyleRowland

Kyle Rowland


The state of Indiana owns Missouri. IU beat Tigers in football, Boilers win in basketball.
about 8 hours ago

bucksinsider

Ohio State News


Michigan-Ohio St. Preview: COLUMBUS, Ohio (AP) — – Brady Hoke refuses to contribute to a... http://t.co/eYNpT9AmaO #buckeyes #ohiostate
about 8 hours ago

joe11w

JoeSports


The Ohio State vs. Michigan rivalry: A family tradition: Buckeyes have been celebrating the Ohio State vs. Mic... http://t.co/C4SN23ITX7
about 8 hours ago

KyleRowland

Kyle Rowland


Boilers start fast, don't let up in rout of Missouri http://t.co/7yevu0nr52
about 8 hours ago

OhioStFootball

Ohio State Football


Urban says the Buckeyes better behave vs _cihigan. Click for full story: http://t.co/ESCF3r8GR5
about 9 hours ago

OSUADAthComm

Dan Wallenberg


Campbell up next for @OhioStateHoops Wednesday. Check out the pregame interviews, news and notes http://t.co/0td34tKSEF
about 9 hours ago

KyleRowland

Kyle Rowland


Final: Purdue 82, Missouri 61.
about 9 hours ago

KyleRowland

Kyle Rowland


Rapheal Davis now has career-high 22 points.
about 9 hours ago

bigtenconf

Big Ten Conference


ICYMI: @GopherSwimDive's Zeiger and @RUSwimDive's Walkowiak are Co-Freshmen of the Week #B1G http://t.co/IZ6jMM4sqa
about 9 hours ago

bigtenconf

Big Ten Conference


.@HuskerSwimNDive's Schwery is Diver of the Week #B1G http://t.co/QogiGWHRPG
about 9 hours ago

bigtenconf

Big Ten Conference


ICYMI: @GopherSwimDive's Smith is Swimmer of the Week #B1G http://t.co/Vh7cC0dFbG
about 9 hours ago

bigtenconf

Big Ten Conference


ICYMI: @OhioState_MSwim's Seal is Freshman of the Week #B1G
about 9 hours ago

bigtenconf

Big Ten Conference


.@PurdueMSwimDive's Johnson is Diver of the Week #B1G http://t.co/0imI2M8QFh
about 9 hours ago

bigtenconf

Big Ten Conference


ICYMI: @NUSwim's Wilimovsky is Swimmer of the Week #B1G http://t.co/EtNA4E8OhK
about 9 hours ago

bucksinsider

Ohio State News


Saturday vs MCH is the cheapest meeting of the past 5 seasons. Grab tickets from $120 here: http://t.co/xTCjn4Deql http://t.co/H33oS1w2TN
about 9 hours ago

KyleRowland

Kyle Rowland


Rapheal Davis has been aggressive taking the ball to the hole. He's got 16 points now, 10 coming from the free throw line.
about 9 hours ago

Brutus_Buckeye

Brutus Buckeye


.@pcdulac @SportsNation @GoodyearBlimp Good call! 😉 #GoBucks Beat Blue! http://t.co/znbes5eDSy
about 10 hours ago

ESPN_BigTen

ESPN BigTen


Best of Big Ten Week 14 conference call http://t.co/Lk5YpZiDhC
about 10 hours ago

Brutus_Buckeye

Brutus Buckeye


Part 2 ... #TheShoe #GoBucks http://t.co/JABLeVYZHm
about 10 hours ago

Brutus_Buckeye

Brutus Buckeye


Soooo ❌any #TheShoe Selfies fro❌ IU! Great stuff ❌y Buckeyes! #GoBucks http://t.co/mpHroKakLn
about 10 hours ago

KyleRowland

Kyle Rowland


Purdue laying it on Mizzou. It's 58-24 with 13:47 left. Boilers great at both ends of court.
about 10 hours ago

Brutus_Buckeye

Brutus Buckeye


Sooooo _any #TheShoe Selfies fro_ IU! Great stuff my Buckeyes! #GoBucks http://t.co/6g0Fb8Z3zo
about 10 hours ago

OhioStAthletics

Ohio State Buckeyes


Conf Matta: (Scott) in his career hasn't been real good after a good game. He answered the call & that's a good sign. http://t.co/VFebsmSqTv
about 10 hours ago

KyleRowland

Kyle Rowland


Another day, a better first half http://t.co/J5ksqIZQFO
about 10 hours ago

11W

Eleven Warriors


In a game treated by coaches and players like war, why are we so stunned when Ohio State & Michigan actually fight? http://t.co/6fQSEnOgi9
about 10 hours ago

joe11w

JoeSports


Ohio State football history: The Game, 1970: Ohio State welcomed That Team Up North to Ohio Stadium in 1970 lo... http://t.co/98gg6W6IZC
about 10 hours ago

B1Gfootball

Big Ten Football


Mike Hopkins of @IlliniFootball & former @umichfootball QB Brian Griese recognized for leadership & humanitarianism. http://t.co/LsCggvX3ak
about 10 hours ago

KyleRowland

Kyle Rowland


Former South Side standout Rapheal Davis with game-high 11 points during first half. Purdue up 45-20. Mizzou just 7 of 29 from field.
about 10 hours ago

OhioStAthletics

Ohio State Buckeyes


Comments coming up from Thad Matta & @Treyisreal on game vs Campbell 7pm Tues. @TheSchott #GoBucks http://t.co/FOvtxWEgLZ
about 10 hours ago

Brutus_Buckeye

Brutus Buckeye


Nothing is more Blimpworthy than THE GAME! Bring it to #TheShoe! Vote: http://t.co/ENuiDXXGnD #GoBucks @SportsNation http://t.co/sDEw1M3ifv
about 10 hours ago

KyleRowland

Kyle Rowland


Going to be a long year for Kim Anderson and the Missouri Tigers.
about 10 hours ago

11W

Eleven Warriors


On the B1G teleconference, Urban Meyer says there's no new information on Noah Spence's appeal. "I'm not involved." http://t.co/US4B2hHW4f
about 10 hours ago

bigtenconf

Big Ten Conference


Keener leads the #Spartans to the 3rd round of the 2014 #NCAA Men's Soccer Tournament and will host Washington on Sunday.
about 11 hours ago
BIG TEN SCOREBOARD
Friday, 11/28
Saturday, 11/29
BLOG ARCHIVE:
CATEGORIES: