August, 20, 2014
Aug 20
2:11
PM ET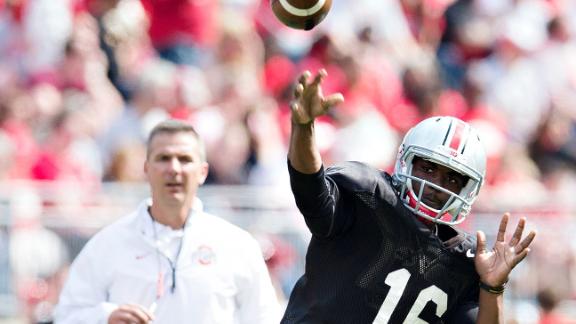 COLUMBUS, Ohio -- Ohio State coach Urban Meyer isn't ruling out that it may eventually take two quarterbacks to fill one spot.
But as the Buckeyes start digging into the game plan for their opener now that Braxton Miller officially will miss the coming season, they are planning on redshirt freshman J.T. Barrett stepping into the considerable shoes of the two-time defending Big Ten Offensive Player of the Year at the start.
"J.T. has had about 300 competitive throws -- not snaps, throws -- this fall," Meyer said after practice Wednesday. "Where when [former backup] Kenny Guiton went into the game a couple years ago, I think he had six. He's had a bunch, and he's a meticulous guy, and Cardale [Jones] has come a long way, as well.
"Quarterback is an important cog, but that's exactly what is -- a cog. It's not the team."
Miller was undoubtedly the centerpiece of a team that was projected as a playoff contender, and replacing his prolific production is no small task. Barrett, though, has been widely praised for his accuracy, his attention to detail off the field and enough athleticism to continue to give the Buckeyes a rushing threat at quarterback even without Miller in the fold.
August, 20, 2014
Aug 20
11:25
AM ET
August, 20, 2014
Aug 20
11:18
AM ET
August, 20, 2014
Aug 20
8:00
AM ET
Tis the season to name starting quarterbacks, not to lose them.
News of
Braxton Miller
's season-ending injury at Ohio State is dominating the headlines. But the Buckeyes won't be the last Big Ten team this year to go in search of an alternate plan at QB. Last year, 10 of the current 14 teams in the league used at least two starters at the position.
Here's a ranking of Big Ten teams most equipped to handle an injury to their top quarterback:
Around the league ...
East Division
West Division
And finally . . .
August, 19, 2014
Aug 19
4:15
PM ET
Some national reaction to the news of
Braxton Miller
's season-ending shoulder injury is focusing not only on the harsh consequences for Ohio State but also on the impact for the Big Ten as a whole.
Mark Schlabach basically says the league's quest
for a spot in the College Football Playoff took a huge hit.
To that, I say let's all slow down for just a bit. Some key counterpoints to consider:
[+] Enlarge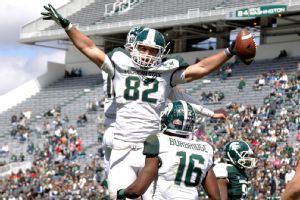 AP Photo/Al GoldisTo say the loss of Braxton Miller dooms the Big Ten's College Football Playoff chase is demeaning to the defending Rose Bowl champs.
1. It's Aug. 19. To pretend any of us has any idea what will happen in an upcoming college football season is to ignore history. How many pundits picked Auburn to make the BCS title game last year? I'm guessing most people would have sold their stock on Michigan State's season after the Spartans' lost at Notre Dame on Sept. 21. They turned out all right.
2. Ohio State isn't suddenly going to turn into a 6-6 pumpkin. There is still a ton of talent on this team. I watched an entire practice this spring in which Miller did not participate. I was still blown away by the speed and athleticism on the roster. Are the Buckeyes a top 10 team now? Maybe not. But they will still be, at the very least, a top 20 club. They're probably not a playoff team, but beating Ohio State won't be a meaningless win for other Big Ten teams, either.
3. There is more than one team in the Big Ten. Sure, the Buckeyes have been the league's flag-bearer for most of this century and have more national credibility than any other conference program. But don't forget the Buckeyes haven't won an outright Big Ten championship since 2009. There is no guarantee they would have claimed one this year, either, as Michigan State, Wisconsin, Iowa and Nebraska are all legit title contenders.
4. Let's go back to Michigan State here. The Spartans proved themselves as elite the past year, as they finished No. 3 in the final polls and beat Stanford in the Rose Bowl. Mark Dantonio's team goes to Oregon in Week 2 in a game that
could define their season
. If the Spartans win there, assuming Oregon goes on to have a very strong season, they will be formidable playoff contenders no matter what else is going on in the Big Ten. Even if, say, they lost to the Ducks by a field goal, going undefeated the rest of the way should be enough to get Michigan State into the field of four.
5. Let's say another team from the West -- such as Iowa or Wisconsin, should the Badgers beat LSU in the opener -- runs the table. Don't you think a Big Ten championship game featuring the Spartans and an undefeated West team would get the attention of the selection committee? Iowa and Nebraska probably need a zero in the loss column, while Michigan State and Wisconsin could afford a setback, given their marquee nonconference opposition. And, hey, who's to say Ohio State doesn't go 12-0 again, even without Miller? Urban Meyer has yet to lose a regular season game in Columbus, after all.
The bottom line is there are far too many variables -- including what goes on in the other Power 5 conferences -- to count the Big Ten out at this early date. The path to Pasadena (or, less likely, New Orleans) certainly got a lot bumpier with the loss of the league's best player. But the road hasn't been closed yet.
August, 19, 2014
Aug 19
3:30
PM ET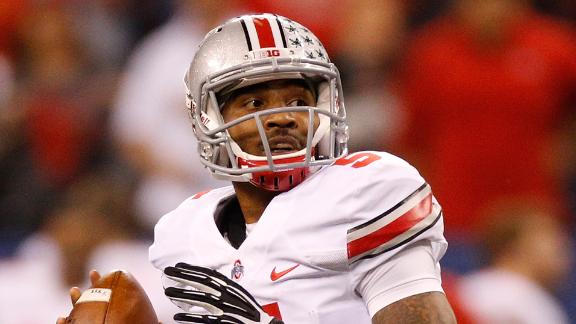 Wait a minute,
Michigan State Spartans
fans.
Hang on a second,
Virginia Tech Hokies
.
Braxton Miller
's season-ending injury
wasn't good for anyone
. Not the
Ohio State Buckeyes
. Not the Big Ten. And not the inaugural College Football Playoff -- or any of Ohio State's opponents trying to get there.
Put simply: Beating a ranked Ohio State team led by a Heisman contending, veteran quarterback would carry more weight in the eyes of the 13-member playoff committee than a win against a 9-3 team led by a rookie quarterback who hasn't played in two years. (This is all assuming, of course, that
J.T. Barrett
will play like the redshirt rookie he is.) If Ohio State is now weaker -- a logical assumption following the injury to one of the nation's best quarterbacks -- then its opponents' strength of schedule just got weaker, too.
And so did the Big Ten.
In spite of Michigan State's ascension (not to mention its 2013 win against the Buckeyes), the Big Ten has still been measured by Ohio State in the court of public opinion. The Buckeyes had two things going for them this season: Miller and arguably the best defensive line in the country. Even with having to replace four starters on the offensive line, there was enough confidence in Urban Meyer's recruiting to consider the Buckeyes a true contender for the playoff. Now, Michigan State clearly has more answers and should be the clear-cut favorite to win the East Division, but would a win against Oregon in Week 2 be enough to propel the Spartans into the playoff?
Not if the selection committee shares the public's perception of the Big Ten, which has lost 25 of its past 33 games against ranked, power conference competition and Notre Dame. The Big Ten hasn't played for a national title since Ohio State's last appearance in 2007. As a Power Five conference, the Big Ten has been playing catch-up to the SEC (like everyone else), the Pac-12 and even the ACC, which finally raised its profile with Florida State's national title.
Virginia Tech's schedule, though, looks like a cotton ball with the exception of their visit to Ohio State in Week 2. With North Carolina the only other ranked opponent on the schedule, and seven home games, the Hokies could be one of the country's most deceiving teams come November. A road win against a full-strength Ohio State team would have shocked the country and propelled the Hokies into the playoff conversation.
Now? Strength of schedule will be called into question, but Virginia Tech isn't alone.
Should Michigan State win the East and play in the Big Ten title game, it's debatable whether a win against the West Division winner would do much to further impress the committee. The East is the stronger and more compelling race, as three teams in the West had losing records last season (Northwestern, Purdue and Illinois), and Nebraska was the only team to win its bowl game.
Fair or not, Ohio State was entering this season carrying the banner for the entire conference once again. The Buckeyes certainly aren't doomed -- there are plenty of rookie quarterback success stories for a blueprint, and Barrett could easily join them. The big picture, though, has certainly changed. After what was easily the most impactful playoff news of the summer, the Buckeyes aren't the only ones who have lost.
August, 19, 2014
Aug 19
2:40
PM ET
This year the Big Ten welcomes Maryland and Rutgers and says goodbye to the Legends and Leaders divisions in favor of the more traditional East and West. On paper, the East looks much, much stronger, but many longtime followers of the conference (including me) are happy that the Big Ten put both Ohio State and Michigan in the same division, avoiding a possible back-to-back rematch in the Big Ten title game.
Due to some advantageous conference scheduling, which sees many of the top teams avoiding one another in cross-division play, the Big Ten has six or seven teams capable of finishing in the Top 25, with two (Michigan State and Wisconsin) having legitimate shots at getting to the first College Football Playoff. While I think the Buckeyes will be competitive, I just don't see them contending for a national title without injured quarterback Braxton Miller.
Here are my 2014 projected Big Ten standings:
---
Big Ten East

Projected record: 11-1
Early lines on toughest games:
at Oregon (plus-14), Ohio State (minus-4)
Michigan State returns seven starters on offense, led by QB Connor Cook and RB Jeremy Langford, while the defense must replace six starters, including three All-Americans. But defensive end Shilique Calhoun, who's on my preseason All-America list, returns and, most importantly, so does defensive coordinator Pat Narduzzi.
Although I have the Spartans listed as a two-touchdown underdog at Oregon in Week 2, Michigan, Ohio State and Nebraska all have to travel to East Lansing. I have MSU favored in every Big Ten game, as the Spartans are now the clear league favorites with Miller out for the Buckeyes.
College Football Minute
BIG TEN SCOREBOARD
Thursday, 8/28
Friday, 8/29
Saturday, 8/30