September, 19, 2014
Sep 19
9:40
AM ET
Eric Glover-Williams
is one of many talented players to come from Canton McKinly high school in Ohio. Glover-Williams was presented with his Under Armour All-America jersey on Friday and thanked his family and those past players from his school for helping him earn this honor.
Glover-Williams mentioned his current teammates, but also former standout Mike Doss as someone who he looks up to and someone who has given him advice along the way. They share the same high school and will soon share the same college as Doss played for Ohio State and Glover-Williams is committed to the Buckeyes.
"He played for McKinley and then went to be a Buckeye and then the NFL to play for the Colts. He won a state championship, a national championship and then he also won a Super Bowl," "lover-Williams said. "He came to my game last week, and he and my dad are really close friends. He always tells me going to Ohio State, it's not really about playing football, it's about getting your education. When you go to Ohio State you're set for life, so just do what I have to do."
Glover-Williams expressed his excitement to be able to go against some of the top talent in the country in the prestigious game, and shared some facts about himself that the fans might not know.
#ESPN300 Eric Glover-Williams putting on his Under Armour Jersey https://t.co/yPospEZ0KA

— Tom VanHaaren (@TomVH) September 19, 2014
.
If you could start a team with any other player in your class who would it be?
I would probably start my team with
Reggie Rogers
. He's a good receiver, he has nice speed and I've known him for a long time.
What is your earliest football memory?
Probably playing at Fawcett stadium when I was younger, playing for a championship. Around the age of eight, it was our midget league. It was my first year of tackle, played for my dad's team, we were called the Bears. We played the Cowboys in the Championship game. I played running back, back then I was bigger than everyone.
Which football player did you idolize growing up?
Tyrann Mathieu
, just because he had a struggle. Everyone doubted him and he came back and now he's doing his thing in the NFL. Also, I would like to say Mike Doss, even though he's not playing anymore.
If you could take on any pro player in any sport who would it be?
I'd like to go against (Jadeveon) Clowney. It would be fun to go against him. I would try to make a move on him, quick. I'd be coming out of the backfield.
Why do you wear the number you wear?
Tyrann Mathieu is one of my favorite players, so I like the number seven. The number seven is in the bible, so that's another reason why I wear the number seven. I'll talk to Ohio State about it, it's either seven or two because Mike Doss wore number two.
What's one thing people would be surprised to know about you?
I'm not sure. I play baseball. I work at the airport, I cook for all the restaurants in the area. I cook anything from hamburgers to taco salads. I like to make quesedillas.
Eric Glover-Williams and family making the O-H-I-O pic.twitter.com/8o2jgiiHwZ

— Tom VanHaaren (@TomVH) September 19, 2014
.
September, 18, 2014
Sep 18
6:54
PM ET
September, 18, 2014
Sep 18
8:00
AM ET
Hitting on the hottest topics in the Big Ten before sweeping through the league ahead of another critical non-conference Saturday.
1. Minnesota's QB quandary:
There's not exactly a controversy under center, since the Gophers have made it quite clear that
Mitch Leidner
is the top option to lead the offense. But for the second week in a row, there have been questions about his health, and therein lies the uncertainty that could turn this into a more pressing issue for Jerry Kill. The Minnesota coach pegged Leidner at 100 percent on his injured knee last week, but Saturday something else popped up with his foot -- though Kill shot down reports of a broken bone and seemed puzzled by where they came from. Backup
Chris Streveler
has appeared in all three games and was needed to finish the last two, and at some point if he keeps handling himself well and if Leidner's bumps and bruises remain a weekly topic of conversation, perhaps the Gophers may find themselves in the midst of a real controversy. This week it probably won't matter given the way Minnesota ran the ball all over San Jose State last year. But Michigan is looming next week, and the Gophers would likely be better off if they didn't have to keep answering questions about their starting quarterback.
2. Waiting game for Buckeyes:
From the outside, the case seems pretty open and shut regarding
Noah Spence
's latest failed drug test and what figures to be permanent ineligibility for the All-Big Ten defensive end. But there hasn't yet been an official verdict handed down, so Ohio State coach Urban Meyer confirmed after practice Wednesday night that Spence was still practicing with the team while "doing things to get healthy." Given what would seem to be a long-shot appeal combined with the serious tone from the Spence family when they addressed a "medical illness" to the Columbus Dispatch last week, it is somewhat surprising that the star junior would be back on the field at all right now while each of those separate, but related, issues are sorted out. Meyer stressed that Ohio State was doing what it could to support him, and if Spence is eventually cleared for a return, everybody involved would surely want him ready to play again. So unless or until the Big Ten tells him otherwise, Spence is still working out with the Buckeyes and waiting for the next update on his status.
3. Heat is on Hawkeyes:
The running game is struggling. The kicking game looked like a fire drill even when the field-goal unit hit a clutch attempt last weekend. Kirk Ferentz is under fire with his clock management skills being questioned. And after dealing with all that in the aftermath of the loss to Iowa State, the Hawkeyes have to hit the road to play unbeaten Pittsburgh before diving into conference play. Maybe Iowa could actually use that traveling time to bond and rally against the odds that seem to be stacking up against the program, because it's pretty clear the team needs a spark. The Hawkeyes were a trendy dark horse pick to win the West, and no matter what happens at Pitt it should be fine next week at home to open conference play against Purdue. But it's time for them to show they really have what it takes to contend this fall.
East Division
West Division
September, 17, 2014
Sep 17
8:50
PM ET
COLUMBUS, Ohio -- Ohio State Buckeyes coach Urban Meyer is standing behind indefinitely suspended defensive end Noah Spence, and that includes allowing him to remain with the team while the junior awaits word on his status moving forward.
Meyer confirmed Wednesday night that the All-Big Ten performer was still practicing with the Buckeyes, though nothing has changed in terms of his ineligibility for games after failing a second drug test last week just as he was due to return from a three-game suspension for his first positive test.
"Yeah, he actually practiced today," Meyer said. "He's doing things to get healthy, but he's also -- you know, we're supporting him."
Spence is entitled to an appeal, and at this point Ohio State has offered no timetable for when a resolution about his availability might be reached.
Coming off a season in which he led the Buckeyes with eight sacks, Spence is facing the possibility of permanent ineligibility for testing positive a second time for a banned substance, according to the Big Ten handbook.
A source told ESPN.com's Adam Rittenberg that it's a "long shot" Spence will be cleared to return to the Buckeyes, but until that becomes official, the program is still allowing him to take part in team activities.
"You know, the only comment I'll make on the whole situation is that it's a tough deal for Noah and his family and we're going to support him the best we can throughout the situation," co-defensive coordinator Chris Ash said Saturday. "If he gets an opportunity to play football again one day, great. But we're here to help him receive the help that he needs."
September, 17, 2014
Sep 17
2:00
PM ET
Three weeks' worth of games are in the book. That's not enough to decide the individual award races in the Big Ten, but it won't stop us from figuring out where those races stand.
Our Big Ten reporters are voting weekly on the races, with players receiving five points for a first-place vote, four for a second-place nod, etc. Also, we try hard to base these standings on 2014 season results only, not any preconceived notions or a player's previous track records.
Here's how things shake out:
Graham-George Offensive Player of the Year
1. Nebraska RB Ameer Abdullah
(Five first-place votes): Abdullah gets the unanimous nod on offense as he
continues to power up
the Huskers attack.
2. Penn State QB Christian Hackenberg
: He has become the master of the two-minute drive, and he leads the Big Ten in passing.
3. Indiana RB Tevin Coleman
: He leads the Big Ten in rushing yards (437) and rushing touchdowns (five) despite having played just two games. He's averaging 9.3 yards per carry.
4. Michigan State QB Connor Cook
: His completion rate is over 68 percent, and Cook can build on his stats against Eastern Michigan and Wyoming the next two weeks.
5. Illinois QB Wes Lunt
: He wasn't able to summon late-game magic at Washington in Week 3 but still is among the league's top passers.
Also receiving votes
: Michigan RB Derrick Green; Wisconsin RB
Melvin Gordon
; Minnesota RB David Cobb; Nebraska QB Tommy Armstrong Jr.
Nagurski Woodson Defensive Player of the Year
1. Penn State DT Anthony Zettel
(5): Another unanimous pick, Zettel has been a monster in the early going for the Lions. He leads the Big Ten in tackles for loss, with seven, to go along with three sacks.
2. Ohio State DE Joey Bosa
: He's tied for the league lead with two forced fumbles, in addition to 3.5 tackles for loss and 1.5 sacks.
3. Iowa DT Louis Trinca-Pasat
: His strong start to the season continues, as he has four tackles for loss along Iowa's strong defensive front.
4. Wisconsin S Michael Caputo:
He and the Badgers were off last week but should get a test from Bowling Green's fast-paced offense.
Also receiving votes
: Penn State LB
Mike Hull
; Rutgers DE Kemoko Turay; Minnesota LB
Damien Wilson
; Michigan State DE Marcus Rush; Ohio State LB Joshua Perry.
September, 17, 2014
Sep 17
1:00
PM ET
COLUMBUS, Ohio -- The distribution skills were on full display, and the football found its way into the hands of just about everybody Ohio State needed to touch it.
The command of the offense, the ability to push the tempo, the poise when plays weren't going perfectly that had been discussed so much over the last month were all plain to see.
When the showcase was all over, there was also more evidence that the Buckeyes could really keep their offense rolling without a hitch while breaking in a new quarterback and plenty of reasons for the guy now in that position to feel confident he can lead that attack.
[+] Enlarge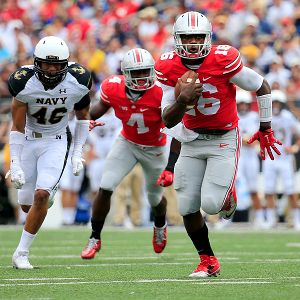 Rob Carr/Getty ImagesJ.T. Barrett is gaining confidence each week, and the Buckeyes' offense has seen it pay off.
It was the outing that
J.T. Barrett
probably needed a couple weeks ago before taking on a fundamentally sound Navy defense or the exotic, aggressive Virginia Tech unit that terrorized him the following week in an upset loss. But no matter the quality of the opponent, and regardless of whether it was the redshirt freshman's third start or his debut, what the Buckeyes saw last Saturday in a blowout of Kent State was what they were expecting all along.
"I think for the first three games of this season, a lot of it has to do with just learning on the fly," Barrett said. "I feel like I'm progressing each week.
"That's just game reps. That's one thing Braxton [Miller] told me. At first, everything is going to be flying around and you aren't going to be sure about everything, but as you go, things start slowing down. That's game experience, and there's only one way to get it. Being in a game really helps."
Barrett has been in only three of them since taking the reins from Miller after his season-ending shoulder injury during training camp, and the results have been understandably mixed so far.
The Buckeyes were held without a touchdown during Barrett's first half as a starter against Navy, but eventually the rushing game found some traction and he delivered a pair of touchdown passes down the stretch to help pull away for a win. He accounted for a couple more scores against the Hokies, but those were overshadowed by his three interceptions and the relentless onslaught he was under while being sacked seven times in a defeat that sent Ohio State spiraling in the polls.
Kent State had nowhere near the talent or ability to execute defensively as those two opponents, and the Buckeyes made easy work of it with Barrett tying a school record with six touchdown passes as he completed 23 of his 30 attempts for 312 yards. But it was still a defense he had never seen before, another opportunity to play in front of a huge crowd, a fresh chance to apply the play calls from offensive coordinator Tom Herman and test his own ability to read coverages and make the right decisions.
"I think what he got out of it was confidence, experience, the fact that he's seeing plays over and over and over again versus different defenses, versus different blitzes, versus different coverages," Herman said. "It allows him, not overusing the word, to get the experience necessary to not be surprised when things happen when certain plays are called.
"I thought we accomplished that."
No matter who exactly was lining up against him, there was value in that mission for the Buckeyes on Saturday that went beyond simply getting a win.
Maybe it would have had even more importance for Ohio State if it could have somehow let him start building his experience against a team like Kent State earlier, but that doesn't make any difference now. There's obviously no changing the schedule or the outcomes already in the books, but either way Barrett and the Buckeyes can build off his record-setting performance as they move forward and try to climb back into national contention with so much of the season left in front of them.
"Obviously there was a little talent advantage, but we had to have a game like this," coach Urban Meyer said. "Normally that's a first game, especially when you have a young quarterback and a young offensive line, but I'm glad we played like we did.
"Early in the first half, I wanted to throw a lot. I wanted to force him to make plays. ... I thought he played good. There were a couple misses, too, some plays we could have had. But a young quarterback needs to go through that, and we're still figuring out exactly how we're going to move the ball as an offense once we start getting into the Big Ten season."
There's a bye this week and another nonconference date waiting against Cincinnati before the Buckeyes actually get to dive into league play. But they got a glimpse at what the offense might look like when Barrett gets it clicking, and after gaining a little more experience in the process, he might be one step closer to doing that more often.
September, 17, 2014
Sep 17
10:00
AM ET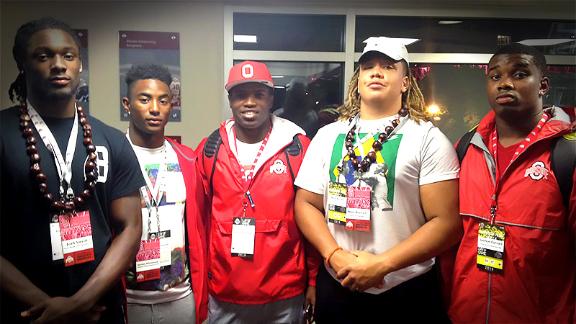 It's a vicious cycle. You have to win to get the right recruits, and you have to get the right recruits to win. That's the merry-go-round the Big Ten conference is currently on, and depending on who you ask, recruits have varying opinions on the conference.
Prospects from the North tend to believe the conference is still in the upper echelon, while a good amount of Southern recruits would say quite the opposite.
The Big Ten has an overall record of 24-14 with only two undefeated teams left, compared to the SEC with eight undefeated teams. The Big Ten also has the lowest winning percentage (63 percent) this season for any Power 5 conference, according to ESPN Stats & Information.
You could argue that there is a direct correlation to those wins and losses when comparing the number of big-name commitments as well. The SEC currently has 87 ESPN 300 prospects committed where the Big Ten has 27.
An ESPN 300 prospect from the South who wished to remain anonymous believes part of the Big Ten's problems on the field and recruiting have to do with geography and coaching.
"The recruiting areas from the North and Midwest aren't really a hotbed for recruiting. Plus, other than Ohio State or maybe Michigan, there's not really any big cities or things you can sell recruits on outside of the university," he said. "Like what does a kid from Florida do at some of those places? Plus, getting a well-known coach like Urban Meyer is a big reason why kids down here like Ohio State.
"They know he can turn things around there and they'll win. They need to get bigger-name coaches where kids can say, 'Yeah, I know him and I know he'll get me ready for the NFL.'"
That isn't the sentiment for every prospect, but plenty of other Southern ESPN 300 recruits agreed with this thinking.
The Northern prospects interviewed did believe the conference is top-heavy with a few teams in the national championship conversation every year, but they had different thoughts on the outlook as a whole.
September, 17, 2014
Sep 17
8:00
AM ET
Nebraska-Miami occupies a special place in my heart and mind. Their games of the 1980s and '90s symbolized an era of college football. It was power versus speed, stability matched against flash.
The programs' styles stood in perfect contrast. Yet in four Orange Bowl meetings over 11 years, they made for the game's best of unlikely rivalries. Though Nebraska slipped from the top in the midst of that decade, by the end, it had supplanted Miami like the Hurricanes did to Tom Osborne's team after the 1983 season.
The Hurricanes visit Lincoln on Saturday night. The thought of those two helmets together again stirs emotions. It feels big -- bigger, apparently, than it is.
ESPN's matchup-quality metric ranks games on a zero-to-100 scale, based on the team's spots in the
Football Power Index
and the expected competitiveness. It was jarring this week not to find Nebraska-Miami among the top five matchups in Week 4.
It's Nebraska-Miami, after all. When these two have met historically, it's not just the biggest game of the week; it's the biggest of the year.
But today in college football, Florida-Alabama (91.6 matchup quality), Clemson-Florida State (90.5), Mississippi State-LSU (90.1), Oklahoma-West Virginia (87.2) and Auburn-Kansas State (87.0) earn higher billing than the Huskers and Hurricanes.
I heard an intriguing question this week: What program is better positioned, Nebraska or Miami, to make a run at the top again? I can't say definitively. Nebraska's infrastructure and internal resources favor it; Miami's natural resources are a big advantage.
But until Nebraska-Miami cracks the top five most important games on a September weekend, neither team is in position to join the national conversation.
Another interesting question: What Big Ten team on Saturday matched against a Power 5 opponent is most in need of a win this week? Other than Nebraska-Miami, Iowa visits Pittsburgh, Maryland visits Syracuse, Utah plays at Michigan and Indiana visits Missouri. While I'm tempted to pick Iowa, but my answer is Michigan. A loss by the Wolverines against the high-flying Utes, who won at the Big House in 2008, would serve to draw another parallel between this staff and the previous regime. And that's not good for Brady Hoke. Neither are all these turnovers.
Columnist Rick Brown of the Des Moines Registers urges Iowa fans upset with Kirk Ferentz to be careful what they wish for. I understand the sentiment and agree that Iowa does more with less better than several Big Ten counterparts. But have you watched the Big Ten lately? Why use Illinois and Minnesota as the measuring stick? It's OK to set the bar high. Fans ought to be upset with the Hawkeyes' offensive play. Don't apologize for reasonable expectations.
Around the rest of the league:
East Division
West Division
September, 16, 2014
Sep 16
3:00
PM ET
Another week, another Big Ten coaches' teleconference. Here are some of the highlights from today's session featuring all 14 league coaches:
Dantonio on ex-Spartan QBs winning in the NFL: OC Dave Warner "did an outstanding job with those guys ... We attract a high-quality player."

— Mitch Sherman (@mitchsherman) September 16, 2014
Franklin says DaeSean Hamilton didn't start coming on until this summer. Started hearing buzz on him from players after voluntary workouts.

— Brian Bennett (@BennettESPN) September 16, 2014
Edsall: We're scoring points, moving the ball. But we're doing some things to shoot ourselves in the foot.

— Brian Bennett (@BennettESPN) September 16, 2014
Urban Meyer on the bye: "We're really going to get after it" because Cincinnati can cause problems next week.

— Austin Ward (@AWardESPN) September 16, 2014
N'western's Fitz on how his team lost its edge:"We lost two games, that's how it was lost." Well, simple enough.Should get some back vs. FCS

— Josh Moyer (@ESPNJoshMoyer) September 16, 2014
Kirk Ferentz on Iowa's struggles running the ball: "Our opponents have done a good job of trying to take that away from us."

— Mitch Sherman (@mitchsherman) September 16, 2014
Kill expects QB Mitch Leidner to practice today, reports of a broken toe aren't true.

— Dan Murphy (@DanMurphyESPN) September 16, 2014
Flood says Penn State DT Anthony Zettel is "as good as anybody in the country."

— Brian Bennett (@BennettESPN) September 16, 2014
Geronimo Allison's TD catch last week "rates with some of the great ones I've been around," Beckman says.

— Dan Murphy (@DanMurphyESPN) September 16, 2014
September, 16, 2014
Sep 16
11:15
AM ET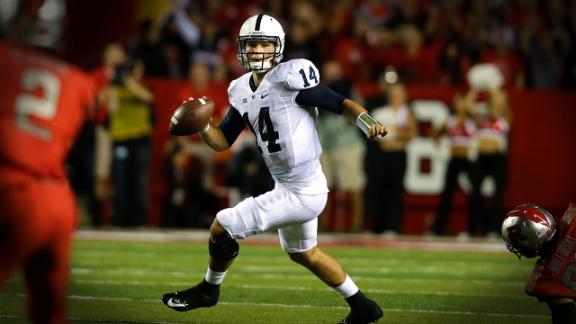 Penn State picked up some good news from the NCAA, which resulted in more positive news on the recruiting trail this weekend. Ohio State solidified its spot in a top target's list, and a few new offers were extended this week.
Here is a look at the latest happenings on the recruiting trail within the Big Ten.
To continue reading this article you must be an Insider
September, 16, 2014
Sep 16
8:00
AM ET
Concerns about the new College Football Playoff and its impact on how we watch games have made their way into the national conversation this week. What took so long?
After three weeks of trying to place even the most meaningless wins and losses into the context of how they might affect which four teams will battle for a national championship in January,
some are starting to worry
that the new system might be sucking the joy out of Saturdays in the fall.
Is the cycle of playoff-centric predictions and analysis stripping the magic away from upsets and heroic moments? Will fans lose interest once they're told their team no longer has a title shot? Michigan State coach Mark Dantonio felt it necessary to tell his followers that
not all hope was lost after a Week 2 defeat in Oregon.
While it's probably a good thing that the setters of national storylines are treading cautiously around the long-awaited change to the postseason, it's not time to yearn for the good ole days of the BCS quite yet. Part of the overemphasis on playoff discussion can be blamed on the system still being a new, shiny mystery. No one knows how the 13-person committee will weigh each contender yet. Some of that will fade in future years when the college football court develops a precedent.
Another part of the saturation comes from the heavy slate of inter-conference competition that occurs each September. With only four playoff spots available to five conferences, the battle to establish a positive perception before falling into league play is intense. That posturing is less likely to fade, making the future of college football a more tribal affair. The SEC won't be the only fanbase chanting for its conference after big wins, and that doesn't sound like a bad byproduct of the playoff hype.
Even in our unsettled present state, a crowd of red bandana-wearing Boston College students didn't seem bothered by the fact that they aren't playoff contenders while storming the field to celebrate their upset of USC Saturday night. Iowa's last-second loss to in-state rival Iowa State was neither more nor less gut-wrenching than it would have been in the BCS era. Fear not, the magic isn't gone. There's still plenty to play for without the hope of a College Football Playoff berth.
And speaking of playing for more than a playoff spot, kudos to Penn State quarterback
Christian Hackenberg
and the rest of his Nittany Lions teammates who showed up or stayed in Happy Valley despite having the opportunity to back away penalty-free from a team that wasn't eligible for any bowl games until a week ago.
That's when the NCAA decided it wasn't going to punish current players for the past sins of the program's coaches and administrators. After leading a fourth-quarter comeback against Rutgers Saturday night,
Hackenberg told reporters that the lack of a postseason goal helped bring his team closer together
. Now that Penn State is atop the Big Ten East Division and eligible for bowl games, he says the camaraderie they built "is not going to change for a while."
And now, without further ado, the links:
East Division
West Division
Meyer Depressed At Florida