November, 23, 2014
Nov 23
11:34
AM ET
With only two weeks remaining until the playoff committee's final rankings, contenders are running out of chances to win their way into the four-team field.
Although it's not a prediction of the committee's top 25, the Playoff Forecast will use the ESPN Football Power Index and human logic (i.e., the eye test) to determine which teams are best positioned when the committee announces the playoff teams on Dec. 7. These rankings take into account perceived team strength (including injuries), remaining schedule difficulty (including prospective conference championship games) and the current selection committee rankings.
---
FPI's chance of winning out: 59.9 percent
FPI's chance of winning the conference: 66.6 percent
Although Oregon has no more home games, I feel slightly better about its chance to win out than the other two teams that seem to control their playoff destinies (Florida State and Alabama). The Ducks are at Oregon State this week, and their likely Pac-12 title game opponent is UCLA, whom they dominated at the Rose Bowl on Oct. 11. But the Bruins have played much better of late and could pose a threat to Oregon if they can first clinch the South with a win over Stanford on Friday. FPI gives the Ducks a 64 percent chance to win if they play UCLA again.
November, 23, 2014
Nov 23
10:40
AM ET
No. 1 Alabama, No. 2 Oregon and No. 3 Florida State are the closest things to locks for the inaugural College Football Playoff. Should all three of those teams win out -- which, of course, is no guarantee -- they should finish the season in the top four of the
selection committee's rankings
.
It's that coveted fourth spot that remains the greatest debate.
"It's also fair to say the differences between teams four through seven -- Mississippi State, TCU, Ohio State and Baylor -- are narrow, very narrow," committee chair Jeff Long said Tuesday. "There are more games to play and these teams are knocking on the door, and they're not the only ones."
Here's a closer look at those teams still "knocking on the door" and how Week 13 affected their playoff chances:
Mississippi State
Pros:
Although many other top teams struggled against lesser competition, the Bulldogs took care of business in a
51-0 dismantling
of Vanderbilt. Mississippi State needed to win with style, and the game was never in doubt. "If you don't think we controlled that game," quarterback
Dak Prescott
told The Associated Press, "then I don't know what you're looking for."
Cons:
Ole Miss self-destructed in a
30-0 loss
to Arkansas, the second straight opponent the Razorbacks have shut out. That doesn't bode well for Mississippi State, which is teetering on the edge of the bracket and has just one win over teams currently ranked in the selection committee's top 25 (Auburn). The Bulldogs finish the season on the road against Ole Miss in the Egg Bowl and their résumé could have used another boost, but the Rebels should drop out of the top 10 after suffering a third loss.
TCU
Pros:
The Horned Frogs were off to prepare for Thursday night's Thanksgiving game at Texas, but they were still helped by K-State's
Thursday night win
in Morgantown and Minnesota's
28-24 win
over Nebraska. For the fourth straight week, TCU was ranked ahead of Baylor, and Long said it was because "strength of schedule is an important factor that came into play, and [Baylor's] body of work is not quite comparable in the view of the committee." That Minnesota win has a lot to do with it, and it keeps looking better. Until Baylor adds a convincing K-State win to its résumé, there's no reason to think the committee will reward Baylor's head-to-head win over TCU.
Cons:
Ohio State won again. The Buckeyes were pushed by an unheralded Indiana team, but they clinched the Big Ten's East Division and earned a spot in the conference title game. Ohio State is one team both Baylor
and
TCU need to be worried about, as the Buckeyes jumped Baylor in the committee's rankings last week.
Baylor
Pros:
The Bears
beat Oklahoma State
and have now won three straight since their Oct. 18 loss at West Virginia, which is one result the committee has held against Baylor in its comparison to TCU. Baylor also benefited from K-State's Thursday night win in Morgantown. The Bears need to punctuate their playoff résumé with a season-ending win against a highly ranked K-State team at home Dec. 6. If Baylor and TCU both win out, the Bears should wind up on top.
Cons:
Ohio State, which jumped Baylor in the rankings last week, won again and clinched the Big Ten's East Division in the process. Baylor also didn't beat Oklahoma State as convincingly as TCU did, but that's splitting hairs: Baylor won 49-28, while TCU beat the Cowboys 42-9. The committee will compare results against common opponents. Baylor's biggest problems are its nonconference schedule and the loss at West Virginia.
Ohio State
Pros:
The Buckeyes
beat Indiana
to clinch the Big Ten's East Division, and Wisconsin also
won at Iowa
, putting the Badgers one victory from clinching the West Division. Ohio State should be able to avoid an upset against a middling Michigan team this coming week. There's certainly no margin for error after the Week 2 home loss to Virginia Tech, but if Ohio State can pull off an impressive win against a ranked Wisconsin team to win the Big Ten title, that loss to the Hokies just might be forgiven.
Cons:
It was an underwhelming first three quarters against the Hoosiers for the Buckeyes, who had three turnovers and continue to struggle with ball security. Every other bubble team the Buckeyes are up against found a way to win, too.
UCLA
Pros:
After an impressive
38-20 win
against USC, the No. 9-ranked Bruins are now in the driver's seat to win the Pac-12 South Division. UCLA can clinch the division with a win against Stanford on Friday. If the Bruins lose to Stanford, Friday's Arizona/Arizona State winner would win the division. UCLA remains the Pac-12's best hope at getting a two-loss conference champ in the playoff. If the Bruins can beat Oregon in the conference title game, they should have at least three wins over teams still ranked in the committee's top 25.
Cons:
Those two losses. The Oct. 4 home loss to Utah took another hit this weekend when Arizona trounced the Utes
42-10
, dropping Utah to four losses and out of the division race. Utah will also likely drop out of the committee's top 25.
Group of 5
Pros:
Marshall, Memphis, Northern Illinois, Colorado State and Boise State all continued to win. Undefeated Marshall didn't win any style points against UAB, but the Thundering Herd remain the only undefeated Group of 5 team.
Cons:
The selection committee hasn't ranked a Group of 5 team for three weeks, citing strength of schedule as the main reason. There's nothing left on Marshall's -- or any other Group of 5 front-runner's -- schedule likely to change that reasoning.
"Again, Marshall's body of work, their strength of schedule, what they've done to this point in time, the committee does not feel that they warrant being ranked in the top 25," Long said last week. "Again, they're very close. We've talked a lot about Marshall, we've talked about Boise State, Colorado State, Memphis, Northern Illinois -- all Group of 5 teams that are good teams and that we've certainly discussed."
November, 23, 2014
Nov 23
9:34
AM ET
By
Chris Morris
| ESPN.com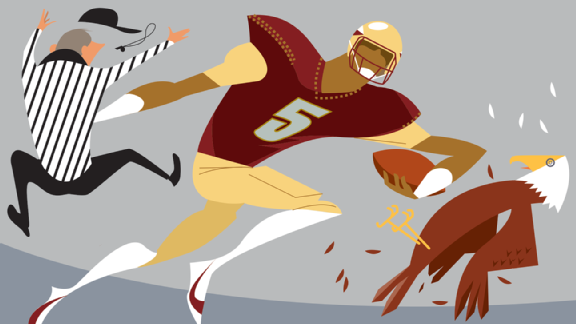 Chris Morris for ESPN
Each Sunday during the season, ESPN.com will highlight four storylines that had an impact on the College Football Playoff race.
Jameis Winston moved an official and, eventually, the Eagles out of the way, driving the Seminoles 66 yards to put Roberto Aguayo in position for a 26-yard game-winning field goal with three seconds remaining.
---
Baylor, Ohio State, UCLA look to impress
Three teams sitting just outside the top four vamped for the selection committee: No. 7 Baylor eased past Oklahoma State 49-28, No. 6 Ohio State clinched the Big Ten's East Division title with a 42-27 win over Indiana and No. 9 UCLA defeated No. 19 USC 38-20.
---
Three of top four cruise
November, 23, 2014
Nov 23
9:00
AM ET
Recognizing the best and brightest from the penultimate week of the Big Ten regular season:
Wisconsin RB Melvin Gordon: Iowa did a great job most of the day bottling up the Badgers star. But Gordon is so good that he still finished with 200 yards and two touchdowns on 31 carries in the 26-24 road win. With the game in the balance, Gordon showed off his receiving with two big catches (including a 35-yarder on 3rd-and-13, with Kinnick Stadium coming unhinged) and finished it off with the game-winning, 23-yard touchdown run. Even on a day when he somehow lost his FBS single-game rushing record after just a week, Gordon was truly Heisman-worthy.
November, 22, 2014
Nov 22
10:50
PM ET
On what was largely a ho-hum Saturday, many of the country's top teams didn't dominate their games against what were supposed to be overmatched opponents.
No. 1 Alabama led FCS opponent Western Carolina 17-14 early in the second quarter of a 48-14 victory.
No. 3 Florida State needed a field goal with three seconds left to beat Boston College 20-17 in the rain at home.
No. 6 Ohio State trailed Indiana deep into the third quarter of a 42-27 win.
And No. 8 Ole Miss was blown out by Arkansas in an ugly 30-0 loss.
At this point, with only two weeks left in the regular season, does it really matter how good a team looks while winning? Isn't it all about just winning?
Defending national champion Florida State has made its living by winning ugly this season. The Seminoles' victory over Boston College was their sixth this season in which they trailed or were tied in the second half. According to ESPN Stats & Information, only Northern Illinois in 2013 won more such games (seven) among the 30 FBS teams that started 11-0 in the past 10 seasons.
So will FSU's latest closer-than-expected victory bolster its playoff résumé?
"Why wouldn't it?" FSU coach Jimbo Fisher said. "We're undefeated. We're undefeated. We finish every game. Everybody else in the country has not finished at least one game. We've finished every one of them. Isn't that the object?"
It used to be. But now the object seems to be more about how you look in winning. The Seminoles dropped from No. 2 to No. 3 in the rankings over the past couple of weeks, and they haven't even been ranked No. 1 by the selection committee, despite being the only remaining unbeaten team from a Power 5 conference and having won a school-record 27 consecutive games.
"Well, you know, we were downgraded every time we blew someone out last year, so think of the irony of that," FSU quarterback Jameis Winston
November, 22, 2014
Nov 22
7:37
PM ET
Lessons learned from the second-to-last week of the Big Ten regular season:
1. Ohio State won but may lose ground:
If "game control" is as important as College Football Playoff selection committee chairman Jeff Long said last week, Ohio State should find itself in a spot of bother come Tuesday night. The No. 6 Buckeyes led Indiana just 14-13 at halftime and trailed deep into the third quarter before pulling out a
42-27
win. And remember that these Hoosiers are winless in Big Ten play and now just 3-8 overall. A letdown after winning on the road against Michigan State and Minnesota could have been expected, but Urban Meyer's team needs all the positive impressions it can create. It wouldn't be surprising to see Ohio State slip in next week's poll, just as TCU did after a shaky win over Kansas. On the plus side, the Buckeyes clinched a spot in the Big Ten championship game and will have a chance to add a quality win there. If all else fails, Meyer & Co. should just remind everybody that Indiana did beat Missouri -- or that Florida State barely wins every week.
[+] Enlarge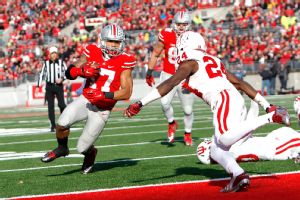 Jason Mowry/Icon SportswireOhio State's Jalin Marshall scored three touchdowns in the fourth quarter to go along with another score late in the third, rallying Ohio State past Indiana.
2.
One Axe to rule the West:
Minnesota's
28-24 win
at Nebraska and Wisconsin's
26-24 road victory
over Iowa simplified the West Division race. The Gophers and Badgers are the last two contenders left, and in a stroke of great fortune, they will play for Paul Bunyan's Axe next Saturday in Madison. The longest-played rivalry in the FBS will have its most meaning in years, with the winner advancing to the Big Ten championship game against Ohio State. Wisconsin has won the ax 10 straight years, so Minnesota has its work cut out. But the Gophers have been proving people wrong all season. They will need a healthy
David Cobb
to have a chance.
3. Land of Lincoln game holds intrigue:
If we had told you a few weeks ago that the season finale between Illinois and Northwestern would be really interesting, you probably would have laughed. But the Wildcats have gotten hot at the right time, upsetting Notre Dame in overtime last week and cruising past Purdue
38-14
on Saturday to get to five wins. Illinois, meanwhile, edged Penn State on a late field goal
16-14
for its fifth victory. So the Land of Lincoln Trophy game in Evanston will be a bowl play-in game for both sides. And it might just decide whether Tim Beckman keeps his job for another year in Champaign. Neither team's projected starting quarterback may play a huge role, as Northwestern's
Trevor Siemian
injured his leg against Purdue and
Reilly O'Toole
came in for an ineffective and perhaps-still-a-bit-gimpy
Wes Lunt
in the Illini's win.
4. Michigan State belongs in a major bowl:
Instead of sulking after the home loss to Ohio State, the Spartans have taken out their frustrations on the Big Ten's newbies. After a 37-15 win at Maryland last week, Michigan State romped past Rutgers
45-3
on Saturday. Mark Dantonio had some fun on Senior Day, starting
Tony Lippett
on offense and defense, calling for a fake field goal while ahead 35-0 and giving offensive lineman
Connor Kruse
a carry. It's clear that the No. 11 Spartans are still one of the top teams in the country, with their only losses coming to potential playoff teams. They deserve to make one of the major bowls outside the playoff -- the Fiesta, perhaps? -- and get a shot against an outstanding opponent from a major conference. If they play like they have the past couple of weeks, they'll have a great chance to win a big bowl, too.
5. Maryland is having a nice first Big Ten season:
Winning at Penn State and
23-16
on Saturday at Michigan is a pretty nice way to introduce yourself to the league, even if those two programs are at near historic low points. Randy Edsall's Terrapins can post an 8-4 record by beating Rutgers at home next week. Their only losses would be to three of the league's top teams -- Ohio State, Wisconsin and Michigan State -- and a close call at home against West Virginia. They also beat Iowa and weren't quite as hapless in big games as fellow newcomer Rutgers, which was outscored 180-43 in its four games against ranked Big Ten opponents. Maryland still has to finish it off this week, but a third-place showing in the Big Ten East and an eight-win season would make for a very solid conference debut.
November, 22, 2014
Nov 22
3:39
PM ET
Associated Press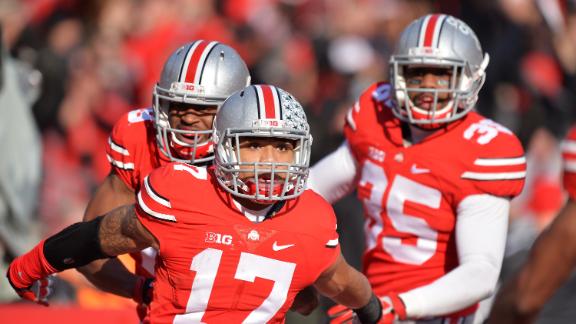 COLUMBUS, Ohio -- Jalin Marshall returned a punt 54 yards for a touchdown to give No. 7 Ohio State the lead late in the third quarter and added three late insurance scores to lead the Buckeyes past Indiana 42-27 Saturday, the Hoosiers' sixth loss in a row.
The surprisingly tight game for most of the day could impact the playoff hopes of the Buckeyes (10-1, 7-0 Big Ten, No. 6 CFP), who clinched the East Division title and a berth in the conference title game.
They trailed the 34-point underdogs 20-14 after Tevin Coleman sped 90 yards for a TD midway through the third quarter. A week after rushing for 307 yards, Coleman went for 228 yards on 27 carries for three scores for the Hoosiers (3-8, 0-7).
Marshall caught fourth-quarter scoring passes of 6, 15 and 54 yards to put the game out of reach.
The Hoosiers' last chance at a tying score ended with Tyvis Powell picking off a pass from Zander Diamont with 4:25 left, deep in Indiana territory.
Despite the up-and-down day for the Buckeyes, J.T. Barrett set the school mark for touchdown passes (33) in a season and Ezekiel Elliott, who had 107 yards on 13 carries, topped 1,000 yards. Barrett completed 25 of 35 passes for 302 yards and four scores with two interceptions, and ran for 78 yards on 20 attempts.
November, 22, 2014
Nov 22
3:30
PM ET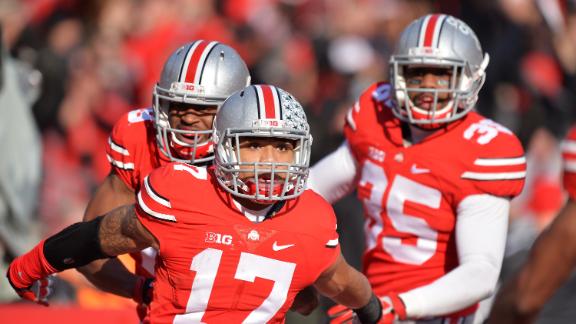 COLUMBUS, Ohio -- After flirting with disaster and letting an upset alert pop up at the Horseshoe, No. 6 Ohio State snapped out of a turnover-induced funk to knock off Indiana.
The Buckeyes clinched a division title, earned a berth to the Big Ten title game and kept themselves in the College Football Playoff picture with a
42-27
win Saturday afternoon. But those positives aren't likely to be mentioned much by coach Urban Meyer moving forward, and he has plenty of teaching points at his disposal heading into the regular-season finale.
How the game was won:
Ohio State had turnover problems on offense and was gashed for a long touchdown by Indiana's
Tevin Coleman
on defense, but decisively winning the battle on special teams was enough to pull out another win. The Buckeyes flipped field position with more impressive punting from
Cameron Johnston
, and they took a lead it wouldn't relinquish thanks to a punt return for a touchdown that saved an otherwise shaky outing overall.
Game ball goes to:
Jalin Marshall
. Criticized for a pair of costly fumbles a week ago, the redshirt freshman wide receiver offered a strong reminder why Ohio State stood firmly behind him when he busted a 54-yard punt return for a touchdown when the team was trailing, and then extended the lead with three more scores through the air after that during a second-half, one-man blitzkrieg. He is an invaluable weapon for the Buckeyes when he hangs on to the football.
What it means:
The Buckeyes have developed a troubling habit of turning the football over on offense, but they are still scoring points in bunches and are officially the East Division champion. They will play again for the Big Ten title in two weeks. There is no question, though, Meyer will be working overtime to fix the ball-security issues that have popped up lately.
Playoff implication:
Maybe there weren't many of those mythical style points to be found, but Ohio State got the only thing that really counts with a victory to keep itself solidly in the mix for one of the four spots in the College Football Playoff. The first and only priority for the Buckeyes at this point is to keep winning -- ugly or not.
What's next:
A trip to Indianapolis to play for the Big Ten championship is clinched, but the first order of business for Ohio State is The Game. With Michigan coming to Ohio Stadium next Saturday, there doesn't seem to be much risk of the Buckeyes looking ahead with bragging rights at stake against their hated rival.
November, 21, 2014
Nov 21
5:00
PM ET
You have questions, I have answers. So let's skip the small talk and get on to the mailbag.
@ESPN_BigTen @ESPNJoshMoyer Why isn't JT Barrett getting move love in the Heisman race, most don't have him in top 5. Deserves recognition

— Lynn Jacobs (@jjacobs0201) November 21, 2014
Josh Moyer:
It's difficult to answer that, Lynn, only because I disagree with the premise of the question. I think
J.T. Barrett
has
gotten a lot of love in the Heisman race. A lot of outlets have him ranked in the top five – including
Sports Illustrated
(5),
CBS
(4),
USA Today
(3) and
Yahoo!
(5). Sure, he's right on the outside of
ESPN's Heisman Watch
at No. 6, but he's just two points behind. And, quite frankly, I think it's a no-brainer he should be ranked within those first five spots.
Since the loss to Virginia Tech, he's statistically been the best quarterback in the nation – with a national-best 91.7 QBR and an FBS-leading 34 TDs. But, if I can play devil's advocate just a bit here, he's also played just four top-60 defenses and two of those games didn't turn out so well (Virginia Tech, Penn State). He's still obviously a great quarterback, one of the best in the country, but those stats appear at least a little inflated.
Does he deserve Heisman Trophy consideration? Absolutely. Should he be a top-five contender who travels to New York? You bet. But should he win the Heisman? Definitely not.
@ESPNJoshMoyer what's wrong with hack and how do we fix it?

— Pete Lagasse (@petelagasse) November 21, 2014
Josh Moyer:
Nearly all of it comes back to the offensive line. I actually wrote about this
more in-depth earlier today
, but let me kind of build off that a little bit because
Christian Hackenberg
has faced two primary criticisms this year -- one, he's making bad throws even when he does have time and, two, it's as if he can't read a defense anymore. As far as the first point, maybe this is an odd analogy, but follow me on this: It's a bit like Pavlov's dog. Hackenberg can almost never step up into the pocket and, on most snaps, he has no time. So what happens when the pocket doesn't collapse? Well, he's still been conditioned not to step up, because that leads to big hits. When the defense rings that proverbial bell, Hackenberg just can't snap back to his normal behavior all of a sudden. That goes for any quarterback; just look at Eli Manning and his 27 picks last season for the Giants.
As far as not being able to read defenses, that's just patently false. He's been put in some no-win situations because he hasn't been allowed to audible out of every play this season, and a big part of that stems from the fact the rest of this offense – with four new linemen and inexperienced receivers – isn't ready for that under a brand-new system. Last season, like former Penn State quarterbacks coach Charlie Fisher mentioned to me, Hackenberg was able to walk to the line, inspect the defense and pick from three to five plays that were best suited for the situation. He doesn't have that this season. He's just living through a worst-case offensive scenario right now. He needs a better offensive line or this isn't going to go away.
---
Patrick from Ypsilanti, Michigan, writes:
If the Wisconsin coaching staff actually kept
Melvin Gordon
in for the second half against LSU, would he be the Heisman favorite? Assuming they hung on to win that game with him in, I think they'd still be in playoff contention, which would make his case stronger.
Josh Moyer:
You make an interesting point, Patrick, because it's true that a playoff berth would only help Gordon's chances. Look at Alabama's AJ McCarron last season; I believe that's the main reason he finished second on the ballot. His stats weren't crazy – 28 TDs, seven INTs – but he was arguably the best player on the best team.
So, yeah, beating LSU would have helped slightly – but if last week's rushing performance hasn't changed your mind about Gordon, I don't know if anything else would have, either. He's actually within striking distance of Barry Sanders' seemingly untouchable single-season record of 2,628 rushing yards. He's averaging an insane 8.6 yards per carry. And on Saturday, he'll almost certainly become the fastest player to reach 2,000 rushing yards when it comes to carries. It took Sanders 268 rushes, Nebraska's Mike Rozier 258 rushes and Penn State's Larry Johnson 251 rushes. Two of those players won the Heisman, and I think it would be a grave injustice if Gordon didn't beat
Marcus Mariota
out for the trophy this year.
@ESPN_BigTen @ESPNJoshMoyer When looking at Purdue, what do you think they need to do to get to the upper echelon of the B1G in next years?

— Ryan James (@purdue3kgt) November 21, 2014
Josh Moyer:
Purdue has shown marked improvement this year, especially with redshirt sophomore
Austin Appleby
under center. But make no mistake -- this team still has a long way to go. Its receivers are lacking --
Danny Anthrop
is out until next spring and
DeAngelo Yancey
has been a disappointment -- and the defense hasn't at all helped matters.
Purdue is ranked No. 83 nationally in total defense and No. 97 in scoring defense, and it's a big reason Purdue didn't beat Minnesota or play Michigan State closer. The Boilermakers are simply giving up too many big plays. There are plenty of young players on both sides of the ball – such as linebacker
Ja'Whaun Bentley
, one of the biggest freshman surprises in the Big Ten – but the problem with this team is there's more than one problem. Plus, just take a look at the nonconference slate next season when it faces Virginia Tech and Marshall.
So when will Purdue make it to the upper echelon? Not in the near future. Right now, the question has to be when it can become bowl-eligible – and I think Purdue will be improved, but still hard-pressed to do that next season.
November, 21, 2014
Nov 21
4:30
PM ET
COLUMBUS, Ohio -- A closer look at Ohio State players in position for big outings as the No. 6 Buckeyes try to clinch another division title on Saturday against Indiana.
RB Ezekiel Elliott
The Buckeyes figure to be able to score any way they want against a defense that is allowing more than 33 points per game, and it's a safe bet J.T. Barrett is going to throw for a few touchdowns. But Ohio State will probably lean more heavily on its ground game against the Hoosiers, and Elliott will be the direct beneficiary of a game plan that could keep the clock rolling along while still lighting up the scoreboard just in case Urban Meyer thinks he needs some style points to impress the selection committee. Expect Elliott to get the 46 yards he needs to top 1,000 for the season by the end of the first quarter as the Buckeyes play it relatively safe and conservative while feeding the sophomore rusher carries.
DB Tyvis Powell

The Hoosiers have been a mess throwing the football since losing Nate Sudfeld to injury, and they weren't even all that dangerous through the air even with their starting quarterback healthy. No Big Ten team has more interceptions than Ohio State's 16, and it will no doubt be looking to add to that total this weekend -- and there might not be a player with more motivation to make a big play than Powell after a bit of an inconsistent outing against Minnesota. Powell's contributions have perhaps been a bit overlooked this season considering he's tied for second on the team with 54 tackles and he's picked off a pair of passes, but he could be in the spotlight against the Hoosiers for all the right reasons.
QB Barrett

Maybe he's a safe choice, and perhaps he will only be needed to play a half, like in his last home outing, against Illinois. But with the way the redshirt freshman is rolling, no list would be complete for Ohio State right now without his name on it. Backup Cardale Jones actually did some impressive work in relief of Barrett against the Illini, and Jalin Marshall has chipped in admirably as a Wildcat threat, so potentially the quarterback position in general could shine and not just Barrett. But with a Heisman campaign in full swing, Barrett probably won't leave the game until he's added to his already bursting resume.
November, 21, 2014
Nov 21
3:00
PM ET
Just like the West Division, our league's race is starting to clear up.
Thanks to huge days by
Melvin Gordon
(64 fantasy points) and
J.T. Barrett
(44 fantasy points), it now appears as if it's just a two-team race between the Coal Crackers and Massive Attack. Who will come out on top these last two weeks?
Stay tuned ...
Your results this week:
Coal Crackers (Josh Moyer):
186
Massive Attack (Austin Ward):
156
Legendary Leaders (Brian Bennett):
107
The Trombone Shorties (Adam Rittenberg):
76
Sherman Tanks (Mitch Sherman):
63
And the overall standings:
Coal Crackers:
1,460
Massive Attack:
1,417
The Trombone Shorties:
1,327
Legendary Leaders:
1,164
Sherman Tanks:
1,048
Waiver wire:
Rittenberg trails by 133 points after a down week and, as a result, he is trying to make up for some lost ground. He accounted for exactly half of our league's six moves this week. But, overall, last week's starting rosters are mostly intact.
Sherman adds Michigan RB De'Veon Smith and drops Nebraska RB Imani Cross
Bennett adds Michigan WR Devin Funchess and drops Penn State TE Jesse James
Rittenberg adds Northwestern QB Trevor Siemian and drops Wisconsin QB Tanner McEvoy
Moyer adds Michigan WR Amara Darboh and drops Illinois WR Geronimo Allison
Rittenberg adds the Michigan defense and drops the Rutgers defense
Rittenberg adds the Maryland kickers and drops the Minnesota kickers
Coal Crackers (Moyer)
Purdue QB
Austin Appleby
Minnesota QB
Mitch Leidner
Wisconsin RB Melvin Gordon
Indiana RB
Tevin Coleman
Rutgers WR
Leonte Carroo
Michigan WR Amara Darboh
Wisconsin kickers
Penn State defense
Bench: Maryland QB
C.J. Brown
(at Michigan)
Massive Attack (Ward)
Iowa QB
Jake Rudock
Ohio State QB J.T. Barrett
Ohio State RB
Ezekiel Elliott
Minnesota RB
David Cobb
Ohio State WR
Michael Thomas
Penn State WR
DaeSean Hamilton
Penn State kickers
Michigan State defense
Bench: Illinois RB
Josh Ferguson
(vs. Penn State)
The Trombone Shorties (Rittenberg)
Northwestern QB Trevor Siemian
Michigan State QB
Connor Cook
Nebraska RB
Ameer Abdullah
Northwestern RB
Justin Jackson
Ohio State WR
Devin Smith
Nebraska WR
Kenny Bell
Maryland kickers
Michigan defense
Bench: Ohio State RB
Dontre Wilson
(vs. Indiana)
Legendary Leaders (Bennett)
Nebraska QB
Tommy Armstrong
Illinois QB
Wes Lunt
Iowa RB
Mark Weisman
Michigan State RB
Jeremy Langford
Michigan WR Devin Funchess
Illinois WR
Mike Dudek
Ohio State kickers
Wisconsin defense
Bench: Wisconsin QB
Joel Stave
(at Iowa)
Sherman Tanks (Sherman)
Rutgers QB
Gary Nova
Penn State QB
Christian Hackenberg
Michigan RB De'Veon Smith
Purdue RB
Akeem Hunt
Michigan State WR
Tony Lippett
Iowa
Kevonte Martin-Manley
Michigan State kickers
Ohio State defense
Bench: Wisconsin RB
Corey Clement
(at Iowa)
Kirk Herbstreit's Gameplan Breakdown
BIG TEN SCOREBOARD
Friday, 11/28
Saturday, 11/29