January, 16, 2015
Jan 16
9:00
AM ET
Subbing in on morning links duty. It's a big stage, but I'm ready. My friends call me Cardale.
1.
Speaking of Cardale Jones, he's
coming back to Ohio State
, a decision that surprised many because of the way he announced his decision (with a big to-do at Ginn Academy, his high school in Cleveland). The Buckeyes quarterback joked, "I don't know why you guys made such a big deal." Us? Us?!?! Jones' decision sparked a swarm of opinions, from
the positive
to
the skeptical
. Doug Lesmerises
puts it best in this excellent in-depth piece
: "
Jones and Ginn Academy are more than a news conference."
After proving his on-field mettle in three huge games for the Buckeyes, Jones showed how much he had matured Thursday, sincerely talking about
his desire to get an education
and set an example for other underprivileged kids from Cleveland. Sure, the news conference was unusual, but it provided great exposure for Ginn Academy and the good things that happen there.
Time will tell if Jones made the right call for his pro football future. His draft stock might never be higher. He might not retain the starting job next season, although he has a major advantage right now as Ohio State's only healthy option. Still, he seemed like a man at peace with his decision. Jones is on the right track, both in football and in life. And as college football fans, you should be thrilled he's sticking around for another season.
2.
The NCAA's methods for getting Penn State to sign a consent decree in the wake of the Jerry Sandusky child sex abuse scandal are facing more scrutiny. A
USA Today investigation
finds that NCAA president Mark Emmert had virtually no support to impose the so-called death penalty on Penn State, a threat then-PSU president Rodney Erickson said was made. Emmert appears to have been bluffing.
This is
more good news for those challenging the NCAA
for imposing the historic sanctions against Penn State (and Penn State officials for accepting them). Momentum seems to be building for a settlement in the lawsuit filed by two state officials against the NCAA and Penn State, as a trial date looms Feb. 17. How will the summer of 2011 be remembered? As more facts are revealed, the narrative is changing.
3.
Graham Couch makes some good points in
his guide for Big Ten fans to counter SEC snobbery
. It's important for fans to understand the philosophical differences in the ways leagues are run. Big Ten fans should be proud of the league's broad-based philosophy and the opportunities it offers to so many athletes, while also demanding market-value investment in football, which is certainly possible.
This league can be good in a lot of sports without shortchanging its football fans.
Elsewhere ...
West Division
East Division
January, 16, 2015
Jan 16
8:00
AM ET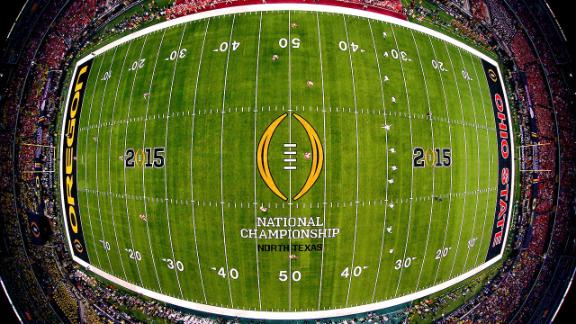 LOUISVILLE, Ky. -- Even in the hours before Monday evening's title game, coaches were fairly satisfied with how the initial College Football Playoff had worked out.
And, no, Baylor coach Art Briles and TCU coach Gary Patterson were not among those I asked.
Several coaches tried to project themselves in the place of Urban Meyer, even before the Buckeyes won later that night.
"[Ohio State] would not have sniffed it [in the BCS era]," one coach told me at the American Football Coaches Association (AFCA) Convention. "They wouldn't have had a chance. To say we're going to settle it on the field now, this first year has proved that. Teams that wouldn't have had a chance were given one."
Most project that Alabama, a one-loss SEC champ, and FSU, the undefeated reigning champ, would have been the teams to play for the crystal football under the previous system. So, yeah, Oregon and Ohio State -- the teams that wound up playing for the championship -- would have been left playing for the Rose Bowl trophy.
"There's no way FSU would have been left out," one coach said.
January, 15, 2015
Jan 15
11:07
PM ET
January, 15, 2015
Jan 15
10:00
PM ET
1. When I heard
Cardale Jones
say, "I'm not ready for that level yet," meaning the NFL, I thought he meant that he believed he was not ready for that level yet. Silly me. I don't know who beat the drum to say that Jones would leave, but that would be a shortsighted decision. By staying at Ohio State, he's got a better shot at a long NFL career, even if he doesn't retain the Buckeyes' starting job. He will be a year older and his skills a year sharper when he goes to the NFL. The pros have chewed up and spit out experienced quarterbacks who weren't emotionally or intellectually ready. And Ohio State and its vast alumni network will love him for staying. Talk about your long-term contracts.
2. Iowa head coach Kirk Ferentz held an unusual news conference Wednesday, during which he said that he hasn't been spending enough time on football. Ferentz said raising money for the Hawkeyes' new football building pulled him away. And there is this: after 16 years as a head coach, not to mention nine years as a Hawkeyes assistant in the '80s, "I've got a pretty good-sized family tree," Ferentz said. When former players stop in, Ferentz wants to see them. But, he said, he needs to see his current players, live or on video, more than he has. I remember Joe Paterno buckling down like that after Penn State went 7-5 in 1992. Next four years: 42-7.
3. I'll say this for UAB -- they keep it entertaining. Faculty senates are supposed to resent football, aren't they? How often do we read of professors on salary freezes while coaches get six-figure raises? But at UAB, more than two-thirds of the faculty senate approved a no-confidence vote in President Ray Watts because he killed football. The senate, like the football program, is on the losing side of a political battle. University trustees don't want any program to detract from the football program in Tuscaloosa, one hour and untold millions of dollars away. As if a healthy UAB football program could.
January, 15, 2015
Jan 15
6:35
PM ET
CLEVELAND --
Cardale Jones
just won't stop pulling upsets.
With everybody once again expecting one thing from the Ohio State quarterback, somehow he found a way to manage another stunner and deliver for the underdog on Thursday afternoon at the Ginn Academy.
Ohio State coach Urban Meyer had previously suggested Jones' professional stock might never be higher. A news conference in his hometown instead of on campus was scheduled, and a boisterous crowd of students and teachers, family and friends expected Jones to cash in on his rapid rise from third-stringer to national-title winner. Even when he strolled out from some double doors in the corner of the gymnasium with Drake's "Started from the Bottom" blaring, the signs seemed to be pointing to the redshirt sophomore bolting for the NFL.
[+] Enlarge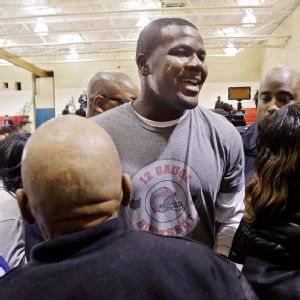 AP Photo/Mark DuncanCardale Jones pulled another surprise Thursday, announcing his intention to return to Ohio State next season.
But just like Wisconsin, Alabama and Oregon found out, Jones has a few tricks up his sleeve. And for at least another season, the Buckeyes will be the ones who get to put them to use.
"My decision was very simple," Jones said. "After talking it over with my family, my friends, my coaching staff, I'm going to return next year for school.
"It's everybody's dream and goal when they play football or any collegiate sport to make it to the next level, but at my point in my career, I feel like it's best for me to go back to school. ... I don't know why you guys made this such a big deal. This was very simple for me. The NFL, after three games, it was really out of the question for me."
Jones did kick around his options over the past three days since the Buckeyes knocked off the Ducks in the College Football Playoff National Championship Presented by AT&T, but by Thursday morning, when he met with Ohio State coach Urban Meyer and his high school coach, Ted Ginn, he already had his mind made up. As he helped keep the Buckeyes stocked with proven options to lead the attack next season, Jones also struck one more blow against another long-standing favorite, burying the tired jokes about his Twitter gaffe about "playing school" by making the choice to return to it and finish his degree.
He hardly could have been blamed if he decided to strike when the iron was hot, cashing in on the unlikely string of events that gave him an opportunity to lead the Buckeyes in the postseason after both
Braxton Miller
and
J.T. Barrett
suffered season-ending injuries. Jones made the most of that unexpected chance, and when he proved that he had been working on more than just his incredible physical tools, NFL scouts and general managers became increasingly more interested in him as a prospect.
But aside from the lack of a degree, his incomplete on-field résumé played a factor in Jones' decision-making process. The incredibly small sample size gives him ample room to grow. And while there is no guarantee that Jones will be able to hold on to the starting job when next season starts, Barrett's recovery and questions surrounding Braxton Miller make Jones Ohio State's No. 1 quarterback in spring ball.
"[Meyer] always preaches to us that education is what is most important, and he knows and we know that with all three of us back next year, it's going to bring out the best in us," Jones said. "Hopefully I am the starter, but I mean, if I'm not I'll have to wait for my opportunity to present itself again.
"He didn't make me any promises. He told me what I had to do and what I have to improve on and that was about it. ... I think he was a little shocked, but he understood."
The shock factor should be gone by now. Jones has proved that he's full of pleasant surprises for the Buckeyes and upsets for just about everybody else.
January, 15, 2015
Jan 15
5:28
PM ET
Is there a more entertaining player in college football than
Cardale Jones
? Unknown in November other than
an unfortunate tweet
, Jones became an improbable leader for an improbable playoff contender that won the national championship Monday night.
And
he's not going anywhere
. Jones surprised many Thursday by announcing he will return to Ohio State rather than enter the NFL draft. He scheduled a news conference at Ginn Academy, his high school in Cleveland, which led many to think the redshirt sophomore would go pro despite only three career starts (all in the postseason).
Life changing decision at 4pm

— Cardale Jones (@CJ12_) January 15, 2015
Jones stepped up again in the spotlight, this time at a podium, as he discussed why he's coming back to Columbus. His Buckeyes teammates, meanwhile, stole the show on social media.
Let's look at their comments before, during and after Jones' big announcement.
Jones' charismatic roommate, Ohio State safety Tyvis Powell, kicked things off with a heavy dose of sarcasm.
12 could've let me know what the decision was. I'm his father and his roommate for Christ sake. You think you know a guy....

— Tyvis Powell (@1Tyvis) January 15, 2015
He also issued a friendly reminder to his roomie.
Whether 12 go or stay, Rent is still due on the 1st and I'm gone have my half!

— Tyvis Powell (@1Tyvis) January 15, 2015
As the 4 p.m. ET scheduled start for Jones' news conference came and went, Buckeyes linebacker Darron Lee chimed in.
"Yo dawg...make your decision on TV..." pic.twitter.com/PM86y8gHen

— Darron Lee (@DLeeMG8) January 15, 2015
What is up with Cleveland guys and decision shows? =*

— Darron Lee (@DLeeMG8) January 15, 2015
Around 4:15 p.m., Jones finally entered the Ginn Academy gymnasium to Drake's "Started from the Bottom," prompting reaction from Buckeyes defensive tackle Michael Bennett.
This dude wasn't just playing started from the bottom. Lol

— Mike (@mike63bennett) January 15, 2015
Jones' podium performance impressed his Buckeyes teammates.
@CJ12_ you have changed man

— Jt Barrett (@JT_theQB4th) January 15, 2015
Bennett agreed but couldn't help but chide Jones about his past issues with class attendance.
Good for you man. One of the most mature press conferences I've ever heard. Probably skipping class for the press conference tho =6

— Mike (@mike63bennett) January 15, 2015
Jones said he plans to study financial planning and pursue a career in the field when he's done with football. Living with Powell certainly will help in his education.
The rent is SAFE!!!!

— Tyvis Powell (@1Tyvis) January 15, 2015
Thank goodness for that.
January, 15, 2015
Jan 15
5:27
PM ET
January, 15, 2015
Jan 15
5:12
PM ET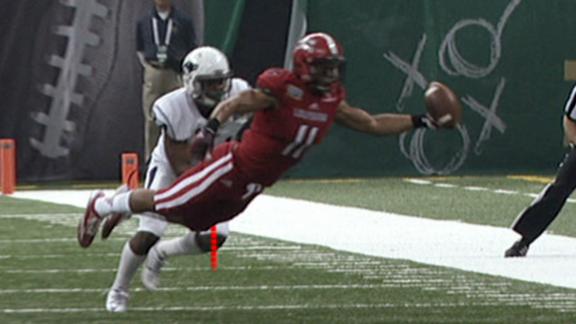 Ohio State became the first team to win the College Football Playoff after running over Alabama in the semifinal and then Oregon in the championship game.
It should be no surprise that the Buckeyes are well represented on ESPN.com's All-Bowl team with four selections. Leading the way is tailback Ezekiel Elliott, who ran for a combined 476 yards with six touchdowns against the Crimson Tide and Ducks.
Quarterback Cardale Jones, linebacker Darron Lee and safety Tyvis Powell also made the team.
Elliott was one of four running backs to make the squad, along with Georgia's Nick Chubb, Wisconsin's Melvin Gordon and LSU's Leonard Fournette, who was an all-purpose selection.
Here's the ESPN.com All-Bowl team:
OFFENSE
Quarterback
Cardale Jones, Ohio State
January, 15, 2015
Jan 15
4:23
PM ET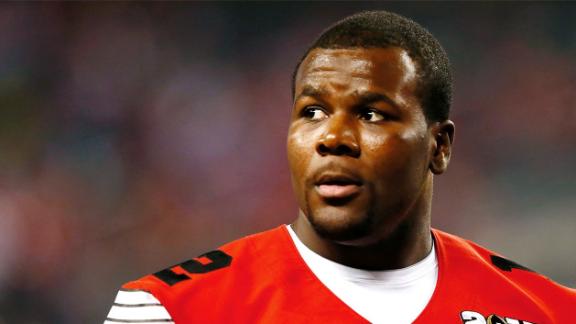 CLEVELAND -- As Drake's "Started from the Bottom" blared from speakers, local public figures in suits glad-handed and Cardale Jones emerged 15 minutes late in a gray "12 Gauge Buckshot" T-shirt, this was a spectacle that the quarterback admitted didn't have to be.
The national championship-winning QB is going back to Ohio State. At least some of the few hundred people inside Ginn Academy's auditorium expected the opposite.
"I don't know why you guys made such a big deal," Jones said jokingly, minutes after bypassing the NFL draft late Thursday, the deadline for NFL hopefuls to declare. "Like I said, it was very simple for me."
The 6-foot-5, 250-pound redshirt sophomore teased NFL draft enthusiasts with the announcement of a 4 p.m. ET news conference, and he warned on social media that a "life-changing decision" was looming. Logic said Jones would test the NFL, which, according to Jones, had second-round or late-first-round potential based on feedback from Ohio State coaches and Ted Ginn Sr., for whom Jones' high school was named.
Sure, Jones left money on the table. For comparison, a late-second-round quarterback from last year's draft, New England's Jimmy Garoppolo, got a contract with $1.1 million guaranteed and a bonus of $853,744.
Jones' name might never be hotter. He's fresh off a stellar three-game run through the Big Ten championship, Allstate Sugar Bowl semifinal and College Football Playoff National Championship Presented by AT&T, amassing 742 passing yards and six total touchdowns (one rushing) on the way to Ohio State's first title since after the 2001 season. Jones played in place of the injured J.T. Barrett
January, 15, 2015
Jan 15
1:03
PM ET
ESPN.com news services
Ohio State quarterback Cardale Jones says he will make a "life changing decision" on Thursday.
He tweeted that he would have an announcement at 4 p.m. ET.
A source close to the quarterback told Schad that the past 48 hours have been "very stressful" for Jones.
Noting that a high-third-round NFL draft pick could command close to $1 million in guaranteed salary, that person said "that kind of money isn't as easy as you get in your lifetime as you might think."
Another source close to Jones said the quarterback planned to ask Urban Meyer on Wednesday whether he would be the starter next season and likely would enter the draft if he wasn't told he would be.
Technically, Jones could declare and still withdraw within 72 hours of Thursday's midnight ET deadline.
Jones, Ohio State's third-string quarterback, was promoted to starter after season-ending injuries to Braxton Miller and backup J.T. Barrett. The 250-pound third-year sophomore's résumé includes three starts -- a Big Ten title, a Sugar Bowl title and a 42-20 win over No. 2 Oregon in the College Football Playoff National Championship presented by AT&T.
Jones threw for 242 yards and a touchdown and ran for another score against the Ducks.
On Tuesday, Jones said he didn't think he was ready for the NFL yet.
ESPN.com's Heather Dinich contributed to this report.
January, 15, 2015
Jan 15
11:30
AM ET
Mel Kiper's
first NFL Mock Draft for 2015 is out
. Among the 32 first-round projections are nine players who played in the Under Armour All-America Game, as well as four former five-star ranked prospects by ESPN RecruitingNation as well as 16 four-stars and 12 former ESPN 300 prospects.
An asterisk denotes a junior for the 2014 season; two asterisks denote a redshirt sophomore.
To continue reading this article you must be an Insider
January, 15, 2015
Jan 15
10:35
AM ET
The
ESPN 300 has been updated
and the Big Ten still has big targets on the list. We are winding down toward signing day, so those elite prospects don't have much time left to make decisions.
Here is what you need to know with the updated list within the Big Ten:
To continue reading this article you must be an Insider
Buckeyes Thank The Fans