December, 11, 2014
Dec 11
10:00
AM ET
The intention was to unleash a pair of athletic defensive ends simultaneously, twin terrors up front that would give Ohio State perhaps the most fearsome line in the nation.
That plan quickly fell apart, but it didn't make any difference to the Buckeyes.
Joey Bosa
just dialed up his own production and effectively crammed the stats sheet with enough numbers for two men.
[+] Enlarge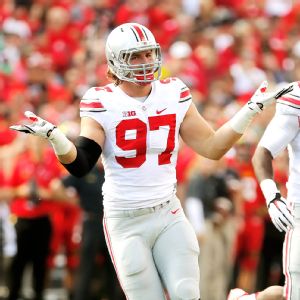 Jonathan Ernst/Getty ImagesOhio State's Joey Bosa has made a strong case this season to take home the Bednarik Award, which is given to the top defensive player in college football.
It's scary to think what Ohio State might have been able to do if former All-Big Ten pass-rusher
Noah Spence
hadn't been suspended and ultimately ruled permanently ineligible by the conference for failing two drugs tests, because even in the face of double teams and schemes designed to minimize Bosa's impact, the freakishly athletic sophomore still took over games on a weekly basis.
He finished the regular season with 20 tackles for loss and 13.5 sacks, forced 4 fumbles and returned a recovery for a touchdown as part of the blowout in the Big Ten championship game over Wisconsin. And he wasn't exactly stuffing the box score against just the lightweights on the schedule, proving himself consistently throughout the entire season with a tackle for loss in every game but two and chipping in more than one hit in the backfield on seven different occasions.
Each of his forced fumbles led to points for the Buckeyes. He clinched a critical double-overtime road win against Penn State with a "walk-off" sack. And while his celebratory "shrug" after big plays doesn't count as impacting the game any, it was infectious with the Buckeyes as he blossomed into a fun-loving teammate who could also lead by example with his relentless work ethic.
There's no question that the other two finalists for the Bednarik Award have their strong points. Arizona's
Scooby Wright III
has eye-popping stats, though his role is different than the one Bosa fills for the Buckeyes and puts him in position to make more plays. And Clemson's
Vic Beasley
is a handful for any offensive line, but his numbers simply don't match up with Bosa's across the board.
Win or lose, Bosa is probably going to throw up his arms in the same pose and shake it off. He deserves to take home the trophy this year, though, and if he doesn't, count on him making it even more difficult to deny him next season.
If this season proved anything, it's that Bosa is only getting better -- and he's terrifying all on his own.
December, 11, 2014
Dec 11
9:00
AM ET
While the recruiting season isn't quite finished, we are done with the regular season. It has been a crazy year within the Big Ten with coaching changes, big commits and big decommits as well. Here is a closer look at the Big Ten's recruiting superlatives.


December, 11, 2014
Dec 11
8:00
AM ET
Well, that was sure an unexpected turn of events. Make that three new coaches for the Big Ten next season.
Blindsiding Bucky:
As if getting destroyed in the Big Ten championship game hadn't already made for a miserable week for Wisconsin, it somehow got even worse on Wednesday. Which was more shocking, the 59-0 loss to Ohio State on Saturday or Gary Andersen's swift departure just a handful of days later? For that matter, who could have envisioned he would leave for Oregon State instead of a more prestigious job like maybe Florida or Michigan? This was truly a shocker, and the Badgers are no doubt reeling. The Beavers had previously kicked the tires on Brady Hoke, and a reasonable case could have been made that what amounted to a trade with Nebraska for Bo Pelini would have qualified as a successful hire given his consistent track record as a winner. But instead of two out-of-work Big Ten coaches, Oregon State landed a current division winner. And that means Wisconsin should take a long, hard look in the mirror at itself and figure out why it is looking for another coach.
Awards season:
The Big Ten is guaranteed to be stuffing at least one trophy in its luggage tonight at the Home Depot College Football Awards show, with all three finalists for the Doak Walker Award hailing from the conference. But how many more might the league win? There aren't all that many options, but
Joey Bosa
is a realistic threat to claim the Bednarik for the defensive player of the year thanks to his breakout season up front for the Buckeyes. Iowa left tackle
Brandon Scherff
may not have had his finest campaign this year, but he remains extremely well regarded as a pro prospect and could walk out with the Outland honoring linemen. But for the most part, aside from the Walker, it doesn't figure to be an event that does a whole lot of celebrating the Big Ten.
Texas Tom:
With a Broyles Award now officially in his trophy case and a cell phone in hand that was already receiving calls about jobs before Tuesday, expect the conversations about Ohio State offensive coordinator Tom Herman as a future head coach to continue to heat up while he tries to focus on preparing for the College Football Playoff. After Houston made its opening official on Monday, that seems like a logical landing spot for Herman and a potentially perfect fit for that program with a rising star in the profession who knows the spread attack and has been masterful in developing quarterbacks. On top of that, Herman has previous ties to the area as a former assistant at Rice, and he's earned a reputation for recruiting in Texas despite the long distance to Ohio State. He might even be able to bring along a Houston native with him to work with the quarterbacks if his former pupil Kenny Guiton is ready to get into the profession.
East Division
West Division
December, 10, 2014
Dec 10
10:45
PM ET
Associated Press
HOUSTON -- Arizona linebacker Scooby Wright won the Lombardi Award on Wednesday night as the nation's best lineman.
The sophomore edged Clemson senior defensive end Vic Beasley, Washington senior linebacker Hau'oli Kikaha and Ohio State sophomore defensive end Joey Bosa for the award presented by the Rotary Club of Houston.
Wright won the Bronko Nagurski Award on Monday night as the top college defensive player, and was the Pac-12 Defensive Player of the Year. He's also in the running for the Walter Camp Player of the Year Award.
"It's a great honor, but it's representative of the University of Arizona defense and the whole program," Wright said about winning the Nagurski and Lombardi Awards.
The first Arizona player to win the Lombardi, Wright is driven by being snubbed by coaches out of high school, with the Wildcats the only Division I school to offer him a scholarship.
"It's definitely fueled me," Wright said. "At times you don't feel like working out and doing stuff, you always have to prove guys wrong. People said I was not going to be an impact player in the Pac-12. I even had some college coaches tell me to look at JUCO. The only Division I offer was from the University of Arizona. I'm just enjoying it."
Wright said his two favorite plays this season were sacking Oregon quarterback Marcus Mariota and against rival Arizona State, stripping the ball before scooping it up and scoring on the first drive.
December, 10, 2014
Dec 10
4:24
PM ET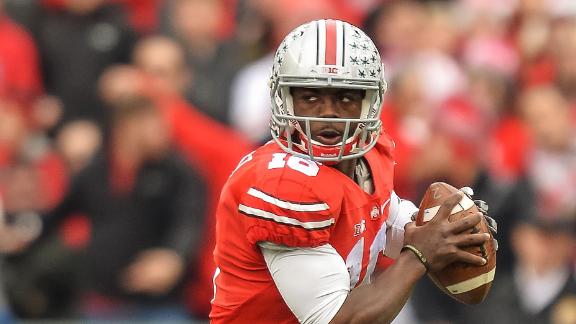 Ohio State quarterback J.T. Barrett and his ex-girlfriend made 911 calls on Tuesday morning alleging each attacked the other.
Columbus Police responded to calls for a domestic dispute at Barrett's apartment. Barrett and the woman both declined to file charges, and police said that neither had visible injuries.
The case will be referred to the prosecutor's office, and any charges would have to be prompted by either Barrett or his ex-girlfriend.
Barrett, a redshirt freshman who started the entire regular season for the No. 4 Buckeyes before breaking his ankle against Michigan, accused the woman of refusing to leave his apartment, according to the police report.
In a separate call, the woman said Barrett choked her and flung her across the room.
Ohio State spokesman Jerry Emig told the Columbus Dispatch that the school was "aware of the report."
"We understand there were no charges filed," he told the paper. "We are looking into it."
The Ohio State staff, including coach Urban Meyer, is currently on the road recruiting.
According to the police report, Barrett said the woman ran at him and hit him before he pushed her away in self-defense, causing her to fall on a bed. The woman said Barrett confronted her in his bedroom and used his forearm to apply pressure on her neck and tried to take away her cell phone.
December, 10, 2014
Dec 10
4:00
PM ET
The regular season is over. The mailbag lives on.
@mitchsherman @ESPN_BigTen what are the Buckeyes going to have to do to win? Single most important thing

- #BeatBama (@patmace) December 10, 2014
Mitch Sherman:
It's so difficult to identify one way to beat Alabama. The Crimson Tide, statistically, are good just about everywhere, with a slight vulnerability against a strong passing game. No way, though, do I think Ohio State's key to success is to throw over the top of the Alabama defense. That's playing right into the hands of Nick Saban.
Blake Sims
has been so good, and
Amari Cooper
is just about unstoppable, but I think the Buckeyes' only chance to slow Alabama's offense is to cut out its legs -- slow the ground game. Good luck against
T.J. Yeldon
and
Derrick Henry
. But Ohio State has to start somewhere, and that's as good a spot as any.
@mitchsherman @ESPN_BigTen do you think the fact that Alabama now has a game film on Cardale Jones will have a huge impact on the game?

- Hiro Taguchi (@hirocolts12) December 10, 2014
Mitch Sherman:
The extra preparation time alone, regardless of opponent, often amounts to something of a death sentence for opponents of Saban-coached teams. Really, Ohio State didn't wow Wisconsin in the Big Ten title with a whole set of new offensive looks. Urban Meyer's offense is a known commodity. Surely, Saban recalls it. Alabama will be ready for Jones. And really, Jones' game against the Badgers figures to benefit Ohio State more than the Crimson Tide.
@mitchsherman What's your take on the Riley hiring? Worth firing Bo for him? Will MI be able to get a decent coach?

- David (@drhgeronimo) December 10, 2014
Mitch Sherman:
I like lots about the hire. Riley is a seasoned coach who brings a new attitude to Nebraska. I think fans and players will embrace his style. But like anything new, it's impossible to judge completely until a body of work exists. If Nebraska gets over the hump as a program, wins a league title and plays consistently competitive football in big games, the change was worth it. If not, Nebraska made a mistake. As for Michigan, sure, it can get a decent coach. We're talking about Michigan. Just don't expect it to happen overnight. At this point, the pre-dead period recruiting time is essentially lost. The Wolverines might be waiting a few weeks -- more specifically, until the end of the NFL season.
@mitchsherman when will we see something like basketball's Acc/B10 challenge in football?

- Joshua O'Connor (@JoshuaOConnor1) December 10, 2014
Mitch Sherman:
Probably never. With the nine-game league schedule set to start in 2017, it just doesn't make sense, logistically, to lock in a set of games against teams from a specific Power-5 league. The Big Ten tried -- and failed -- to work an arrangement with the Pac-12. This just isn't like basketball, which has so much more room with which to work in the nonconference season. And the alternative can be better. With upcoming games such as Alabama-Wisconsin (2015), Northwestern-Stanford (2015-16), LSU-Wisconsin (2016), Michigan-Florida (2017), Ohio State-Oklahoma (2016-17), Nebraska-Oregon (2016-17) and Michigan State-Arizona State (2018-19), why focus on a rivalry with one single league?
@mitchsherman If Paul James is 100% for Rutgers next year, how good can the stable of James/Hicks/Martin/Peoples be?

- Jay Poole (@JayRutgers09) December 10, 2014
Mitch Sherman:
The Scarlet Knights can have one of the best running games in the Big Ten. With the league losing the likes of
Melvin Gordon
,
Ameer Abdullah
,
David Cobb
,
Jeremy Langford
and possibly
Tevin Coleman
, there's a void in the category of great backs. Perhaps Paul James, who ran for 363 yards and seven touchdowns in four games, can fill it. He ought to recover from an ACL tear, suffered Sept. 20 against Navy, in plenty of time for his senior season. Not enough carries exist to please James in addition to
Josh Hicks
,
Robert Martin
,
Desmon Peoples
and
Justin Goodwin
. But the competition should be fierce in the spring and spill over to August as Rutgers looks for an offensive identity without quarterback
Gary Nova
. For a team that ranked 10th in the Big 12 in rushing, the ground game is a good place to expect big improvement.
December, 10, 2014
Dec 10
3:30
PM ET
By
ESPN.com staff
| ESPN.com
Every day this week, our Big Ten experts are weighing in on a topic related to the league's postseason lineup.

Today's question: Other than Ohio State (for obvious reasons), which Big Ten team would benefit the most from a postseason win?

Josh Moyer: The Spartans are still searching for a marquee win, since the closest they have come is a 27-22 victory against Nebraska. They played just two ranked teams all season -- No. 2 Oregon and No. 4 Ohio State -- and lost handily in both games. Michigan State just needs to show it won't struggle against top competition. The defense allowed only 14.4 points per game against unranked opponents, for example. But against Oregon and Ohio State? Try an average of 47.5 points. Not only does Michigan State need this, but so does the Big Ten. A win here would help quiet the College Football Playoff debate by showing the Big 12 isn't the better conference.

Brian Bennett: Iowa. There's a lot of negativity -- again -- around Kirk Ferentz's program after the Hawkeyes lost their final two games and finished just 7-5 despite a dream schedule. It didn't help that Nebraska athletic director Shawn Eichorst fired Bo Pelini after the Huskers beat Iowa and said he had to evaluate where the Hawkeyes stood in terms of relevance. Iowa fans are very loyal, but they're getting sick of this mediocrity, and a loss to a middling Tennessee team wouldn't help.

Mitch Sherman: Penn State. The Nittany Lions spiraled after a 4-0 start; there's no other way to spin it. Playing in New York against Boston College, another regional recruiting rival, PSU needs to show it is trending up with James Franklin, who had such momentum through the summer and into late September. The home loss to Maryland hurt. A win to finish this transitional season can ease some of the pain and push Franklin into another productive offseason.

Dan Murphy: Michigan State's only two losses this season came to Ohio State and Oregon. TCU is the only other school in the country that can say it's undefeated against non-playoff teams. A win against Baylor would show that Michigan State deserves to be considered one of the nation's best.

Austin Ward: The Zaxby's Heart of Dallas Bowl might not have the most appealing matchup of bowl season, but Illinois should be watched closely in a game that could help shape the trajectory of the team moving forward. Tim Beckman has already been given the green light for another season with the program, but if he can't knock off a Group of Five team like Louisiana Tech and the Illini finish below .500, those questions about his hot seat could start right back up again quickly.

Adam Rittenberg: Minnesota. The Gophers have dropped consecutive bowl games under Jerry Kill -- they had no business losing last year to Syracuse. It's important for Minnesota to show it can make strides from the end of the regular season into the postseason.
December, 10, 2014
Dec 10
3:25
PM ET
ESPN.com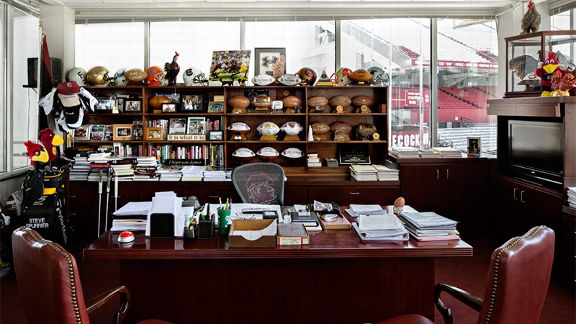 Floto + Warner
Each week during the regular season, we gave you a guided tour inside the office of a different FBS head coach. The offices spanned from the modest to the majestic, but all of them held their own unique trophies, tributes, mementos and memorabilia.
Here's another look at all 15 in the order they were originally published.
Not every head coach has his own Heisman Trophy stashed away, but the first thing that catches the eye in Spurrier's office is his brood of ornamental gamecocks. The Head Ball Coach isn't shy about giving out an ornithology lesson, either.
---
Up in East Lansing, Dantonio unsurprisingly displays several items that serve as a nod to the warrior mentality and the Spartan spirit. Keep your eyes out for the one blue thing in his office.
---
The Bruins' head coach reminds recruits of his experience coaching at the professional level, and Yoda also makes a prominent cameo as Mora's spiritual mentor, in a way.
December, 10, 2014
Dec 10
8:00
AM ET
It's been three days since the end of the college football regular season. Only 267 days before it gets started again.
1. The Big Ten announced plans for a
conference-wide concussion protocol
starting in the 2015 season. The league will have an independent trainer in the press box of every game to monitor for players that show concussion symptoms. The plan is similar to what Michigan instituted in October when quarterback
Shane Morris
returned to a game with a mild concussion. The Big Ten's new protocol will include disciplinary actions for team's that don't properly report concussions. Having independent concussion monitors on-hand helps trainers on hectic sidelines and it wouldn't be a surprise if other conferences around the country soon followed suit.
2. Ohio State offensive coordinator Tom Herman won the Broyles Award Tuesday, given to the nation's top assistant each year. Herman, the architect of the Buckeyes' No. 4-ranked scoring offense,
earned the award this season
while twice replacing Heisman contenders at quarterback with barely a hiccup in production. Herman is
an engaging personality
who will likely be a coveted head coaching candidate in the near future. Herman, 39, is young and so is his offense. Ohio State will return almost all of its firepower next season and will likely be considered one of the best, if not the best, offenses in the country to start the year. Herman will have the luxury of being picky, but with the promising future ahead he probably isn't in any rush to get out of Columbus.
3. In other coaching news, the rumor mill continues to churn in Ann Arbor. The top choice for most Wolverines' fans is current
San Francisco 49ers
coach Jim Harbaugh, but former Michigan great
Charles Woodson
said he's
not very optimistic
that Harbaugh will take the job. Meanwhile, erstwhile coach Brady Hoke made his final official Michigan appearance Monday night at the team's awards banquet.
Hoke's players thanked him
for showing up when he easily could have skipped the event. It served as a fitting end for a coach who always put his love for his players first, even when it put him in a bad spot.
Now, on to the links...
East Division
West Division
December, 9, 2014
Dec 9
7:23
PM ET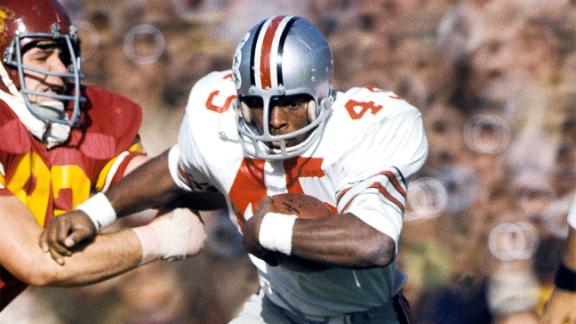 COLUMBUS, Oh. -- When 24 former Heisman Trophy winners gather in New York this weekend to welcome the newest member into college football's most exclusive fraternity, former Ohio State running back Archie Griffin will be two of them.
Forty years ago last week, Griffin, a Buckeye junior, won the 1974 Heisman. And 40 years ago next December, Griffin won a second. He remains the only player in the history of the game to win its most prestigious individual award twice.
Were that the only characteristic that set apart Griffin from the other Heismen, it would be enough. The difficulty of winning a second Heisman has amplified beyond merely being the best player in college football in consecutive seasons.
The NFL beckons players three years out of high school. A demanding voting body compares the defending Heisman winner not only to every other college football player that season, but to his winning performance a year earlier.
But that's not the reason that the Heisman fraternity has a special place in its membership for Griffin. As far as the other winners are concerned, the next two-time winner will have to not only better his own performance on the field, but match Griffin off it.
"Archie is the godfather of the group," said Andre Ware, the 1989 Heisman winner and an ESPN college football analyst. "He is the standard."
"He's one of the humblest Heisman Trophy winners I've ever been around," said George Rogers, the 1980 winner. "He doesn't say very much, but when he does, everybody listens."
"Archie always handles himself well," said Gino Torretta, the 1992 Heisman recipient. "There's a ton of respect for him."
In an era when the past two Heisman winners have been guilty of boorish, immature behavior off the field, their older brethren are concerned about them tracking mud into the Heisman House.
December, 9, 2014
Dec 9
4:00
PM ET
The list of offensive coordinators and quarterback coaches who can thrive with their first-choice at the most important position on the field is long. There are probably other assistants who can successfully integrate a backup and keep the attack rolling along.
But on the field at Lucas Oil Stadium on Saturday night in the Big Ten championship game, Tom Herman put the capper on a résumé for the Broyles Award as the nation's top assistant coach that simply couldn't be denied by unleashing a third-stringer on one of the best defenses in the nation, and the 59-0 destruction led by
Cardale Jones
basically made it impossible to deny Ohio State's third-year offensive coordinator when the trophy was presented on Tuesday.
[+] Enlarge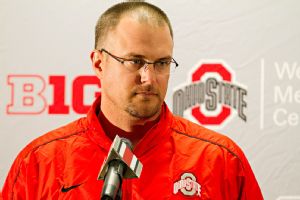 Jason Mowry/Icon SMITom Herman has helped five quarterbacks win games for Ohio State in the past two seasons.
"Tom Herman is an excellent coach," Urban Meyer said after the game last weekend. "His unit the first year was very average. I talk about we got a Player of the Year in the Big Ten [in
Braxton Miller
], but as a unit they weren't very strong.
"Now it's one of the strongest units on the team. He's done a marvelous job."
If Herman had worked with Miller only, maybe it would be a different story. But clearly everybody in Ohio State's quarterbacks room is getting hands-on attention and a quality football education, because three other players have successfully stepped in when needed to lead the spread attack thanks to injuries over the last two seasons.
First it was Kenny Guiton coming off the bench, winning games and setting a few Ohio State records along the way.
Then it was
J.T. Barrett
, who tagged in on short notice after Miller suffered a season-ending shoulder injury about 10 days before the start of the season and would go on to set the Big Ten record with 45 total touchdowns while keeping Ohio State on track for the College Football Playoff.
And after losing Barrett to a broken ankle in the regular-season finale against Michigan, the Buckeyes simply moved on to the next guy once again and watched as Jones established a new conference record of his own after posting an eye-popping 255.8 quarterback rating while carving up Wisconsin to clinch the Big Ten title.
Maybe Herman isn't the only assistant in the country who could have molded all of those guys into players capable of keeping a high-octane machine humming along. But this season Herman left no doubt that he could do it, and he certainly deserved to be honored for it.
All that's really left for Herman now that he has proven himself as the country's top assistant is to try his hand running his own program. Odds are that opportunity is going to be coming sooner than later, and his résumé has a fresh new entry listed under his accomplishments.
Players Provide Playoff Picks
BIG TEN SCOREBOARD
Saturday, 12/20
Monday, 12/22
Tuesday, 12/23
Wednesday, 12/24
Friday, 12/26
Saturday, 12/27
Monday, 12/29
Tuesday, 12/30
Wednesday, 12/31
Thursday, 1/1
Friday, 1/2
Saturday, 1/3
Sunday, 1/4
Monday, 1/12