March, 30, 2014
Mar 30
9:01
PM ET
March, 30, 2014
Mar 30
6:30
PM ET
AUSTIN, Texas -- The state of Texas' top track athletes descended on Austin this weekend to compete in the annual Clyde Littlefield Texas Relays on the campus of the University of Texas, and the field of competitors included several touted 2015 and 2016 recruits. Here's an update on where a few of them stand in their recruitment.
RB Jones wants to travel
The battle for
Ronald Jones
II, one of the state's top running back recruits out of McKinney North, rages on as he should be hitting the road in the next few months.
March, 28, 2014
Mar 28
4:30
PM ET
Happy hoopin' (and spring footballin').
Twitter!
Inbox!
Marty from Orland Park, Ill., writes:
My question is regarding the news that Northwestern players won their petition to unionize. I have read that this ruling would only have an impact on private colleges and universities if it is upheld. Does it also only relate to football players and not any other sport? Also, does it only apply to scholarship athletes, not walk-on athletes?
Adam Rittenberg:
Marty, the specific ruling impacts only Northwestern players but could be used for groups from other private institutions. It applies only to Northwestern scholarship football players, as NLRB regional office director Peter Sung Ohr ruled that walk-ons constitute a separate category and wouldn't be part of a union. But if other Northwestern scholarship athletes sought to unionize, they could use this case in their favor.
---


M.A. Reed from Hamilton, Ohio, writes:
Really? Miller and one returning starter ranked No. 3, behind a O-line that graduated---everyone? The Ohio"'lean" is more than obvious, but this is ridiculous. Michigan seven? With 9 starters back who are NOT 18 anymore. I could ID several other points, but it should be obvious. Still not buying in? Really?
Adam Rittenberg:
Why should I buy in, M.A.? What has Michigan shown to make me believe it will have a top offense? It could happen. I like
Devin Gardner
more than most,
Derrick Green
is in his second year, and the offensive line should -- should, not will -- be improved. But Ohio State is simply a safer bet right now, even with a new-look offensive line. Urban Meyer is one of the best offensive coaches in the country and it's hard not to give Ohio State's staff an edge, especially with Ed Warinner coaching the line.
Braxton Miller
is a proven playmaker.
Devin Smith
and
Jeff Heuerman
provide some threats in the passing game. Michigan has big question marks at receiver aside from
Devin Funchess
. We see units improve all the time, and Michigan could make big strides this fall. But on paper, Ohio State is better.
---
Kenny from Cincy writes:
Adam, I have been sensing good vibes out of Penn State with James Franklin and a weak schedule next year. It's nice to see it turning around, but can we be real about it? They aren't going to beat Michigan State and had a 60-spot put on that "tough" defense last year by the Buckeyes. They are also going to inevitably lose a game they shouldn't have, as they have done the past several years, and we are looking at a middle-of-the-pack, three- or four-loss season. And that's best-case scenario. Lots of false hope and unrealistic expectations. Rinse and repeat for next season. Am I wrong?
Adam Rittenberg:
Kenny, I wouldn't write off the 2014 season before it starts, even though Penn State faces some obstacles. If the Lions can keep their starting 22 relatively healthy, they'll have a chance to do some damage. But it's important to be realistic about all the changes that the players have gone through, as well as the depth challenges that remain in key spots such as the offensive line. Penn State will be an underdog in several games, but it gets both MSU and OSU at home. You can do a lot with a good quarterback and a good coaching staff, and Penn State appears to have both.
---

Mike from Lincoln, Neb., writes:
I have a question regarding two recent events in the B1G that tie together. Do you think the Illinois State Legislature foresaw the ruling in the Northwestern case and are trying to make a case to replace Northwestern? I remember reading that the former Northwestern president saying they might have to drop football if the players won the case. Could this be the way for the Illinois State legislature to replace the B1G's closest Chicago team with someone like Northern Illinois?
Adam Rittenberg:
Mike, while I can see why you would make that connection, that's not the intent. The two state senators want to upgrade another state school to provide a second landing spot for strong Illinois high school students who don't get into the University of Illinois. They want a model like Michigan, Indiana and Iowa, which have two options with strong academics and big-time sports. What the senators and many others don't fully grasp is how difficult it would be to place another team in the Big Ten. The league has to want to expand, and most of its presidents and chancellors would have to approve a school like Northern Illinois. It's highly unlikely. Northwestern is a founding member of the league, and I don't anticipate the school's Big Ten status changing.
---

Bob from Houston writes:
While I suspect my Boilermakers will struggle mightily again this year, I have to ask if you see a difference in player/team attitude and mental toughness this spring as opposed to last year.
Adam Rittenberg:
I definitely do, Bob. Purdue had to start from scratch last season and spent so much time on simple things, such as how to line up. The teaching process, which
I wrote about earlier today
, is much more evolved and interactive this spring. There has been improvement in areas such as the offensive line, and more leaders are emerging. Will it translate to a winning season? The nonleague schedule is much easier, but the West Division looks solid and Purdue has crossovers against Michigan State (home) and Indiana (road). But progress is being made in West Lafayette.
---

SJL from State of Rutgers writes:
You are right in labeling
Tyler Kroft
a "solid option at tight end". I expect big things from him this year. However, in your "Triple Threat Combinations" post you list Nova-James-Kroft as Rutgers' triple threat combination. I'm surprised you overlooked
Leonte Carroo
. I have to assume the only reason he isn't listed is the uncertainty at quarterback. I guess he won't be much of a threat if the QB play is as poor as it was last year.
Adam Rittenberg:
Glad you brought up Carroo, who I could have and probably should have included on the list. If he stays healthy, he'll do some damage for Rutgers this fall. He averaged 17.1 yards per catch and had more than twice as many touchdown catches (nine) as any other Scarlet Knight. I'm interested to see how new offensive coordinator Ralph Friedgen uses Carroo this fall.
March, 28, 2014
Mar 28
3:00
PM ET
Our
Big Ten coaches tournament
is down to eight legends, and only four of them will be marching on next week to the semifinals.
We come now to the last of our four second-round games. And it's an all-Buckeyes battle.
No. 1 Ohio State's Woody Hayes vs. No. 9 Ohio State's Jim Tressel

Tournament résumés:
Tressel: He coached exactly 10 years in the Big Ten before he left under a cloud of scandal, but few coaches have had better 10-year runs. Ohio State dominated the league under The Vest, winning or sharing seven Big Ten titles (though the last one was vacated) and the 2002 BCS championship. Tressel owns the second-highest winning percentage, both overall and in league play, for coaches who spent at least 10 years inside the conference.
Hayes: He's the No. 1 seed in the tournament for a reason. Hayes won 205 games, the most of any coach while a member of the Big Ten, and a record 152 league games. He also captured 13 Big Ten championships, tying him for the most all time, and five national titles (1954, 1957, 1961, 1968 and 1970). He was irascible, unyielding and one of a kind, and some of those qualities led to his downfall. But he is virtually synonymous with Ohio State and the Big Ten.
Which coach advances? Voting is open through Monday morning, and
drop us a note
as to why you voted the way you did. The best responses will run in our results posts.
March, 28, 2014
Mar 28
12:00
PM ET
Hope your bracket is faring better than mine ...
March, 28, 2014
Mar 28
10:00
AM ET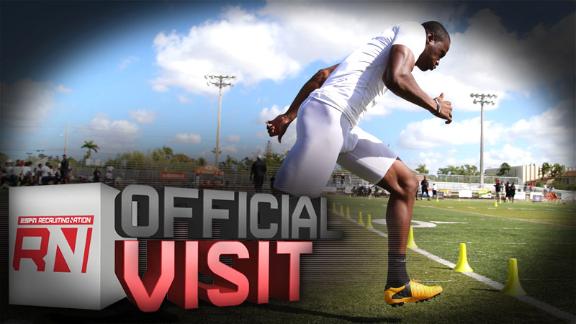 South Florida is arguably the most fertile area in the country for recruiting, and college football coaches annually flock to the talent-rich area to try to land a small piece of a very large pie. The large area located south of Lake Okeechobee that includes the football hotbeds of Broward, Palm Beach and Dade counties has produced 45 ESPN 300 members in the last two recruiting cycles and almost half (22) signed with out-of-state schools.
To continue reading this article you must be an Insider
March, 27, 2014
Mar 27
4:00
PM ET
COLUMBUS, Ohio -- The kitchen is still stocked with enough ingredients to make another delicious offensive meal, but the main dish probably won't be beef again.
With four senior starters gone from the line and bullish running back
Carlos Hyde
headed to the NFL,
Ohio State
is going to have to make some changes to its high-scoring recipe after rewriting the record books thanks in large part to all the meat it had in the middle of the field.
[+] Enlarge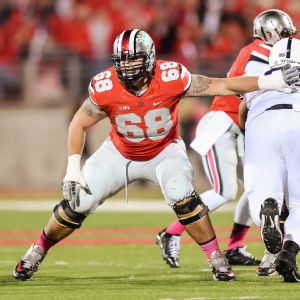 Jamie Sabau/Getty ImagesOhio State's offensive line will be revamped in 2014, with tackle Taylor Decker as the only returning starter.
And while that doesn't mean Urban Meyer or coordinator Tom Herman will be abandoning the power rushing attack that has been the calling card of their version of the spread attack in favor of a more finesse approach, some of its finest ingredients are now on the perimeter, potentially giving the Buckeyes a new look when they're done experimenting this spring.
"As bad as we want an offensive line like last year, it's going to take a while to develop that," Meyer said. "I think at some point because we recruited well and with our line coach [Ed Warinner], that will happen. But no, it's going to be different.
"We're going to have to lean on some perimeter ways of getting first downs and all that. Last year [it] was rushing for 300-plus yards per game. It's because that offensive line was so good. We have other weapons, but it will be a little different taste to it than last year."
Braxton Miller
will still provide the most flavor heading into his senior year at quarterback, but there will be plenty of fresh faces around him as the Buckeyes transition from the veterans who helped pile up points over the last couple seasons to the younger talent Meyer has recruited since taking over the program.
The loss of the core group of linemen is certainly a blow, though Ohio State has prepared for it by working the replacements into games and getting them extra practice work last fall. Filling the void left by the workhorse Hyde might seem like a tall order as well, but the Buckeyes have as many as five candidates they have confidence in to carry the load on the ground in his absence. There's also the matter of replacing leading receiver
Philly Brown
, a versatile athlete who supplemented his 63 receptions with a handful of rushing attempts in a hybrid role.
But if there aren't experienced seniors ready to step up on the line, the Buckeyes at least have returning starter
Taylor Decker
around to bridge last season to the future at left tackle. Hyde's production and consistency made him one of the nation's best tailbacks and a potential first-round draft pick, but
Ezekiel Elliott
shined in his limited opportunities and senior
Rod Smith
has never had his physical tools questioned.
Dontre Wilson
is more than capable of taking over Brown's role now that he has had a chance to grasp the responsibilities of the H-back position and improved his hands enough to be considered a full-time receiver.
Meyer has suggested that using Wilson and athletes like
Jalin Marshall
and
Curtis Samuel
on bubble screens or jet sweeps to get to the edge might be the best way to adapt while the offensive line develops, and he's certainly been recruiting enough speed to perhaps more truly spread the field than the Buckeyes have done in his first two seasons. And as successful as they've been anyway, that different taste might not go down easily for opposing defenses.
"We'll never leave our core values," Herman said. "Spread the field horizontally and vertically, be in the shotgun, add the quarterback as part of our run game and have that dimension and to be a downhill, A-gap, tight-zone, vertical, power-run team with vertical play-action pass off it. What does that evolve to? I don't know.
"But I think when people ask me maybe what I'm most proud of the first couple years here is we didn't fit a square peg into a round hole. ... You've got to figure out what everybody can do, what they do well and try to mask the deficiencies while you're improving them yet play to the strengths. Where that's headed after six spring practices, I have no idea. But it will be different."
The Buckeyes still have plenty of time to tinker, and the cupboards are far from bare.
March, 27, 2014
Mar 27
12:00
PM ET
Warning: Brackets are once again prone to be being busted.
March, 27, 2014
Mar 27
11:06
AM ET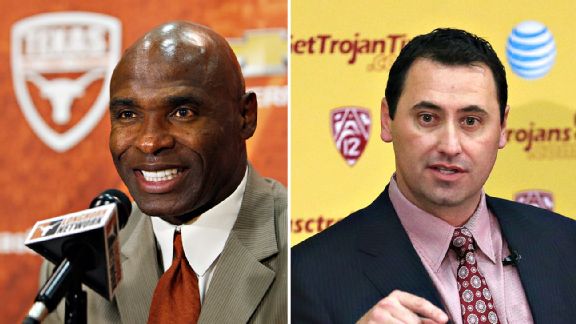 Getty ImagesBoth Charlie Strong and Steve Sarkisian have much to accomplish this spring.
Put mildly, spring ball can sometimes become a labor of love for coaches.
"We got them back from spring break and tried to work the 'fun' out of them, gassers and squats," one SEC assistant told me last week. "But that night was St. Patrick's Day. Tuesday was like starting all over again. They were worthless."
But there is value in the practices. For some, this particular spring is more important than it is elsewhere. At Texas and USC, for instance, new coaches are bringing their styles and systems to high-profile, visible college football hubs.
The Longhorns and Trojans lead our discussion of the five programs for which spring 2014 is the most critical (along with a handful of other programs facing critical springs).
1. Texas Longhorns, 2. USC Trojans
These two are inseparable because they're both big-name programs with new hires, ones that will be heavily analyzed and scrutinized in the coming months (and years). Though they share similarities, they are ultimately different cases.
To continue reading this article you must be an Insider
March, 27, 2014
Mar 27
9:00
AM ET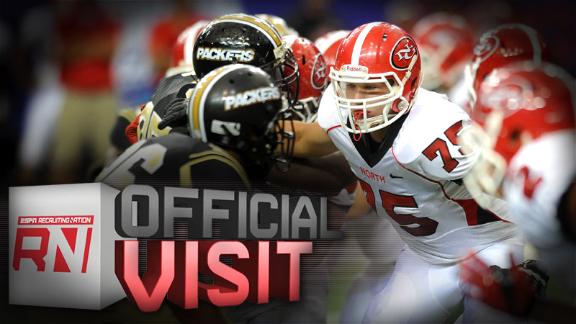 ROSWELL, Ga. -- When listing the most explosive prospects in the Class of 2015, it does not take long to call on
Taj Griffin
.
The 5-foot-10, 174-pound, versatile running back was one of the standouts at last weekend's
Atlanta Nike Nike Football Training Camp
and SPARQ combine, earning an invitation to the The Opening in early July.
To continue reading this article you must be an Insider
March, 26, 2014
Mar 26
3:00
PM ET
COLUMBUS, Ohio -- Nothing has changed.
But to
Ohio State
offensive coordinator Tom Herman, that might actually be a sign of progress.
With the top quarterback on the shelf and their veteran, reliable backup no longer with the program, the Buckeyes have had plenty of time and attention to devote to the battle to replace
Kenny Guiton
behind entrenched starter
Braxton Miller
. And with
Cardale Jones
in the same spot with the first-string offense after six practices that he occupied when spring camp opened, the lack of news Herman has had to report is actually good news for Ohio State.
[+] Enlarge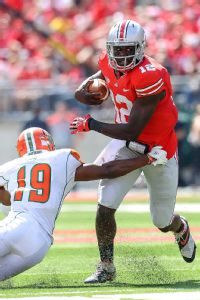 Jamie Sabau/Getty ImagesCardale Jones is getting valuable experience with the first team during spring with Braxton Miller sidelined.
"I think it's telling that through six practices Cardale Jones is still getting the majority of reps with the ones," Herman said after practice on Tuesday. "To say that he's head and shoulders [ahead] or taking a step forward, I don't know that it would be accurate. But he hasn't done anything to not deserve to take those reps.
"He's playing like a quarterback at Ohio State should."
There's still no question who the starting quarterback at Ohio State will be in the fall, but Miller's shoulder surgery and subsequent rehabilitation during March and April has come with a silver lining as the coaching staff evaluates candidates for the crucial relief role Guiton filled so admirably over the last two seasons.
For all his considerable talent and eye-popping production, Miller has been forced to the sideline in a handful of games with minor health issues during his career and also missed three weeks due to a knee injury last fall, with Guiton seamlessly taking the reins every time he was needed. But regardless of how much Jones or
J.T. Barrett
might be called upon in the fall, the Buckeyes are taking full advantage of the extra work both are getting now to try to get them ready for more than a backup role down the road with Miller heading into his final season.
"I tell those two guys a lot of the time, just be you," Herman said. "Their strengths are so different. I tell J.T., you get paid a scholarship to make great decisions, to get the ball out of your hands and be accurate. You're not going to grow, your arm, this year, is not going to get a whole lot stronger. ... So be on time, be accurate and be right with what you do with the football.
"Cardale, your strengths are different as well. Cardale is 6-foot-5 and 250 pounds and can throw it through that wall. Use some of that, use the talents that you have and then while we develop the portions of your game that need to be developed, we'll do that."
For Jones, that process appears largely focused on the redshirt sophomore's accuracy, particularly after scattering throws off target during parts of a scrimmage on Saturday.
But his combination of speed and size makes him an intriguing option as a rusher at quarterback, though certainly in a different way than the elusive, electric Miller. And there's no question about his arm strength, which has previously been on display during open practices and has produced a handful of explosive plays down the field thanks to his ability to deliver the deep ball.
So, after throwing out maybe one rocky performance among six thus far, those positives outweigh any negatives and leave Jones in the same solid position to contribute to the Buckeyes that he was in when camp opened.
"That was just a 'this is my first scrimmage on a winner-loser day as the quarterback with the first offense at the Ohio State University and I'm nervous as hell' thing," Herman said. "What he showed me on Saturday was not indicative of the previous four practices or [Tuesday's] practice. So we've got to make sure they don't get so worked up on a Saturday scrimmage because it's winner-loser day and all their fundamentals and technique and knowledge go out the window.
"Cardale has done a great job. He has done nothing to deserve less reps with the ones right now."
A healthy Miller would change that equation, of course. But for now, Herman has nothing new to report and seemingly no reason to complain.
March, 26, 2014
Mar 26
1:00
PM ET
The best offenses can threaten defenses at the quarterback, running back and wide receiver positions. Brian Bennett on Tuesday examined
the triple-threat combinations from the Big Ten's new West Division
.
Now let's turn our attention to the East Division and rank the triple-threat combinations. The division is strong at quarterback but lacking elite wide receivers.

1. Indiana
QB
Nate Sudfeld
, RB
Tevin Coleman
, WR
Shane Wynn
The Hoosiers featured the league's No. 2 offense in 2013 and top this list even though top receiver
Cody Latimer
bolted for the NFL draft. They have two options at quarterback, but Sudfeld, who had nearly 1,400 more passing yards than teammate
Tre Roberson
, gets the nod here. Coleman brings explosiveness to the backfield after rushing for 958 yards and 12 touchdowns in only nine games. Wynn finished near the top of the league in receiving touchdowns (11) and had 46 receptions for 633 yards.

2. Ohio State
QB
Braxton Miller
, RB
Ezekiel Elliott
, WR
Devin Smith
You would think a team with the back-to-back Big Ten offensive player of the year at quarterback would be rated higher, but the Buckeyes lose a huge piece at running back in
Carlos Hyde
, as well as top receiver
Corey Brown
. Elliott, who had 262 rushing yards last season, is competing for the starting position this spring. Smith has been Miller's big-play target throughout his career and had eight touchdown catches and averaged 15 yards per reception last fall. Tight end
Jeff Heuerman
provides another weapon in the pass game.

3. Michigan State
QB
Connor Cook
, RB
Jeremy Langford
, WR
Tony Lippett
The skinny:
A year ago, Michigan State's offense looked like a mess. Cook began the season as the backup but emerged to lead the Spartans to nine Big Ten wins, all by double digits, and a Rose Bowl championship. Langford answered Michigan State's running back questions with 1,422 yards and 18 touchdowns. There's no true No. 1 receiver on the roster, and while
Macgarrett Kings
(513 receiving yards in 2013) could claim the role, Lippett gets the nod after leading the team in receptions (44) and finishing second in receiving yards (613) last year.

4. Penn State
QB
Christian Hackenberg
, RB
Zach Zwinak
, TE
Jesse James
The Lions have the Big Ten's top pocket passer in Hackenberg, the league's freshman of the year in 2013. But Hackenberg loses his favorite target in
Allen Robinson
, and wide receiver is a major question entering the fall. The tight end position looks much stronger with James,
Kyle Carter
and
Adam Breneman
. Penn State also has options at running back, but Zwinak has led the team in rushing in each of the past two years, finishing with 989 yards and 12 touchdowns last fall.

5. Maryland
QB
C.J. Brown
, RB
Brandon Ross
, WR
Stefon Diggs
Don't be surprised if Maryland finishes higher on the postseason triple-threats list as long as their top players stay healthy, which is hardly a guarantee after the past two seasons. Brown is a veteran dual-threat player who had 2,242 passing yards and 13 touchdowns last year. Ross leads a potentially deep group of running backs after leading the team with 776 rushing yards. Although
Levern Jacobs
led Maryland in receiving last year and returns, Diggs is the team's top threat after averaging 17.3 yards per catch before a season-ending injury in October.

6. Michigan
QB
Devin Gardner
, RB
Derrick Green
, TE/WR
Devin Funchess
Gardner is capable of putting up some big numbers, as he showed last year, but he loses top target
Jeremy Gallon
. The run game is a major question mark for new coordinator Doug Nussmeier, although hopes are high for Green, a heralded recruit who had 270 rushing yards as a freshman. At 6-5 and 230 pounds, Funchess is a tight end who plays like a wide receiver. He finished second on the team in receptions (49), receiving yards (748) and touchdowns (6).

7. Rutgers
QB
Gary Nova
, RB
Paul James
, TE
Tyler Kroft
New coordinator Ralph Friedgen tries to spark an offense that finished 77th nationally in scoring and 95th in yards last season. Nova is competing this spring to retain the starting job, which he has held since the middle of the 2011 season. James averaged 5.6 yards per carry last season and
can be very effective when healthy
. Rutgers is scrambling at bit at the wide receiver position but returns a solid option at tight end in Kroft, who led the team in both receptions (43) and receiving yards (573) last fall.
March, 26, 2014
Mar 26
12:00
PM ET
Eyes closed, head first, can't lose.
March, 25, 2014
Mar 25
4:00
PM ET
COLUMBUS, Ohio -- Some changes were subtle, some were more obvious for
Joshua Perry
as he replayed his first season as a full-time starter on video from beginning to end.
Early in the season, the Ohio State linebacker might not have always been as quick to react, didn't appear to be playing with much confidence and was occasionally prone to missing tackles or assignments, though not all of that is perhaps as clear to anybody else as it is Perry.
[+] Enlarge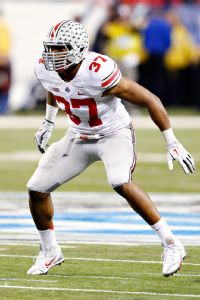 Joe Robbins/Getty ImagesAfter playing a variety of roles last season, Joshua Perry will now be tasked with filling Ryan Shazier's shoes.
What might be easier to decipher is his shift across the defensive formation, starting on the strong side then picking up a few more responsibilities in the middle as his familiarity with the speed of the game and production both increased. That transformation is still on display and spilling over to the spring. Perry has moved again, this time to the weak side, where he is trying to keep the ball rolling after his solid finish last season by tackling both everything he sees and the challenge of replacing
Ryan Shazier
, Ohio State's most prolific defender.
"A lot of times you don't want to necessarily look back and harp on negative things, but you need to take the negatives and the weaknesses and know what they are so you can make them into strengths," Perry said. "I've taken some time and done that, and overall it's just the intensity of the game and playing with my fundamentals that has really changed. When I can do that, I gain confidence to be able to go harder every play.
"You know, the sky is the limit for me, I think."
The Buckeyes are counting heavily on Perry to get closer to his ceiling as a junior, particularly since the defense, as a whole, largely struggled to even get off the ground last season.
Perry played a part in those issues at times, and even when he started to turn the corner individually down the stretch, it wasn't enough to offset problems elsewhere as Ohio State was gashed for piles of yardage and 115 points during its last three games.
Perry was actually turning in his most productive run of the year over that period with 22 tackles, chipping in a pair of tackles for loss and making his only sack of the season in the loss to Clemson. While the Buckeyes lost two of those three games, Perry's personal numbers might help provide something of a springboard as he tries to fill the enormous statistical void left by Shazier's early departure to the NFL.
"Right now, I'm trying to get that comfort level to where I can just see the play and react, be downhill," Perry said. "If I need to cover, I'm going to go cover, but I want to do everything fast and with reckless abandon.
"That's the thing, I had that comfort level towards the end of the year to be able to play a little bit faster, know my assignment and just go. ... But it's all a process. When it clicked [last year] is not necessarily as important as keeping the momentum and the consistency going."
Perry's bit of forward progress from the end of the season is an encouraging sign for an Ohio State defense still trying to rebuild a unit of linebackers that has been hit hard by injuries, transfers and lack of development over the last few seasons, but it's the latter that will be more critical for him if he's going to deliver like his predecessor.
Shazier's consistency was unmatched on the Ohio State roster, and few players around the country were able to contribute in the variety of ways he did as a sideline-to-sideline tackler, playmaker in the backfield and vicious hitter capable of forcing four fumbles. But Perry has made it clear he has no problem stepping into those shoes this spring to continue the ongoing transformation that has been documented on the game film, even when it's not always plain to see.
"I mean, they were pretty big changes, to a certain point," Perry said. "But there's definitely still a lot of changes that can be made.
"Last year, I did all right, I got a little momentum heading into the end of the year and I think that's carried over a little bit. But I can't stop now."
The latest from Gustin at The Opening
BIG TEN SCOREBOARD
Thursday, 8/28
Friday, 8/29
Saturday, 8/30