May, 14, 2014
May 14
10:00
AM ET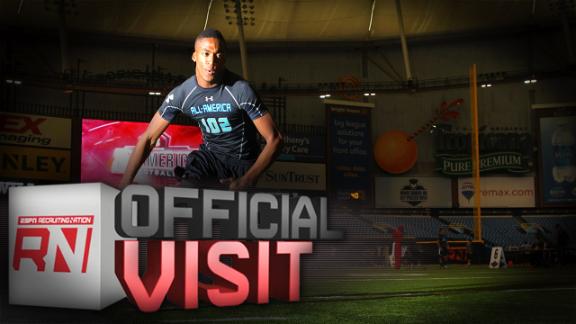 The state of Florida has always been known for producing some of the top athletes in the country. The term "athlete" is sometimes looked at as a negative term, but it really means our scouts believe these talented prospects could play more than one position in college. Here is a closer look at some of the top athletes from the Sunshine State in the
2015 class
.
ESPN 300 athletes from Florida
No. 8 Torrance Gibson
: Gibson is a skilled athlete who can make plays on offense. The five-star athlete led his high school, Plantation American Heritage, to the state championship game. In the game, he had a touchdown run of 80 yards and also a long touchdown pass that was among the "SportsCenter" Top 10 plays. He wants to play quarterback on the next level, but he's the most talented wide receiver on his South Florida Express 7-on-7 team. Whatever position he chooses, Gibson has a bright future ahead of him.
May, 14, 2014
May 14
9:00
AM ET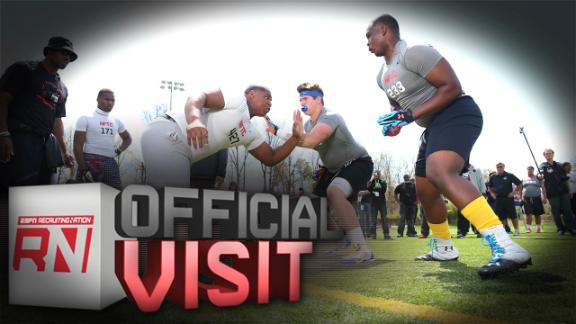 The 2014 NFL draft showed just how important defensive linemen could be to any team. The Houstan Texans chose defensive end
Jadeveon Clowney
with the No. 1 overall pick in the draft, and 21 other defensive linemen were selected in the first four rounds.
That position group is also highly sought after at the college level, which is why coaches from around the country will be spending plenty of time in the state of Virginia.
With five ESPN 300 defensive linemen and a few others of note, Virginia is the home to some potential game-changers at the next level.
To continue reading this article you must be an Insider
May, 13, 2014
May 13
12:00
PM ET
Big Ten athletic directors' meetings are under way at league headquarters. Check back for updates throughout the week.
Link time ...
May, 13, 2014
May 13
11:00
AM ET
More football scheduling announcements are on the way this week, beginning with the kickoff times for homecoming games around the league.
TV plans for most of these will be announced in the normal windows (either 12 days or six days before the game). All games will be aired on ABC, Big Ten Network or one of the ESPN networks.

Here's the full list:
Sept. 27
Wyoming at Michigan State, noon ET
Northwestern at Penn State, noon ET
Iowa at Purdue, noon ET
Illinois at Nebraska, 9 p.m. ET, Big Ten Network
Oct. 11
Oct. 18
Iowa at Maryland, noon ET
Purdue at Minnesota, noon ET
Michigan State at Indiana, 3:30 p.m. ET
Rutgers at Ohio State, 3:30 p.m. ET
Nebraska at Northwestern, 7:30 p.m. ET, Big Ten Network
Oct. 25
Minnesota at Illinois, noon ET
Maryland at Wisconsin, noon ET
Nov. 1
Wisconsin at Rutgers, noon ET
Indiana at Michigan, 3:30 p.m. ET
Indiana and Iowa make the most homecoming appearances (three each). Most teams appear twice on the schedule. Big Ten homecoming games traditionally kick off at noon ET unless the host school is interested in a later kickoff.
Michigan State is the only Big Ten school not hosting a league opponent for homecoming this year.
Kickoff times for the first three weeks of games should be announced in the near future, so stay tuned.
May, 13, 2014
May 13
10:00
AM ET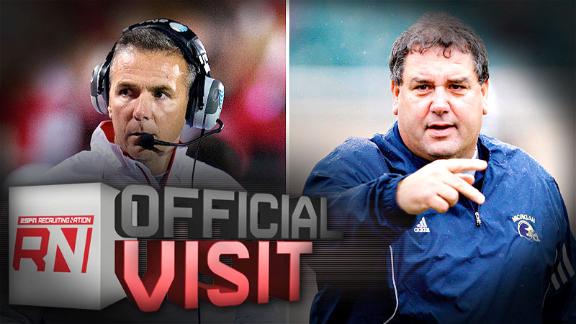 Michigan and Ohio State went in different directions on the field this past season, with the Buckeyes competing for a Big Ten championship and the Wolverines trying to regroup.


Both teams are looking to add firepower to their rosters, though, and the rivals will definitely be battling on the recruiting trail for 2015 prospects. Ohio State will be targeting quite a few Southern prospects, but there are still some overlapping targets for fans to keep an eye on. Here is a look at where each school stands.
To continue reading this article you must be an Insider
May, 12, 2014
May 12
5:00
PM ET
Filling in for the vacationing Brian Bennett on today's mailblog. Because of Big Ten athletic directors' meetings Tuesday and Wednesday, my next mailblog will come to you at the usual time Friday afternoon. Send questions
here
or tweet 'em at me
here
.
Let's get going ...

Glenn from Vancouver writes:
What the heck happened to
Max Bullough
? Four on the draft depth chart and eight ILBs taken in the draft. Presumably everyone interested in him asked what happened with the Rose Bowl suspension so either he refused to answer the question or the answer was unacceptable. Thoughts?
Adam Rittenberg:
Always great to hear from one of my favorite North American cities, Glenn. The Rose Bowl suspension undoubtedly hurt Bullough, but he also showed up to the East-West Shrine Game much heavier than he played during the season. It seems like NFL teams went for speed and versatility at linebacker more than college production. Wisconsin's
Chris Borland
also went later than expected, and Iowa's
James Morris
, like Bullough, wasn't drafted. But not to see Bullough anywhere in seven rounds of the draft was a shock.
---
Jim from Baton Rouge, La., writes:
Your commentary about Coach Tressel becoming YSU's President seems trite to me. At face value, it succeeds only by reducing the role of the Office to one of fundraising. And, Tressel is not a professional fundraiser, e.g., a certified one. He is not even a successful previously employed fundraiser. I find your consideration of the role of an accredited university president embarrassing, of the office, the school, the reader, and the writer.
Adam Rittenberg:
Jim, university presidents obviously do much more than fundraising, but to think fundraising isn't the main thrust of their jobs is naive. That's how schools grow and, in some cases, how they survive. You say Tressel has no professional fundraising experience. You think football coaches don't schmooze university donors? C'mon, Jim. Tressel is an instantly recognizable figure, especially in northeast Ohio. He knows how to connect with large groups and, in my opinion, will be able to reach out to more potential donors than a standard university president whom many don't know.
Also, Tressel gained important experience in the university setting the past two years at Akron. From
my story on him
in November:
Tressel oversees areas like admissions and recruitment, academic support, retention, financial aid and the career center.

He made major changes to the way Akron attracts, admits, educates and advises students. As of last week, Akron had received about 3,000 more freshman applications than it had the previous year, an increase of 52 percent. Tressel moved the career center from a far-flung location to the middle of the student union. He set up the Roo Crew, which connects alumni and others around the university community with current students to assist with job placement. More than 700 alumni are part of the group.
Tressel isn't a traditional hire, but he can succeed in this role, whether folks want to admit it or not.
---

Matt from Des Moines, Iowa, writes:
In
Friday's mailbag
, Shane from Maine asked about Iowa's schedule and the opportunity to run the table. In your response, which as an honest fan I totally agree with, you said they will lose some close games and have a 9-10 win season. So looking through the schedule and your prediction, and obviously before that one if two losses is coming from either Nebraska or Wisconsin. My question for you is which of those two is more likely to beat the Hawks this year? And lastly, one team aside from these two to beat the Hawks?
Adam Rittenberg:
Matt, both games will be tough for Iowa, but I'm going to go with Nebraska because there are more certainties about the Huskers than the Badgers at this point. Nebraska will be out to avenge last year's blowout home loss to Iowa, and the Huskers should be able to match up better with Iowa at the line of scrimmage. I'm not knocking Wisconsin, but I just have a lot of questions about the Badgers right now. They should figure things out by the Nov. 22 trip to Kinnick, but we'll see. Pitt could be a tough early season trip for Iowa, as the Panthers are on the rise. Northwestern always plays Iowa tough and easily could have won last year's game. The Minnesota trip is another tricky game, although Iowa dominated at TCF Bank Stadium last year.
---
@HoosierHolmes via Twitter asks:
How do you see IU's offense adjusting to losing 3 of its top WR's and top TE?

Adam Rittenberg:
It feels odd that wide receiver/tight end will be a question mark for the Hoosiers, as the program has been good at both spots, but there are some major voids right now. IU needs a huge year from
Shane Wynn
, who has explosive ability. The key will be filling spots on the outside, whether it's a veteran like
Nick Stoner
or
Isaiah Roundtree
, or a younger player like freshman Dominique Booth. Also, keep an eye on
Isaac Griffith
, who was impressing people before his swimming accident and could become a great story this season.
---

Shelby from Dallas writes:
How important is the App. State game this year for Michigan? Will a win just suffice or do they need to dominate from wire to wire to erase the bad taste in their mouth from last time they met?
Adam Rittenberg:
Shelby, none of the current Michigan players or coaches was part of the Appalachian State game in 2007, so I don't know if the revenge factor matters. But the Wolverines absolutely need a strong showing in the opener, especially with the questions about the offense that persisted during spring practice. The offensive line needs to dominate,
Derrick Green
and others need to run the ball and quarterback
Devin Gardner
needs to play a smart game. Michigan has a Week 2 trip to Notre Dame and needs to head there with some confidence. Keep in mind, too, that this Appalachian State team isn't nearly as strong as the 2007 version.
May, 12, 2014
May 12
1:00
PM ET
Tired of NFL draft rewind posts? Well, it's nearly over. And besides, not much else is happening in mid-May.
We're taking a closer look, roundtable-style, at
the Big Ten's draft
: how certain teams did, the risers, the falls and more. Noted draft hater Brian Bennett is somewhere in Italy, so Big Ten reporters Mitch Sherman, Josh Moyer and Austin Ward are kind enough to join me in breaking down the draft.
The draft roundtable is on the clock ...
[+] Enlarge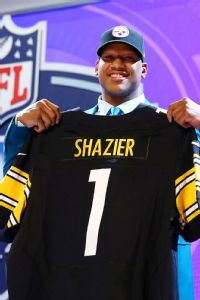 Elsa/Getty ImagesRyan Shazier ended a three-year drought without a Buckeye in the first round.
Let's start off with individual teams you cover -- Nebraska (Sherman), Penn State (Moyer) and Ohio State (Ward), for those who need a refresher. What stood out to you most about each team's draft showing?
Moyer:
Penn State had just three players drafted, so what really stood out to me was how divided the opinion was on
Allen Robinson
, who was picked up by the
Jacksonville Jaguars
in the second round. At times, he was a projected first-rounder. At other times, he wasn't projected to go until Day 3. Some lauded the Jags' pick; others labeled it a reach. Let me add my two cents: He's going to succeed in the NFL. I spoke with two former PSU and NFL wideouts,
O.J. McDuffie
and Kenny Jackson, and they both said last season that A-Rob boasts more physical skills than they ever did. That has to count for something.
Sherman:
NFL organizations continue to rate Nebraska defensive backs highly. Cornerback
Stanley Jean-Baptiste
(second round to the Saints) was the 11th draftee from the secondary in the past 10 years. Since 2003, though, just two Nebraska offensive players, including new Redskins guard
Spencer Long
, have landed in the top three rounds. Receiver
Quincy Enunwa
, despite technical shortcomings, offers value to the Jets as a sixth-round pick. As expected, all others, including quarterback
Taylor Martinez
, had to take the free-agency route.
Ward:
Ohio State has long been a pipeline for the next level, but it had actually been three years since it had produced any first-round picks until
Ryan Shazier
and
Bradley Roby
on Thursday night. The Buckeyes followed that up with four more players being selected, which suggests the talent level is starting to get back to the level the program is accustomed to after going through a bit of a down stretch. It seems a bit backward that two guys from a beleaguered defense were the top picks while the record-setting offense wasn't represented until
Carlos Hyde
and
Jack Mewhort
were grabbed in the second round, but either way the Buckeyes appear to be back as a favored target for NFL organizations.
Turning our attention to the entire Big Ten, which player surprised you by how high he was drafted, and which player surprised you with how far he fell in the draft?
Rittenberg:
I was a little surprised to see
Michael Schofield
go before the end of Day 2. We knew Michigan's poor offensive line play wouldn't impact
Taylor Lewan
, but I thought it might make teams hesitant about selecting Schofield. He's a good player who enters a great situation in Denver. Another Big Ten offensive lineman on a struggling unit, Purdue's
Kevin Pamphile
, surprised me with how early he went. I didn't see
Darqueze Dennard
, the nation's most decorated cornerback on arguably the nation's best defense last season, dropping to No. 24 overall. Wisconsin's
Chris Borland
and Ohio State's Hyde went later than I thought they would.
Sherman:
Long's rise to the third round surprised me after he missed the final six games of his senior season with a knee injury that kept him out of the combine and limited him at Nebraska's pro day. I pegged the former walk-on as a fifth- or sixth-round pick. And I thought Lewan might slip past the first 15 picks because of character questions from a pair of off-field incidents at Michigan. Conversely, I thought Borland's exemplary résumé at Wisconsin might propel him into the top 50 picks. At No. 77 to the 49ers he's a steal.
Ward:
There really weren't guys who made shocking jumps up the board in my mind, though Ohio State safety
Christian Bryant
sneaking into the seventh round was a feel-good story after he missed the majority of his senior season with a fractured ankle. The Big Ten also had a handful of first-round caliber players slide to the second day, so Minnesota's
Ra'Shede Hageman
, Indiana's
Cody Latimer
, Hyde or Penn State's Robinson all qualified as minor surprises -- and great values for their new teams.
Moyer:
How many people thought
Dezmen Southward
would be the first Badger drafted? I sure didn't. The
Atlanta Falcons
scooped him up early in the third round, and they probably could've snagged him two rounds later. As far as guys who fell, I expected both Latimer and Dennard to go sooner. They didn't free-fall, but you kept hearing before the draft how those two improved their stock -- and then Latimer nearly fell to the third round, anyway.
[+] Enlarge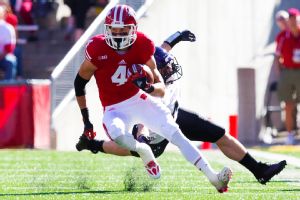 Jeff Hanisch/USA TODAY SportsWisconsin WR Jared Abbrederis went in the fifth round to the Green Bay Packers.
Which Big Ten players will be the biggest sleepers/best values in the draft?
Ward:
General managers and coaches might view running backs as easily replaceable in this new era in the NFL, but the league's most recent champion offered another reminder of how important it is to have a productive rushing attack and an elite tailback. Hyde hasn't proven anything at the next level yet, so comparing him with Seattle's
Marshawn Lynch
is a bit premature. But Hyde has all the physical tools to be a star, from his well-built frame to his often overlooked speed, and he's going to a team in San Francisco that has a system that will put him in position to thrive.
Rittenberg:
Southward's high selection surprised me, too, but the other four Wisconsin players -- Borland,
Jared Abbrederis
, running back
James White
and nose tackle
Beau Allen
-- all are good value pickups. White is an extremely versatile player who might never be a featured back but can block, catch passes and do whatever his coaches need. Allen gained great experience as a nose tackle last fall. I think the
New York Jets
get a sixth-round steal in Enunwa, whose blocking skills should help him get on the field. Big Ten coaches loved
DaQuan Jones
, who looks like a nice value pickup for Tennessee in the fourth round.
Sherman:
I'll place Robinson (second round to Jacksonville) and Abbrederis (fifth to Green Bay) together in a category of undervalued Big Ten receivers. Perhaps it illustrates a general stigma about offensive skill players from the conference; throw second-rounders Latimer and Hyde into the discussion, too. NFL decision-makers might not respect the competition these players face on a weekly basis and count it against them in evaluations. If so, that's a big problem for the Big Ten.
The Big Ten had eight more players drafted this year than in 2013, but its champion, Michigan State, had only one selection. What does this say about the league and its trajectory?
Sherman:
After 2012, the Big Ten presumably had nowhere to go but up in producing quality prospects. The influx of Urban Meyer-recruited talent will soon impact the Big Ten in the draft. Same goes for Brady Hoke, even if he's not making gains in the standings. Penn State and Nebraska, too, are upgrading their talent, so the trajectory figures to continue upward. As for Michigan State, it was young on offense and clearly better than the sum of its parts on defense, a testament to Mark Dantonio and Pat Narduzzi. The absence in the draft of
Max Bullough
and
Denicos Allen
caught me off guard.
Moyer:
Having more picks shows the Big Ten is on the right track ... but it still has a long way to go. Yes, it improved on last year -- but it still finished behind the SEC (49), ACC (42) and Pac-12 (34) this year, in terms of players drafted. As far as Michigan State, I think their success serves as a reminder that the right coaching and the right schemes can still trump a roster full of NFL-caliber players. Penn State's success during the sanctions also helps to reinforce that.
Ward:
It's another reminder of how well-coached the Spartans were a year ago, particularly in turning a defense that had just one player drafted into the nation's best unit. Dantonio deserves another bow for the job he and his staff did a year ago, even if they didn't have much to celebrate during the draft. The league does seem to be on the rise again in the minds of top athletes around the country with Meyer, Hoke and now James Franklin upping the ante on the recruiting trail. Those efforts should produce even better weekends than the one that just wrapped up.
Rittenberg:
It says something when arguably the best Big Ten team in the past seven or eight years -- MSU had nine double-digit league wins plus the Rose Bowl triumph -- produces only one draft pick. Still, I think the arrow is pointed up after a horrendous 2013 draft. The Big Ten has struggled to produce elite prospects at both cornerback and wide receiver in recent years. This year, the league had three corners drafted in the first two rounds, and while I agree the Big Ten's wide receivers were undervalued, the league still produced five picks. The next step is obvious: generating better quarterback play as no Big Ten QBs were drafted this year.
May, 12, 2014
May 12
12:09
PM ET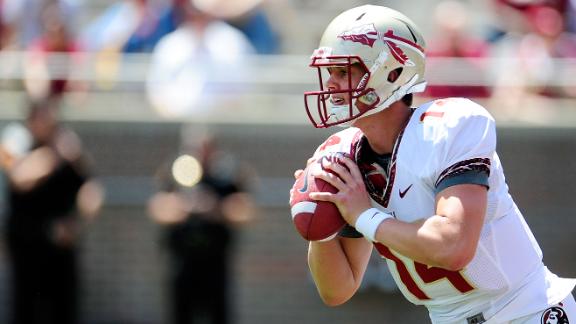 This week, ESPN.com envisioned how the inaugural College Football Playoff might play out. Beginning with the 16 best teams in the nation, as chosen by our own mock selection committee of 13 college football experts, we whittled the list to eight, to four, and to two. Today, we reveal our choice for the favorite to win the four-team playoff: Florida State.
The Seminoles return 14 starters from last season's national championship team, but most importantly, they return the best player in the country in the reigning Heisman Trophy winner, quarterback Jameis Winston.
The Contenders | The Talent | The Strategy | The Leader | The Star
---
The Star
TALLAHASSEE, Fla. -- So which Jameis Winston do you think will play for Florida State this fall? Will it be the quarterback who won the Heisman Trophy? Or the 20-year-old who thought he could walk out of Publix with $32 of seafood?
Do you like your college heroes without a flaw? Or should we allow them to grow up in private? And if we do allow them to grow up in private, should we write off shoplifting dinner as an immature stunt? Don't most of us learn not to take something without paying for it pretty early on?
When Seminoles coach Jimbo Fisher talks about Winston, doesn't he sound as if he's describing Andrew Luck?
"His ability to retain information and process it and get it out is ridiculous," Fisher said.
For a redshirt sophomore? Or for anybody?
May, 12, 2014
May 12
12:00
PM ET
Happy belated Mother's Day to all the moms out there. I got to spend the first part of Sunday with mine before flying home to see my wife on her first Mother's Day. Good times.
To the links ...
May, 12, 2014
May 12
10:30
AM ET
Thirty Big Ten players heard their names called
during the 2014 NFL draft, but many others received phone calls immediately after the event. The undrafted free-agent carousel is spinning, and players from around the Big Ten are hopping aboard.
Unlike the draft, the UDFA list is somewhat fluid, and other players could get picked up later today or in the coming days. To reiterate:
This is not the final list
.
Here's what we know right now from various announcements and media reports:

ILLINOIS
LB Jonathan Brown, Arizona Cardinals
WR Ryan Lankford, Miami Dolphins
TE Evan Wilson, Dallas Cowboys
WR Steve Hull, New Orleans Saints
WR Spencer Harris, New Orleans Saints
Notes:
Illini OT Corey Lewis, who battled knee injuries throughout his career, told Steve Greenberg that
several teams are interested in him
if he's cleared by doctors.

INDIANA
WR Kofi Hughes, Washington Redskins
RB Stephen Houston, New England Patriots
Notes
: S Greg Heban and K Mitch Ewald have tryouts with the Chicago Bears.

IOWA
LB James Morris, New England Patriots
OT Brett Van Sloten, Baltimore Ravens
G Conor Boffeli, Minnesota Vikings
WR Don Shumpert, Chicago Bears
LS Casey Kreiter, Dallas Cowboys

MARYLAND
LB Marcus Whitfield, Jacksonville Jaguars
CB Isaac Goins, Miami Dolphins

MICHIGAN
LB Cam Gordon, New England Patriots
S Thomas Gordon, New York Giants
Notes:
RB Fitzgerald Toussaint (Baltimore), DT Jibreel Black (Pittsburgh), LS Jareth Glanda (New Orleans) and DT Quinton Washington (Oakland)
will have tryouts
.

MICHIGAN STATE
LB Denicos Allen, Carolina Panthers
S Isaiah Lewis, Cincinnati Bengals
T/G Dan France, Cincinnati Bengals
WR Bennie Fowler, Denver Broncos
LB Max Bullough, Houston Texans
DT Tyler Hoover, Indianapolis Colts
DT Micajah Reynolds, New Orleans Saints
OL Fou Fonoti, San Francisco 49ers
Notes:
LB Kyler Elsworth has a tryout scheduled with Washington.

MINNESOTA
LB Aaron Hill, St. Louis Rams

NEBRASKA
QB Taylor Martinez, Philadelphia Eagles
OT Brent Qvale, New York Jets
CB Mohammed Seisay, Detroit Lions
DE Jason Ankrah, Houston Texans
C Cole Pensick, Kansas City Chiefs
OT Jeremiah Sirles, San Diego Chargers
Notes:
CB Ciante Evans has yet to sign but will do so soon. DB Andrew Green
has a tryout with the Miami Dolphins
.

NORTHWESTERN
WR Kain Colter, Minnesota Vikings
K Jeff Budzien, Jacksonville Jaguars
WR Rashad Lawrence, Washington Redskins
DE Tyler Scott, Minnesota Vikings

OHIO STATE
S C.J. Barnett, New York Giants
K Drew Basil, Atlanta Falcons
WR Corey Brown, Carolina Panthers
G Andrew Norwell, Carolina Panthers
G Marcus Hall, Indianapolis Colts
WR Chris Fields, Washington Redskins

PENN STATE
OT Garry Gilliam, Seattle Seahawks
LB Glenn Carson, Arizona Cardinals
S Malcolm Willis, San Diego Chargers
Notes:
OT Adam Gress will
have a tryout with the Pittsburgh Steelers
.

PURDUE
DE Greg Latta, Denver Broncos
S Rob Henry, Oakland Raiders
G Devin Smith, San Diego Chargers
DT Bruce Gaston Jr., Arizona Cardinals
Notes:
P Cody Webster will have a tryout with Pittsburgh.

RUTGERS
WR Brandon Coleman, New Orleans Saints
WR Quron Pratt, Philadelphia Eagles
LB Jamal Merrell, Tennessee Titans
DE Marcus Thompson, Miami Dolphins
S Jeremy Deering, New England Patriots
Notes:
According to
Dan Duggan
, DE Jamil Merrell (Bears) and G Antwan Lowery (Baltimore) will have tryouts.

WISCONSIN
G/T Ryan Groy, Chicago Bears
TE Jacob Pedersen Atlanta Falcons
TE Brian Wozniak, Atlanta Falcons
DE Ethan Hemer, Pittsburgh Steelers
Quick thoughts:
Martinez's future as an NFL quarterback has been heavily scrutinized, but Chip Kelly's Eagles are a fascinating destination for him. Whether he plays quarterback or another position like safety, Kelly will explore ways to use Martinez's speed. ... The large Michigan State contingent is still a bit startling. The Spartans dominated the Big Ten, beat Stanford in the Rose Bowl, use pro-style systems on both sides of the ball and had just one player drafted. Bullough, Allen and Lewis all were multiple All-Big Ten selections but will have to continue their careers through the UDFA route. ... Colter certainly
looked like a draft pick during Senior Bowl practices
in January, but that was before his ankle surgery and his role in leading the unionization push at Northwestern. I tend to think the injury impacted his status more, but NFL teams have been known to shy away from so-called locker-room lawyers. ... Other Big Ten standouts like Jonathan Brown, Morris and Pedersen were surprisingly not drafted. Morris should be a great fit in New England. ... Coleman's decision to leave Rutgers early looks questionable now that he didn't get drafted.
May, 12, 2014
May 12
9:00
AM ET
The biggest non-game on the American sporting calendar is
all done
, as the 2014 NFL draft wrapped up Saturday afternoon in New York. After
arguably its worst draft in the modern era
in 2013, the Big Ten performed better this year with 30 picks. Still, the league finished fourth among conferences in selections, trailing the SEC (49), ACC (42) and Pac-12 (34).
After a big Friday night with six second-round selections -- including four in a row -- and six third-round selections, the Big Ten's momentum slowed a bit Saturday in the final four rounds. The league had only one sixth-round pick and only four in the seventh round.
Let's start the breakdown by listing Big Ten draftees by round (with comments below). Maryland and Rutgers players aren't included here because neither group competed in the Big Ten (Terrapins CB Dexter McDougle went in the third round; Rutgers had no players drafted).
FIRST ROUND (4)
[+] Enlarge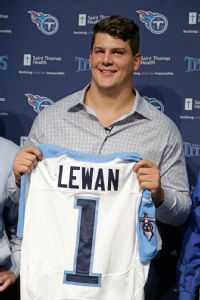 AP Photo/Mark HumphreyTaylor Lewan was the first Big Ten player selected, going 11th overall to the Tennessee Titans.
Analysis:
Click here for my first-round thoughts
SECOND ROUND (6)
Analysis:
Hageman ends up in a really good spot with the Falcons. Although Latimer had an excellent pre-draft performance, it wasn't surprising to see him end up in the middle of the second round. Hyde waited longer than many anticipated, but he enters a great situation with a team that loves to play power football. Robinson joins a new-look Jaguars passing attack featuring quarterback
Blake Bortles
and wideout
Marqise Lee
.
THIRD ROUND (6)
Analysis:
Everyone had Southward going before Borland, right? Borland, the 2013 Big Ten defensive player of the year, had an exceptional college career, but concerns about his height and perhaps his injury history moved him down the draft boards. The Iowa Effect shows up here as both Fiedorowicz and Kirksey were swept up by teams that respect what the Hawkeyes do. What does it say that Michigan's offensive line struggled mightily in 2013 but had two tackles drafted in the first three rounds? Those young Wolverines linemen had better step up this fall.
FOURTH ROUND (4)
Analysis:
Some really good pickups in this round, especially White, who will fit in very well with New England's offense. Although
James Morris
received the most accolades among Iowa's linebackers at the college level, both Kirksey and Hitchens were mid-round selections, while Morris went undrafted and signed with New England as a free agent. As a Chicago Bears fan, I love the Vereen pick. He's a smart, athletic versatile player who knows from his older brother what it takes to succeed in the NFL.
FIFTH ROUND (5)
[+] Enlarge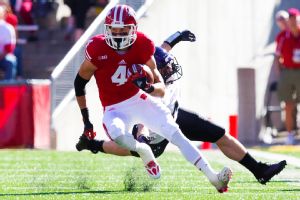 Jeff Hanisch/USA TODAY SportsJared Abbrederis isn't venturing far from Madison as he was drafted by the Green Bay Packers.
Analysis:
Like his teammate Borland, Abbrederis had a much longer wait than expected but lands in a very familiar spot with Green Bay. I think he's a steal and will surprise people with his ability to make plays despite less-than-ideal measurables. Pamphile had a fairly quiet college career but is seen as a project and could develop into a better pro. Urschel is another player who lacks the ideal physical traits sought in the NFL, but could make up for it with exceptional intelligence.
SIXTH ROUND (1)
Analysis:
Enunwa complemented his superb blocking skills with big-play ability in the pass game as a senior. He's a good value for a Jets team that needs to boost the league's 31st-ranked pass offense.
SEVENTH ROUND (4)
Analysis:
All four players could be very good values. Bolser is an athletic tight end who had 15 career touchdown catches. Allen showed versatility as a senior, transitioning to a 3-4 scheme. Gallon heads to a Patriots team that has had success with smaller, productive receivers. Bryant likely would have been selected higher if not for major leg and ankle injuries last season.
Here are the draft picks per B1G team:
Ohio State:
6
Wisconsin:
5
Michigan:
3
Penn State:
3
Nebraska:
3
Iowa:
3
Purdue:
2
Minnesota:
2
Indiana:
2
Michigan State:
1
The big surprise is a Michigan State team that dominated Big Ten play and won the Rose Bowl had just one player selected, as standout linebackers
Max Bullough
and
Denicos Allen
didn't have their names called. Only four teams -- LSU, Alabama, Notre Dame and Florida State -- had more selections than Ohio State. Illinois, which led the Big Ten in draft picks last season (4) and had 18 picks between 2009-13, had no selections. Northwestern also went without a draft pick for the second straight year.
Curious about the Big Ten's undrafted free-agent signings? Check back in a bit as we take a look.
May, 9, 2014
May 9
4:00
PM ET
Is it a bit drafty in here? Wishing you a great weekend.
Twitter?
Yes, please
.
Let's check that inbox ...

Shane from Maine writes:
I usually ask Wolverines-related questions, but something else caught my attention. What are your thoughts on Iowa's schedule? It looks REALLY soft. Do you think the Hawkeyes have a chance to go undefeated in a season that has their toughest games at home against Wisconsin and Nebraska?
Adam Rittenberg:
Iowa's schedule looks extremely beneficial, Shane, but I don't see the Hawkeyes running the table. They're a good team that could build on last season's success, but the Hawkeyes almost always find themselves in close games because their talent isn't head and shoulders above the competition. Easy schedule or hard schedule, you need to be a truly elite team with elite talent to run the table in a major conference (see: 2013
Florida State Seminoles
). Iowa will end up on the short end of some close game, but I predict a good season (9-10 wins).
---

Jeff from Baltimore writes:
This week, we saw what I would call (Jim) Delany's most out-of-the-box, hell, out-of-the world, decision in giving the 2017 BBall tourney to D.C. Now, living in Baltimore, I like the idea of cutting out of work early and driving to the Verizon Center, but it won't have the same feeling as if it would and should in either Indy or Chi-town. Do you see him repeating this thinking for the football championship?
Adam Rittenberg:
Jeff, I wrote about this back in January. There's
no desire to move the football championship game
outside of the Midwest. The Big Ten loves Indianapolis and everything it brings, and it could consider sites like Chicago, Minneapolis and Detroit in future years. The difference with football is the event includes only two teams and two fan bases, not all 14. It's less likely to draw general Big Ten fans than the basketball tournament, a multi-day event featuring more games and teams. Big Ten deputy commissioner Brad Traviolia said of the hoops tournament: "Regardless of where you place it, you're going to have a team or two that basically will be a home team, whether it's Indiana and Purdue in Indianapolis or whether it's Maryland in D.C. or Rutgers and Penn State in New York." Geography matters more for the football title game.
---

Grant from San Francisco writes:
As a lifelong Spartans fan, I am becoming increasingly weary of all the unbridled optimism surrounding the program this coming season. I have experienced this before and know just how fast the wheels can come off. You guys spent some time with the team, so maybe you can provide some insight. With a huge matchup in Week 2 against Oregon, what exactly is [Mark] Dantonio doing now that the team is starting at the top with everything to lose, rather than starting unranked with nothing to lose? Quotes keep coming out about "we are hungry"... "we are tired of talking about last year"... but how exactly are they preventing complacency?
Adam Rittenberg:
Grant, I understand your concern about MSU's history when starting on top, but it's also important to acknowledge the culture change under Mark Dantonio. This team has won 11 or more games in three of the past four seasons. MSU had a disappointing 2012 season but was a few plays away from winning eight or nine games. Also, the quarterback situation with
Connor Cook
is much more stable than it was in 2012. Brian Bennett visited the Spartans this spring and came away thinking they're locked in and not getting complacent. The continuity in the coaching staff really helps, and most MSU players suffered through the 2012 season and haven't forgotten it. You don't really know how a team responds until the games begin, but Dantonio isn't the type to let anyone take their foot off of the gas. His recent track record confirms this.
---


Rolf from Seattle writes:
I have to question your Ohio State draft pick of
Devin Gardner
. First off he went to that school up north, so that would never happen. Second, he is going to be gone next year anyway and doesn't leave Ohio State with any more time left than Braxton. Third, with three backups behind Braxton, another year in the system should get at least two of them ready to carry the torch. Fourth, Devin went to TSUN!!!!! Anyway, the blog is still awesome.
Adam Rittenberg:
Thanks, Rolf, and yes, I realize
sending a Michigan player to Ohio State
doesn't sit well with all (Justin Boren worked out OK, though). The Buckeyes clearly need a quarterback to replace
Braxton Miller
, and I'm not confident enough in any of the current backups to step in, especially with a revamped offensive line. Brian had the Buckeyes adding
Tre Roberson
, who has more eligibility left than Gardner and also fits in a spread offense. But I think Gardner, in the right system like Ohio State's, has more upside. Despite Michigan's offensive line troubles, Gardner still finished second in the league in passing and had some huge games. Ohio State needs a one-year fill-in here, and Gardner is the best option.
---

Greg from Boulder writes:
As a suddenly greedy Penn State fan, should I have any concern that Penn State is having trouble closing the deal on top talent in the secondary in the way-too-early 2015 class?
Adam Rittenberg:
Concern? About Penn State's 2015 class? No, don't be concerned. What
James Franklin
and his staff have done in the past four months is rather remarkable, especially with the program still under NCAA sanctions. They already have
Jarvis Miller
in the fold and will add other defensive backs before signing day, which is a very long way away. Also remember that Penn State likely will only lose two players -- safeties
Adrian Amos
and
Ryan Keiser
-- from this year's secondary rotation.
May, 9, 2014
May 9
1:30
PM ET
Several coaches close to Jim Tressel whom I spoke to for
this story
in November held out hope that he would one day return to the sideline.
They also knew his interest in education -- teaching, mentoring and administration -- wasn't just something to fill his days until the next coaching opportunity came along. Tressel was mentioned as a
candidate to join Jim Caldwell's staff
with the Detroit Lions in January, but he stayed at Akron as the school's vice president for student success and soon applied for the president positions at both Akron and Youngstown State, where he coached from 1986 to 2000 and won four Division I-AA national championships.
Akron
selected another candidate on Thursday
, but Youngstown State's trustees on Friday
voted to offer the position to Tressel
. He had been one of three finalists at both schools.
"Mr. Tressel has the personality and leadership skills, in addition to widespread community support, to dramatically raise YSU's profile and prominence across Ohio and the nation," Youngstown State board of trustees chairman Sudershan Garg said in a statement.
Tressel's appointment won't be finalized until contract terms are reached.
Earlier this month at a public forum in Youngstown, Tressel
told a questioner that his coaching days are over
.
He left the door open a little more when we spoke in November, but his interest in education came across as sincere, including how he taught a coaching staff with Jim Dennison and how he interacted with students around campus.
"We're mediocre in the world in education," Tressel told me. "We're not at the top of the heap. I don't like being mediocre. I want every kid to get that job they're looking for. It drives you every day to figure out how we can get 26,000 to 27,000 kids to succeed. That's as tough of a game as there is."
Tressel's coaching friends wanted him back in the game, not just because of the success he had but because of the way things ended at Ohio State. But his own pull to the sideline didn't seem as strong.
He wasn't overtly bitter about Ohio State, and while he still spends much of the fall around football, he seemed to get his competitive fill from being a top administrator at Akron.
"Jim is a lot more comfortable in a shirt and tie than most coaches," Akron coach Terry Bowden said. "I don't think there are many coaches in the country that are as comfortable in the administrative side of colleges as Jim Tressel. So I wouldn't be surprised if that's where he finishes his career."
It appears that will be the case. Tressel knows Youngstown and immediately enhances the school's profile as president. The job is largely about fundraising, an area where he will undoubtedly excel.
Tressel has
trouble spots in his past
, including some during his coaching tenure at Youngstown State. People remember Ray Isaac and Maurice Clarett and the Tat-5 scandal. Tressel is still under a show-cause penalty from the NCAA. These issues will be brought up as he begins his new role.
But college presidents aren't saints. Neither are coaches, despite the image Tressel often portrayed. Tressel has his flaws, but I found it interesting that two of his former players he talks to the most -- Clarett and Terrelle Pryor -- are the ones who most damaged his reputation. You can't say he doesn't care about helping people.
Bottom line: You look at what college presidents do and where the job will be, and Tressel looks like a good fit. He reportedly wanted the Youngstown job more than the Akron one, and
he remains extremely popular in the Youngstown community
.
He has turned a page on his career. So should we.
May, 9, 2014
May 9
12:00
PM ET
Fourteen Big Ten programs combined to produce four first-round NFL draft picks. Louisville, Northern Illinois and Buffalo together had five. Eleven of 32 came from the SEC. Discuss.
Drive Through: August 20th
BIG TEN SCOREBOARD
Thursday, 8/28
Friday, 8/29
Saturday, 8/30