March, 12, 2015
Mar 12
4:00
PM ET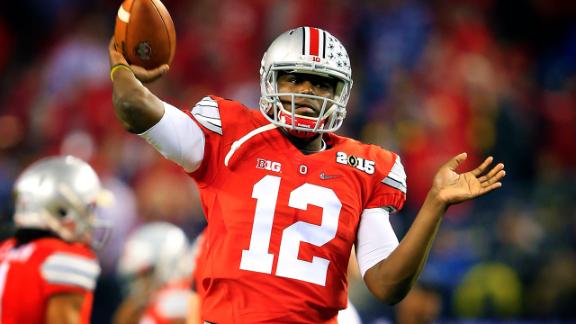 COLUMBUS, Ohio -- There is something of a historical pecking order in the Ohio State quarterback derby, and
J.T. Barrett
helpfully offered a quick refresher course after walking off the practice field.
The redshirt sophomore never beat out
Braxton Miller
when both were healthy. Before Barrett broke his ankle,
Cardale Jones
wasn't able to leap to the top of the depth chart to start a game for the Buckeyes, either.
But almost as soon as Barrett offers that dose of perspective to a three-way competition that hasn't even officially started thanks to those health concerns, he's quick to dismiss the past when it comes to settling on the best option to lead Ohio State's defense of its national title in the fall.
If Miller has never been topped before injury, and Barrett had the edge over Jones, does that mean it should be the depth chart when all are healthy?
"No, no, no," Barrett said. "It's still a competition, it's just the thought that nobody beat out anybody.
"When I came in and started playing, I was just doing my part as far as being a quarterback on the team. Same thing when I got hurt, Cardale was just doing his part. I think oftentimes it's out there thinking that one person beat out another person, but nobody really beat out anybody. We were definitely competing when everybody was healthy trying to play, but then when the unfortunate things happened with Braxton and myself, we were just doing our part knowing that somebody had to step in and make plays."
The success Barrett and Jones had when pressed into that situation is what has created this three-man circus, with the seamless transition Barrett made replacing a Heisman Trophy candidate by becoming one himself, and then Jones taking over to lead the run to the championship, giving Ohio State an apparent embarrassment of riches.
Both former backups offered another history lesson after the second practice of spring camp on Thursday morning, stressing that a battle between these particular quarterbacks at Ohio State is really nothing new.
"It's always been a competition to us, ever since I stepped on campus and Kenny [Guiton] was here," Jones said. "For you guys, this is the first time ever you guys got to see all three of us get a chance to play, but it's always been a competition.
"[Last year] really doesn't mean anything now. That meant a lot to us as far going through that run we had, but I don't think last year is going to affect the competition for this year."
Similarly, Miller's track record leading the spread offense and his two Big Ten Player of the Year trophies won't have any impact moving forward for the Buckeyes, which in many ways makes the reflecting about past competitions irrelevant.
It does, however, offer something of an indication of how much respect Miller still has from his peers in perhaps the most closely scrutinized quarterback room in college football history. Though he declined to meet with the media and hasn't spoken publicly since injuring his shoulder for the second time during training camp before last season, his decision to put on an Ohio State uniform this spring and not use his degree to transfer elsewhere suggests he's not afraid of competing once more against two guys he's already held off before.
Of course, there wasn't a fifth-place finisher in the Heisman race or a postseason dynamo who won the inaugural College Football Playoff to contend with back then, either. The faces haven't changed since this time a year ago for Ohio State, but Miller is no longer the only guy with history on his side.
"That's the thing, we compete every year," Barrett said. "We encourage each other, there's not any bad blood between any of us. Those are like my brothers, my older brothers, and we're just competing to try to get better for the program.
"Last year there was a competition, and that's the way it is. Nobody is really safe around here. You start playing bad, the guy behind you is probably just as good. You really can't be relaxed with anything you're doing. It's always a competition, that's just what it is."
The Buckeyes have been through all this before, and they are well aware of how it turned out. But this is a new chapter, and the record books aren't going to decide the future for Ohio State.
March, 12, 2015
Mar 12
3:40
PM ET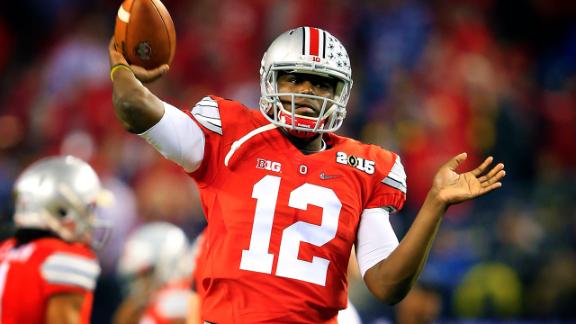 COLUMBUS, Ohio -- Ohio State quarterback Braxton Miller can run but can't yet throw during spring practice.
Conversely, Buckeyes quarterback J.T. Barrett can throw but can't yet run.
That leaves Cardale Jones as the only returning Ohio State quarterback who can do everything in spring practice.
While the injuries might not be the most ideal situation for defending national champion Ohio State, it isn't the worst scenario imaginable. If Barrett and Miller can't fully participate in spring practice, they technically can't lose the starting job. And that's why all three might still be on campus when the Buckeyes open preseason camp in August.
August is when Ohio State's pressure cooker scenario really begins. Perhaps never before have three quarterbacks who accomplished so much in college football battled for one starting job. It will be one of the most-watched position battles in recent history.
"Somebody asked me if I was stressed about it," Ohio State coach Urban Meyer told ESPN.com Thursday. "Not at all, because Plan A is good, Plan B is good and Plan C is really good. I don't know what it is. The stressful part is when you start thinking about the people involved, and they're great people."
March, 12, 2015
Mar 12
1:09
PM ET
March, 12, 2015
Mar 12
10:00
AM ET
Last season was undoubtedly the "Year of the Running Back" in the Big Ten.
We've talked about it ad nauseam around here, but in case you need a refresher course, the league featured such star tailbacks as Wisconsin's
Melvin Gordon
, Indiana's
Tevin Coleman
, Nebraska's
Ameer Abdullah
, Minnesota's
David Cobb
, Ohio State's
Ezekiel Elliott
, Michigan State's
Jeremy Langford
and Northwestern's
Justin Jackson
. When you have two 2,000-yard rushers and five others go over 1,100 yards -- including the offensive MVP of two playoff games -- then there's no debate which position is the strongest.
The running back position isn't going to drop off a cliff this year, either, as Elliott and Jackson return and new stars like Wisconsin's
Corey Clement
will emerge. But 2015 is going to be the "Year of the Quarterback" in the Big Ten.
[+] Enlarge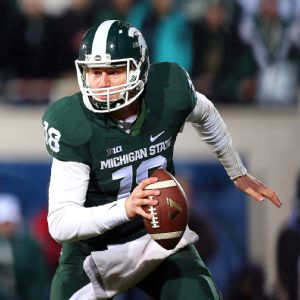 Mike Carter/USA TODAY SportsConnor Cook has a 23-3 record as a starter at Michigan State.
That might sound silly, just based on recent history. Elite quarterback play in this league has been hard to find at times in the past few years, and the conference has not produced a first-round NFL draft pick at quarterback since Penn State's Kerry Collins in 1995. That streak won't end with this spring's draft, either.
But the drought almost certainly will change with the 2016 draft. In fact, there's a good chance the Big Ten will have multiple quarterbacks taken in the first round next year -- and we're not just talking about all of Ohio State's guys.
The Buckeyes are a great place to start in this discussion, as one of their three candidates for this year's starting job --
Cardale Jones
,
Braxton Miller
and
J.T. Barrett
-- instantly will become a Heisman Trophy front-runner the second he earns the gig. Assuming all three stick around until the fall, that will be a continuing topic of conversation and curiosity in Columbus and beyond.
There's zero quarterback controversy in East Lansing, as
Connor Cook
decided to return to Michigan State for his senior year. He's got a 23-3 record as a starter (and is 16-1 in Big Ten games) and already has led the team to victories in the Rose and Cotton bowls. If Cook can shore up some of his footwork and decision-making, he could be the first quarterback off the board next year ... unless, that is, Penn State's
Christian Hackenberg
comes out as a junior.
Hackenberg had major struggles last season as a sophomore, owing a lot to an offensive line held together with spit and string. But his natural talent is undeniable, and he reminded everybody of that by throwing for 350 yards and four touchdowns against Boston College in the Pinstripe Bowl. With better protection and more experience at receiver, Hackenberg could bounce back in a big way in 2015.
There aren't as many household names under center at other Big Ten campuses. But Indiana's
Nate Sudfeld
has long been viewed as a pro prospect. His 2014 season was cut short by a shoulder injury, and he should be fully healed by the start of 2015. Illinois'
Wes Lunt
also was hampered by injuries last year, but when he was healthy, he threw for at least 266 yards four times. Both Sudfeld and Lunt are listed at 6-foot-5 and have the classic quarterback builds.
Tommy Armstrong Jr
. has the perfect last name for a quarterback and could take the next step in his development as a junior for Nebraska. He'll play in a more passer-friendly offense under Mike Riley, and Armstrong gave a hint of his potential with a 381-yard, three-touchdown showing against USC in the Holiday Bowl.
Questions abound at other places, like Wisconsin, Rutgers, Purdue, Northwestern and Michigan. But each team has talented options that could be unlocked.
Mitch Leidner
moves into his third year of starting for Minnesota and had one of his better games in the Buffalo Wild Wings Citrus Bowl.
C.J. Beathard
appears to be the man moving forward for Iowa, and his big arm and fearlessness gave the offense a spark last year.
The Big Ten looks like it's on an upswing, especially after a strong showing in the postseason. Improved quarterback play is a big reason why. This will be the best crop of signal-callers throughout the league in a long time, which is why 2015 will be the Year of the Quarterback.
March, 12, 2015
Mar 12
9:00
AM ET
Gary Nova is fast?
The former four-year starting quarterback at Rutgers ran the 40-yard dash in 4.61 seconds Wednesday at pro day in Piscataway, part of an overall
solid performance
before scouts from every NFL team.
Nova gained 141 rushing yards as a senior and lost 146. He was sacked 69 times in his career and was rarely known as a threat to escape the pocket.
Apparently, though, he can run. Nova clocked a 4.65 in his second shot at the 40. His best mark Wednesday would have ranked fourth among quarterbacks -- behind Marcus Mariota, Nick Marshall and Blake Sims -- at the NFL combine last month.
Nova was not among 15 quarterbacks invited to the combine after he threw for 9,258 yards and 73 touchdowns at Rutgers over four seasons. He measured 6-foot-1 and 222 pounds at pro day.
Mentored by former NFL QB Jay Fiedler, Nova is viewed as a likely free-agent signing after the draft. Clearly, if he makes a roster, Nova -- who turns 22 the week of the draft -- won't be asked to showcase that 4.6 speed at the next level.
Perhaps the knowledge that he's more athletic and mobile than his time at Rutgers indicated, though, will convince more organizations to give him consideration. It can't hurt.
David Jones of PennLive.com
offered a
thought-provoking comparison
this week between Penn State football and Syracuse basketball, recently hit with sanctions by the NCAA for widespread violations.
Both programs achieved huge success under iconic coaches and built brands known nationally.
While it may not be the case for a variety of reasons at Syracuse, Jones suggests that PSU was well equipped to weather its sanctions because of the Nittany Lions' reputation as a football power.
He writes:
Even though the Sunbelt has transcended this area as the nation's talent honeypot, gifted athletes and players across the country know the brand name. They know it as a place where you can play with other great talents which means everything in this age of herding.
It takes a lot to undo that name recognition and resultant power. Even the Sandusky scandal, Joe Paterno's dismissal and NCAA sanctions could not unplug Penn State's cachet.
So the next question: Are some brands in college athletics too big to fail? It's a sobering thought, but one worth considering as the powerful programs gain even more power in this era of autonomy.
We hit the final installment
of the Omaha World-Herald's four-part series on Mike Riley Wednesday in the links with
this story
on the influence of the new Nebraska coach on the career of Paul Chryst.
The earlier articles, also worth a look, documented Riley's
courtship at the college and pro levels
of Tom Brady and the how the rise of Oregon's money-driven powerhouse
cast a shadow
over Riley at Oregon State, playing a role in his departure.
Dirk Chatelain's anchor piece, which details
Riley's upbringing and his long path to Lincoln
, is a must-read for those interested in learning more about the man in charge at Nebraska.
Riley's hire in December stunned many observers, primarily those who knew little about the 61-year-old coach. Now, the more Nebraskans learn about Riley -- and nothing published in the past three months revealed more than a small fraction of the detail offered in this series -- the more this move makes sense.
On to the rest of the links:
March, 11, 2015
Mar 11
9:00
AM ET
The Big Ten men's basketball tournament begins today. Remember when one of these things didn't take five days to complete?
1. The defending national champions opened spring ball on Tuesday. While everybody was understandably
talking about the quarterback "battle"
on the first day -- it's not much of a battle right now, of course, with J.T. Barrett and Braxton Miller recovering from injuries -- that's more or less a sideshow.
Sure, it's going to be utterly fascinating to see whether Cardale Jones can hold off the previous starters for the job. In the long run, however, it won't matter if Jones, Barrett, Miller or even Stephen Collier or Stephen Colbert starts for the Buckeyes. Quarterback is really the least of Urban Meyer's concerns.
He doesn't actually have many on this loaded roster. Yet if there's anything that could hold back Ohio State from making a repeat trip to the College Football Playoff, it's the defensive line. That might sound funny, since we were singing the praises of that unit as a dominant one all last year. But the Buckeyes had very little depth on the line last year and lost senior All-America tackle Michael Bennett, as well as senior defensive end Steve Miller.
Incoming freshman defensive end Dre'Mont Jones, whom we'd tabbed as one of
five instant impact signees in the Big Ten
last month, may not be able to contribute at all this year
because of a recent knee injury
.
It's going to be extremely important that holdover players like Michael Hill, Tyquan Lewis, Donovan Munger and Jalyn Holmes make a difference to keep this defensive line playing at a high level. And it's telling that none of them made much of a dent on the team last year even though Meyer isn't afraid to play rookies.
"I'm very disappointed in the young defensive linemen we brought in here," Meyer said,
according to Cleveland.com
. "Not with what kind of people they are, just with performance."
Spring practice is just beginning in Columbus and the pads haven't even come on, so there's no good way to tell yet if some of those players have made improvement. But watching for that will be more critical to Ohio State's 2015 prospects than whatever happens with the quarterbacks.
2. Student attendance is an issue for several Big Ten schools and one Adam Rittenberg
addressed in the blog
a year ago. Recently, Iowa and Michigan lowered prices on their student season tickets in part to lure students back in.
The Cedar Rapids Gazette's Marc Morehouse has a look at
student ticket prices throughout the league
and how Iowa compares. After Michigan's reduction, Ohio State tops the conference at $272 for student season tickets, while Penn State is second at $218. Supply and demand appear to be at work here, as those two schools have the largest and most energetic student sections in the Big Ten.
Six other schools have remaining ticket packages that top $100 for the season. Maybe I'm old (check that: I am really old) but I don't remember having that kind of extra spending money lying around when I was a college student. Maybe we shouldn't criticize student for not turning out at some of these places but applaud the ones who make the effort and pay the expense to do so. Just a thought.
Around the league:
March, 10, 2015
Mar 10
4:00
PM ET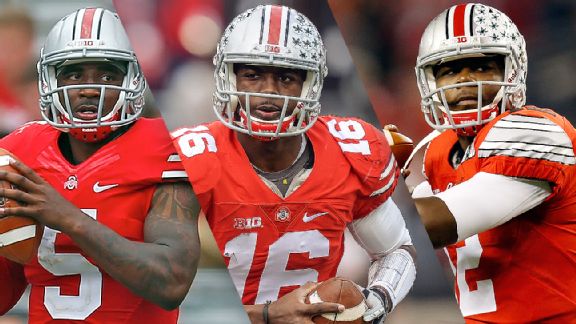 Getty ImagesThe three-headed QB monster should hurt only opponents ... until Urban Meyer picks a starter.
COLUMBUS, Ohio -- The paths may all be separate for now for Ohio State's trio of quarterbacks, but eventually they're all going to lead to the same place.
In a couple of months,
Braxton Miller
won't be limited to going through warmups or just throwing lightly on the side of the practice field. The two-time Big Ten Player of the Year should have all the strength back in his surgically repaired shoulder by the summer, and he's not returning to play a different position.
Sometime soon, maybe even ahead of schedule at his current pace,
J.T. Barrett
won't have to sit out when quarterbacks are required to run around as he recovers from his fractured ankle. The reigning Big Ten Quarterback of the Year was already throwing during parts of practice when the Buckeyes opened camp on Tuesday, and even in a limited sampling he appeared to be delivering the football the way a fifth-place finisher in the Heisman Trophy race should.
And while those two journeys back to full health are taking place,
Cardale Jones
is progressing in his own way, continuing life leading the first-team offense after his charmed run through the postseason on the way to the national title. He may still have a small body of work, but considering his three-game winning streak in the biggest outings of the year and his impressive physical attributes, the chance to add even more reps without sharing much with Miller or Barrett could be invaluable.
[+] Enlarge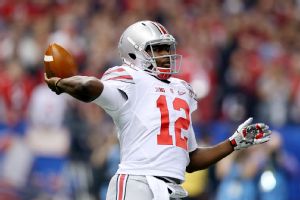 Kevin C. Cox/Getty ImagesThe deep ball and his physical running style make Cardale Jones a unique signal-caller.
At some point, the Buckeyes are going to have to pick just one. Urban Meyer knows it and doesn't appear to be looking forward to handing down a verdict, though the Ohio State coach is making clear that a quarterback derby that might come with unprecedented scrutiny is impossible to evaluate evenly at the moment. And until his options are all on the same road, there's no reason to worry about who is driving.
"I've never been in this situation," Meyer said after practice Tuesday morning. "I think it's unique. I've had it at other positions where all of a sudden you have three or four really good receivers, but you play more than one at a time.
"I think at some point there will be some [pressure] because of the great respect I have for those three guys, and it's a position where you only play one. ... For me, there's no stress at all as far as the functionality of the position. It's the personalities, families, people involved."
Meyer tried to downplay the difficulty of sorting through his decorated candidates, and during spring practice, there's no reason for him to really rush it. Until all the restrictions on Miller's shoulder and Barrett's ankle are lifted, the choice is easy for the Buckeyes. Not to mention Jones has proven more than capable of taking control of the attack.
But for all of his intense focus and the way Meyer emphasized trying just to get to the next practice, he did acknowledge at some point he'll have to solve a problem that most coaches would love to have and that it won't be easy -- even if he's confident there is no wrong answer.
Miller's athleticism is beyond question, even if a year away might have dimmed some of the memories of what his electrifying mobility can do to defenders. Barrett's ability to distribute the ball and manage the spread offense produced record-breaking offensive numbers. And the incredible arm strength Jones brought to the passing attack stretched defenses thin, with his size and strength making him a load to bring down as a rusher.
The Buckeyes can surely keep winning with any of the three. But at some point Meyer is going to have to tell two of them they aren't starting, and that more than anything appears to be his biggest hangup.
"If I disliked one or two of them, it would not be that hard," Meyer said. "I have a lot of respect for those guys, and everybody around here has seen what they've done. That's the only [tough] thing that I can see happening, but it's not right now, we're not even focused on that.
"I want to see [Miller] get healthy, J.T. get healthy and Cardale continue to improve."
The three talented options are obviously all on those respective roads now. Once they finally arrive at the same intersection then things will really get interesting for Meyer and the Buckeyes.
March, 10, 2015
Mar 10
1:40
PM ET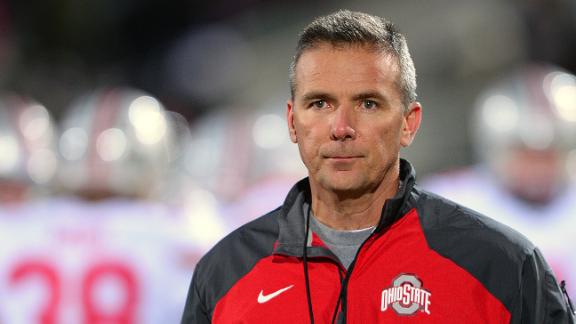 COLUMBUS, Ohio -- All three decorated Ohio State quarterbacks were back in uniform for the first time since August, but a historically loaded competition for the starting job hasn't technically started just yet.
Braxton Miller went through warm-ups and did some running with the Buckeyes, his first on-field work since season-ending shoulder surgery during training camp in the fall.
J.T. Barrett was able to throw but continues to be limited in other drills as he recovers from a fractured ankle suffered during the final week of the 2014 regular season.
While that leaves Cardale Jones healthy and able to take the reps with the first-team offense for the reigning national champion, Ohio State coach Urban Meyer isn't close to making a decision about his starting quarterback after opening spring practice Tuesday morning.
"Each player, each day is separate," Meyer said. "Today was all about Braxton continuing on his journey to get healthy, which he's done an excellent job. ... Obviously J.T. is a guy who had a leg injury; he's doing a little bit more than I thought he could, so he went through mini-field [reps]. We want to keep pushing him and get him healthy.
"And Cardale is getting more reps than he's ever gotten. It's day to day. How does it play out? I don't know."
The Buckeyes have plenty of time to figure it out, starting with 14 more practices in March and April and continuing with summer workouts and then training camp after that.
March, 10, 2015
Mar 10
10:30
AM ET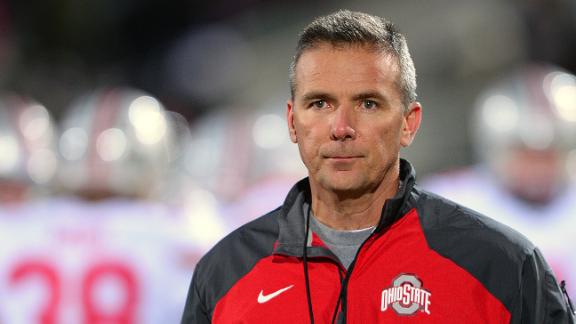 COLUMBUS, Ohio -- After reaching the top of the mountain a year ahead of schedule, Ohio State goes back to work trying to stay there.
This was supposed to the season Urban Meyer was targeting for a breakthrough with the Buckeyes, and even after claiming a national title two months ago, expectations for the program haven't changed at all. Ohio State is historically loaded at quarterback, deep on the offensive line and building a powerhouse defense that is restoring the rich tradition on that side of the ball after a couple seasons that didn't meet the standard.
The hard part might be making sure there is no complacency setting in after so many players already accomplished the most meaningful goal in college football. But as "The Chase" morphs into "The Grind," Meyer has 15 workouts to ensure that doesn't happen.
Schedule:
The Buckeyes have shifted to morning practices for this camp, and they will work on a Tuesday-Thursday-Saturday rotation starting today. This week, though, they will only go through a pair of sessions without pads before taking next week off for spring break. The closing exhibition at Ohio Stadium is scheduled for April 18.
[+] Enlarge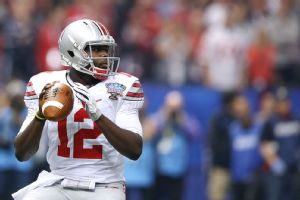 Kevin C. Cox/Getty ImagesCardale Jones is at the top of the depth chart this spring but the quarterback competition could extend way into the summer.
What's new?:
For the second season in a row, Meyer will be breaking in a pair of new assistants on his coaching staff. Both changes this year are in the offensive meeting rooms, and the departure of coordinator and quarterbacks coach Tom Herman for the head job at Houston will certainly generate the most attention over the next month. Ed Warinner was promoted and will be the primary play-caller, but former Nebraska assistant Tim Beck will be working with the overflowing cupboard of quarterbacks. Tony Alford will take over for former running backs coach Stan Drayton and inherit a talented unit of his own.
Biggest question:
There won't be an answer to the most heated debate perhaps in the entire nation, but that won't slow down the conversation about who will start at quarterback for the defending champs.
Braxton Miller
's surgically repaired shoulder won't allow him to throw without limitation until the summer, and his replacement
J.T. Barrett
won't be able to participate fully in spring drills as he continues to rehab from his fractured ankle. That leaves postseason hero
Cardale Jones
at the top of the depth chart for now, but that doesn't change the fact that this question will loom over everything the Buckeyes do this spring -- and potentially into training camp.
Three things we want to see
1. Somebody emerge opposite Joey Bosa:
There might be no such thing as a weak position on the roster given how well the Buckeyes have recruited since Meyer took over, but the most uncertainty might be on the defensive line. Obviously Ohio State isn't exactly reloading since Bosa is returning and looking to build on his Big Ten Defensive Player of the Year campaign, and he's got
Adolphus Washington
lining up next to him after a strong finish last season. But replacing
Michael Bennett
's production and leadership on the interior is no small task, and while there is no shortage of options to fill the other void at defensive end, the Buckeyes still have to identify at least one it can count on consistently without much previous experience.
2. The next deep threat step up:
There is no shortage of speedy, game-breaking targets available for anybody who wins the starting quarterback job, and the majority of them have proven they can contribute at the highest level thanks to their raw athleticism. But arguably the biggest key to opening up the attack late in the season was dangerous deep threat
Devin Smith
, particularly when Jones and his huge arm were running the show.
Michael Thomas
showed the complete package during his productive season as a redshirt sophomore, and he will see the football often in the fall.
Jalin Marshall
is a lethal weapon in a variety of ways, and a healthy
Dontre Wilson
could make life even more difficult for defenses to match up with the Buckeyes. But what Ohio State will need is somebody to stretch the field and track down bombs like Smith did better than anybody else in the country, and that will be a top priority in March and April.
3. The offensive line completed:
As long as Warinner is around to lead the offensive line, there's basically no reason whatsoever for the Buckeyes to worry about that unit. Few position coaches anywhere have had as much of an impact as Warinner since he arrived at Ohio State, and with four starters back from the title-winning team, he's got a huge head start this spring after having to replace four starters at this time a year ago. So regardless of whether or not
Jamarco Jones
or
Chase Farris
or anybody else can solidify a spot at right tackle, the Buckeyes will be just fine -- but they'd surely prefer to head into the summer knowing who the fifth man is going to be in the fall.
March, 10, 2015
Mar 10
10:00
AM ET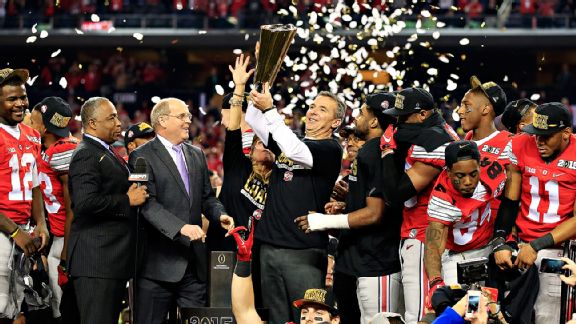 Jamie Squire/Getty Images
As midnight approached Jan. 12, Urban Meyer stood on a podium at AT&T Stadium and raised the national championship trophy, the third of his coaching career and his first at Ohio State.
He guided Ohio State to a title with a third-string quarterback, a revamped offensive line and a still youthful defense that had struggled for most of the previous year. His Buckeyes outlasted both Alabama and Oregon, the nation's top two teams for most of the season, in the inaugural College Football Playoff to bring a trophy to Columbus.
Meyer's individual trophy case, however, gained no new hardware.
The national coaching honors all went to others (mostly TCU's Gary Patterson). Meyer didn't win either of the Big Ten's annual coaching awards -- both went to Minnesota's Jerry Kill -- as a baffling boycott of Buckeye bosses continued (an Ohio State coach hasn't won since Earle Bruce in 1979).
Meyer's coaching contribution the past season might not be directly recognized in tangible form, but it won't soon be forgotten.
Former NFL coach and current ESPN analyst Jon Gruden,
speaking this past month with ESPN's Colin Cowherd
, said Meyer "did the greatest coaching job of all time."
Where does Meyer's coaching performance rank in college football history? And can he deliver an encore at Ohio State, which opens spring practice Tuesday?
ESPN.com asked seven national coach of the year winners in hopes of finding out.
An 'incredible' job
Attaching the GOAT label to a single-season coaching performance is difficult and extremely subjective. But all the coaches surveyed agreed Meyer's 2014 job belongs in the conversation.
"It's hands-down one of the best," said Bill Curry, who won the 1989 Bobby Dodd Coach of the Year honor at Alabama. "To bring them through against those opponents with your third quarterback, especially since he didn't play until the chips were down, it's almost unthinkable."
Former Tennessee coach Philip Fulmer, who won a national title and five national coaching awards in 1998, places Meyer's performance among the best ever, if not at the top. Like many, Fulmer had serious doubts about Ohio State's season after a Week 2 home loss to Virginia Tech.
"You just watched the team continue to improve," Fulmer said. "And then to beat Alabama. Who has a third-team quarterback that can do that? That's incredible. Great job of managing his team, great job of overcoming adversity with injuries, a tough loss and close games."
[+] Enlarge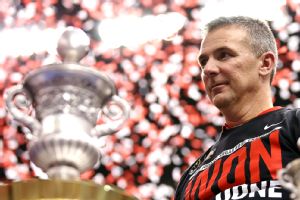 Chris Graythen/Getty ImagesUrban Meyer guided Ohio State to a win over Alabama in the Sugar Bowl and a win over Oregon in the College Football Playoff National Championship, but amazingly, he didn't win any coach of the year honors.
Not surprisingly, the coaches were most impressed by Meyer's quarterback management. Mack Brown, who won national coaching honors in both 2005 and 2008 at Texas, visited Ohio State with ESPN's bus tour shortly before
Braxton Miller
re-injured his shoulder. Miller, a two-time Big Ten offensive player of the year, didn't throw during the practices Brown attended, and reserve quarterbacks
J.T. Barrett
and
Cardale Jones
both struggled.
Brown saw an offensive line searching for the right combination and a young defense that needed work in the secondary. Bottom line: "They didn't look very good as a football team," Brown said.
Ohio State overcame not only the loss of Miller, but also the loss of Barrett, who finished fifth in the Heisman Trophy voting and was named Big Ten quarterback of the year. Jones eclipsed 240 pass yards in each of his first three career starts to help Ohio State win the title.
When a quarterback goes down, Curry said a coach immediately files through a set of questions about the next guy: What's he comfortable with? How much pressure can he tolerate? How do we handle him when he goes out and throws two interceptions?
Curry was most struck by how Jones responded to mistakes.
"

It's hands-down one of the best. To bring them through against those opponents with your third quarterback, especially since he didn't play until the chips were down, it's almost unthinkable.

"

- Former Alabama coach Bill Curry
"He had been prepared," Curry said. "He goes to the sideline, and he's over there smiling. He's not hanging his head. He's ready to go back. As a coach, you're constantly pushing your backups, 'Expect to be in the game next play.' That's easy to talk about and hard to do. But they did it, not once but twice."
Tom Osborne had to play his third-string quarterback at Nebraska during the 1994 season after he lost Tommie Frazier (blood clots) and Brook Berringer (collapsed lung). Walk-on Matt Turman directed wins against Oklahoma State and Kansas State before Berringer and, eventually, Frazier returned.
The Huskers went on to win the national championship.
"I've never seen it where you lose your top two guys like Ohio State did and still have a No. 3 guy come in and play at the level [Jones] did," said Osborne, a two-time national coach of the year. "It was pretty remarkable. It was obviously a great coaching job but also a great recruiting job because they obviously have very good players."
Notre Dame coach Brian Kelly, who won five national coaching honors in 2012, said the quarterback attrition allowed Meyer to unite his players, as he had at past stops.
"You take Utah. It's a situation where they were the underdog and a non-BCS team," Kelly said. "At Florida, they were supposed to win. At Ohio State, they were injured. He's always been able to take his situation and create 'us against them.' He's a master of doing it because he builds great relationships with his players."
Delivering an encore
Few professions carry stronger demand for an encore than college coaching. Gene Chizik
won a national title
with Auburn on Jan. 10, 2011. He was
fired Nov. 25, 2012
, after Auburn went 3-9 and 0-8 in the SEC.
How does a coach stay at the top?
"I'm going to cop out on that one," Curry said with a laugh. "Ask Urban. How do you follow that, big boy?"
"

It's just hard to win two in a row. Everybody's after you, so you're going to get their best game every week. And you usually are not able to play your best game every Saturday.

"

- Former FSU coach Bobby Bowden
Meyer doesn't have to worry about his job, but he faces pressure to win another title at Ohio State this season. The Buckeyes almost certainly will enter the season ranked No. 1.
For that reason, he likely won't get nearly as much credit if the Buckeyes repeat. But perhaps he should.
"It's just hard to win two in a row," said former FSU coach Bobby Bowden, who fell shy of repeating at Florida State in both 1994 and 2000. "Everybody's after you, so you're going to get their best game every week. And you usually are not able to play your best game every Saturday."
Alabama's Nick Saban is the last coach to win back-to-back titles (2011 and 2012). Before that, no coach has won consecutive titles since Osborne in 1994 and 1995.
"It's how focused those guys are going to be and how hungry they are," Osborne said. "You've got a different team. The chemistry's different. The mind-set can be different. It's a fragile thing. It's never automatic."
Convincing the 2015 Buckeyes they are a different team could be challenging. Ohio State lost only eight senior starters and returns core pieces at quarterback, running back, linebacker, defensive back and along both lines.
Many Buckeyes are enjoying the post-championship glow in Columbus while beginning preparations for the 2015 season.
"You saw some of this at Florida State this year, but one of the things is: Do you keep your team's attention as much?" Brown said. "That's a difficult thing. You're usually
headed to the White House
in the spring, when you should be talking about next year. Then, at the end of spring practice, your national championship rings come, and kids are wearing the rings. They get around positive feedback all year, where last year people questioned them.
[+] Enlarge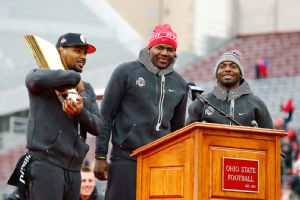 Joe Maiorana/USA TODAY SportsBraxton Miller (left), Cardale Jones (center) and J.T. Barrett are all potentially back this fall, which makes for an interesting QB battle at Ohio State.
"When Braxton went down, they questioned them. When J.T. went down, they questioned them. They had a chip on their shoulder last year, and it was easier to do because they had enough things they had to overcome."
Ohio State had to overcome injured quarterbacks in 2014. Meyer's next challenge likely will be managing three healthy, accomplished ones. The Buckeyes have the most unique -- and likely most scrutinized -- quarterback situation in recent college football history.
It's a situation many coaches would love, but one that could create divisions if not handled correctly.
"This business is still centered around the quarterback," Kelly said. "Their quarterback [Jones] outperformed
Marcus Mariota
in that game. Now, other players had something to do with it, clearly, but their quarterback still had to perform at a high level. So what's next for [Meyer] is: Who is the quarterback?"
Kansas State coach Bill Snyder, who won multiple national coaching awards in 1998 and 2011, thinks Meyer has to strike a balance between acknowledging the past and "staying in the moment." Like many coaches, Snyder thinks you learn more from adversity but can draw from success, "if you're willing to learn."
"I know Urban is certainly proud of them, but that performance level will have no impact on the coming season," Synder said. "You have to get that message across. He's gone through it, and he, as much as anyone, has a very strong feeling about how to approach it because he went through the same thing at Florida."
"

This business is still centered around the quarterback. Their quarterback [Jones] outperformed Marcus Mariota in that game. Now, other players had something to do with it, clearly, but their quarterback still had to perform at a high level. So what's next for [Meyer] is: Who is the quarterback?

"

- Notre Dame coach Brian Kelly
Other coaches agree Meyer's previous repeat attempts at Florida, though unsuccessful, will serve him well this time. Florida followed the 2006 title with a 9-4 mark in 2007. The Gators came closer to repeating in 2009 but lost to Alabama in the SEC title game and finished 13-1 and No. 3 in the polls.
Brown and Meyer have talked extensively about the challenge of repeating. Brown's Texas team entered 2006 at No. 2 but lost in Week 2 to Ohio State and finished 10-3.
"You absolutely have to start over, like it's your first year," Brown said. "Some of the things that he felt like he might have done at Florida that didn't work as well after one of those national championships, he'll tweak all of that and change it. I can promise you he started this immediately."
Meyer has a reputation for tough, competitive practices, but coaches think he'll ratchet things up more after the title. Fulmer said Meyer must be especially hard on the returning players, which impacts how their younger teammates prepare.
Any coach can be demanding, but only a handful get the desired outcome from their demands.
"What did John Wooden have with his guys? What is it that Bobby Dodd did with his Georgia Tech guys?" said Curry, who played center for Dodd at Georgia Tech and Vince Lombardi with the
Green Bay Packers
. "It was a magic connection, so that when that great leader walks in the room, the room changes. When Vince Lombardi walked in a room, nothing stayed the same in there. It was just a different atmosphere.
"All the great ones have that, and certainly, Urban's one of those."
If Meyer follows arguably the best college coaching performance with another championship, he could cement himself as the greatest.
March, 10, 2015
Mar 10
9:00
AM ET
The experiment almost certainly won't lead to a permanent change, and there's a decent chance it might not even become a regular part of the offense.
But if nothing else, Jerry Kill and the rest of the Minnesota staff are offering a reminder that just because they're old-school coaches doesn't mean they won't mix in a little forward thinking as well.
Sure, a
no-huddle system
isn't frequently associated with a power rushing attack or quarterbacks taking snaps under center, two things the Golden Gophers aren't likely to be abandoning any time soon. But there's no harm in pushing the tempo during spring camp when there's no game plan to install, which at a minimum can test the offseason conditioning program and add some urgency on the practice field.
In the best-case scenario, Kill and offensive coordinator Matt Limegrover might just find something that clicks and expands the playbook for the Gophers, giving these test runs in March virtually no downside even if they never see the light of game day.
"It's not that we're going to do it exclusively, but it's hard to get it in at the last minute," Limegrover told reporters over the weekend. "What we want to do is build a foundation and get a good foundation of a lot of different things we can do. Coach [Kill] wanted to do it, wanted to work something a little bit different, so we did some visiting, did some research and felt like we came up with something that fits us.
"It's just in the infant stages."
If the no-huddle system is going to grow up and become something useful for the Gophers, it makes sense to install it in a lower-pressure situation and in time for the players to still work on it during summer workouts.
Minnesota has made pretty clear, though, that tweaking the tempo isn't the same thing as shifting to the spread. That sort of overhaul would require much more than 15 workouts in the spring, and the Gophers are still an offensive team best suited to leaning on what should be a deep backfield while potentially taking a step forward in the play-action passing game under still-developing quarterback
Mitch Leidner
.
But just in case they need to add another gear to the attack, there's no better time to tinker than now.
Elsewhere in the Big Ten
March, 9, 2015
Mar 9
4:00
PM ET
COLUMBUS, Ohio -- The championship trophy had barely been in Urban Meyer's possession for a day when the first seeds were planted for defending it.
If the Ohio State coach is tougher on his team after a win, imagine what it will be like for it after rolling through the College Football Playoff and claiming a national title.
[+] Enlarge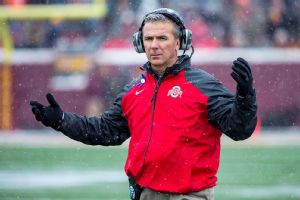 Jesse Johnson/USA TODAY SportsLimiting big plays on defense will likely be a focus for Urban Meyer during spring practice.
"The Chase" banner in the practice complex has already been replaced by "The Grind" on campus, offering the first hint of how Meyer plans to fight off complacency for a roster that returns the majority of its key contributors from last season and will head into this year as a favorite to win it all again. But slogans aside, even after claiming the national crown Meyer still has plenty of evidence he can point to that the Buckeyes still have room to grow as they hit the practice field on Tuesday, which should only help him get their attention for the upcoming 15 workouts.
In some instances, he might have to nitpick to find some flaws with the champs. But Meyer figures to start with these areas as he looks to strengthen the Buckeyes ahead of their title defense and shore up any relative weaknesses.
1. Cut down on turnovers:
Just about the only team slowing down Meyer's high-powered offense late in the season was Ohio State itself. And while occasional carelessness with the football obviously didn't cost the Buckeyes any victories down the stretch, it certainly made life more difficult than it needed to be.
Signature victories over Michigan State, Alabama and Oregon all seemed to follow similar scripts with the Buckeyes struggling at times to protect the football, either keeping the score close or digging them a hole to climb out of even while racking up yardage and looking like the more dangerous team. Particularly in the title-clinching win over the Ducks, it's somewhat scary to think what Ohio State might have been capable of doing without handing over four turnovers.
The Buckeyes finished the season with 26 turnovers, the highest total in the Big Ten. Playing three extra games certainly helped inflate that number, but with 14 lost fumbles, Ohio State was effectively coughing up one possession a game thanks to its lack of ball security. Expect that to be an emphasis for Meyer.
2. Limit explosive plays:
The pass defense improved dramatically, effort was never an issue and the Buckeyes were much more fundamentally sound as tacklers as the Silver Bullets returned to the kind of level the program expects. But there were still a few too many mental lapses that resulted in huge gains or long touchdowns, and that might be the last thing on the checklist left to keep Ohio State firmly among the defensive elite nationally.
Whether it was Indiana's
Tevin Coleman
dashing 90 yards for a score or Cincinnati unleashing a deep bomb for an 83-yard touchdown, when the Buckeyes let their guard down they were susceptible to plays that could change the game. Typically Ohio State could rely on its offense to answer those quick strikes, but it was chunks of yardage allowed on two or three plays -- not problems down-in and down-out -- that left the unit ranked No. 5 against the rush and No. 6 versus the pass in the Big Ten.
3. Something special
: There were certainly highlights in the kicking game, starting with the incredible coverage unit that flew down the field on every kickoff and fired up the sideline with its knack for pinning opponents deep. But aside from that group, a streak of lightning from
Jalin Marshall
with his punt-return touchdown against Indiana and the wizardry of punter
Cameron Johnston
, the Buckeyes still left some areas with room to improve in the third phase.
Considering how much pride Meyer takes in his special-teams units, that probably doesn't sit well with him heading into his fourth season with the program.
For starters, he would surely like to generate the same excitement when opponents are kicking off to the Buckeyes, and averaging just less than 23 yards per return without a touchdown surely doesn't meet his standard. That could open up a competition to more than just Marshall or
Dontre Wilson
. Ohio State could use more consistency from kicker
Sean Nuernberger
as well after the rising sophomore made just 13 of his 20 field goal attempts last season.
Did Ohio State Cheap Out On Championship Rings?
BIG TEN SCOREBOARD
Thursday, 9/3
Friday, 9/4
Saturday, 9/5
Sunday, 9/6
Monday, 9/7