December, 3, 2013
Dec 3
7:00
PM ET
On Monday, the Big Ten unveiled its
all-conference teams and some individual award winners
. The four big prizes were announced Tuesday evening. Here they are:
Graham-George Offensive Player of the Year: Braxton Miller, Ohio State

Nagurski-Woodson Defensive Player of the Year: Chris Borland, Wisconsin

Thompson-Randle El Freshman of the Year: Christian Hackenberg, Penn State

Hayes-Schembechler Coach of the Year (coaches vote): Mark Dantonio, Michigan State

Dave McClain Coach of the Year (media vote): Dantonio
[+] Enlarge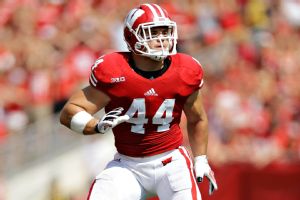 Mike McGinnis/Getty ImagesWisconsin linebacker Chris Borland has been named the Nagurski-Woodson Defensive Player of the Year in the Big Ten.
If you see smoke rising over the state of Ohio, that's because it's coming out of the ears of Ohio State fans. After another 12-0 season, the Buckeyes figured to clean up in the awards, but they won only one of the four major honors here with two notable snubs.
Miller wins the offensive player of the year trophy for the second straight season. He's a very worthy honoree, despite missing three games with injury in September. Teammate
Carlos Hyde
had a very strong case, and so did Nebraska's
Ameer Abdullah
. But I doubt you're going to hear too many people complaining about this trophy joining the 2012 version on Miller's mantel, given that he remains the most dynamic offensive player in the Big Ten.
Hackenberg was an obvious a call as there was for any award in the Big Ten this year. It would be difficult to justify voting for anyone else as the league's top freshman given his performance all year as the Nittany Lions' starting quarterback. A Penn State player has won this award two years in a row, as
Deion Barnes
took home the prize a year ago.
Now let's get to the two most controversial choices.
Nobody loves Borland more than the Big Ten blog. He's a tremendous player and a great leader who has had an amazing career. He was the unquestioned leader of the league's second-best defense. He should have been a Butkus finalist and is a worthy All-American.
[+] Enlarge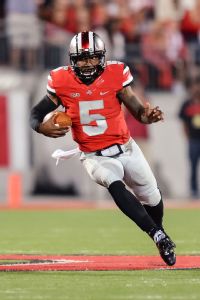 Jamie Sabau/Getty ImagesFor the second straight season, Ohio State signal-caller Braxton Miller is the Graham-George Offensive Player of the Year in the Big Ten.
But Ohio State's
Ryan Shazier
had the better year. Numbers aren't everything, but Shazier led the league with 122 tackles and tackles for loss, the latter by a wide margin. He had more sacks and forced fumbles than Borland. It's not a strict one-to-one comparison, because Borland is an inside linebacker and Shazier plays on the outside. But Borland missed two Big Ten games, which has to count for something. Shazier was arguably the most valuable player on Ohio State because of the uncertainty on defense around him. He had a strong case to win this award last season but was edged out by teammate
John Simon
. He lost out again this season, and it's a shame.
The most egregious blunder in the awards voting, however, occurred in the coach of the year race. I
wrote earlier today
that if Urban Meyer didn't win this honor, they should just rename it "Coach of the Year, Non-Ohio State Division" or "Coach Who Most Exceeded Expectations." It is utterly ridiculous that Meyer is 24-0 but 0-for-2 in Big Ten coach of the year balloting. It is nearly criminal that no Ohio State coach has won this award since 1979.
That's not to belittle Dantonio, who has had an outstanding season and showed courage in sticking by some struggling players on offense earlier in the year. But Michigan State won 11 games in 2010 and 2011 before slipping to 7-6 last year with a slew of close defeats. Now that the Spartans are an 11-win team again, are we to assume Dantonio did a magical job of getting back to that level? Or is he just a good coach who had a rough year last season because of offensive inexperience and some bad breaks? If you wanted to argue that Jerry Kill and his staff overcame more than anybody and should win this award, fine. But I don't really see how both the media and coaches both voted for Dantonio over Meyer.
It's no secret that Meyer rubs people the wrong way, and you hope that didn't influence the voting process. Ohio State fans have to be wondering why their undefeated, potential national championship team didn't reap more of the spoils of victory.
December, 3, 2013
Dec 3
4:30
PM ET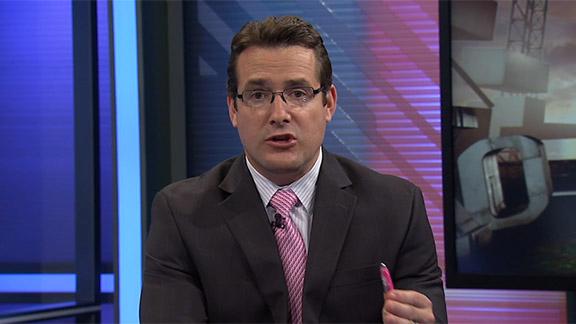 Junior-college prospects are often an outstanding way for programs to fill their rosters. Because of the experience the prospects have with a higher level of play, they can immediately help at positions of need.
Big Ten schools are after plenty of juco prospects to round out the remainder of the Class of 2014. With the
2014 ESPN Junior College 50
rankings releasing today, here is a look at five junior-college targets for the conference.
OL Chad Mavety
Garden City, N.Y./Nassau community college
ESPN JC 50 ranking: No. 8
To continue reading this article you must be an Insider
December, 3, 2013
Dec 3
2:30
PM ET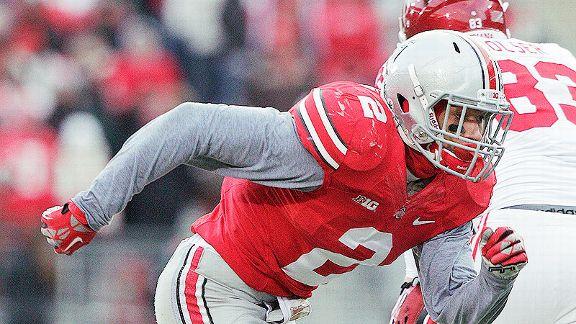 COLUMBUS, Ohio -- The last goal on the list was the most critical.
The plan obviously wasn't to give up more than 600 yards of offense.
Ideally, the defense wouldn't have allowed 41 points.
Of course, the best-case scenario probably didn't call for needing to snuff a 2-point conversion in the final minute to escape either.
[+] Enlarge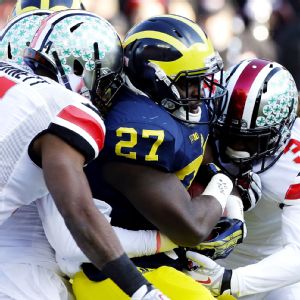 AP Photo/Carlos OsorioOhio State's defense had its struggles against Michigan but have found what needs correcting before facing Michigan State.
But if Ohio State almost certainly came up well short of the target statistically, defensive coordinator Luke Fickell still had one final item on his checklist he measured with a simple pass or fail grade in Saturday's wild, shootout win over rival Michigan. And since the No. 2 Buckeyes are still undefeated, that evaluation was pretty easy for him to make.
"What do you mean what went wrong?" Fickell said. "Did we win? Did we win? Did we win? I've been up there quite a few times in my 18-year career here and not come away with a win.
"There are a lot of things we have to correct, but every single week we have objectives, and the last objective last week was to win. We came away with a win, we made a play when we had to make a play."
The Buckeyes didn't make many on that side of the ball before an interception by
Tyvis Powell
sealed the win over the Wolverines. Even with a positive outcome, there's no way they can hide from that fact.
Fickell acknowledged some communication breakdowns, gave credit to Michigan for an aggressive game plan that caught Ohio State off guard and stressed the importance of improved "awareness" as his team prepares for Saturday's Big Ten title game in Indianapolis against No. 10 Michigan State.
But his boss took it one step further, as coach Urban Meyer made it clear he didn't think another passing grade would be likely without a much more stout defensive effort.
"We won't win the game," Meyer said. "We won't win that game this time. That's just very simple. We have to play much better.
"Pass defense [breakdowns] surfaced again and lack of contact on the quarterback. We just had some guys running open. It was a combination [of problems]. If you could say it was one thing, then I would say it was one thing. But I trust that we'll get it fixed, and I trust that these guys will be locked and loaded and have a good week of preparation."
Perhaps the most pressing correction to be made will be ensuring the Buckeyes are communicating the way they have largely throughout the season in allowing just more than 20 points per game. It was an issue they at least identified before the final defensive snap against the Wolverines to get on the same page in time to get a season-saving stop near the goal line.
The Buckeyes might also have been a little overzealous and trying to do too much individually, which hurt them in the screen game as huge holes opened and the Wolverines gashed them for long gains with no tacklers in sight. But that, too, is a lesson they preferred to learn from a win.
"To be honest, I feel execution and effort were there, but it was a lack of communication that we messed up on," linebacker
Ryan Shazier
said. "I feel like we did a good job executing the things that we needed to execute, and we had the effort out there on the field. They just threw a bunch of curveballs at us and we have to try to change up on them during the game.
"We just have to do what we have to do to get this 'W,' and that means play great defense."
The Buckeyes didn't do it over the weekend but got a victory anyway, which Fickell was quick to point out. But crossing off that final objective against Michigan State might be a lot tougher to do without meeting a few other goals first this time.
December, 3, 2013
Dec 3
2:00
PM ET
The
All-Big Ten teams and individual awards
are out, and the league hands out its four major awards -- Offensive Player of the Year, Defensive Player of the Year, Coach of the Year and Freshman of the Year -- later Tuesday. As always, we're handing out our endorsements for each award in advance of the announcement. We'll agree on some and differ on others.
Let's turn our attention now to the league's top coach:
[+] Enlarge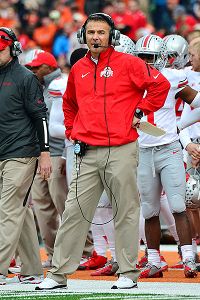 Icon SMIOther Big Ten coaches have exceeded expectations, but Urban Meyer should be rewarded for meeting sky-high ones.
Brian Bennett endorses Ohio State's Urban Meyer
If Meyer doesn't win the award this year, then we need to change the name of the honor to "Coach Who Most Exceeded Expectations." Or "Coach of the Year, Non-Ohio State Division." It's ridiculous that voters for these awards often overlook sustained excellence only to pick someone whose team did better than some worthless preseason predictions. All Meyer has done is go 12-0 for the second straight season. The Buckeyes also withstood some adversity, including the suspension of
Carlos Hyde
,
Braxton Miller
's knee injury and safety
Christian Bryant
's season-ending knee injury. Plus, Ohio State had an enormous target on its back all season long. Mark Dantonio did excellent work at Michigan State, especially in staying patient with the offense under withering early criticism. But the 2012 season now looks like the aberration for a Spartans program that has 11 wins in three of the past four years. The Minnesota story is also tremendous, and if this were a vote for coaching staffs, I might give it to the Gophers. But Meyer shouldn't be punished for having sky-high expectations. He should be rewarded for meeting them.
Adam Rittenberg endorses Meyer
Brian pretty much writes it all here as to why Meyer should be the choice. I've had a problem with this award for some time and the fact an Ohio State coach hasn't won it since Earle Bruce in 1979. If Meyer doesn't win after guiding Ohio State to a second consecutive undefeated regular season and a team-record 24 straight wins, just get rid of the thing entirely. Dantonio, Kill and Iowa's Kirk Ferentz all did excellent jobs improving their teams in 2013, but Meyer maintained a standard of excellence in a sport where even the most talented and experienced teams usually stumble at least once in a season. The offense has become even better in Year 2, and the defense held up for the most part despite returning just one starter in the front seven. Enough with the sympathy coach votes. Give it to the guy who has come into the league and dominated right away. Otherwise, the award lacks any credibility.
More endorsements:
December, 3, 2013
Dec 3
1:05
PM ET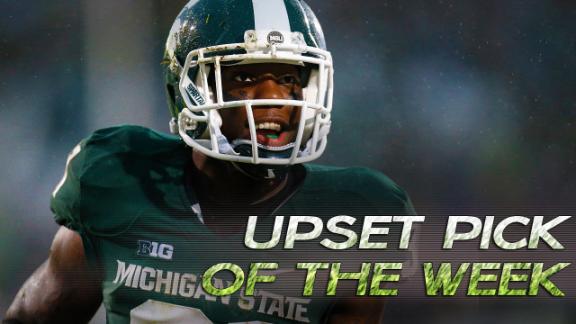 EAST LANSING, Mich. -- Michigan State coach Mark Dantonio believes that no matter which team wins the Big Ten title Saturday, the winner should be considered for a berth in the Vizio BCS National Championship.
No. 2 Ohio State is favored over the No. 10 Spartans, and if the Buckeyes (12-0) were to finish a second straight regular season undefeated, Urban Meyer's squad would be an understandable pick to play for the national title.
Dantonio agrees with that sentiment.
"I do believe, should Ohio State win, that they should represent in the national championship game," Dantonio said. "I think that when you have an undefeated football team, that's the right thing to do. ... That's my tip of the hat to Ohio State."
Dantonio also said he doesn't understand why the Spartans wouldn't be in contention for a spot in the title game if they were to beat the Buckeyes, assuming other chips fell in their favor as well.
"Why not us, if certain scenarios take place, which obviously last weekend you saw a lot of scenarios take place," Dantonio said. "There are no givens in college football. Anybody can rise up to beat someone else. That ball bounces a lot of different ways.
"The fact of the matter is we're 11-1 right now, we're playing in a championship environment. And we'll move from there. Don't limit yourself. Dream big. That's what I tell my football team."
For his part, Meyer has refused to enter into public debate about whether the Buckeyes deserve to play for the national title. On Monday, he said he might have something to add to the conversation after Saturday's game.
December, 3, 2013
Dec 3
12:00
PM ET
The only way college football could be better is if people had stronger opinions about it.
December, 3, 2013
Dec 3
11:30
AM ET
The
All-Big Ten teams and individual awards
are out, and the league hands out its four major awards — Offensive Player of the Year, Defensive Player of the Year, Coach of the Year and Freshman of the Year — later today. As always, we're handing out our endorsements for each award in advance of the announcement. We'll agree on some and differ on others.
Let's turn our attention to the defensive side of the ball.
[+] Enlarge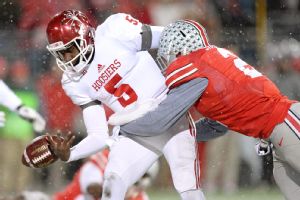 Jamie Sabau/Getty ImagesOhio State linebacker Ryan Shazier led the Big Ten in tackles and tackles for loss.
Adam Rittenberg endorses Ohio State LB Ryan Shazier
If I had to build a defense around one Big Ten player, I would pick Wisconsin linebacker
Chris Borland
. If I were an NFL general manager drafting one Big Ten defender, I'd go with Michigan State cornerback
Darqueze Dennard
. But for the 2013 Big Ten Defensive Player of the Year, I'm endorsing Ohio State's Shazier. Borland and Dennard would be good choices, too, but Shazier's overall profile gives him the edge. He leads the Big Ten in both tackles (122) and tackles for loss (21), leads Big Ten linebackers in sacks (6) and is tied for the league lead in forced fumbles (4). He needs just five more tackles for loss to tie Mike Vrabel's team record. Ohio State really leaned on Shazier, the only returning starter in the Buckeyes' defensive front seven, and he came through every single week. Like
Carlos Hyde
, my pick for Offensive Player of the Year, Shazier is finishing the season extremely well, recording 50 tackles in his last three games.
Brian Bennett endorses Shazier
In another year, Borland and Dennard might just win this award. But it's really hard to ignore what Shazier has done, especially in the closing stretch of the season. Where would Ohio State's defense be without him? That's something I'm sure Urban Meyer and Luke Fickell would rather not contemplate. Three times this season, Shazier was named Big Ten defensive player of the week, and the Butkus Award finalist could have been honored in many other weeks. Borland was also outstanding, but missing two Big Ten games hurt his case. There's no better cornerback in America than Dennard, but I think a linebacker has a bigger impact on a defense. And no one player made a bigger impact on the league defensively than Shazier.
More endorsements:
December, 3, 2013
Dec 3
11:09
AM ET
By
Brian Fremeau
| Football Outsiders
A thrilling Iron Bowl victory by Auburn on Saturday shook up the BCS standings and left only two undefeated AQ teams at the top of the polls. The Florida State Seminoles and Ohio State Buckeyes appear to control their own destiny as they prepare for their respective conference championship games. But three SEC teams -- Auburn, Alabama and Missouri -- also are ranked in the top five in the BCS standings and are in position to seize a title-game bid if the Seminoles and/or the Buckeyes are upset.
Those five teams are all ranked highly in our latest FEI ratings, although not in the same pecking order as the BCS standings. FEI is an opponent-adjusted drive-based system designed not to select a national champion but rather to measure overall team efficiency, the success of a team maximizing its own possessions and limiting the possession success of its opponents.
Team records are a function of performance and the strength of the opposition faced. Ohio State ranks ahead of Auburn in our FEI ratings, for instance, but, if the two teams swapped schedules, they likely also would swap records. According to our data, the Buckeyes would be 11-1 against Auburn's schedule and the Tigers would be 12-0 against Ohio State's schedule. (It should be noted that, in this alternate scenario, Ohio State would still be ranked just ahead of Auburn according to FEI).
The possession efficiency data is also useful in projecting what might lie ahead for the remaining BCS title contenders. We compared each of the top five teams in the BCS against every team in the 2007 to 2012 seasons across five key measures -- opponent-adjusted offense, opponent-adjusted defense, special-teams efficiency, field-position advantage and overall FEI rating.
Which teams from the recent past are most similar statistically to the BCS front-runners, and where might each end up when the dust settles this weekend?
To continue reading this article you must be an Insider
December, 3, 2013
Dec 3
11:00
AM ET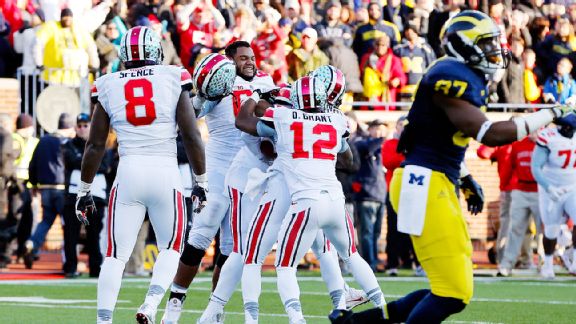 Gregory Shamus/Getty ImagesOhio State players celebrate stopping Michigan's fourth-quarter two-point conversion attempt.
For four months, ESPN The Magazine will follow the march to the Vizio BCS National Championship, moment by moment, culminating in our "Story of the Season" double issue Dec. 27. Every Tuesday, Mag senior writer Ryan McGee will pick the previous week's biggest moments and tell you why they'll have the most impact on potential BCS title matchups. If you disagree, send a tweet to @ESPNMag and tell us why your moment matters more, using the hashtag #StoryoftheSeason. Who knows? Your moment (and tweet) might just end up in our issue.
"We play the game to win ..."
Brady Hoke's vocal cords sounded even more tired than usual as the Michigan coach stood at the podium on Saturday afternoon, moments after losing to archrival Ohio State 42-41. His answer was a response to the first question he faced -- and the one he'll keep hearing as his Wolverines trudge through their mid-tier bowl and into a cold Ann Arbor winter.
Going for two instead of kicking the PAT and likely heading to overtime? At home? In the Big House? With your offense performing at a season-best clip? With a chance to shoot down the Buckeyes' chances at a BCS title?
That's the scenario Hoke had presented to his seniors on the Michigan Stadium sideline. He'd left it up to them, though he was quick to absorb all the criticism after the final outcome. They wanted to go for it. So did he. Besides, they had the go-to, two-point play already dialed up. Always did.
From the moment quarterback
Devin Gardner
stepped into the shotgun position, the play -- like so many others during his amazing 451-yard passing and five-touchdown day -- had looked perfect. In reality, it looked too perfect. On both sides of the football.
Michigan initially lined up with two receivers stacked on the right side, led by 6-foot-5
Devin Funchess
, who had just hauled in the touchdown pass that set up the situation. On the left side was the sneaky Wes Welker-like possession artist, 5-10
Drew Dileo
. But before the snap, Dileo went into motion and jogged over to take his place behind Funchess and
Jeremy Gallon
, who already had 175 yards receiving on the day.
The moment Dileo took his position, Ohio State corner
Tyvis Powell
had to catch himself. He didn't want to reveal what had just popped into his mind, like some sort of heavenly transmission from Woody Hayes ... or at the very least a current OSU position coach.
"It's all thanks to Coach Coombs," said Powell, referring to the Buckeyes' demonstrative secondary coach, Kerry Coombs. Head coach Urban Meyer had let Michigan get set for the two-point try and called a timeout to discuss what the coaches had just seen. Coombs approached Powell, a redshirt freshman, and told him that there was no doubt the Wolverines would run one of two plays. It would either be a speed option, which had already led to a pair of Michigan touchdowns. Or the play would come out of a triple stack ... with Dileo, Powell's man, hiding in the third slot ... as the primary receiver ... running something short ... likely a pivot ... at the goal line ...
"It all started happening just like we'd seen on film and how the coaches said it would," recalled Powell, still sounding a little stunned by it all. But he didn't believe that's how the actual play would go down. It was too obvious, right? Wrong.
Even though Ohio State had four defensive backs guarding three receivers, it was a designed mismatch by Michigan. At the snap, Funchess made contact with Powell and was supposed to either screen him out or draw him into the back of the end zone to help the waiting safety. But Powell didn't bite. His eyes never left Gardner, whose eyes never left Dileo. Funchess had a size mismatch in the back of the end zone, and if Gallon had run a true out instead of a halfhearted block attempt on OSU corner
Doran Grant
, he would've had room to work on the outside half of the end zone.
But Gardner fired the ball into unexpected double coverage, where Powell stepped in at the goal line and made the interception. (Had he not, Grant was also waiting in front of Dileo, having slipped Gallon's shove.)
"He really threw the ball," said Powell, admitting he was "shocked" to see it come his way. "That's their bread-and-butter play on two-point conversions. All week that's what we practiced."
Michigan, too.
A couple of hours later, Powell was still gripping the Michigan football in his arms on the team bus. He was still grinning. But now he was watching Alabama play at Auburn on the bus TV. Like the game he'd just played in, this one seemed destined for overtime.
"There was a shot ... we had the wind behind us ..."
If Hoke's voice was hoarse, then Nick Saban's was like the inside of a gravel truck. Like Hoke, the Alabama coach had rolled the dice. Unlike Hoke, Saban's situation -- a 57-yard field goal with no time remaining -- seemed risk-free. Miss and go to overtime.
But what happened next --
Chris Davis
' impromptu 109-yard kick return for the game-winning touchdown -- has sparked college football conversations in every corner of America, from stuffed-shirt academia to Barbara Walters and Whoopi Goldberg on Monday morning's "The View."
It should be no surprise that perfection-obsessed Saban routinely addresses that very situation in practice, despite the fact that Saturday night's Miracle on the Plains was, according to the NCAA, only the fourth time a game has ended on a similar play. It should also be no surprise that Saban reminded his team as they took the field (like the Michigan two-pointer, after a timeout) to keep an eye on Davis, who was lining up in the end zone, more than half a field away from the line of scrimmage.
Of course, Auburn practices that play, too. No matter how rare it might be. That was made obvious by the beautiful wall of blockers that lined the left sideline to plow the road for Davis. At least three pancake blocks took place in Davis' line of sight. But while all that was going on, we all should have been paying more attention to the cornerback's left foot, which came within inches of stepping over the line and out of bounds at the 35 ... the 40 ... the 45 ... and pretty much every yard in between.
It was so close that a group of bitter Tide fans posted what they believe is photographic evidence that he did step out of bounds, along with a
petition to have overtime played.
"It was closer than I thought," admitted Davis, who carried his game-winning football all the way home, just like Powell. "But I knew I was in."
Davis' white-line ballet was reminiscent of so many other moments in so many games this season that came down to inches. (Remember that missed Missouri field goal against South Carolina in double-OT? How much more interesting would the SEC title game be had it gone the other way?)
But as Lou Holtz reminds us each weekend on "College Football Final," every team that wins a national championship has to have one game in which they're lucky. Auburn now has two. Ohio State, on the other hand, hasn't needed much this year, at least not until Michigan.
Still, for these two teams to meet in Pasadena, Calif., in January, it will require ... lots more luck. They'll need Duke (perhaps second only to Auburn when it comes to 2013's out-of-nowhere teams) to work some magic in Charlotte, N.C., against Florida State. And they'll both need to make sure they aren't on the wrong side of luck in their respective conference title games.
But regardless of what happens this weekend, Tyvis Powell and Chris Davis will never have to buy another lunch in their home states. And Powell will always have his football. Davis is still searching for his.
He dropped it after crossing the goal line during the celebration. The last time anyone saw it, it was at the feet of fellow defensive back
Robenson Therezie
, one of Davis' escorts into the end zone, who stood over it signaling for a touchdown as the crowd started flooding the field. At one point it was thought that it had been retrieved and Davis was even handed a football that was believed to be the one. But it was not.
A crystal football in January would be a nice substitute.
Why we love college football. #StoryOfTheSeason pic.twitter.com/qqqidLG1Op

— ESPN The Magazine (@ESPNMag) December 1, 2013
December, 3, 2013
Dec 3
10:30
AM ET
The
All-Big Ten teams and individual awards
are out, and the league hands out its four major awards -- Offensive Player of the Year, Defensive Player of the Year, Coach of the Year and Freshman of the Year -- later Tuesday. As always, we're handing out our endorsements for each award in advance of the announcement. We'll agree on some and differ on others.
First up, Offensive Player of the Year.
[+] Enlarge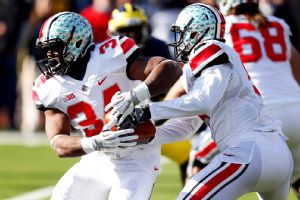 Gregory Shamus/Getty ImagesCarlos Hyde and Braxton Miller are the top two candidates for Big Ten Offensive Player of the Year.
Adam Rittenberg endorses Ohio State RB Carlos Hyde
Our
recent debate on this topic
showed how close the race is between Hyde, Ohio State quarterback
Braxton Miller
and Nebraska running back
Ameer Abdullah
. I leaned toward Abdullah before Week 13 but wanted to see how each candidate finished the season. You can't go wrong with any of the three, but Hyde gets my vote. Note the "Big Ten" reference in the award. Hyde has been simply dominant in league play, rushing for 1,249 yards and 14 touchdowns in eight Big Ten contests and averaging a ridiculous 7.8 yards per carry. Abdullah is great, too, but his Big Ten numbers aren't nearly as impressive. Hyde runs behind the Big Ten's best offensive line and shares a backfield with arguably the nation's best dual-threat quarterback, but he does a lot of the work himself with pure power. Hyde is Urban Meyer's first 1,000-yard back. He's the biggest reason Ohio State survived an Oct. 5 trip to Northwestern. And he's playing his best football right now, racking up 589 rushing yards and seven touchdowns in his last three games. Hyde hasn't had a bad Big Ten game this year and has shined in league play the past two seasons.
Brian Bennett endorses Ohio State QB Braxton Miller
Hyde and Abdullah would be fine choices for this award. But I'm going with last year's honoree as a repeat winner. Always a threat to run, Miller became a precision passer this season. During Big Ten play, he led the league in pass efficiency, completing 65.1 percent of his throws with a league-best 19 touchdown passes and only four interceptions. And he was just as dangerous with his legs, rushing for 809 yards and eight touchdowns while averaging 7.1 yards per carry during conference play. Had Miller not missed three nonconference games with a knee injury, he would be a leading contender for the Heisman Trophy, if not the top candidate right now. But he showed his value immediately upon returning from that injury, throwing four touchdown passes in a 31-24 win over Wisconsin on Sept. 28 that all but locked up the division title for the Buckeyes. He also had five total touchdowns in last Saturday's win over Michigan. Hyde has been in beast mode as well, but I think one of the reasons for his success is that teams are constantly afraid of Miller taking off with the ball. Miller is ultimately what makes the league's best offense go, so he's my pick as offensive player of the year. Again.
December, 2, 2013
Dec 2
10:56
PM ET
By
College Football Insiders
| ESPN Insider
Week 14 brought us unforgettable rivalry games from across the country, including an epic Civil War victory by Oregon, a nail-biting win for Ohio State in The Game and an Iron Bowl upset that saw Auburn win in the most implausible manner.
The wild week caused a big shakeup in the BCS standings, with Ohio State vaulting to No. 2 followed by Auburn, Alabama and Missouri. As a result, much is at stake heading into this week's conference title games.
In this edition of "No Huddle," Insider's panel of experts debates big questions surrounding the league title matchups -- as well as which team will prevail in the Big 12 and which Week 15 favorite should be on upset alert.
---
1. Can Michigan State's defense stop Braxton Miller and Ohio State's offense?
Travis Haney: No, though it can slow OSU. The Spartans are going to have to score some to win this game, but you have to like a defense that's first in yards per play (3.77) and fourth in scoring (11.8) to at least slow Miller, Carlos Hyde and the Buckeyes. I cannot imagine the track meet that OSU and Michigan played Saturday, with a combined 83 points. I think the first one to 24 wins in Indy, and it wouldn't at all surprise me if it wound up being Michigan State.
To continue reading this article you must be an Insider
December, 2, 2013
Dec 2
8:30
PM ET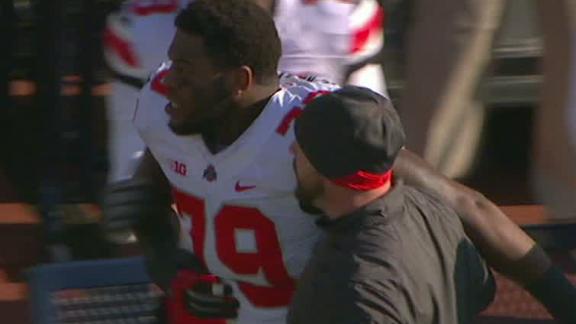 The Big Ten finally has a championship game that rivals the SEC's in national significance.
Unfortunately, the Big Ten is following the SEC's lead in another area: handing out discipline.
A league that considers itself a cut above in every area, including player conduct, had an opportunity to make a statement in the wake of Saturday's fight in the Ohio State-Michigan game. Instead,
the league went soft
, ensuring that its championship game, and Ohio State's national title hopes, would be unaffected by the ugly and embarrassing incident.
Here's what we learned from the Big Ten's ridiculous response Monday night:
Fighting doesn't have long-term consequences. Twisting a helmet? Go right ahead.
Just conduct yourself like a gentleman afterward.
After spending two days reviewing the officials' report from the game and the video of the fracas, the Big Ten decided to hand down no additional discipline to the Ohio State and Michigan players involved. The league merely issued a public reprimand -- the wussiest punishment possible -- for Ohio State offensive lineman
Marcus Hall
and the Buckeyes' coaching staff after Hall gave the crowd a double-bird salute following his ejection from the game. No other players were named by the league, which praised both coaching staffs for defusing the fight.
Ohio State's
Dontre Wilson
and Michigan's
Royce Jenkins-Stone
also were ejected Saturday, but they and others -- like Buckeyes wide receiver
Michael Thomas
and Michigan defensive back
Delano Hill
-- were spared any blowback from the conference.
The Big Ten is falling back on the NCAA's fighting policy, which calls for players ejected in the first half of a game to miss only the remainder of that game. Although the league has issued suspensions before for throwing punches, they have come for players who weren't ejected during the game.
The league had an opportunity to do more and show that behavior like Saturday's, even in a bitter rivalry game, is unacceptable and has long-term consequences. Monday's wimpy response will be seen as an effort to protect the league's title game and one of its biggest brands in Ohio State.
Criticize Ohio State coach Urban Meyer if you want for not tacking on additional playing-time penalties for Hall and Wilson. Honestly, I don't know many coaches who would have. They're trying to win championships and can impose some internal discipline. Michigan State didn't suspend William Gholston for his actions in the 2011 Michigan game, so the Big Ten stepped in with a suspension. The league should have done the same in this case.
Even a half-game suspension, which the SEC probably has trademarked, would have shown some teeth here. Instead, the Big Ten protects its championship game from being affected, and its biggest brand from being impacted in its quest to reach the national title game.
Monday's response will add to the widely held belief by many Big Ten fan bases that the league goes all out to protect Ohio State and Michigan. The response will bring more heat for league commissioner Jim Delany, who still gets ripped for going to bat for Ohio State's "Tat-5" to play in the 2011 Sugar Bowl.
The championship game is a national showcase opportunity for the Big Ten, a chance to display its best product and the values it holds so dear. You'll hear a lot about honoring legends and building leaders, and big lives and big stages.
Then Wilson might return the opening kickoff, and Hall will take the field with Ohio State's starting offensive line. Are those the images the Big Ten wants to present?
"As bad as it was, we're fortunate the incident did not escalate any further," the Big Ten's SECtatement reads. "More can, and should, be done by both coaching staffs in the future to prevent similar incidents."
The Big Ten could have and should have done more, but chose to do the bare minimum.
December, 2, 2013
Dec 2
8:00
PM ET
By
ESPN.com staff
| ESPN.com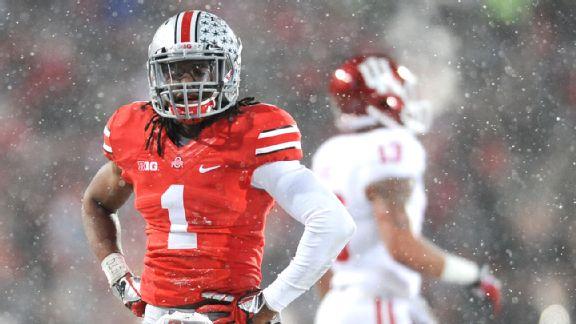 Ohio State cornerback
Bradley Roby
talks about the matchup with Michigan State in the Big Ten title game, defensive improvement and the BCS.
Building the Big Ten championship teams