October, 27, 2014
Oct 27
11:02
AM ET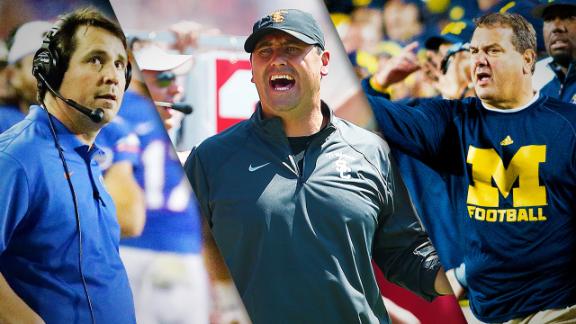 National signing day, Feb. 4, is just 100 days away. Here's a look at 100 things to watch for leading up to the big day.
Questions that will shape signing day
100. Who will coach the Florida Gators next year? The Gators entered the season hoping to rebound on the field with a shot at the No. 1 class. Amid another season of turmoil, Florida is in a fight just to keep committed prospects on board.
99. Will Michigan make a move? With that seeming likely, a number of Wolverines commits are making official visits. Assuming there will be a change, the new coach will have the difficult task of keeping the class together.
98. Can Virginia Tech or Virginia keep the best at home? While a pair of in-state five-stars from the 2014 class chose Virginia, the top four in 2015 remain uncommitted. Only one prospect in the top 10 is committed to an in-state program after eight of the top 15 signed with the Hokies or Cavaliers in 2014.
97. Can UCLA win any big battles late? The Bruins were ranked No. 7 in the preseason Associated Press poll and were a playoff contender. UCLA is 6-2, but the season hasn't lived up to those lofty expectations. That has provided rival USC the opportunity to have more success selling Steve Sarkisian's vision without the Bruins taking the headlines and winning the perception battle.
96. How many prospects will flip? To date, over 35 prospects in the ESPN 300 have decommitted or flipped their commitments. With more than 30 committed prospects still making official visits or planning to make visits, that number could reach as high as 70, considering both the Florida and Michigan jobs may open, which could start a chain reaction depending on future hires. There is no doubt that 2015 is the class of flips, and it has only just begun.
October, 27, 2014
Oct 27
10:00
AM ET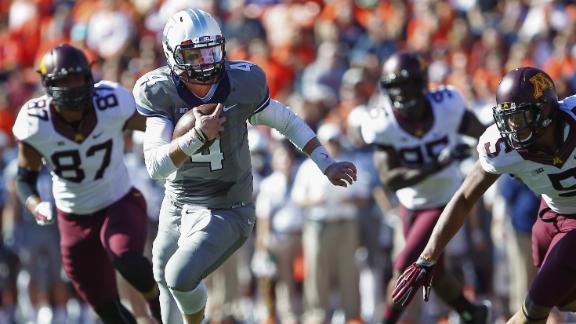 Rutgers and Maryland both got off to nice starts in their first season in the Big Ten. But reality is beginning to set in for both programs.
The Scarlet Knights beat Michigan and the Terrapins notched a solid victory over Iowa earlier this season. So both teams have been more than competitive and should go bowling. Yet hanging with the Big Ten's best teams in the league's toughest environments is another story entirely.
Rutgers fell to Nebraska
42-24
on Saturday in Lincoln, a week after losing 56-17 at Ohio State. Maryland got hammered by Wisconsin
52-7
in Madison and lost 52-24 earlier this season to Ohio State at home. The Terps were outgained by a total of 575 yards in those two blowout defeats, while the Scarlet Knights gave up 616 rushing yards to Ohio State and Nebraska.
Many Big Ten teams would suffer the same fates in those stadiums and against those opponents, so this is not really a knock on the newbies. It's just a reminder that while both Maryland and Rutgers are far from Big Ten bottom-feeders, they're not all that close to the cream of the crop, either. And both still have to play Michigan State.
[+] Enlarge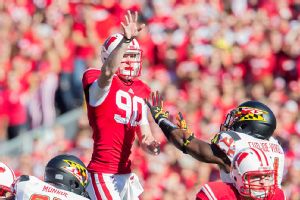 Dan Sanger/Icon SportswireBadgers punter Drew Meyer tosses a pass during Saturday's Week 9 game against Maryland.
On to the Week 9 rewind:
Team of the week:
Illinois. Like many others, we have given Tim Beckman a hard time. But he has always struck me as a decent guy who really cares about his players, and his joy for them was evident after the
Illini upset Minnesota
on Saturday. It was the program's first Big Ten home win since October 2011, incredibly. As bad as things have seemed in Champaign this season, especially after the home loss to Purdue, Illinois is still 4-4. A bowl game -- and another year for Beckman -- is still in play.
Biggest play:
V'Angelo Bentley
's 12-yard fumble return with 6:33 left provided the winning score for Illinois. It was sad to see
David Cobb
cough up such a big mistake since he's had an amazing season and has carried Minnesota's offense on his back, including on Saturday.
Coolest play:
Never sleep on the punter.
Well done
, Wisconsin's
Drew Meyer
.
Worst play:
Uh,
not so well done
,
Devin Gardner
.
Big Man on Campus (offense):
Ameer Abdullah
set a Nebraska record with 341 all-purpose yards. I think he blew up all the red balloons before the game, too. We're running out of superlatives for this guy.
Big Man on Campus (defense):
Several Penn State defensive players were great, including
Mike Hull
and
Anthony Zettel
. But when the game was on the line in State College, guess who came through? No, don't
just shrug
. Take a bow,
Joey Bosa
.
Did it for you coach. So blessed to have you on our side. #GoBucks http://t.co/M0GdUBjuBu

— Joey Bosa (@jbbigbear) October 26, 2014
Big Man on Campus (special teams):
Ohio State's
Cameron Johnston
averaged 45 yards on six punts and had four of them downed inside the 20, including a pair inside the Penn State 10-yard line in the fourth quarter.
Biggest faceplant:
Minnesota was angling toward a 7-1 start and starting to gain some national respect before it lost to an Illinois team that had lost 24 of its previous 25 Big Ten games. For a second straight week, the Gophers fell behind early, and it's not a team built to play that way. With the closing foursome of Iowa, Ohio State, at Nebraska and at Wisconsin still left, Jerry Kill's team needs to regroup quickly or risk losing some serious steam.
Dumbest stake-plant:
Well,
duh
. If you're keeping track, Michigan's ratio of wins to public apologies this season stands at 3-to-2. What a bizarre year in Ann Arbor.
Fun with numbers:
Budget some extra time if you're going to Beaver Stadium for a league matchup. Five of Penn State's last seven Big Ten home games have gone into overtime. ... Michigan's fourth-quarter touchdown against Michigan State was its first versus the Spartans in 186:08 of game action, dating back to the fourth quarter of the 2011 game. ... Abdullah now ranks second in Big Ten history with 6,604 career all-purpose yards. He needs 825 more to break Ron Dayne's record, and with four more regular-season games plus a bowl (and a possible Big Ten title game) he should get there. ... Wisconsin's
Melvin Gordon
has five games with at least three rushing scores over the past two seasons, the most among all Power 5 conference players. His 15 touchdowns in his last five games ties Billy Marek (1974) for the school record for most scores in a five-game stretch.
October, 27, 2014
Oct 27
8:30
AM ET
Handing out some recognition from the standouts in Ohio State's 31-24 win in double overtime on Saturday at Penn State:
DE Joey Bosa
No defender is playing any better right now in the Big Ten, and the Buckeyes may have had a hard time winning or sticking around in the College Football Playoff conversation without him. The star sophomore always figured to be a nuisance for Penn State's suspect offensive line, but that doesn't make his sledgehammering up front any less impressive as he made six tackles and added 2.5 sacks to his season total -- with the most important of them coming on the game's final play. The Nittany Lions had no chance of slowing Bosa down on the last snap in overtime, and after darting around one blocker and bulling over another, he had a walk-off tackle that Ohio State won't soon forget.
LB Joshua Perry
The junior seems to be flying well below the radar even on his own team, but he has quietly put together an impressive season thanks to sure tackling, an ability to properly diagnose a play and rarely putting a foot wrong with his assignments. Against the Nittany Lions, that all added up an eye-popping 18 tackles, including two for a loss, a performance that was a bit reminiscent of what Ryan Shazier did in stuffing the stats sheet over the last couple seasons. Perry doesn't have nearly as much athleticism as the first-round NFL draft pick and he certainly isn't as flashy on the field, but he's been invaluable for the Buckeyes and an improving defense.
P Cameron Johnston
Urban Meyer would typically prefer never needing to put the sophomore from Australia in the game, but when field position becomes a premium like it did against Penn State, he has quite a useful weapon at his disposal. Johnston pinned the Nittany Lions inside the 20-yard line on four of his six punts, including a beauty in the fourth quarter that was downed at the 1 by Devin Smith. Overall, Johnston averaged 45 yards on those attempts with a long of 59, and that effort shouldn't be overlooked in a tight battle that could have easily gone against the Buckeyes.
October, 27, 2014
Oct 27
8:00
AM ET
Does the Big Ten have a credibility problem with its officiating?
We're just two years removed from a
very poor year by the league officials.
And on Saturday night, the crew working the Ohio State-Penn State game was involved with several head-scratching -- and at times, just plain botched -- calls. "Clownish" is how
PennLive.com's David Jones described
the refereeing in State College, and it's hard to argue against that wording.
For years, fans have long accused the league of protecting its brand-name teams and have theorized that those schools get the benefit of the whistle. That's a bit too much tinfoil-on-the-head, conspiracy-mongering for me. After all, Michigan lost at Rutgers earlier this season in part because of a bad call on a Wolverines' pass that should have been ruled a completion.
But it's also true Ohio State got some breaks in its overtime win Saturday, most notably on the interception by
Vonn Bell
that actually hit the ground and on a field goal that came clearly after the play clock had expired. James Franklin had to hold himself back from
saying what he really thought about
those calls.
ESPN.com asked the league to clarify what happened on the Bell interception, after the officials told a pool reporter Saturday night that there were technical difficulties on the replay. The Big Ten's response:
"[T]he video feed to the replay booth was tested and confirmed on Friday and prior to the game on Saturday, but at the start of the game, the booth was no longer receiving all available feeds. The technician in the booth followed procedure by contacting the production truck, which immediately began working on the issue. Due to these technical difficulties, only one isolated shot from the overhead camera was available and the view did not provide sufficient information to reverse the call. As a result, the play stood as called. The production truck rectified the technical issues shortly thereafter, and the replay booth had access to multiple feeds for the remainder of the game."
And the league office also responded about the no delay-of-game penalty before that field goal:
"In this case, a breakdown in officiating mechanics occurred and the crew failed to properly monitor the play clock. There is flexibility for a slight delay between the play clock and the snap of the ball, but in this case, the timing far exceeded the tolerance for normal play clock procedures. The proper ruling should have been a five-yard penalty for delay of game. This is not a reviewable play."
It's good that the Big Ten provided some explanations here and that the league admitted a failure on the missed delay-of-game. That may not be enough for some fans who find it convenient those breakdowns happened to help one of the conference's remaining playoff contenders.
I don't believe there's a conspiracy in play. But I do believe the Big Ten needs to continue to demand better from its officiating, because it was far from acceptable on Saturday night.
East Division
West Division
Finally:
RIP, Oscar Taveras
. Incredibly sad.
October, 26, 2014
Oct 26
2:00
PM ET
October, 26, 2014
Oct 26
9:00
AM ET
Honoring the best and brightest from an action-packed Saturday in the Big Ten.

Nebraska RB Ameer Abdullah:
Something of a forgotten man over the past couple weeks, Abdullah turned in a virtuoso performance in the Huskers'
42-24
win over Rutgers that should serve as a reminder that he belongs in the conversation about the nation's best weapons. Abdullah racked up 225 yards on the ground and 26 more through the air, sparking another conference win with three trips to the end zone.
Wisconsin RB Melvin Gordon:
With just a little bit of help from an improved passing attack, the star running back was able to carve up Maryland on the ground and stake the Badgers to a big early lead with three touchdowns before halftime. He may have given up some statistical ground to his buddy Abdullah, but with Gordon rolling again, Wisconsin -- a
52-7
winner Saturday -- again looks like a threat to the Huskers in the West Division.
Illinois DB V'Angelo Bentley:
The junior has had more impressive touchdowns in a career that has included scores in just about every way imaginable for a non-offensive player, but his relatively easy 12-yard fumble return might go down as the most memorable. After Minnesota running back
David Cobb
coughed up the football in the fourth quarter, Bentley's heads-up play produced the game-winning points in Illinois'
28-24
victory -- just the second in the Big Ten for coach Tim Beckman.
Michigan State RB Jeremy Langford:
The senior doesn't usually get much publicity with so many high-profile rushers in the Big Ten, but Langford continues to chew up yardage and pile up touchdowns for the Spartans with or without the spotlight. He matched both Gordon and Abdullah with a hat trick of scores, leading Michigan State to yet another win over rival Michigan --
35-11
--and keeping it in the thick of the race for the College Football Playoff.
Ohio State DE Joey Bosa:
Penn State had a handful of worthy candidates for an award, but none of them added a game-winning play to the box score. The sophomore sensation was all over the field helping slow down the Nittany Lions on the ground, he put
Christian Hackenberg
under a barrage of pressure from start to finish and finished with 2.5 sacks. But it was his last play, a walk-off takedown in double overtime, that clinched a
31-24
win for the Buckeyes and earned him another weekly honor.
October, 26, 2014
Oct 26
12:45
AM ET
Associated Press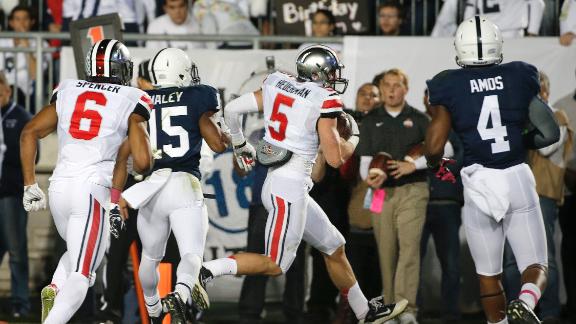 STATE COLLEGE, Pa. -- Quarterback J.T. Barrett scored twice in overtime to help No. 13 Ohio State escape with a 31-24 double-overtime victory over Penn State on Saturday night.
The Buckeyes (6-1, 3-0 Big Ten) built a 17-0 lead and were cruising when Penn State's Anthony Zettel intercepted Barrett's pass and returned it 40 yards for a touchdown in the third quarter.
Christian Hackenberg threw a 24-yard touchdown pass to Saeed Blacknall early in the fourth, and Penn State (4-3, 1-3) tied it on Sam Ficken's 31-yard field goal with 9 seconds left in regulation.
In the first overtime, Penn State tailback Bill Belton took a direct snap from the Wildcat formation and scored on a 10-yard run. The Buckeyes countered when Barrett carried two straight times, the first for 17 yards and the second 5 yards for a touchdown.
Penn State was called for a personal foul on the touchdown, giving Ohio State the ball at the 12 to start the second overtime. With a third-and-2 from the 4, Barrett powered through the middle of Penn State's defense for a touchdown. Joey Bosa sacked Penn State's Hackenberg on a fourth-and-5 play to end the game.
October, 26, 2014
Oct 26
12:42
AM ET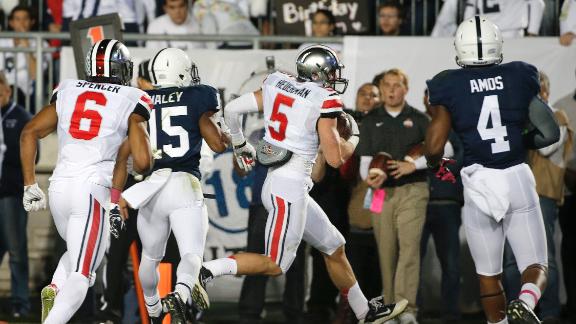 STATE COLLEGE, Pa. -- The Nittany Lions' defense swarmed and nearly came away with the upset win Saturday night. Nearly.
Instead, they walked off the field silently after
falling 31-24 against No. 12 Ohio State
in double overtime. The Buckeyes scored two touchdowns in the overtime periods and sacked
Christian Hackenberg
on the final play.
Penn State's
Anthony Zettel
returned an interception 40 yards for a touchdown, and the defense held
J.T. Barrett
to just 74 passing yards.
The Buckeyes showed they were the better team with a strong defense and ground game. Penn State didn't enter the red zone until the final quarter, and Ohio State limited PSU to 16 rushing yards on 31 carries.
With the win, Ohio State improves to 6-1, 3-0 in the Big Ten. Penn State drops to 4-3, 1-3 in the conference.
How the game was won:
Ohio State's defense dominated, as the Nittany Lions just couldn't get anything started until the final quarter. Penn State finished with 240 total yards -- and didn't reach the red zone until the final quarter. By then, it was too late. Two controversial calls in the first half also helped Ohio State, as a questionable interception call led to an Ohio State touchdown and a field goal counted despite the snap coming after the play clock had expired.
Gameball goes to:
Ohio State's
Joey Bosa
. He finished with six tackles and 2.5 sacks -- but his final sack was most important of all. He tackled Hackenberg in the backfield to end the game.
Ezekiel Elliott
and
Mike Hull
also deserve mentions here, but Bosa's play had the biggest impact.
Playoff implications:
The Buckeyes are still in this. For them to truly be considered, though, they'll have to win out. Nothing is guaranteed, but the College Football Playoff committee might be willing to overlook the Week 2 loss to Virginia Tech – as long as the Buckeyes beat Michigan State in two weeks and then win the Big Ten title.
What's next:
Ohio State will take on Illinois at the Horseshoe next week, while Penn State remains at home against Maryland. The Illini are coming off a surprise win against Minnesota, and the Terrapins are coming off a big loss to Wisconsin.
October, 26, 2014
Oct 26
12:42
AM ET
Observations from an illuminating Saturday in the Big Ten:
Shake up the West:
The leader going into the weekend might have been exposed as a pretender. A preseason favorite written off after an early loss turned in perhaps the most impressive overall performance in the league all year. Sandwiched between
Minnesota's stumble
at Illinois and
Wisconsin's rebirth
against Maryland, Nebraska simply handled its business without incident as the West Division came into somewhat clearer focus, as we head into what could be a crazy November in that half of the conference. As Wisconsin's ability to right the ship proved, it can be dangerous to discount any program in the West after they lose just once. But the Gophers have a murderous slate ahead of them after their bye next week, and falling to the Illini doesn't leave much reason to consider them a legitimate contender down the stretch now. On the flip side, with some improvements in the passing game, the Badgers are rounding into form offensively and can be a truly terrifying matchup when a defense can't just focus on
Melvin Gordon
. Nebraska might
not be thrilled
to allow 24 points to Rutgers, but it was never really threatened -- and the stage might be set for a huge clash with the Badgers on Nov. 15.
[+] Enlarge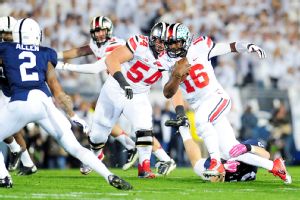 Evan Habeeb/USA TODAY SportsJ.T. Barrett and the Buckeyes can learn from their mistakes after squeaking by Penn State on Saturday.
Buckeyes not a finished product just yet:
J.T. Barrett
is resilient, tough and mature enough as a redshirt freshman to go on the road and win in a hostile environment in overtime. All of those are positives for the Ohio State quarterback, obviously, but maybe it was a bit premature to think he and his young counterparts on offense were all grown up after they rolled over Rutgers and Maryland. Penn State's
tenacious defense
gave Urban Meyer's attack all it could handle, and though Barrett appeared slowed at times by a knee injury, he struggled for the first time since the loss to Virginia Tech with his decision-making and his accuracy, as a 17-point lead vanished and put Ohio State's chances of climbing back into the College Football Playoff on the ropes. The end result is all that ultimately matters heading into November, and in some ways Ohio State might feel it has two weeks to get ready for Michigan State, given the weakness of the Illinois defense. But the Buckeyes are going to face another tough test on the road against the Spartans, and they'll need to be sharper with the football.
Michigan State keeps rolling:
A sluggish start had to be overcome, and an ejection actually needed to be overturned to ensure the roster stayed in one piece, but the Spartans ultimately stayed
right on track
for the Nov. 8 showdown with Ohio State.
Jeremy Langford
relentlessly pounded away at Michigan on the ground, the opportunistic defense chipped in another touchdown and Michigan State appeared to stay relatively healthy heading into a bye week that comes at a good time with the de facto East Division title game looming. The Wolverines aren't the stoutest competition, at least not for a College Football Playoff contender, but Mark Dantonio and his club kept their focus and emotions in check to keep the train rolling along into the final month of the regular season.
Flying Illini:
The writing appeared to be on the wall a few weeks ago, but Tim Beckman applied a fresh coat of paint to his tenure with an upset win at home over Minnesota. The Illini coach might not be completely in the clear, given that was just the second Big Ten victory of his career, but he deserves credit for the gutty defensive effort his team turned in and the way the offense has responded without
Wes Lunt
available at quarterback. Even the loss to Purdue doesn't look quite so bad as it once did, thanks to improvement from that team as well. And now, with a .500 record through eight weeks, earning a bowl bid isn't out of the question for Illinois. One win doesn't magically fix everything, but it might help Beckman buy more time with the program.
Gophers grounded:
Minnesota isn't suddenly going to become a pushover down the stretch, not with its stout defense and a powerful rushing attack led by
David Cobb
at its disposal. With every team in the West Division having lost a game, it can't be ruled out quite yet as a contender, either. But if it's going to navigate a closing stretch that includes home games with Iowa and Ohio State followed by consecutive road trips to Nebraska and Wisconsin, Jerry Kill's team is going to need to find some consistency through the air.
Mitch Leidner
has proven his toughness while battling injuries this season, and on occasion Saturday, the quarterback looked more than capable of making difficult throws against the Illini. But he didn't do it often enough, and completing 12 of 30 passes isn't going to be good enough for the Gophers late in the year. Finding some answers will no doubt be an emphasis during the upcoming bye week.
Drive Through: Rankings Reaction