December, 4, 2013
Dec 4
1:30
PM ET
Michigan State and Ohio State will face off for the first time this season on Saturday in the Big Ten championship game.
And while they're a bit of an unknown to each other, they have six overlapping opponents this season, including the Wolverines. Michigan lost to both teams, though, in very different ways. Here's a breakdown of what we can draw from the OSU-MSU matchup based off what happened with the Wolverines.
OSU OFFENSE vs. MSU DEFENSE
[+] Enlarge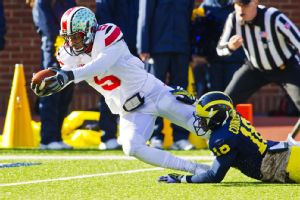 AP Photo/Tony DingBraxton Miller's Buckeyes had a big day running the ball against Michigan's defense. But will they be able to have that success against Michigan State's tough D?
Michigan offense vs. MSU defense:
Obviously the big takeaway from this game was the fact that the Wolverines had negative 48 rushing yards. Yes, a lot of that was due to Michigan State seven sacks, but the Wolverines never got the running game going.
Fitzgerald Toussaint
averaged 2.5 yards per carry which is actually above MSU's season average of 2.2 yards per rush allowed. But he only carried the ball eight times.
Devin Gardner
never got going either. Gardner wasn't bad in the passing game, as he threw for 210 yards, but he had no touchdowns, which is the identity of this MSU secondary. They've allowed 170 passing yards per game, but they've only given up 11 passing touchdowns (less than one per game).
OSU offense vs. Michigan defense:
The Buckeyes had 526 yards of offense against Wolverines, including nearly 400 rushing yards. The dual-threat rushing attack of
Braxton Miller
and
Carlos Hyde
combined for four touchdowns and nine yards per carry. Miller completed only six passes against the Wolverines and just one receiver (tight end
Jeff Heuerman
) tallied more than one reception. The 526 yards was right around the Buckeyes' average of 530 yards per game, but generally their attack is more balanced as they've averaged 321 rushing yards and 209 passing yards per game.
OSU offense vs. MSU defense:
It'll be strength vs. strength in this matchup. The Buckeyes prolific rushing attack will attempt to find holes against a Spartan front seven that seems to be a solid wall. It should be interesting because Michigan State hasn't seen a duo quite like Miller/Hyde. The big key will be whether or not MSU can come up with turnovers. Hyde and Miller will probably be able to find some yards, but if the Spartans can kill some plays, it'd be huge.
MSU OFFENSE vs. OSU DEFENSE
MSU offense vs. Michigan defense:
Michigan State quarterback
Connor Cook
threw for one touchdown and 252 yards against Michigan, but his offensive line gave him quite a bit of time in the pocket (he was sacked twice, though) while opening holes for running back
Jeremy Langford
, who picked up 120 yards against the Wolverines. The thing about MSU's offense is that it's generally played much better against opposing defenses when compared to what opposing offenses to vs. the Michigan State defense. That was really the case for the Michigan-MSU game.
Michigan offense vs. OSU defense:
The Wolverines put together their most complete offensive performance of the season. And it seems pretty fair to say that Ohio State wasn't really expecting it. Gardner mainly used his arm and short, quick passes to attack the Buckeye defense. His 451 passing yards and four touchdowns absolutely destroyed Ohio State's average of 256 passing yards allowed per game, and it definitely played toward the problems with OSU's defense. The Buckeyes have given up 30 touchdowns this season and 23 of those have been passing touchdowns, so while they might have an All-Big Ten defensive back in
Bradley Roby
, their secondary has been an issue.
MSU offense vs. OSU defense:
Gardner's performance against Ohio State showed that there are shots down the field that can be made against the Buckeyes. And with Cook improving with each game, he'll have to look for those. But what really opened up the field was Michigan's offensive line protecting Gardner well enough and creating enough room for the running backs. The Michigan State offensive line is greatly improved from last season, and Langford has proven himself as a versatile and strong back. However, one of the worst things that could have happened to Michigan State was how well Michigan's offense played last weekend. Because after that lackluster performance, the Ohio State defense will look to make a statement and Cook and his offense will be on the Buckeyes' defensive menu.
December, 4, 2013
Dec 4
1:00
PM ET
I joined Matt Barrie and Ivan Maisel on the ESPNU College Football Podcast today to talk about the Big Ten championship game between Ohio State and Michigan State. Reporters from other leagues also chimed in on their title-game tilts this weekend.
You can listen to the podcast
here
.
December, 4, 2013
Dec 4
12:30
PM ET
By
ESPN.com staff
| ESPN.com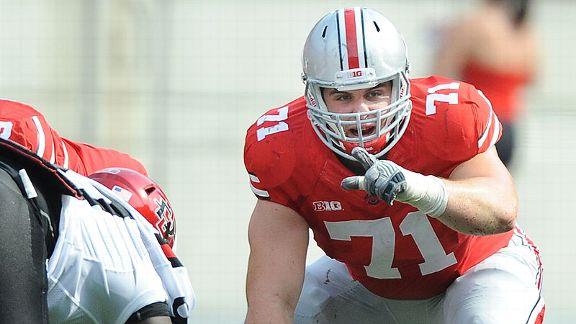 Ohio State center
Corey Linsley
talks about Michigan State, a tough test from a stout defense and motivation for the No. 2 Buckeyes.
December, 4, 2013
Dec 4
12:00
PM ET
This might be the most excited I've ever been for a trip to the state of Indiana.
December, 4, 2013
Dec 4
9:34
AM ET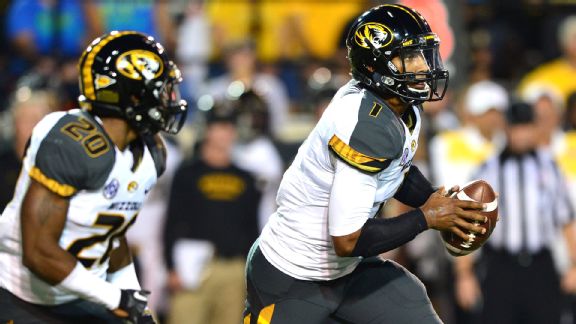 Don McPeak/USA TODAY SportsThe speed of QB James Franklin (right) and Mizzou's other offensive stars could give Auburn fits.
With many teams off this weekend, coaches could have a little more time than usual to take in the four conference championship games Saturday -- those in the ACC, SEC, Pac-12 and Big Ten.
Ahead of those four matchups, I got coaches who went up against the participating teams to share some of their insights about what we should expect this weekend, and mixed in a few of my own.
ACC: Florida State Seminoles versus Duke Blue Devils
Coach No. 1 on Duke: "They're one of the two or three best-coached teams in the conference. They know what they're doing. They're opportunistic on defense. They do a good job of taking away what you like to do, the run game or particular routes that you like in the passing game. Everyone talks about that, but they actually do it. The offense adjusts well on game days, too."
To continue reading this article you must be an Insider
December, 4, 2013
Dec 4
9:00
AM ET
COLUMBUS, Ohio -- Drop the Ohio State offense on the scales, and it looks comically imbalanced.
The plan was to find an even mix, blending in the pass as often as the rush after favoring the latter so heavily last year. On top of that, the Buckeyes would take as many deep shots as short throws, with perimeter rushes complementing attempts between the tackles.
[+] Enlarge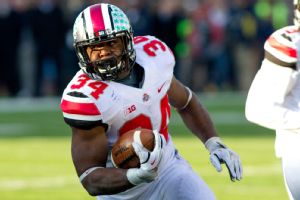 Jason Mowry/Icon SMIAfter sitting out the first three games of the season, Ohio State tailback Carlos Hyde has rushed for 1,290 yards and 14 touchdowns.
But sometimes goals have to be scrapped. And when Tom Herman looks down at the field and sees the No. 2 Buckeyes battering away on the ground against a helpless defense, the offensive coordinator has no problem seeking a different kind of 50-50 proposition in balancing the load between his two most dangerous weapons.
"When you see the productivity of the run game and where that's taking you, then you continue to call it more until something tells you not to," Herman said. "Throughout the [Michigan] game, nothing was telling us not to.
"Have you seen [Nos.] 34 and 5 run it?"
That combination of RB
Carlos Hyde
and QB
Braxton Miller
, respectively, has been hard to miss during another perfect regular season for the Buckeyes, and the way they've been carving up teams on the ground only makes it harder for Herman to dial up a pass play or two.
Miller has looked vastly improved with his arm during his third year as a starting quarterback, but his acceleration and body control as a rusher remain his most dangerous weapon. And with Hyde playing at easily the highest level of his career at tailback, the combination has served at times to make a passing game almost completely unnecessary.
The Buckeyes completed just six passes in the win over Michigan last week, but the backfield tandem rushed for 379 yards and four touchdowns. Ohio State had just 11 completions in a previous win over Indiana and 13 before that against Illinois, but Miller and Hyde combined for 691 rushing yards and nine touchdowns over that two-game span.
But while the passing game appears to be trending down with the potent rushing attack on the rise, that perceived imbalance doesn't exactly mean Ohio State hasn't accomplished what it set out to do offensively before the season.
"Balance is not having the same amount of rushing yards or the same amount of passing yards, or the same amount of rushing plays versus the same amount of passing plays," Herman said. "Balance is being able to win the game either way dependent on how the defense [plays], what the defense is trying to take away. I think we are a balanced offense right now.
"I think [the disparity] is a product of how well we're rushing. It's not a concern."
The Michigan State Spartans, who boast the nation's top-ranked rushing defense, could turn it into a problem if Ohio State's passing attack isn't able to carry its weight Saturday with the Big Ten title on the line. During coach Urban Meyer's (and Herman's) two years with the Buckeyes, the aggressive, hard-hitting Michigan State unit has arguably had more success against the Buckeyes than any other defense, holding them to just 17 points last year.
The Spartans will no doubt be looking to force Miller to put the ball in the air more often, bringing extra help near the line of scrimmage to limit his options as a rusher and to try to slow down Hyde. But Michigan State won't be the first team to take that approach, and Ohio State will almost certainly wait to see if the Spartans' D can make OSU do something different on offense before doing so on its own.
"It's a little bit of a concern, especially when you see who's coming," Meyer said. "We have a lot of respect for our rival's [Michigan State] run defense; if there was some vulnerability shown on defense, it was actually on pass defense.
"But we felt like we're getting some big yards per crack, and both Carlos and Braxton run the ball at a very high level."
So the Buckeyes just kept doing it against the Wolverines. And by the time they were done, the season total was even more heavily weighed down with rushing attempts, which now has a 63-37 edge in percentage of plays this season.
That approach has obviously worked just fine, and Meyer made it clear that the goal Saturday won't be to balance the numbers.
"[Herman] and myself got into a little bit of a rhythm as far as some formations and some ways we were running the ball out," Meyer said. "I just want a W."
If that means a whole lot of Nos. 34 and 5, so be it.
December, 3, 2013
Dec 3
7:00
PM ET
On Monday, the Big Ten unveiled its
all-conference teams and some individual award winners
. The four big prizes were announced Tuesday evening. Here they are:
Graham-George Offensive Player of the Year: Braxton Miller, Ohio State

Nagurski-Woodson Defensive Player of the Year: Chris Borland, Wisconsin

Thompson-Randle El Freshman of the Year: Christian Hackenberg, Penn State

Hayes-Schembechler Coach of the Year (coaches vote): Mark Dantonio, Michigan State

Dave McClain Coach of the Year (media vote): Dantonio
[+] Enlarge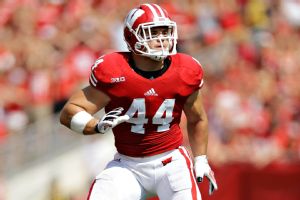 Mike McGinnis/Getty ImagesWisconsin linebacker Chris Borland has been named the Nagurski-Woodson Defensive Player of the Year in the Big Ten.
If you see smoke rising over the state of Ohio, that's because it's coming out of the ears of Ohio State fans. After another 12-0 season, the Buckeyes figured to clean up in the awards, but they won only one of the four major honors here with two notable snubs.
Miller wins the offensive player of the year trophy for the second straight season. He's a very worthy honoree, despite missing three games with injury in September. Teammate
Carlos Hyde
had a very strong case, and so did Nebraska's
Ameer Abdullah
. But I doubt you're going to hear too many people complaining about this trophy joining the 2012 version on Miller's mantel, given that he remains the most dynamic offensive player in the Big Ten.
Hackenberg was an obvious a call as there was for any award in the Big Ten this year. It would be difficult to justify voting for anyone else as the league's top freshman given his performance all year as the Nittany Lions' starting quarterback. A Penn State player has won this award two years in a row, as
Deion Barnes
took home the prize a year ago.
Now let's get to the two most controversial choices.
Nobody loves Borland more than the Big Ten blog. He's a tremendous player and a great leader who has had an amazing career. He was the unquestioned leader of the league's second-best defense. He should have been a Butkus finalist and is a worthy All-American.
[+] Enlarge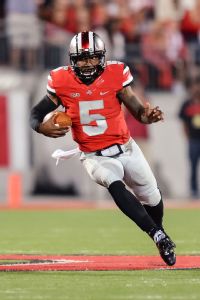 Jamie Sabau/Getty ImagesFor the second straight season, Ohio State signal-caller Braxton Miller is the Graham-George Offensive Player of the Year in the Big Ten.
But Ohio State's
Ryan Shazier
had the better year. Numbers aren't everything, but Shazier led the league with 122 tackles and tackles for loss, the latter by a wide margin. He had more sacks and forced fumbles than Borland. It's not a strict one-to-one comparison, because Borland is an inside linebacker and Shazier plays on the outside. But Borland missed two Big Ten games, which has to count for something. Shazier was arguably the most valuable player on Ohio State because of the uncertainty on defense around him. He had a strong case to win this award last season but was edged out by teammate
John Simon
. He lost out again this season, and it's a shame.
The most egregious blunder in the awards voting, however, occurred in the coach of the year race. I
wrote earlier today
that if Urban Meyer didn't win this honor, they should just rename it "Coach of the Year, Non-Ohio State Division" or "Coach Who Most Exceeded Expectations." It is utterly ridiculous that Meyer is 24-0 but 0-for-2 in Big Ten coach of the year balloting. It is nearly criminal that no Ohio State coach has won this award since 1979.
That's not to belittle Dantonio, who has had an outstanding season and showed courage in sticking by some struggling players on offense earlier in the year. But Michigan State won 11 games in 2010 and 2011 before slipping to 7-6 last year with a slew of close defeats. Now that the Spartans are an 11-win team again, are we to assume Dantonio did a magical job of getting back to that level? Or is he just a good coach who had a rough year last season because of offensive inexperience and some bad breaks? If you wanted to argue that Jerry Kill and his staff overcame more than anybody and should win this award, fine. But I don't really see how both the media and coaches both voted for Dantonio over Meyer.
It's no secret that Meyer rubs people the wrong way, and you hope that didn't influence the voting process. Ohio State fans have to be wondering why their undefeated, potential national championship team didn't reap more of the spoils of victory.
December, 3, 2013
Dec 3
4:30
PM ET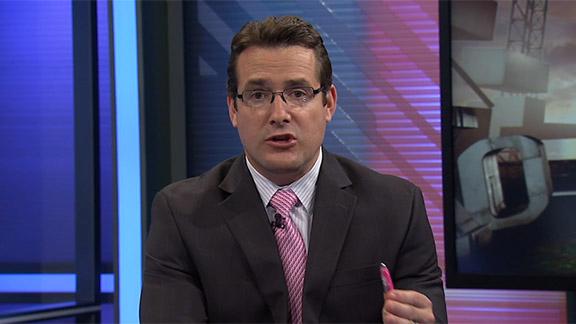 Junior-college prospects are often an outstanding way for programs to fill their rosters. Because of the experience the prospects have with a higher level of play, they can immediately help at positions of need.
Big Ten schools are after plenty of juco prospects to round out the remainder of the Class of 2014. With the
2014 ESPN Junior College 50
rankings releasing today, here is a look at five junior-college targets for the conference.
OL Chad Mavety
Garden City, N.Y./Nassau community college
ESPN JC 50 ranking: No. 8
To continue reading this article you must be an Insider
December, 3, 2013
Dec 3
2:30
PM ET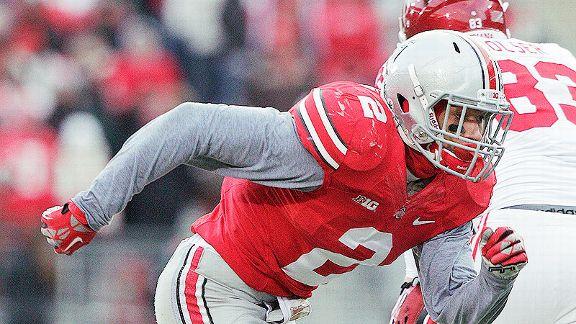 COLUMBUS, Ohio -- The last goal on the list was the most critical.
The plan obviously wasn't to give up more than 600 yards of offense.
Ideally, the defense wouldn't have allowed 41 points.
Of course, the best-case scenario probably didn't call for needing to snuff a 2-point conversion in the final minute to escape either.
[+] Enlarge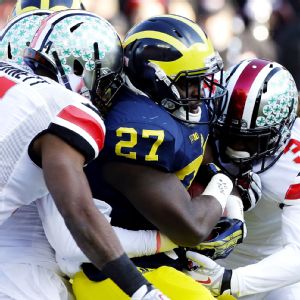 AP Photo/Carlos OsorioOhio State's defense had its struggles against Michigan but have found what needs correcting before facing Michigan State.
But if Ohio State almost certainly came up well short of the target statistically, defensive coordinator Luke Fickell still had one final item on his checklist he measured with a simple pass or fail grade in Saturday's wild, shootout win over rival Michigan. And since the No. 2 Buckeyes are still undefeated, that evaluation was pretty easy for him to make.
"What do you mean what went wrong?" Fickell said. "Did we win? Did we win? Did we win? I've been up there quite a few times in my 18-year career here and not come away with a win.
"There are a lot of things we have to correct, but every single week we have objectives, and the last objective last week was to win. We came away with a win, we made a play when we had to make a play."
The Buckeyes didn't make many on that side of the ball before an interception by
Tyvis Powell
sealed the win over the Wolverines. Even with a positive outcome, there's no way they can hide from that fact.
Fickell acknowledged some communication breakdowns, gave credit to Michigan for an aggressive game plan that caught Ohio State off guard and stressed the importance of improved "awareness" as his team prepares for Saturday's Big Ten title game in Indianapolis against No. 10 Michigan State.
But his boss took it one step further, as coach Urban Meyer made it clear he didn't think another passing grade would be likely without a much more stout defensive effort.
"We won't win the game," Meyer said. "We won't win that game this time. That's just very simple. We have to play much better.
"Pass defense [breakdowns] surfaced again and lack of contact on the quarterback. We just had some guys running open. It was a combination [of problems]. If you could say it was one thing, then I would say it was one thing. But I trust that we'll get it fixed, and I trust that these guys will be locked and loaded and have a good week of preparation."
Perhaps the most pressing correction to be made will be ensuring the Buckeyes are communicating the way they have largely throughout the season in allowing just more than 20 points per game. It was an issue they at least identified before the final defensive snap against the Wolverines to get on the same page in time to get a season-saving stop near the goal line.
The Buckeyes might also have been a little overzealous and trying to do too much individually, which hurt them in the screen game as huge holes opened and the Wolverines gashed them for long gains with no tacklers in sight. But that, too, is a lesson they preferred to learn from a win.
"To be honest, I feel execution and effort were there, but it was a lack of communication that we messed up on," linebacker
Ryan Shazier
said. "I feel like we did a good job executing the things that we needed to execute, and we had the effort out there on the field. They just threw a bunch of curveballs at us and we have to try to change up on them during the game.
"We just have to do what we have to do to get this 'W,' and that means play great defense."
The Buckeyes didn't do it over the weekend but got a victory anyway, which Fickell was quick to point out. But crossing off that final objective against Michigan State might be a lot tougher to do without meeting a few other goals first this time.
December, 3, 2013
Dec 3
2:00
PM ET
The
All-Big Ten teams and individual awards
are out, and the league hands out its four major awards -- Offensive Player of the Year, Defensive Player of the Year, Coach of the Year and Freshman of the Year -- later Tuesday. As always, we're handing out our endorsements for each award in advance of the announcement. We'll agree on some and differ on others.
Let's turn our attention now to the league's top coach:
[+] Enlarge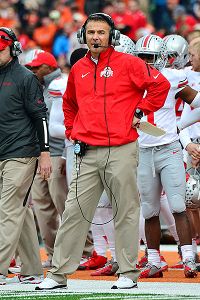 Icon SMIOther Big Ten coaches have exceeded expectations, but Urban Meyer should be rewarded for meeting sky-high ones.
Brian Bennett endorses Ohio State's Urban Meyer
If Meyer doesn't win the award this year, then we need to change the name of the honor to "Coach Who Most Exceeded Expectations." Or "Coach of the Year, Non-Ohio State Division." It's ridiculous that voters for these awards often overlook sustained excellence only to pick someone whose team did better than some worthless preseason predictions. All Meyer has done is go 12-0 for the second straight season. The Buckeyes also withstood some adversity, including the suspension of
Carlos Hyde
,
Braxton Miller
's knee injury and safety
Christian Bryant
's season-ending knee injury. Plus, Ohio State had an enormous target on its back all season long. Mark Dantonio did excellent work at Michigan State, especially in staying patient with the offense under withering early criticism. But the 2012 season now looks like the aberration for a Spartans program that has 11 wins in three of the past four years. The Minnesota story is also tremendous, and if this were a vote for coaching staffs, I might give it to the Gophers. But Meyer shouldn't be punished for having sky-high expectations. He should be rewarded for meeting them.
Adam Rittenberg endorses Meyer
Brian pretty much writes it all here as to why Meyer should be the choice. I've had a problem with this award for some time and the fact an Ohio State coach hasn't won it since Earle Bruce in 1979. If Meyer doesn't win after guiding Ohio State to a second consecutive undefeated regular season and a team-record 24 straight wins, just get rid of the thing entirely. Dantonio, Kill and Iowa's Kirk Ferentz all did excellent jobs improving their teams in 2013, but Meyer maintained a standard of excellence in a sport where even the most talented and experienced teams usually stumble at least once in a season. The offense has become even better in Year 2, and the defense held up for the most part despite returning just one starter in the front seven. Enough with the sympathy coach votes. Give it to the guy who has come into the league and dominated right away. Otherwise, the award lacks any credibility.
More endorsements:
December, 3, 2013
Dec 3
1:07
PM ET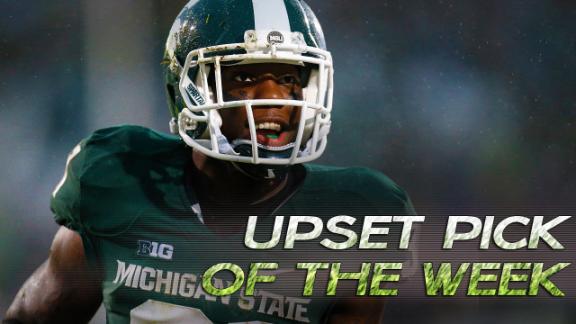 EAST LANSING, Mich. -- Michigan State coach Mark Dantonio believes that no matter which team wins the Big Ten title Saturday, the winner should be considered for a berth in the Vizio BCS National Championship.
No. 2 Ohio State is favored over the No. 10 Spartans, and if the Buckeyes (12-0) were to finish a second straight regular season undefeated, Urban Meyer's squad would be an understandable pick to play for the national title.
Dantonio agrees with that sentiment.
"I do believe, should Ohio State win, that they should represent in the national championship game," Dantonio said. "I think that when you have an undefeated football team, that's the right thing to do. ... That's my tip of the hat to Ohio State."
Dantonio also said he doesn't understand why the Spartans wouldn't be in contention for a spot in the title game if they were to beat the Buckeyes, assuming other chips fell in their favor as well.
"Why not us, if certain scenarios take place, which obviously last weekend you saw a lot of scenarios take place," Dantonio said. "There are no givens in college football. Anybody can rise up to beat someone else. That ball bounces a lot of different ways.
"The fact of the matter is we're 11-1 right now, we're playing in a championship environment. And we'll move from there. Don't limit yourself. Dream big. That's what I tell my football team."
For his part, Meyer has refused to enter into public debate about whether the Buckeyes deserve to play for the national title. On Monday, he said he might have something to add to the conversation after Saturday's game.
December, 3, 2013
Dec 3
12:00
PM ET
The only way college football could be better is if people had stronger opinions about it.
Building the Big Ten championship teams