November, 24, 2014
Nov 24
11:00
PM ET
Malik Jefferson
reduced his list to seven schools on Monday, and though the list is hardly a surprise, recruiters think there are still some in store with the No. 35 player in the country.
November, 24, 2014
Nov 24
7:30
PM ET
It's Ichigan week at Ohio State. The students and supporters on the southern end of this heated rivalry started the week with their annual tradition of covering every printed
M
on ca... , er, school grounds.
Each year in the week leading up to The Game, red tape covers Ohio State's campus and redacts all the appearances of the unlucky 13th letter of the alphabet that tape can reach. Gossip on Twitter the first day of this week suggested the school was getting rid of the last two letters -- the "um" -- on a large sign that says "Ohio Stadium" and hangs outside the Buckeyes' field. A photo of a crane lifting the letters away turned out to be a hoax.
The Wolverines travel to Ohio's capital city this weekend with a 5-6 record after losing to the Terrapins last Saturday. Ohio State (10-1) needs to beat its rival in order to keep alive its chance for an invite to the College Football Playoff. No red tape needed here.
November, 24, 2014
Nov 24
5:30
PM ET
COLUMBUS, Ohio -- Another week, another high-profile endorsement for
J.T. Barrett
as his Heisman Trophy campaign appears to be gaining more steam.
This time, though, the Ohio State quarterback actually received the stamp of approval from somebody who will be casting a vote for the game's top honor.
Former Heisman winner Troy Smith tried to play it coy about who might top his ballot as the regular season winds down, citing his preference to wait for the last possible moment for making his choice official. But he has also been in Barrett's shoes with the Buckeyes, and is seeing a lot of his own records with the program falling at the hands of the redshirt freshman, and Smith couldn't hide the fact that he might already be leaning toward one candidate in particular.
"I have a tremendous amount of respect for that process and have an understanding of what it takes to win the Heisman Trophy, and I think it shouldn't be awarded until the last game of whoever is in the standings or whichever candidates are playing, because you never know who is going to have that breakout moment," Smith said. "There is great talent across the nation, but I'm definitely biased toward some of the guys who have worn the scarlet and gray if they are up there.
"But you didn't hear that from me."
Smith is certainly still free to change his mind or keep his vote a secret, but he made no effort to hide his admiration and appreciation for what Barrett has done for the No. 6 Buckeyes in his first season as a starter. And one week after Ohio State coach Urban Meyer publicly endorsed Barrett as a viable Heisman contender, Smith added his name to the list while the 2006 winner was on campus preparing to have his number enshrined in the Horseshoe during Saturday's matchup with rival Michigan.
The redshirt freshman is seemingly rewriting a record book that is covered with Smith's name every week, and the comparisons between the last Ohio State quarterback to claim the famed stiff-arm trophy and the one pushing for it heading into the regular-season finale and next week's Big Ten championship game aren't likely to slow down any time soon.
Smith joked about what his individual numbers might look like in Meyer's spread offense with the chance to throw "shovel passes for touchdowns," but he was otherwise effusive in his praise of Barrett, and pointed to his eye-popping statistics with 42 total touchdowns as a key component in his Heisman platform.
"Oh yeah, I think he should be in [consideration] everybody's mind," Smith said. "Statistically, the things that he's doing, obviously numbers don't lie. [Offensive coordinator] Tom Herman and our offensive staff are putting him and other guys in positions to make plays, and J.T. is doing nothing but capitalizing on every single chance and opportunity. ... As a freshman, he's doing some things that it took me an ample amount of years to grasp and have an understanding about.
"Obviously we've had a chance to see the transformation and the growth behind J.T. Barrett this whole season, and I'm pretty much blown away."
In Smith's case, that makes him not only a qualified endorser for Barrett, but potentially an impressed voter as well.
November, 24, 2014
Nov 24
5:00
PM ET
Short week. I've got the mail. Here you go:
@mitchsherman What do you think should happen at Nebraska?

— Shonny Schneider (@sss809) November 24, 2014
@mitchsherman what is the final straw for making changes at NU? Sellout streak?

— Christopher Hawkins (@GoBigRedRev) November 24, 2014
@mitchsherman: Nebraska is a hot topic again late in the season for its failure to win key games. The Huskers' 28-24 loss to Minnesota on Saturday squashed the final strand of hope to play for a Big Ten title, officially extending the drought to 15 years without a conference crown. I think the Nebraska administration needs to ask a different set of questions this year than last, when Athletic Director Shawn Eichorst offered a vague statement in support of coach Bo Pelini at the close of the regular season. Is Nebraska satisfied with its place in the Big Ten? Are the Huskers content to win nine games a year but rarely, if ever, factor in the national conversation? If so, change is unnecessary. But if the Huskers want more, some kind of fix appears in order. Clearly, the formula in place isn't working to improve Nebraska. As for the streak of 340 consecutive sellouts, Nebraska can't afford to wait until it ends before taking action. Apathy is growing as the Huskers slide further down the Big Ten pecking order. And the streak of sellouts should not be taken for granted.
@mitchsherman If Wisconsin wins out & beats Ohio St in #B1G title, where do Mich St, Ohio St, & Wisconsin stand in terms of big six bowls?

— Sam Ensign (@samensign11) November 24, 2014
@mitchsherman: The Badgers, in that scenario, would land in the Cotton, Fiesta or Peach. The College Football Playoff committee would then be tasked to determine if Ohio State or Michigan State belonged in another of the New Year's Six games -- other than the Orange, which will be determined by conference tie-ins. The Orange Bowl gets the Big Ten runner-up only if it ranks ahead of every available SEC team. The Spartans appear in decent shape today for a New Year's Six spot, especially if Ohio State keeps winning. Of course, the Buckeyes, with a close loss to Wisconsin, could remain ahead of Michigan State and steal a New Year's Six spot, knocking MSU to the Buffalo Wild Wings Citrus Bowl. Remember, though, if a Big Ten team lands in the Orange Bowl, another can't go to the Citrus. Got that? In a nutshell, it's complicated.
@mitchsherman assume 10 bowl eligible teams this year. What are chances B1G can win 6-7 with conference setting up matchups with bowls?

— Dave Fitzgerald (@BuckeyeFitzy) November 24, 2014
@mitchsherman: It's a safe assumption that the league will get 10 teams in the postseason. Nine are eligible, with Northwestern or Illinois to get a sixth win on Saturday. For an 11th team to make it, Michigan must upset Ohio State. The Big Ten, as usual, will be matched against the SEC as a likely underdog in the Outback and possibly the Citrus or TaxSlayer (formerly Gator). If Ohio State wins the league and misses the playoff, it figures to go in as a favorite to win a New Year's Six bowl, though the same can't be said for other remaining Big Ten contenders Michigan State, Wisconsin and Minnesota. Moving down the line, Pac-12 foes will likely bring stronger resumes than the Big Ten in San Diego and Santa Clara. By my count, the league will be fortunate to go 3-3 with its top six teams. It looks slightly better for the lower-division teams, matched against the ACC in New York and Conference USA in Dallas, though the SEC could loom in Nashville. The Big Ten's at-large matchups might determine its chance to get above .500 in the postseason. I'd say, expect four to five wins and hope for six..

November, 24, 2014
Nov 24
4:44
PM ET
[+] Enlarge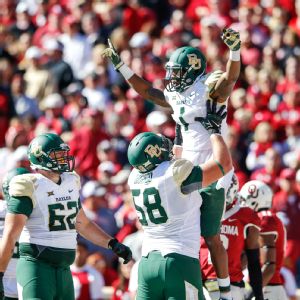 Kevin Jairaj/USA TODAY SportsEven if Baylor wins out, the Bears will likely need some help to sneak in to the top four.
There's only one week left in the regular season before the conference championship games begin (everywhere but the Big 12, that is). That leaves two more auditions for teams to make their final impressions on the 12 members of the College Football Playoff selection committee.
A handful of teams can control their playoff hopes, but more often than not, the teams on the bubble could use a little help down the stretch. The good news? There's still time. Here's a playoff road map to help illustrate how the leading candidates can get there in the final two weeks:
1. Alabama
• What the Tide controls: If Alabama beats Auburn in the Iron Bowl, it wins the SEC West and is one step closer to the playoff. Win the SEC and they're in.
• Where they need help: If Mississippi State loses to Ole Miss in the Egg Bowl, Alabama will clinch the division regardless of what happens in the Iron Bowl.
2. Oregon
• What the Ducks control: They've already clinched the Pac-12 North Division, earning a spot in the conference title game. All Oregon has to do is avoid an upset in the regular-season finale against Oregon State -- a 5-6 team that somehow found a way to upset then-No. 6 Arizona State.
November, 24, 2014
Nov 24
2:00
PM ET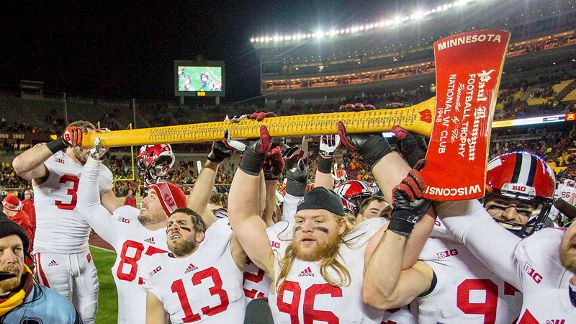 Jesse Johnson/USA TODAY SportsThe Gophers have their best chance in years to win back the Paul Bunyan Axe from the Badgers.
Just one weekend left in the regular season. For some teams, it will be the last time they play football until next Labor Day weekend. A few will be fighting just to play one more game this season. And, of course, it's rivalry time.
Here are five storylines to watch in Week 14:
1. A Bunyan-sized game:
We know Ohio State will represent the East Division in the Big Ten title game. The Buckeyes' opponent will be determined on Saturday in Madison. In an excellent bit of scheduling prowess, Minnesota plays at Wisconsin with the West Division championship on the line. The Gophers are also looking to snap a 10-year losing streak in the Paul Bunyan Axe game, but this may be the best team they've had during that streak. Playing Wisconsin might help Ohio State's chances for the College Football Playoff more since the Buckeyes have already beaten Minnesota. This game is always physical and emotional, and it will have more riding on it than it has in years.
2. Brady Hoke's last stand?
Michigan sits at 5-6, needing a win at Ohio State in order to reach a bowl game. Even that might not be enough to save Hoke's job, but it's his best Hail Mary option since beating the Buckeyes always carries weight. Problem is, the Wolverines are a massive underdog in Columbus, and their offense doesn't have enough playmakers to hang with the Buckeyes. It will take a miracle, and Ohio State doesn't figure to be distracted after a subpar performance against Indiana likely snapped the Buckeyes back into focus.
3. The Beckman Bowl?
The Land of Lincoln game between Northwestern and Illinois has the potential for some serious fun. Both teams are one win away from bowl eligibility. Illinois might save Beckman's job with a win on the road over the Wildcats, while Northwestern would complete an improbable, bizarre season by reeling off three straight victories to make a bowl. Throw in the recent sniping about who is Chicago's Big Ten team, and this game shapes up as a whole lot more interesting than we had a right to expect.
4. Rivalries old and new:
Not many people will pay attention the Old Oaken Bucket game between Purdue and Indiana, as neither will make a bowl, but it still means something in the Hoosier State. Michigan State and Penn State will play for
one of the ugliest trophies in sports
. More recent rivalries hold more intrigue. The Nebraska-Iowa Heroes Game won't be for a division title, but the Bo Pelini watch could be in full effect. Meanwhile, Rutgers and Maryland play for the first time as Big Ten members and could start a new rivalry on the East Coast.
5. The race for records:
Melvin Gordon
needs one yard to break Ron Dayne's Big Ten single-season rushing record, and he still has
Barry Sanders
in his sights.
David Cobb
could set Minnesota's school record for rushing, if he's healthy enough to play. Indiana's
Tevin Coleman
needs 94 yards to reach 2,000 for the season, which would give the Big Ten two 2,000-yard rushers in the same season for the first time ever. Ohio State's
J.T. Barrett
is six touchdown passes away from the Big Ten single-season record held by
Drew Brees
. And if Buckeyes teammate
Joey Bosa
can get three more sacks, he'll break the school season record. He has promised to do a backflip if he gets the record, so we should all root for that.
November, 24, 2014
Nov 24
11:00
AM ET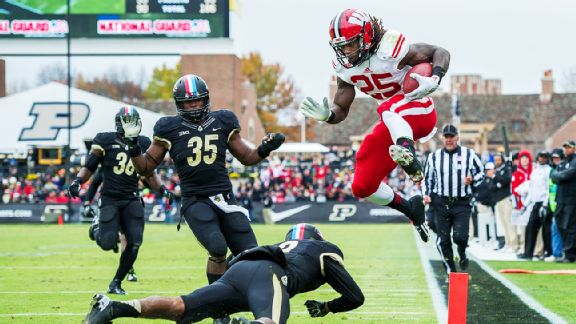 Zach Bolinger/Icon SportswireWisconsin star Melvin Gordon is one of seven 1,000-yard rushers in the Big Ten this season.
Melvin Gordon
can be mesmerizing. He's such a dynamic runner, seemingly always on the verge of another huge play, that it's hard to ever turn away.
The Wisconsin junior is having a Heisman Trophy-caliber season even if he doesn't win the award next month. Although Gordon's FBS single-game rushing record of 408 yards lasted a single week, as Oklahoma's
Samaje Perine
eclipsed it Saturday
, Gordon still became the fastest player in FBS history to reach 2,000 yards in a season (241 carries). He leads the nation with 2,109 yards.
According to Wisconsin
, his rushing total from the first three quarters alone (1,915 yards) still would lead the nation.
But there are other standout running backs in the Big Ten -- great ones and really good ones. As the season concludes this week for a handful of teams, it's important to acknowledge all of them. Because we might never a group of Big Ten backs like this one in the same season.
"There's a lot of guys in this league that are going to be playing on Sundays from that specific position," Rutgers coach Kyle Flood said Sunday.
[+] Enlarge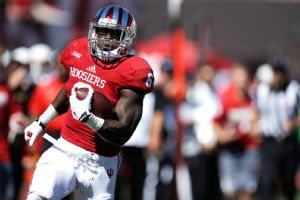 AP Photo/Darron CummingsTevin Coleman has been a bright spot for Indiana, setting the school's single-season rushing mark.
Think about what
Tevin Coleman
felt like the day Gordon went for 408. Playing Rutgers at the same time Gordon gashed Nebraska, Coleman went for 307 yards, the second-highest total in Indiana history (behind Anthony Thompson's 377, the Big Ten record that Gordon smashed). Coleman had déjà vu Saturday against Ohio State, rushing for 228 yards and three touchdowns, breaking the IU single-season rushing record but being overshadowed because he plays on a losing team.
How high would Coleman's stock be if he played for a contender?
At least Coleman's name is known around the Big Ten and, to a degree, around the country. No one is talking about
Jeremy Langford
. Not even in the Big Ten. OK, maybe in East Lansing. But nowhere else.
Here's what Langford did this past Saturday: rushed for 126 yards and two touchdowns as Michigan State stomped Rutgers. It marked his 15th consecutive 100-yard rushing performance against a Big Ten opponent. Think about that. He has the longest active streak of 100-yard rushing performances against conference opponents since at least 1996.
Langford has 1,242 rush yards and 17 touchdowns, and he's barely a blip on the Big Ten radar. It's a tribute to the league's incredible depth at running back. Langford is quietly having another productive season a year after quietly rushing for 1,422 yards on a team that won the Big Ten and the Rose Bowl. But it's time he gets his due as one of the more consistent runners in the country the past two seasons.
"He's one of the reasons we won 13 games last year and won nine this year," Michigan State coach Mark Dantonio said Sunday night. "Remember, he had 23 yards rushing coming into his junior year. He's put together a string of 14 100-yard games in [regular-season] conference play.
"He's been a tremendous performer for us."
Minnesota's
David Cobb
has a slightly higher profile than Langford, but he also gets overlooked in a league loaded with star running backs. Cobb is one of the nation's most physical and prolific backs, yet his steak evidently doesn't match Gordon's or Coleman's sizzle. Despite 1,350 rush yards entering play Saturday, Cobb
amazingly didn't make the cut for Doak Walker Award semifinalists
.
Cobb left Saturday's win against Nebraska with a hamstring injury. He's
questionable for this week's showdown
against Wisconsin, although he
tweeted that he'll be ready
to go. If so, the game at Camp Randall Stadium will feature the longest uninterrupted rivalry in the FBS, the Big Ten West Division title at stake, a giant axe and two of the nation's best running backs. Sign me up.
[+] Enlarge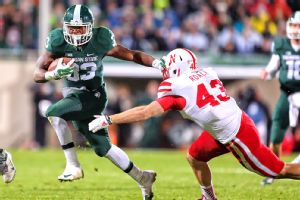 Mike Carter/USA TODAY SportsMichigan State's Jeremy Langford has been the mark of consistency with 15 straight 100-yard rushing games in Big Ten play.
Did you know that two more Big Ten backs joined the 1,000-yard club Saturday? Don't feel bad if you were too busy watching Mesmerizing Melvin rack up 207 rush yards and two touchdowns against Iowa.
Ohio State's
Ezekiel Elliott
and Northwestern's
Justin Jackson
both eclipsed 1,o00 yards. Elliott recorded his fourth 100-yard rushing performance in Big Ten play and fifth of the season against Indiana. Jackson, a true freshman, boasts five 100-yard rushing performances in the past seven games and consistently produces for a Northwestern offense that has struggled most of the season.
The Big Ten now has seven 1,000-yard rushers with a week to go in the regular season. No other league has more than five. The Big Ten has four players -- Gordon, Coleman, Cobb and Nebraska's
Ameer Abdullah
-- with more than 1,400 rush yards. No other league has more than two.
The surge has taken place without star rushers from Michigan or Penn State, two traditionally elite running programs, and despite the season-ending injury to Rutgers standout
Paul James
. Dantonio, who has spent much of his career in the Big Ten, recalls the running back depth in the mid-to-late 1990s, when the league had stars like Wisconsin's Ron Dayne, Ohio State's Eddie George, Michigan's Tim Biakabutuka and Penn State's Curtis Enis.
"It seemed like everybody had a guy," Dantonio said. "It's very similar to that [now]. You've got four or five guys who really deserve to be first-team all-conference players. Somebody's going to get left out in the cold a little bit."
That's life in the league of running backs, but this group, not just Gordon, should not soon be forgotten.
November, 24, 2014
Nov 24
10:00
AM ET
Time has somehow almost completely run out on the regular season, which can only mean one thing.
The Big Ten has actually been pretty fun this season after all.
The calendar has flown by, particularly since those rough couple weeks at the end of August and start of September, but this last weekend offered yet another reminder of why the conference has been so enjoyable for the most part and almost universally underrated for what it has brought to the table nationally.
[+] Enlarge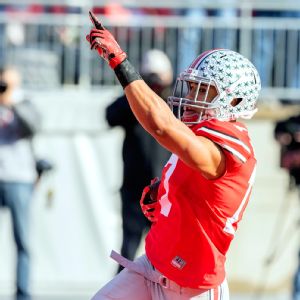 Jason Mowry/Icon SportswireOhio State's Jalin Marshall scored four consecutive second-half touchdowns Saturday to lead the Buckeyes to a come-from-behind win over Indiana.
The West Division round-robin tournament was compelling theater, and it will now include a play-in game to the Big Ten championship between Wisconsin and Minnesota on the last Saturday of the regular season after both teams pulled out gutty wins on the road this weekend.
There continues to be a legitimate threat to not only qualify for the College Football Playoff, but -- with Ohio State continuing its resurgence from the early loss to Virginia Tech -- perhaps Urban Meyer's team has become one that nobody would want to face in the postseason. And look out if the Buckeyes could cut down on the turnovers, because that's about the only thing keeping some of the scores close recently.
Meanwhile, a handful of Big Ten Heisman Trophy candidates are making cases to appear in New York City, with
Melvin Gordon
again shining down the stretch,
J.T. Barrett
accounting for four more touchdowns and
Tevin Coleman
submitting one more eye-catching performance for an Indiana team that has no other credible weapon aside from the dynamic running back.
There have been some low points, sure. But take a moment before the end of the regular season sneaks up on Saturday to appreciate what the Big Ten has provided this season -- before football is gone again for the interminable offseason.
Team of the week:
After a
28-24 win
at Nebraska, Minnesota is halfway through the closing two-week gauntlet on the road with the West Division title on the line, and its dreams of winning the West and setting up a rematch with Ohio State remain intact. The Gophers even stared down a little extra adversity with running back
David Cobb
getting injured, but that wasn't enough to slow down a program that has proved several times this season that it has capable backups ready and waiting for a chance to step in and contribute to a victory.
Biggest play:
A hard-nosed, opportunistic defense has been the true calling card for the Gophers this season, and the defense solidified its reputation when
Briean Boddy-Calhoun
ripped the ball away from Nebraska's
De'Mornay Pierson-El
at the 2-yard line with just more than a minute left. The turnover was absolutely critical for Minnesota, and it set the stage for one of the biggest Axe games ever against Wisconsin next weekend.
Big Man on Campus (Offense):
After coughing up a pair of fumbles the week before and then becoming the target of social-media scorn,
Jalin Marshall
left no doubt about why Meyer and the Buckeyes were standing so firmly in his corner. Starting with an electrifying punt return, the redshirt freshman almost single-handedly saved Ohio State's season with four consecutive second-half touchdowns -- and one of his three scoring catches literally only required one hand.
Big Man on Campus (Defense):
Essentially an afterthought as recently as two weeks ago, Northwestern has charged back into postseason consideration with consecutive wins, the latest spurred by another veteran effort from a freshman linebacker.
Anthony Walker
helped pin down Purdue with sideline-to-sideline work that included nine tackles, 2.5 tackles for a loss, 1.5 sacks and a forced fumble. The Wildcats face a bowl-or-bust battle with Illinois on Saturday.
Big Man on Campus (Special Teams):
Marshall's game-changing punt return makes him a worthy candidate, but Ohio State punter
Cameron Johnston
had previously pinned Indiana on its 1-yard line to help set up the situation, and he was invaluable in a game that didn't include Ohio State's best offensive or defensive efforts this season. Johnston was called on five times in all Saturday, averaging nearly 50 yards per punt with three of them downed inside the 20-yard line.
Biggest face-plant:
There's no question it would have been asking a lot for Rutgers to go on the road and upset a fired-up Michigan State squad on Senior Day, but the first-year Big Ten member once again was completely steamrolled when it stepped on the field with one of the league's best in a
45-3 laugher
. The Scarlet Knights deserve credit for earning bowl eligibility this season, but lopsided losses to Ohio State (56-17), Nebraska (42-24), Wisconsin (37-0) and now Michigan State show how far they have to go still.
Facts and numbers to know:
Barrett added Ohio State's single-season records for both total offense (3,507 yards) and passing touchdowns (33) to his growing collection. ... In the losing effort, Coleman established a new record for Indiana by pushing his season total to 1,906 rushing yards. His 90-yard touchdown was the longest for the Hoosiers since 1912. ... Michigan State's
Jeremy Langford
rushed for 100 yards or more for the 15th consecutive game against a Big Ten opponent, the longest streak by an FBS player in the last 10 seasons.
November, 24, 2014
Nov 24
8:30
AM ET
COLUMBUS, Ohi0 -- Honoring the best and brightest from No. 6 Ohio State's division-clinching 42-27 win over Indiana on Saturday at the Horseshoe.
H-B Jalin Marshall
The virtuoso second-half performance against the Hoosiers will go down as definitive proof why Urban Meyer and the coaching staff never batted an eye about keeping him on the field and prominently in the game plan despite two fumbles at Minnesota. Marshall was almost impossible to defend after the game had started to slip away from the Buckeyes, and his four-touchdown barrage, starting with a punt return for a score that energized a restless Ohio Stadium, also might have helped save the season. Expect him to continue to play a major role against rival Michigan and then in the Big Ten title game the following week.
LB Joshua Perry
The junior doesn't often come up in discussions about the best linebackers in the Big Ten, but he is certainly valued by the Buckeyes for the way he goes about his business and quietly, efficiently racks up statistics and disrupts offenses. Perry was everywhere for Ohio State against the Hoosiers, including the backfield where he made three tackles for loss and led the team with two sacks. In all he finished with 14 tackles, and while Tevin Coleman did bust a few big plays on the ground against the Buckeyes, it might have been worse without Perry on the field.
RB Ezekiel Elliott
The probability was always high that the sophomore would find rushing room against Indiana's soft defense, and Elliott exploded almost right from the start with a 65-yard touchdown rush that put him over 1,000 for the season. But he was just as valuable as a receiver out of the backfield, which could add another dimension to an Ohio State offense that seems to be developing new wrinkles every week. Elliott led the Buckeyes with seven receptions, and combined with his work on the ground, he piled up 146 yards in the victory that punched a return ticket to Indianapolis for the Big Ten title game.
November, 24, 2014
Nov 24
8:00
AM ET
One more weekend to go in the regular season. Some thoughts to begin your Thanksgiving week:
1. Next week, the Big Ten will hand out its individual trophies, as well as reveal the all-conference teams. And the media and coaches are going to have a hard time deciding on the coach of the year award.
On one hand, you have Urban Meyer, who has led a very young Ohio State team to a 10-1 record while developing freshman
J.T. Barrett
into a Heisman Trophy contender on the fly. Eventually, a Buckeyes coach has to win this thing again, right? It hasn't happened since Earle Bruce took home the hardware in 1979, and that's silly.
On the other hand, how do you overlook what Jerry Kill has done at Minnesota? He has the Gophers sitting at 8-3, with a chance to win the West Division by beating Wisconsin this week. It would be nearly impossible to ignore Kill for the award if Minnesota does win that game and forces a rematch with Ohio State in Indianapolis. The Gophers are 16-7 in their last 23 regular-season games and 9-4 in their last 13 Big Ten contests. Remarkable stuff, especially considering a lot of people thought Kill would not return to the sidelines after last year's health issues.
The
28-24 win at Nebraska
may have been Kill's best one yet, and it shows the progress this program has made,
Chip Scoggins writes
.
2. Just think about how much better Minnesota's season would look if its only losses were at TCU and a close one at home vs. Ohio State. But, of course, the
Gophers somehow stumbled at Illinois
. That was undoubtedly the biggest win in the Tim Beckman era. But Beckman just might have a chance to top that.
Beating Penn State these days is no great achievement, considering the dilapidated state of the Nittany Lions' offense. Still,
winning that game in Champaign on Saturday
meant that Beckman has doubled his previous Big Ten win total this season and, more importantly, has the Illini in contention for a bowl. If they beat Northwestern this Saturday, the postseason awaits.
Can athletic director Mike Thomas really fire Beckman if he goes 6-6?
Attendance remains a major issue
, especially considering the embarrassing crowd that showed up to Memorial Stadium on Saturday -- less than 10,000 by most media estimates. But Beckman would have gone from two wins to four wins to six wins in three seasons. It's hard not to call that progress, even if it hasn't been pretty at times.
The ticking clock on Beckman's job has stopped for now,
Mark Tupper writes
.
3. You couldn't talk about Iowa this season without mentioning that dream schedule: No games against Michigan State, Ohio State Michigan or Penn State (though in hindsight, it would have been better to play those last two than Maryland). West Division rivals Wisconsin and Nebraska coming to Iowa City. A very manageable nonconference slate.
That schedule is a major reason why people were predicting as many as 10 or 11 wins for the Hawkeyes, who were a trendy pick to win the West. But Kirk Ferentz's team has been eliminated from the division race already, and if it doesn't beat a reeling Nebraska team on Black Friday, it will finish 7-5. Even an 8-4 record would feel underwhelming, given all the advantages that Iowa squandered.
The Hawkeyes
gave a great effort against Wisconsin
on Saturday, especially in the second half. You wonder if things would have been different had they played like that all season. Instead, there's no way to talk about this Iowa season without using the word disappointing.
Let's hit the links ...
West Division
East Division
And, finally ... "Dilly Bar Dan"
received more attention
and some nice hospitality in Lincoln.
November, 23, 2014
Nov 23
10:21
PM ET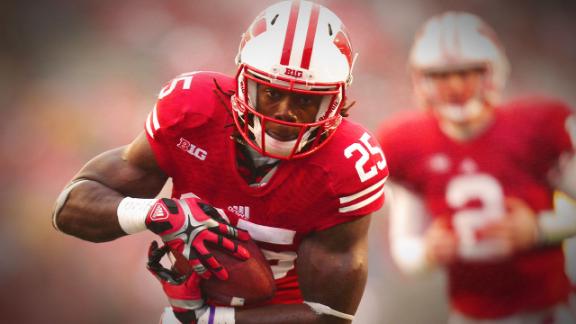 PREGAME SPEECH
There's a reason why the coaches of the College Football Playoff contenders are wound tighter than a fire hose these days.
Florida State coach Jimbo Fisher would rather grow arm-hair curtains than face Florida and Georgia Tech in back-to-back weeks.
Alabama's Nick Saban gets Auburn in the Iron Bowl this week and, if the Tide win, gets Missouri or Georgia in the SEC championship game. Fun.
Baylor's Art Briles has to make the short trip to Arlington for a matchup against Texas Tech, and then play Kansas State in the regular-season finale.
TCU's Gary Patterson has to travel to Austin to play the suddenly dangerous Texas Longhorns, followed by a home game against not-so-dangerous Iowa State.
Ohio State's Urban Meyer meets desperate Michigan at the Horseshoe, and then plays either Wisconsin or Minnesota in the Big Ten championship game.
Oregon's Mark Helfrich takes his team to Corvallis for the Civil War (Arizona State can tell Helfrich all about the Beavers), and then faces UCLA, Arizona or ASU in the Pac-12 championship game.
Mississippi State's Dan Mullen has to survive the Egg Bowl in Oxford, and then hope for the best (an Alabama loss to Auburn, which would mean the Bulldogs would face either Mizzou or UGA in the SEC championship game).
And UCLA's Jim Mora, who runs Saban-Meyer-Fisher intense, has to beat Stanford at Pasadena, and then Oregon to have any chance at reaching the four-team playoff.
This is when roster depth matters. When avoiding injuries matters. When talent, coaching and luck matter.
November, 23, 2014
Nov 23
2:17
PM ET
Associated Press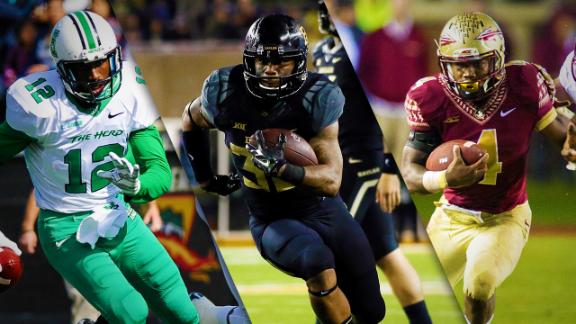 Florida State is No. 1 in The Associated Press college football poll, followed by Alabama, Oregon and Mississippi State. The top four teams were unchanged for the first time since late September.
The gap between the Seminoles and the Crimson Tide narrowed after another close call by Florida State, which beat Boston College 20-17 on a field goal in the waning seconds.
Florida State received 37 first-place votes and 1,458 points, down six first-place votes and 18 points from last week. Alabama has 21 first-place votes 1,445 points. No. 3 Oregon received two first-place votes, one more than last week.
Mississippi State is fourth, followed by Baylor and TCU. Baylor and TCU swapped places. Ohio State remained No. 7.
November, 23, 2014
Nov 23
2:00
PM ET
November, 23, 2014
Nov 23
11:35
AM ET
With only two weeks remaining until the playoff committee's final rankings, contenders are running out of chances to win their way into the four-team field.
Although it's not a prediction of the committee's top 25, the Playoff Forecast will use the ESPN Football Power Index and human logic (i.e., the eye test) to determine which teams are best positioned when the committee announces the playoff teams on Dec. 7. These rankings take into account perceived team strength (including injuries), remaining schedule difficulty (including prospective conference championship games) and the current selection committee rankings.
---
FPI's chance of winning out: 59.9 percent
FPI's chance of winning the conference: 66.6 percent
Although Oregon has no more home games, I feel slightly better about its chance to win out than the other two teams that seem to control their playoff destinies (Florida State and Alabama). The Ducks are at Oregon State this week, and their likely Pac-12 title game opponent is UCLA, whom they dominated at the Rose Bowl on Oct. 11. But the Bruins have played much better of late and could pose a threat to Oregon if they can first clinch the South with a win over Stanford on Friday. FPI gives the Ducks a 64 percent chance to win if they play UCLA again.
To continue reading this article you must be an Insider
Kirk Herbstreit's Gameplan Breakdown
BIG TEN SCOREBOARD
Friday, 11/28
Saturday, 11/29