January, 15, 2015
Jan 15
10:35
AM ET
The
ESPN 300 has been updated
and the Big Ten still has big targets on the list. We are winding down toward signing day, so those elite prospects don't have much time left to make decisions.
Here is what you need to know with the updated list within the Big Ten:
January, 14, 2015
Jan 14
11:04
PM ET
1.
Marcus Mariota
leaves the college game as the best Heisman Trophy winner to lead his team to play for a national championship without winning one (there have been eight). He went 36-5 as the Oregon starting quarterback, throwing a touchdown pass in every game. Mariota threw for more 10,000 yards and rushed for more than 2,000, which only three other players have ever done. He elevated the Oregon program with his play and his selflessness. His legacy will live a long time -- not only among the Duck faithful, but in the history of college football.
2. The deadline for underclassmen to declare for the NFL draft is Thursday, so it's not official yet, but I can't remember a national championship team where no one left early. There may be a couple of things at work here. The Buckeyes, who finished playing only 72 hours before the deadline, didn't have time to deal with it. Not to mention that a team with seven sophomore and four freshmen starters has a lot of players who aren't eligible to leave early. Even if one or two declare by midnight, Ohio State is, by the modern standard, highly unusual. And if you're a college football fan, a reason to celebrate.
3. Hard as it is to believe, it looks as if we are entering flush times for the three service academies. Air Force, coming off a 10-win season, has given head coach Troy Calhoun a new five-year contact. Ken Niumatalolo just became the winningest head coach in Navy history. Most important, Army, under first-year head coach Jeff Monken, went 4-8, the most victories for the Black Knights in four years. Everyone looks forward to the day when all three programs are again credible threats to win the Commander-In-Chief's Trophy every year.
January, 14, 2015
Jan 14
5:59
PM ET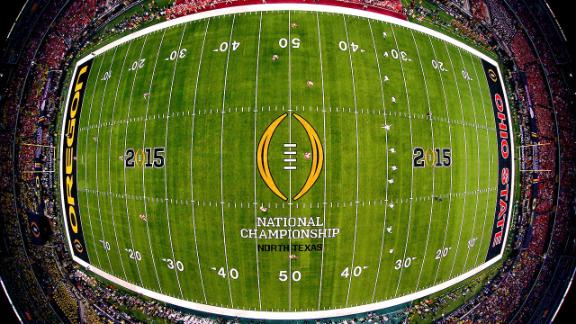 Let's take a minute to appreciate just how well this all worked out.
The playoff was supposed to diminish the regular season. Instead, we got passionate debate, huge games and high drama on a weekly basis.
The playoff was supposed to undermine conference titles. Instead, we saw the one Power 5 league without a championship game miss out on a shot at a national title.
The doubters suggested the playoff would only serve to give undeserving teams a chance to win it all. Instead, Ohio State -- a team that may well have finished fifth or sixth in the final standing under the BCS system -- not only won it all, but proved it was no fluke.
From start to finish, we just witnessed the best season in college football history.
But just because the end was everything we'd hoped for doesn't mean the path we took to get there was the ideal one. The playoff changed the game in so many significant and positive ways, but the process in Year 1 was still very much trial and error, so it's incumbent upon us to evaluate those trials, pick apart the errors and figure how we can make 2015 even better.
With that in mind, here are a few lessons we learned from this season's playoff debates.
Good teams can come from bad leagues
It now has been two years since an SEC team won a national championship; the most recent teams that took home the hardware in its place came from the ACC and Big Ten, the two Power 5 leagues that earned the most criticism nationally.
January, 14, 2015
Jan 14
3:39
PM ET
We're wrapping up the 2014 season by ranking the top 100 players in college football, just like we did before the season. As the rankings are announced, you can also find them here on the pages of ESPN.com.
What is #CFBrank?
#CFBrank is the Twitter hashtag to use if you want to get involved in the discussion or just follow along.
How did we rank the players?
We asked 32 of ESPN's college football writers and editors to rate players on a scale of 0-10 based on their performance during the 2014 season.
January, 14, 2015
Jan 14
1:35
PM ET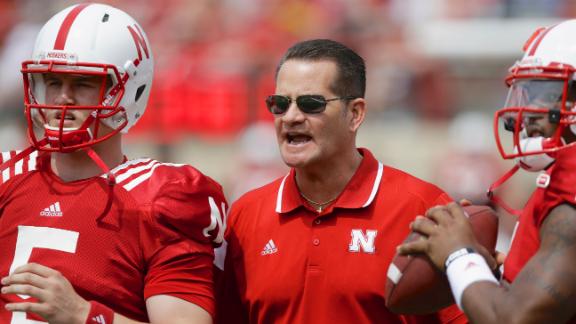 COLUMBUS, Ohio -- The coaching staff of the reigning national champions is again complete, with the Ohio State Buckeyes moving quickly to fill the only hole on the staff by hiring former Nebraska assistant Tim Beck and promoting a new playcaller for their vaunted offense.
Less than two days after the Buckeyes claimed the national title in the final game of Tom Herman's decorated career with the program before he takes over at Houston, coach Urban Meyer tabbed offensive line coach Ed Warinner to fill the primary offensive coordinator role and Beck to handle the quarterbacks and become the co-offensive coordinator.
"Ed Warinner is certainly deserving, experienced and well-qualified for the offensive coordinator position," Meyer said in a news release. "I'm pleased to be able to promote from within our program and I believe he is going to be an excellent coordinator for us.
"I have known Tim for several years and have also watched and competed against him. I have always respected his knowledge of the game and he is respected in the profession. I always look for coordinators and co-coordinators who will mesh with our staff, our style and can make us better. I believe Tim will do just that."
Beck takes over a unit that, as currently constructed, would be the envy of any position coach in the country, with three award-winning quarterbacks in line to return.
January, 14, 2015
Jan 14
12:35
PM ET
By
Brett Edgerton
| ESPN.com
Maybe it's the unmatched passion of the fans. Maybe it's our collective need to laugh about a sport that many take waaaay too seriously. Maybe it's the fact that seemingly everything is televised or caught on camera these days.
But for whatever reason, college football lends itself to hilarious viral moments, and this season was no exception. Below you'll find a collection of the lighthearted posts that you the readers clicked on the most during the 2014 season. Enjoy the trip down memory lane!
Big-guy touchdowns
Everyone loves it when one of the big ol' boys in the trenches gets the chance to find the end zone. It seemed to happen a lot in 2014, but three really stood out. At Arkansas, a 6-foot-5, 350-pound offensive lineman actually
threw
a touchdown pass to a
long snapper
. Seriously,
it happened
. On the FCS level, a Mercer O-lineman scored a touchdown and led a phenomenal celebration that included him pulling off a cartwheel. No,
seriously
. And during the Cotton Bowl, Baylor's
LaQuan McGowan
-- at 6-foot-7, 400 pounds -- rumbled into the end zone for the
biggest of all big-guy touchdowns
.
Refs can be funny, too!
Like the one who
got emotionally descriptive
while flagging a player for removing his helmet "in disgust." Like the one who once penalized a player for "giving him the business" and
making us laugh again
. Like the one who got really mad at himself for
accidentally turning his back
to the camera while making a call.
Arkansas State of hilarity
An unlikely candidate for viral team of the season, but Arkansas State was just that for a beautiful two-week stretch in September. First, it was the pair of teammates named Clark and Griswold that TV cameras caught standing next to each other for this
splendid image
. Then, the following week at Miami, a Red Wolves player named
Booker Mays
played dead in the
now-infamous "Fainting Goat" play
that you all couldn't get enough of, along with
Mitch Sherman's profile
of the Fainting Goat himself.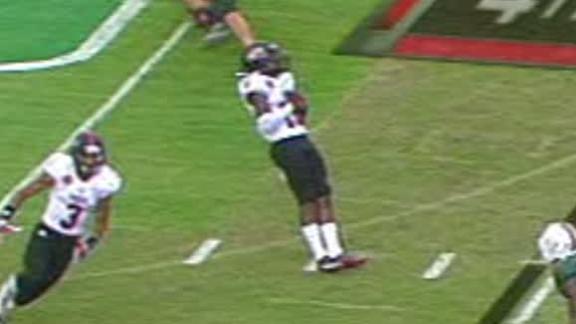 Campus cops bring the funny
We didn't see this one coming. But two of our most popular posts involved a humorous Twitter back-and-forth between the campus police departments at Iowa and Iowa State
before
and
after
the two schools met on the gridiron. Then, a couple of months later, the police at Wisconsin
had a memorable exchange
with the genius that runs the great
@FauxPelini
Twitter account.
Non-FBS play of the year
You don't know much about Indiana State football, but you know a good trick play when you see it. And many of you
clicked on this post
and saw it clear as day as the Sycamores pulled off the hidden-ball trick to perfection and set up the winning kick against Missouri State.
News conference moment of the year
After Oregon's win against Colorado, one industrious 12-year-old student reporter took it upon himself to get to the bottom of whether the Ducks' quarterback would declare for the NFL draft. It led to a hilarious and endearing back-and-forth with Oregon coach Mark Helfrich in which he declared that
"Jesus, girls and Marcus Mariota"
were all anyone talked about at his Catholic school in Eugene. The memorable phrase led to a T-shirt, a Tom Rinaldi
video feature on the phenomenon
and our very own Chantel Jennings visiting the school to get some
hilarious answers
from the student body.
Same team, fellas!
First,
Penn State pulled it off early
in the season, letting Florida off the hook for its infamous self-blocking incident in 2013. Then Florida, as if almost offended by someone challenging its title as the King of Teammate Blocking Schemes,
managed to pull it off
for a second straight year, this time against Florida State. Then FSU, not content to let the rival Gators steal the spotlight in this seemingly unenviable category,
insisted on doing
just the same during its
much-mocked
, second-half collapse against Oregon in the playoff.
Celebrity central
Hollywood and the music industry mixed well with college football in 2014. Among our favorite moments: Matthew McConaughey
doing Matthew McConaughey things
during a pep talk to his beloved Texas Longhorns. Tennessee creating a "Third Down for What" tune that fired up the fan base and
made a Vols fan out of Lil Jon
. George Clinton himself endorsing a
Michigan player's "Atomic Dog" funk
. And of course, Katy Perry taking over Ole Miss and
besting Lee Corso on picks
on "College GameDay" during the show's unforgettable first visit to the Grove.
Dancing coaches
It sure seemed as if 2014 was the year victorious coaching dances in the locker room became
a thing
. There were so many to choose from, but among our favorites: Oklahoma State's Mike Gundy, the self-proclaimed "dance-circle" king,
living up to the billing
after a stunning win against rival OU; Virginia Tech's Frank Beamer not letting his age get in the way of a
good celebration
; Wisconsin interim coach Barry Alvarez
getting one last dance in
after a bowl win, before settling back into his job as the school's AD. Oh, and then there was
whatever this was
, an unearthed video of Auburn coach Gus Malzahn breakdancing to "U Can't Touch This" in one of the most 1990s images you'll ever see.
SEC's 'enthusiastic' fans
The passion people have for college football never ceases to impress or entertain us. And this season did not disappoint, especially in the ever-passionate SEC. There was the fan
driving around in a car transformed
to look like Alabama's elephant mascot. The Vandy man who got so frustrated at the refs that he
threw his hat and shirt onto the field
and stormed off. The
SEC sing-off
between "That's Amari" and "I'm A Bielemer." The negative political ad and $14 barber shop debt
that awaited Lane Kiffin
upon his return to Knoxville. And of course, the King of All Crazy down South, Harvey Updyke, the infamous tree poisoner who claimed he'd be
dressed as a dead tree
for his Halloween costume.
Of course, there were others -- some sneaky Michigan State students painting
Michigan's block "M" Spartan green
, Penn State fans giving the Ohio State players an
early wake-up call
, creative haircuts
throughout the nation
-- but the SEC, despite some of the shine coming off this season on the field, still is the undisputed champion of viral fans.
Best of the rest
There were some moments that didn't fit neatly into one of our categories, but were so popular with you the fans that we had to find a place for them here in our end-of-season recap. For example, who could forget Ohio State assistant strength coach Anthony Schlegel
body-slamming an idiot fan
who ran onto the field? Or the Minnesota man who affectionately became known as "Dilly Bar Dan" after TV cameras
caught him eating an ice cream bar
on the sidelines when it was 15 degrees and snowing. His 15 minutes of fame
was pretty amazing
.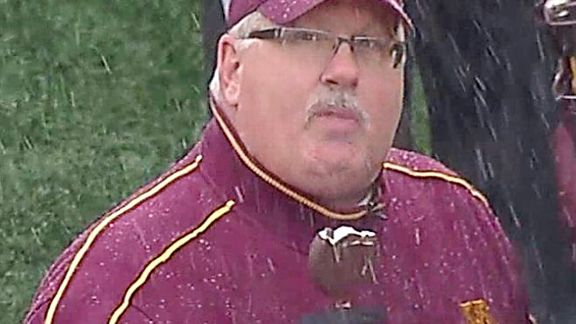 ESPNOut of nowhere, on a snowy day in Minnesota, Dilly Bar Dan came into our lives. And it was beautiful.
So was
the last-second block
that a member of the Texas A&M Corps of Cadets delivered on a fast-charging SMU player, thus saving a sideline collision with Reveille, the school's revered dog mascot. And speaking of the sideline, how about that Auburn kid who challenged FSU's "Red Lightning" for most-celebrated ball boy status by
showing crazy SEC speed while sprinting
down the sideline? That dash was so popular that it spawned an
ESPN Sport Science segment
comparing the two ball boys.
But we close this piece with our favorite
opening
of the college football season. It occurred when Eastern Michigan attempted to illustrate a season-long theme by sledge-hammering their way through a wall before running onto the field. Only problem was, the
wall put up quite a fight
. Let's just say ... it took awhile. And it was awkward. And it was awesome. All at the same time.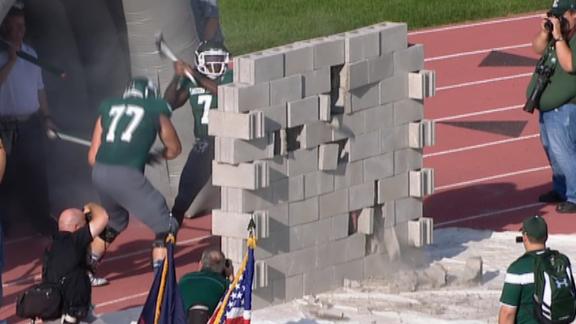 January, 14, 2015
Jan 14
12:30
PM ET
Minnesota coach Jerry Kill smiled one of those you-gotta-be-kidding-me smiles.
It was the morning after Ohio State had reclaimed college football's throne, winning its first national title -- and the Big Ten's first -- since the 2002 season. Urban Meyer had led Ohio State back to the top in just his third season. Naturally, the conversation turned to the future and what the Buckeyes' championship meant for the rest of the Big Ten.
Did Ohio State raise the bar?
"They've raised the bar for a long time," Kill said, chuckling. "And Urban's raised the bar. Just look at their players."
Ohio State has been the Big Ten's pace-setter for the past 15 years. And fairly or unfairly, the Buckeyes bore the brunt of the blame for the league's big-stage struggles after consecutive double-digit losses in the BCS title game following the 2006 and 2007 seasons. The Big Ten then entered arguably the darkest period in its history, struggling both on the field and off of it.
Which team would ultimately begin the reputation repair? Ohio State, of course. The Buckeyes were the only Big Ten team to even reach the title game during the BCS era (Nebraska was in the Big 12 when it got there after the 2001 season). Ohio State won six BCS bowl games (one later vacated); the other current Big Ten teams combined for seven BCS bowl wins (one vacated by Penn State).
Other Big Ten teams have come close to the title game. Michigan State was a few bad calls away from an undefeated regular season in 2013. Penn State appeared to be on its way in 2008, and Iowa entered the national discussion the following year. Still, Ohio State has been the only Big Ten program to reach the mountaintop. And the Buckeyes could stay there in 2015 as they return a team loaded with star power on both sides of the ball.
But they can't be alone in the playoff push.
Longtime Big Ten blog readers know my fundamental theory about the league, but it's worth restating, even in the wake of an image-boosting championship and a strong bowl performance. The Big Ten ultimately needs multiple national title contenders every year to be regarded as an elite conference. It's what stood out about the SEC's historic run: four different teams won national championships. The SEC isn't just Alabama. The Pac-12 isn't just Oregon.
Ohio State should be in the playoff mix every year that Meyer coaches. Will the Buckeyes have company?
Michigan State is clearly the next program to watch. The Spartans have recorded consecutive top-5 finishes with major bowl wins (2014 Rose, 2015 Cotton). They finished in the top 10 in the major bowls in back-to-back seasons for the first time since 1965-66.
Quarterback
Connor Cook
returns for his senior season and could cement himself as the best signal-caller in team history. Defensive end
Shilique Calhoun
also will be back to anchor a strong front four. Although MSU loses talented defensive coordinator Pat Narduzzi, it maintains continuity by promoting longtime assistants Mike Tressel and Harlon Barnett to co-coordinator roles.
It also has a nationally elite coach in Mark Dantonio.
"We're just not that far away,"
Dantonio said on the Big Ten Network
while attending the national title game. "A lot of teams are like that. Not that far away. If you look a little bit further into the future, you can dream big and great things can happen. That's where our football team is. I think we're in the conversation."
Who else from the Big Ten could enter that discussion?
Wisconsin isn't far away. The Badgers bring in elite talent at positions like running back and offensive line. They have a terrific defensive coordinator in Dave Aranda, who will remain on staff with new coach Paul Chryst. Wisconsin must make upgrades at quarterback, wide receiver and defensive back. Chryst's presence will help the quarterbacks, and the return of assistant Joe Rudolph should help recruiting.
Penn State has fewer recruiting challenges than Wisconsin and will bring in elite talent under coach James Franklin. The defense is in good shape under the watch of coordinator Bob Shoop. The offense will improve as line depth improves. Penn State has some big steps to take, but no team other than Virginia Tech pushed Ohio State more than the Lions. Things are on the upswing in Happy Valley.
Since 2006, Michigan has looked nothing like a playoff team. Jim Harbaugh could change that at a place that always has the potential to be great. There's debate among opposing coaches about how much talent is already in the program, but Harbaugh's ability to develop current players will be fascinating. You know he and his assistants will flourish in recruiting.
Like Michigan, Nebraska has the resources and tradition to be elite. Like Wisconsin, Nebraska also has some inherent recruiting challenges. Mike Riley's approaches with both player development and recruiting will be worth watching. The glory days of the mid-1990s likely are never coming back, but Nebraska should be a periodic CFP contender.
Iowa has shown the capability to be elite under Kirk Ferentz, but the program is trending down. Ferentz could course-correct -- he has done so before -- and make Iowa a periodic contender, but not an annual one.
It's up to these teams to ensure the Big Ten's title hopes aren't always placed in the Buckeye basket. The league could have a surprise riser in some seasons -- perhaps Minnesota, where Kill has done well -- but can't expect one annually.
Bottom line: The Big Ten has enough capable options to become more than a one-horse race.
"Top to bottom, we have some work to do in our conference," Meyer said Tuesday, "but it's moving."
Coaches like to talk about getting population to the football. The Big Ten wants population in the playoff discussion.
Ohio State could use some company at the summit.
"Hopefully," Northwestern coach Pat Fitzgerald said, "it will be an incredible motivator for everybody in our league."
January, 14, 2015
Jan 14
12:05
PM ET
By
ESPN.com staff
| ESPN.com
A few weeks ago, we unveiled our
best college football quotes of 2014
. It featured the usual suspects: Steve Spurrier, Art Briles and more. Now it's updated for bowl season. We have 300-pounders talking about catching passes, Baylor's punter letting the world know he's OK, Urban talking about the whip and a whole lot more. And, of course, the Head Ball Coach makes an appearance.
They don't build trucks like they used to
"The check engine light came on. That's when I had to fall down." -- Oklahoma State's 300-pound DT
James Castleman
after his glorious reception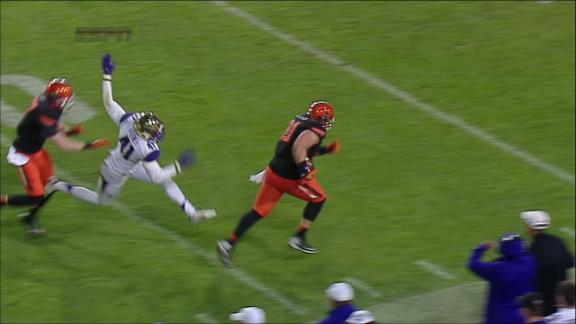 ---
Safe to say you were ready
"Oregon won by 40? I gotta go. We gotta go get ready for that one." -- Urban Meyer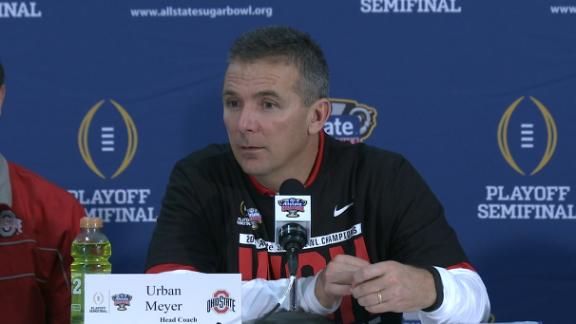 ---
I see what you did there
"I don't think I have to say anything" -- TCU's Gary Patterson after dismantling Ole Miss 42-3
---
Hard to shake Bielema's hand anyway since it's in a permanent state of Horns down
"I got beat, so what are you going to do, go talk and tell jokes?" -- Charlie Strong on his quick handshake with Bret Bielema
---
Everything's bigger in Texas, including blown fourth-quarter leads
Moderator: Coach, your thoughts about this afternoon's game.
Baylor coach Art Briles: Seriously?
---
Good news for Baylor, though, its kicker is alive
I am alive. It has been a great season. I am proud to be a Baylor Bear. #SicEm

— Christopher Callahan (@chrispcallahan2) January 1, 2015
---
You know, an extra five touchdowns here or there and he's right
"This game could have went either way, if you want to be, if everybody in this room just want to be real with themselves, this game could have went either way." --
Jameis Winston
---
Anyone from Oregon care to respond?
"Well, it didn't go his way" -- Oregon OT
Jake Fisher
---
Oregon is happy to announce Christmas will continue as scheduled
"If he gets his hands on you, you can pretty much cancel Christmas." -- FSU's
Mario Edwards
on freshman OL
Roderick Johnson
---
You don't want to hear about how overrated the SEC is?
"For at least a week or two, we don't have to hear about the SEC." -- Georgia Tech coach Paul Johnson
---
Urban learns the whip
I learned what "the whip" was in our staff meeting this morning https://t.co/HDWde5Nb0c

— Urban Meyer (@OSUCoachMeyer) January 3, 2015
---
Is it like what Saban says to Kiffin?
Everyone keeps asking me what I said to Lane Kiffin.....let's just say momma wouldn't be proud =

— Darron Lee (@DLeeMG8) January 2, 2015
---
The king stays the king
"Georgia always has a whole bunch of good players. They probably have been the most consistent team in the East. Well, maybe they haven't. Heck, we've beat them four out of five years, but overall they have probably been one of the best teams on the Eastern side" -- Steve Spurrier
January, 14, 2015
Jan 14
12:01
PM ET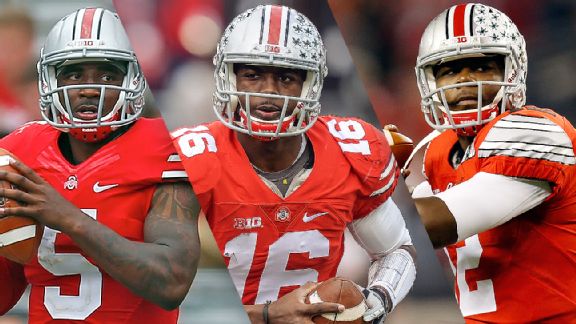 Getty ImagesWill Braxton Miller, J.T. Barrett and Cardale Jones all be in the mix for the starting QB job next fall?
Ohio State has won the national championship after the first College Football Playoff. Now we can move on to the really fun stuff for the Buckeyes: finding out who will be their quarterback in 2015.
OK, that's overstating things just a bit. Still, you couldn't discuss Ohio State football for more than a few moments with anyone during the past five weeks without the incredibly intriguing (and quite possibly unprecedented) quarterback situation coming up.
To recap, in case you just returned from a two-month walkabout in the outback: Senior
Braxton Miller
, the two-time Big Ten offensive player of the year, missed the season with a torn labrum in his throwing shoulder. Redshirt freshman
J.T. Barrett
took over and broke most of Miller's school records before a fractured ankle in the regular-season finale ended his season. Sophomore
Cardale Jones
then emerged to lead the Buckeyes to wins in the Big Ten championship game against Wisconsin and versus Oregon and Alabama in the playoff.
Will all three stick around for the 2015 season? And if so, who starts? Do you bench two guys who have earned top five Heisman Trophy finishes (Miller and Barrett) to keep riding Jones' hot hand? Does a guy who just won the national title return to being a backup? Redshirting is not an option for any of them.
It's possible that this could all shake out in the next few days. Jones, who is draft-eligible, could still declare for the NFL before Thursday's deadline, though doing so after just three collegiate starts is risky. Jones himself called that idea "very odd" and "far out" on Tuesday but did not rule out the possibility of turning pro. As a 6-foot-5, 250-pounder with a howitzer arm, he would surely interest NFL teams, but his lack of experience and unfamiliarity with a pro-style offense would be red flags.
Miller, who graduated in December, could transfer to another school and play right away. Rumors of him doing just that have been circulating for a few weeks, with schools like Florida State, Oregon and Duke being prominently mentioned. Miller, who doesn't say a whole lot on his most talkative days, has been mostly mum on his plans. He declined to be interviewed after the Big Ten championship game and took the option not to participate during Ohio State's full-team media day events for the playoff. He did tell
ESPN's Brett McMurphy on Tuesday
that he hadn't made a decision yet and was unsure when he would do so.
Complicating Miller's decision process is his shoulder injury, which Ohio State officials said in August would need nine to 12 months of recovery time. That means he wouldn't be cleared to resume full throwing activity until May or June if the optimistic end of that timetable holds. He could transfer now and begin to learn a new offense, but any new team wouldn't see how healthy he was until after spring practice and possibly not until fall camp.
Miller also has a young son and may not want to move far from him. His running ability could easily translate to another position, but Miller appears intent on staying at quarterback even if he's not a great NFL prospect there.
Of the three quarterbacks, Barrett seems the least likely to bolt, even though he's the only one not from Ohio. He has more years of eligibility. He's loyal to the Buckeyes, who recruited him when home-state schools Texas and Texas A&M would not. Barrett told reporters after Monday's win over Oregon that, "I'm not leaving." Of the three, Barrett probably had the most respect from his teammates as a pure leader, even though he likely would be third among them in terms of raw physical tools.
The situation is so fascinating, and the skills of the quarterbacks are just different enough, that everyone is anxious to find out what happens. That includes coaches who were at the American Football Coaches Association national convention in Louisville, Kentucky, this week. One Power 5 assistant said that Miller was clearly the most dynamic player and would have to start if he stays. A Big Ten coordinator said Barrett made the Buckeyes the toughest to defend, because Ohio State could run the same offense on first down as it did on third-and-8 with his ability to pass or run zone-read plays. Meanwhile, Jones stretched the field more than the other two, and Alabama's Nick Saban said Jones' arm allowed the Buckeyes' receivers to shine.
If Jones stays, he would almost certainly get most of the reps this spring as Barrett and Miller rehab their injuries. That could give him a leg up if he plays well. Or it could just be a prelude to the craziest, most intense, most watched three-way quarterback battle ever this summer. If so, winning the playoff might have just been the start of the real fun in Columbus.
January, 14, 2015
Jan 14
11:37
AM ET
The perception of the Big Ten is changing, and the rankings are starting to reflect that.
The problem is, the latter appears to be improving at a slower rate than the former, which is probably still a product of the early hole the Big Ten dug for itself at the beginning of the season.
But if the national champions proved anything, it's that final judgment can't be made during the second week of September. And led by Ohio State, the frequently picked-on league improved dramatically as the season went on, building to a productive postseason that shocked oddsmakers but really shouldn't have come as such a great surprise if the conference had been getting the credit it deserved for progressively gaining strength.
Maybe the Big Ten doesn't yet have a strong case for the No. 1 spot in the
final Conference Power Rankings
as determined by ESPN Stats and Information, an honor that went to the Pac-12. And despite the SEC failing to impress during bowl season and having its champion get knocked out by the best in the Big Ten, perhaps the Big Ten still doesn't deserve to be No. 2, either. But after already passing the ACC with its strong closing argument, there's a compelling case to be made that it should have leaped over the Big 12 as well to finish in the third spot instead of closing the 2014 campaign at No. 4.
The Buckeyes are obviously the trump card for plenty of arguments moving forward, erasing the title drought for the league and proving definitively by beating the champions of the top two leagues that there is elite football coming from the Big Ten again.
But in reality, Ohio State's accomplishments can't really be shared, which is why the 6-5 postseason record and the number of teams the league had step up down the stretch is so valuable moving forward.
The rankings might have been largely unsalvageable after all the marquee matchups largely went against the Big Ten during the first couple weeks of the season. But Michigan State coming back to beat the previously highest-ranked non-playoff team with its rally over Baylor in the Goodyear Cotton Bowl Classic was a statement victory.
Wisconsin bouncing back from a beatdown in the Big Ten championship to knock off Auburn helped silence the longstanding taunts that the league doesn't have the athleticism to match up with the SEC.
Penn State and Rutgers offered some evidence that the middle of the pack is on the rise in the conference as well, though wins over Boston College and North Carolina, respectively, may have only mattered individually in dropping the ACC down to the lowest spot among Power 5 leagues.
But even still, the College Football Playoff selection committee had already recognized that the Big Ten was more than just a punchline when it put five teams in the rankings in November. And it certainly was impressed enough with the league champion to put Ohio State in the four-team playoff, where it was up to the Buckeyes to show they belonged once they stepped on the field.
The underdog in every postseason game, the challenge was the same for the Big Ten as a whole -- and it vastly exceeded expectations and did a lot of work to erase the stigma the league has been burdened with for the last handful of seasons.
And while that didn't earn the conference a No. 1 ranking like Ohio State claimed for itself, the Big Ten proved collectively it should be closer to the top than the bottom.
January, 14, 2015
Jan 14
9:00
AM ET
1. The 2014 college football season is over. Quick! On to the next! The first round of predictions for futures
near
and distant hit the Internet while AT&T Stadium's cleaning crew was still sweeping confetti Monday night. Ohio State is
a 9-2 favorite to hoist the trophy again
next season according to Las Vegas, but didn't make the top of the list on
ESPN's early Top 25
. Four Big Ten teams made it on that list as well as
USA Today's rankings
. Only the Buckeyes and Spartans made
Fox's list
. These numbers serve little purpose other than giving every non-Buckeye fan in the country something to talk about, but if the Big Ten finished with only two teams in the Top 25 a year from now that would be a step backward for the conference. Maybe perception hasn't changed too dramatically during bowl season.
2. In a similar "What's next?" spirit, it took far less than 24 hours for conversation to turn toward Ohio State's next championship.
Urban
Meyer's
dynasty
under
construction
was a
popular
topic
Tuesday
. So many things can go wrong to knock down a Goliath that it feels like an overreaction to break out that word after one title, but it's really hard to imagine Meyer's team not playing for more in the near future. In his last 10 seasons as a head coach, Meyer has either won a national championship or finished undefeated five times. Fifteen of his starters Monday night grew up in Ohio, which means there is plenty of capable local talent. And almost all of them will be back again next fall. Meyer said he wanted to let his players enjoy this one rather than talking about the future. If the
noted workaholic can keep from burning out
in the coming years, the future is glaringly bright in Columbus.
3. The championship trophy is officially in Big Ten country. Why not bring the whole game with it? A couple cities within the conference footprint are planning to make bids on future title games after watching Monday's extravaganza. Indianapolis, a city apparently on a quest to host the title game of every major sport in the country, is
mulling the idea
of aiming for the game as early as 2018. Minneapolis is also
leaning toward trying to bring the championship north
. While a future championship game in the Midwest may make some Big Ten folks happy, consider this my vote to keep the season finale confined to points Pasadena and South.
A few more links to tales of Ohio State's historic night in Texas:
And now a look at what's going on elsewhere in the Big Ten:
Did Ohio State Cheap Out On Championship Rings?
BIG TEN SCOREBOARD
Thursday, 9/3
Friday, 9/4
Saturday, 9/5
Sunday, 9/6
Monday, 9/7