November, 4, 2014
Nov 4
5:42
PM ET
Associated Press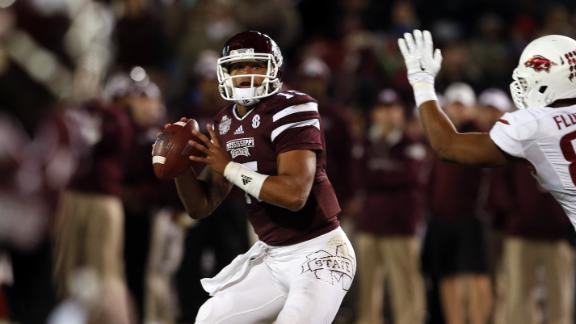 Mississippi State, Florida State and Auburn held the top three spots in the second College Football Playoff rankings, with Oregon joining them in the top four Tuesday night.
Marcus Mariota and the Ducks, coming off a 45-16 win over Stanford, moved up one spot from fifth in the initial poll by the 12-member selection committee. They moved in ahead of Alabama, a third team from the West Division of the Southeastern Conference that was also up one place to fifth.
"It was very close, and I think it's the product of Oregon's other wins they have," Arkansas athletic director and selection committee chairman Jeff Long said. "They have the Michigan State win, but they also, again, went on the road against UCLA and won, and a couple of wins that made their body of work, put them a step ahead of (Alabama) at this point."
Mississippi dropped seven spots to 11th after its second consecutive loss, 35-31 to Auburn. The Rebels remained ahead of four one-loss teams from power-five conferences, directly ahead of Baylor, Nebraska and Ohio State -- Nos. 12-14, and all higher than a week ago.
Auburn is the highest ranked of the 12 one-loss teams in the rankings that will ultimately determine the national semifinals, and set matchups for the other four marquee New Year's Day bowls that are part of the playoff rotation.
Mississippi State held on to No. 1 after a 17-10 victory over Arkansas, when the Bulldogs trailed after halftime for the first time this season. Florida State overcame a 21-0 deficit at Louisville and won 42-31.
The Bulldogs and Seminoles are the only remaining undefeated teams from power-five conferences, and Long said "it really wasn't close" to any chance of them flip-flopping in the top two spots.
November, 4, 2014
Nov 4
3:30
PM ET
Questions were asked, and coaches had answers. Here are a few of the highlights from this week's Big Ten conference call.
By the way, if you're not following us on Twitter, what are you waiting for? Follow along at
@ESPNRittenberg
,
@BennettESPN
,
@ESPNJoshMoyer
,
@DanMurphyESPN
,
@MitchSherman
and
@AWardESPN
.
Pelini says Abdullah injury not as severe as MCL sprain that caused Rex Burkhead to miss several games in 2012.

— Mitch Sherman (@mitchsherman) Nov. 4, 2014
Pelini anticipates Abdullah being 100 percent for Wisconsin but adds, "That's just my guess. It always can change."

— Adam Rittenberg (@ESPNRittenberg) Nov. 4, 2014
Urban Meyer on B1G title game last year: "That was two sledgehammers ... I don't expect any different this week."

— Austin Ward (@AWardESPN) Nov. 4, 2014
Rutgers' Kyle Flood asked about his thoughts on first year in Big Ten. Paraphrasing here, but essentialy: they are who we thought they were.

— Dan Murphy (@DanMurphyESPN) Nov. 4, 2014
Jerry Kill on RB David Cobb: "In my opinion, he's better than even I thought he would be."

— Josh Moyer (@ESPNJoshMoyer) Nov. 4, 2014
Tim Beckman says he expects QB Wes Lunt to return to practice tomorrow.

— Brian Bennett (@BennettESPN) Nov. 4, 2014
Franklin on Hackenberg: When you have success as true freshman and have to learn new system, can be tough to adjust to ups and downs.

— Adam Rittenberg (@ESPNRittenberg) Nov. 4, 2014
Fitzgerald on 48-7 loss: "I greatly appreciate you saying the game didn't go so well. That's very nice of you. We got our fannies whipped."

— Josh Moyer (@ESPNJoshMoyer) Nov. 4, 2014
November, 4, 2014
Nov 4
1:30
PM ET
Rivalry is not quite the right word for what the Ohio State-Michigan State game has become in recent years.
"We have one rival here," Buckeyes coach Urban Meyer said Monday. "So to say this is a rivalry game, that would diminish the rivalry that's been here for 100 years."
Both teams have one true rival, and it's the same one, in fact: Michigan. One need only to witness the emotion that the Spartans and Buckeyes exude whenever they face the Maize and Blue to know that's true.
[+] Enlarge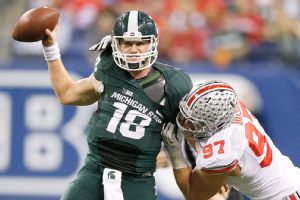 Gregory Shamus/Getty ImagesThe Spartans and Buckeyes renew their riv -- er -- rugged respect for each other on Saturday night in East Lansing.
Meyer, who has subtly avoided saying the words "Michigan State" of late, used two other "R" words to describe this series: respect and rugged. Those work for us.
Michigan might stir the passion for both programs, but in the past five years, they have measured their championship bona fides against one another. Ohio State and Michigan State split a conference title (along with Wisconsin) in 2010. Regular-season games in 2011 and 2012 provided a cornerstone victory for each side. They squared off in a Big Ten championship game last year that carried enormous stakes. And of course, they'll meet Saturday night in East Lansing in the undisputed Big Ten Game of the Year.
Rivalry or not, this has developed into the marquee game in the conference. Here's how we got here:
Three minus one: 2010
Michigan State, Ohio State and Wisconsin all finished with one loss in 2010, resulting in a three-way tie for the Big Ten title. The Spartans and Buckeyes did not play that year, though Michigan State beat Wisconsin and Ohio State did not. The Badgers went to the Rose Bowl based on the BCS standings, while the Buckeyes were chosen for the Sugar Bowl. The Spartans got left out of the BCS, fueling feelings of disrespect (which they often use to their advantage).
Watershed and "Waterboy:" Oct. 1, 2011
Ohio State might have been hampered by youth and NCAA problems, but Michigan State's 10-7 win at the Horseshoe was still momentous. It was former Buckeyes assistant Mark Dantonio's first victory over Ohio State and the Spartans' first win in Columbus since 1998. A ferocious defensive attack very nearly led to a shutout, and linebacker Denicos Allen's leaping sack of Joe Bauserman --
evoking memories of the Adam Sandler movie "Waterboy
" -- became a part of program lore.
Michigan State gets many of its players from Ohio -- nine starters on this year's team are from the Buckeye State -- and those players often were overlooked by Ohio State in high school.
"Whenever this game comes up in the week, I'm extremely excited," said Spartans senior defensive end
Marcus Rush
, who's from Cincinnati. "And I think with all the other guys on the team from Ohio, it's something special for them as well."
The Toast (and a conspiracy theory):
Sept. 29, 2012
The Buckeyes were unbeaten but largely unproven when they went to East Lansing for their Big Ten debut under Meyer, who had questions about the commitment of his team. In a conference room at the hotel four hours before kickoff, Meyer delivered a speech capped by a toast with "championship water," a rallying point that inspired Ohio State to a 17-16 win and established a new tradition still being used. "From there on out," then-senior Zach Boren said, "it was more fun -- guys dancing, being loose. I think it gave us our swag."
The win wasn't without controversy, either, as Michigan State defensive coordinator Pat Narduzzi accused Ohio State of doctoring the game tape that teams are required to send to their opponents.
Breakthrough vs. Heartbreak: Dec. 7, 2013
A spot in the national title game awaited Ohio State if the Buckeyes could get their 25th straight win under Meyer. But Michigan State foiled that plan with a 34-24 victory, clinching the Spartans' first Rose Bowl bid since 1988. Dantonio called it a "lifetime moment" for all those in green.
It felt much differently to the Buckeyes, whose heartache was symbolized by Meyer somberly eating cold pizza on a golf cart outside his locker room. "It's going to haunt all of us, I imagine, for a little while," he said.
Recruiting rumbles: Feb. 5, 2014
The two schools went down to the wire in a recruiting tangle for defensive end
Malik McDowell
, a prospect rated No. 60 in the nation. The saga would last for nearly two months before McDowell's mother, who seemed to prefer Ohio State, relented and allowed him to join the Spartans. Meanwhile, facing the possibility of McDowell slipping away, the Buckeyes flipped
Darius Slade
from Michigan State to fill out the class -- and perhaps strike back in the budding feud. "That's one of the teams we're nose to nose with right now in recruiting," Meyer said then. "That's a real battle."
The battle between Michigan State and Ohio State now overshadows everything else in the Big Ten. Both teams may have another top rival, but they have no bigger game on the schedule.
November, 4, 2014
Nov 4
10:00
AM ET
November, 4, 2014
Nov 4
9:00
AM ET
COLUMBUS, Ohio -- What Tom Herman sees on all the tapes defensively hardly ever changes from Michigan State, but that doesn't mean he's going to stop watching.
There are different offensive approaches to attacking the Spartans, obviously, and over time there may be some subtle variations and tendencies for the Ohio State offensive coordinator to take note of on film.
[+] Enlarge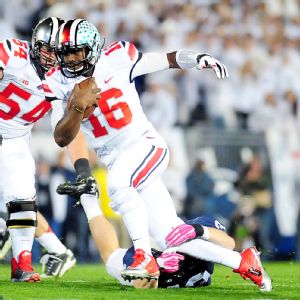 Evan Habeeb/USA TODAY SportsJ.T. Barrett and the No. 16 Buckeyes are preparing to face No. 8 Michigan State on Saturday night.
So recent games are valuable. Opponents with a similar system to the one the Buckeyes run are even better. There's even plenty still to be learned by watching the last matchup of the two Big Ten powerhouses in the conference title game last December. And while the main takeaway from all that scouting of the Spartans for Herman might be his appreciation for their ability to focus on one thing and do it really well over and over again, the key to planning for success against them during the week is trying to find what has worked against the vaunted unit so it can be duplicated on Saturday (8 p.m. ET, ABC).
"I think you try to take things from this year as much as you can against similar offenses," Herman said. "So really, the Nebraska and Oregon games [against Michigan State] were kind of the big ones that you try to focus on a little bit.
"Other teams are going to line up in your formations and similar formations and try to do some of the things that you do, too. But you really want to focus on how did [Michigan State] defend these two teams that you feel like you're most similar to."
Like usual, for the most part the general answer was pretty well aside from some rough patches late against both the Ducks and Huskers. And more specifically, it was with the vaunted Press Quarters system that has annually helped Michigan State become one of the most respected units in the nation even without necessarily rolling out a roster stocked with elite recruits or surefire NFL draft picks.
Herman has prepared to take on the Spartans twice previously since joining Urban Meyer's first coaching staff with the program, and perhaps no team has had more success slowing down the Ohio State offense during its record-setting rampage over the past few years with the two teams splitting those meetings.
The last one in particular has been a hot topic for the Buckeyes given the stakes in the Big Ten championship game a year ago and the pain they felt after coming up short. And that matchup was certainly worth adding to the film rotation for Herman this week given some of the issues that popped up against the Spartans while converting just 1 of 12 opportunities on third and fourth downs and watching a potential berth in the national title game slip away during a scoreless fourth quarter.
"There's quite a bit of value, because there's still a lot of what we do that is similar," Herman said. "I think you want to make sure that you have a general idea of what they felt like they were going to do. Just maybe how they were going to fit blocks and fit schemes, align to different formations, that's probably the biggest thing you take away from those films.
"But again, it doesn't change much from week to week, so it's a little bit different with these cats."
That consistency does, however, come with potential benefits for the Buckeyes.
They have seen just about every conceivable defensive scheme possible during the first eight games of the season with such a young roster and redshirt freshman
J.T. Barrett
at quarterback, and a couple opponents have further complicated the issue by adding wrinkles during bye weeks leading up to games against the Buckeyes. The Spartans could potentially do the same after an off date last weekend, but based on everything Herman has watched on video and his own experience, he and Ohio State should know exactly what to expect this weekend.
"There's good and bad, because usually when defenses are this locked into one particular scheme, it means they're pretty damn good at it," Herman said. "It'll be good because schematically [Barrett] will know where the pieces are and he'll know what's happening or what to expect.
"They play the same defense, for the most part, snap after snap after snap and then they mix in about 25 or 30 pressure to keep you on your toes, and that's it. ...Now it just comes down to executing."
Herman has seen more than enough of the Spartans on film to know what they'll be executing. The plan is to have found enough answers for their system by Saturday to make the next tape he watches an Ohio State win.
November, 4, 2014
Nov 4
8:30
AM ET
It's Election Day. Get out and vote. Les Miles
want you to do it
.
As the College Football Playoff selection committee continues to digest the results of Week 10, it's time to turn the page.
Up first for the committee comes the question of whom to plug into the spot formerly occupied by Ole Miss. It
says here that Oregon
should advance to No. 4.
Of course, that's assuming the committee doesn't drop an early bombshell -- in starting with a clean slate each week, as promised -- and rework the top four to include two new members. It could happen.
Remember, we've entered the age of chaos.
This week, six playoff contenders go on the road to face big tests. I'm going to tell you who among them is most likely to lose, who's most likely to win -- and why it matters less than you think.
To continue reading this article you must be an Insider
November, 4, 2014
Nov 4
8:00
AM ET
Saturday can't come soon enough ...
1. Let the rivalries begin:
It certainly appears as if there's no love lost between Penn State and the Big Ten's two newcomers. First, in September, Rutgers' athletic director
was forced to issue an apology
after a handful of fans made light of the Jerry Sandusky child sex abuse scandal -- and photos of the "regrettable" behavior surfaced on Rutgers' own social media pages. Then, this past Saturday, Maryland's athletic director
issued a public apology
when Maryland's team captains refused to shake hands with Penn State. (The Big Ten also
issued a public reprimand
for a pregame scuffle and
Stefon Diggs
was rightly suspended for one game after contact with a referee.)
I'm not condoning the actions involving the select few from either university -- both incidents are unfortunate and don't exactly highlight good sportsmanship -- but you can still bet this is making for an interesting first chapter in the book of new Big Ten rivalries. Penn State has always looked to Ohio State as its Big Ten rival ... but the Buckeyes are obviously more geared up toward Michigan. And rivalries can't be a one-way street. Rutgers and Maryland are both focused on Penn State; Rutgers WR
Leonte Carroo
said
a win over PSU
could "change New Jersey and Rutgers football forever," while Maryland's Randy Edsall said, after beating PSU
20-19
Saturday, "You don't know what this means to our program." With this season's apparent snubs, Penn State fans and players might just start thinking about RU and UMD a bit more. The only thing these rivalry games are missing now is an ugly trophy ...
2. Big Ten RBs getting their due:
Six running backs made the list of
20 Maxwell Award semifinalists
, and the conference accounted for half of those RB spots. The candidates? Well, you probably already know: Wisconsin's
Melvin Gordon
, Nebraska's
Ameer Abdullah
and Indiana's
Tevin Coleman
. Three finalists will be announced Nov. 24, and the winner will be announced Dec. 11. Of the three, Gordon is the best bet for the award since Abdullah is coming off an injury and Coleman no longer has any semblance of a passing game to help him out.
3. B1G trend with quarterbacks:
If you're a fan of a Big Ten team that hasn't had played a backup QB due to injury or a starter's struggles, then congratulations -- because you're in the minority this season. All but three teams -- Michigan State, Penn State, Nebraska -- have had to deal with injuries or something in the way of a quarterback controversy.
The latest teams to succumb to the trend are Northwestern and Rutgers. Wildcats QB
Trevor Siemian
was pulled Saturday in favor of
Zack Oliver
, and some controversy is brewing there. As for the Scarlet Knights,
Gary Nova
is recovering from a knee injury, so
Chris Laviano
has seen time in four of the last six quarters.
East Division
West Division
November, 3, 2014
Nov 3
8:26
PM ET
College Football Playoff selection committee member Mike Gould recently said that by the end of season, "it will become more and more clear who the top teams are."
He was right.
This is going to be a November to remember, starting Saturday, which features six games matching two ranked teams. Every week will help shape the inaugural College Football Playoff, but these 10 games -- ranked in order from least to most important -- will have the biggest impact on how the playoff looks when the final ranking is announced Dec. 7 (this is assuming all these teams stay in the good graces of the selection committee and keep winning):


10. Arizona State at Arizona, Nov. 28: A win could cement the Pac-12 South title for Arizona State, and at this point, winning the conference is the only way the Sun Devils would be considered for the playoff. A win over Notre Dame would be impressive, but that wouldn't be enough to overcome two league losses. Just ask Arizona, which should drop in spite of its win over Oregon.
November, 3, 2014
Nov 3
5:05
PM ET
Quarterback play and scheduling seemed to be the most pressing issues on the minds of Big Ten fans heading into the 10
th
week of the regular season. Our search for answers beings here in the Monday edition of the Big Ten mailbag ...
Charles Reynolds from Texas writes:
I don't understand why Ohio State doesn't schedule more games with the SEC. They need to do this to get more respect. Do you know why they do not?
Dan Murphy:
My first guess is those games are harder to win. My non-smart aleck response is that while Ohio State probably could stand to beef up its out-of-conference schedule a little bit, there hasn't been much incentive to do that yet.
The Buckeyes typically play one Power 5 team from outside the Big Ten each season. Their only SEC opponent in the past decade has been Florida. The Gators beat them twice in bowl games (2006 and 2011). Despite the Big Ten's shaky reputation, Ohio State hasn't had a hard time convincing pollsters and football fans in general that it should be considered a top team if it rolls through its conference schedule unscathed. The Buckeyes have lost eight of their last 10 games against top 10 teams (dating back to that 2006 loss to Florida), but still get the benefit of the doubt more often than not. If Ohio State wins out this season and doesn't get a playoff spot, you might see them schedule a little more aggressively in the future.
@DanMurphyESPN @ESPN_BigTen Curious if you can explain why Iowa has had to play MN in MN 4 out of the last 5 match-ups?

— Kevin Hamlin (@HerkyHam) November 3, 2014
Murphy:
A handful of Big Ten teams have had to deal with unbalanced home-and-away series in the conference in recent years. Michigan, for instance, had to play its in-state rival Michigan State on the road this year and last year.
Conference expansion is the main reason some teams have had the short end of the scheduling stick in these series. The addition of Maryland and Rutgers, along with Nebraska in 2011, caused the Big Ten to reshuffle its conference schedule. Planning out games for 14 different teams is an impossibly complex jigsaw puzzle, which the conference had to solve by being temporarily unfair to a few teams. Those series should return to normal moving forward as long as the conference doesn't grow again.
Jim from Grand Junction, Colorado, writes:
Is it time for Nebraska to consider going to the backup QB? Armstrong's recent games have put the thrill back into the center/QB snap, had low completion percentage, and many INT's. As a rule, I've always believed that when a team had to change QB's, they were pretty much cooked, but Armstrong has not been very good.
Murphy:
Armstrong's 13-to-8 touchdown to interception ratio isn't great, but taking Armstrong off the field would be crazy at this point. The Cornhuskers are 8-1 and their offense has scored at least 40 points five times this season. Armstrong has contributed more than 2,400 total yards of offense. His back-up has attempted 10 career pass attempts. The last thing they need heading into a crucial stretch of the season is to shake things up on offense.
@DanMurphyESPN @ESPN_BigTen badgers rolling for now. Do you think it is time to give stave a full game? In game qb shift is not doing much.

— Douglas Greenberg (@DougGreenB) November 3, 2014
Murphy:
I'm normally in the camp of those who say, "Go with one quarterback if you can." In this case, I'm even more firmly in the camp of "Don't tinker with something that's working." Wisconsin's offense is rolling right now. Switching between
Joel Stave
and
Tanner McEvoy
doesn't appear to have a negative impact on their ability to score a lot of points. McEvoy forces opponents to prepare for a more athletic look under center, and the more problems you create for an opponent to solve the better off you'll be.
To be honest, as long as both guys are capable of receiving a snap and sticking it in
Melvin Gordon
's stomach, I don't know that it makes too much of a difference what they do at quarterback.
@DanMurphyESPN @ESPN_BigTen with the. 49ers imploding does this mean better odds for a Harbaugh move to Ann Arbor?

— Brian Hunter (@U2hunter) November 3, 2014
Murphy:
Theoretically, it can't hurt. San Francisco is 4-4 right now with two games against Seattle and one against Arizona remaining in the second half. If the 49ers fail to reach the playoffs, they'll be done by Dec. 28 and the bad blood reportedly brewing between Harbaugh and others in the organization could boil over.
It would be nearly impossible to hire an NFL coach in the same year as a playoff run because you need someone in place for the final recruiting push before February starts. A bad season in San Francisco helps, but that's one variable among many at Michigan. The new coaching hire will be heavily influenced by who is hired to replace Dave Brandon at athletic director and how quickly that position is filled. All of this assumes that Michigan will in fact fire Brady Hoke at the end of the year. Things seem to be trending in that direction, but there's no final decision there yet.
November, 3, 2014
Nov 3
2:00
PM ET
The week we have had circled on the Big Ten calendar for the past month, if not far earlier, has finally arrived. Michigan State and Ohio State is the league's marquee regular-season game this year, and the rest of Saturday's slate should provide some insight into what to expect as we approach the postseason. Here is an early look at this week's storylines worth following:
And the playoff nomination goes to:
The Big Ten's best chance to land in the initial College Football Playoff will be the winner of Saturday's Michigan State-Ohio State matchup in East Lansing. The College Gameday crew will be in town for a week that will include plenty of buzz about both programs, who have become offensive juggernauts in the past couple years. Both teams enter the game with one of the country's top five scoring offenses. Can this game in the national spotlight help change the perception of the Big Ten as a boring, cloud-of-dust league? Can it help cement a budding rivalry between the conference's new Big Two? Can it live up to the hype it's been receiving for the past month?
A round-robin begins in the West:
Iowa travels to Minnesota this week for the first head-to-head meeting between the four teams still in contention for the West Division's seat in the Big Ten championship game. Iowa, Minnesota, Nebraska and Wisconsin all have one conference loss so far. All four will play each other in the final four weeks of the season, setting up a de facto round-robin tournament to see who wins the division. Each Saturday will have at least one game with postseason implications from here on out. Minnesota might have the toughest road remaining. In addition to playing those three opponents, they also host Ohio State on Nov. 15.
A bowl-eliminator weekend for the bottom half:
A handful of Big Ten teams will be competing to keep alive their chances of extra practice time this December. Indiana (3-5) needs to find a way to score points against Penn State to have a realistic shot at making the postseason for the first time since 2007. Purdue (3-6) needs to find a way slow down Wisconsin's offense this weekend to keep its bowl hopes alive. Northwestern and Michigan, a pair of five-loss teams, face each other in Chicago. The winner of that game is in good shape, the loser will need an upset to get to six wins. The Nittany Lions (4-4) still have Temple and Illinois left on the schedule and could pretty much punch their ticket to the postseason with a win against Indiana.
Can anyone slow down the Badgers?
Wisconsin welcomed the two Big Ten newcomers Maryland and Rutgers by beating them by a combined score of 89-7 during the past two weeks. After a clunker of a loss to Northwestern, the Badgers and Heisman hopeful Melvin Gordon have been running over their competition. What makes this team an emerging Big Ten title contender, though, is its stellar defense. No team in the country gives up fewer yards than Wisconsin's 253.8 per game. Another big win against Purdue on Saturday will set up a game with potential playoff implications against Nebraska the following week. The Badgers, with two losses, aren't really in contention for the playoff at this point, but they can spoil the Cornhuskers' chances or give their resume a healthy bump.
Michigan begins its search for a new athletic director:
The Wolverines revived a little momentum Saturday with a win against Indiana, but the attention in Ann Arbor this fall will likely remain away from the field. Former Michigan athletic director Dave Brandon resigned last Friday. If the football team plans to make a coaching change after this season, there isn't much time to find a replacement. Michigan won't be filling that seat permanently this week, but there will be plenty of debate about potential candidates and what each might mean for a possible coaching search in the near future.
November, 3, 2014
Nov 3
1:55
PM ET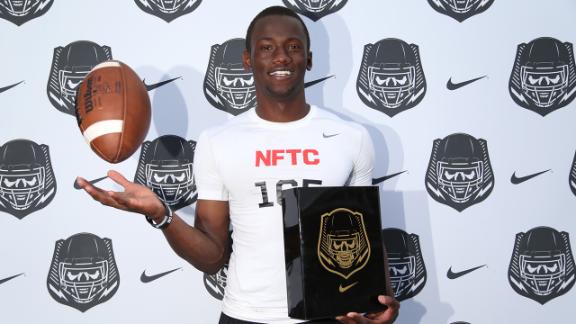 Torrance Gibson
has become Ohio State's third five-star pledge for 2015, which leads the nation. Below, see what the future may hold in Columbus for the ESPN 300 prospect:
To continue reading this article you must be an Insider
November, 3, 2014
Nov 3
9:00
AM ET
COLUMBUS, Ohio -- Jogging up the tunnel, Ohio State made it clear it had no time to celebrate.
The Buckeyes had already had plenty of time to enjoy another blowout in Big Ten play anyway, essentially resting all the meaningful contributors during what amounted to a walk-through against Illinois. And it was what that warm-up session on Saturday night was leading to that already had their attention, with the last group of players filing into the locker room repeating one simple message over and over to get the point across.
"Time for that green team," the Buckeyes said. "Time for that green team."
They've been waiting for nearly a year since that green Michigan State team knocked off Ohio State in the Big Ten championship game. And after crushing the Illini and keeping the roster healthy on a chilly evening at Ohio Stadium, the moment has finally arrived to seek a little retribution.
For once, Ohio State coach Urban Meyer actually seemed to be a in a hurry to get a game over with, and the weather surely wasn't to blame for that. The clash with the Spartans has certainly been circled on calendars for both programs in what amounts to an unofficial East Division title game, and the hype was been building for the matchup all year with both teams tabbed as potential College Football Playoff contenders.
And thanks to early defeats for each program, the stakes are now even higher than anticipated since the loser will effectively be out of both the Big Ten and national title picture.
So while the Spartans enjoyed a bye week to prepare, Meyer rolled up an early lead behind his redshirt freshman quarterback and an expanding arsenal of young playmakers while a dramatically improved defense forced four turnovers and racked up 11 tackles for loss. And then he basically moved on to the biggest game on the schedule, giving
J.T. Barrett
the entire second half off and resting just about every other starter by the midway point of the third quarter, getting the revelry out of the way before the win over the Illini was in the books and instantly shifting gears to focus on Michigan State.
"There's a lot on the line, and November is when you chase championships," safety
Vonn Bell
said. "We're on a mission, this team is on a mission ... [and ] at the end of this game, it started getting out of hand so we started thinking about them then.
"Coach Meyer, the big man, at the end of the game he just said, 'This is the week, fellas. It's time to go.'"
The Buckeyes probably didn't need the reminder anyway, and a couple players had already admitted before the game that it was difficult to keep their focus solely on Illinois knowing what was looming next on the schedule.
But they don't have to worry about that anymore. And considering what happened a year ago in Indianapolis, there's no chance Ohio State won't have its attention fully locked in this week.
"Just looking at our seniors [from last season], all the work they had done for that game and that moment and not pulling it out, it was definitely a learning experience then," Barrett said. "Now it's time to go take care of business in East Lansing.
"Now is the time to talk about it, and there definitely is excitement there being that last year they got us in the Big Ten championship. Now with that, it's kind of time for revenge."
First, though, the Buckeyes had to get through one more blowout victory. And after waiting so long for a shot at redemption, they didn't waste any energy enjoying the win, instead setting their sights quickly and directly on the Spartans.
For the reigning Big Ten champions and the top threat to the crown, a defining moment has finally arrived.
"In the offseason, our strength coach did a little bit of motivational stuff about how that dream was ripped away from us, ripped away by a very good football team," Meyer said. "We're going to face a very good team that we have a lot of respect for. It's all about the most prepared team, that's what is going to win this game."
For the Buckeyes, that preparation started even before they got back to the locker room on Saturday night.
The green team is waiting for them.
November, 3, 2014
Nov 3
8:30
AM ET
Honoring the best and brightest from Ohio State's 55-14 blowout over Illinois on Saturday night to set the table for an enormous showdown with Michigan State.
DE Joey Bosa
The sensational sophomore season rolled on, and it's getting harder and harder to even consider another player as a challenger to Bosa for top defensive honors in the Big Ten. The Buckeyes didn't even need him to turn in a full shift against the hapless Illini, but Bosa still tacked on three tackles for loss and two sacks before resting for most of the second half in the easy victory. There might not be a more difficult blocking assignment in the nation than lining up against Bosa, and lately it's been his versatile ability and Ohio State's willingness to move him to different spots up front that is giving opponents even more fits.
LB Curtis Grant
Somewhat lost in the hype swirling around true freshman Raekwon McMillan, the senior has been steady, reliable and occasionally a standout for the Buckeyes in the middle of the defense. Against the Illini, Grant put himself in position to deliver a pair of turnovers and spark the lopsided victory, deftly nabbing a bouncing ball for an interception and then later pouncing on a fumble to put another nail in the Illinois coffin. The veteran also chipped in three tackles, and against Michigan State's improved offense, the Buckeyes will no doubt need Grant to be a factor again next week.
RB Curtis Samuel
The true freshman was a surprise starter, but it was clear he had earned the right as he carved up the Illini with his blinding speed and more toughness than perhaps he had shown previously this season. Samuel ended up carrying the football just nine times, but he turned those opportunities into 63 yards and a pair of touchdowns to offer a reminder that Ohio State will be just fine without the services of Rod Smith moving forward. The one-two combination with Ezekiel Elliott at running back could be critical for the Buckeyes down the line as they continue to incorporate more young, talented players into the rotation on offense.
Two Weeks Left And We Still Know Nothing