August, 19, 2014
Aug 19
1:53
PM ET
August, 19, 2014
Aug 19
1:05
PM ET
ESPN.com news services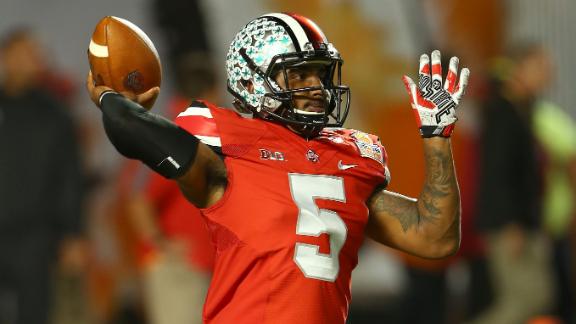 Ohio State quarterback Braxton Miller will not play this season after sustaining another injury to his right shoulder while throwing a short pass in Monday's practice.
Ohio State confirmed the news on Tuesday afternoon after ESPN's Brett McMurphy and other media outlets reported earlier that Miller's injury would end his season. Miller had an MRI on his throwing shoulder in the morning.
"I'm not sure that America really understands the time, the training," Ohio State coach Urban Meyer told ESPN Radio's "Mike & Mike" on Wednesday morning. "You train hours upon hours upon hours. So you just see a guy that's like a member of your family go down and you're like, 'Ugh.' Your gut starts to hurt. You go over to see if he's OK. It was a tough situation."
Widely tabbed as a Heisman Trophy contender this preseason, Miller suffered the injury during a noncontact portion of practice just hours after the senior declared himself 100 percent healthy following offseason surgery to the shoulder.
Miller threw for 2,094 yards and 24 touchdowns and ran for 12 more scores in leading the Buckeyes to the Discover Orange Bowl last season.
Ranked fifth in the preseason Associated Press poll released Sunday, Ohio State is expected to be in the national title conversation.
"I told our offensive coaches that we lost a hundred yards of offense, so let's figure out how to find a hundred yards of offense that Braxton gave us every game, on his own. So we have to do that," Meyer told "Mike and Mike."
"The good thing is that when you look to your right, look to your left, it's kind of exciting. If I'm a young player, that's four more touches that I get now. We're taking the opposite approach: We're not worried about November, we're worried about tomorrow."
The reigning two-time Big Ten Offensive Player of the Year, Miller first hurt the shoulder in the Orange Bowl. He had surgery that prevented him from contact in spring practice and was held out of several practices and scrimmages in August.
"I love Ohio State and Buckeye nation, and my goal is to come back from this injury stronger and better than ever," said Miller, who has yet to take a redshirt season. "I am on course to graduate in December and I want to attend graduate school, and then return to lead the Buckeyes next season [2015].
"In the meantime, I want to give all the support I can to my coaches and teammates as they chase a championship this season."
Miller did not practice this spring and had been limited by athletic trainers and coaches in the number of throws he was making this fall.
Redshirt freshman J.T. Barrett
August, 19, 2014
Aug 19
12:10
PM ET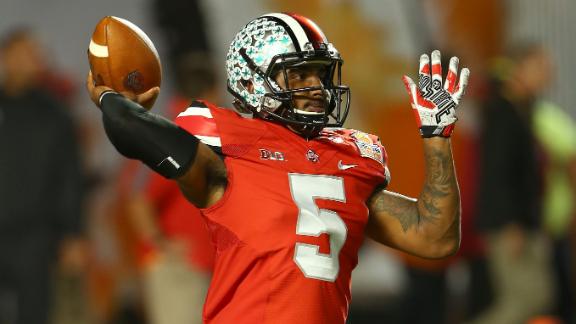 Winning championships in college football no longer requires having an experienced quarterback.
Last year's BCS national title game featured a pair of teams who started a redshirt freshman (Florida State's
Jameis Winston
) and a junior-college transfer (Auburn's
Nick Marshall
) under center. Notre Dame made it to the title game the year before with a redshirt freshman quarterback (
Everett Golson
). Michigan State won the Big Ten and the Rose Bowl last season with a first-year starting quarterback (though
Connor Cook
did get some valuable experience in the bowl game the previous season). Johnny Manziel won the Heisman Trophy as a redshirt freshman, just as Winston did.
That's a long-winded way of saying that Ohio State's 2014 season is not over simply because
Braxton Miller
is out for the year after
re-injuring his throwing shoulder
.
[+] Enlarge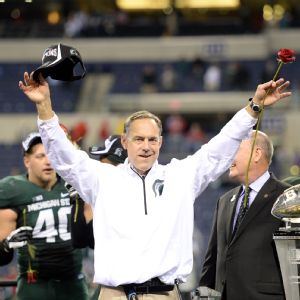 Allen Kee/ESPN ImagesIf Braxton Miller is forced to miss significant time, Mark Dantonio and the Spartans become the clear preseason favorite in the Big Ten.
Who knows? Maybe
J.T. Barrett
, Ohio State's new starting quarterback, will surprise us all.
Yet that unknown is also why the entire 2014 Big Ten race has been flipped on its head after Miller's unfortunate injury. All the Las Vegas sports books and virtually every preseason prognostication hailed the Buckeyes as the league favorite based primarily on two reasons: 1) the vast potential of Ohio State's young, blue-chip talent, and 2) the presence of Miller, the two-time reigning Big Ten offensive player of the year.
Now, virtually Urban Meyer's entire team, outside of its star-studded defensive line, is made up of question marks. Remember that Ohio State was already replacing four-fifths of its starting offensive line this season, a situation seemingly made less worrisome because of Miller's ability to improvise out of the pocket. We think
Ezekiel Elliott
and several of the young skill players will be terrific, but there is no proven safety net along the lines of Carlos Hyde and Philly Brown. Questions also exist in the defensive back seven.
Because of all those young players in key spots, I was never quite as high on the Buckeyes as some national experts were. I thought Michigan State was just as deserving of the favorite's role, given that the Spartans beat Ohio State in last season's league title game and get to host the Buckeyes in East Lansing on Nov. 8. Now, Michigan State becomes the clear preseason favorite, in my view.
Other teams, including Wisconsin, Iowa and Nebraska in the West and even Michigan and Maryland in the East, have to feel slightly better today about their chances of winning the conference championship.
Still, there's no doubt that a weakened Ohio State could hurt the entire Big Ten. Fairly or not, the Buckeyes have often been viewed as the standard-bearer for the league, and they were considered prime College Football Playoff contenders for 2014. The league already faces an uphill
fight against its national perception problems
, and Miller's injury raises the specter of critics dismissing the Big Ten champ as a team that merely took advantage of Ohio State's problems. If the Buckeyes are not a strong, top 10 type of team, then that could take away credibility for Michigan State even if the Spartans do beat Meyer's team in East Lansing.
It's not quite as bad as 2012, when Ohio State went 12-0 on probation and a 7-5 Wisconsin team claimed the Big Ten title. But Miller's injury clearly creates an impact beyond Columbus.
Don't expect the Buckeyes to collapse -- at least by their lofty standards -- as they did in 2011, when the tattoo scandal prompted the firing of coach Jim Tressel and the departure of quarterback Terrelle Pryor in the offseason. This team remains supremely talented, blessed with arguably more speed and athleticism than Meyer had in his first two years (when he went a mere 24-2). If Barrett can work through his growing pains in some early-season tests, including Navy in the opener and Virginia Tech in Week 2, Ohio State could still roll through the first half of its schedule. Presumably, a battle-tested Barrett would then be far more ready to take on second-half challenges at Penn State, at Michigan State and against Michigan.
But the key is that these are all hypothetical propositions, and Ohio State has no sure things any longer at its most important position. Because of that, the entire Big Ten looks a lot different than it did 24 hours ago.
August, 19, 2014
Aug 19
11:01
AM ET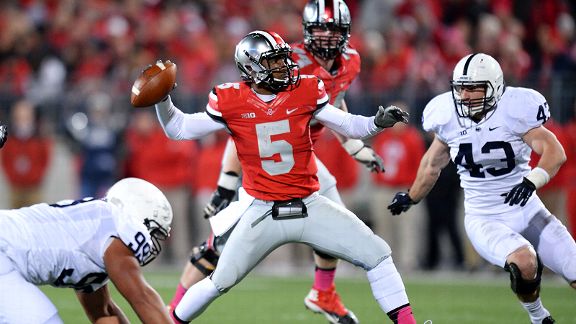 Jamie Sabau/Getty ImagesWhich teams will benefit the most from Braxton Miller's absence?
As we count down 50 days until the start of the 2014 college football season, ESPN Insider Travis Haney is answering at least one big question a day until South Carolina and Texas A&M's kickoff on Aug. 28.
Heisman contenders, breakout freshmen, conference winners -- it will all be covered as part of Insider's Ultimate Season Preview.
Today's question: Now that Braxton Miller is out for the 2014 season, which teams instantly rise in the playoff pecking order?
Ohio State QB Braxton Miller reinjured his right, throwing shoulder in practice on Monday, and following an MRI on Tuesday morning, a source told ESPN.com's Brett McMurphy that Miller is out for the season.
A Heisman Trophy candidate expected to lead his team to the inaugural College Football Playoff, Miller's absence will directly affect Ohio State's Big Ten competitors, as well as teams across the country that might have otherwise been behind OSU in the minds of the selection committee.
August, 19, 2014
Aug 19
11:00
AM ET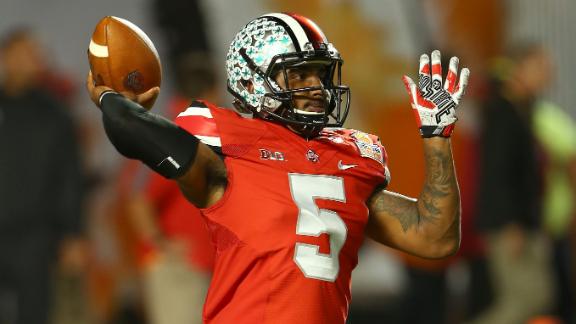 With the news that Ohio State QB
Braxton Miller
is
out for the season with an injury
to his throwing shoulder, it's time to get to know who will be taking snaps for the Buckeyes this fall.
J.T. Barrett
The redshirt freshman only ascended to the No. 2 spot over the weekend, just in time to be in position to take the reins of the spread offense if Miller's shoulder is seriously damaged. The 6-foot-1, 225-pound Barrett has the weakest arm of the three top quarterbacks on the roster, and the coaching staff has had no problem admitting that because he makes up for it with above-average tools everywhere else across the board. Offensive coordinator Tom Herman has praised Barrett since the moment he signed for his cerebral approach to the game, pinpoint accuracy and the sort of athleticism required to run Ohio State's offense even after suffering an ACL injury as a senior in high school. At this point, the Buckeyes elevated Barrett to the backup spot simply because, as Herman said Monday, "the offense moves better when he's in there."
Cardale Jones
With his impressive size at 6-5 and 250 pounds, plenty of speed and the ability to overpower defenders as a rusher, Jones looked like the heir apparent in claiming the backup job during spring practice while Miller was on the shelf following surgery. The redshirt sophomore has a rocket for a right arm, but it doesn't always fire in the right direction and inconsistent accuracy has been regularly cited as the biggest hurdle for Jones in the passing game. He has a slight edge in experience with the program after enrolling in January 2012, putting him on campus for the entirety of coach Urban Meyer's tenure with the Buckeyes, but he has attempted only a pair of passes in live action with one completion for 3 yards. He has showed off his mobility during his few chances to play, rushing 17 times for 132 yards with a touchdown.
August, 19, 2014
Aug 19
9:30
AM ET
Boston College coach Steve Addazio remembers an era when players wanted to redshirt as true freshmen to better prepare them for the final four years of their college career.
"Now it's 'I want to play,' " Addazio, 55, said. "If you're talking about not playing them early, the majority are like 'What do you mean?'"
So, the ability to play or possibly even start as a true freshman has become a regular sales pitch for coaches from the Power Five to the Group of Five. It's certainly a tool in the belt for Florida State coach Jimbo Fisher. Last week, Fisher alluded to the number of freshmen All-Americans he's coached the last four seasons. Twenty-four hours later, it was on the program's official recruiting Twitter page.
"The last [four] years we've had 14 freshmen All-Americans," said Fisher, condensing multiple outlets' freshmen award teams into one, concise Florida State propaganda poster. "If you come in ready to play, we're willing to put you on the field. It's critical for guys to come in saying 'When I'm the best, I'll play.'"
Fisher has the goods to back up his claims, even if the numbers are obviously skewed to best represent his program. But how does his résumé compare to those coaching some of the country's other top programs?
I tried to come up with a way to accurately discern which schools play the most freshmen and decided true freshmen letterwinners was the simplest and most effective way to crunch the numbers. To earn a letter, a player has to actually play consistently through the season. The disclaimer is each program can use different benchmarks when awarding letters, but there is never going to be a perfect way.
I began with Florida State's, looking back at the 2011-2013 classes. To properly quantify the data from Florida State, I decided I'd look at the five schools ranked highest in the preseason polls that have had its coach in place at least five seasons. Oregon's Mark Helfrich was offered an exemption because he was promoted from within and is in his sixth season with the Ducks. Coaches in place at least five years was the stipulation since an incoming coach might be susceptible to playing the prospects he recruited or having a number of transfers that could open up starting or rotational spots.
The criteria: Each class was looked at and the total number of signees was pared down to just those who enrolled as members of the football team in the fall. Junior college signees were excluded, as were any recruits who were academically or medically disqualified before playing a game. That explains why the total number of freshmen for our purposes might look different than what might be seen on RecruitingNation. Any true freshmen who spent a year at a post-graduate or prep school was also excluded. Redshirt freshmen were disqualified, too.
Bottom line is if the player was not a part of the football team the fall following his high school graduation, he was excluded.
Nearly all of the data was collected after poring through media guides and archives, although the communications departments at some of the schools were also helpful providing numbers and deserve recognition.
So, here is the actual data:
It is hardly a coincidence that Fisher and Alabama's Nick Saban, who mentored Fisher at LSU, have identical percentages of true freshmen earning a letter. Fisher and Saban arguably have been the two best recruiters over the last few cycles, and, the data shows those two are not going to keep young talent off the field simply because of age. Nearly half of the true freshmen at Alabama and Florida State lettered over the last three seasons.
Mark Dantonio has built Michigan State into a national title contender in a different manor, relying on experience. Only 12 percent of true freshmen lettered over the last three seasons. Recruiting to Michigan State is not the easy task it is at some other top-10 programs, and the Spartans are not recruiting as many ESPN 300-level players as the likes of Alabama and Florida State.
It should be noted Michigan State, Oklahoma and Oregon don't have quite the recruiting base Alabama and Florida State do.
Inquiring minds want to see how that 45 percent stacks up to some of the other top programs in the country, so even though they did not fit the criteria I looked at a few other schools with coaches in place at least five seasons and lately in the top half of the rankings. LSU was worth a look considering it's Les Miles' 10th season in Baton Rouge and, like Fisher and Saban, has recruited exceptionally well for a long period of time. Mark Richt is in his 14th season at Georgia and, like Miles, usually has a highly-regarded recruiting class. Steve Spurrier is in his 10th season at South Carolina and has steadily improved the Gamecocks' class to the point that the 2015 class is No. 5 nationally. Dabo Swinney has turned Clemson from a perennial disappointment into a two-time BCS bowl participant. And Ohio State and Texas A&M, mainly because it's worth seeing how third-year Buckeyes coach Urban Meyer fares considering he frequently voices his preference to avoid redshirting. Kevin Sumlin is also in the process of trying to build an SEC power that can compete with Alabama and LSU in the SEC West.
For the Buckeyes, out of the 69 true freshmen to land in Columbus, Ohio, from 2011-2013, 31 lettered -- the same 45 percent. Looking at just Meyer's two seasons, however, he is decimals ahead of Fisher and Saban at 46 percent (21 out of 46), thanks in large part to 14 freshmen letterwinners in his first season.
Georgia's Mark Richt has a percentage of nearly 50 percent, but the Bulldogs' numbers might be the most skewed. Along with South Carolina, the Bulldogs had several recruits that either did not qualify or spent time at a prep school or junior college. Also, Georgia's long list of dismissals and transfers is well documented, and all of the departures has opened up spots for freshmen to earn immediate playing time.
It is Miles, though, who plays a higher percentage of freshmen than all of the others. Twelve true freshmen lettered for LSU in both 2012 and 2013, and another nine earned a letter in 2011. There were a total of 65 applicable freshmen to enter LSU during that span and 33 of them lettered. That's a percentage of 51 percent.
Certainly the numbers will fluctuate year to year, and coaches at every single program are playing freshmen more frequently than ever before. When taking into account the timeline is over three years, LSU averages just one more freshman letterwinner per season than Alabama and Florida State. For our intents and purposes, though, the data shows which top programs consistently play the most freshmen in this new era of freshmen phenoms.
And, uh, FYI, Alabama has 19 ESPN 300 players prepping for their freshmen season this fall. LSU has 16, and Florida State isn't far off with 13 of their own.
August, 19, 2014
Aug 19
8:00
AM ET
Apologies to the rest of the league, but there's one story that is going to be dominating the coverage today. And it might for the next couple days after suddenly appearing overnight as word trickled out about
Braxton Miller
's injured shoulder.
If you missed it, the two-time Tribune Silver Football winner, one of the
most decorated individuals
in Big Ten history and the key to Ohio State's bid for a conference title and a potential run to the College Football Playoffs, left the second practice of a two-a-day session on Monday with what appears to be a new injury to his already surgically-repaired shoulder. A source confirmed to ESPN.com late on Monday that trainers attended to Miller on the field after a throw that the Buckeyes expected to be a barometer of progress as he regained strength in the muscles around his shoulder.
There's no word yet on the severity, but obviously the workout didn't go as planned. The program hasn't confirmed the injury or released any information about medical tests at this point, but it has a previously-scheduled media availability slated for this morning. Stay tuned for more information as the story continues to develop.
As for the rest of the conference?
Depth chart shuffling
East Division
West Division
August, 19, 2014
Aug 19
1:42
AM ET
Ohio State has already had months to work on a backup plan.
Odds are, they were always going to need it in some capacity. Depending on the severity of a new shoulder injury for star quarterback
Braxton Miller
, they might have to rely on it much earlier than expected.
Already limited through much of training camp as the Buckeyes eased him back from a February surgery on his throwing shoulder, a source confirmed on Monday night to ESPN.com that
Miller left the practice field in pain after a throw in an afternoon workout
-- just hours after again declaring himself 100 percent and ready for the opener on Aug. 30 against Navy.
The program hasn't publicly commented, and there haven't been any confirmations of results of medical examinations on his shoulder at this point. Ohio State has a media availability scheduled for Tuesday morning, and the coaching staff should be able to shed more light on an injury that could just be another minor setback or perhaps a devastating blow to the Buckeyes' title chances.
[+] Enlarge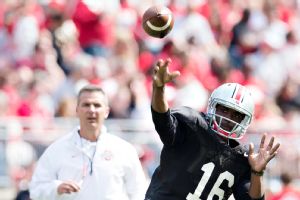 Greg Bartram/USA TODAY SportsJ.T. Barrett appears to be the leader to replace Braxton Miller, whether that's for a few plays or several games.
For all of Miller's immense talent and freakish ability, though, there has been one weakness that has consistently popped up throughout his career. And while the Heisman Trophy candidate has more often than not absorbed the extra punishment he takes as a rushing threat and proved his toughness by bouncing back, the Buckeyes have needed his backup either for a couple of drives or a couple of weeks in each of the past two seasons due to injuries.
Now, before his final season has even officially started, there are warning signs that Ohio State is again going to need the services of a second quarterback at some point, which as of this weekend would be redshirt freshman
J.T. Barrett
. But since Miller was on the shelf all spring recovering from his offseason surgery on that same shoulder and had been limited throughout camp by an every-other-day throwing schedule, the Buckeyes have at least had a chance to figure out who is next in line behind him.
"You never want to not throw as a [starting] quarterback, I get that," offensive coordinator Tom Herman said after a morning workout and before the injury. "... But for the young guys to get the live reps is invaluable. You can't put a value on it because it usually doesn't happen.
"We're making the most of it; obviously, we'd prefer it the other way, don't get me wrong. But we're certainly making the most of it."
The importance of maximizing those reps can't be underestimated now, and Barrett has been the individual taking the greatest advantage in a two-man race with
Cardale Jones
to fill the legendary shoes of Kenny Guiton on the depth chart behind Miller.
Rest assured, there will be much more to come as this story develops.
August, 18, 2014
Aug 18
9:54
PM ET
By
ESPN.com staff
| ESPN.com
Ohio State quarterback
Braxton Miller
reinjured his right shoulder Monday, according to a report by the Columbus Dispatch.
Miller, a senior, underwent minor surgery on the shoulder in February and the team had been moving him along slowly in his recovery.
He threw for 2,094 yards and 24 touchdowns, and ran for another 12 scores in leading the Buckeyes to the Discover Orange Bowl last season.
Ranked fifth in the preseason AP poll released Sunday, Ohio State is expected to be in the national title conversation and Miller a Heisman Trophy candidate.
The Buckeyes open their season Aug. 30 at Navy.
August, 18, 2014
Aug 18
9:48
PM ET
Ohio State quarterback Braxton Miller reinjured his right, throwing shoulder during practice Monday, a source confirmed to ESPN.com.
According to the source, Miller suffered a noncontact injury Monday and was taken off the field under medical supervision. He had declared himself 100 percent healthy earlier in the day.
Miller, who underwent minor surgery on the shoulder in February, will undergo an MRI on Tuesday, according to multiple reports.
Ohio State officials have declined to speak to the severity of the injury, which The Columbus Dispatch reported earlier Monday. The injury could put Miller's status for his senior season in question, according to the paper.
Ohio State barred media access to the team Tuesday, saying that interviews with assistant coaches and players have been canceled. The school also said that it would provide an update on Miller's status "once there is enough information to share."
Miller threw for 2,094 yards and 24 touchdowns and ran for 12 more scores in leading the Buckeyes to the Discover Orange Bowl this past season.
Ranked fifth in the preseason Associated Press poll released Sunday, Ohio State is expected to be in the national title conversation and Miller a Heisman Trophy candidate.
The Buckeyes open their season Aug. 30 against Navy in Baltimore. If Miller is unable to play in the opener, redshirt freshman J.T. Barrett likely would get the start, backed up by sophomore Cardale Jones.
But the fall-off in experience would be precipitous.
Miller has thrown 666 passes in his glittering three-year career. Barrett has never played in a game, and Jones has thrown only two passes.
Barrett, a 6-foot-1, 225-pounder out of Wichita Falls, Texas, was an acclaimed recruit who watched along with Jones last year as Miller took most of the snaps in the Buckeyes' 12-2 season.
When Miller was hurt for most of the San Diego State
August, 18, 2014
Aug 18
5:00
PM ET
How was everybody's weekend?
OK, enough small talk. Let's dive right into today's Big Ten mailbag.
@ESPN_BigTen @ESPNJoshMoyer other than Gordon & Abdullah, who will/can be a dominant RB in the #B1G ? - Brett May Burn (@B_Mac29) August 18, 2014
Josh Moyer:
Two names immediately spring to mind: Michigan State's
Jeremy Langford
and Indiana's
Tevin Coleman
. Langford did pretty darn well in his first year as a starter in 2013, and he can only get better. He didn't carry the ball more than 20 times until Game 6. And, from that point on, he carried the ball at least 21 times in every contest and set a school record by reaching 100 yards in eight straight games. He's the odds-on favorite to once again lead the Big Ten in rushing TDs and, nationally, only four returning tailbacks gained more yards than him last season. Plus,
Connor Cook
said in the spring that Langford has taken on
a much bigger role in the passing game
. With
Melvin Gordon
and
Ameer Abdullah
taking up most of the spotlight in the B1G, Langford might be one of the most overlooked tailbacks in the nation. Coleman has received a lot of love from the Big Ten blog, but for good reason. He missed the final three games of 2013 with an ankle injury and never received above 20 carries a game -- but still finished with 958 yards. He also averaged 7.3 yards a carry last season and was even able to reel off a 64-yard run against Michigan State. With another offseason and a healthy ankle, the explosive junior has the potential be the Big Ten's surprise tailback this season.
@ESPNJoshMoyer Oregon O vs MSU D is main talking point, but why isn't MSU O vs Oregon D getting more attention? - Colin Dilworth (@Dilworth269) August 17, 2014
Josh Moyer
: Let me answer your question with another question, Colin. What game would you prefer to watch: TCU vs. Louisiana Tech or Alabama vs. Oregon? One features the No. 2 vs. No. 3 team; the other features USA Today's No. 37 team vs. No. 80 team. (Last season the Spartans' offense was ranked No. 80 and Oregon's defense was No. 37). In other words, at its heart, strength on strength is just more entertaining. So, naturally, it's going to draw attention away from the other matchup. Still, the other matchup constitutes half the game, so let's take this time to look a bit closer at that "other" battle. Oregon's defense has a better ranking than the Spartans' offense, but there's still a lot at play here. On the surface, the Ducks boast a great run-defense since they allowed just 3.8 yards a carry last season. But there are some potential issues. For one, the two teams that had the most rushing attempts against the Ducks -- Stanford and Arizona State --both wore them down and ended up with wins. Secondly, only three teams in the nation were
worse against the run on third down
(65.5 percent conversion rate) and only seven teams in the nation were worse at stopping rushing plays at the line of scrimmage (17.8 percent). And, thirdly, Oregon has to replace two good defensive tackles. So you have to think Langford's success inside should have a big impact on the game. In the secondary, Oregon also boasts one of the best defensive players in the Pac-12 in cornerback
Ifo Ekpre-Olomu
. So Cook would be wise to avoid him altogether, especially since the Ducks don't have a proven No. 2 CB. So, sure, the Michigan State offense vs. Oregon defense has its own storylines at play. But count me in with the majority. I'm still more looking forward to the irresistible force vs. the immovable object. Can Michigan State crumble the hopes of a Heisman hopeful? Can Oregon quarterback
Marcus Mariota
deflate the aspirations of Spartan Nation just one week into the season? That's just going to be plain fun to watch.
@ESPNJoshMoyer How many wins to start the season will it take for PSU to be ranked. 5-0 headed into Mich or 6-0 headed into OSU week? - Sean Abbott (@sean_e_abbott) August 17, 2014
Josh Moyer:
Hey, I dig the optimism, but getting a little ahead of ourselves, aren't we, Sean? Anyway, I could definitely see Penn State getting some votes and making an appearance around Nos. 24 or 25 if it knocks off Northwestern to go 5-0. But chances are it'll need another quality win -- or at least one that trumps the likes of Akron and UMass -- to really work its way into the top 25. (A reminder: Polls will have
little to no bearing
on the playoff this season.) A quick start like that is possible, but it won't be easy with three decent opponents. Central Florida has a great secondary and could test
Christian Hackenberg
with his inexperienced wideouts. Rutgers' defensive line could pose problems for PSU's thin offensive line, which will likely feature two converted defensive tackles at offensive guard. And, even without
Venric Mark
, Northwestern boasts enough returning starters to pose a problem. A celebration after a 5-0 start might even be a bit premature for Penn State because the stretch immediately afterward is more important. There are no guarantees there: at Michigan, Ohio State, Maryland, at Indiana. How PSU fares there might be the key to its season.
@ESPNJoshMoyer My friend is getting married on September 6th, one of the biggest weekend of matchups for the B1G all year. Should I go? - Matthew Milko (@B1Gcast) August 17, 2014
Josh Moyer:
Hoo boy, that's a tough one. Important follow-up question: How good of a friend? It's definitely a good week for Big Ten football but mainly due to three matchups: Michigan-Notre Dame, Michigan State-Oregon and Ohio State-Virginia Tech. Also, Northwestern-Northern Illinois might not be bad. But everything else? Hmmm ... how do I put this delicately? Unwatchable garbage (e.g. - Rutgers-Howard, Nebraska-McNeese State, Maryland-USF, etc.). But there might be hope for you, Matthew. The kickoff for the earliest of those three games is 6:30 p.m., so that should at least give you some time to find a TV at the reception. Or, barring a TV (what kind of wedding is this?), give you time to fake the stomach flu. I can only imagine "Dear Abby" would offer the same advice. Or at least she should. Godspeed.
August, 18, 2014
Aug 18
4:27
PM ET
Got your four teams picked for the inaugural College Football Playoff?
Beware before you turn in your final list, because teams always come out of nowhere. For instance, Auburn, Michigan State and Missouri all finished in the top five of the final polls last season -- and weren't even ranked to start the season.
Conversely, the team starting the season ranked No. 1 in The Associated Press preseason poll hasn't finished higher than No. 7 the past four years.
None of us has a crystal ball, but we do have a road map of sorts -- the games that will shape who gets in and who gets left out this season when the selection committee unveils the first football version of the Final Four.
Here are 10 games to mark on your calendar:
LSU vs. Wisconsin, in Houston, Aug. 30

Right out of the gate, we get a game between two teams just outside the top 10 in the preseason polls who are talented enough to state their case come selection time for the College Football Playoff. And check out Wisconsin's schedule. If Melvin Gordon and the Badgers can get past the Tigers in the opener, the only other nationally ranked team (in the preseason) they face is Nebraska at home on Nov. 15. They avoid both Ohio State and Michigan State in the regular season.
Michigan State at Oregon, Sept. 6
August, 18, 2014
Aug 18
8:00
AM ET
Actual college football returns next week. Huzzah.
And players are likely celebrating as well, because training camps are winding to a close. Depth charts are also shaping up as well as teams move nearer toward preparing for Week 1. But some key jostling for jobs remains. Let's take inventory of a few of the more interesting position battles left in the Big Ten:
Wisconsin quarterback: By most accounts, incumbent starter Joel Stave has looked like the better option over Tanner McEvoy so far this month. At this point, I'd be surprised if Gary Andersen started McEvoy over the far more experienced Stave in the opener against LSU, though McEvoy could see some time in special packages. The Badgers have practiced some option, and that just doesn't seem like Stave's cup of tea, now does it? Where some battles stand for the Badgers.
Illinois quarterback: Tim Beckman has said he could name a starter on Wednesday. Most everyone expects it to be Oklahoma State transfer Wes Lunt. A big question, in my mind, is how the Illini can best use Aaron Bailey's talents.
Michigan State linebacker: Replacing Max Bullough and Denicos Allen isn't cut and dry, but it's not because of a lack of options. Riley Bullough and Jon Reschke are coming on strong and pushing Taiwan Jones and Darien Harris for playing time. Mark Dantonio described the situation on Saturday as "sort of a linebacker group by committee right now."
Iowa cornerback: It's a three-man scrum between Maurice Fleming, Sean Draper and Greg Mabin to see who starts opposite Desmond King. Mabin might have been set back by a minor injury. But Kirk Ferentz said the position is "up for grabs right now." Ferentz still has a lot of questions to answer.
Ohio State left guard: Darryl Baldwin seized the right tackle job, but there's far less clarity at left guard, a position that Urban Meyer has said concerns him. Doug Lesmerises breaks down the fight for playing time there and elsewhere on the Buckeyes.
Another major position battle should be cleared up on Monday, when Purdue is expected to name its starting quarterback. But that's one where Danny Etling has been a big front-runner all along.
On to the links:
Weekend scrimmages
1. Jabrill Peppers is going to play a lot, the offensive line still needs work and other
observations from Nick Baumgardner
on Michigan's open scrimmage before an estimated 25,000 fans.
2. Rutgers' Saturday scrimmage, dominated by the offense,
provided answers to some key questions
.
3. Wide receiver Deon Long was one of the stars of
Maryland's open scrimmage
.
4.
Defense won the day
at Michigan State's scrimmage.
5. Indiana coach Kevin Wilson
sees improved depth on his team
after the Hoosiers' latest scrimmage.
6. The running game
was the main attraction
in Purdue's scrimmage.
7. Northwestern held an open scrimmage, but
hardly anyone of note participated
.
West Division
East Division
Meyer On 'Devastating' Miller Injury
BIG TEN SCOREBOARD
Thursday, 8/28
Friday, 8/29
Saturday, 8/30