December, 1, 2014
Dec 1
2:30
PM ET
It's time to see who made the grade.
On Friday, the 12 members of the College Football Playoff selection committee will travel to Dallas to watch the conference championship games together -- the final audition for bubble teams across the country to make their case to be in the top four.
For teams with comparable résumés, a conference championship game will be used as a tiebreaker (unless it's in the Big 12). On Sunday, the committee will reveal its final Top 25 ranking.
Until then, this report card can help.
Here's a breakdown of how each team has fared, using both ESPN metrics (game control and strength of record) and categories the committee will use to evaluate the contenders. The committee will consider head-to-head competition and comparative outcomes of common opponents -- without putting an emphasis on margin of victory.
Here are the top contenders, in alphabetical order:
Alabama Crimson Tide
The Crimson Tide will face Missouri on Saturday in the SEC title game, and ESPN's Football Power Index gives the Tide an 82 percent chance to win. If they do, Alabama should be a lock for one of the four playoff spots.
Eye Test: Alabama allowed Auburn 628 total yards. The Tide had three turnovers in the Iron Bowl win. They have hardly been a flawless team, but they have been one of the most complete teams nonetheless. Blake Sims has been inconsistent but at his best when it mattered most (late against LSU, second half against Auburn).
Grade: A. Alabama's only loss was on the road to Ole Miss, and it has two wins against teams currently ranked in the committee's Top 25.
Arizona Wildcats
December, 1, 2014
Dec 1
12:00
PM ET
Ohio State has won six of its past seven meetings with Wisconsin, but there's obviously a little more at play in Saturday night's Big Ten championship in Indianapolis. The Buckeyes are without their primary offensive weapon in QB
J.T. Barrett
, while the Badgers boast one of the nation's best in
Melvin Gordon
.
But those players are only part of the story. Here's a look at how the Buckeyes and the Badgers stack up:
December, 1, 2014
Dec 1
10:00
AM ET
The 2014 Big Ten regular season is in the books. The league championship game arrives this season, and soon we'll be looking forward to bowl games for 10 of the conference's 14 teams. But first, let's rewind a wild and wacky Week 14:
Team of the week:
Illinois. Tim Beckman has gotten a lot of grief in his short tenure in Champaign, but he led the Illini to three Big Ten wins in their final five regular-season games. That was capped by Saturday's dominant 47-33 victory at Northwestern that secured the program's first bowl berth since 2011. It also ensured that Beckman will be back to coach the team next year.
[+] Enlarge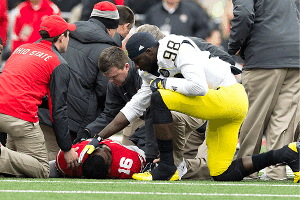 Greg Bartram/USA TODAY SportsThe well-being of J.T. Barrett was on the mind of Michigan's Devin Gardner on Saturday.
Biggest play:
J.T. Barrett
's injury may unfortunately be one of the biggest plays of the Big Ten's season since it could affect Ohio State's ability to get into the playoff. But with Barrett out and Michigan still hanging around,
Ezekiel Elliott
helped keep the Buckeyes alive for a playoff bid with a 44-yard touchdown run that finally broke the Wolverines' back.
Big Man on Campus (offense):
Gary Nova
led the largest comeback in Rutgers' history by throwing for 347 yards and four touchdowns, with no interceptions, in a wild 41-38 win over Maryland. It's been an up and down year for Nova, but he helped his offensive coordinator, Ralph Friedgen, gain a measure of revenge on the Terrapins.
Big Man on Campus (defense):
Wisconsin linebacker
Marcus Trotter
had arguably his finest game on Senior Day at Camp Randall Stadium, finishing with 14 tackles as the Badgers held Minnesota to just one score in the second half.
Big Man on Campus (special teams):
Nebraska's
De'Mornay Pierson-El
fueled the Huskers' comeback win at Iowa with two long punt returns, including an 80-yard touchdown that gave Nebraska its first lead. He averaged 44.7 yards on three returns. That's pretty good.
Biggest hangover:
Maryland had a chance to finish out a pretty strong 8-4 debut season in the Big Ten. Instead, the Terrapins -- who led Rutgers 35-10 in the final minute of the first half -- collapsed in epic fashion at home. Now, the other league newbie can lord this win over them for a full year.
Best gesture:
When Barrett was being loaded onto a cart after his ankle injury, Michigan's
Devin Gardner
came over to him console him. The classy move transcended this otherwise bitter rivalry.
"It was sort of like having a little brother get hurt," Gardner said. "I didn't like to see that at all, so I just let him know that I'm praying for him and told him to keep praying, and that everything will be alright."
Fun with numbers:
Speaking of Pierson-El, his 589 punt return yards are 232 more than the next closest player in the FBS, and his nine returns of more than 20 yards are also the most in the country. … Rutgers'
Janarion Grant
, whose 71-yard kickoff return to open the second half at Maryland led to a touchdown, leads the nation in total kickoff return yards with 910. … With two more sacks on Saturday, Ohio State's
Joey Bosa
is just one away from breaking Vernon Gholston's school record of 14. And Bosa has promised to do a backflip if he breaks the mark, which could come as early as this Saturday. … Barry Sanders Watch: Wisconsin's
Melvin Gordon
needs 368 yards in his final two games to break Sanders' single-season FBS rushing record of 2,628. ... Indiana's
Tevin Coleman
became the fourth-fastest player to reach 2,000 yards in a season. … Michigan State has now won 10 straight Big Ten road games after beating Penn State 34-10. That's the fourth-longest active conference road winning streak in the FBS.
December, 1, 2014
Dec 1
8:30
AM ET
COLUMBUS, Ohio -- Honoring the best and brightest from No. 6 Ohio State's 42-28 win over rival Michigan to clinch another perfect regular season in the Big Ten under coach Urban Meyer.
QB J.T. Barrett
The redshirt freshman tacked on three more touchdowns to add to his record-setting season and then may have added to the legend of his first year at the helm by proving his toughness by hanging around the Horseshoe after breaking his ankle, but this will be the final helmet sticker for Barrett this year. The job he did in replacing Braxton Miller on short notice before the season with no prior experience leading the offense was simply remarkable, and it's a tribute to Barrett that the shoes Cardale Jones now has to fill in the Big Ten championship game against Wisconsin are so big when there was little reason to expect the Buckeyes could simply replace one Heisman Trophy candidate with another at the most important position on the field. It's a shame for Barrett that he won't get to play a role in the postseason after guiding the Buckeyes through the turbulence and to an 11-1 record.
RB Ezekiel Elliott
The workhorse rusher should expect a heavier workload next weekend, and he proved with one explosive run on fourth-and-1 with Jones already on the field at quarterback that he may be ready to take over as the focal point of the attack. Elliott's 44-yard burst was the knockout blow to Michigan's upset bid, the second consecutive touchdown for the sophomore after that game had been tied again midway through the third quarter. He finished with 121 yards on the ground and added a 7-yard reception in another productive outing in the backfield, and Elliott certainly figures to touch the ball more than 18 times against the Badgers.
LB Darron Lee
Comparisons to Ryan Shazier are still probably a bit premature, but Lee did a pretty decent impression of the first-round NFL draft pick by flying all over the field and making plays in a variety of different ways to impact the outcome from his spot at linebacker. Lee finished with a team-high nine tackles, including two for a loss and a sack, but it was his 33-yard fumble return for a touchdown that iced the win over the Wolverines and offered yet another glimpse at his uncanny ability to find the football. He also provided a nice bookend for his first year as a starter, dashing to the end zone in the final week of the regular season to help produce a win just like he did in Week 1 against Navy to announce his presence for the Ohio State defense.
December, 1, 2014
Dec 1
8:00
AM ET
Barely an hour removed from a huge rivalry victory, the mixed emotions were playing out on the faces of Ohio State players as they streamed in to meet the media.
A teammate, a beloved brother, was only missing at that point, but it seemed difficult for some Buckeyes to smile too much or bask in the victory too long knowing that Kosta Karageorge still had not been found. His body was discovered on Sunday, but his
tragic loss
will only bring a different set of emotions for the Buckeyes to deal with in the coming days.
Perhaps nobody summed up the matter better than junior Taylor Decker, a friend of Karageorge's before the latter joined Ohio State as a walk-defensive lineman. And while his message that life and death matters are "a lot bigger than football" is simple, it's yet another reminder of the importance of maintaining perspective when it comes to the games we all love and the athletes that play them.
So before diving into championship week and the coaching carousel, the Big Ten reporters send their deepest condolences to the Karageorge family and all his friends.
***
1. Pelini's fond farewell?
In the end, maybe Bo Pelini got exactly what he wanted after essentially daring Nebraska to fire him on multiple occasions. Confident in his record with the program over the last seven years and with all those nine-win seasons to point to when other jobs open up around the country, Pelini always seemed to know there would be options for him if the Huskers became too disenchanted with the consistency he was providing them -- even if it was coming up just short of being elite or winning championships. There has been obvious unease between the two parties over the last couple seasons, so while the discussion about who Shawn Eichorst will hire will justifiably dominate the conversation in the coming days, Pelini's next move could be equally interesting to follow. To be clear, he is anything but a failed coach, even if he was just fired. And as he appears to have believed all along, there will be another opportunity for him soon.
2. Next domino:
Whether or not the Nebraska move came as a surprise, the fact that it acted first in the coaching silly season definitely was a shocker. That probably doesn't mean Michigan is having second thoughts about parting ways with Brady Hoke, though, especially after rival Ohio State had the pleasure of putting the finishing touches on a 5-7 season that was seemingly as much of a disaster off the field as on it. Making the announcement on Sunday as Nebraska did or perhaps pulling the trigger today won't make that much difference since the Wolverines have almost certainly been reaching out to candidates behind the scenes for weeks to prepare for the inevitable, but it should be their turn to step in front of the cameras and microphones and pick apart Hoke's tenure and look to the future soon.
3. On the field:
There is still a game to be played in the Big Ten, of course, and it's a pretty critical one even if it's currently being somewhat overshadowed by coaching changes -- or the lack thereof at Illinois. The fractured ankle suffered by Ohio State quarterback J.T. Barrett takes a little of the shine off a matchup that was going to prominently feature the league's two best offensive players in a primetime showdown with both conference and national-title implications, but both coaches were quick to offer reminders during Sunday's teleconference that the game was always going to be decided by more than Barrett and Melvin Gordon. That might be easier for Gary Andersen to say right now since the Badgers still have their star, but Urban Meyer is already working to build a convincing case that the Buckeyes will be fine with Cardale Jones taking the snaps. The biggest reason: Jones will be walking into a much more experienced huddle than Barrett did to start the season, and that supporting cast should ease his transition. Obviously it's his job to instill confidence in his team and make sure that Jones and the rest of the Buckeyes are ready to go regardless of the circumstances, but his message does make sense with the likes of Jalin Marshall, Ezekiel Elliott, Michael Thomas and more all proven playmakers at this stage of the season.
East Division
West Division
November, 30, 2014
Nov 30
11:00
PM ET
Whoever ends up getting the job at Nebraska has to be willing to take the Husker brand on the national recruiting trail. Alabama proved again this weekend why it's the top recruiting program in the country.
November, 30, 2014
Nov 30
6:31
PM ET
The Playoff Forecast is trying to handicap the playoff chase by using a combination of the Football Power Index, the human eye test and the selection committee's criteria to estimate which teams have the best chance to be playing in a national semifinal on New Year's Day. On Dec. 7, the committee will be able to add the "conference champion" criterion to the résumé of a few contenders, but nobody knows for certain how that will impact the final rankings.
The written protocol for the selection committee, however, provides us a hint. It says, "The criteria to be provided to the selection committee must be aligned with the ideals of the commissioners, presidents, athletic directors and coaches to honor regular-season success while at the same time providing enough flexibility and discretion to select a non-champion or independent under circumstances where that particular non-champion or independent is unequivocally one of the four best teams in the country."
So, in order for a nonchampion to be selected for the playoff, that team must be "unequivocally one of the four best teams in the country." Given this directive, it seems highly unlikely for the committee to select a nonchampion over a conference champ with the same number of losses. That could potentially impact a couple of Big 12 teams on this list.
But, as always, we'll start at the top.
---
FPI's chance of winning this week: 81.9 percent
Alabama survived a major scare against Auburn and now gets a meeting with Missouri in Atlanta for the SEC title. FPI gives Bama an 82 percent chance of winning this game, and that doesn't even account for the site not being truly neutral, as Tide fans are likely to fill most of the seats. Missouri defied the odds by reaching this point and could certainly do it again by beating Alabama, but the reason the Crimson Tide are such a heavy favorite is that Mizzou's best opponent this season was easily Georgia, and the Bulldogs beat the Tigers 34-0 in Columbia. If Missouri wins, it would be the biggest possible upset of this weekend's four major conference title games.
To continue reading this article you must be an Insider
November, 30, 2014
Nov 30
5:47
PM ET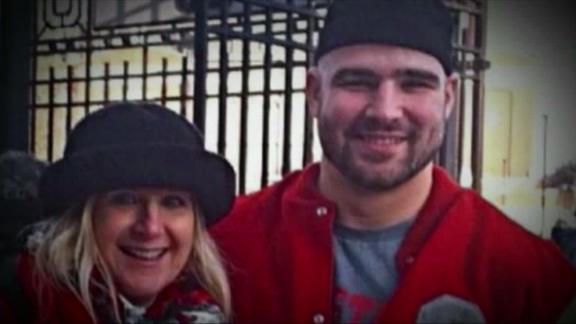 COLUMBUS, Ohio -- The body of missing Ohio State defensive lineman Kosta Karageorge was found by Columbus police on Sunday after a search that started after he went missing on Wednesday.
Karageorge, 22, was found dead in a dumpster of an apparent self-inflicted gunshot wound. He was identified by tattoos at the scene, and a police spokesman said the investigation would continue with both the dumpster and the body of Karageorge being transported to the county morgue.
"At this time, there's a lot of questions that we're still trying to work out," Sgt. Rich Weiner told reporters at the scene. "But he was found inside of the dumpster, the handgun was found inside of the dumpster with him.
"At this time we are able to confirm through tattoos here at the scene that it is the body of Kosta Karageorge."
Coach Urban Meyer wouldn't address the situation in his weekly news conference on Monday, but Ohio State issued a statement, saying: "We know that many of you are concerned, as we are, about the tragic news that we received yesterday about the death of one of our student-athletes, Kosta Karageorge.
"It is very early in the process of determining the cause of death, and the Columbus division of police is still investigating. We are unable to discuss this situation in detail at this time. The investigation continues, we are also not able to comment on student-athlete's medical treatments.
A police report says Karageorge's mother told authorities he has had concussions and spells of confusion. She said he texted a message Wednesday citing the concussions and saying he was sorry if he was "an embarrassment."
November, 30, 2014
Nov 30
2:13
PM ET
Associated Press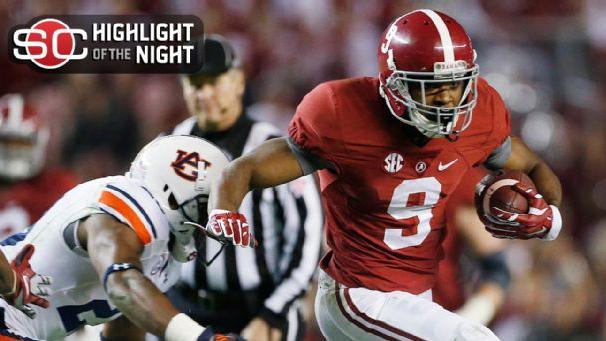 Alabama is No. 1 in The Associated Press college football poll for the first time this season, replacing undefeated Florida State in a vote that was about as close as it could get.
The Crimson Tide (11-1) received 25 of a possible 59 first-place votes from the media panel and 1,426 points. The Seminoles (12-0) have 29 first-place votes and 1,423 points.
The last time the No. 2 team had more first-place votes than the No. 1 team this late in the season was Nov. 25, 1968, when No. 1 Ohio State had 21½ first-places votes to USC's 24½.
Alabama is No. 1 for the 72nd time overall and first since it lost last year's Iron Bowl. The Tide beat Auburn 55-44 on Saturday.
It is also the seventh straight season the Crimson Tide has been No. 1 at some point, the longest such streak since Miami from 1986-92.
Florida State is the first team to lose the No. 1 ranking twice in a season since Penn State in 1997.
The last time a No. 1 team had a loss and No. 2 was undefeated this late in the season was Nov. 27, 1993, when Florida State (11-1) held the top spot and Nebraska (11-0) was No. 2.
November, 30, 2014
Nov 30
2:00
PM ET
November, 30, 2014
Nov 30
9:35
AM ET
Rivalry week did not disappoint this season throughout college football and the Big Ten. Michigan and Ohio State played in "The Game" and Minnesota battled Wisconsin for a spot in the Big Ten championship game, while plenty of recruits took in the exciting matchups.
In the 2015 class, UCLA offensive line commit
Andre James
took his official visit to Ohio State to see what all the hype was about.
UCLA OL commit Andre James on his Ohio State visit today pic.twitter.com/HHTo2h61fP

— Tom VanHaaren (@TomVH) November 29, 2014
Ole Miss offensive line commit
Drew Richmond
was also supposed to make the trip but ended up canceling the visit.
The Ohio State commits were also on hand to help recruit during the big game as well.
Justin Hilliard
,
Matt Burrell
and
Jashon Cornell
spent some time with ESPN 300 defensive lineman
Neville Gallimore
and four-star receiver
Lawrence Cager
.
#SQUAD U=L @LC1era_ @JayRock_9 @HeaftyLefty @Path2Greatwork @Lchopfallen pic.twitter.com/cCmPq60tgp

— Justin Hilliard (@JHilliard47) November 29, 2014
Gallimore came all the way from Canada for the official visit, and the Buckeyes could be in good shape after the trip.
pic.twitter.com/2OEweS2bTa Ohio State OV with the posy.

— Neville G (@Path2Greatwork) November 29, 2014
The Buckeyes also hosted some 2016 targets, including ESPN Junior 300 offensive lineman
Michael Onwenu
from Detroit.
A few pics of the view at Ohio State from Detroit Cass Tech ESPN Jr. 300 OL Michael Onwenu pic.twitter.com/ypllAWUW56

— Tom VanHaaren (@TomVH) November 29, 2014
Onwenu was joined by some of his Cass Tech teammates, including ESPN Junior 300 defensive back
Lavert Hill
and 2017 receiver
Donovan Peoples-Jones
, among others.
ESPN Junior 300 quarterback
Jarrett Guarantano
was also on hand for the game and got to meet former Buckeyes receiver Cris Carter before the game.
Told me to toss a picture up with him ! =U @criscarter80 pic.twitter.com/FMyqv3I2zz

— Jarrett Guarantano1ã (@Guarantano18) November 29, 2014
Robert Washington
, an ESPN Junior 300 running back, made the trip up from North Carolina with his father and took to twitter to show off his view.
Me and my father at The Ohio State vs Michigan game today pic.twitter.com/DOuN2c3ihu

— Robert Washington (@RDubb_5) November 30, 2014
The Buckeyes weren't the only B1G team with big prospects on campus, though. Penn State also had a ton of recruits in attendance for its game against Michigan State. The Nittany Lions didn't win the game, but they did get some good news when ESPN Junior 300 quarterback
Jake Zembiec
committed on Saturday.
Yes!!! #WeAre Committed =¯=1 pic.twitter.com/m0EBAPn5pb

— Just Watch... (@Shizzeee_) November 29, 2014
Zembiec got a chance to hang out with some of the other Penn State commits on hand and build some friendships for the future.
Jarvis Miller, Daiquan Kelly, Sterling Jenkins, Jake Zembiec, Shane Simmons, Steven Gonzalez at Penn State today pic.twitter.com/7sRQmvFVip

— Tom VanHaaren (@TomVH) November 29, 2014
ESPN Junior 300 offensive lineman
E.J. Price
and 2016 defensive end
Tommon Fox
drove up to Happy Valley from Georgia, and the trip was worthwhile as both prospects were offered scholarships.
#ESPNJr300 EJ Price (left) and 2016 DE Tomon Fox on their visit to Penn State today. Both offered pic.twitter.com/F37SgTLmzH

— Tom VanHaaren (@TomVH) November 30, 2014
Wisconsin had a big game as well, playing Minnesota for a spot in the Big Ten championship game. With that type of game, it's only natural recruits would want to see it in person.
Linebacker target
Christian Folau
was one of those prospects and got a chance to snap a picture with Wisconsin running back
Melvin Gordon
after the Badgers' win against the Gophers.
Future Heisman Melvin Gordon! Great win today #Badgers ! #OnWisconsin Beat #OSU ! pic.twitter.com/fXf8myDS0V

— Christian Folau (@1_LBEAST) November 30, 2014
The Badgers also hosted ESPN Junior 300 running back
Antonio Williams
this weekend.
#OnWisconsin #OnWisconsin #OnWisconsin #OnWisconsin =4ª=P=4ª=P=4ª=P pic.twitter.com/set9EPQdT7

— Antonio Williams® (@A_B_Williams34) November 29, 2014
This visit is likely a big one for Wisconsin because Williams is slated to announce his decision Dec. 4. The Badgers are seemingly the leader, and with the win on Saturday it looks as though it will be very tough to beat Wisconsin for this talented back.
November, 30, 2014
Nov 30
9:00
AM ET
Rewarding the best and brightest performances during the final week of the regular season in the Big Ten:

Rutgers QB Gary Nova:
Four touchdown passes from Nova led the way during a 28-point comeback against Maryland Saturday afternoon, leading the Scarlet Knights to a
41-38
win. Nova threw for 347 yards and, more importantly, none of his 42 pass attempts landed in the arms of Terrapins defensive backs.
Ohio State RB Ezekiel Elliott:
The sophomore will have to carry a big load without
J.T. Barrett
next weekend. He got off to a good start in the fourth quarter with a 44-yard touchdown on a crucial fourth-down play against Michigan, helping Ohio State win
42-28
. Elliott finished the day with 121 yards and two scores.
Wisconsin RB Melvin Gordon:
Gordon takes his normal place among the Big Ten's top performers this week. He was the heart of the Badgers offense again while they clinched the West Division with a
34-24
win over Minnesota. He ran for 151 yards and a touchdown on 29 carries.
Illinois QB Reilly O'Toole:
Talk about balance, O'Toole ran for 147 yards and passed for 147 yards to help the Fighting Illini reach the bowl eligibility plateau for the first time under Tim Beckman with a
47-33
victory over Northwestern. O'Toole accounted for three touchdowns for an offense that scored 47 points against the Wildcats.
Nebraska WR Kenny Bell:
Bell caught only three passes during the Cornhuskers'
37-34
comeback win Friday, but he made them count. He started a third-quarter comeback by sneaking behind the Iowa defense for a 32-yard touchdown catch. He finished the comeback in overtime when he shed a defender and caught the game-winning pass in the front corner of the end zone.
Michigan State WR/CB Tony Lippett:
The Spartans' first two-way starter in four decades contributed on both sides of the ball Saturday. He caught four passes for 53 yards and a touchdown during a
34-10
win over Penn State. He also made one tackle and contributed to a secondary that held the Nittany Lions under 200 yards passing.
November, 30, 2014
Nov 30
9:00
AM ET
When the season began, College Football Playoff committee member Condoleezza Rice said her pool of potential playoff candidates was about 40 deep. Now, with only conference championship games remaining (along with a Big 12-defining Baylor-Kansas State matchup), the committee's pool has become a puddle.
One-loss teams Ohio State, TCU and Baylor all remain on the bubble, jockeying for the No. 4 spot, behind mainstays Alabama, Oregon and Florida State.
As expected, there was plenty of drama during rivalry week, with the bulk of it coming in the Iron Bowl and Egg Bowl, two games that had the biggest impact on the playoff picture. Mississippi State's loss to Ole Miss should knock the Bulldogs out of the top four, and Alabama reasserted itself as the team to beat in the SEC.
Or so it appears. Today.
What if Alabama, Ohio State and TCU all lose next weekend? Is Mississippi State really buried?
The selection committee will release another ranking on Tuesday, and the entire group will meet in Dallas on Friday to watch the final weekend of games together before announcing the final top 25 Dec. 7.
Here's a quick rundown of what the playoff picture looks like in each Power 5 conference heading into championship Saturday:
ACC
Who's left:
Florida State
[+] Enlarge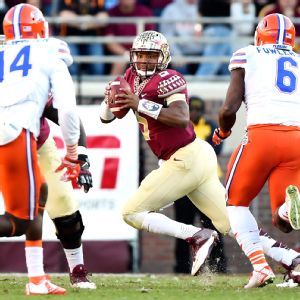 Tommy Gilligan/USA TODAY SportsDo Jameis Winston and Florida State have one more trick up their sleeves?
What's left:
The Seminoles are the only undefeated team left in the country, and they're one win away from a spot in the playoff. FSU will face Georgia Tech in the ACC championship game, and it's not going to be easy. The Yellow Jackets have won five straight games, including Saturday's overtime upset of rival and No. 9-ranked Georgia on the road. If Florida State doesn't win the ACC title, it would likely lose its already precarious position in the top four.
Pac-12
Who's left:
Arizona and Oregon
What's left:
These teams will face each other in the Pac-12 title game, and while Oregon remains the conference favorite, Arizona has been there, won that. The Wildcats handed Oregon its only loss of the season, and they've defeated Oregon in the past two meetings. Should Arizona pull off another upset, the committee would have to determine whether its two-loss résumé is better than any of the remaining one-loss teams. Arizona's weak nonconference schedule (UNLV, UTSA and Nevada) would also be considered, but the Pac-12 champ has a shot -- regardless of which division it hails from.
Big 12
Who's left:
TCU and Baylor
What's left:
K-State at Baylor on Saturday. Yes, TCU still has Iowa State, but the Big 12's season-defining game will be at Baylor. If the Bears can beat K-State, they'll have a similar résumé to TCU's -- not to mention the head-to-head win over the Horned Frogs. If both teams finish with one loss, it should be difficult for the committee to ignore that head-to-head win in the final ranking. With Minnesota losing again and dropping to four losses, TCU's best nonconference win is devalued. Still, it's unlikely Baylor jumps TCU this week, considering the Frogs' dominant win at Texas, while Baylor was fortunate to escape with a win over Texas Tech.
SEC
Who's left:
Alabama and Missouri ... and
maybe
Mississippi State?
What's left:
The SEC title game, and if Alabama loses, the selection committee will have to seriously consider leaving the SEC out of the playoff entirely. It's not the fact that Missouri has two losses, it's to whom Missouri lost (an Indiana team that's won just one Big Ten game) and how it lost to Georgia (at home convincingly in a shutout). The SEC West has gone from having three teams ranked by the selection committee to probably one this week.
With TCU, Baylor and Ohio State waiting on the doorstep, there's no shortage of qualified teams to choose from should Missouri be the last SEC team standing -- unless, of course, all three of those teams lose.
Consider a little carnage. What if TCU, Baylor and Ohio State all lose? Mississippi State's only losses are to Alabama and Ole Miss. It's a stretch, but so is Ohio State playing with its third-string quarterback, and look at 'em now ...
Big Ten
Who's left:
Ohio State and
Cardale Jones
.
What's left:
For Ohio State to prove it's one of the best teams in the country with its third-string quarterback. In one of the most improbable stories of the season, Ohio State is
still
a playoff candidate in spite of losing
two
Heisman hopeful quarterbacks in
Braxton Miller
and his backup,
J.T. Barrett
. Now the spotlight turns to Jones, a redshirt sophomore who has been in for only one play when the Buckeyes weren't leading by at least 21 points (Oct. 25 at Penn State). The selection committee likely won't penalize Ohio State in Tuesday's rankings, leaving the Buckeyes on the bubble around the No. 5 spot. The committee will evaluate what Ohio State looks like in the Big Ten title game without Barrett and then make its decision.
Saban vs. Meyer
BIG TEN SCOREBOARD
Saturday, 12/20
Monday, 12/22
Tuesday, 12/23
Wednesday, 12/24
Friday, 12/26
Saturday, 12/27
Monday, 12/29
Tuesday, 12/30
Wednesday, 12/31
Thursday, 1/1
Friday, 1/2
Saturday, 1/3
Sunday, 1/4
Monday, 1/12