October, 29, 2014
Oct 29
1:00
PM ET
Some Penn State fans have grown a little paranoid this week, after the latest series of bad calls against them. But can you really blame the group? The missed calls against Ohio State weren't isolated incidents; they were part of a pattern. It's systematic! A conspiracy!
Luckily, our equipment -- laptop/TV -- isn't broken, so let's replay Saturday's egregious acts and then break this case wide open. Two minutes into the game, the officials' replay system just so happened to fail when
Christian Hackenberg
threw
a clearly incomplete pass
that was ruled an interception. It didn't help much that the refs insisted they couldn't see the play on their own equipment and weren't allowed to look elsewhere, like, oh, I don't know, up at the TWO NEW GIANT VIDEO BOARDS. Yeah, tough to get a good look when there are two big screens that feature a combined total of 10,285 square feet of video space and show replays in high definition just behind each end zone.
[+] Enlarge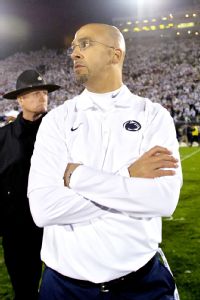 MCT via Getty ImagesPenn State's James Franklin wasn't real pleased with the officiating last Saturday.
Or maybe they could just borrow a smart phone from one of the fans in the front row (maybe the fan could put a jacket over an official so he could feel like he was in a booth) if they felt they needed a closer look.
Innocent mistake or malice?
A quarter later came Ohio State's 49-yard field goal, which was snapped about three seconds
after the play clock expired
. Referee John O'Neill and his crew messed up so many calls that there has to be something more sinister at play. Ohio State needed the win to keep its – and the Big Ten's -- playoff hopes alive. The Buckeyes' game at Michigan State is a playoff elimination game if both enter with just one loss, and can't have Ohio State stumble before that Nov. 8 primetime matchup, right? Naturally, the B1G officials had to protect the B1G. If it takes out Penn State in the process, that's acceptable collateral damage. So, of course, the biggest screw-ups just so happened to go against the Nittany Lions.
Coincidence? Even Dana Scully thinks that's a reach.
O'Neill is the same official who worked the Penn State-Nebraska game in 2012, when the crew ruled tight end Matt Lehman did not cross the goal-line for a score. Here's
visual evidence
to the contrary.
But wait, there's more proof that officials are clearly out to get Penn State. Remember the Penn State-Michigan game earlier this season? How about the Lions' onside kick recovery, when tight end
Jesse James
was ruled offside and the ball was mistakenly given to the Wolverines? Does
THIS
look offside to you?
And just for fun apparently, on Monday, somehow, linebacker
Mike Hull
– easily the best linebacker in the conference – didn't make the list of Butkus semifinalists. Penn State's coaches
didn't hide their feelings
there.
So how do you explain all that?
To quote Joseph Heller, "Just because you're paranoid doesn't mean they aren't after you."
Overreaction of the week:
All this fuss over the College Football Playoff Rankings, and there's still a lot of season left.
No, the committee is not out to get your team. Sure, three SEC teams are currently ranked within the top four. But that really doesn't matter. Seriously. Take a look at where we would've stood at this time last season with the rankings, and you'll see why. After Week 10 in 2013, Michigan State was ranked No. 22 and Auburn was No. 11. But both teams entered the bowl season ranked within the Associated Press' top four.
Oregon and Ohio State were also ranked within those four spots at this time last year -- but finished outside of those four spots following losses late in the season.
In other words, let this serve as a reminder: Rankings can change a lot in a couple weeks and, just because a team's ranked outside the top four, top 10 -- or maybe even the top 20 doesn't mean it's out of the playoff hunt. Six of the committee's top-10 teams will play at least one other top-10 team, after all.
Underreaction of the week:
Why isn't anyone talking about Marshall? Maybe Conference USA should ask for its money back from the PR firm it hired to boost Marshall's profile in the College Football Playoff. Because the undefeated Thundering Herd (8-0) didn't make any noise in the inaugural CFP Rankings.
They're not even ranked.
As was mentioned earlier, teams can move up. Plenty of season is left. But that doesn't quite hold true for a Group of 5 member that doesn't boast a single ranked team on its schedule. It's a bit of a shame, but we just don't know how good Marshall is. Even Marshall's nonconference slate is sickeningly easy, with three MAC teams and an FCS school.
The PR firm, Brener Zwikel & Associates, still has time to boost Marshall's profile. But, since it's not yet ranked, even overtaking No. 23 East Carolina for a contract bowl won't be an easy accomplishment.
Drive Through: Rankings Reaction