Ohio State linebacker Ryan Shazier talks about a 40-20 win over Buffalo to open the season.
With spring in the books for more than a month, the long march through the offseason and back to football is only beginning. But BuckeyeNation is going to keep doing its part to speed up the journey -- or at least make it more interesting.
ESPN Watch List defensive tackle Elisha Shaw (Tucker, Ga./Tucker) did not get to meet with Georgia defensive line coach Rodney Garner when the 6-foot-5, 292-pound standout dropped in on the Bulldogs' junior day on Saturday.
Joey Duckworth (Louisville, Ohio/Louisville) had been to The Horseshoe before, but Saturday's game between Ohio State and the University of Central Florida was beyond expectations.
Ohio State has clout, especially when it comes to drawing big name quarterbacks for unofficial visits.Joey Duckworth (Louisville, Ohio/Louisville) will make his way to Columbus this weekend to watch Ohio State play the University of Central Florida in a noon kickoff.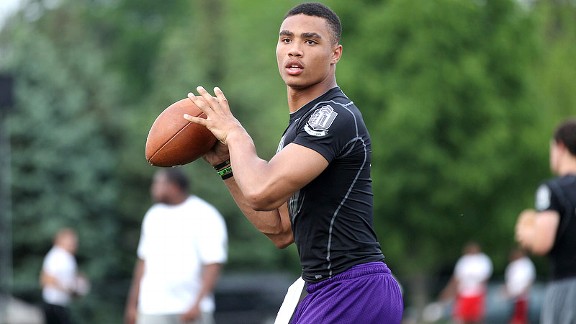 How does a team stop a player who ran for 312 yards and scored three touchdowns against St. Xavier (Ohio)?How does a defense contain the No. 4-ranked pocket passer in the nation and 26th-ranked player in the ESPN 150?