October, 1, 2014
Oct 1
3:00
PM ET
October has arrived, which means Big Ten conference play is in full swing. And that's when the best players step up.
Expect the races for individual awards to be fully shaped in the next few weeks. But we're keeping track of where they stand on a week-to-week basis. We've been looking at the offensive and defensive player of the year races since the start of the season, and with more data in the books, we'll be adding a bonus category from here on out.
Away we go ...
Graham-George Offensive Player of the Year
[+] Enlarge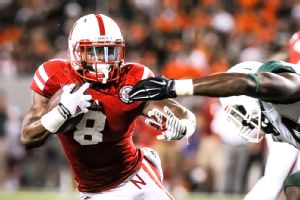 Eric Francis/Getty ImagesNebraska running back Ameer Abdullah has been the best offensive player in the Big Ten so far this season.
1. Nebraska RB Ameer Abdullah
(six first-place votes): Abdullah had another 200-yard day against Illinois as his fantastic season continues. He has run for more than 100 yards in each of the last two years against this week's opponent, Michigan State.
2. Indiana RB Tevin Coleman
: The Hoosiers are incredibly inconsistent, but Coleman is not. He leads the FBS in rushing at 172.8 yards per game.
3. Michigan State QB Connor Cook
: He was able to hit the showers early again against Wyoming, but Cook leads the Big Ten and is No. 3 nationally in pass efficiency while completing better than 69 percent of his throws.
4. Wisconsin RB Melvin Gordon
: After a slow first half against South Florida, Gordon came out firing in the second half for another big performance. He's on pace for more than 1,900 yards this season.
5. Minnesota RB David Cobb
: Our panel all agreed on the top five offensive candidates right now, though in different orders. Cobb has a strong argument for player of the year consideration because he's basically carrying the Gophers' offense. His 124 carries are the most in the FBS, and he's making the most of them.
Nagurski-Woodson Defensive Player of the Year
1. Ohio State DE Joey Bosa
(five first-place votes): Bosa takes over first place this week thanks to his playmaking ways. He has forced three fumbles this season, all of which have led to Buckeyes touchdowns.
2. Maryland CB William Likely
(one first-place vote): Likely may not be very tall, but he makes big plays. He leads the Big Ten in interceptions with three, including a pick-six.
3. Penn State DT Anthony Zettel
: The Nittany Lions interior disruptor drops a couple spots after his team lost to Northwestern. But he's still having a heck of a season, with seven tackles for loss.
4. Nebraska DE Randy Gregory
: Welcome back, Mr. Gregory. He was all over the field against Illinois, and after missing some time with injury he now leads the league in sacks per game.
5. Wisconsin LB Derek Landisch
: He leads the Big Ten in tackles for loss per game, and Badgers coach Gary Andersen said Tuesday that Landisch has been the best player on what is the best statistical defense in the conference right now.
Also receiving votes
: Minnesota LB
Damien Wilson
; Minnesota CB
Briean Boddy-Calhoun
; Penn State LB
Mike Hull
; Iowa DE
Drew Ott
Thompson–Randle El Freshman of the Year
1. Ohio State QB J.T. Barrett
(three first-place votes): Braxton who? OK, let's not go that far. But guess who leads the Big Ten in total offense? It's the Buckeyes redshirt freshman, who just keeps getting better.
2. Penn State WR DaeSean Hamilton
(three first-place votes): There were questions about who would catch the ball for the Nittany Lions this season, and Hamilton has provided a nice answer. The redshirt freshman leads the conference in total receiving yards (502) and receptions (36) and is well on pace for a 1,000-yard season.
3. Rutgers DE Kemoko Turay
: He's basically a pass-rushing specialist, but his specialty sure is, uh, special. Turay has five sacks already this season, tops in the Big Ten and more than all but seven players in the FBS.
October, 1, 2014
Oct 1
2:00
PM ET
COLUMBUS, Ohio -- Four plays haven't changed anything for Urban Meyer, but they certainly got his attention.
The Ohio State coach hasn't lost any faith in the players he has recruited, the coaches he hired or the system he had installed to fix a broken pass defense. But a handful of busted coverages and lost individual battles Saturday against Cincinnati at least concerned Meyer enough that he had to spend part of his Sunday grading the defense himself.
Meyer came away still convinced the plan in place and the personnel on hand is capable of reaching a championship level. But there's no question it wasn't there yet last weekend, which might be a troubling sign with another set of dangerous wide receivers waiting for the No. 20 Buckeyes this Saturday at Maryland.
"I hear someone say just take away those four plays," Meyer said. "You can't just take away those four plays. That's part of the game. ... We played a very good throwing offense and we had four really bad plays that we have to get corrected -- have to get corrected.
"I'm satisfied with the direction we're going. We've just got to get them corrected."
The Buckeyes don't have any time to waste making those corrections with
Stefon Diggs
and
Deon Long
on deck this weekend, and Meyer hasn't really bothered to hide his disappointment coming out of a game he touted as the first real test for a rebuilt, revamped secondary.
Twice already he's publicly gone through the details of the four critical mistakes that produced
four touchdowns and 240 yards through the air
, in the process making it clear just how closely he was inspecting the film and searching for answers after Ohio State had worked so diligently to correct the issues that essentially cost it a shot at the national championship last season.
There was a one-on-one battle safety
Vonn Bell
couldn't win despite tight coverage. A missed assignment against a screen pass. The coaching staff was on the hook for dialing up a coverage Meyer didn't appear to be a big fan of just before halftime. And finally, perhaps a momentary lapse in technique and recognition that led to one more deep strike that at least for a moment turned a blowout into a tight 33-28 battle with the Bearcats.
There are elements of risk with the more aggressive schemes the Buckeyes have installed this season, increasing the amount of press coverage, attacking quarterbacks with different blitzes and challenging players across the board to win individual matchups. The gambles aren't always going to pay off, but Ohio State is well aware it can't afford to go bust as often as it did last Saturday if the Buckeyes are going to climb back into contention for the College Football Playoff.
"I think that's what we're going to put on our shoulders as coaches," defensive coordinator Luke Fickell said. "We want our guys to have confidence in what they're doing. I told them and we're going to keep repeating it: I'd rather bet on myself, I'd rather bet on my guys and put them in position to go ahead and know that we have confidence in them, that we don't have to make wholesale changes and knee-jerk and do some things.
"There are some things we can do better, but we're still going to bet on ourselves."
In turn, Meyer is going to keep backing some of the most decorated recruits in the country at cornerback and safety. He may spend a little extra time watching the defense and offering a bit more input, but he trusts the staff to get the job done. And he's definitely not planning to scrap the vision he has for his defense in favor of a conservative, bend-but-try-not-to-break defense.
And if the pieces are truly all in place, the message is pretty clear.
"When you do what we do, you're going to put yourself in one-on-one battles," co-defensive coordinator Chris Ash said. "We've got to win some of them."
The alternative is going flat broke.
October, 1, 2014
Oct 1
10:58
AM ET
ESPN.com news services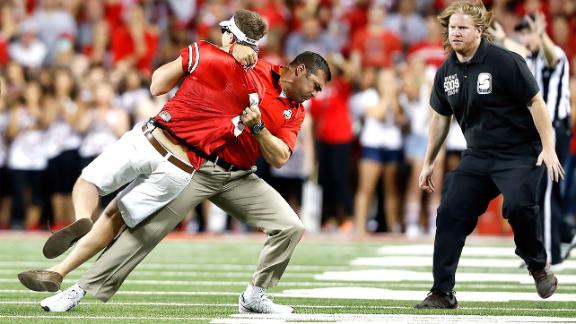 COLUMBUS, Ohio -- A student who ran onto the field during an Ohio State football game and was body-slammed by a coach is in danger of losing his scholarship amid his court case.
Defense attorney Mark Collins says officials Tuesday started removing 21-year-old Anthony Wunder from the Evans Scholars program, which covers tuition and housing for former golf caddies.
The sponsoring Western Golf Association, however, released a statement later in the day saying Wunder's Evans Scholars activities have been suspended but he remains on scholarship pending the outcome of its internal investigation.
"We are disappointed in Mr. Wunder's actions," the statement read.
The fourth-year engineering student is charged with misdemeanor criminal trespassing. His attorney entered a not guilty plea in Franklin County Municipal Court.
Wunder was stopped and slammed down by an assistant strength and conditioning coach Saturday during Ohio State's home victory over Cincinnati. The coach, Anthony Schlegel, is a former Buckeyes linebacker.
The hit has been a sensation on social media.
Coach Urban Meyer said he had a somewhat serious conversation with Schlegel about the hit.
"I appreciated him protecting our players," Meyer told reporters earlier this week. "[But] I'd rather him not have a lawsuit if something bad would happen, you drill a guy like that.
"So we had a partial-serious conversation. And we also gave him a 'Hit City' award, our team, and had a little fun with it, too."
Collins told The Columbus Dispatch that Wunder is doing well.
"He's working and focusing on day-to-day stuff and letting me handle this [legal] stuff," Collins said.
The attorney wouldn't say why Wunder ran onto the field or whether Schlegel's tackle was too hard.
October, 1, 2014
Oct 1
10:20
AM ET
It's already October, and some teams will reach the halfway point of their schedules by the end of the weekend. Time flies when you're having fun or protesting to oust your athletic director.
Michigan remains on the front page, rather than the sports page, for the way it handled quarterback Shane Morris' concussion and the hit's aftermath. Students and alumni marched to the university president's house to ask that athletic director Dave Brandon be removed from his post. The biggest authority figures on campus doled out written statements Tuesday, leaving head coach Brady Hoke and his players to answer all the questions that follow. A member of Congress got involved, but the Big Ten said it won't penalize Michigan for failing to follow the conference's head injury protocol. This is growing into a problem that doesn't appear will wash away with the next news cycle.

[+] Enlarge

Eric Francis/Getty ImagesNebraska's Ameer Abdullah is getting plenty of Heisman Trophy consideration already.

Ameer Abdullah sprinted forward in the Heisman Trophy chase this week after churning out another 200-yard performance Saturday against Illinois. The Alabama native is now behind only Oregon quarterback Marcus Mariota and Georgia running back Todd Gurley, according to the oddsmakers in Vegas. Abdullah jumped from a 25-1 candidate to a 9-1 candidate in a week. He could launch himself into the frontrunner spot with another standout performance and a victory over Michigan State in East Lansing this Saturday.

It's been a good start to the week for second-string quarterbacks around the Big Ten. Iowa announced its former backup, C.J. Beathard, will split time with Jake Rudock in a platoon system moving forward. Maryland's Caleb Rowe received a big vote of confidence from his head coach while challenging C.J. Brown for playing time. And lastly, Wisconsin veteran Joel Stave, who began the season with 19 career starts, has battled through the mental block that kept him on the sideline during September.
Read about all those quarterback happenings and more, in this morning's edition of the links:
East Division
West Division
September, 30, 2014
Sep 30
10:43
PM ET
September, 30, 2014
Sep 30
4:00
PM ET
Brady Hoke's call was a focus this week, as he spoke for the first time since the
12:52 a.m. Tuesday news release
regarding student-athlete welfare. We offered a brief overview there but, as always, we included highlights throughout the conference.
By the way, if you're not following us, what are you waiting for? Follow along at
@ESPNRittenberg, @BennettESPN, @ESPNJoshMoyer, @DanMurphyESPN, @MitchSherman and @AWardESPN.
Hoke says he won't add anything to Brandon's statement today. "I feel bad for Shane."

— Dan Murphy (@DanMurphyESPN) September 30, 2014
Hoke says "we'll see" about Morris playing Saturday at Rutgers. At this point, I see no good reason why Michigan would play him.

— Brian Bennett (@BennettESPN) September 30, 2014
Brady Hoke: "The statement is out there, and it is what it is." That really cleared things up. Bizarre teleconference.

— Austin Ward (@AWardESPN) September 30, 2014
Pelini says there's no coach in the B1G who would trot out someone on the field who's "dinged." "Anyone who would imply otherwise is wrong"

— Josh Moyer (@ESPNJoshMoyer) September 30, 2014
Gary Andersen notes there's not a player on Wisconsin roster that has played in Evanston. Calls Northwestern "a new venue" for Badgers.

— Brian Bennett (@BennettESPN) September 30, 2014
"I don't think we have a talent problem. I think we have some young corners that need to play better." Urban Meyer on his secondary

— Austin Ward (@AWardESPN) September 30, 2014
Dantonio notes SR DE Marcus Rush in line to have most career starts in Michigan State history. Still one of most underrated guys in B1G.

— Brian Bennett (@BennettESPN) September 30, 2014
Minnesota's Jerry Kill: "The ceiling for our whole team is that we can get a lot better." If so, Gophers will be a contender in the West.

— Mitch Sherman (@mitchsherman) September 30, 2014
Franklin: "It's not like a whole lot of things popped up on Saturday that we haven't been writing stories about all year long."

— Brian Bennett (@BennettESPN) September 30, 2014
September, 30, 2014
Sep 30
12:00
PM ET
COLUMBUS, Ohio -- The physical difference is plain to see.
The height is the same, but
Ezekiel Elliott
is about 20 pounds lighter than the guy who came before him.
The unique mentality requires a bit more of an explanation.
[+] Enlarge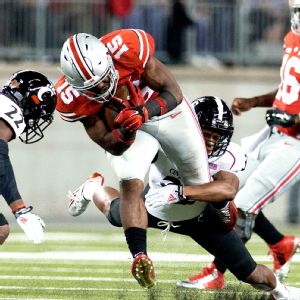 Greg Bartram/USA TODAY SportsEzekiel Elliott has proven to be a worthy heir to Ohio State running back Carlos Hyde.
Ohio State's current starting running back is the first to admit he'd prefer to make tacklers miss and get to the perimeter, while his predecessor thrived on contact and seemed to go out of his way to bowl over defenders.
The offensive system isn't even exactly the same now, either, with the Buckeyes dialing up the tempo to unprecedented levels and rotating through their personnel at the skill positions instead of largely relying on two main guys to carry the load.
But for all the ways he might not fit the mold Carlos Hyde left behind, it looks clear that the two share at least one key trait after Elliott tallied 112 yards after contact last week in a performance that would have made his old mentor proud.
"Well, yeah, I'm not as big of a back as Carlos," Elliott said. "I can't take as many hits as him. He's more of a bruiser-type back, and I have a little more finesse to me.
"But just being a running back, you've got to be tough. You have to have some bruise to you."
Elliott might not pack quite the same punch, but Cincinnati certainly left Ohio Stadium black and blue last weekend after the sophomore relentlessly pounded away at its defense. He unofficially announced himself as a worthy heir to Hyde in the backfield.
He also showed the same ability to handle a healthy workload while appearing to gain strength as a game goes on. Elliott wore down the Bearcats with his 28 carries for 182 yards while adding 51 more on 5 catches. The record-setting outing with 45 first downs and 710 yards was sparked largely by Elliott and the rushing attack, a throwback to last season ago when
Braxton Miller
was teaming with Hyde and posting eye-popping statistics at nearly every turn.
That explosive dynamic was notably absent during the Week 2 loss to Virginia Tech, with redshirt freshman quarterback
J.T. Barrett
and Elliott struggling to make an impact. The defeat put Ohio State's playoff candidacy on the ropes quickly. Elliott finished with just 32 yards on 8 carries against the Hokies, and there certainly wasn't much happening after contact in that game.
But like seemingly everybody else on an inexperienced offense, the improvement every week has been pretty evident as Elliott grows more comfortable with his role and responsibilities. The Buckeyes figure to only grow more dangerous as a result.
"On Saturday, he did the job you would want a Carlos Hyde to do," co-offensive coordinator Ed Warinner said. "But he's a different runner than Carlos. He's playing with very low pad level, he plays with great energy, he's explosive and he finishes runs with great pad level. He doesn't want to make direct contact. He wants to edge defenders, which always allows you to finish runs and come out the other end.
"He's developed, and here we go starting to show that on the field."
Against the Bearcats, Elliot left a lot of defenders having to pick themselves back up while he kept moving down the field.
That's been a familiar sight for Ohio State opponents over the last few seasons. While the guy doing it now has a different method, it's already shaping up to be just as effective.
"That's definitely one of our core values in the running back room," Elliott said. "Get those yards after contact, fight with that extra effort.
"You can't just be all outside, you know? You've got to have a downhill aspect to you."
After a bit of a slow start, Elliott has the ball rolling that way now and Ohio State is building momentum again in the process.
September, 30, 2014
Sep 30
11:45
AM ET
There'll be no quarterback controversy in Columbus next season.
Ohio State coach Urban Meyer addressed reporters Monday and expressed his commitment to
Braxton Miller
, who still plans to return for a final season. So, no matter how well
J.T. Barrett
performs,
Miller is the clear starter in 2015
.
Is that a surprise? Not at all. It's a no-brainer. Miller was on pace for an unprecedented third Big Ten offensive-player-of-the-year award. And, while Barrett has shown flashes this season, he still has a long way to go before fans start forgetting about the quarterback who twice finished within the top-10 of the Heisman voting.
If anything, it's a smart move by Meyer to get out ahead of any foreseeable controversy. Barrett is progressing every week, and this pre-emptive statement should put to rest any future murmurs on the subject. The fact is, even at Barrett's best, he's still no Braxton Miller. And even he knows that.
"I'm not Braxton," Barrett said matter-of-factly back in August. "I'm J.T."
That being said, the redshirt freshman is still on pace for a solid season. He's thrown for 1,087 yards -- along with 13 TDs to five INTs -- and only Illinois'
Wes Lunt
and Penn State's
Christian Hackenberg
have passed for more yards per game. Sure, he's padded his stats against some suspect defenses like Kent State. But he's only going to get better.
As long as Miller remains a part of the Buckeyes, this will always will be his team. Meyer's statement just reinforced that. Miller was always expected to be the starter next season. But, on the bright side, Barrett has shown he'll make for one capable backup in 2015.
September, 30, 2014
Sep 30
10:00
AM ET
Nebraska and Ohio State had outstanding weekends both on the field and with their recruiting efforts. The Big Ten saw a few commitments, offers and some turmoil over the weekend, so here is the conference recap to get you caught up.


September, 30, 2014
Sep 30
8:00
AM ET
It's Week 6 already, so we have some catching up to do. Here are some notes and observations before we get to the links:
1. Michigan recruiting backlash.
With all the Brady Hoke talk and the loss to Minnesota, you knew it was only a matter of time before something like this happened. Michigan commit and ESPN 300 tight end
Chris Clark
tweeted Sunday -- since deleted -- that if Hoke is fired then
"that changes everything."
He likely just said what other recruits are thinking, and it'd be na´ve to think opposing coaches aren't going to exacerbate the situation by trying to use Hoke's lack of job security against Michigan. Recruiting could wind up being an uphill battle the rest of the season, despite the Wolverines' No. 19 ranking. They currently have 11 commits, and Clark is the highest-rated one.
2. Offensive line woes.
Penn State offensive line coach Herb Hand has taken up the practice this season of tweeting out highlights of his Nittany Lions on Sundays. He doesn't do it every week, but he does it most of the time. Needless to say, he skipped the exercise this weekend -- but it's difficult to blame him. There were few highlights Saturday against Northwestern, and the clip of his linemen that most stuck out involved one of his offensive guards
inadvertently blocking a teammate
. Hand is a good coach, but he doesn't have depth or experience to work with here. He took the blame for Saturday's disastrous performance, but it's clearly not his fault. This is a young offensive line and, quite frankly, it just doesn't have much talent right now.
3. David Cobb's importance cannot be understated.
The Minnesota running back has accounted for slightly more than 47 percent of the Gophers' offense. Not just rushing offense, mind you -- entire offense. That means he's a bigger part of the offense than
Ameer Abdullah
at Nebraska,
Melvin Gordon
at Wisconsin and
Tevin Coleman
at Indiana. Cobb has 722 rushing yards (5.8 ypc) and four TDs so far this season. He's worth watching.
Now, on to the links:
East Division
West Division
September, 30, 2014
Sep 30
7:38
AM ET
ESPN.com news services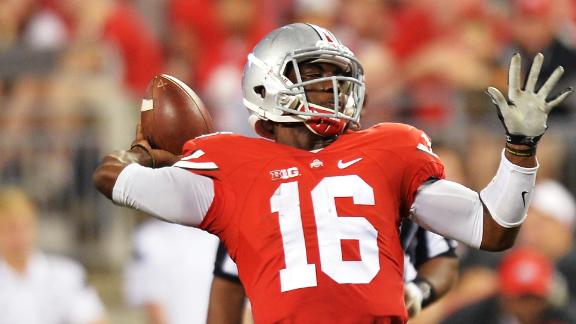 No matter how well freshman J.T. Barrett performs this season, Ohio State coach Urban Meyer made it perfectly clear Monday that Braxton Miller will be his starting quarterback in 2015.
"Braxton is our quarterback," Meyer told reporters. "To be fair to Braxton, Big Ten Player of the Year. But it's good to know we've got both of them."
Miller, the two-time defending Big Ten Offensive Player of the Year, had season-ending surgery for a torn labrum Aug. 26. He still was voted a captain by the Buckeyes' players and is a presence on the sideline during games.
Barrett has guided the No. 20 Buckeyes to a 3-1 mark this season, completing 63.6 percent of his passes for 1,087 yards and 13 touchdowns to go with five interceptions. He also has rushed for 205 yards and a score.
Miller, who threw for 4,133 yards and 39 touchdowns over the previous two seasons, has continued to say that he will return to Ohio State next season.
"I love Ohio State and Buckeye Nation, and my goal is to come back from this injury stronger and better than ever," Miller said in August. "I am on course to graduate in December and I want to attend graduate school, and then return to lead the Buckeyes next season."
September, 29, 2014
Sep 29
5:00
PM ET
After a bit of an extended break from the mailbag, it's time for what I hope is a long-awaited return to the format. Even if it isn't, I'm here anyway. Thanks for all the questions this week as the conference season heats up and the Big Ten race really starts to take shape.
Let's dive in.
@AWardESPN Is the trio of Abdullah, Gordon, and Cobb the best stable of RB's the Big Ten has had in quite some time?

— Matthew Krier (@matthewkrier) September 29, 2014
Austin Ward:
While the rest of the nation seems intent on installing the spread and airing the football out, there's really no reason for the Big Ten to stray from its traditional reliance on running backs to carry the load this season because it is absolutely loaded at that position from top to bottom, with
Ameer Abdullah
,
Melvin Gordon
and
David Cobb
. It's not just those three tailbacks that make for such an impressive stable, because that doesn't include Indiana's
Tevin Coleman
or Michigan State's
Jeremy Langford
, just for starters. As for some historical perspective, I think it's probably the best group at the top since 2002 when Larry Johnson led the league in yardage at Penn State with Wisconsin's Anthony Davis behind him and Maurice Clarett making his splash at Ohio State. But even then, I don't think there was nearly as much depth in the league at tailback as there is now.
@AWardESPN Who's going to have the better game Saturday? Huskers DE Randy Gregory or Spartans DE Shilique Calhoun?

— BlackFlash41Reverse (@Black41Reverse) September 29, 2014
Austin Ward:
It's taken some time for
Randy Gregory
to get rolling, but now that he appears to be setting in, opposing quarterbacks better get used to seeing him in the backfield. After dealing with a knee injury that slowed him down early, Gregory has 4.5 sacks in the past two games, and Nebraska will definitely need him to make an impact against a Michigan State offense that is gaining confidence every week.
Shilique Calhoun
hasn't yet had his true breakout game with just 2 sacks at this point, although he was probably only really needed in the loss at Oregon. Taking nothing away from Gregory, I anticipate Calhoun will be highly motivated to deliver against Nebraska to keep his team in the playoff chase -- and to put himself back in contention for defensive player of the year.
@AWardESPN if game were to b rematched, would OSU handle VT better if VT played same way?

— Matt Pacholski (@Mpachol) September 29, 2014
@AWardESPN I know this question is moot, but in your opinion, of OSU played VT again...outcome?

— Robbie Hendricks (@roberthendricks) September 29, 2014
Austin Ward:
The Ohio State coaching staff was still referencing the unique defensive scheme the Hokies threw at them in Week 2 as recently as this afternoon. But as recent opponents have tried to duplicate that game plan, the Buckeyes have two critical things working in their favor now -- "Bear-beater" plays they've installed and a quarterback and offensive line with more experience to operate them and adjust on the field. It seemed pretty clear the schedule wasn't going to work in Ohio State's favor with the offense opening with tough, well-coached opponents such as Navy and Virginia Tech instead of easing in new faces with warmups such as Kent State and, to a lesser extent, Cincinnati. With
J.T. Barrett
and his group of blockers showing signs of significant progress every week, it's fair to wonder if things would be different if the Hokies had been on the schedule last week, and my guess is they would have been. I also don't think a few of those fluky plays
Michael Brewer
pulled off at quarterback would have gone Virginia Tech's way again, but in the end it doesn't matter. The loss isn't going away, and if Ohio State continues to build and improve each week, it could still wind up back in the playoff mix.
@AWardESPN For the B1G playoff hopes, what would be better, Neb staying undefeated, or MSU winning as thats everyone's only hope for B1G?

— Wesley Demke (@WesleyDemke) September 29, 2014
Austin Ward:
This is a tricky one, because it would seem logical having an undefeated team as long as possible would be best for the Big Ten. But in this instance, maybe it wouldn't be if the Spartans suddenly found themselves out of contention for the four-team field with a second loss in the first weekend in October. The general consensus is the Spartans are the most talented team in the conference, and they could still win the league, even with a loss to the Huskers. But they almost certainly wouldn't be in the College Football Playoff. Nebraska, too, could go on to win the league without a perfect regular season, and there's a chance that if it was a one-loss league champ with it's only defeat coming on the road against Michigan State, it could make a case that it deserved a crack at the national championship as well. So, in this case, it may actually be better in the long run for the Big Ten if the Spartans defend their home turf on Saturday, potentially leaving two teams alive for the national championship instead of eliminating one for good.
September, 29, 2014
Sep 29
12:00
PM ET
Welcome to the Big Ten time machine. Watch your step and hop aboard. Sorry, Mr. Slive, no standby today. Every seat is taken.
Passenger Delany in seat 1A, please stop ringing your call button. I told you we can't go back to Nov. 18, 2006. Yes, yes, I realize that is when the Big Ten sat atop the college football world with its two most recognizable programs ranked 1 and 2. I know you would give it all up -- the money, BTN's success, the expansion moves -- to relive that magical day in Columbus. Not happening, pal. Here is another bag of peanuts.
Our destination is the more recent past, although for some it feels like a long time ago. We are rewinding exactly one year to
Sept. 29, 2013
.
Here we go
!
[+] Enlarge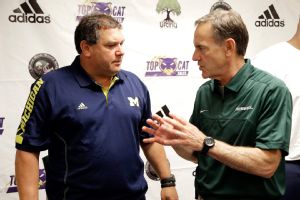 AP Photo/Paul SancyaMichigan coach Brady Hoke, left, and Michigan State's Mark Dantonio have seen their programs head in different directions since last September.
Meet the
Michigan State Spartans
. They are 3-1 and unranked after a 17-13 loss to Notre Dame. The defeat reaffirmed that the offense, which sputtered throughout 2012, isn't getting better. Quarterback
Connor Cook
, replaced late in the Notre Dame game,
tells reporters,
"I would have wished that the coaches had faith in me to keep me in there." The Spartans are preparing for their Big Ten opener at Iowa, and few expect much to change with the quarterback situation or the passing game.
Now meet the
Michigan Wolverines
. They are 4-0 and ranked No. 19. They have just had two shaky wins against inferior opponents (Akron and Connecticut), but they previously beat Notre Dame 41-30 behind quarterback
Devin Gardner
, who put up the ninth-best single-game yards total (376) in team history. They are a rising program under third-year coach Brady Hoke with tremendous momentum on the recruiting trail. The growing feeling is that the Big Ten soon will revert to the Big Two (Ohio State and Michigan) and everyone else.
Speaking of those Buckeyes, they have yet to lose a game under second-year coach Urban Meyer. Yesterday, quarterback
Braxton Miller
returned from injury to spark Ohio State to a 31-24 win against Wisconsin. The fourth-ranked Buckeyes are loaded at quarterback with Miller and beloved backup Kenny Guiton. Their first Big Ten title since 2009 seems likely, and they could be headed for the BCS title game.
And here we have Maryland and Rutgers. They are still nine months away from becoming official Big Ten members, but most Big Ten fans wish their arrival date could be pushed to, you know, never. Maryland is 4-0 and ranked No. 25 and Rutgers is 3-1 after a win against Bret Bielema's
Arkansas Razorbacks
, but few expect either team to truly boost the Big Ten. Legends and Leaders had a stronger approval rating than these two.
OK, now we're heading back to the present.
Aaaand ...
we're back.
It's only been a year, but the Big Ten landscape has dramatically shifted, particularly in the state of Michigan.
Since Sept. 29, 2013, Michigan State is 13-1 with a Big Ten championship and a Rose Bowl championship. The Spartans have outscored their opponents 497-223. Cook has thrown 26 touchdowns against eight interceptions. MSU's lone loss came in a place (Oregon's Autzen Stadium) where most suffer the same fate. Mark Dantonio is considered one of the nation's premier coaches, and his team remains alive for the inaugural College Football Playoff.
Fifty miles away, the Michigan program is in utter disarray. The Wolverines are 2-3. They ended the Notre Dame series by suffering their first shutout since 1984. They failed to score an offensive touchdown against Utah. They suffered their largest home loss to Minnesota (30-14) since 1962. Hoke has lost eight of his past 11 games but said after the Minnesota game that he still thinks Michigan can win the Big Ten. Um ...
(Just a reminder: there's no smoking of anything in the Big Ten time machine.)
If losing isn't bad enough, Hoke faces more heat for leaving quarterback
Shane Morris
in the game despite
Morris wobbling after absorbing a helmet-to-helmet hit
. Perhaps the only Michigan employee less popular than Hoke right now is his boss, athletic director Dave Brandon, whose department was mocked following last week's Coca-Cola/free tickets fiasco.
Things aren't nearly as bleak in Columbus, but Ohio State isn't the juggernaut it was a year ago. The Buckeyes haven't beaten a Power 5 team since Michigan in The Game last November. Miller is out for the season with a shoulder injury. The secondary remains vulnerable. Young quarterback
J.T. Barrett
is improving, but struggled against the only top-90 defense he has faced so far (Virginia Tech).
Maryland and Rutgers, meanwhile, are a combined 8-2, each with a 3-point loss as the lone setback. The Terrapins lead the East Division, and Rutgers looks much improved on both sides of the ball. The Big Ten hasn't had many bright spots this season, but Maryland and Rutgers are two of them.
"College football," Dantonio said, "is such a changing landscape."
Expect the unexpected, especially in the Big Ten. The past year in this league shows that the only guarantee is that the future won't resemble the present.
Perhaps there is hope for Michigan. Michigan State, meanwhile, can't get complacent. No one knows what the coming weeks will bring.
"We still have things to prove," Dantonio said. "Our reputation right now is built off of last year's success. It starts here.
"We have to play in the present."
College Football Minute