Oregon Ducks:

Steve Sarkisian
January, 21, 2013
Jan 21
11:15
AM PT
Just about everyone inside the Oregon program has faith in Mark Helfrich, believes he can keep the Ducks among the nation's elite after he was promoted from offensive coordinator to head coach, replacing Chip Kelly.
After all, that's what Oregon did when Rich Brooks, the grandfather of the Ducks' national relevance, handed off to Mike Bellotti and when Bellotti handed off to Kelly. Helfrich is the third consecutive sitting offensive coordinator to be promoted, and the formula has yet to let the school down.
[+] Enlarge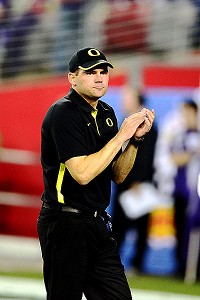 Mark J. Rebilas/USA TODAY SportsA major key to Mark Helfrich being promoted from offensive coordinator to head coach at Oregon -- system continuity.
For about a year, Helfrich was widely known as the heir-apparent to Kelly, and it was widely thought he'd ascend sooner rather than later after Kelly's flirtation with the Tampa Bay Buccaneers last year.
The profiles have mostly been written -- he's an Oregon guy through and through, a state native and a son of a former Duck. He's a lighter touch than Kelly. He's smart. His specialty is quarterbacks. He'll provide system continuity. And he'll retain most of the staff, one that is considered among the nation's best.
But now belief yields to actual day-to-day business results. Speculation will be replaced by performance: The signing of a recruiting class on Feb. 6. Spring practices. His first disciplinary issues. Deciding who calls plays.
Games.
The good news is he doesn't face the difficult career opener Kelly did, that regrettable evening at Boise State. Recall that shortly after that humiliating defeat and LeGarrette Blount meltdown, there was a sense of panic among some fans that Kelly was in over his head. Fair to say he wasn't.
Helfrich gets Nicholls State, then a Nevada team breaking in a new coach and a Tennessee squad doing the same. His Pac-12 opener and road debut is at Colorado. So the odds are high that he and the Ducks will be 4-0 and ranked in the top 5 -- top 3? -- when they head to Seattle to play their good friends, the Washington Huskies, in renovated Husky Stadium on Oct. 12.
Now, I don't want to blow you guys away with my local knowledge, but there could be some emotions surrounding that one. Washington looks like it has the personnel in place to make a move in Year 5 under Steve Sarkisian. Beating Oregon at home would feel transformative to Huskies fans. And to Ducks fans, though they will surely harrumph the notion.
The reality for Helfrich is one that no other Ducks coach faced before: Three losses is a bad season. Failing to win the Pac-12 is a disappointment. And Ducks fans are ready for their national title, if you please, Mark.
Helfrich now moves into the corner office in the Moshofsky Center. It's a big space to fill. No man has sat there who did any better than Kelly.
We suspect it will mostly be business as usual. But you only know when you know. Further, the true measure won't come in 2013. We'll only have a good idea of the Helfrich era if three or four years from now the Ducks remain atop the Pac-12 and ranked in the top 10.
Some links:
October, 29, 2012
10/29/12
8:45
AM PT
If you don't like where you are in the power rankings, play better.
See
last week's power rankings here
.
This feels like an odd one.
1.
Oregon
: The Ducks showed seemingly effortless brilliance in a dominant victory over Colorado, but it wasn't a good weekend for the Ducks. They don't want the distance between themselves and everyone else to appear this vast. They want the conference to look strong, top to bottom. Losses by USC and Oregon State dinged the Ducks' BCS standing in terms of potential strength of schedule ratings down the road. And Kansas State and Notre Dame both posted impressive wins.
2.
Oregon State
: Picking the No. 2 team here wasn't easy. Stanford was considered, but the Cardinal barely slipped by Washington State at home. And the Beavers still have only one loss. The power rankings looks more at the short term, but the big picture keeps the Beavers here. By a thread. It feels like the visit from Arizona State will be a tester, particularly when there are now quarterback questions.
3.
Stanford
: The Cardinal muddled through a win against Washington State. They very well may muddle through a visit to Colorado on Saturday. The visit from Oregon State on Nov. 10 will begin a home stretch that will reveal just who Stanford is in 2012 (at Oregon on Nov. 17, at UCLA on Nov. 24).
4
. Arizona
:
Matt Scott
and Rich Rodriguez are making beautiful music together, but somebody needs to tip their cap to Wildcats defensive coordinator Jeff Casteel. He's put together an opportunistic defense that just finds a way to do well with some questionable parts. Sure, USC had huge numbers. But the Wildcats also got stops that proved critical.
5.
USC
: The idea that the Trojans would fall into the middle of the Pac-12 power rankings never occurred to the Pac-12 blog in the preseason. What's notable is the sloppiness: turnovers and penalties. Sure, other teams have penalties. But the Trojans seem to get lots of penalties of choice -- personal fouls, taunting, lining up wrong.
6.
Washington
: There are two Huskies teams. The one that plays at home is worthy of a national ranking. The one that plays on the road is worthy of mockery. The next step for coach Steve Sarkisian is to make the Huskies into a team that plays like it's at home even when it's not. Up next is a Friday visit to flagging California.
7.
UCLA
: The win at Arizona State -- a clutch comeback one, no less -- feels like a potential corner-turner for the Bruins. Recall the horrid performance at California? That brought up some old UCLA bugaboos about road games. This win canceled those out nicely. Let's ask it ... maybe Jim Mora is the guy to actually end the football monopoly in L.A. Of course, the visit from Arizona on Saturday will provide a huge measuring stick in the South Division. The Bruins control their own destiny. If they win out, they go to the Pac-12 title game.
8.
Arizona State
: The schedule is getting tougher, and the Sun Devils are taking some hits. There was plenty of good to take away from the 45-43 loss to UCLA, but not so much on the defensive side of the ball. The Sun Devils could quickly right things if they can win at Oregon State.
9.
Utah
: Hard to say whether the blowout win over California was about the Utes finding their mojo after another 0-4 Pac-12 start -- just like last year -- or whether it was just a Cal team waving the white flag on its season. Maybe a little of both. But if the Utes can hold serve at home against Washington State, they will need to win just two of their final three to become bowl eligible. And one of those games is with Colorado.
10.
Washington State
: The Cougars were close at Stanford, but isn't being close what we sorta celebrated last year? The good news is how much better the defense is playing. The bad news is ... 10 sacks surrendered. And you got to see just how tough QB
Jeff Tuel
is. Getting hit that much and still playing well, passing for 401 yards and two touchdowns with no help from a running game.
11.
California
: Hey, Cal? Are you quitting on yourselves and coach Jeff Tedford? The performance at Utah suggests so.
12.
Colorado
: There is some good news. There are only four more games this season.
October, 7, 2012
10/07/12
1:13
AM PT
EUGENE, Ore. -- There was just a smidgeon of tension late in Chip Kelly's post-game news conference after Oregon whipped Washington
52-21
. Reporters tried to draw out an iota of special emotion from Kelly in reaction to a ninth consecutive victory -- each by at least 17 points -- over the Ducks' archrival, but Kelly wasn't biting.
Kelly has repeatedly told reporters that every game is the same, meriting the same complete commitment to preparation and focus. This has devolved into the "every game is a rivalry game" quip from him to all questions on the Ducks' heated and historical rivalries.
"You can shrug your shoulders but, I'll tell you what, our formula for success has worked every single time," Kelly said. "Every single game is the most important game we play."
Kelly did admit such an approach wasn't good for reporters' copy. And you could, perhaps, quibble with his refusal to at least humor on occasion the feelings his fan base hold for the Huskies, such as not announcing that Washington coach "Steve Sarkisian is a good friend of mine," the very idea of which will make some Oregon fans cringe.
But you can't argue with the results. On a day when No. 3 Florida State, No. 4 LSU and No. 5 Georgia crashed and burned, the Ducks made another ranked foe look like a Pinto trying to keep up with a Lamborghini. They further solidified their standing as the nation's No. 2 team, which puts them in position to play for the national title for a second time in three seasons.
[+] Enlarge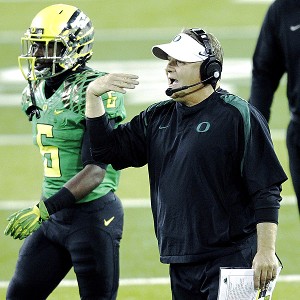 AP Photo/Don RyanOregon coach Chip Kelly reached 40 wins faster than the likes of Bear Bryant and Bobby Bowden.
The simple fact is this: Though we've only reached midseason, Oregon already has distinguished itself among its Pac-12 brethren. Only the Ducks and Oregon State remain unbeaten. Oregon dispatched Arizona 49-0, a team that pushed the Beavers and Stanford to the limit in thrilling games. And Oregon now has whipped Washington, which beat Stanford. And Stanford beat USC.
Yes, the Pac-12 blog is on record -- repeatedly -- as being against the transitive property of college football, of comparing various results of games and reaching grand conclusions. But it's hard to ignore what Oregon has done so far compared to its rivals. Er, other Pac-12 teams.
The Ducks' average margin of victory is 32.3 points. Their closest decisions was in Week 2 against Fresno State, a 42-25 decision. They are playing well on both sides of the ball. They've reacted to injuries to major players with little more than a shrug: "Next guy in," they all say.
That preseason concern that perhaps redshirt freshman quarterback
Marcus Mariota
wouldn't be up to the pressure and week-to-week demands of being a Pac-12 quarterback? He bounced back from a middling showing in the victory over Washington State by throwing four touchdown passes and showing excellent running skills and pocket presence against Washington.
"He's showed improvement," Kelly said. "That's something awesome about Marcus. Very rarely does he make the same mistake twice."
Oregon led the No. 23 Huskies 21-0 after a quarter following a pick-six from safety
Avery Patterson
. It was his second in two weeks, and the Ducks now have returned four interceptions for touchdowns, tying a school record.
The 35-7 margin at halftime made it clear that there would be no intrigue. Washington moved the ball well at times, but the Huskies were done in by five turnovers -- two interceptions, three fumbles. They produced one play over 16 yards -- a 28-yard pass. The Ducks, meanwhile, had six plays of 20 or more yards.
If you need further validations of Kelly's concepts, consider this. He is now 40-6 as the Ducks' head coach. He won his 40th game sooner than Bobby Bowden (49), Pop Warner (59), Bear Bryant (57) and Joe Paterno (51).
So, you know, he's ahead of pretty good rivals. Er, company.
Oregon is off this week, but don't say that to Kelly, for this is an "improvement week." After all that improving, the Ducks will turn their focus to a visit to Arizona State on Thursday, Oct. 18. The Sun Devils are playing really well under new coach Todd Graham.
Of course, you know what's coming, don't you?
Said Kelly, "Arizona State is the next rivalry we have."
October, 6, 2012
10/06/12
11:29
PM PT
Make it nine in a row for the
Oregon Ducks
over the
Washington Huskies
. The Ducks jumped out to a 21-0 lead before pulling away for
a 52-21 win
. The Ducks have won all nine games by at least 17 points. Here's how it all went down at Autzen.


It was over when
: In the first quarter, the Huskies had just made their second-consecutive stop on defense. But the Huskies muffed the ensuing punt and on the next play,
De'Anthony Thomas
darted for a 16-yard score. It seemed like all the life just got sucked out of Washington as the Ducks put up 21 in the first quarter.
Game ball goes to
: Oregon quarterback
Marcus Mariota
. When he wasn't jumping out of sacks (that was sick athleticism), he was tossing four touchdowns on 15-of-24 passing. He did have one interception early, but bounced back to hit
Colt Lyerla
twice,
Josh Huff
and
Keanon Lowe
for scores.
Second game ball
: Nick Aliotti. Oregon's defensive coordinator has this defense playing awfully good ball. The Ducks forced five turnovers and twice stopped the Huskies on fourth down. Most of Washington's 353 yards came in the second half when the game was out of reach.
Stat of the game
: 3.
Avery Patterson
picked off
Keith Price
in the first quarter and returned it 43 yards for a touchdown. The Ducks have now had a pick-six in three straight games.
What it means for Oregon
: For the Ducks, they hold serve -- and get some style points along the way -- as other top 10 teams behind them collapse. The number of undefeated teams is dwindling and Oregon is right where it needs to be. If anyone was still awake on the East Coast, they saw a dominating performance on both sides of the ball.
What it means for Washington
: Much like their debacle at LSU, the Huskies will have to regroup with No. 13 USC coming to town next week. For as high as they were flying after last week's win over Stanford, this was another throttling by a top-5 team. Head coach Steve Sarkisian has to get the troops to shake this one off.
October, 3, 2012
10/03/12
9:00
AM PT
We're tracking the offensive, defensive and coach-of-the-year races in the Pac-12.
For a more thorough look at offense, re-read our
Heisman Trophy update
.
Offensive player of the year
1. De'Anthony Thomas, RB/WR, Oregon
: Thomas scored a touchdown against Washington State but it was a relatively quiet game for him. For the season, he's rushed for 302 yards (9.7 yards per carry) with five touchdowns and caught 19 passes for 193 yards and three TDs.
2. Johnathan Franklin, RB, UCLA
: He ranks fourth in the nation and first in the Pac-12 with 139.4 yards rushing per game. He rushed for 111 yards on 15 carries in the blowout victory over Colorado. He also caught three passes for 48 yards.
3. Kenjon Barner, RB, Oregon
: Barner rushed for 195 yards and three touchdowns in the victory over Washington State. He averaged 9.8 yards per carry and ran for scores of 22, 10 and 80 yards. He's second in the Pac-12 in rushing with 121 yards per game and his nine rushing touchdowns leads the conference.
4. Taylor Kelly, QB, Arizona State
: Kelly is first in the Pac-12 and 16th in the nation in passing efficiency. The Sun Devils are second in the Pac-12 with 38.4 points per game. Kelly threw three TD passes in the win at California and now has nine for the season.
5. Matt Barkley, QB, USC
: Barkley was off last week. His 12 TD passes still leads the conference, but he's fifth in the conference in passing efficiency.
Keep an eye on
: UCLA QB
Brett Hundley
; USC WR
Marqise Lee
; Oregon State WR
Markus Wheaton
. Arizona QB
Matt Scott
; Stanford RB
Stepfan Taylor
.
Defensive player of the year
1. Will Sutton, DT, Arizona State
: Won Pac-12 Defensive Player of the Week after recording a career-high eight tackles (six solo), including three sacks, and forced a fumble in a 27-12 victory over California. He's second on the Sun Devils with 34 tackles, including 10 for a loss. Also has 6.5 sacks, a forced fumble and two pass breakups.
2. Star Lotulelei, DT, Utah
: Off last week. Fourth on the Utes with 19 tackles. Also has four tackles for a loss, a sack, two pass defenses and two forced fumbles.
3. Chase Thomas, OLB, Stanford:
Had a sack and four tackles against Washington. He's third on the Cardinal with 23 tackles. He also has five tackles for a loss and 2.5 sacks.
4. Morgan Breslin, DE, USC
: Leads the conference with 2.38 tackles for a loss per game and has five sacks.
Keep an eye on
:
T.J. McDonald
, S, USC;
Travis Long
, OLB, Washington State;
Chris Young
, LB, Arizona State;
Datone Jones
, DE, UCLA;
Anthony Barr
, OLB, UCLA.
Coach of the year
1. Mike Riley, Oregon State
: The Beavers, who went 3-9 last year, are now 3-0 and ranked 14th. 'Nuff said.
2. Chip Kelly, Oregon
: Ducks are atop the Pac-12 and ranked No. 2. If they ended up winning a fourth consecutive Pac-12 title and earn another berth in the national title game, Kelly wins.
3. Todd Graham, Arizona State
: While the Sun Devils are lacking a marquee win, they've been impressive during a 4-1 start. Of particular note is their discipline and efficiency on both sides of the ball. That wasn't what you said about the Sun Devils in the past, even during the good times.
Keep an eye on
: Jim Mora, UCLA; Steve Sarkisian, Washington
September, 12, 2012
9/12/12
10:00
AM PT
One of the more underappreciated and heated rivalries in the country lies in the Pacific Northwest. For decades it was all Washington. Since 1994 the Ducks are 13-4, including eight straight wins in the series.
Things are starting to turn around in Seattle, as their new staff has them on the right track on the field and more specifically, recruiting.
Anyone up for a little border war Q & A?
To continue reading this article you must be an Insider
July, 16, 2012
7/16/12
6:00
AM PT
Kevin and I are getting ready for Pac-12 media day next week. So should you. Here's a primer.
(You can see the
complete list of attendees here
).

Dates
: July 24
Location
: Universal Studios in Los Angeles
Big names in attendance
: Besides four new coaches, USC quarterback
Matt Barkley
, Utah defensive tackle
Star Lotulelei
, California wide receiver
Keenan Allen
, Washington quarterback
Keith Price
and Stanford outside linebacker
Chase Thomas
.
Big names not in attendance
: There are plenty of stars who won't be on hand, but it's hard to argue with the players attending.
So what can we expect?
Teams at the top will tamp down expectations. Teams at the bottom will bemoan a lack of respect and insist they don't give a flip about so-called pundits.
Every team will claim an outstanding offseason, perhaps even calling workout attendance "the best ever." There's a good chance many will be exaggerating.
Four new coaches will get their biggest formal introduction to Pac-12 reporters: Arizona's Rich Rodriguez, Arizona State's Todd Graham, UCLA's Jim Mora and Washington State's Mike Leach. They will be impressed by how awesome we are.
Barkley will be asked about opting not to enter the NFL draft. The Pac-12 blog challenges him to figure out a way to answer the question in a surprising way.
Oregon coach Chip Kelly will be snarky, no matter how awesome we reporters are.
Subjects likely to come up: USC wide receiver Robert Woods' ankle, Utah quarterback Jordan Wynn's shoulders, Matt Scott running Rich Rodriguez's spread-option, the status of Arizona State defensive end Junior Onyeali, USC's depth questions and Kenjon Barner replacing LaMichael James. How much can Cal quarterback Zach Maynard and Oregon State quarterback Sean Mannion improve from Year 1 to Year 2? What's the quarterback pecking order at Arizona State, Colorado, Oregon, Stanford and UCLA? Other issues include whether Utah running back John White IV prefers to be known as "Juan Blanco" or "The Wolfman," Tosh Lupoi's departure from Cal to Washington and Leach's affinity for Pirates.
Graham will be asked about his controversial departure from Pittsburgh for the 10,000th time, and the reporter who does so will win a set of steak knives (there's a reason reporters ask the same question over and over).
California coach Jeff Tedford and Oregon State coach Mike Riley will be asked if they feel pressure or feel like they are on the hot seat. Both will say no one puts more pressure on them than themselves and that there is always pressure.
Leach will go off on a lengthy tangent that has nothing to do with anything but likely will be interesting and amusing.
Stanford coach David Shaw and his players will be asked about life after Andrew Luck.
The UCLA contingent will be asked about USC.
"Teeth" Price will smile. A lot.
Lane Kiffin will say nothing controversial. And some of us will miss the old Kiffin.
Someone during post-interview small talk will say, "Man, Star Lotulelei... that dude is big."
The coaches will each be asked 47 times about the four-team college football playoff that will start in 2014.
Here's a guess that at some point someone asks about Joe Paterno.
Oregon and USC will be nearly unanimous choices to win the North and South Divisions, respectively, but somebody will vote differently just to be quirky.
July, 11, 2012
7/11/12
1:32
PM PT
ESPN.com's series on FBS coaches continues with this question: Which coach in the Pac-12 provides the biggest bang for the buck?
That's tough to answer for a number of reasons.
There are four new coaches in the Pac-12 this season.
There were two new coaches last season.
USC and Stanford, as private schools, don't provide salary information for their coaches, though USA Today reported that Lane Kiffin made $2.4 million in 2010, way less than had been widely reported.
Two years ago, it would have been easy to say that Oregon State's Mike Riley provided the most bang for the buck. Riley won 36 games from 2006-09 before the Beavers tumbled to consecutive losing seasons. And he did that with a
fairly modest salary
.
[+] Enlarge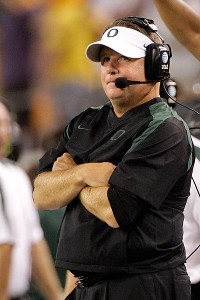 AP Photo/Tony GutierrezChip Kelly may be the Pac-12's highest-paid coach, but he's worth the money.
Here are the latest numbers.
Chip Kelly, Oregon, $2.8 million

Lane Kiffin, USC, $2.4 million*

Jim Mora, UCLA, $2.4 million**

Jeff Tedford, California, $2.3 million

Steve Sarkisian, Washington, $2.25 million

Mike Leach, Washington State, $2.25 million

Todd Graham, Arizona State, $2 million

Kyle Whittingham, Utah, $2 million

Rich Rodriguez, Arizona, $1.91 million

Mike Riley, Oregon State, $1,313,471

Jon Embree, Colorado, $725,000
*It's perfectly reasonable to posit that Kiffin made more than this in 2011 and also will in 2012.

**Mora's number is an average of his five-year, $12 million contract. He'll likely make less than this figure this season.
By the way, David Shaw's salary at Stanford has been
estimated at $1.75 million
. It seems, in any event, that it's too early to rate Shaw and Colorado's Embree as second-year coaches. And it makes no sense to look at the track record of the four new coaches, because the past doesn't mean anything for the new schools, though you could say Arizona got Rodriguez at below market value.
So who provides the most bang for the buck? I have two answers: Whittingham and Kelly.
Why? Well, name the two coaches on the above list who have won BCS bowl games at their present job.
Whittingham is 66-25 (.725) at Utah, including double-digit wins in three of the past four seasons. His worst season in seven years was 7-5 in 2005. After an 0-4 start in Pac-12 play last fall, he rallied his team behind a backup QB who transferred from Nebraska-Omaha, and the Utes nearly won the South Division. Oh, and he's 7-1 in bowl games.
Further, Whittingham has been loyal to Utah. He's had opportunities to leave but he's stuck around.
Kelly is the Pac-12's highest-paid coach by a fairly wide margin. He was guaranteed $2.8 million in 2011 and will make $3.5 million this season,
according to USA Today
. So why does he rate highly in terms of bang for the buck? Well, there's a 34-6 (.850) record, including a 25-2 mark in Pac-12 games (.926). And there are three consecutive conference titles. And an undefeated regular season in 2010, after which the Ducks fell just short of beating Auburn for the national title. And there's the Rose Bowl victory over Wisconsin in January.
Kelly has delivered a super-elite level of performance in his three seasons. If you were to name the nation's best coaches, you wouldn't have to wait long after Nick Saban and Urban Meyer to get to Kelly.
He gets big bucks, yes, but he has delivered unprecedented bang to the Ducks' program.
Any Oregon fans think he's overpaid?