Oregon Ducks:

Star Lotulelei
April, 3, 2013
4/03/13
1:00
PM ET
ESPN's Todd McShay recently released his latest mock draft -- and there was a lot of movement involving the Pac-12 players projected to go in the first round.
And, for the first time, McShay taps into the second round. You can see
the complete mock draft here

.
One of the biggest movers was Oregon's
Dion Jordan
, whom McShay now projects to go second overall to the
Jacksonville Jaguars
. McShay had Jordan projected as the No. 6 overall pick last month.
Jordan is the top pass-rusher in this class, but that's not all he can do. His fluidity and range in coverage are rare for a DE/OLB prospect with his length. He wouldn't be a great fit in many 4-3 defenses, but his ability to get after the passer when turned loose upfield, as well as drop into coverage from a two- or three-point stance, is ideal for the scheme new head coach Gus Bradley and defensive coordinator Bob Babich are bringing to town.
The biggest drop was California wide receiver
Keenan Allen
-- who was No. 12 last month and checked in at No. 25 in the latest mock. McShay has him slated for the
Minnesota Vikings
.
Many of the players coming off the board in this area would make sense for the Vikings, who are in something of a sweet spot late in the first round. They can sit tight and be fairly certain of getting a player who addresses a need and is nearly top-10 quality but will cost far less. In Allen's case, that means a receiver with good body control and hands who could become a very good No. 2 receiver at the next level.
Another player dropping was Utah's
Star Lotulelei
, who went from No. 1 overall to No. 11. It's worth noting that McShay's projection came out before
Monday's Salt Lake Tribune story
that after testing, Lotulelei's heart showed "no evidence of dysfunction." So expect his draft stock to trend up with this news.
Washington cornerback
Desmond Trufant
jumps from first-round maybe to No. 21 and the
Cincinnati Bengals
.
Corner is a top need for Cincinnati on the other side of the ball, and now that Trufant has verified his top-end speed his suddenness, balance and closing burst give him the look of a very good man-cover corner at the next level. Scouts I've talked to are also impressed with his professional demeanor, and the bottom line is that teams can never have enough good cover guys in today's pass-happy NFL.
Players projected for the second round include USC quarterback
Matt Barkley
, Stanford tight end
Zach Ertz
(potentially reuniting with Jim Harbaugh in San Francisco), Oregon guard
Kyle Long
and USC wide receiver
Robert Woods
.
February, 25, 2013
2/25/13
11:26
AM ET
Our countdown of the top 25 players in the 2012 season continues.
You can see our preseason top 25 here.

No. 1:
Marcus Mariota, QB, Oregon
2012 numbers
: Mariota completed 68.5 percent of his passes for 2,677 yards with 32 touchdowns and six interceptions. He also rushed for 752 yards and five touchdowns, averaging 7.1 yards per carry.
Preseason ranking
: Unranked.
Making the case for Mariota
: It's pretty extraordinary that a redshirt freshman quarterback earns first-team All-Pac-12 honors. And tops this list. But Mariota had an extraordinary season. He ranked first in the Pac-12 and seventh in the nation in pass efficiency. It's reasonable to wonder how ridiculous his numbers would have been had Oregon played more close games, and therefore Mariota's A-game was needed in the fourth quarter more than three or four times. Consistency? Mariota threw a touchdown pass in every game. He threw one interception in the final seven games. He led an offense that ranked second in the nation in scoring (49.5 ppg) and was fifth in total offense (537.4 ypg). The Ducks scored 11 points per game more than any other Pac-12 team. The 6-foot-4, 196-pound Honolulu native is an extremely accurate passer who also might be the fastest quarterback in the nation -- see 86 and 77 yard runs this year. Against USC on the road, he completed 87 percent of his passes with four touchdowns and no interceptions. He tied a school record with six TD passes against California. He rushed for 135 yards at Arizona State. In the Fiesta Bowl victory over Kansas State, he passed for two touchdowns and ran for another and earned game MVP honors as the Ducks ended up ranked No. 2 in the nation. Mariota will enter the 2013 season as one of the top-five preseason Heisman Trophy candidates. Said All-American Kansas State linebacker
Arthur Brown
: "He's a great young player. He has a bright future." Yes he does. If current trends continue, Mariota will become the greatest player in Oregon history and be a first-round pick in the NFL draft. That's a lot. But it's the truth.
No. 2:
Will Sutton
, DT, Arizona State
No. 3
:
Marqise Lee
, WR, USC
No. 4
:
Matt Scott
, QB, Arizona
No. 5
:
Ka'Deem Carey
, RB, Arizona
No. 6
:
Kenjon Barner
, RB, Oregon
No. 7
:
Johnathan Franklin
, RB, UCLA
No. 8:
Stepfan Taylor
, RB, Stanford
No. 9
:
Star Lotulelei
, DT, Utah
No. 10
:
Markus Wheaton
, WR, Oregon State
No. 11
:
Anthony Barr
, LB, UCLA
No. 12
:
Jordan Poyer
, CB, Oregon State
No. 13
:
Zach Ertz
, TE, Stanford
No. 14
:
Matt Barkley
, QB, USC
No. 15
:
Brett Hundley
, QB, UCLA
No. 16:
Trent Murphy
, OLB, Stanford
No. 17
:
Chase Thomas
, OLB, Stanford
No. 18
:
Ifo Ekpre-Olomu
, CB, Oregon
No. 19
:
David Yankey
, OL, Stanford
No. 20:
Dion Jordan
, DE/OLB, Oregon
No. 21
:
Scott Crichton
, DE, Oregon State
No. 22
:
Ed Reynolds
, S, Stanford
No. 23
:
Michael Clay
, LB, Oregon
No. 24
:
Taylor Kelly
, QB, Arizona State
No. 25
:
Reggie Dunn
, KR, Utah
December, 6, 2012
12/06/12
6:30
PM ET
The Pac-12 was well-represented on the Walter Camp Foundation's 2012 All-America team, released Thursday.
USC sophomore receiver
Marqise Lee
, Stanford senior tight end
Zach Ertz
and a pair of running backs, Oregon senior
Kenjon Barner
and Arizona sophomore
Ka'Deem Carey
, were named to the first-team offense.
Utah defensive tackle
Star Lotulelei
and Oregon State cornerback
Jordan Poyer
, both seniors, earned spots on the first-team defense.
The conference got two players on the second teams, one on each side of the ball: UCLA senior running back
Johnathan Franklin
and Arizona State junior defensive tackle
Will Sutton
.
For the complete Walter Camp list, click
here
.
October, 3, 2012
10/03/12
9:00
AM ET
We're tracking the offensive, defensive and coach-of-the-year races in the Pac-12.
For a more thorough look at offense, re-read our
Heisman Trophy update
.
Offensive player of the year
1. De'Anthony Thomas, RB/WR, Oregon
: Thomas scored a touchdown against Washington State but it was a relatively quiet game for him. For the season, he's rushed for 302 yards (9.7 yards per carry) with five touchdowns and caught 19 passes for 193 yards and three TDs.
2. Johnathan Franklin, RB, UCLA
: He ranks fourth in the nation and first in the Pac-12 with 139.4 yards rushing per game. He rushed for 111 yards on 15 carries in the blowout victory over Colorado. He also caught three passes for 48 yards.
3. Kenjon Barner, RB, Oregon
: Barner rushed for 195 yards and three touchdowns in the victory over Washington State. He averaged 9.8 yards per carry and ran for scores of 22, 10 and 80 yards. He's second in the Pac-12 in rushing with 121 yards per game and his nine rushing touchdowns leads the conference.
4. Taylor Kelly, QB, Arizona State
: Kelly is first in the Pac-12 and 16th in the nation in passing efficiency. The Sun Devils are second in the Pac-12 with 38.4 points per game. Kelly threw three TD passes in the win at California and now has nine for the season.
5. Matt Barkley, QB, USC
: Barkley was off last week. His 12 TD passes still leads the conference, but he's fifth in the conference in passing efficiency.
Keep an eye on
: UCLA QB
Brett Hundley
; USC WR
Marqise Lee
; Oregon State WR
Markus Wheaton
. Arizona QB
Matt Scott
; Stanford RB
Stepfan Taylor
.
Defensive player of the year
1. Will Sutton, DT, Arizona State
: Won Pac-12 Defensive Player of the Week after recording a career-high eight tackles (six solo), including three sacks, and forced a fumble in a 27-12 victory over California. He's second on the Sun Devils with 34 tackles, including 10 for a loss. Also has 6.5 sacks, a forced fumble and two pass breakups.
2. Star Lotulelei, DT, Utah
: Off last week. Fourth on the Utes with 19 tackles. Also has four tackles for a loss, a sack, two pass defenses and two forced fumbles.
3. Chase Thomas, OLB, Stanford:
Had a sack and four tackles against Washington. He's third on the Cardinal with 23 tackles. He also has five tackles for a loss and 2.5 sacks.
4. Morgan Breslin, DE, USC
: Leads the conference with 2.38 tackles for a loss per game and has five sacks.
Keep an eye on
:
T.J. McDonald
, S, USC;
Travis Long
, OLB, Washington State;
Chris Young
, LB, Arizona State;
Datone Jones
, DE, UCLA;
Anthony Barr
, OLB, UCLA.
Coach of the year
1. Mike Riley, Oregon State
: The Beavers, who went 3-9 last year, are now 3-0 and ranked 14th. 'Nuff said.
2. Chip Kelly, Oregon
: Ducks are atop the Pac-12 and ranked No. 2. If they ended up winning a fourth consecutive Pac-12 title and earn another berth in the national title game, Kelly wins.
3. Todd Graham, Arizona State
: While the Sun Devils are lacking a marquee win, they've been impressive during a 4-1 start. Of particular note is their discipline and efficiency on both sides of the ball. That wasn't what you said about the Sun Devils in the past, even during the good times.
Keep an eye on
: Jim Mora, UCLA; Steve Sarkisian, Washington
August, 22, 2012
8/22/12
9:00
AM ET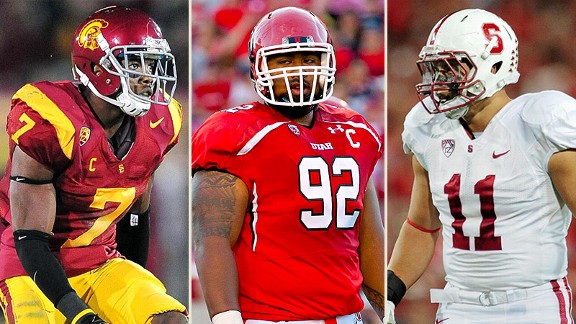 US PresswireThe Pac-12 boasts some of the best defensive talent in the country: USC safety T.J. McDonald, Utah defensive tackle Star Lotulelei and Stanford linebacker Shayne Skov.
In the depths of their offices, some of the best offensive minds in college football are grinding.
Chip Kelly is pondering how to get 10 more plays per game out of his offense.
Rich Rodriguez and Mike Leach are re-re-revolutionizing their attacks.
David Shaw is trying to figure out how to get nine offensive linemen, five tight ends and three fullbacks on the field at once.
Lane Kiffin has more offensive toys than an FAO Schwarz display.
"Option, option spread, I, heavy-I, pistol, triple-backs, full house, triple tights; it's something new every week," said Oregon linebacker
Michael Clay
. "It makes every week pretty interesting."
The Pac-12 is widely regarded as the conference of offenses. And they are only getting better. Prior to 1990, only twice has a team led the conference with a scoring average of more than 40 points. Since 1990, it's happened nine times -- including USC's conference best of 49.1 points per game in 2005.
That means being a defensive player in the Pac-12 is awfully difficult.
[+] Enlarge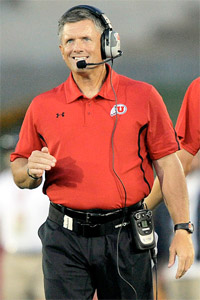 AP Photo/Mark J. TerrillKyle Whittingham says his defense must be able to adapt to the different offenses in the Pac-12.
"You get Andrew Luck one week and then
Matt Barkley
the next," said USC safety
T.J. McDonald
. "The preparation is on a whole other level compared to other conferences. There are great quarterbacks and great receivers and running backs. But the culture of this conference has changed. They've forced defenses to get better."
As the spread offense became chic and more teams were stretching defenses, they were forced to respond in kind. Gone are the days of everyone lining up in a base 4-3 and slugging it out. Now defenses are evolving into multiple fronts, exotic and disguised coverages and zone blitzes.
Utah coach Kyle Whittingham should know. He and UCLA coach Jim Mora are the only head coaches in the conference with a defensive background.
"We're definitely the minority," Whittingham said with a laugh. "It's a broad spectrum. Defensively, in this day and age, you have to be able to defend it all anyways. When the spread became en vogue 10-12 years ago it caught on like wildfire. Now almost everyone has a version of it. You have to be equipped to deal with whatever you come across week in and week out and have a scheme that is flexible enough and adaptable enough that you can cover all of your bases.
"Things go in cycles. The spread becomes en vogue and takes a while for the defense to catch up. Then the zone blitz was giving offenses fits and the offenses had to catch up to that. I think everything in football is cyclical and if offense has the upper hand right now, it won't be too further down the road where that role is reversed."
And that time might be coming sooner than later. Utah, California, USC, Oregon and Stanford all have defenses that are very good and bordering on elite. But the numbers don't always add up because in this conference, you are going to give up yards and you are going to give up points.
"Part of it is innovation," Shaw said. "Part of it is Chip Kelly and Mike Leach and Rich Rodriguez. The thing is, you can use the word 'spread' offense for half the teams in our conference, but they are all different. You can say 'pro-style' offense, which is what you would say about us and USC, but they are so different. The hard part of playing defense in our conference is every single week, you are playing against something you didn't see the week before.
"Cal has a pro-style offense. But their passing is different than our pass game and their running is different than our running game. And theirs is different from USC's. You are going to play a nine-game conference schedule and every single offense you play is going to be completely different. Defensive coordinators -- and we've got a really good group in this conference -- defensive coordinators and players have to flush a lot of what you watched the week before and study film hard the next week because you're going to see a different animal."
The conference also has the players to back up the defensive hype. Stanford linebackers
Chase Thomas
and
Shayne Skov
are projected as two of the best at their positions. Utah defensive tackle
Star Lotulelei
is regarded as the best defensive tackle in the nation and McDonald is a returning All-American.
And while perception might never really change nationally since the conference keeps chugging out A-list offensive players, Washington quarterback
Keith Price
says he's seen the difference.
"The difference between us and some of those other conferences is the defensive linemen," Price said. "We've always had good skill players. They say the trenches is what separates the SEC from the other conferences. But you can see now that our conference is starting to get there. When you look at teams like Cal and Utah, their defensive lines are really tough."
Pac-12 Teams Can Load Up At WR
PAC-12 SCOREBOARD
Thursday, 9/3
Friday, 9/4
Saturday, 9/5