Oregon Ducks:

Keith Price
November, 11, 2012
11/11/12
9:00
AM PT
So, that was sort of an exciting Saturday.
October, 6, 2012
10/06/12
11:29
PM PT
Make it nine in a row for the
Oregon Ducks
over the
Washington Huskies
. The Ducks jumped out to a 21-0 lead before pulling away for
a 52-21 win
. The Ducks have won all nine games by at least 17 points. Here's how it all went down at Autzen.


It was over when
: In the first quarter, the Huskies had just made their second-consecutive stop on defense. But the Huskies muffed the ensuing punt and on the next play,
De'Anthony Thomas
darted for a 16-yard score. It seemed like all the life just got sucked out of Washington as the Ducks put up 21 in the first quarter.
Game ball goes to
: Oregon quarterback
Marcus Mariota
. When he wasn't jumping out of sacks (that was sick athleticism), he was tossing four touchdowns on 15-of-24 passing. He did have one interception early, but bounced back to hit
Colt Lyerla
twice,
Josh Huff
and
Keanon Lowe
for scores.
Second game ball
: Nick Aliotti. Oregon's defensive coordinator has this defense playing awfully good ball. The Ducks forced five turnovers and twice stopped the Huskies on fourth down. Most of Washington's 353 yards came in the second half when the game was out of reach.
Stat of the game
: 3.
Avery Patterson
picked off
Keith Price
in the first quarter and returned it 43 yards for a touchdown. The Ducks have now had a pick-six in three straight games.
What it means for Oregon
: For the Ducks, they hold serve -- and get some style points along the way -- as other top 10 teams behind them collapse. The number of undefeated teams is dwindling and Oregon is right where it needs to be. If anyone was still awake on the East Coast, they saw a dominating performance on both sides of the ball.
What it means for Washington
: Much like their debacle at LSU, the Huskies will have to regroup with No. 13 USC coming to town next week. For as high as they were flying after last week's win over Stanford, this was another throttling by a top-5 team. Head coach Steve Sarkisian has to get the troops to shake this one off.
October, 6, 2012
10/06/12
11:29
PM PT
EUGENE, Ore. -- It appears that Oregon's streak of blowout wins over Washington is going to reach nine.


The Ducks jumped all over Huskies mistakes and own a
35-7 lead
at the break.
The Huskies moved the ball fairly well -- Oregon outgained the Huskies 319 to 206 -- but couldn't finish drives, and the Ducks pounced on three turnovers.
Oregon quarterback
Marcus Mariota
recovered from an early interception to complete 10 of 18 passes for 160 yards and three touchdowns. Washington quarterback
Keith Price
is 13-of-22 for 115 yards with a pick.
Hard to imagine the Huskies have the weapons to get back into this one. The question might be how ugly things might get.
October, 6, 2012
10/06/12
6:23
PM PT
EUGENE, Ore. -- At some point, Washington is going to beat its arch-rival Oregon again, but the odds seem stacked against the Huskies tonight.


For one, the Ducks are playing in Autzen Stadium. They are 34-4 at home since Chip Kelly first arrived in 2007 as their offensive coordinator.
Second, the Ducks are again strong on both sides of the ball. Their offense is among the nation's leaders in rushing, scoring and total offense. The defense is better than its numbers suggest, considering its starters have played little in the fourth quarter this year. The Ducks' 4.55 yards per play ranks third in the Pac-12.
The Huskies? They are much better on defense, giving up just under 19.8 points per game -- virtually the same as the Ducks. But they are struggling offensively due to a injury ravaged offensive line that is down three starters from what it thought it would be. The Huskies are scoring 23.3 points per game, which ranks 10th in the conference.
Oregon averages 52.4, tops in the Pac-12 by a wide margin.
So the Ducks are going to need to be much below their average tonight, while the Huskies need much better, for Washington to have a chance.
The key will be big plays that go against Oregon, which is not typically how things go here. The Huskies need to slow the Ducks running game and force redshirt freshman quarterback
Marcus Mariota
to make mistakes passing. And they need to take advantage of those miscues.
The Huskies offense, meanwhile, needs to create some sort of running threat that keeps the Ducks honest, while quarterback
Keith Price
needs to time to hook up with tight end
Austin Seferian-Jenkins
and receiver
Kasen Williams
.
It will help the Huskies that the Ducks, already young at safety due to the season-ending knee injury to
John Boyett
, might be without weakside linebacker
Michael Clay
, who was hurt last week against Washington State.
Oregon has been a second-half team under Kelly. It tends to make good adjustments to other teams' schemes and it also wears down opposing defenses with its tempo. That said, if the Huskies can keep things close into the fourth quarter, it's possible that Mariota will feel some pressure, and press as a result.
Perhaps a few Oregon miscues would open a door for the Huskies to end an eight-game losing streak in the series?
October, 5, 2012
10/05/12
9:00
AM PT
If ever there was a chance for Washington quarterback
Keith Price
to tally a "signature win," this would be it.

Consider what he's up against as this No. 23
Washington Huskies
make the trek to face No. 2 Oregon. He's battling the ghosts of eight years past and a recent history of offensive inefficiency against the Ducks. During Washington's eight-game losing streak in the series, the Huskies have only crossed the 20-point threshold twice -- when they scored 34 in 2007 (but gave up 55) and 21 in 2005 (but gave up 45).
No doubt, it will take a team effort for the Huskies to knock off their second top-10 foe in two weeks. And the spotlight is just as much on the defense as it is Price and the offense. Since 2009, the Ducks lead the nation in one-minute touchdown drives (63) and offensive touchdowns of 20-plus yards (88).*
But it will also take a stellar performance from the Washington quarterback.
And if the Huskies can get him into the red zone, that could be a difference-maker. Price ranks first among active quarterbacks in completion percentage (73.9), yards per attempt (6.8) and touchdown percentage (42 percent) in the red zone since the start of last season. This year he's 11-of-15 with four touchdowns and zero interceptions inside the 20.*
So if the Huskies are hoping to avoid their ninth consecutive loss to the Ducks, getting Price into position where he can make plays will be paramount.
Price ranks 11th in the conference this year in pass efficiency, completing 59 percent of his throws with five touchdowns and two interceptions. Not stellar numbers, but he's also faced some pretty good defenses. That isn't going to change on Saturday. The Ducks will present as difficult of a front as Stanford did.
Price has been fantastic inside of the 20. Now it's time for him to lead the Huskies the other 80 yards.
*ESPN Stats and Information
October, 4, 2012
10/04/12
10:24
AM PT
SEATTLE -- Here are five storylines as Washington prepares to play No. 2 Oregon on the road in Eugene, Ore., Saturday:
1. Justin Wilcox returns home:
Washington's defensive coordinator grew up about 15 miles from Eugene in Junction City. His father, Dave, played football at Oregon before a Hall of Fame career in the NFL. So did his brother, Josh. Justin was a defensive back with the Ducks, graduating in 1999 before eventually landing as the Huskies' defensive coordinator.
After Washington's defensive effort during last week's 17-13 win over Stanford, Justin is getting plenty of attention for how he has turned around the Huskies' defense. Justin faces a tough task in this homecoming, attempting to devise a game plan to slow down the Ducks.
To continue reading this article you must be an Insider
October, 1, 2012
10/01/12
3:30
PM PT
Be prepared. Oregon coach Chip Kelly won't talk big picture this week. He won't talk about national perception or the beauty contest that college football is. A reporter will note to him that Oregon has beaten Washington eight consecutive times by at least 17 points, and he'll shrug.
(I bet inside he'll go, "Sweeeeet!" but outside, he'll shrug).
And he'll be right. Oregon has done a pretty good job under Kelly -- to the tune of 39-6 over three-plus seasons -- focusing on the present moment rather than looking ahead or back.
[+] Enlarge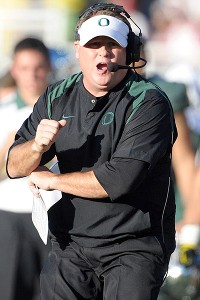 Kirby Lee/US PresswireA convincing win over Washington could go a long way in helping Chip Kelly and Oregon earn a spot in the BCS title game.
While it's perfectly reasonable for civilians to wring their hands over how a victory looked, as Oregon fans have over the first-half sloppiness against Washington State, Kelly's Ducks have a pretty simple formula ahead of them. If they win all of their games -- pretty or not -- the odds are extremely high they will play for the national championship. Again.
So, let's note in advance that the Ducks don't really need style points against Washington on Saturday in Autzen Stadium. They don't need to ring up a ninth consecutive blowout over that team in purple whom Ducks fans regard with such loving warmth. They don't need to match the domination of LSU's 41-3 beatdown of the Huskies a couple of weeks ago in Baton Rouge.
But it certainly wouldn't hurt.
A dominant win would further cement the national perception of the Ducks as the nation's No. 2 team behind Alabama. Perception, as you know in this, our penultimate year yoked by the BCS system, matters. A tight game going into the fourth quarter might cause some voters to reconsider Florida State, LSU, Georgia or a Big 12 front-runner.
In the event of there being three or more unbeaten teams at season's end, then perception takes over. And don't forget those fickle computers.
The Ducks are 24-point favorites. So the expectation has been set high for an impressive win. Falling short of expectations could have short-term consequences that, potentially, could resonate negatively throughout the regular season.
Of course, the Huskies aren't looking to be a doormat that Oregon can decorate with footprints. They're nationally ranked and feeling pretty rejuvenated after beating then-No. 8 Stanford, a game for which few -- yes, both of your humble Pac-12 bloggers -- expected them to be terribly competitive.
You might recall Oregon's worst offensive performance under Kelly was his first game as the Ducks' head coach, in 2009 at Boise State. In a 19-8 defeat best remembered for LeGarrette Blount's meltdown, the Ducks gained just 152 total yards and six first downs and were 1-for-10 on third-down plays. Suffice it to say, it provided no hints of the offensive pyrotechnics that were ahead for the program.
The Broncos' defensive coordinator on Sept. 3, 2009? That would be Justin Wilcox, who is now running the Huskies' defense.
That has Washington fans crossing their fingers that they can slow the Ducks' offense enough to give QB
Keith Price
and company a puncher's chance.
Kelly will shrug about Wilcox, too. He'll graciously praise him as a defensive coach. He'll claim the Boise State game holds no sway over his present thinking. He'll talk only about what he and the Ducks can control: their preparation, their attitude and their effort. Hey, it's not personal -- it's business.
But here's a little secret: Kelly is not a robot. He hasn't completely cleansed himself of the emotions --
personalized
emotions -- that attach themselves to competitive people. Just as he's well aware that his fans relish the recent domination of Washington probably as much as three consecutive Pac-12 titles, he's also well aware that scoring 50 on Saturday against Wilcox would feel pretty good.
I suspect he'd like to score 50 more than he typically would. (Editor's note: As some of you have noted,
he did get 48
against Wilcox when the Ducks visited Tennessee in 2010).
At the very least, doing so would eliminate an annoying angle a reporter can ask him about or write about.
September, 24, 2012
9/24/12
7:30
AM PT
When you beat ranked teams, you move up. Unless you are already on top.
See last week's power rankings here.
1. Oregon: The Ducks faced their first foe with a pulse -- a ranked one, no less -- and rolled 49-zip. They moved up to No. 2 in both national polls. 'Nuff said.
2. Stanford: The Cardinal got to relax on their bye weekend and dwell on how great it is to beat USC four times in a row. "Oh," coach David Shaw said, "we don't care about that, Ted, Kevin!" Pause, grin. "Four times!" A visit to Washington on Thursday might be interesting, at least if the series' recent history of Stanford domination is ignored.
3. Oregon State: Lookie here! The Beavers surge into third. Why are they ahead of USC? Well, consider the résumé: Unbeaten with two wins over ranked teams. And to be good, you've got to feel good, and the Beavers surely feel better than the Trojans today. And, hey, who doesn't after an In-N-Out burger.
4. USC: The Trojans got the running game and defense going against California. In the preseason, I didn't think I'd type this: But what about the passing game?
5. UCLA: Anyone else notice that 3-1 Nebraska is ranked ahead of the 3-1 Bruins? Anyone remember where the Cornhuskers' "1" came from? Yeah, go figure. Did the Huskers' wins over Arkansas State and Idaho State really prove something? The Bruins, however, do face their first adversity of the season after losing at home to Oregon State.
6. Arizona State: Speaking of bouncing back, the Sun Devils certainly did that with an utter domination of Utah in every phase. Now can they duplicate that disciplined, complete effort on the road? That's the next step to measure this weekend at California, a team that figures to be plenty motivated.
7. Arizona: Well, you could call it the most competitive 49-0 defeat in history ... would that help? And here's a guess that the Wildcats do a little red zone work this week at practice. It would appear they will be challenged by a very good Oregon State defense on Saturday.
8. Washington: The Huskies' early schedule gauntlet turns to its Stanford chapter. A win at home -- well, in CenturyLink Field, the Seattle Seahawks' home -- would go a long way toward signaling the Huskies are turning a corner. Sure QB Keith Price will raise an eyebrow at the way Stanford's defense rolled USC's offensive line and made Matt Barkley miserable.
9. California: The 1-3 start was what most expected. But the next three games -- all winnable -- likely will provide a good guess at the overall trajectory of the season. A quality win at home over Arizona State might inspire some cautious optimism among the worried Berkeley faithful.
10. Utah: Man, you Utah fans were in a Twitter panic on Saturday, with a bad loss to Arizona State knocking thoughts of challenging for the South Division title off the table. It feels like a good time for a bye week. Only problem is the next three games look far more formidable than they did in the preseason, when all the focus was on USC's visit on Thursday, Oct. 4. Now road trips to UCLA and Oregon State on back-to-back weekends are reasons for worry.
11. Colorado: Buffalo fans, take a moment and breathe. Then look down. Wave. Of course, you're thirsty after scoring 21 points in the fourth quarter at Washington State to end fears of a winless season. Go ahead. Make a demand, like the winner you are. You've earned it. "Hey, Cougs! Can you bring me a cold beverage from the basement -- that's the BASEMENT -- refrigerator?"
12. Washington State: "Burp."
September, 6, 2012
9/06/12
7:15
AM PT
Here are some of the storylines to keep an eye on in Week 2.
1. Who can rebound
? Washington State, Cal and Colorado will all look to get in the win column this week after disappointing debuts. Each has something specific it needs to work on in Week 2. The Bears need to find a way to get off the field on third down, Colorado needs to find a running game, and Washington State needs to find a little confidence (positive rushing yards wouldn't be bad, either). And even though Stanford won last week, there was a vibe around the team that a 20-17 against San Jose State isn't going to cut it. And they are right. After this week's game against Duke, USC comes to town and then a big road trip to Washington. Cal has its big matchup with Ohio State looming as well. A lot needs to be sorted out for these four teams in Week
2. Super schedule
: Some huge measuring-stick games this week against out-of-conference, BCS-conference foes (seven total). UCLA will see what they really have in
Brett Hundley
when he sees a Nebraska defense that won't be as generous as Rice. And we'll see if Arizona State and Arizona are the real deal when they take on Illinois and Oklahoma State, respectively. While it was nice to see all three win in Week 1, the big question now is whether they can all sustain it with the competition level being increased dramatically. And there are a couple more nonconference games we should mention ...
3. What about the Beavers
? Mike Riley joked that so far this season feels like the training camp that would never end. As last week's game against Nicholls State was re-routed because of Hurricane Isaac, we're still not sure what we're getting with Oregon State. We know they want to run the football, and
Storm Woods
is the guy to do it. At question is whether they'll have success against Wisconsin. It's tough to open the year against a ranked opponent, and Riley called this one of the biggest nonconference games in school history. Also eager to see how much progress
Sean Mannion
has made and how OSU's passing attack led by
Markus Wheaton
stacks up against the Badgers. By the way, big ups to OSU, which will have volunteers from the American Red Cross at Reser Stadium to take donations that go to victims of Hurricane Isaac. Classy gesture.
4. What about the Huskies
? Grrr ... the SEC. They win national championships. They dominate the rankings. Their fans come to our blog and troll with impunity. Grrr. How well will the Huskies represent the conference when they travel to Baton Rouge? Washington showed a lot of inconsistency against San Diego State, particularly on offense. And losing running back
Jesse Callier
for the season certainly doesn't help the situation. But when the Huskies were clicking, it was
Keith Price
connecting with
Austin Seferian-Jenkins
(nine catches, 82 yards) and
Kasen Williams
(six catches, 75 yards, 1 touchdown). That trio will have to have a monster game to pull off a shocker against the No. 3 team in the land.
5. Desert defense
: Some interesting matchups when you look at Arizona and Arizona State's competition -- particularly at the quarterback spot. How will the Wildcats fare against Oklahoma State freshman quarterback
Wes Lunt
, who actually saw less field time last week than
Marcus Mariota
? The Sun Devils might or might not face Illinois starting quarterback
Nathan Scheelhaase
, who has been out with an ankle injury. Head coach Todd Graham said they are prepping to face Scheelhasse, though there's a good chance (depending on which update you read at any particular hour) the Sun Devils could be seeing
Reilly O'Toole
.
August, 22, 2012
8/22/12
9:00
AM PT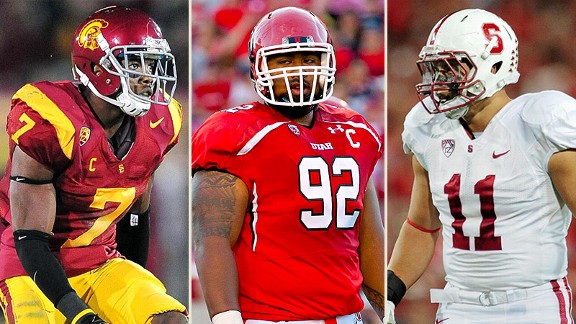 US PresswireThe Pac-12 boasts some of the best defensive talent in the country: USC safety T.J. McDonald, Utah defensive tackle Star Lotulelei and Stanford linebacker Shayne Skov.
In the depths of their offices, some of the best offensive minds in college football are grinding.
Chip Kelly is pondering how to get 10 more plays per game out of his offense.
Rich Rodriguez and Mike Leach are re-re-revolutionizing their attacks.
David Shaw is trying to figure out how to get nine offensive linemen, five tight ends and three fullbacks on the field at once.
Lane Kiffin has more offensive toys than an FAO Schwarz display.
"Option, option spread, I, heavy-I, pistol, triple-backs, full house, triple tights; it's something new every week," said Oregon linebacker
Michael Clay
. "It makes every week pretty interesting."
The Pac-12 is widely regarded as the conference of offenses. And they are only getting better. Prior to 1990, only twice has a team led the conference with a scoring average of more than 40 points. Since 1990, it's happened nine times -- including USC's conference best of 49.1 points per game in 2005.
That means being a defensive player in the Pac-12 is awfully difficult.
[+] Enlarge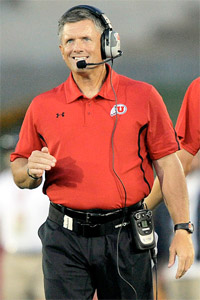 AP Photo/Mark J. TerrillKyle Whittingham says his defense must be able to adapt to the different offenses in the Pac-12.
"You get Andrew Luck one week and then
Matt Barkley
the next," said USC safety
T.J. McDonald
. "The preparation is on a whole other level compared to other conferences. There are great quarterbacks and great receivers and running backs. But the culture of this conference has changed. They've forced defenses to get better."
As the spread offense became chic and more teams were stretching defenses, they were forced to respond in kind. Gone are the days of everyone lining up in a base 4-3 and slugging it out. Now defenses are evolving into multiple fronts, exotic and disguised coverages and zone blitzes.
Utah coach Kyle Whittingham should know. He and UCLA coach Jim Mora are the only head coaches in the conference with a defensive background.
"We're definitely the minority," Whittingham said with a laugh. "It's a broad spectrum. Defensively, in this day and age, you have to be able to defend it all anyways. When the spread became en vogue 10-12 years ago it caught on like wildfire. Now almost everyone has a version of it. You have to be equipped to deal with whatever you come across week in and week out and have a scheme that is flexible enough and adaptable enough that you can cover all of your bases.
"Things go in cycles. The spread becomes en vogue and takes a while for the defense to catch up. Then the zone blitz was giving offenses fits and the offenses had to catch up to that. I think everything in football is cyclical and if offense has the upper hand right now, it won't be too further down the road where that role is reversed."
And that time might be coming sooner than later. Utah, California, USC, Oregon and Stanford all have defenses that are very good and bordering on elite. But the numbers don't always add up because in this conference, you are going to give up yards and you are going to give up points.
"Part of it is innovation," Shaw said. "Part of it is Chip Kelly and Mike Leach and Rich Rodriguez. The thing is, you can use the word 'spread' offense for half the teams in our conference, but they are all different. You can say 'pro-style' offense, which is what you would say about us and USC, but they are so different. The hard part of playing defense in our conference is every single week, you are playing against something you didn't see the week before.
"Cal has a pro-style offense. But their passing is different than our pass game and their running is different than our running game. And theirs is different from USC's. You are going to play a nine-game conference schedule and every single offense you play is going to be completely different. Defensive coordinators -- and we've got a really good group in this conference -- defensive coordinators and players have to flush a lot of what you watched the week before and study film hard the next week because you're going to see a different animal."
The conference also has the players to back up the defensive hype. Stanford linebackers
Chase Thomas
and
Shayne Skov
are projected as two of the best at their positions. Utah defensive tackle
Star Lotulelei
is regarded as the best defensive tackle in the nation and McDonald is a returning All-American.
And while perception might never really change nationally since the conference keeps chugging out A-list offensive players, Washington quarterback
Keith Price
says he's seen the difference.
"The difference between us and some of those other conferences is the defensive linemen," Price said. "We've always had good skill players. They say the trenches is what separates the SEC from the other conferences. But you can see now that our conference is starting to get there. When you look at teams like Cal and Utah, their defensive lines are really tough."