November, 14, 2012
11/14/12
5:00
AM PT
If 10 years ago someone read the words, "Oregon signs ESPN 150 athlete from Florida," morning coffee would have been spit out. It would be hard enough to imagine a small school -- with no tradition -- from the rainy Pacific Northwest signing anyone from the Sunshine State, let alone an ESPN 150 member.
While it was only one, the Ducks did just that in 2011 when Tacoi Sumler signed with the Ducks over schools such as Auburn, Clemson, Florida State and South Carolina. Looking back at the past decade of Oregon's recruiting in Florida, there have been two big recruits to sign with the Ducks, but neither finished their careers in Eugene. When the Ducks landed Ryan Gilliam of Tallahassee (Fla.) Lincoln -- a Florida State pipeline school -- after he was originally committed to the local Seminoles, people were amazed that they pulled it off.
To continue reading this article you must be an Insider
August, 23, 2012
8/23/12
10:00
AM PT
As Oregon has become a national name over the past decade, its recruiting reach has expanded to never before seen levels.
The Ducks will always have California as their most fertile recruiting ground and the place from which the foundation of the program is built. But as the Ducks have become a more recognizable brand in recent years, they have been able to attract the attention of recruits from far and wide.
Here is a look at what the Ducks have been able to accomplish over the past decade when recruiting the Central and Eastern time zones. There have been some major hits, some hidden gems and also some big disappointments.
To continue reading this article you must be an Insider
August, 15, 2012
8/15/12
10:00
AM PT
Oregon has been on a recruiting tear in recent years. The recent success of the Ducks has produced the golden age of Oregon football.
The Ducks have always done a masterful job of finding diamonds in the rough and developing talent that was overlooked coming out of high school. In recent years the Ducks have been able to stockpile high-level recruits and develop them the same way they would an obscure walk-on.
A lot was made of Oregon's shift in recruiting philosophy when Chip Kelly took over for Mike Bellotti in 2009. Bellotti built the program up from where longtime coach Rich Brooks had left it. Kelly has taken it to a whole new level.
To continue reading this article you must be an Insider
August, 10, 2012
8/10/12
4:15
PM PT
Receiver
Tacoi Sumler
, a member of the 2011 ESPN 150, has left the Oregon football program after just one season.
No reasons have been given in regard to the precipitating events in his decision. It is not unreasonable to assume, however, that playing time played a role.
Oregon offensive coordinator Mark Helfrich recently spoke about his young wide receiving corps and mentioned that Sumler was behind fellow redshirt freshmen
B.J. Kelley
and
Devon Blackmon
in terms of development.
With
Josh Huff
and
Rahsaan Vaughn
looking like two sure starters, the Ducks have one starting spot remaining. Kelley and Blackmon are joined in the battle for the third spot by
Eric Dungy
,
Daryle Hawkins
,
Blake Stanton
,
Keanon Lowe
and
Will Murphy
as returning players.
Add three freshman with
Bralon Addison
,
Dwayne Stanford
and
Chance Allen
, and it's a fairly crowded group.
At 5-foot-8, 177-pounds, Sumler was at a disadvantage in the Oregon offense, which relies heavily on downfield blocking by the wide receivers.
The No. 62 overall prospect in the 2011 ESPN 150 signed with Oregon out of Miami (Fla.), another major coup for the Ducks in their national recruiting efforts. Like
Lache Seastrunk
and others before him, Sumler left the program without ever stepping on the field in an Oregon uniform.
His departure thins the Ducks' receiving unit even more, as they also lost senior wide receiver Justin Hoffman to a medical retirement last month.
August, 7, 2012
8/07/12
9:15
AM PT
Every season comes with roster questions no matter the program. The three-time defending league champion Ducks lost some key pieces after 2011 but there is an abundance of talent waiting in the wings.
Not all of the key position battles involve a departed star, however. There are key returners at every spot on the field. With fall camp kicking off today there are a few key spots up for grabs.
Not being named a starter in Chip Kelly's system is not a dream killer though. Especially on defense, where the Ducks rotate more players than any team in the country.
To continue reading this article you must be an Insider
August, 5, 2012
8/05/12
1:21
PM PT
The defending league champion
Oregon Ducks
kick off their quest for a Pac-12 four-peat when fall camp kicks off on Monday. The Ducks won the last two Pac-10 titles and the inaugural Pac-12 title; now they want to be the first back-to-back Pac-12 champions.
When fall camp kicks off there will be many familiar faces and also some notable players missing.
Gone are record-setting quarterback Darron Thomas, all-time leading rusher LaMichael James, team MVP David Paulson, the team's most improved player, Eddie Pleasant, and Rose Bowl Offensive MVP LaVasier Tuinei. How will they replace the departed stars? Who will step up? Is a fourth consecutive league title possible?
To continue reading this article you must be an Insider
July, 24, 2012
7/24/12
10:00
AM PT
Oregon Ducks
fans have been witness to one of the greatest rises in college football history over the past two decades. The Ducks have risen from cellar dwellers to one of the hottest names in all of college football. The facilities, the uniforms and the Nike connection have all played a big role in the Ducks' rise to the top of the Pac-12.
Along with the success and the increased exposure nationally, has come a major boost in recruiting elite athletes to come to Eugene. It isn't always the high school All-Americans that turn into college stars. Oregon has made a living finding "diamonds in the rough" that have helped build a powerhouse.
There have been some big names in the recruiting world who chose to play their college ball in Eugene, but how many of them have lived up to the hype?
To continue reading this article you must be an Insider
July, 4, 2012
7/04/12
10:00
AM PT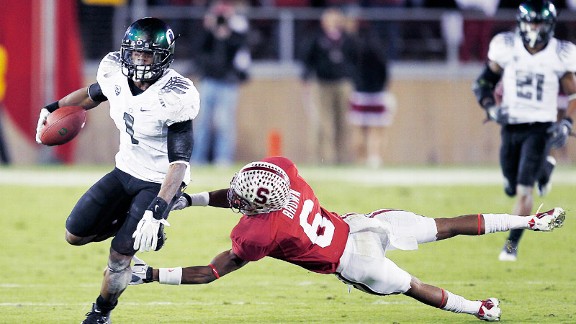 AP Photo/Tony AvelarJosh Huff has shown explosive game-breaking ability in his first two seasons at Oregon, but he also has been prone to drops and other errors of concentration.
While the weakness hasn't been as glaring as on the defensive line, Oregon's wide receiving corps has lacked sizzle in recent years. There has been some tantalizing talent in recent years with the likes of Cameron Colvin, Jaison Williams and others who had solid, yet unspectacular, careers. Jeff Maehl turned into one of Oregon's all-time bests and made more big plays than most Ducks fans can count. LaVasier Tuinei emerged in 2011 and turned in a Rose Bowl MVP performance in his last game in an Oregon uniform. A true gamebreaking receiver can make a world of difference and the Ducks are searching for their first truly elite receiver in years.
Similar to the defensive line, the current crop of wide receiver talent in Eugene is at an all-time high. Now it's time for one or two of the young and talented playmakers to rise above the rest and give Oregon a true threat on the outside.
Josh Huff
is the biggest threat among the returning pass catchers, but his inconsistency has been frustrating for Oregon fans in the past two seasons. Huff has the speed and athleticism to take over games but has been erratic in terms of reliability.
Joining Huff as veteran receivers in 2012 are
Rahsaan Vaughn
,
Justin Hoffman
,
Eric Dungy
,
Daryle Hawkins
and
Will Murphy
. While there has been improvement among this group, the prevailing thought is that one of the young guns needs to step up in order for the offense to reach its potential.