Oregon Ducks:

Dwayne Stanford
December, 19, 2012
12/19/12
5:02
AM ET
The Oregon Ducks never have had the benefit of loading up on local players who grew up dreaming of playing for Oregon. The talent level in the state just isn't there, and it likely never will be. The Ducks always have recruited California as well as can be expected. In recent years, the Ducks also have done a great job of going into states that aren't exactly Oregon pipelines and convincing recruits to join up.
To continue the series of Oregon's recruiting by state, DuckNation examines the success -- or lack thereof -- the Ducks have experienced when recruiting the states of Michigan, Ohio and Pennsylvania over the past decade. There haven't been many, but over the past two years the Ducks flipped two Michigan commits and beat Michigan, Ohio State and others for a third player.
Here is a look at who the Ducks have offered -- and signed -- from the three states over the past decade.
To continue reading this article you must be an Insider
October, 25, 2012
10/25/12
5:17
PM ET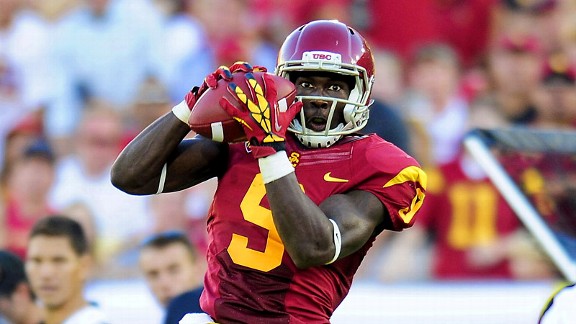 Cal Sport Media/AP ImagesYeah, Oregon's offense is elite already, but how good would it be if it had gotten Marqise Lee to sign in 2011? Pac-12 defenses shudder at the thought.
Under Chip Kelly, the Oregon football program has risen to a level few ever thought it could reach. His coaching style and aggressive schemes have led the Ducks to become a powerhouse program. While they are still far from a recruiting powerhouse, the influx of elite talent is one of the biggest reasons for their recent success. On Kelly's watch, the Ducks have secured a number of top prospects, including one of the biggest recruiting coups ever when they flipped
De'Anthony Thomas
after a long commitment to USC. Thomas has been brilliant in his time with the Ducks. Even with the Ducks' new recruiting prowess, taking a local legend out from under the thumb of a school like USC is the exception more than the rule.
There have been a few notable misses and some heated recruiting battles in the Kelly era that could have made this season's Ducks -- one of the best teams in school history -- nearly unbeatable. With some members of the Class of 2008 still in college, we'll look at what the Ducks could have looked like had they landed a few more of their key recruits.
2008
To continue reading this article you must be an Insider
October, 18, 2012
10/18/12
9:00
AM ET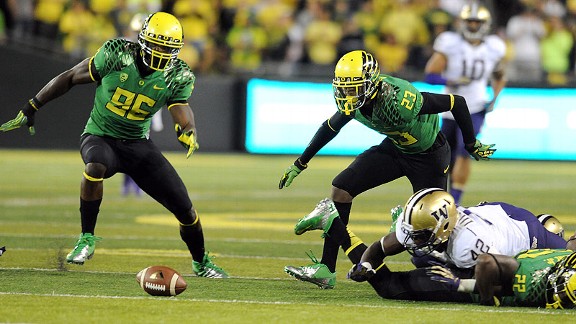 Steve Dykes/Getty ImagesB.J. Kelley (No. 23) is one of several promising wide receiver prospects that Scott Frost has brought to Eugene since joining the Ducks in 2009.
Like everything else with Oregon football, the role of the wide receiver in unique in the Ducks' scheme. The Ducks expect their receivers to block as much, if not more, than running routes and making plays in the passing game.
The receiver position has been cyclical over the past decade, with smaller receivers like Keenan Howry and Samie Parker to begin the decade and bigger receivers such as Jaison Williams and Cameron Colvin at the end of the Mike Bellotti era.
With Chip Kelly about to take over the program, the Ducks fired former wide receivers' coach Robin Pflugrad and went in search of a young, up-and-coming coach to take over the responsibilities of teaching the team-first mentality that Kelly demands from his players.
To continue reading this article you must be an Insider
October, 5, 2012
10/05/12
9:05
AM ET
It's Friday. Not only does that mean the Oregon Ducks face the Washington Huskies tomorrow in a huge rivalry game, it also means it's time for the DuckNation mailbag. You asked, we answered ...
[+] Enlarge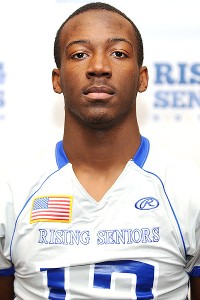 Radi Nabulsi/ESPN.comGeorgia prospect Juwaan Williams is one of the recruits the Ducks still have their eyes on.
Christine U. (Manhattan Beach, Calif.):
If the Ducks beat the Huskies for a ninth straight time, will any of their commits realize that Oregon is the place to be, not Washington?
DuckNation:
If it ends at eight or goes to nine, I don't think it will change much either way. The fact is Oregon has dominated of late and UW, while improved, has a long way to go. But that hasn't deterred kids from committing to the Huskies this year. Kids make their choices based on a number of things. Winning isn't always on top of the list.
Larry L. (Hawthorne, Calif.):
Who are the Ducks' top remaining targets? Are they going to get any defensive linemen?
DuckNation:
The Ducks are still after some big names, and others likely will emerge in the next few weeks. There are already some rumors floating about committed prospects trying to get in touch with the Ducks.
The Ducks want to grab another offensive lineman and, right now,
Thomas Oser
(North Hollywood, Calif./Harvard-Westlake) seems like the best shot.
Two-way athlete
Juwaan Williams
(Tucker, Ga./Tucker) will be in Eugene this weekend and has always held the Ducks in high regard. He would be a great piece to add as he fits the mold as someone who can play both ways.
As far as defensive linemen go, it's still anyone's guess. There are a couple of targets out there, but the players who sign with the Ducks in February may not have even popped up on the radar yet. The most likely of the current targets to sign with Oregon is
Austin Hooper
(Concord, Calif./De La Salle). Like most De La Salle players, Hooper will wait until after the season to dive into recruiting.
Marcus M. (Corvallis, Ore.):
With the hot start by the Ducks and the Beavers, do you think the state might become more of a football hot spot if both teams continue to play at a high level?
DuckNation:
I don't think a couple wins by the Beavers is going to turn the state into a recruiting hotbed. There has been improved in-state talent over the past decade, and the success of both programs can certainly take some of the credit. If Oregon State, with half of the fan base, can stay consistent and avoid 3-9 seasons, football will stay on the mind of everyone in the state -- likely resulting in a greater emphasis being put on the game the entire year.
Jon R. (Wilsonville, Ore.):
Why can't the Ducks land any elite receivers that also have size?
DuckNation:
Define elite.
Dwayne Stanford
, who is every bit of 6-foot-5, 210 pounds, is getting a lot of playing time as a freshman. Stanford was a U.S. Army All-American and chose the Ducks over schools like Ohio State, Michigan and others.
To be a wide receiver for Chip Kelly, blocking is every bit as important as receiving. Finding players to fit the style that Kelly likes to employ is a difficult task. While there have been no All-Americans, the Ducks have been able to find a way to make it work.
August, 15, 2012
8/15/12
10:00
AM ET
Oregon has been on a recruiting tear in recent years. The recent success of the Ducks has produced the golden age of Oregon football.
The Ducks have always done a masterful job of finding diamonds in the rough and developing talent that was overlooked coming out of high school. In recent years the Ducks have been able to stockpile high-level recruits and develop them the same way they would an obscure walk-on.
A lot was made of Oregon's shift in recruiting philosophy when Chip Kelly took over for Mike Bellotti in 2009. Bellotti built the program up from where longtime coach Rich Brooks had left it. Kelly has taken it to a whole new level.
To continue reading this article you must be an Insider
Mature Decision By Marcus Mariota