Oregon Ducks:

Dwayne Stanford
June, 19, 2014
6/19/14
9:00
AM ET
Over the past few weeks we examined the Ducks, position-by-position, evaluating the talent. But since I was in Eugene last week for the NCAA Track & Field Championships, I figured I'd stop by the football offices to check in with one of the guys who knows that information best, offensive coordinator Scott Frost. Wednesday, we went through
quarterback and running back
highlights. Today, we're on to wide receiver, tight end and the offensive line.
WIDE RECEIVER
On Devon Allen: He was actually a late offer for the Ducks who was offered after Chip Kelly left for the NFL. There were a few spots open (initially there had only been one spot for a receiver). "It all kind of worked out that we offered him, and this is where he wanted to be. I knew he could be fast. I had no idea he could go 13.1 in the high hurdles."
Frost actually was at Allen's race last Saturday when Allen won the 110-meter hurdle national title. Frost said that he doesn't think Allen "looks like he'd be a track guy, he's built more like a football guy, he's thick."
On his mindset on the receivers: "We felt good about receiver even losing the guys we did, with Bralon [Addison] back and some young guys we think are really talented. We're just going to have to have some of those young guys step up quicker than they would've had to otherwise."
The first receiver that Frost brought up after Allen was redshirt freshman Darren Carrington. "He has to grow up quick, but he has it in him to be that guy." The next three receivers he mentioned were redshirt sophomore Dwayne Stanford, redshirt sophomore Chance Allen and early enrollee Jalen Brown. Frost said that he thought Brown was "in over his head a bit" from a conditioning standpoint this spring, which limited his reps, but he's up to speed now, and Frost could see him being a contributor in the fall. So it sounds like after Keanon Lowe and D. Allen, there's certainly a pecking order of things, but the competition is still very much open.
It's the youngest crop of receivers Frost has ever had, so I was curious if there were any way he could speed up the learning curve or provide a catalyst (other than just more and more live reps). "Sometimes there's just no replacing experience. But all those guys are competitors. … They're going to get their shots early. You see it all the time in sports, when people get their opportunities some of them reach out and take it with both hands and others struggle a little bit. We're just hoping we have a bunch of guys where the former happens."
Frost said something interesting about indicators regarding whether a young guy can play early -- it's typically more based on mental and emotional maturity than talent.
TIGHT ENDS
Look for these guys, like the running backs, to be more involved in the pass game. "We have three, which is more than we've had going into a year that I can remember. … We have three guys that we trust to go out there and do it, and there's probably going to be times that a couple of them -- if they're playing well -- deserve to be on the field, and we can play with two tight ends."
Pharaoh Brown's injury isn't going to limit him through the fall. Frost said it's just a matter of keeping him healthy through the season. "He's really talented."
Frost called John Mundt's freshman year a "roller coaster" but said that when he was on, "he did some exceptional things."
Frost thought Mundt and Evan Baylis' biggest areas of growth over the past year has just been confidence. No surprise there.
OFFENSIVE LINE
I asked Frost about senior Hroniss Grasu taking the blame (for the line as a whole) for the losses last season. Grasu had said in the spring that he thought the group lacked toughness and got outmuscled in those games, and that's why the Ducks lost. "I wouldn't necessarily agree with that. I think we had two losses against teams that played really good games against us." Frost though the turnovers were a bigger problem in the Stanford and Arizona games. "If you play a team that does things right and you give them the ball that many times, that's a recipe for losing."
He wasn't surprised that Grasu said that, because he's that kind of a guy. He said it speaks to Grasu's leadership that he's willing to shoulder that kind of blame.
The line returns all five starters and considering the weight gain, the general consensus with everyone is that the Ducks should be just fine. But, I wanted to make sure to ask about a few backups who were getting significant reps during the spring season. Frost's thoughts: Redshirt junior Andre Yruretagoyena had his best spring season yet. He said the staff has high hopes for redshirt freshman Jake Pisarcik. He was impressed with redshirt junior walk-on Matt Pierson at right tackle.
February, 28, 2014
2/28/14
12:30
PM ET
The first day of spring practice is more than a month away, but it's never too early to take a look at what Oregon must do this spring to be a championship contender in the fall.
We'll be doing different countdowns looking at players, position groups and position battles in the next month, and we're starting this week with the five position groups that need to improve the most. We finish off the first countdown of our spring football series with a group that needs to replace a lot of yardage after 2013.
No. 1:
Wide receiver
[+] Enlarge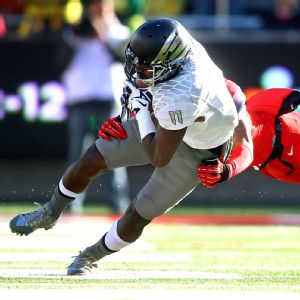 Mark J. Rebilas/USA TODAY SportsOregon receiver Bralon Addison caught 61 passes for 890 yards in 2013.
2013 review:
With quarterback
Marcus Mariota
registering the highest QBR in the Pac-12, the Oregon wide receivers found themselves in a pretty favorable position. Mariota increased his passing yards per game from 205 yards per game in 2012 to 281 in 2013, which means the wide receivers were targeted more and in bigger spots. In 2013, Oregon led the Pac-12 (and finished No. 6 in the nation) with 68 percent of its receptions going for a touchdown or first down. The Ducks also led the conference and finished in the top 10 nationally in yards per reception (14.8). Mariota was a semifinalist for the Maxwell Award for college player of the year and the Walter Camp Football Foundation Player of the Year. However, no quarterback can do that alone. Every quarterback in that group also had solid receivers as targets, which the Ducks certainly had in 2013.
Why they must improve:
The Ducks lose their No. 1 and No. 3 receivers in
Josh Huff
and
Daryle Hawkins
. Huff recorded a team-high 12 touchdowns on 62 catches and 1,140 yards, and Hawkins scored three touchdowns on 23 catches and 347 yards. So just between those two, Oregon is looking to replace 40 percent of its receiving yardage and 47 percent of its receiving touchdowns.
Bralon Addison
at slot receiver and
Keanon Lowe
at wide receiver each return, but finding someone to fill that other wide receiver spot will be important this spring.
Dwayne Stanford
, who redshirted last year after undergoing knee surgery, and
B.J. Kelley
(appeared in eight games, made one catch) are two players who could be in contention for that position. Stanford has the height advantage at 6-foot-5 (Kelley is 6-2), but Stanford needs to prove that he's better than his freshman statistics, when he recorded 11 catches in 13 games. The Ducks need a big-time receiver to step in, and while there's certainly an arsenal, no player is proven yet.
The countdown:
December, 19, 2012
12/19/12
5:02
AM ET
The Oregon Ducks never have had the benefit of loading up on local players who grew up dreaming of playing for Oregon. The talent level in the state just isn't there, and it likely never will be. The Ducks always have recruited California as well as can be expected. In recent years, the Ducks also have done a great job of going into states that aren't exactly Oregon pipelines and convincing recruits to join up.

To continue the series of Oregon's recruiting by state, DuckNation examines the success -- or lack thereof -- the Ducks have experienced when recruiting the states of Michigan, Ohio and Pennsylvania over the past decade. There haven't been many, but over the past two years the Ducks flipped two Michigan commits and beat Michigan, Ohio State and others for a third player.

Here is a look at who the Ducks have offered -- and signed -- from the three states over the past decade.
October, 25, 2012
10/25/12
5:17
PM ET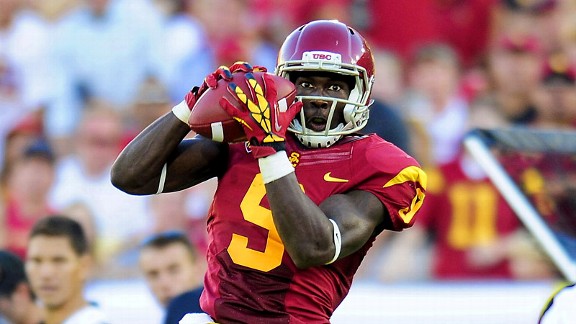 Cal Sport Media/AP ImagesYeah, Oregon's offense is elite already, but how good would it be if it had gotten Marqise Lee to sign in 2011? Pac-12 defenses shudder at the thought.
Under Chip Kelly, the Oregon football program has risen to a level few ever thought it could reach. His coaching style and aggressive schemes have led the Ducks to become a powerhouse program. While they are still far from a recruiting powerhouse, the influx of elite talent is one of the biggest reasons for their recent success. On Kelly's watch, the Ducks have secured a number of top prospects, including one of the biggest recruiting coups ever when they flipped
De'Anthony Thomas
after a long commitment to USC. Thomas has been brilliant in his time with the Ducks. Even with the Ducks' new recruiting prowess, taking a local legend out from under the thumb of a school like USC is the exception more than the rule.
There have been a few notable misses and some heated recruiting battles in the Kelly era that could have made this season's Ducks -- one of the best teams in school history -- nearly unbeatable. With some members of the Class of 2008 still in college, we'll look at what the Ducks could have looked like had they landed a few more of their key recruits.
2008
To continue reading this article you must be an Insider
October, 18, 2012
10/18/12
9:00
AM ET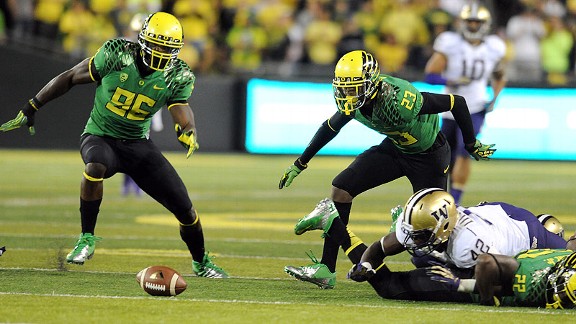 Steve Dykes/Getty ImagesB.J. Kelley (No. 23) is one of several promising wide receiver prospects that Scott Frost has brought to Eugene since joining the Ducks in 2009.
Like everything else with Oregon football, the role of the wide receiver in unique in the Ducks' scheme. The Ducks expect their receivers to block as much, if not more, than running routes and making plays in the passing game.
The receiver position has been cyclical over the past decade, with smaller receivers like Keenan Howry and Samie Parker to begin the decade and bigger receivers such as Jaison Williams and Cameron Colvin at the end of the Mike Bellotti era.
With Chip Kelly about to take over the program, the Ducks fired former wide receivers' coach Robin Pflugrad and went in search of a young, up-and-coming coach to take over the responsibilities of teaching the team-first mentality that Kelly demands from his players.
To continue reading this article you must be an Insider
October, 5, 2012
10/05/12
9:05
AM ET
It's Friday. Not only does that mean the Oregon Ducks face the Washington Huskies tomorrow in a huge rivalry game, it also means it's time for the DuckNation mailbag. You asked, we answered ...
[+] Enlarge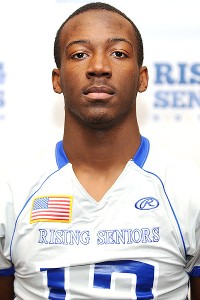 Radi Nabulsi/ESPN.comGeorgia prospect Juwaan Williams is one of the recruits the Ducks still have their eyes on.
Christine U. (Manhattan Beach, Calif.):
If the Ducks beat the Huskies for a ninth straight time, will any of their commits realize that Oregon is the place to be, not Washington?
DuckNation:
If it ends at eight or goes to nine, I don't think it will change much either way. The fact is Oregon has dominated of late and UW, while improved, has a long way to go. But that hasn't deterred kids from committing to the Huskies this year. Kids make their choices based on a number of things. Winning isn't always on top of the list.
Larry L. (Hawthorne, Calif.):
Who are the Ducks' top remaining targets? Are they going to get any defensive linemen?
DuckNation:
The Ducks are still after some big names, and others likely will emerge in the next few weeks. There are already some rumors floating about committed prospects trying to get in touch with the Ducks.
The Ducks want to grab another offensive lineman and, right now,
Thomas Oser
(North Hollywood, Calif./Harvard-Westlake) seems like the best shot.
Two-way athlete
Juwaan Williams
(Tucker, Ga./Tucker) will be in Eugene this weekend and has always held the Ducks in high regard. He would be a great piece to add as he fits the mold as someone who can play both ways.
As far as defensive linemen go, it's still anyone's guess. There are a couple of targets out there, but the players who sign with the Ducks in February may not have even popped up on the radar yet. The most likely of the current targets to sign with Oregon is
Austin Hooper
(Concord, Calif./De La Salle). Like most De La Salle players, Hooper will wait until after the season to dive into recruiting.
Marcus M. (Corvallis, Ore.):
With the hot start by the Ducks and the Beavers, do you think the state might become more of a football hot spot if both teams continue to play at a high level?
DuckNation:
I don't think a couple wins by the Beavers is going to turn the state into a recruiting hotbed. There has been improved in-state talent over the past decade, and the success of both programs can certainly take some of the credit. If Oregon State, with half of the fan base, can stay consistent and avoid 3-9 seasons, football will stay on the mind of everyone in the state -- likely resulting in a greater emphasis being put on the game the entire year.
Jon R. (Wilsonville, Ore.):
Why can't the Ducks land any elite receivers that also have size?
DuckNation:
Define elite.
Dwayne Stanford
, who is every bit of 6-foot-5, 210 pounds, is getting a lot of playing time as a freshman. Stanford was a U.S. Army All-American and chose the Ducks over schools like Ohio State, Michigan and others.
To be a wide receiver for Chip Kelly, blocking is every bit as important as receiving. Finding players to fit the style that Kelly likes to employ is a difficult task. While there have been no All-Americans, the Ducks have been able to find a way to make it work.
August, 15, 2012
8/15/12
10:00
AM ET
Oregon has been on a recruiting tear in recent years. The recent success of the Ducks has produced the golden age of Oregon football.
The Ducks have always done a masterful job of finding diamonds in the rough and developing talent that was overlooked coming out of high school. In recent years the Ducks have been able to stockpile high-level recruits and develop them the same way they would an obscure walk-on.
A lot was made of Oregon's shift in recruiting philosophy when Chip Kelly took over for Mike Bellotti in 2009. Bellotti built the program up from where longtime coach Rich Brooks had left it. Kelly has taken it to a whole new level.
To continue reading this article you must be an Insider
Pac-12 Teams Can Load Up At WR
PAC-12 SCOREBOARD
Thursday, 9/3
Friday, 9/4
Saturday, 9/5