Oregon Ducks:

Devon Blackmon
November, 26, 2012
11/26/12
5:15
AM ET
With a fifth straight win in the series -- their third straight in Corvallis -- the Oregon Ducks made it abundantly clear that they are clearly the best program in the state of Oregon and the Northwest. Saturday was the third time in five years that the Ducks have ripped a BCS bowl from the Beavers' grasp and now have a complete stranglehold on the series.
The Ducks have five straight wins against in-state rival Oregon State, nine consecutive against Washington and six straight against Washington State.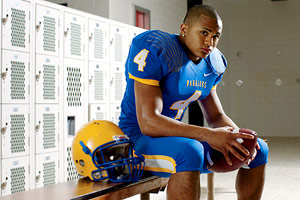 Quavondo for ESPN.comAloha, Ore., product Thomas Tyner was offered first by Oregon State but he eventually committed to the Ducks.
Oddly enough, the Ducks don't go head-to-head with Oregon State or Washington State very often for recruits.
November, 19, 2012
11/19/12
4:14
PM ET
In Oregon's 2011 recruiting class, the most prized recruits were athletes
De'Anthony Thomas
and
Colt Lyerla
, but Under Armour All-American
Devon Blackmon
helped the Ducks land the best group recruits deemed "athletes" in the country. Blackmon was the No. 23 player -- and No. 2 ATH -- in the ESPN 150 for the Class of 2011. Nearing the end of his redshirt freshman season, the University of Oregon released a statement today confirming that the Ducks' wide receiver will transfer out of the program.
"He has been a solid contributor to this football program for the last two seasons and I wish him continued success whatever he decides to pursue," Oregon head coach Chip Kelly said in a university press release.
Blackmon has received limited playing time in Eugene, only earning playing time in the Ducks' early-season blowout victories over Arkansas state and Tennessee Tech. In his two appearances, the 6-foot, 185-pounder failed to compile any stats.
The Ducks' recruiting Class of 2011 was highly regarded, due in large part to the strength of their four wide receiver signees. To date, the entire group of wide receivers has been mostly ineffective early in their careers. Blackmon joins fellow 2011 Under Armour All-American -- and ESPN 150 member --
Tacoi Sumler
as the second member of the touted wide receiver group to transfer from the program. Sumler transferred to FCS Appalachian State in August. Blackmon has given no indication on where he might wind up. Coming out of high school in Fontana, Calif., Blackmon chose the Ducks over other finalists USC and UCLA.
The other two members of the wide receiver group in the Ducks' Class of 2011 were elite junior-college wide receiver
Rahsaan Vaughn
and four-star
B.J. Kelley
. Vaughn played a sizable role in 2011 and was expected to be a starter entering 2012. So far this season, Vaughn -- now a senior -- has seen limited playing time. Kelley joined Sumler and Blackmon as a redshirt in 2011. So far this season, the 6-foot-2, 190-pound Kelley has been on the field on special teams and during mop up duty as a wide receiver.
November, 7, 2012
11/07/12
9:00
AM ET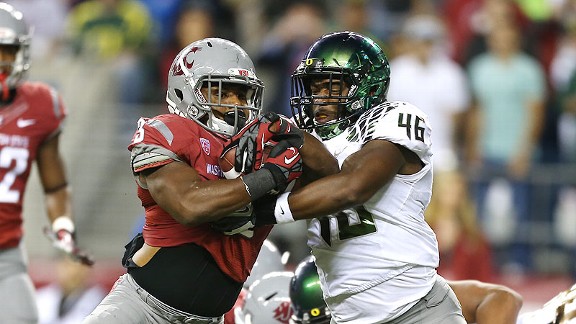 Otto Greule Jr/Getty ImagesSan Jose, Calif., native Michael Clay was a crucial recruiting win for the Ducks over California in the Class of 2009.
After the Ducks program began to take off in the mid-1990s, California hired former Ducks' offensive coordinator Jeff Tedford in 2002. As the Ducks' upward climb reached a standstill, Cal stepped up and looked like it might be the next in line to challenge USC.
The Golden Bears did win four of five games with the Ducks between 2004 and 2008, including a game for the ages in 2007. After they walked out of Autzen Stadium with a 31-24 win over the No. 5 Ducks, things began to change between the two schools. Cal did win the following season in Berkeley, as the Ducks fumbled gave away a game they dominated. Starting in the class of 2008, the Bears responded by going on an unprecedented run of recruiting success. The Ducks began to dominate the series on the field with a 42-3 win over the Bears in 2009. Despite the dominant performance over the then-No. 6 Bears, Cal beat the Ducks head-to-head for a number of elite recruits from 2008 to 2012.
Whether it was location, academics, Cal's plans for facilities upgrades -- which are now complete -- or former Cal assistant -- and current Washington assistant -- Tosh Lupoi, the Bears won the majority of the recruiting battles between the two schools. Similar to the recent history with USC, the Ducks don't care about recruiting rankings as much as they do the on-field results.
To continue reading this article you must be an Insider
November, 2, 2012
11/02/12
7:05
AM ET
The
Oregon Ducks
haven't won many direct recruiting battles with the
USC Trojans
over the years, but they are making strides. Oddly enough, there aren't too many examples over the past few years that had the two West Coast power programs going toe-to-toe. The fact of the matter is, the Trojans usually have who they want locked up early on, especially during the probation period that limits them to 15 scholarships per year.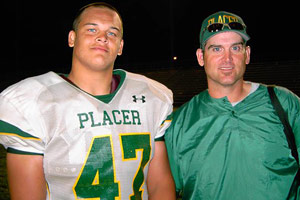 Courtesy Vanderdoes FamilyDT Eddie Vanderdoes is a top Oregon target, but he is committed to USC.
In the past few recruiting cycles, the Ducks have signed plenty of recruits that USC had extended offers to. Cliff Harris,
Andre Yruretagoyena
,
Tyler Johnstone
,
Devon Blackmon
,
Colt Lyerla
,
De'Anthony Thomas
,
Byron Marshall
and
Arik Armstead
are some of the big names the Ducks were able to sign in spite of the Trojans' efforts.
On the flip side, the Trojans have beaten the Ducks for dozens of prospects in recent years. There are too many to list, but a couple of the biggest names on the list are current Trojans -- and former top targets of the Ducks --
George Uko
and
Marqise Lee
.
To continue reading this article you must be an Insider
October, 31, 2012
10/31/12
8:00
AM ET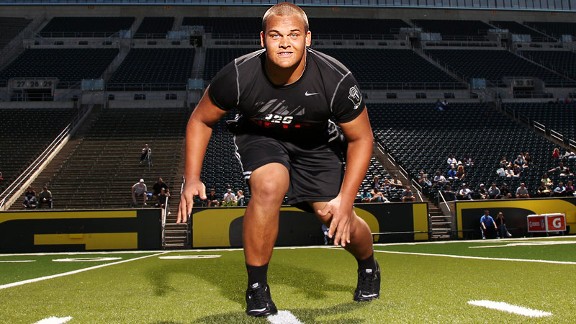 Tom Hauck/ESPNHSPlacer (Auburn, Calif.) defensive lineman Eddie Vanderdoes were pursued by Oregon and USC before pledging to the Trojans.
With Oregon and USC being the only two teams to win outright Pac-10 or Pac-12 conference titles since 1999, it would seem likely the two have enjoyed the most recruiting success over the same period. If recruit class rankings are the way to judge them, USC is clearly the head of the class. If it's success on the field in comparison to a program's recruit class rankings, Oregon is among the best programs in the country at developing talent.
The Trojans will almost assuredly have the most talent on paper every year due to their tradition, success and -- perhaps most important -- their location. USC can usually name who it wants in each recruiting class, especially in Southern California. The Ducks, meanwhile, have little-to-no recruiting base and have built their program on finding so-called diamonds in the rough. Oregon has stepped its game up on the recruiting trail in recent years but still sits behind the Trojans and others in terms of recruiting prowess.
Recruit rankings are not an exact science, and the only thing guaranteed with recruiting is that nothing is guaranteed. While the Ducks have taken on some heavyweights for blue-chip prospects in recent years, there have only been a few cases in which the Ducks actually beat the Trojans for a recruit's signature. The promising thing for Oregon fans is that in each of the past two years, the Ducks have swooped in and nabbed the state of California's top recruit -- each of whom were committed to USC for nearly a year -- right out from under the Trojans.
To continue reading this article you must be an Insider
October, 18, 2012
10/18/12
9:00
AM ET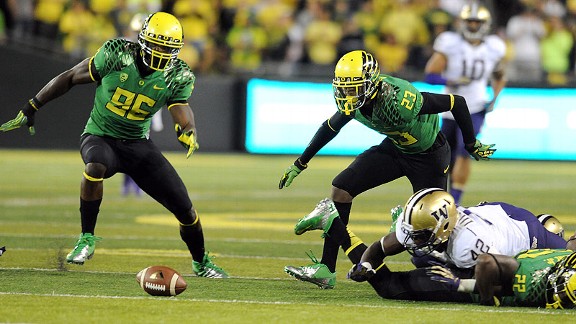 Steve Dykes/Getty ImagesB.J. Kelley (No. 23) is one of several promising wide receiver prospects that Scott Frost has brought to Eugene since joining the Ducks in 2009.
Like everything else with Oregon football, the role of the wide receiver in unique in the Ducks' scheme. The Ducks expect their receivers to block as much, if not more, than running routes and making plays in the passing game.
The receiver position has been cyclical over the past decade, with smaller receivers like Keenan Howry and Samie Parker to begin the decade and bigger receivers such as Jaison Williams and Cameron Colvin at the end of the Mike Bellotti era.
With Chip Kelly about to take over the program, the Ducks fired former wide receivers' coach Robin Pflugrad and went in search of a young, up-and-coming coach to take over the responsibilities of teaching the team-first mentality that Kelly demands from his players.
To continue reading this article you must be an Insider
August, 27, 2012
8/27/12
4:27
AM ET
During the past couple of decades, the Oregon Ducks have had their share of outstanding talent as they began to emerge as a powerful program. But inconsistency of the Ducks recruiting led to some down seasons. Under Chip Kelly, Oregon has had steadier success.
The Ducks try to recruit versatile athletes at every position, and seek players who love the Oregon system of being capable of playing multiple positions.
In the Ducks'
2011 recruiting class
, Kelly signed four of the top players in the country that were deemed "athletes" without a set position. Two of them made a significant impact in their first seasons.
De'Anthony Thomas
was the top-ranked athlete in the class and his impact was as good as any freshman in school history. Thomas was the only player in the country that season to amass 400 yards rushing, receiving and returning kicks.
To continue reading this article you must be an Insider
August, 17, 2012
8/17/12
10:00
AM ET
Nearly two weeks into Oregon fall camp, there is plenty of speculation as to who has the upper hand in the position battles and who has put themselves in position to see the field early on.
All eyes are on the ongoing quarterback battle between sophomore
Bryan Bennett
and redshirt freshman
Marcus Mariota.
When it comes to discussing his team, Ducks head coach Chip Kelly plays everything close to the vest. There is no greater example of this than when it comes to who will be given the keys to his high-flying offense.
To continue reading this article you must be an Insider
August, 10, 2012
8/10/12
4:15
PM ET
Receiver
Tacoi Sumler
, a member of the 2011 ESPN 150, has left the Oregon football program after just one season.
No reasons have been given in regard to the precipitating events in his decision. It is not unreasonable to assume, however, that playing time played a role.
Oregon offensive coordinator Mark Helfrich recently spoke about his young wide receiving corps and mentioned that Sumler was behind fellow redshirt freshmen
B.J. Kelley
and
Devon Blackmon
in terms of development.
With
Josh Huff
and
Rahsaan Vaughn
looking like two sure starters, the Ducks have one starting spot remaining. Kelley and Blackmon are joined in the battle for the third spot by
Eric Dungy
,
Daryle Hawkins
,
Blake Stanton
,
Keanon Lowe
and
Will Murphy
as returning players.
Add three freshman with
Bralon Addison
,
Dwayne Stanford
and
Chance Allen
, and it's a fairly crowded group.
At 5-foot-8, 177-pounds, Sumler was at a disadvantage in the Oregon offense, which relies heavily on downfield blocking by the wide receivers.
The No. 62 overall prospect in the 2011 ESPN 150 signed with Oregon out of Miami (Fla.), another major coup for the Ducks in their national recruiting efforts. Like
Lache Seastrunk
and others before him, Sumler left the program without ever stepping on the field in an Oregon uniform.
His departure thins the Ducks' receiving unit even more, as they also lost senior wide receiver Justin Hoffman to a medical retirement last month.
August, 7, 2012
8/07/12
9:15
AM ET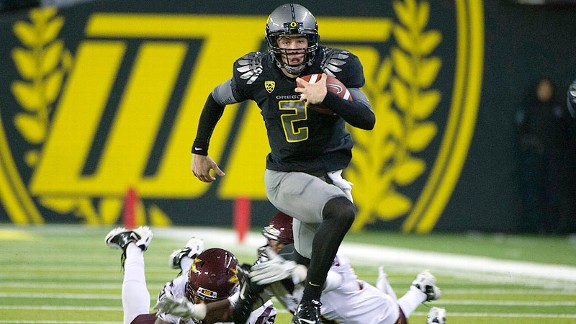 Jim Z. Rider/US PresswireBryan Bennett is battling for the quarterback spot with Marcus Mariota, who had an impressive spring.
Every season comes with roster questions no matter the program. The three-time defending league champion Ducks lost some key pieces after 2011 but there is an abundance of talent waiting in the wings.
Not all of the key position battles involve a departed star, however. There are key returners at every spot on the field. With fall camp kicking off today there are a few key spots up for grabs.
Not being named a starter in Chip Kelly's system is not a dream killer though. Especially on defense, where the Ducks rotate more players than any team in the country.
To continue reading this article you must be an Insider
August, 5, 2012
8/05/12
1:21
PM ET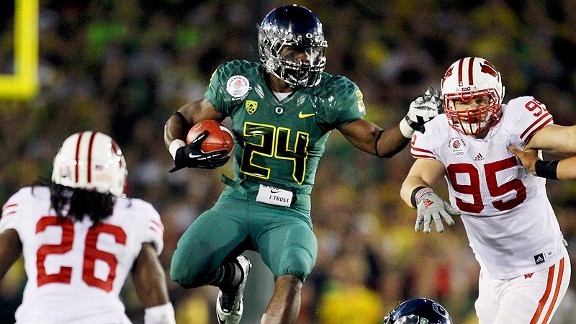 Jeff Gross/Getty ImagesKenjon Barner should get the majority of carries in the backfield this season.
The defending league champion
Oregon Ducks
kick off their quest for a Pac-12 four-peat when fall camp kicks off on Monday. The Ducks won the last two Pac-10 titles and the inaugural Pac-12 title; now they want to be the first back-to-back Pac-12 champions.
When fall camp kicks off there will be many familiar faces and also some notable players missing.
Gone are record-setting quarterback Darron Thomas, all-time leading rusher LaMichael James, team MVP David Paulson, the team's most improved player, Eddie Pleasant, and Rose Bowl Offensive MVP LaVasier Tuinei. How will they replace the departed stars? Who will step up? Is a fourth consecutive league title possible?
To continue reading this article you must be an Insider
July, 25, 2012
7/25/12
10:00
AM ET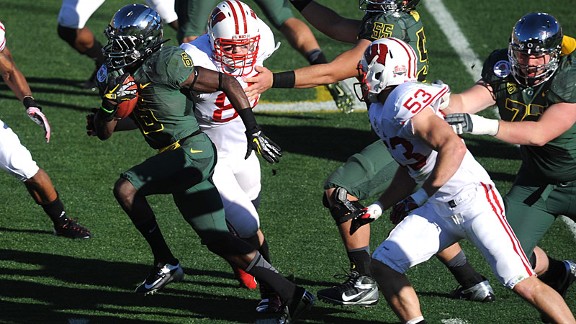 Kelvin Kuo/US PresswireDe'Anthony Thomas fulfilled his five-star hype, and then some, as a freshman in 2011 and could be a Heisman Trophy candidate this season.
Oregon Ducks
fans have been witness to one of the greatest rises in college football history over the past two decades. The Ducks have risen from cellar dwellers to one of the hottest names in all of college football. The facilities, the uniforms and the Nike connection have all played a big role in the Ducks' rise to the top of the Pac-12.
Along with the success and the increased exposure nationally has come a major boost in recruiting elite athletes to come to Eugene. It isn't always the high school All-Americans that turn into college stars. Oregon has made a living finding "diamonds in the rough" that have helped build a powerhouse.
There have been some big names in the recruiting world who chose to play their college ball in Eugene, but how many of them have lived up to the hype?
To continue reading this article you must be an Insider
July, 4, 2012
7/04/12
10:00
AM ET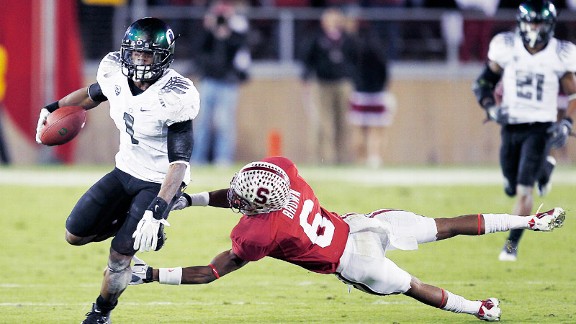 AP Photo/Tony AvelarJosh Huff has shown explosive game-breaking ability in his first two seasons at Oregon, but he also has been prone to drops and other errors of concentration.
While the weakness hasn't been as glaring as on the defensive line, Oregon's wide receiving corps has lacked sizzle in recent years. There has been some tantalizing talent in recent years with the likes of Cameron Colvin, Jaison Williams and others who had solid, yet unspectacular, careers. Jeff Maehl turned into one of Oregon's all-time bests and made more big plays than most Ducks fans can count. LaVasier Tuinei emerged in 2011 and turned in a Rose Bowl MVP performance in his last game in an Oregon uniform. A true gamebreaking receiver can make a world of difference and the Ducks are searching for their first truly elite receiver in years.
Similar to the defensive line, the current crop of wide receiver talent in Eugene is at an all-time high. Now it's time for one or two of the young and talented playmakers to rise above the rest and give Oregon a true threat on the outside.
Josh Huff
is the biggest threat among the returning pass catchers, but his inconsistency has been frustrating for Oregon fans in the past two seasons. Huff has the speed and athleticism to take over games but has been erratic in terms of reliability.
Joining Huff as veteran receivers in 2012 are
Rahsaan Vaughn
,
Justin Hoffman
,
Eric Dungy
,
Daryle Hawkins
and
Will Murphy
. While there has been improvement among this group, the prevailing thought is that one of the young guns needs to step up in order for the offense to reach its potential.
Programs Most Desperate for a Quarterback
PAC-12 SCOREBOARD
Thursday, 9/3
Saturday, 9/5