Oregon Ducks:

Christian French
November, 28, 2012
11/28/12
9:00
AM PT
The Ducks have never had the benefit of loading up on local players who grew up dreaming of playing for the them. The talent level just isn't there. The truth is, it likely never will be. The Ducks have always recruited California as well as they can be expected to. In recent years, the Ducks have done a great job of going into states not known for producing talent to secure commitments from some players that were mostly overlooked throughout their high school careers .
To continue the series of Oregon's recruiting by state, DuckNation examines the success -- or lack thereof -- that the Ducks have experienced when recruiting the states of Indiana, Iowa, Kansas, Nebraska and Wyoming over the past decade. While the region is not exactly a recruiting hotbed, the Ducks have been able to land some impact players over the past 10 years.
Here is a look at who they offered, who visited, who they signed and how their careers played out.
To continue reading this article you must be an Insider
August, 31, 2012
8/31/12
12:36
PM PT
It has been an interesting week for the
Oregon Ducks
. From naming a starting quarterback, potentially getting a transfer, official visits being set up by top recruits and the season opener against Arkansas State, it's fair to say that things are heating up in Eugene.
With a flurry of activity surrounding the program, it is now time to open up the mailbag and answer your questions.
Mike L. (Portland, Ore.):
With
Marcus Mariota
being named the starter, it leaves
Bryan Bennett
with three years left as a backup. Like Mariota, freshman
Jake Rodrigues
and
Jeff Lockie
both have four years left. Bennett has said he's staying, but I could see him or one of the freshmen leaving this season. Should the Ducks turn their quarterback recruiting up a notch for 2013?
To continue reading this article you must be an Insider
August, 27, 2012
8/27/12
4:27
AM PT
During the past couple of decades, the Oregon Ducks have had their share of outstanding talent as they began to emerge as a powerful program. But inconsistency of the Ducks recruiting led to some down seasons. Under Chip Kelly, Oregon has had steadier success.
The Ducks try to recruit versatile athletes at every position, and seek players who love the Oregon system of being capable of playing multiple positions.
In the Ducks'
2011 recruiting class
, Kelly signed four of the top players in the country that were deemed "athletes" without a set position. Two of them made a significant impact in their first seasons.
De'Anthony Thomas
was the top-ranked athlete in the class and his impact was as good as any freshman in school history. Thomas was the only player in the country that season to amass 400 yards rushing, receiving and returning kicks.
To continue reading this article you must be an Insider
August, 23, 2012
8/23/12
10:00
AM PT
As Oregon has become a national name over the past decade, its recruiting reach has expanded to never before seen levels.
The Ducks will always have California as their most fertile recruiting ground and the place from which the foundation of the program is built. But as the Ducks have become a more recognizable brand in recent years, they have been able to attract the attention of recruits from far and wide.
Here is a look at what the Ducks have been able to accomplish over the past decade when recruiting the Central and Eastern time zones. There have been some major hits, some hidden gems and also some big disappointments.
To continue reading this article you must be an Insider
August, 22, 2012
8/22/12
7:00
AM PT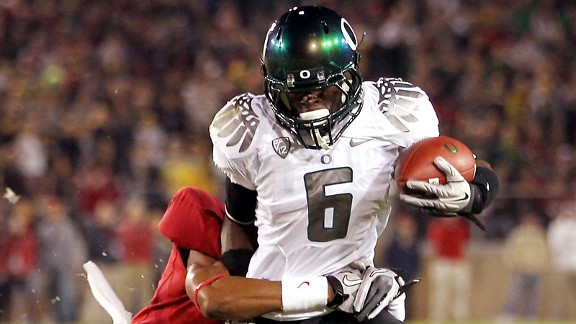 Ezra Shaw/Getty ImagesOregon coach Chip Kelly is not really concerned where talents like De'Anthony Thomas played in high school. If they are athletic, he'll figure out a way to utilize them properly.
Some of the top college football programs are defined by one thing. For Alabama, it's defense. For the
Oregon Ducks
, it's speed.
Under Chip Kelly the Ducks have changed the way the game is played. They look fast, they practice fast and they play faster.
The Ducks' roster is full of speed at every position. The biggest reason is that Kelly lives by the philosophy that you can't teach speed, but you can recruit it. You can certainly mess around with it, too. Finding a way to get his best athletes on the field is one of Kelly's biggest strengths.
When it comes to recruiting, Kelly lives by the same philosophy. Like everything else about the Ducks, their recruiting approach is unique.
When looking to fill out their recruiting classes, the Ducks look for athletes first. A quick look at the current roster reveals numerous examples of this.
Wide receiver
Josh Huff
played quarterback and running back in high school. Sophomore phenom
De'Anthony Thomas
played running back and safety at Crenshaw High in Los Angeles.
Kenjon Barner
started his Oregon career at cornerback before switching to running back. Former Ducks player Jeff Maehl was a safety before injuries forced him to move to wide receiver as a freshman. The Ducks want athletes who can play multiple positions. If a player is good enough, he will be on the field in some way, shape or form.
In last year's recruiting class, the Ducks landed a Thomas-type player when
Bralon Addison
signed with the Ducks. Addison played quarterback for his team high school team last year.
Now Addison seems primed for a breakout season as a freshman after drawing praise throughout fall camp for his game-breaking ability at receiver and as a returner. It extends beyond the skill positions, as well.
The offensive line presents one of the biggest challenges for the Ducks, as not every lineman wants to play in the zone-heavy, hurry-up scheme that Kelly runs. The Ducks look for athletic big men that can move around the line and get up to the second level.
Sophomore center
Hroniss Grasu
played only three years of football before getting to Oregon. He focused on soccer and basketball growing up. His athleticism and versatility are exactly what the Ducks look for. Sophomore
Jake Fisher
, who played tight end in high school, earned significant playing time on the offensive line as a freshman in 2011. Fisher appears to have a leg up for a starting spot on the line in 2012.
The Ducks want their best athletes on the field and will make it happen through position changes at a moment's notice.
Dion Jordan
was recruited as a wide receiver for the Ducks before switching to tight end as a freshman. His versatility and the Ducks' desire for an athletic pass rusher led Jordan to the defensive end position. After a first-team All-Pac-12 season a year ago, Jordan seems destined to be a high NFL draft pick in 2013.
Christian French
signed with Oregon over schools like Notre Dame because the Ducks wanted him on the offensive side of the ball. This spring, French made the switch to defensive end and is now the heir apparent to Jordan as the athletic "drop end." It is much of the same when looking at this year's crop of recruits.
Athlete
Chris Seisay
(American Canyon, Calif./American Canyon) is already committed to the Ducks for 2013. At 6-foot-2, 185 pounds, Seisay plays wide receiver and cornerback in high school but will head to Oregon as a safety.
Two of the Ducks top remaining targets for 2013 are twin brothers
Tyrell Robinson
and
Tyree Robinson
(San Diego/Lincoln). The twins could play a number of positions in college. Wide receiver, safety and linebacker seem like the final destinations, but either could grow into a tight end or even a defensive end as they mature.
July, 25, 2012
7/25/12
10:00
AM PT
Oregon Ducks
fans have been witness to one of the greatest rises in college football history over the past two decades. The Ducks have risen from cellar dwellers to one of the hottest names in all of college football. The facilities, the uniforms and the Nike connection have all played a big role in the Ducks' rise to the top of the Pac-12.
Along with the success and the increased exposure nationally has come a major boost in recruiting elite athletes to come to Eugene. It isn't always the high school All-Americans that turn into college stars. Oregon has made a living finding "diamonds in the rough" that have helped build a powerhouse.
There have been some big names in the recruiting world who chose to play their college ball in Eugene, but how many of them have lived up to the hype?
To continue reading this article you must be an Insider
July, 3, 2012
7/03/12
10:00
AM PT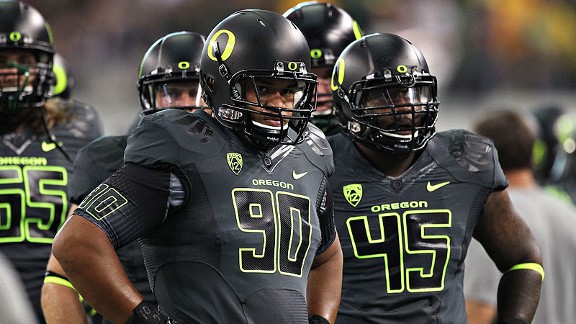 Matthew Emmons/US PresswireRicky Heimuli (front), a highly touted defensive tackle in the 2010 class, is expected to take a big step up on Oregon's defensive line this season.
After a nice run of NFL talent along the defensive front from 2002-05, the
Oregon Ducks
took a number of hits with recruits failing to qualify or not showing up on campus for a variety of reasons. When new defensive line coach Jerry Azzinaro arrived in 2009, things began to change in Eugene. While the talent has been building in recent years, the defensive line was the one glaring weakness when comparing Oregon to the likes of SEC powers Auburn, LSU and Alabama.
The Ducks have excelled at nearly every position outside of DL in recent years. The linebackers have been key in helping the Ducks to high sack totals, but 2012 looks like the season it all comes together up front for the Ducks. The depth, size and talent are at an all-time high in Eugene, as key returners are back for another go around and a number of impact newcomers will be entering the fold.
After losing Kenny Rowe, Brandon Bair and Zac Clark from the 2010 BCS runner-ups, the defensive line stepped up last year and kept the Ducks among the elite. Now that they have another year under their belts, look for Oregon's front line to make a big impact in 2012.
June, 29, 2012
6/29/12
10:00
AM PT
By hauling in the
No. 18 recruiting class
in 2012 the Oregon Ducks added more depth, size and skill to an already young and talented roster. The class, heavy on defense and elite skill-position players, could see a number of newcomers make an immediate impact in Eugene.
Most likely to see the field
To continue reading this article you must be an Insider
June, 28, 2012
6/28/12
9:30
AM PT
Coming off arguably the best back-to-back recruiting classes in program history, the
Oregon Ducks
are at it again. With a growing reputation as a recruiting heavyweight, Oregon has become more selective and patient with its scholarship offers.
Compared to other schools, the Ducks got off to a slow start in the 2013 recruiting cycle. The Ducks did manage to earn early commitments from the top two in-state players in offensive lineman
Evan Voeller
(West Linn, Ore./West Linn) and running back
Thomas Tyner
(Aloha, Ore./Aloha).
In the span of eight days, the Ducks' recruiting class went from three to seven after hosting their camp last week. Athlete
Chris Seisay
(American Canyon, Calif./American Canyon), kicker/punter
Matt Wogan
(Indian Trail, N.C./Porter Ridge), receiver
Darren Carrington
(San Diego, Calif./Horizon Christian) and tight end
John Mundt
(Modesto, Calif./Central Catholic) all committed in recent days, following running back
Dontre Wilson
(DeSoto, Texas/DeSoto), who committed in late April.
To continue reading this article you must be an Insider