Oregon Ducks:

Boise State Broncos
March, 3, 2014
3/03/14
12:00
PM ET
Looking back at some teams the current group of Pac-12 coaches have led during their respective head-coaching careers turns up an impressive list. All 12 have coached a team to a bowl appearance, 10 have finished a season with double-digit wins and eight have had teams appear in the AP top 10.
Taking it a step further and just looking at each individual coach's best team (in college) also made for an interesting study. Choosing which teams those are is clearly a subjective process so for the purpose of consistency, the teams listed below were chosen based on the final spot in the AP poll.
Here are some notable takeaways:
Eight teams ended with bowl victories, but two occurred after the coach left.

Seven teams started unranked, but only one finished out of the polls.

Half of the coaches did it at their current school, four of which occurred in 2013.

Six teams appeared in the top 5 at some point and nine were in the top 15.

Three coaches immediately parlayed the success into their current job.

Only three of the teams won conference titles, none of which was in the Pac-12.

Two teams beat No. 1-ranked squads.

Four teams played in BCS bowls, and three were victorious.
We're not going attempt to rank them ourselves, but here they are in reverse order based on each team's final AP ranking:
No. 12 Sonny Dykes, Louisiana Tech, 2012
Dykes' record:
9-3 (4-2, third in WAC)
Final AP rank:
unranked
Highest AP rank:
19
Bowl result:
no bowl

The team:
The Bulldogs finished the season as the country's highest scoring team (51.50 ppg) and top-ranked offense (577.9 ypg). They rose to No. 19 in the AP poll before losing their final two games of the season, including one against Mike MacIntyre-coached San Jose State in the season finale. Louisiana Tech was
offered a spot
in the Independence Bowl, but it was given away while the school unsuccessfully sought other bowl options. Dykes left for Cal after the season.
[+] Enlarge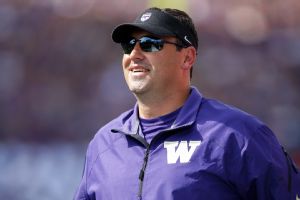 Otto Greule Jr/Getty ImagesSteve Sarkisian parlayed his successful 2013 season into the head-coaching job at USC.
No. 11 Steve Sarkisian, Washington, 2013
Sarkisian's record:
8-4 (5-4, third in Pac-12 North)
Final AP rank:
25
Highest AP rank:
15
Bowl result:
Beat BYU in Fight Hunger Bowl (Sarkisian did not coach)

The team:
The season began with a win against then-No. 19 Boise State, and the season ended with Broncos coach Chris Petersen being hired by the Huskies. Sarkisian departed for USC prior to the bowl. After the win against Boise, Washington debuted in the rankings at No. 19 and rose four spots before a string of three straight losses to Stanford, Oregon and Arizona State.
No. 10 Mike MacIntyre, San Jose State, 2012
MacIntyre's record:
10-2, (5-1, second in WAC)
Final AP rank:
21
Highest AP rank:
21
Bowl result:
Beat Bowling Green in Military Bowl (MacIntyre did not coach)

The team:
Two years after coaching San Jose State to a 1-11 record in his first season as head coach, MacIntyre's team became the first in program history to finish in the final AP poll -- although, the Spartans were unranked when MacIntyre accepted the job at Colorado. SJSU didn't beat any ranked teams, but lost just 20-17 to Stanford, which went on to win Pac-12 and Rose Bowl championships. The other loss came to Utah State, which finished No. 16.
No. 9 Todd Graham, Arizona State, 2013
Graham's record:
10-4 (8-1, won Pac-12 South)
Final AP rank:
21
Highest AP rank:
11
Bowl result:
Lost to Texas Tech in Holiday Bowl
The team:
In his eighth season as an FBS head coach, Graham's most recent Arizona State team was his best. The Sun Devils began the season unranked and entered and exited the Top 25 twice before closing the regular season with a seven-game winning streak. It was ranked No. 11 when it hosted Stanford in the Pac-12 championship game, but a second loss to the Cardinal kept ASU out of the Rose Bowl.
No. 8 Mike Riley, Oregon State, 2008
Riley's record:
9-4 (7-2, tied for second in Pac-10)
Final AP rank:
18
Highest AP rank:
17
Bowl result:
Beat Pittsburgh in the Sun Bowl

The team:
The Beavers started unranked and lost their first two games before winning eight of nine to peak at No. 17. After a 1-2 start, it beat No. 1 USC in Corvallis, but didn't immediately build off the big win. The next week the Beavers lost to Kyle Whittingham's undefeated Utah team (more later).
Riley's highest spot in the polls came in 2012, when the Beavers reached No. 7 after a 6-0 start. He was a head coach in the NFL for three years and the Canadian Football League for four, where he won a pair of Grey Cups.
No. 7 Jim Mora, UCLA, 2013
Mora's record:
10-3 (6-3, second in Pac-12 South)
Final AP rank:
16
Highest AP rank:
9
Bowl result:
Beat Virginia Tech in Sun Bowl

The team:
The Bruins spent the entire season in the polls after starting at No. 21. They began 5-0 and rose to No. 9 before road losses to No. 13 Stanford and No. 3 Oregon. Mora's best coaching job came in the NFL in 2004 when he guided the Atlanta Falcons to an NFC South title and an appearance in the NFC Championship.
No. 6 Mike Leach, Texas Tech, 2008
Leach's record:
11-2 (7-1, tied for first in Big 12 South)
Final AP rank:
12
Highest AP rank:
2
Bowl result:
Lost to Ole Miss in Cotton Bowl

The team:
The Red Raiders started the year at No. 12 and moved up to No. 6 after an 8-0 start. They rose to No. 2 after Michael Crabtree's memorable touchdown catch secured a win vs. No. 1 Texas. After two weeks at No. 2, the Red Raiders lost to No. 5 Oklahoma in a game that propelled Sooners quarterback Sam Bradford to the Heisman Trophy. Leach arrived at WSU in 2012.
[+] Enlarge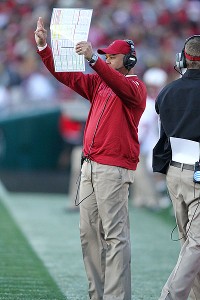 AP Photo/Kevin ReeceDavid Shaw's best team at Stanford didn't win the Pac-12 title.
No. 5 Mark Helfrich, Oregon, 2013
Helfrich's record:
11-2 (7-2, tied for first in Pac-12 North)
Final AP rank:
9
Highest AP rank:
2
Bowl result:
Beat Texas in Alamo Bowl
The team:
Of all the teams on the list, none started higher than the Ducks in Helfrich's head-coaching debut at No. 3. Oregon spent eight weeks at No. 2 before losses to Stanford and Arizona in a three-game span ended any hopes of a conference or national title. The team finished ranked No. 2 in the country in both total offense (565.0 ypg) and scoring (45.5 ppg). Quarterback
Marcus Mariota
dealt with some late-season injury problems, but, when healthy, he was as good as any player in college football.
No. 4 David Shaw, Stanford, 2011
Shaw's record:
11-2 (8-1, second in Pac-12 North)
Final AP rank:
7
Highest AP rank:
3
Bowl result:
Lost to No. 3 Oklahoma State in Fiesta Bowl
The team:
In three seasons as head coach, Shaw has won a pair of Pac-12 titles. But in 2011, when Oregon won the Pac-12 title, he probably had his best team. The Rose Bowl championship team the following year also finished No. 7 and has more hardware, but it didn't have Andrew Luck. Stanford started the year at No. 7, moved up to No. 3 after winning its first nine games, but then lost 53-30 at home to No. 6 Oregon. Stanford received a second consecutive BCS at-large bid, but suffered an overtime loss to No. 3 Oklahoma State in the Fiesta Bowl. In addition to Luck, 10 other players landed on 53-man NFL rosters from the team's departing class. Stanford's low ranking of No. 8 was the best among teams on this list.
No. 3 Rich Rodriguez, West Virginia, 2005
Rodriguez's record:
11-1, (7-0 Big East champion)
Final AP rank:
5
Highest AP rank:
5
Bowl result:
Beat No. 8 Georgia in Sugar Bowl
The team:
Freshmen QB Pat White and RB Steve Slaton were the names of note for the current Arizona coach. West Virginia started the year unranked and its lone loss came to then-No. 3 Virginia Tech. It was the first of three consecutive double-digit win seasons for the Mountaineers, who were undefeated in Big East play and capped the season with a win over No. 8 Georgia in the Sugar Bowl. A strong case can be made that West Virginia had a better team in 2007, when Rodriguez left following the regular-season finale to become head coach at Michigan. The Mountaineers were ranked No. 2 (No. 1 in the coaches poll) going into Rodriguez's final game, but
lost to a 4-7 Pittsburgh team
in the 100th Backyard Brawl, which cost them a chance to play for the national title. They finished No. 6.
No. 2 Chris Petersen, Boise State, 2009
Petersen's record:
14-0 (8-0, WAC champions)
Final AP rank:
4
Highest AP rank:
4
Bowl result:
Beat No. 4 TCU in the Fiesta Bowl
The team:
Washington's new coach has quite the résumé. Many consider Boise State's undefeated 2006 team that beat Oklahoma in that's year memorable Fiesta Bowl as the school's best, but three years later the Broncos finished 14-0 and finished a spot higher in the final AP poll. They opened the season at No. 14 and started with a win against No. 16 Oregon in Chip Kelly's first game as head coach. Boise capped the season with a win against undefeated TCU in the Fiesta Bowl. The team's offensive coordinator, Bryan Harsin, is now the head coach and its defensive coordinator, Justin Wilcox, spent last season with Sarkisian at Washington and followed him to USC in the same capacity.
No. 1 Kyle Whittingham, Utah, 2008
Whittingham's record:
13-0 (8-0, Mountain West champions)
Final AP rank:
2
Highest AP rank:
2
Bowl result:
Beat No. 4 Alabama in Sugar Bowl
The team:
In Whittingham's fourth season as head coach, the Utes finished as the nation's lone undefeated team after starting unranked. Utah opened with a win at Michigan -- Rodriguez's first game as the Wolverines' coach -- and went on to beat four teams that finished in the final AP poll, including Alabama (6), TCU (7), Oregon State (18) and BYU (25). Quarterback Brian Johnson threw for 336 yards in a convincing 31-17 win against Alabama in the Sugar Bowl.
Want to swap out one team for another or switch the order? Email me at Kyle.Bonagura@espn.com.
December, 20, 2013
12/20/13
6:00
PM ET
Happy Friday. Welcome to the mailbag.
Follow the Pac-12 blog on Twitter
. Santa is watching and you don't want to be added to the naughty list.
George from Phoenix writes:
I've read Kevin and your pre-bowl comments
on how well the Pac-12 needs to (and should do) in the bowls. "Favored in all games (or 8/9)". "Opponents are overmatched," etc. I believe the hype.
Then I read Mark Schlabach predictions yesterday
which has the Pac-12 going a measly 3-6, including a loss in the BCS game you have so wisely noted is most important for Pac-12 perception!!!! Should I panic? What's a guy to believe?!?!
Ted Miller
: I would say Mark shouldn't get too close to Vegas this holiday season.
If the Pac-12 goes 3-6 in its bowl games, Kevin has agreed to wear nothing but a burlap sack for a week. If the Pac-12 goes 3-6 in its bowl games, I will listen only to Adele songs for two weeks. OK, a week. No… a day. An entire day! An entire work day.
Everybody has opinions. And sportswriters are often asked to pick games. They can go the easy route and pick the favorites over and over again. Or they can try to spice things up by predicting upsets. It's also possible that Mark suspected he'd get a rise out of Pac-12 fans, so he's already 1-0 this bowl season. (George was not the only one to note Schlabach's Pac-12 bowl picks.)
But there might be method to his madness, or at least a justifiable logic.
You have two Pac-12 teams, USC and Washington, going through coaching turmoil. You have an Oregon team that had players complaining about the Rose Bowl now playing in the Valero Alamo Bowl against a Texas team that surely will be trying to win one for outgoing coach
Mack Brown
.
You have Arizona and Oregon State teams that have been pretty mercurial this season. You have Stanford facing a Michigan State team that is playing as well as any squad in the nation.
There are ways to script a 3-6 bowl season. Even Jon Wilner has the
Pac-12 going a meager 5-4
.
I think both will be wrong.
But ask Cal and Oregon State fans how often I'm right.
---
Mike from Springfield, Missouri, writes:
I will miss the BCS
because it really does make every game more interesting throughout the year. I don't deny that the playoffs will be more exciting than the current bowls. But I think the rest of the regular season will be much less interesting.
I would not have been watching the Iron Bowl this year because I would have known that even with a Bama loss, they would still be in the top four and making the playoffs and still probably be the favorite to win it, and so that game would have been not nearly as big as news as it was. We would then be talking about how it was good for Bama to lose because then they didn't even have to play the SEC title game and would be playing for the national title. Same thing years back when No. 1 Ohio State was playing No. 2 Michigan.
As well as Bama recruits, Bama will always start off ranked high in the polls and so the regular season won't get any headlines til Bama loses twice. I would have probably not watched a game all year this year with as good as Bama was, knowing that it would take two losses for them to not win the title and would probably just watch the playoffs. I think there will ultimately be a lot of fans like me and college football will find out that they had a good thing even with as much controversy as it had (there will always be controversy with a league with 119 teams that doesn't have equal schedules).
Ted Miller
: You make a fair point.
On the one hand, by adopting a four-team College Football Playoff compared to a two-team BCS title game, we are increasing the pool and therefore the opportunity. It seems more democratic, eh?
But there are always unintended consequences when change comes to a system. It's possible the biggest beneficiaries of the CFP will be the college football superpowers, teams that get the benefit of the doubt after a loss (or two).
If Alabama, USC, Texas, and LSU (group A) had just one loss, and Duke, Northwestern, Boise State and Texas Tech (group B) also had just one loss, how many teams from group A get into the playoff compared to group B?
If the selection committee is, like the national polls, heavily reliant on reputation, the elite powers will typically get the benefit of the doubt.
When a highly ranked Alabama/USC/LSU/Texas team loses its first game, it won't tumble precipitously in the polls, whereas a Duke/Northwestern/Boise State/Texas Tech that is climbing the polls after being unranked in the preseason doesn't get the same consideration.
Further, as you noted, increasing the pool to four teams over two decreases the value of the regular season, the one undeniable strength of the BCS system.
Many think we're headed toward an eight-team playoff. That sounds far more equitable, but that would reduce the value of the regular season even further -- significantly.
It will be interesting to see how the CFP affects how we perceive and react to the regular season. It's still going to be college football, so it will continue to be awesome. And it will still provoke controversies.
It is possible that those controversies won't be as juicy.
---

Ryan from Kennewick, Wash., writes:
Anything is possible in college football. "Never say never" and "Texas (UT) has unlimited resources" are two things we hear a lot. Even though there are provisions in the UT athletic director's contract to keep him from hiring ASU's staff, what are the chances that Texas uses their "resources" to go after one of them anyway? (Obviously I'm primarily referring to Todd Graham.)
Ted Miller
: If Texas really, really wants to hire Todd Graham away from Arizona State, it will go after him. And I personally would have no problem with Graham taking the job because this is the United States of America, and if you are a football coach, you should want to coach at Texas and make $5 million a year.
(Kevin has told me that Texas is the only job that could lure him away from the Pac-12 blog. Mine would be Florida Keys Community College -- because, hey, you're living in the Florida Keys!).
I know there was an agreement between Arizona State and its former athletic director Steve Patterson, now at Texas, that Patterson
wouldn't bring Sun Devils staffers with him to Austin
.
But this is the United States of America. If you have money and good lawyers, you can make just about anything happen you want.
Other than get Nick Saban.
---

Scott from London writes:
Just wondering what your thoughts are on
B.J. Denker
's 898 yards rushing and how his propensity to ball-hog on the read option hurt Carey's chances at the Doak/Heisman Awards?I know Carey was still a workhorse, but who should be running the ball? Your All-American RB or your gangly 6-2 QB?
Ted Miller
: Everyone needs to read Scott's note with a British accent. I first used my best Jeeves/P.G. Wodehouse then went all Oliver Twisty cockney on it.
It might sound counterintuitive, but sometimes the best thing for a running back is not getting the ball. It's the same when an A-list quarterback has a beastly running back lining up behind him.
Most defensive coordinators will tell you the first thing they do is try to take away what an offense most likes to do. With Arizona, that was hand the ball to Carey. So that means forcing the Wildcats to show they have other threats to worry a defense.
Denker averaged 5.4 yards per rush -- despite losing 121 yards on sacks -- and scored 12 TDs. A defense has to respect that. A read-option keeper from Denker, which was more often successful than not, forced a defense to obsess just a little bit less about Carey. That translated to a few split seconds of divided attention here or there that probably increased the size of holes Carey saw when he got the ball.
I think Arizona fans should be grateful for what they got out of Denker this year. I know he was doubted by just about everyone in August, including me. He became a solid QB for the Wildcats, and his outstanding performance against Oregon was one he should never forget. Not sure anyone made more out of his talents this year than Denker.
---
Nick from Seattle writes:
"Again,
this is a Fujis vs. Honey Crisp discussion
. But when you look at overall consistency -- "Now you've done it. Now you have absolutely lost all credibility. How dare you suggest Fujis are better apples than Honey Crisp in any way?! Utter blasphemy...
Ted Miller
: I told Kevin that if he uses apples-to-apples analogies, he's wading into deep and emotional waters, particularly with Washington fans. And Washington State fans for that matter.
I'm with you on this one. Kevin has lost all credibility -- ALL OF IT! -- when it comes to comparing apples to apples.
(Cue the Fuji apple fans with their outrage and advanced statistical analysis that proves -- PROVES! -- Fujis are just as good as Honey Crisp.)
December, 10, 2013
12/10/13
5:30
PM ET
I had a few letters about the Pac-12 being shut out of the Heisman conversation. But I don't think I could have
said it any better than my esteemed colleague
. So I'll let that serve as the official Pac-12 response.
To the notes!
Jon in Seattle writes
: Kevin, in response
to your article regarding Chris Petersen's first news conference
, your conclusion accurately sums up our impression. As a die-hard Washington fan and having spoken to many others, we weren't bothered by the way he answered the question about beating Oregon. It was a fun but silly question and any answer would have ultimately been meaningless, so it was refreshing to see him refuse to bite the bait and stick to the heart of his message. This is especially true in contrast to Sarkisian, who made many promises upon arriving here. As you said, Petersen has a process, he has a plan, and beating Oregon is an extension of its execution. We like what we're hearing. And hey, the guy is 2-0 against Oregon already. Of course, you won't hear him bragging.
[+] Enlarge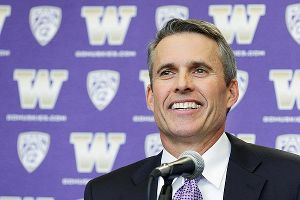 AP Photo/Ted S. WarrenChris Petersen hit all the right notes in his introductory news conference at Washington.
Kevin Gemmell:
A Husky fan agreeing with me? Mark the date and time, folks. Satan is snowboarding.
There's nothing really to say in that situation that is going to be productive. I found him to be extremely charismatic during his first news conference. He was fiery but controlled. He said all of the right things without overstepping.
I think back to when I was covering Brady Hoke and his move from San Diego State to Michigan. He, too, was fiery, and he made some promises regarding his new team and the team that wears scarlet and gray. Things aren't going so hot right now in Ann Arbor. It's one thing to fire up your fan base with promises. But when you don't follow through with them, they are just empty words.
Petersen portrayed confidence and there was not a moment when I thought to myself, "OK, buddy, we'll see."
I really liked what he had to say about not being too hands-on with this team during the bowl season. I think that's the right call. This is the 2013 Huskies. He's not a part of that legacy.
I don't know Petersen yet. I've talked with him once or twice on teleconferences and in news conferences, but I don't have any sort of relationship with him. But I'm looking forward to getting to know him. And if he's anything like the man he projected himself to be on Monday, I'm pretty sure three years from now we'll look back at that day and realize that nothing he said was empty.
Eddie in Los Angeles writes
: I grew up in Boise, attended Washington and live in Los Angeles. I'm a fan of all three teams. How should I feel?
Kevin Gemmell
: Grateful that it's neither raining nor snowing where you live?
If you truly are a fan of all three teams (and let's be honest, you have to lean a little toward one or the other or the other when they play head-to-head) then you should feel pretty freaking blessed.
Divorces are ugly -- especially when a coach leaves a program voluntarily for another one. But this series of separations couldn't have gone any smoother. You can't be bitter at Petersen for leaving Boise State, especially after he delivered you a 92-12 record. You can't be bitter at Sarkisian leaving after taking an 0-12 program and making it a postseason regular. And you can't be disappointed with the hire of Sarkisian at USC.
If you are really a fan of all three programs then you should probably be feeling pretty good right about now.
Henry in San Juan Capistrano writes
: Think about it. Had ASU not earned the right to play in the Pac-12 championship game and just sat home, they would be in the top 10 in the BCS and maybe the top 10 in the AP. They should make some rule that says the teams in the championship games can't move down from their previous position if they lose. Mizzou got hosed in this way as well.
Kevin Gemmell
: Pretty specious reasoning. Because if ASU hadn't earned the right to play in the Pac-12 championship game that means they would have lost another conference game somewhere along the way -- more than likely at UCLA or home to Arizona -- and they would have dropped in the rankings. I think they actually would have slipped further in the rankings had they lost a regular season game rather than a conference championship. Voters tend to respect teams a little more for making their league's title game.
As for rules changes, I'm not a huge fan of that. You play the game. If you win, you move up. If you lose, you move down. C'est la vie. You don't like it, don't lose. You've earned the right for an extra game. And no one is saying that if you win, you shouldn't move up in the rankings. ASU would be in the top six or seven had they beaten Stanford. And you probably wouldn't have complained. It's got to be able to work both ways.
I know what you're getting at. But I don't think it's feasible.
Trev with a Left Coast bias wrote
: I understand it might be geography for why the Allstate Sugar Bowl would pick Oklahoma, but wouldn't you rather have a possible setting of what was originally thought to be the BCS title game matchup? My opinion is the SEC told the Sugar Bowl that they don't want to have Oregon for two reasons: 1) Don't want to give extra money to the biggest threat (Pac-12) and 2) What if we lose? Your thoughts?
Kevin Gemmell
: I think geography played a significant role. I think the fact the SEC and Big 12 are starting a scheduling alliance next year played a role. I think the attitude of some of Oregon's players toward the Rose Bowl played a role. And I think the fact Oregon didn't look particularly good in November played a role.
Like the rest of the world, I would love to have seen Alabama-Oregon happen -- even if it wasn't for the national championship. It would have been a TV ratings home run -- somewhere between the finale of M*A*S*H and the 2009 Super Bowl.
There is no greater conspiracy theory here. And truth be told, I'm not sure the Oregon team as it stands today is the best product the Ducks could put on the field.
I'm sure there was some politicking going on behind the scenes. And by the way, for everyone who says ESPN controls college football, don't think this would have been a ratings boom for my bosses. It goes to show that it's ultimately the committees that make the decisions based on what's best for their bowl and their respective tourism bureaus.
Erik in Bangkok writes
: Kevin, simple question:
Why do you rank Michigan State higher than Stanford
? Taking into account strength of schedule and also your expectations of their head-to-head outcome.
[+] Enlarge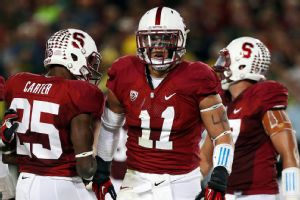 Kelley L Cox/USA TODAY SportsStanford figures to have its hands full with a Michigan State team that's on a roll.
Kevin Gemmell
: Simple answer, because I knew it would tick off Erik in Bangkok. Neither of these teams was going to go to the national championship game. And I happened to think it's impressive that Sparty knocked off a team that hasn't lost in 24 games. I don't care what people say about Ohio State's streak -- winning 10 games in a row is hard to do. Going undefeated for a full season is really hard and doing it for almost two years is ridiculous in this day and age.
Obviously, strength of schedule is important. That's why I have a team that lost to two unranked teams in my top five. I recognize and have written countless times how difficult the Pac-12 schedule is.
I was very impressed with both teams in the conference title games. And the difference between No. 4 and No. 5 in my book is pretty insignificant. In fact, I think Stanford has an edge having been to the Rose Bowl before and my first impression is that the Cardinal win that game.
I honestly didn't sweat over it that much, and you shouldn't either. I thought Michigan State finished the season stronger with nine straight wins and so I ranked accordingly. My gut tells me Stanford is the better team. But from a rankings standpoint, I thought Michigan State closed stronger. It will work itself out in the final ballots.
RedditCFB in Minneapolis writes
: Well, it's official: With the BCS Era coming to a close ('98?-13) there have been 878 bowl games in the BCS Era and the SEC & Pac-12 only met ONCE! How do we fix this? Is there a way to get a new bowl in Wally World so the SEC won't be as afraid of travel? The terrible bowl tie-ins have not significantly improved under
Larry Scott
(one of his few flaws).
Kevin Gemmell
: Bowl games aren't designed to provide the best possible matchup. They are designed to be the best possible matchup while also bringing in money to the city that hosts them. You'll notice all of the Pac-12's contracts are regionally based -- with the Valero Alamo and Hyundai Sun bowls being the longest trek. And even that isn't too far of a hike.
It's dollars. They want as many people to come to their city for as long as possible, stay in hotels, eat at restaurants, go to amusement parks and spend money. While you're in town, maybe take in a football game.
The National University Holiday Bowl probably doesn't like having to take teams from Los Angeles because fans drive down to San Diego, watch the game and then drive home that night. They want people in hotel rooms for five days with trips to Sea World and the zoo and LegoLand.
How many Washington fans would go to Jacksonville for the Gator Bowl? The first year? It might be filled. But what about the third and fourth years? These Pac-12 SEC matchups would look great on TV. And from my leather chair, I'd love to drink it all in. But the travel (see previous question), specifically the fan support and filling the stadium, simply wouldn't be there on an annual basis.
Damon in Seattle writes
: Who won? USC or Washington?
Kevin Gemmell
: Honestly, Damon, I hate these questions. But I understand why people ask them. Because they want to feel better about the decisions their team made. You're looking for some closure from the previous administration and a reason to feel good about the new one.
Washington won because it snagged the big fish that many others couldn't hook. USC won because it got someone from the USC family. Washington won because there is little to no chance the program takes a step back with Petersen as the head coach. USC won because the program will probably take a step forward under Sarkisian.
Is that sufficient? Because there's no right or wrong answer for at least a few years.
Until all the coaching staffs are in place, until there are three or four recruiting cycles under these guys, questions like "who won?" are fairly irrelevant. Ask me again in four years. I'm sure I'll have a better answer.
Rudy in Houston writes
: I said once "don't ever underestimate the heart of a champion!"
Kevin, you didn't and ran the table
! Congratulations!
Kevin Gemmell
: I'd like to thank Ted Miller for not believing in me, my wife who doesn't care, and the good people at the Scripps Ranch Starbucks who still charge me full price for a cup of coffee despite a perfect media ballot.
December, 6, 2013
12/06/13
5:30
PM ET
Welcome to the mailbag, Pac-12 championship and coaching carousel edition.
Follow the Pac-12 blog on Twitter
.
To the notes.
Elk from Los Angeles writes:
Who's the bigger winner in the coaching carousel, Washington or USC?
Ted Miller
: We have to declare a winner before Chris Petersen even holds his first news conference after replacing new USC coach Steve Sarkisian at Washington?

The only winner we can declare at this moment is the public relations and perception winner, and that is clearly Washington.
Petersen has long been a highly coveted candidate among AQ programs. Many sportswriters reacted with shock today when the news broke that after turning down some many suitors, Petersen was headed to Washington.
Fair to say the general consensus is that Petersen is a home run hire. Further, his track record suggests strongly he is not a climber. If he wins the Rose Bowl in 2017, he doesn't seem like the sort that would, say, jump to Texas.
As for Sarkisian to USC, the general reaction among sportswriters and USC fans was to be underwhelmed. Part of that was the belief that Trojans AD Pat Haden was going to make a home run hire that resonated nationwide -- as in Jon Gruden or Kevin Sumlin.
Sarkisian looked like a strong and legitimate USC candidate on Sept. 29, when Lane Kiffin was fired, but his Huskies immediately dropped three games in a row, and Huskies fans started to grumble.
Sark rebuilt Washington, but he never broke through in the Pac-12 North Division or the national rankings. Sarkisian is a good coach, but he's yet to distinguish himself with a landmark season. Petersen has with two BCS bowl victories and a sparkling 92-12 record.
So at this point, Washington is the clear winner.
Yet keep in mind that being the public relations and perception winner before either has coached a game or even recruited a player will be the least important victory either posts during their respective tenures.
It's all about what comes next, starting with their 2014 recruiting classes.
---
Flannel Beaver from Tacoma, Wash., writes:
I know this has been discussed, but seriously... when will the Pac-12 go to an eight-game conference schedule? I am all for holding the our moral superiority over all other conferences. Do you think the new Playoff Selection Committee will take that into account? Do bowls consider that when looking at options? Do pollsters REALLY consider it? Then why do we continue to do it? How can I as a fan change
Larry Scott
's stance on this?
Ted Miller
: Scott is a Machiavellian, "It's All About the Benjamins" sort. He'd go with eight games if the Pac-12 athletic directors were for it.
A nine-game conference schedule is favored by Pac-12 ADs for two reasons: 1. It means you only have to schedule three nonconference games, therefore less work; 2. An extra Pac-12 game tends to guarantee more ticket sales than a nonconference patsy, something that SEC schools don't worry about.
Once the conference expanded to 12 teams from 10, the nine-game schedule lost the symmetry that provided a true conference champion. But it was retained for the above reasons, even though it damages the conference's place in the national rankings.
The good news is most folk recognize the seriousness of this issue going forward into the four-team College Football Playoff. There will be pressure to level the playing field and have all the major conferences play nine-game schedules, as the Big 12 and Pac-12 currently do.
But if that doesn't happen, then it becomes the CFP selection committee's move. The first time a one-loss SEC team misses out to a one-loss Pac-12/Big 12 team, and the selection committee explains itself by saying, "The SEC choose to play a softer schedule than the Pac-12/Big 12, so that was the final measure that eliminated their team," then you'll see some changing.
In fact, it's too bad we don't have the playoff this year because it would be an interesting process. To me, the four-team playoff would be best served (based on today's records) by having Florida State, Ohio State, the SEC champ and the Pac-12 champ.
Yes, that would mean leaving out Alabama, which I still believe is the best team.
But if that happened because Stanford's/Arizona State's
schedules were dramatically more difficult
, you can bet that the SEC would man-up out of self interest.
---
Craig from Omaha writes:
Lifelong Huskers fan here but enjoy watching Pac-12 football. … My question to you is why is it that the Pac-12 does not play its conference championship game at a neutral site like every other major conference? Is it due to loyal fan bases that are willing to travel? Do they feel there are not adequate facilities to hold such an event? I would have to think of all the venues in Pac-12 country, there would be some place that would fit the bill?
Ted Miller
: The biggest problem with a neutral venue for the Pac-12 title game is the Pac-12 is much more spread out than the SEC, ACC and Big Ten. With just a week to make travel plans, it would be extremely expensive for fans to book flights. In the SEC, just about every fan base is within driving distance to Atlanta, and that's also mostly true in the Big Ten for Indianapolis and the ACC for Charlotte, N.C, though expansion has changed things a bit in that regard. For Texas A&M, it would be a 12-hour haul to drive to Atlanta.
That said, future change isn't off the table. Since the conference expanded, more than a few folks have tossed around the idea of playing the game in Las Vegas, which the Pac-12 blog would be all for, though there's not yet an appropriate stadium to play host. Another option would be rotating the game between major cities.
Truth is, the Pac-12 championship game has done fairly well at home sites -- the game Saturday at Arizona State is pretty close to a sellout. Last year's lackluster fan showing at Stanford was mostly because of torrential rain and a kickoff during Friday rush hour.
And there's something to be said for rewarding the No. 1 team with an advantage.
---

Scott from Homewood, Calif., writes:
I think you are
making the same mistake
as other media members about the Stanford roster. Although the depth chart lists several players as seniors, they are in eligibility only redshirt juniors because they list by academic class instead of eligibility. Guys like Tarpley,
Henry Anderson
, Parry, Reynolds, Fleming, Yankey are listed on the depth chart as seniors but all have a year left. Although Yankey likely will leave early, the others will most likely be back or have the option to come back. In reality, only four offensive starters are seniors and only three defensive starters are seniors. Jon Wilner has posted twice about this issue and I just wanted to spread the word.
Ted Miller
: I understand your point, but I use a depth chart that has both years.
The players Stanford loses on offense: OG
David Yankey
, C
Khalil Wilkes
, OG
Kevin Danser
, RB
Tyler Gaffney
, RB
Anthony Wilkerson
and FB
Ryan Hewitt
.
Players Stanford loses on defense: OLB
Trent Murphy
, LB
Shayne Skov
, DE
Ben Gardner
and DE
Josh Mauro
.
The Cardinal will again be in the thick of the Pac-12 North Division race in 2014, without question. But those are some big hits to the starting lineup.
---

Brian from Bend, Ore., writes:
Any reflection on why Marcus Mariota has been completely overlooked for QB awards and the Heisman? It seems that no one west of the Mississippi is allowed to lose games. He still has really good stats, was No. 1 in Total QBR until the Arizona game and is morally superior to any other NCAA player. Is this not the embodiment of the Heisman?
Ted Miller
: The bottom line is Oregon lost two of its final four games and Mariota didn't play well at Stanford, the Ducks' marquee national game of the season.
Further, when you remove
Jameis Winston
's off-field issues, as was done this week, the Florida State QB is a clear No. 1 at the position, while
Johnny Manziel
has been a force of nature for two seasons, and
AJ McCarron
has led one of the most successful runs in college football history.
I'm not saying I agree with all of that as a reason to demote Mariota. But that's what happened from a national perspective.
September, 1, 2013
9/01/13
9:00
AM ET
Oregon State QB
Sean Mannion
threw for 422 yards, and receiver
Brandin Cooks
had 13 catches for 196 yards in the Beavers' upset loss to Eastern Washington, but you don't get a helmet sticker when your team loses to an FCS foe.
So who does?

Andy Phillips, K, Utah
: This might be the best story of the week, as Phillips, a former U.S. alpine skier who had never played competitive football before his kickoff against Utah State, kicked field goals of 45, 19 and 38 yards and was perfect on three extra points in the Utes' 30-26 victory. Oh, and he perfectly executed an onside kick that might have been the biggest play of the game.
See this video
.
Dion Bailey, S, USC
: Bailey's switch back to his native position of safety from linebacker paid off against Hawaii. He led the Trojans' defense with seven tackles, a sack and an interception in their 30-13 victory.
Keith Price, QB, Washington
: A poor 2012 season is officially old news for Price. In the Huskies' 38-6 win over No. 19 Boise State, he completed 23 of 31 passes for 324 yards with a pair of touchdowns, which gave him 56 for his career, a new school record, eclipsing Cody Pickett. He also rushed for 25 yards. His efficiency rating of 176.8 would have led the nation in 2012.
Washington's defense
: The Huskies held Boise State to their lowest point total since 1997 (a 58-0 loss to Washington State). The Broncos gained only 3.9 yards per play. Their longest running play from scrimmage was 18 yards. The Huskies are paying second-year coordinator Justin Wilcox a lot of money. He is worth it.
Brett Hundley, QB, UCLA
: Hundley completed 22 of 33 passes for 274 yards with two touchdowns and no interceptions in the Bruins' 58-20 win over Nevada. He also rushed for 63 yards on seven carries with two TDs. The Bruins' offense, guided by Hundley, gained 647 yards.
Chris Harper, WR, California
: Harper caught 11 passes for 151 yards and two touchdowns in the Bears' 44-30 loss to Northwestern.
Marcus Mariota, QB, Orego
n: Marriota rushed for 113 yards and two TDs on just five carries -- 22.6 per rush -- and passed for 234 yards and a score in the Ducks' 66-3 blowout win over Nicholls State.
Tra'Mayne Bondurant, S, Arizona
: Bondurant had two interceptions in the Wildcats' 35-0 won over Northern Arizona, including one he returned 23 yards for a touchdown. He also tied for the team lead with seven tackles, adding one for a loss.
August, 29, 2013
8/29/13
9:01
AM ET
It's prediction time! Wheeee!

Last year, Kevin and Ted tied at the end of the regular season with 66-25 records. Ah, but then came the bowl season, and -- cough, cough -- by virtue of Ted going 5-3 and Kevin going 4-4, the old guy prevailed by a single game.
Let's hear it for the old guys!
And you know who won it for Ted? Texas! How about that fudge?
Thursday
UTAH STATE at UTAH
Kevin Gemmell
: First game, and I'm already conflicted. This one is scary with
Chuckie Keeton
back at QB for Utah State and all five of his linemen back to protect him. I think Utah is going to be better than it was last season, and the Utes will be looking for revenge from last year's loss. In close games, go with the home team.
Utah 21, Utah State 17
Ted Miller
: This is an interesting one. Utah State changed coaches but has a lot of guys back. The Utes have preseason injury issues -- paging
Brian Blechen
; your defense needs you -- and those issues have made coach Kyle Whittingham grumpy. But you know why I'm picking Utah? Because I think the Utes are angry about how folks have written them off, and angry often translates well in football. And I like the MUSS being loud.
Utah 24, Utah State 21
USC at HAWAII
Kevin Gemmell
: A good chance for both USC quarterbacks to get a lot of work against a nonthreatening opponent. Trojans should roll.
USC 35, Hawaii 14
Ted Miller
: USC is going to win this game, but it would be good for coach Lane Kiffin if the Trojans looked good doing it. Want to be goofy about your QB situation? Fine. You just better look good on offense. The biggest news in this one is which QB starts and, subsequently, who sets himself up to start against Washington State next week.
USC 35, Hawaii 20
Friday
NORTHERN ARIZONA at ARIZONA
Kevin Gemmell
: How many Arizona quarterbacks will we see in this game? I'm putting the over/under at three -- and I'm leaning toward the over.
Arizona 42, NAU 17
Ted Miller
: I actually think
B.J. Denker
is going to be the man for the Wildcats, even if other guys play. The issue is whether he remains that way. I think the only guy who would unseat him is
Jesse Scroggins
, and he has struggled to stay healthy.
Arizona 40, NAU 14
Saturday
NICHOLLS STATE at OREGON
Kevin Gemmell
: The only concern here is that
Marcus Mariota
tweaks a fingernail pulling off his shoulder pads at halftime.
Oregon 48, Nicholls State 7
Ted Miller
: I'm actually afraid for Nicholls State.
Oregon 101, Nicholls State 3
EASTERN WASHINGTON at OREGON STATE
Kevin Gemmell
: Eastern Washington is a pretty good Football Championship Subdivision team. And Oregon State fans know better than to overlook FCS teams. But I see no reason the Beavers don't roll in this one.
Oregon State 35, Eastern Washington 10
Ted Miller
: The Beavers have some nagging injury issues, so they just want to win this one and get out of the game healthy. And they want
Sean Mannion
to justify his winning a high-profile QB competition.
Oregon State 41, Eastern Washington 17
NEVADA at UCLA
Kevin Gemmell
: A good tuneup game for the Bruins against a team that has some bite. I really like what Nevada quarterback
Cody Fajardo
is capable of. But I like
Brett Hundley
better. Should be a decent game, but ultimately not enough to give UCLA a real scare.
UCLA 35, Nevada 17
Ted Miller
: Sitting here making this pick, I realize how Jim Mora has changed things at UCLA in just one year. For a decade or so previous to him, this is exactly the sort of game that you'd pause over, going, "Hmm ... UCLA is better but, man, do the Bruins know how to blow it!" Mora inspires confidence in terms of his team coming out in a businesslike fashion and playing like the superior collection of athletes that it is.
UCLA 40, Nevada 24
BOISE STATE at WASHINGTON
Kevin Gemmell
: Should be one of the closest, most competitive games in the country in Week 1. And in close games, sticking with my personal doctrine, I'll go with the home team.
Washington 24, Boise State 21
Ted Miller
: These teams were tightly contested in the Las Vegas Bowl, and the Huskies look like a better team than they were last season, while the Broncos have a lot of guys to replace. Still, it comes down to Huskies QB
Keith Price
. If he's his 2011 self again, Washington will roll.
Washington 30, Boise State 21
NORTHWESTERN at CALIFORNIA
Kevin Gemmell
: I think the Bears will show a little backbone and
Jared Goff
will gain some confidence. But probably not enough to beat a ranked team in his first career start. However, it'll be closer than people think.
Northwestern 35, California 28
Ted Miller
: Hello, Cal fans. It's me again. I've got bad news. I think you're going to win this game. Of course, that probably means you're going to lose, because the Bears never do what I think they'll do. Or was that just a Jeff Tedford thing? I'm so conflicted. Maybe if someone brought me a
calabrese from Top Dog
I could make sense of it all?
California 27, Northwestern 24
WASHINGTON STATE at AUBURN
Kevin Gemmell
: I got burned by the Cougs in the season opener last year when they were two-touchdown dogs on the road, and it haunts me to this day. Lesson learned.
Auburn 28, Washington State 21
Ted Miller
: Both teams went 3-9 last season, but the Tigers have a lot more size and athletes. I think the Cougars are going to put a scare into Auburn and its fans, but the Tigers' athleticism and, perhaps, the Southeastern humidity will wear WSU down in the fourth quarter.
Auburn 33, Washington State 24
COLORADO STATE vs. COLORADO
Kevin Gemmell
: The Rams bring back nine starters on offense. But
Paul Richardson
is due for a multitouchdown game. Colorado will get a little vengeance from last season. Bring on the Mac attack.
Colorado 27, Colorado State 17
Ted Miller
: I stared at the Colorado depth chart Tuesday and had an interesting reaction that surprised me: maybe. The Buffs should have won this game last season, and I think they're better than in 2012.
Colorado 30, Colorado State 27
August, 26, 2013
8/26/13
11:30
AM ET
I'm waking up, I feel it in my bones
Enough to make my systems blow
Welcome to the new age, to the new age
Welcome to the new age, to the new age.
December, 28, 2012
12/28/12
10:30
AM ET
SCOTTSDALE, Ariz. -- There is a school of thought, now apparently subscribed to by a handful of desperate NFL teams, that if that uber-suave, hirsute gentleman from those wildly entertaining Dos Equis beer commercials revealed his true identity, he would rip off a bearded mask and reveal Chip Kelly.
Is Kelly the most interesting man in the world?
Pause for a moment before chortling over our potential hyperbole, for Kelly has packed a lot into his 52-game tenure at Oregon, including 45 victories.
[+] Enlarge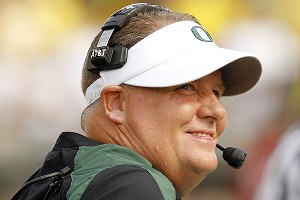 AP Photo/Don RyanChip Kelly doesn't often discuss his life with writers, but when he does, his answers are revealing.
He has run with the bulls in Pamplona. He has led the Ducks to three Pac-12 titles and four BCS bowl games. He has done humanitarian work in Africa. He has produced Oregon's first Rose Bowl victory in 95 years. He has visited U.S. troops in Iraq and Afghanistan.
Kelly, 49 and single, is also fiercely private. He has never cooperated with any truly in-depth "This is your life, Chip Kelly!" story, which is exceedingly rare for a high-profile coach. Nearly all his close friends are back in New Hampshire, where he's from and where he went to college.
Kelly doesn't like glad-handing boosters, something often viewed as a prerequisite for being a college coach. He particularly dislikes talking to reporters, and he goes to great lengths to make sure they understand.
The Dos Equis guy says, "Stay thirsty, my friends." Kelly would say, "Stay away, annoying hangers-on."
Yet the vast majority of Ducks fans not only love all the winning, they love Kelly for his wiseacre, smirking self. They chant "Big Balls Chip!" inside rocking Autzen Stadium to celebrate Kelly's penchant for going for it on fourth down, going for 2 and launching onside kicks at surprising times.
He tells fans, "Shut up!" for cheering behind him during an ESPN postgame interview, and they love him more. A Twitter page,
Chipisms
, celebrates not only Kelly's amusing or insightful wisdom -- "I saw the 'Feel Sorry for Yourself' train leaving the parking lot & none of our players were on it, so that was a good sign" -- but also for his snark.
Inquiries that Kelly doesn't like might get one-word answers, clichéd responses or snappy rejoinders that belittle his inquisitors. Questions that engage him, however, receive full and thoughtful treatment. Consider this response from an ESPN story on Kelly's trip to Africa, when he worked with adolescent girls who had no idea who he was.
"The real heroes are the little girls in Africa who are trying to better themselves so they can help their families," he said. "When I hear a coach say, 'We're grinding.' I'm like: You're sitting in a room with air conditioning watching videotape. That's not grinding."
There seem to be three facets to Kelly. His standoffish public face, the detail-obsessed coach and the Renaissance man determined to drink life to the lees away from the game. Even the hard-driving, "win the day" side of Kelly can loosen up behind closed doors; those who work with him frequently cite his sense of humor.
"He [jokes around] all the time," said offensive coordinator Mark Helfrich, a leading candidate to replace Kelly should he bolt for an NFL job. "It's not: 'Aha, he smiled! Isn't that amazing?' It's daily. We have a lot of fun."
Further, while Kelly's offense almost always runs like a finely tuned machine, plenty of, er, interesting things have been interspersed with winning during Kelly's tenure. Drama has not been lacking over the past four seasons.
His first game as Oregon's head coach remains his worst: A 19-8 loss at Boise State. Not only did the Ducks gain an embarrassing 152 total yards, but Kelly's star running back LeGarrette Blount punched a Broncos player afterward, bringing the hot light of controversy to his team's feckless performance.
Some thought Kelly was in over his head. He answered that by becoming the first Pac-10 coach to lead a team to an outright conference championship his first season.
Oh, and in a sign of interesting things to come, when a season-ticket holder wrote Kelly demanding a refund for his expenses incurred after attending that disastrous trip to Boise, Kelly quickly fired off a note with a personal check for $439.
Heading into 2010, starting quarterback Jeremiah Masoli was suspended after he was involved in the burglary of an Oregon fraternity house. Losing a star quarterback typically would damage a team's chances, but all Kelly's team did was finish undefeated and play for the national championship, losing 22-19 when Auburn kicked a last-second field goal.
The NCAA came calling during the 2011 offseason, wanting to know details of Kelly's and the program's dealings with street agent Willie Lyles. A distraction? Nope. Oregon won the conference a third consecutive year and the Rose Bowl against Wisconsin.
Kelly then nearly left for the Tampa Bay Buccaneers. His quarterback, two-year starter Darron Thomas, had already opted to leave the program, which again threw into question the Ducks' prospects. But Kelly returned and so did the winning, with redshirt freshman
Marcus Mariota
earning first-team All-Pac-12 honors while leading the Ducks to a No. 4 ranking and a Fiesta Bowl berth opposite Kansas State.
Yet he arrives at the Fiesta Bowl amid swirling rumors that he's about to leave for his pick of available NFL jobs. Asked about his NFL ambitions this week, he gave a 235-word answer that essentially said "no comment."
"My heart is to win the day, and that's it," he concluded. "I know everybody wants to hear a different answer, and I know at times when I don't give you guys the answer you guys want, then I'm being evasive. I'm not being evasive. My job is to coach the University of Oregon football team, and I love doing it. And that's what I'm going to do."
So the question will linger for a coach who at the very least is currently the most interesting man in college football: Will the Fiesta Bowl be his last day to win for Oregon?
October, 1, 2012
10/01/12
3:30
PM ET
Be prepared. Oregon coach Chip Kelly won't talk big picture this week. He won't talk about national perception or the beauty contest that college football is. A reporter will note to him that Oregon has beaten Washington eight consecutive times by at least 17 points, and he'll shrug.
(I bet inside he'll go, "Sweeeeet!" but outside, he'll shrug).
And he'll be right. Oregon has done a pretty good job under Kelly -- to the tune of 39-6 over three-plus seasons -- focusing on the present moment rather than looking ahead or back.
[+] Enlarge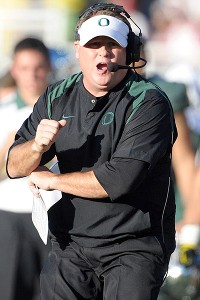 Kirby Lee/US PresswireA convincing win over Washington could go a long way in helping Chip Kelly and Oregon earn a spot in the BCS title game.
While it's perfectly reasonable for civilians to wring their hands over how a victory looked, as Oregon fans have over the first-half sloppiness against Washington State, Kelly's Ducks have a pretty simple formula ahead of them. If they win all of their games -- pretty or not -- the odds are extremely high they will play for the national championship. Again.
So, let's note in advance that the Ducks don't really need style points against Washington on Saturday in Autzen Stadium. They don't need to ring up a ninth consecutive blowout over that team in purple whom Ducks fans regard with such loving warmth. They don't need to match the domination of LSU's 41-3 beatdown of the Huskies a couple of weeks ago in Baton Rouge.
But it certainly wouldn't hurt.
A dominant win would further cement the national perception of the Ducks as the nation's No. 2 team behind Alabama. Perception, as you know in this, our penultimate year yoked by the BCS system, matters. A tight game going into the fourth quarter might cause some voters to reconsider Florida State, LSU, Georgia or a Big 12 front-runner.
In the event of there being three or more unbeaten teams at season's end, then perception takes over. And don't forget those fickle computers.
The Ducks are 24-point favorites. So the expectation has been set high for an impressive win. Falling short of expectations could have short-term consequences that, potentially, could resonate negatively throughout the regular season.
Of course, the Huskies aren't looking to be a doormat that Oregon can decorate with footprints. They're nationally ranked and feeling pretty rejuvenated after beating then-No. 8 Stanford, a game for which few -- yes, both of your humble Pac-12 bloggers -- expected them to be terribly competitive.
You might recall Oregon's worst offensive performance under Kelly was his first game as the Ducks' head coach, in 2009 at Boise State. In a 19-8 defeat best remembered for LeGarrette Blount's meltdown, the Ducks gained just 152 total yards and six first downs and were 1-for-10 on third-down plays. Suffice it to say, it provided no hints of the offensive pyrotechnics that were ahead for the program.
The Broncos' defensive coordinator on Sept. 3, 2009? That would be Justin Wilcox, who is now running the Huskies' defense.
That has Washington fans crossing their fingers that they can slow the Ducks' offense enough to give QB
Keith Price
and company a puncher's chance.
Kelly will shrug about Wilcox, too. He'll graciously praise him as a defensive coach. He'll claim the Boise State game holds no sway over his present thinking. He'll talk only about what he and the Ducks can control: their preparation, their attitude and their effort. Hey, it's not personal -- it's business.
But here's a little secret: Kelly is not a robot. He hasn't completely cleansed himself of the emotions --
personalized
emotions -- that attach themselves to competitive people. Just as he's well aware that his fans relish the recent domination of Washington probably as much as three consecutive Pac-12 titles, he's also well aware that scoring 50 on Saturday against Wilcox would feel pretty good.
I suspect he'd like to score 50 more than he typically would. (Editor's note: As some of you have noted,
he did get 48
against Wilcox when the Ducks visited Tennessee in 2010).
At the very least, doing so would eliminate an annoying angle a reporter can ask him about or write about.
Programs Most Desperate for a Quarterback
PAC-12 SCOREBOARD
Thursday, 9/3
Saturday, 9/5