January, 3, 2013
Jan 3
12:09
PM PT
Here are three Oregon keys for the Tostitos Fiesta Bowl:


1. Win the turnover battle:
Kansas State is No. 1 in the nation in turnover margin. Oregon is No. 3. The Wildcats are ranked that highly because they've given away only 10. The Ducks are that high because they've taken away 38. In Kansas State's lone loss to Baylor, QB
Collin Klein
threw three interceptions. In fact, Klein threw five of his seven interceptions in the final three games. Oregon QB
Marcus Mariota
threw only one pick over the final six games, but that interception came in the loss to Stanford. As Oregon coach Chip Kelly would tell you, winning the turnover battle is not just about getting them. It's about what you do with them or what you do when you give them away. Defenses need to make a stand; offenses need to take advantage.
2. Special teams:
Both teams are good on special teams, but Kansas State might be the best in the nation. The Wildcats are No. 1 in the nation in punt and kick returns and have a good field goal kicker. As many Ducks fans know, Oregon hasn't been very good at kicker the past two seasons. If the game comes down to field goals, the Ducks are probably going to lose. Further, special teams dictate field position. Beyond that, it seems as if big bowl games feature at least one or two big plays on special teams -- a big return, a blown kick, a blocked kick, etc. In a close game, special teams often make the difference.
3. Get Klein down on first contact:
It's strange to say that a quarterback is a physical runner, but that is Klein's game. He runs hard, breaks tackles and is his most aggressive near the goal line, and he gets better as the game goes along, like a good running back. He averaged 13.2 designed running plays per game in Big 12 games, averaged 5 yards per carry and had at least one touchdown in all nine conference games, including five games with at least two touchdowns. Further, he is averaging 1.4 more yards per run on such plays in the second half compared to the first. The Ducks need to be sound tacklers. They need to hit Klein hard. And they need to gang-tackle.
November, 20, 2012
11/20/12
12:00
PM PT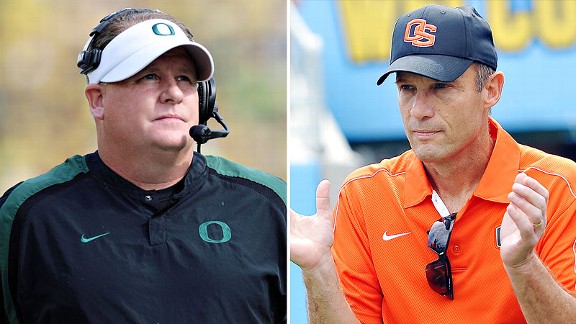 US PresswireOregon coach Chip Kelly and Oregon State coach Mike Riley face off Saturday in the 116th Civil War.
The 2012 Civil War between Oregon and Oregon State doesn't match the 2000 game, when both teams were ranked in the top 10 for the first time in the rivalry's history, or the 2009 game, when the winner-take-all stakes were a Pac-10 title and a Rose Bowl berth. But it's pretty darn big.
The 116th Civil War, the seventh-oldest rivalry game in college football, in Reser Stadium on Saturday (3 p.m. ET, Pac-12 Network) approaches the 2000 game in terms of both teams' rankings, the first time in the series that both were ranked in the top 10. Oregon was fifth and Oregon State eighth in that game, won 23-13 by the Beavers. This go-around, Oregon is again fifth and the Beavers 15th in the
latest BCS standings
.
There is no Rose Bowl on the line for Oregon State, as there was in 2008 and 2009, but the Beavers can play a spoiler role while boosting themselves in the Pac-12 pecking order.
Oregon still harbors hopes of slipping into the national title game, and the Ducks will win the North Division if they beat the Beavers and Stanford loses at UCLA on Saturday. Then Oregon would play host to UCLA on Nov. 30, with -- at least -- a Rose Bowl berth at stake.
And even if Stanford beats UCLA to win the North, an Oregon victory over the Beavers likely would earn it an at-large berth to a BCS bowl game, probably the Fiesta Bowl, where they could end up playing the Big 12 champ, likely Kansas State.
Oregon State? While its postseason destination is most likely the Holiday Bowl, ending a four-game losing streak in the rivalry series would be significant. It would certainly stem the momentum that has been decidedly in the Ducks' favor since an obscure coach from New Hampshire by the name of Chip Kelly arrived as the team's offensive coordinator in 2007.
While the 2008 and 2009 Civil Wars were big games with big implications, the 2010 and 2011 games were all about the Ducks. They were coronation events, as Oregon earned berths in the national title game and the Rose Bowl. The Beavers, meanwhile, were sucking on lemons, suffering through back-to-back losing seasons.
That had some Beavers fans grousing about coach Mike Riley and his staff. It wasn't only about a program backtrack. It was about what was happening 45 minutes to the south in Eugene. It's no fun losing games, but when you are losing, it's much worse when your rival is thriving.
Beavers fans saw Kelly -- smug, smirking, standoffish, annoyingly brilliant -- and felt they were getting left behind.
But we all know things can change quickly in college football. The Beavers are on a clear uptick. While both teams have a lot of talent coming back in 2013, it's Oregon that now has some question marks.
Will Kelly be lured away by an NFL offer? More than a few NFL sorts believe he will have his pick of jobs this offseason.
And what about the NCAA investigation into L'Affair de Willie Lyles? At some point penalties will be handed out. While those penalties are not expected to be crippling -- despite the uninformed blather coming from some people -- they certainly won't help the Ducks maintain their perch atop the Pac-12.
Just imagine how the next couple of months could go for Oregon State fans: 1. A Civil War victory over Oregon, ending a four-year losing streak in the series and the Ducks' three-year run of conference titles; 2. Kelly leaves Eugene for the NFL; 3. NCAA sanctions for the Ducks.
Let's just say more than a few Beavers fans would be high-fiving each other. And there would probably be more than a few
Washington Huskies
fans trying to get in on that action.
Or ... or ...
Oregon beats the Beavers for a fifth consecutive time, finagles its way into the national title game and then beats, say, Alabama for the school's first national title. Then Kelly announces he's staying in Eugene "for life" and the NCAA gently slaps the Ducks' wing.
So, yeah, there's a lot going on here.
Still, amid all these possibilities and speculations, good and bad for both programs, there is only one thing that either can control: Saturday's game.
Yes, it's pretty darn big.
November, 12, 2012
11/12/12
12:30
PM PT
The Pac-12 takes center stage this week with two of the three matchups of ranked teams, and both games are chock full of national intrigue.
No. 2 Oregon plays host to No. 13 Stanford with the Pac-12 North Division on the line (mostly). The Ducks, of course, are fighting for a berth in the national title game, but first they want to secure home-field advantage for the Pac-12 championship game on Nov. 30.
[+] Enlarge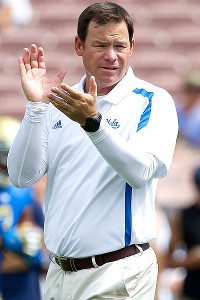 AP Photo/Nick LuceroThe annual rivalry game with USC will have more than bragging rights at stake this season for coach Jim Mora and UCLA.
And No. 18 USC visits No. 17 UCLA with the South Division on the line (completely). The Battle for L.A. is once again relevant, with the Bruins and first-year coach Jim Mora having a chance to reverse a decade of negative momentum with one big Saturday statement.
The other game with ranked teams? No. 23 Texas Tech at No. 24 Oklahoma State. Neh.
Stanford will be the highest-ranked opponent that Oregon has faced thus far this season, but the Ducks have owned the Cardinal of late. Not only have the Ducks won nine of the past 10 games in the series, they've scored 105 points combined in the past two games while winning each by more than 20 points.
Stanford, however, controls its own destiny just like Oregon. If it beats the Ducks, and then finishes its season with a win at UCLA, it wins the North. If Stanford beats Oregon but loses to UCLA, and the Ducks also go down at Oregon State, the Cardinal would win the North Division because it would have head-to-head victories over both the Ducks and Beavers.
As for USC-UCLA, the Trojans have dominated the series of late, winning five straight and 12 of the past 13. All five victories during the current winning streak have been by at least 14 points, including a 50-0 bludgeoning last season. UCLA's last win in the series came in 2006 when they upset the Trojans 13-9 at home.
This showcase weekend is a seeming climax for an interesting year for the Pac-12. For one, the conference has joined the SEC and the Big 12 as the nation's dominant leagues, with decisive superiority -- 17 members of the present BCS standing's top 25 -- compared to other "AQ conferences." Six of 12 Pac-12 teams are ranked in the BCS standings. For the Big 12, it's five of 10, and the SEC features not just six of 14 but six in the top 9.
Yet it's possible for the first time in three years the Pac-12 won't get a second BCS bowl team, which would dock the conference's 2012-13 bowl payout by about $6.1 million, or $508,333 per team. Just to be eligible, a second team must be ranked in the final top 14 of the BCS standings. Further complicating matters is Notre Dame. If Oregon earns a berth in the national title game, more than a few projections have the Rose Bowl picking Notre Dame -- undefeated or with one loss -- over a three-loss Pac-12 team.
Still, there's enough football left complicating potential scenarios that the speculation is mostly an academic exercise at present, not unlike guessing who-done-it two-thirds of the way through a mystery novel.
As for the rest of the Pac-12, things also are intriguing. Seven teams are already bowl eligible, and only three -- California, Colorado and Washington State -- are guaranteed losing records. To become bowl eligible, Arizona State needs to win one of its final two games -- Washington State and at Arizona -- and Utah needs to win both its final two -- Arizona and at Colorado.
If the conference has eight or even nine bowl eligible teams, things could get interesting. For one, the conference's seven contracted bowls have plenty of flexibility for choosing teams. There figures to be some politicking among conference teams. And, perhaps, some hurt feelings. Further, the 6-6 teams at the end of the bowl pecking order likely will be scrambling free agents, ending up in bowl games you probably haven't paid any attention to before.
This should be the best weekend of the Pac-12 season so far. It may provide further clarity. Or it might just thicken the plot.
October, 8, 2012
10/08/12
1:00
PM PT
ESPN's Brad Edwards, a numbers guru, provides a nice preview of what the BCS standings would look like if
they were released this week
, instead of next Sunday.
His conclusion? He writes, "[It] feels like the national title hunt is already down to just three conferences and
Notre Dame
."
That's the Pac-12, SEC and Big 12 plus the Fighting Irish, who play Stanford on Saturday and USC on Nov. 24.
He projects that if the national title game were played tomorrow, it would be Alabama vs. Oregon.
He also projected that Oregon State would rank ninth, USC 11th and Stanford 12th in the standings.
Oregon fans surely will like the sound of that.
The question then would be if Oregon wins out and stands as the 13-0 Pac-12 champion on Nov. 30, are the Ducks certain to be in the title game?
Maybe. Perhaps even probably. But maybe not, too. Writes Edwards:
The Mountaineers or Irish probably would have a computer edge on the Ducks, so they can't be counted out of the race, but they'll need style points to close that poll gap.
So, Oregon fans, assuming the SEC is going to put its champion in the title game, you probably should root for Notre Dame to lose, and it would boost your standing if that happened to Pac-12 teams, by the way.
And, as cool as
Geno Smith
is, you might want the Mountaineers to slip, too.
July, 31, 2012
7/31/12
4:00
PM PT
We've told you about the
preseason Pac-12 media poll
, which projected things as most folks believed it would. But what about all the other media polls out there for teams that cross paths with Pac-12 teams this fall?
Don't worry. We are here to help.

The Pac-12 has dates with the preseason SEC (LSU-Washington) and Big Ten (Wisconsin-Oregon State) favorites, but there also is plenty of mediocrity on the nonconference slate this season. There's only one game between the conference and the ACC (Duke-Stanford) and Big 12 (Oklahoma State-Arizona). There's two between the Pac-12 and SEC because Missouri (Arizona State) switched its affiliation away from the Big 12.
And it's clear the Big Ten, the Pac-12's Rose Bowl rival, is still the chief partner for quality nonconference action. There also are dates with Illinois (Arizona State), Ohio State (California) and Nebraska (UCLA).
There also are seven dates with the Mountain West Conference: Colorado State (Colorado), Fresno State (Oregon, Colorado), Nevada (California), Hawaii (USC), San Diego State (Washington State) and UNLV (Washington State).
BYU and Notre Dame, as Independents, aren't in preseason media polls. FCS teams aren't included
Arizona
: Toledo (first in MAC West Division); Oklahoma State (fourth in Big 12)
Arizona State
: Illinois (fourth in the Big Ten Leaders Division); Missouri (fourth in SEC East)
California
: Nevada (second in Mountain West); Ohio State (second in Big Ten Leaders Division);
Colorado
: Colorado State (eighth in Mountain West); Fresno State (third in Mountain West)
Oregon
: Arkansas State (second in Sun Belt); Fresno State (third in Mountain West)
Oregon State
: Wisconsin (first in Big Ten Leaders Division)
Stanford
: San Jose State (third in WAC); Duke (last in ACC Coastal Division)
UCLA
: Rice (fifth in Conference USA West Division); Nebraska (first in Big Ten Legends Division; Big Ten champs); Houston (first in Conference USA West Division)
USC
: Hawaii (seventh in Mountain West), Syracuse
Utah
: Utah State (second in WAC)
Washington
: San Diego State (fifth in Mountain West); LSU (first in SEC West, SEC champs)
Washington State
: UNLV (ninth in Mountain West)