January, 7, 2014
Jan 7
1:00
PM ET


The SEC was tops, going 7-3, despite Auburn losing the national title game to Florida State and Alabama losing the Sugar Bowl to Oklahoma.

The Pac-12 was second at 6-3, despite Stanford losing the Rose Bowl to Michigan State.

The ACC went 2-0 in BCS bowl games, but it only finished 5-6 overall. The Big 12 and Big Ten split BCS bowl games, with the Big 12 going 3-3 overall and the Big Ten ranking last among AQ conferences at 2-5.

Of course, a lot of this is matchups. As that the Pac-12 was favored in all nine of its games, that has to factor in how the bowl record is viewed. The Pac-12's only win over a ranked team was USC over No. 20 Fresno State.

Neither the SEC and nor the Pac-12, the two best conferences during the regular season, won a BCS bowl game. But they nonetheless led the AQ conferences in bowl record.
January, 3, 2014
Jan 3
12:00
PM ET
The Pac-12 went 6-3 in its bowl games. On Dec. 9,
the Pac-12 blog noted
, "Anything less than 6-3 would be a major disappointment."
So the Pac-12 didn't notch a "major disappointment" this bowl season. And there was much rejoicing. Yay.
Sure, conference teams were favored in all nine games, but you can't win them all, right? A .667 winning percentage is solid by just about any measure. The super-awesome SEC is just 5-2 with a couple of tough games remaining.

Why then am I so underwhelmed?
Short answer: It should have been better. Our Pac-12 bowl season grade? A gentleman's "C."
Part of the problem was the matchups, which were unusually forgiving. USC's blowout win over No. 20 Fresno State in the Royal Purple Las Vegas Bowl was the only win over a ranked team, mostly because the only other ranked team the Pac-12 played this bowl season was Stanford against No. 4 Michigan State in the Rose Bowl Game Presented by VIZIO, a 24-20 Spartans victory.
Another part of the problem was how things went down.
While Washington State fans seem split on whether the Pac-12 blog is allowed to call the Cougars' monumental double-dog-derp against Colorado State by the term that everyone immediately thought of (don't worry, we won't type "Couged it"), that was a quintessential example of a team forcibly yanking defeat from the jaws of victory.
Then there was Arizona State against Texas Tech in the National University Holiday Bowl. For whatever reason, the Sun Devils simply didn't show up. We apologize for seeming to not give Texas Tech credit for a great win, but the Red Raiders need to understand the Sun Devils they played looked nothing like the Sun Devils of 2013. That game was utterly shocking, at both a player and coaching level. Todd Graham was right to take the blame afterward. His team wasn't ready to play.
That game reminded me of a coach who once told me that having a senior-laden team can become a mixed blessing for a bowl game. Sometimes, senior leadership provides focus to a locker room. And, sometimes, seeing that the seniors won't be accountable to the coaching staff and their teammates the following fall, they lose interest and start looking ahead to their own futures. My guess is the latter happened with Arizona State.
Stanford? It hardly played a perfect game, but the Rose Bowl was simply a good, hard-fought matchup that Michigan State took from Stanford, instead of the Cardinal giving it to the Spartans. The result served more as a validation of the Big Ten champs than a reduction of Stanford's national status.
[+] Enlarge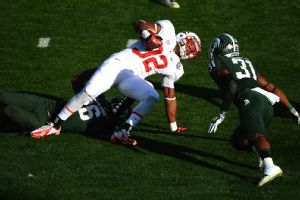 Jonathan Moore/Getty ImagesAnthony Wilkerson and Stanford didn't slip up too badly in the Rose Bowl loss to Michigan State.
That take mostly rings true for the Pac-12's bowl season. Going 6-3 won't represent a retreat; it won't cause a negative national re-evaluation of the strength of the conference. For one, if Auburn loses to Florida State in the national title game, no conference will post a dominant bowl season. Big 12 champion Baylor losing to Central Florida in the Tostitos Fiesta Bowl and Alabama losing to Oklahoma in the Allstate Sugar Bowl showed that bowl-season nuttiness can affect even the heaviest of favorites.
So kudos to USC, Oregon State, Washington, Oregon, Arizona and UCLA for taking care of business in their bowl games.
USC and Washington won despite coaching turmoil. The Ducks showed what a healthy
Marcus Mariota
looked like and gave defensive coordinator Nick Aliotti a great farewell with a dominant performance on that side of the ball. Oregon State, Arizona and UCLA brought their A-games and dominated.
My general feeling is the carryover to 2014 will be at least four and probably five teams ranked in the preseason: Oregon, Stanford, UCLA, USC and maybe Arizona State.
The Pac-12 bowl season was only OK. It could have been worse; it could have been better.
That's nothing to aspire toward, but at least the conference won't have to spend the offseason wringing its hands over its national status as we head toward the first season of a four-team College Football Playoff.
December, 6, 2013
12/06/13
5:30
PM ET
Welcome to the mailbag, Pac-12 championship and coaching carousel edition.
Follow the Pac-12 blog on Twitter
.
To the notes.
Elk from Los Angeles writes:
Who's the bigger winner in the coaching carousel, Washington or USC?
Ted Miller
: We have to declare a winner before Chris Petersen even holds his first news conference after replacing new USC coach Steve Sarkisian at Washington?

The only winner we can declare at this moment is the public relations and perception winner, and that is clearly Washington.
Petersen has long been a highly coveted candidate among AQ programs. Many sportswriters reacted with shock today when the news broke that after turning down some many suitors, Petersen was headed to Washington.
Fair to say the general consensus is that Petersen is a home run hire. Further, his track record suggests strongly he is not a climber. If he wins the Rose Bowl in 2017, he doesn't seem like the sort that would, say, jump to Texas.
As for Sarkisian to USC, the general reaction among sportswriters and USC fans was to be underwhelmed. Part of that was the belief that Trojans AD Pat Haden was going to make a home run hire that resonated nationwide -- as in Jon Gruden or Kevin Sumlin.
Sarkisian looked like a strong and legitimate USC candidate on Sept. 29, when Lane Kiffin was fired, but his Huskies immediately dropped three games in a row, and Huskies fans started to grumble.
Sark rebuilt Washington, but he never broke through in the Pac-12 North Division or the national rankings. Sarkisian is a good coach, but he's yet to distinguish himself with a landmark season. Petersen has with two BCS bowl victories and a sparkling 92-12 record.
So at this point, Washington is the clear winner.
Yet keep in mind that being the public relations and perception winner before either has coached a game or even recruited a player will be the least important victory either posts during their respective tenures.
It's all about what comes next, starting with their 2014 recruiting classes.
---
Flannel Beaver from Tacoma, Wash., writes:
I know this has been discussed, but seriously... when will the Pac-12 go to an eight-game conference schedule? I am all for holding the our moral superiority over all other conferences. Do you think the new Playoff Selection Committee will take that into account? Do bowls consider that when looking at options? Do pollsters REALLY consider it? Then why do we continue to do it? How can I as a fan change
Larry Scott
's stance on this?
Ted Miller
: Scott is a Machiavellian, "It's All About the Benjamins" sort. He'd go with eight games if the Pac-12 athletic directors were for it.
A nine-game conference schedule is favored by Pac-12 ADs for two reasons: 1. It means you only have to schedule three nonconference games, therefore less work; 2. An extra Pac-12 game tends to guarantee more ticket sales than a nonconference patsy, something that SEC schools don't worry about.
Once the conference expanded to 12 teams from 10, the nine-game schedule lost the symmetry that provided a true conference champion. But it was retained for the above reasons, even though it damages the conference's place in the national rankings.
The good news is most folk recognize the seriousness of this issue going forward into the four-team College Football Playoff. There will be pressure to level the playing field and have all the major conferences play nine-game schedules, as the Big 12 and Pac-12 currently do.
But if that doesn't happen, then it becomes the CFP selection committee's move. The first time a one-loss SEC team misses out to a one-loss Pac-12/Big 12 team, and the selection committee explains itself by saying, "The SEC choose to play a softer schedule than the Pac-12/Big 12, so that was the final measure that eliminated their team," then you'll see some changing.
In fact, it's too bad we don't have the playoff this year because it would be an interesting process. To me, the four-team playoff would be best served (based on today's records) by having Florida State, Ohio State, the SEC champ and the Pac-12 champ.
Yes, that would mean leaving out Alabama, which I still believe is the best team.
But if that happened because Stanford's/Arizona State's
schedules were dramatically more difficult
, you can bet that the SEC would man-up out of self interest.
---
Craig from Omaha writes:
Lifelong Huskers fan here but enjoy watching Pac-12 football. … My question to you is why is it that the Pac-12 does not play its conference championship game at a neutral site like every other major conference? Is it due to loyal fan bases that are willing to travel? Do they feel there are not adequate facilities to hold such an event? I would have to think of all the venues in Pac-12 country, there would be some place that would fit the bill?
Ted Miller
: The biggest problem with a neutral venue for the Pac-12 title game is the Pac-12 is much more spread out than the SEC, ACC and Big Ten. With just a week to make travel plans, it would be extremely expensive for fans to book flights. In the SEC, just about every fan base is within driving distance to Atlanta, and that's also mostly true in the Big Ten for Indianapolis and the ACC for Charlotte, N.C, though expansion has changed things a bit in that regard. For Texas A&M, it would be a 12-hour haul to drive to Atlanta.
That said, future change isn't off the table. Since the conference expanded, more than a few folks have tossed around the idea of playing the game in Las Vegas, which the Pac-12 blog would be all for, though there's not yet an appropriate stadium to play host. Another option would be rotating the game between major cities.
Truth is, the Pac-12 championship game has done fairly well at home sites -- the game Saturday at Arizona State is pretty close to a sellout. Last year's lackluster fan showing at Stanford was mostly because of torrential rain and a kickoff during Friday rush hour.
And there's something to be said for rewarding the No. 1 team with an advantage.
---

Scott from Homewood, Calif., writes:
I think you are
making the same mistake
as other media members about the Stanford roster. Although the depth chart lists several players as seniors, they are in eligibility only redshirt juniors because they list by academic class instead of eligibility. Guys like Tarpley,
Henry Anderson
, Parry, Reynolds, Fleming, Yankey are listed on the depth chart as seniors but all have a year left. Although Yankey likely will leave early, the others will most likely be back or have the option to come back. In reality, only four offensive starters are seniors and only three defensive starters are seniors. Jon Wilner has posted twice about this issue and I just wanted to spread the word.
Ted Miller
: I understand your point, but I use a depth chart that has both years.
The players Stanford loses on offense: OG
David Yankey
, C
Khalil Wilkes
, OG
Kevin Danser
, RB
Tyler Gaffney
, RB
Anthony Wilkerson
and FB
Ryan Hewitt
.
Players Stanford loses on defense: OLB
Trent Murphy
, LB
Shayne Skov
, DE
Ben Gardner
and DE
Josh Mauro
.
The Cardinal will again be in the thick of the Pac-12 North Division race in 2014, without question. But those are some big hits to the starting lineup.
---

Brian from Bend, Ore., writes:
Any reflection on why Marcus Mariota has been completely overlooked for QB awards and the Heisman? It seems that no one west of the Mississippi is allowed to lose games. He still has really good stats, was No. 1 in Total QBR until the Arizona game and is morally superior to any other NCAA player. Is this not the embodiment of the Heisman?
Ted Miller
: The bottom line is Oregon lost two of its final four games and Mariota didn't play well at Stanford, the Ducks' marquee national game of the season.
Further, when you remove
Jameis Winston
's off-field issues, as was done this week, the Florida State QB is a clear No. 1 at the position, while
Johnny Manziel
has been a force of nature for two seasons, and
AJ McCarron
has led one of the most successful runs in college football history.
I'm not saying I agree with all of that as a reason to demote Mariota. But that's what happened from a national perspective.
November, 25, 2013
11/25/13
3:00
PM ET
The Pac-12 is what we thought it was back in August --
as deep and as good as it's been
. Probably ever.
Before the season, five Pac-12 teams were ranked. As we head into the final weekend of the regular season, five Pac-12 teams are ranked. Nine Pac-12 teams are bowl-eligible, the most in conference history. That's the same number as the 14-team SEC, which has six ranked teams.
We wrote this on Aug. 26
:
The Pac-12 needs to go at least 2-1 against [Notre Dame] and finish the regular season with a 31-6 nonconference record. That would mean going 29-5 in the first four weeks.
Guess what happens if Stanford beats Notre Dame on Saturday? The Pac-12 would go 31-6 in nonconference games, though 1-2 versus Notre Dame, and 22-5 versus FBS teams and 6-3 versus the AQ conferences.
[+] Enlarge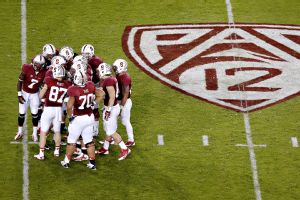 Ezra Shaw/Getty ImagesStanford is among the Pac-12's elite teams, as expected. And while the league was as deep as it's ever been, the Pac-12 is expected to only get one BCS berth.
So excellent for the Pac-12. And there was great rejoicing.
And yet, if you're a big-picture Pac-12 observer, the season feels disappointing.
The Pac-12 is not only out of the national title picture, but it won't get a second BCS bowl team for the first time since 2009. That will cost 12 athletic departments about $500,000, money that most expected to get again this year. The Pac-12 has just one top-10 team: No. 8 Stanford. For just the second time since 2000, the Pac-12 could finish the season without a team ranked in the top five. The Cardinal will need to win out in order to climb that high.
Sometimes being deep and good costs you. That's the often counterintuitive reality of college football, where perception rules the day.
Lots of conferences talk about "cannibalism," which means a conference eats up its own with a brutal conference schedule. But it became the reality in the Pac-12 this year while being a myth in other conferences.
Consider the BCS standings.
Click the schedules of the teams ranked No. 2 through No. 7
, the teams behind Alabama and ahead of Stanford, vying for a spot in the title game. We'll wait here.
Done? Did you notice something? Of course you did.
No. 2 Florida State, No. 3 Ohio State, No. 4 Auburn and No. 7 Oklahoma State each have just one victory over a team that is presently ranked in the BCS standings. No. 5 Missouri and No. 6 Clemson? They have zero wins over currently ranked teams.
Meanwhile, No. 8 Stanford has wins over No. 12 Arizona State, No. 13 Oregon and No. 22 UCLA. Arizona State has wins over No. 15 Wisconsin, No. 23 USC and UCLA. Oregon has a win over UCLA. USC has a win over Stanford.
The Pac-12 grind was like no other conference this year. Utah, for example, was good enough to beat Stanford, Utah State and BYU -- combined record 24-10 -- but enters the final weekend at 1-7 in conference play.
Washington fans were throwing up their hands after consecutive losses to Sanford, Oregon and Arizona State. Of course, those three are each ranked in the top 13. The Huskies' four losses all came to ranked teams.
Washington State is just 6-5 but was good enough to beat USC (which beat Stanford), Arizona (which beat Oregon) and Utah (which beat Stanford). Oh, and the Cougars outgained Auburn 464-394 in a tight, 31-24 road defeat, with the Cougars undone by three turnovers.
Everyone knows what's coming, right? Yep, we're again going to point to the nine-game conference schedule. The Pac-12 and Big 12 play nine conference games. The Big Ten has announced it will start playing nine in 2016. The ACC and SEC have both talked about it, but then have hidden behind excuses for not playing nine games.
The ACC and SEC say they don't want to play nine games because of intraconference rivalry games such as Georgia-Georgia Tech, Clemson-South Carolina and Florida State-Florida. Of course, this is pure disingenuousness. At least they could just be honest and admit they are trying their darnedest to make things as easy on themselves as possible.
The thinking in the ACC and SEC, with the new four-team playoff coming, is to wait and see, to really and truly see how important strength of schedule is going to become.
None of this means any Pac-12 team could beat Florida State, a team I believe is very good. And we'll likely get to see what the Pac-12 champ will do against Ohio State in the Rose Bowl.
In fact, if the Pac-12 flops in its bowl games, there will be plenty of chuckling over this "world's deepest conference" talk. There are no excuses this year, with USC eligible and just one BCS bowl team.
Yet if the four-team playoff began this year, Pac-12 folks can see what's at stake. We don't yet know how much money teams and conferences that earn spots in the playoff will pocket, but it will be north of the $18 million the teams/conferences playing for the final BCS title this year will receive.
If Pac-12 coaches, athletic directors and administrators end up watching as the SEC or ACC pockets an extra, oh, $40 million after placing two teams in the playoff while the Pac-12 gets some nice parting gifts, then perhaps there would be a sense of urgency about making sure that every major conference plays the same number of conference games.
That, above all else, will be the critical issue for the Pac-12 as we make a transition into the playoff era.
November, 19, 2013
11/19/13
11:00
AM ET
Despite Stanford's loss at USC, there was almost no change in the
ESPN Stats & Info's Conference Power Rankings
, with the SEC No. 1, the Pac-12 No. 2 and the Big 12 No. 3.
The Pac-12 actually went up 0.8 points, gaining on the SEC, which went up 0.1 points. The Big 12 went down 0.1 points.
The Pac-12 is No. with
ESPN Stats & Information's FPI rating
, but it's taken down by the human polls. With the FPI, the Pac-12 has seven of the nation's top-19 teams, compared to five in the top-20 for the SEC.
November, 5, 2013
11/05/13
11:00
AM ET
The Pac-12 solidified its No. 2 position in the
ESPN Stats & Info's Conference Power Rankings
after a weekend with just four conference games, none involving the top-two teams, Oregon and Stanford.
The Ducks and Cardinal, of course, will play Thursday for the top spot in the Pac-12's North Division.
The No. 1 SEC improved by 0.9 points and the Pac-12 went up 0.8 points. The No. 3. Big 12 fell by 3.7 points and now trails the Pac-12 by 6.1 points. The No. 4 ACC dropped 3.9 points.
That partially explains why most BCS standings gurus believe an undefeated Oregon would eclipse an undefeated Florida State in the final BCS standings, if things come to that.
The big gainer was the Big Ten, which jumped 3.9 points after Michigan State rose six spots in the polls. Still, it's the Pac-12's Rose Bowl partner is a distant fifth, 12.5 points behind the ACC.
October, 22, 2013
10/22/13
11:00
AM ET
A wild weekend didn't knock the SEC out of the top spot of the
ESPN.com conference power rankings
, but it did tighten things among the top-four conferences.
The SEC lost 2.9 points, but it still remains almost eight points ahead of the Pac-12, which gained 0.2 points.

The third-place ACC advanced 1.1 points and is 5.3 points behind the Pac-12. But the big mover was the Big 12, up 14.8 points, so that it is now 1.5 points below the ACC.
The conference power rankings equally weighs the rankings from the AP poll and ESPN's new Football Power Index (FPI) in order to determine the best and worst conferences in the country.
From ESPN Stats & Analysis:
The Big 12 gained 14.8 points in the power rankings after its top four teams -- Baylor, Texas Tech, Oklahoma and Oklahoma State -- all rose in the polls. As a result, the Big 12 jumped to second in the portion of the power rankings that measures the AP Poll.

Similarly, the Pac-12 moved from second to first in the computer portion of the conference power rankings (FPI). The Football Power Index (FPI) is one of ESPN's new storytelling metrics that measures the relative strength of a team in terms of scoreboard points on roughly a -30 to +30 scale with 0 being average. The average Pac-12 team has an FPI rating of 14.6, meaning they are 14.6 points better than an average FBS team on a neutral field. In comparison, the SEC's average FPI rating is 12.8.
So the ESPN.com computers actually like the Pac-12 the best!
October, 16, 2013
10/16/13
11:00
AM ET
Due mostly to Stanford's loss at Utah, the Pac-12 lost ground to the SEC in this week's conference rankings,
compiled by ESPN Stats & Information
.
The rankings will use ESPN's new Football Power Index (FPI) instead of the BCS computers, as it did last year, but the premise of the rankings remains the same. The AP poll will measure the strength of the top schools in the conference and the FPI will measure the depth of the conference.
The Pac-12 lost 3.5 points while the SEC gained 0.7 points, largely on its strength in the AP poll. The SEC is the first conference to have eight top-25 teams in a single poll.
The SEC now leads the Pac-12 by 10.8 points. The third-place ACC gained 4.7 points and is now just 6.2 points behind the Pac-12.
Notes ESPN Stats & Information:
Losses by Georgia and Florida did not significantly impact the SEC in the conference rankings because they lost to other ranked opponents. Therefore, the points that the Bulldogs and Gators lost in the AP poll were accrued by Missouri and LSU, respectively.

In comparison, fifth-ranked Stanford lost 454 points in the AP poll after its 27-21 loss to unranked Utah. The Utes remained unranked and were able to add only 47 points (in the "others receiving votes" section) for the Pac-12 with their win.
It will be interesting to see how the conference rankings react to the UCLA-Stanford game. Both teams figure to remain ranked even with a loss, but it will be interesting to see how much ground the winner gains and the loser falls.
August, 21, 2013
8/21/13
9:00
AM ET
Five Pac-12 teams were ranked in the preseason Associated Press poll. The Pac-12/10/8 has never had five teams ranked in the
final
AP poll, though that would change if new members Colorado and Utah were included in the tabulation.
What that means is the preseason perception of the Pac-12 is strong heading into the 2013 season, perhaps as strong as it has been in a while. The last time as many as four conference teams were ranked in the preseason AP poll was 2006.
Depth? Eight conference teams received votes. National title contenders? Oregon is ranked third and Stanford fourth.
Last year, the general consensus was the SEC was the best conference, and the Pac-12 and Big 12 were candidates for No. 2. This fall, more than a few folks are projecting the Pac-12 as a
contender for best conference
, though dethroning the SEC, which had six teams in the top 12 of the preseason poll, is as much about ending a streak of seven consecutive national titles as overall strength.
However one views the strength of various conferences, there obviously is a perception that the Pac-12 is on the uptick in 2013.
There are season-specific reasons for this. For one, a lot of starters are coming back, particularly among the better teams.
Pac-12 teams average 16.3 returning starters. The average over the past decade was 14.9. Those 2013 numbers are particularly good at the top. The conference's top seven teams from a preseason perspective -- Oregon, Stanford, UCLA, Oregon State, USC, Arizona State and Washington -- average 16.5 returning starters. For the sake of comparison, the SEC's top six teams (Alabama, LSU, Georgia, Texas A&M, Florida and South Carolina) average 12.3 returning starters.
They say defense wins championships, so it's good that an average of 7.4 defensive starters are back. They also say the game is won in the trenches. Only one conference team, Utah, doesn't welcome back at least three starters on its offensive line. Seven teams welcome back four starters, compared to just two (Arizona and USC) a year ago.
Further, of those top seven teams, six welcome back their starting quarterbacks. Among that group, only USC is replacing its 2012 starter.
Arizona is replacing its starting quarterback, Matt Scott, but it nonetheless was among the teams getting votes in the AP poll. Second-year coach Rich Rodriguez said he thinks the conference has more than five Top-25 teams, and he thinks there's a paper trail behind the conference's improving perception.
[+] Enlarge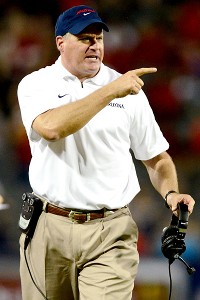 Mark J. Rebilas/US PRESSWIREArizona coach Rich Rodriguez says the Pac-12 is trending toward success, a positive growth unlike any the conference has ever experienced.
"The Pac-12 is deeper now and will be deeper in the next 10 or 15 years than it ever has been," he said. "And that's just because of the money being put into it. You're talking about more money, more facilities and more revenue than any school in our league has ever had. And that's not going backwards."
He then added with a laugh, "I wish it wasn't that way. I wish it was just us. But everybody is kind of moving up."
How much more money are Pac-12 teams taking in? Well, according to the conference's tax filings for 2011-12,
the most recent available fiscal year
, revenues jumped 58 percent over the previous year to $175.5 million. And that doesn't include the $3 billion TV deal with ESPN and FOX, which started last season and will pay members an average of $20.8 million over the next 12 years.
That money is paying for facilities upgrades across the conference. In fact, every conference team has -- or is planning to -- significantly upgraded facilities, whether that's stadiums, weight rooms or football buildings.
California last year completed the most expensive facility upgrades in college sports history -- total cost of $474 million -- and immediately went from having some of the worst facilities in AQ conference football to having some of the best. Oregon's new football building has been
a national sensation
, while the renovation of Husky Stadium will put it on the short list of best college football venues. Arizona, USC and Utah have recently opened fancy new football buildings, while Arizona State's stadium remodel plan is, well,
out of this world looking
.
These facilities, the conventional wisdom goes, will make Pac-12 programs more competitive in recruiting and will provide state-of-the-art support for the athletes already on hand. The Pac-12 has been playing catch-up in the college football arms race, and now it seems it has caught up.
Of course, the Pac-12 continues to have a self-imposed challenge that the SEC, Big Ten and ACC don't face: a nine-game conference schedule. If the Pac-12 played eight conference games, there would be six fewer losses scattered throughout the conference every year, and that would bolster national perception. It particularly would boost perceptions of depth, as more 6-6 teams would be 7-5 and 8-4 teams would be 9-3.
For many Pac-12 coaches, quality depth has been a major factor preventing the conference from playing for more national titles.
"What I like to say about our conference is it's tough every single week," Stanford coach David Shaw said. "You don't have a group at the top and a group at the bottom. You're going to play tough games every single week."
It appears that might be even more true in 2013, at least if preseason polls are to be believed.
But there is a singularly most convincing way for the Pac-12 to distinguish itself in front of the nation this season: Win the final BCS National Championship before the four-team playoff begins in 2014.
January, 3, 2013
1/03/13
12:09
PM ET
Here are three Oregon keys for the Tostitos Fiesta Bowl:


1. Win the turnover battle:
Kansas State is No. 1 in the nation in turnover margin. Oregon is No. 3. The Wildcats are ranked that highly because they've given away only 10. The Ducks are that high because they've taken away 38. In Kansas State's lone loss to Baylor, QB
Collin Klein
threw three interceptions. In fact, Klein threw five of his seven interceptions in the final three games. Oregon QB
Marcus Mariota
threw only one pick over the final six games, but that interception came in the loss to Stanford. As Oregon coach Chip Kelly would tell you, winning the turnover battle is not just about getting them. It's about what you do with them or what you do when you give them away. Defenses need to make a stand; offenses need to take advantage.
2. Special teams:
Both teams are good on special teams, but Kansas State might be the best in the nation. The Wildcats are No. 1 in the nation in punt and kick returns and have a good field goal kicker. As many Ducks fans know, Oregon hasn't been very good at kicker the past two seasons. If the game comes down to field goals, the Ducks are probably going to lose. Further, special teams dictate field position. Beyond that, it seems as if big bowl games feature at least one or two big plays on special teams -- a big return, a blown kick, a blocked kick, etc. In a close game, special teams often make the difference.
3. Get Klein down on first contact:
It's strange to say that a quarterback is a physical runner, but that is Klein's game. He runs hard, breaks tackles and is his most aggressive near the goal line, and he gets better as the game goes along, like a good running back. He averaged 13.2 designed running plays per game in Big 12 games, averaged 5 yards per carry and had at least one touchdown in all nine conference games, including five games with at least two touchdowns. Further, he is averaging 1.4 more yards per run on such plays in the second half compared to the first. The Ducks need to be sound tacklers. They need to hit Klein hard. And they need to gang-tackle.
November, 20, 2012
11/20/12
12:00
PM ET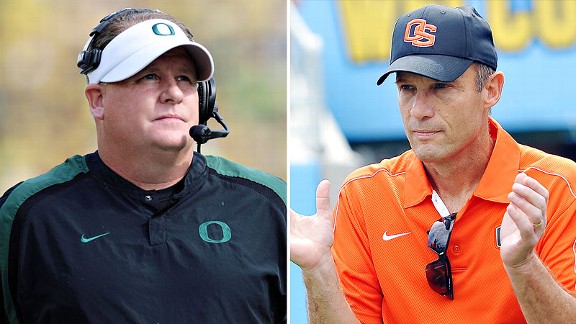 US PresswireOregon coach Chip Kelly and Oregon State coach Mike Riley face off Saturday in the 116th Civil War.
The 2012 Civil War between Oregon and Oregon State doesn't match the 2000 game, when both teams were ranked in the top 10 for the first time in the rivalry's history, or the 2009 game, when the winner-take-all stakes were a Pac-10 title and a Rose Bowl berth. But it's pretty darn big.
The 116th Civil War, the seventh-oldest rivalry game in college football, in Reser Stadium on Saturday (3 p.m. ET, Pac-12 Network) approaches the 2000 game in terms of both teams' rankings, the first time in the series that both were ranked in the top 10. Oregon was fifth and Oregon State eighth in that game, won 23-13 by the Beavers. This go-around, Oregon is again fifth and the Beavers 15th in the
latest BCS standings
.
There is no Rose Bowl on the line for Oregon State, as there was in 2008 and 2009, but the Beavers can play a spoiler role while boosting themselves in the Pac-12 pecking order.
Oregon still harbors hopes of slipping into the national title game, and the Ducks will win the North Division if they beat the Beavers and Stanford loses at UCLA on Saturday. Then Oregon would play host to UCLA on Nov. 30, with -- at least -- a Rose Bowl berth at stake.
And even if Stanford beats UCLA to win the North, an Oregon victory over the Beavers likely would earn it an at-large berth to a BCS bowl game, probably the Fiesta Bowl, where they could end up playing the Big 12 champ, likely Kansas State.
Oregon State? While its postseason destination is most likely the Holiday Bowl, ending a four-game losing streak in the rivalry series would be significant. It would certainly stem the momentum that has been decidedly in the Ducks' favor since an obscure coach from New Hampshire by the name of Chip Kelly arrived as the team's offensive coordinator in 2007.
While the 2008 and 2009 Civil Wars were big games with big implications, the 2010 and 2011 games were all about the Ducks. They were coronation events, as Oregon earned berths in the national title game and the Rose Bowl. The Beavers, meanwhile, were sucking on lemons, suffering through back-to-back losing seasons.
That had some Beavers fans grousing about coach Mike Riley and his staff. It wasn't only about a program backtrack. It was about what was happening 45 minutes to the south in Eugene. It's no fun losing games, but when you are losing, it's much worse when your rival is thriving.
Beavers fans saw Kelly -- smug, smirking, standoffish, annoyingly brilliant -- and felt they were getting left behind.
But we all know things can change quickly in college football. The Beavers are on a clear uptick. While both teams have a lot of talent coming back in 2013, it's Oregon that now has some question marks.
Will Kelly be lured away by an NFL offer? More than a few NFL sorts believe he will have his pick of jobs this offseason.
And what about the NCAA investigation into L'Affair de Willie Lyles? At some point penalties will be handed out. While those penalties are not expected to be crippling -- despite the uninformed blather coming from some people -- they certainly won't help the Ducks maintain their perch atop the Pac-12.
Just imagine how the next couple of months could go for Oregon State fans: 1. A Civil War victory over Oregon, ending a four-year losing streak in the series and the Ducks' three-year run of conference titles; 2. Kelly leaves Eugene for the NFL; 3. NCAA sanctions for the Ducks.
Let's just say more than a few Beavers fans would be high-fiving each other. And there would probably be more than a few
Washington Huskies
fans trying to get in on that action.
Or ... or ...
Oregon beats the Beavers for a fifth consecutive time, finagles its way into the national title game and then beats, say, Alabama for the school's first national title. Then Kelly announces he's staying in Eugene "for life" and the NCAA gently slaps the Ducks' wing.
So, yeah, there's a lot going on here.
Still, amid all these possibilities and speculations, good and bad for both programs, there is only one thing that either can control: Saturday's game.
Yes, it's pretty darn big.
November, 12, 2012
11/12/12
12:30
PM ET
The Pac-12 takes center stage this week with two of the three matchups of ranked teams, and both games are chock full of national intrigue.
No. 2 Oregon plays host to No. 13 Stanford with the Pac-12 North Division on the line (mostly). The Ducks, of course, are fighting for a berth in the national title game, but first they want to secure home-field advantage for the Pac-12 championship game on Nov. 30.
[+] Enlarge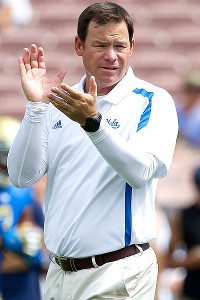 AP Photo/Nick LuceroThe annual rivalry game with USC will have more than bragging rights at stake this season for coach Jim Mora and UCLA.
And No. 18 USC visits No. 17 UCLA with the South Division on the line (completely). The Battle for L.A. is once again relevant, with the Bruins and first-year coach Jim Mora having a chance to reverse a decade of negative momentum with one big Saturday statement.
The other game with ranked teams? No. 23 Texas Tech at No. 24 Oklahoma State. Neh.
Stanford will be the highest-ranked opponent that Oregon has faced thus far this season, but the Ducks have owned the Cardinal of late. Not only have the Ducks won nine of the past 10 games in the series, they've scored 105 points combined in the past two games while winning each by more than 20 points.
Stanford, however, controls its own destiny just like Oregon. If it beats the Ducks, and then finishes its season with a win at UCLA, it wins the North. If Stanford beats Oregon but loses to UCLA, and the Ducks also go down at Oregon State, the Cardinal would win the North Division because it would have head-to-head victories over both the Ducks and Beavers.
As for USC-UCLA, the Trojans have dominated the series of late, winning five straight and 12 of the past 13. All five victories during the current winning streak have been by at least 14 points, including a 50-0 bludgeoning last season. UCLA's last win in the series came in 2006 when they upset the Trojans 13-9 at home.
This showcase weekend is a seeming climax for an interesting year for the Pac-12. For one, the conference has joined the SEC and the Big 12 as the nation's dominant leagues, with decisive superiority -- 17 members of the present BCS standing's top 25 -- compared to other "AQ conferences." Six of 12 Pac-12 teams are ranked in the BCS standings. For the Big 12, it's five of 10, and the SEC features not just six of 14 but six in the top 9.
Yet it's possible for the first time in three years the Pac-12 won't get a second BCS bowl team, which would dock the conference's 2012-13 bowl payout by about $6.1 million, or $508,333 per team. Just to be eligible, a second team must be ranked in the final top 14 of the BCS standings. Further complicating matters is Notre Dame. If Oregon earns a berth in the national title game, more than a few projections have the Rose Bowl picking Notre Dame -- undefeated or with one loss -- over a three-loss Pac-12 team.
Still, there's enough football left complicating potential scenarios that the speculation is mostly an academic exercise at present, not unlike guessing who-done-it two-thirds of the way through a mystery novel.
As for the rest of the Pac-12, things also are intriguing. Seven teams are already bowl eligible, and only three -- California, Colorado and Washington State -- are guaranteed losing records. To become bowl eligible, Arizona State needs to win one of its final two games -- Washington State and at Arizona -- and Utah needs to win both its final two -- Arizona and at Colorado.
If the conference has eight or even nine bowl eligible teams, things could get interesting. For one, the conference's seven contracted bowls have plenty of flexibility for choosing teams. There figures to be some politicking among conference teams. And, perhaps, some hurt feelings. Further, the 6-6 teams at the end of the bowl pecking order likely will be scrambling free agents, ending up in bowl games you probably haven't paid any attention to before.
This should be the best weekend of the Pac-12 season so far. It may provide further clarity. Or it might just thicken the plot.
October, 8, 2012
10/08/12
1:00
PM ET
ESPN's Brad Edwards, a numbers guru, provides a nice preview of what the BCS standings would look like if
they were released this week
, instead of next Sunday.
His conclusion? He writes, "[It] feels like the national title hunt is already down to just three conferences and
Notre Dame
."
That's the Pac-12, SEC and Big 12 plus the Fighting Irish, who play Stanford on Saturday and USC on Nov. 24.
He projects that if the national title game were played tomorrow, it would be Alabama vs. Oregon.
He also projected that Oregon State would rank ninth, USC 11th and Stanford 12th in the standings.
Oregon fans surely will like the sound of that.
The question then would be if Oregon wins out and stands as the 13-0 Pac-12 champion on Nov. 30, are the Ducks certain to be in the title game?
Maybe. Perhaps even probably. But maybe not, too. Writes Edwards:
The Mountaineers or Irish probably would have a computer edge on the Ducks, so they can't be counted out of the race, but they'll need style points to close that poll gap.
So, Oregon fans, assuming the SEC is going to put its champion in the title game, you probably should root for Notre Dame to lose, and it would boost your standing if that happened to Pac-12 teams, by the way.
And, as cool as
Geno Smith
is, you might want the Mountaineers to slip, too.
July, 31, 2012
7/31/12
4:00
PM ET
We've told you about the
preseason Pac-12 media poll
, which projected things as most folks believed it would. But what about all the other media polls out there for teams that cross paths with Pac-12 teams this fall?
Don't worry. We are here to help.

The Pac-12 has dates with the preseason SEC (LSU-Washington) and Big Ten (Wisconsin-Oregon State) favorites, but there also is plenty of mediocrity on the nonconference slate this season. There's only one game between the conference and the ACC (Duke-Stanford) and Big 12 (Oklahoma State-Arizona). There's two between the Pac-12 and SEC because Missouri (Arizona State) switched its affiliation away from the Big 12.
And it's clear the Big Ten, the Pac-12's Rose Bowl rival, is still the chief partner for quality nonconference action. There also are dates with Illinois (Arizona State), Ohio State (California) and Nebraska (UCLA).
There also are seven dates with the Mountain West Conference: Colorado State (Colorado), Fresno State (Oregon, Colorado), Nevada (California), Hawaii (USC), San Diego State (Washington State) and UNLV (Washington State).
BYU and Notre Dame, as Independents, aren't in preseason media polls. FCS teams aren't included
Arizona
: Toledo (first in MAC West Division); Oklahoma State (fourth in Big 12)
Arizona State
: Illinois (fourth in the Big Ten Leaders Division); Missouri (fourth in SEC East)
California
: Nevada (second in Mountain West); Ohio State (second in Big Ten Leaders Division);
Colorado
: Colorado State (eighth in Mountain West); Fresno State (third in Mountain West)
Oregon
: Arkansas State (second in Sun Belt); Fresno State (third in Mountain West)
Oregon State
: Wisconsin (first in Big Ten Leaders Division)
Stanford
: San Jose State (third in WAC); Duke (last in ACC Coastal Division)
UCLA
: Rice (fifth in Conference USA West Division); Nebraska (first in Big Ten Legends Division; Big Ten champs); Houston (first in Conference USA West Division)
USC
: Hawaii (seventh in Mountain West), Syracuse
Utah
: Utah State (second in WAC)
Washington
: San Diego State (fifth in Mountain West); LSU (first in SEC West, SEC champs)
Washington State
: UNLV (ninth in Mountain West)
Best Pac-12 Position Group in 2014 Class
PAC-12 SCOREBOARD
Saturday, 12/21
Monday, 12/23
Tuesday, 12/24
Thursday, 12/26
Friday, 12/27
Saturday, 12/28
Monday, 12/30
Tuesday, 12/31
Wednesday, 1/1
Thursday, 1/2
Friday, 1/3
Saturday, 1/4
Sunday, 1/5
Monday, 1/6