May, 13, 2014
5/13/14
5:30
PM ET
When the Class of 2012 was finalized, it appeared the Pac-12 had secured a solid crop of quarterbacks.
Four of the nation's top 12 and six of the top 26 were headed to -- or staying on -- the West Coast. There was a good mix of dual-threat guys and pocket passers -- enough to instill high expectations moving forward. For comparison, the SEC and Big 12 both signed one player from the top 15.
Just over two years later, it's clear the class will never live up to those expectations.
Of the 14 players listed as quarterbacks by ESPN that signed with Pac-12 schools that year, only four are currently on the roster at the school they signed with, listed at quarterback and in good standing with the program. With Monday's news that
Oregon's
Jake Rodrigues
would transfer
, the transfer count is up to six. The other four situations are composed of a suspension, a position change, a dismissal and an LDS Church mission.
Here is a look at the Pac-12's quarterbacks from the Class of 2012 and an update on how their careers have progressed:
[+] Enlarge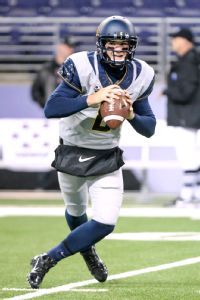 Joshua Weisberg/Icon SMIZach Kline lost out on the starting job at Cal in 2013 to a true freshman and transferred at season's end.
Zach Kline
Ranking:
No. 2
School:
Cal
Status:
Transferred (Butte College)
Comment:
Kline redshirted in coach Jeff Tedford's final season behind starter Zach Maynard then lost the competition to replace him to true freshman
Jared Goff
last year. He appeared in seven of 12 games but made the decision to transfer following the season. Originally it was reported that Kline would attend Oregon State, but instead he announced last month
he would attend Butte College
-- the same school Aaron Rodgers attended
before
he went to Cal.
T.J. Millweard
Ranking:
No. 5
School:
UCLA
Status:
Transferred (Kansas)
Comment:
After landing at UCLA the year after
Brett Hundley
, Millweard left Westwood
after one redshirt season
to head to Kansas. He sat out last season due to NCAA transfer rules but
does not appear to be in line for playing time
with the Jayhawks. Sophomore
Montell Cozart
was named the starter following spring practice.
Cyler Miles
Ranking:
No. 10
School:
Washington
Status:
Suspended
Comment:
The heir apparent to Keith Price during the 2013 season, it appeared Miles had the potential to become the prize of this class. That still might be the case, but his career remains in a state of flux due to an indefinite suspension following his connection to a post-Super Bowl assault. Coach Chris Petersen
told 710 ESPN Seattle
a decision won't be made public on Miles' future until August.
Jake Rodrigues
Ranking:
No. 12
School:
Oregon
Status:
Transferring
Comment:
Rodrigues' decision on Monday seemingly came out of nowhere after a spring in which multiple reports cast him as a strong candidate to replace
Marcus Mariota
following next year. But after meeting with coach Mark Helfrich on Monday,
as reported by Comcast SportsNet Northwest
, he made the decision to move on. It's a safe bet Helfrich didn't say, "Jake, we see you as Marcus' primary backup and expect you to be the starter in 2015," in that meeting. Too early to say where he'll end up.
Jeff Lindquist
Ranking:
No. 17
School:
Washington
Status:
Potential starter
Comment:
With Miles' status uncertain, Lindquist moved to the top of the depth chart by default during spring practice. Lindquist and
Troy Williams
competed as the
only two quarterbacks through the spring
. He hasn't attempted a pass for the Huskies, but had two carries for 10 yards in 2013.
Javelle Allen
Ranking:
No. 26
School:
Arizona
Status:
Dismissed from team
Comment:
Allen served as
B.J. Denker
's primary backup in 2013, but he was dimissed from the team before the Wildcats played in the AdvoCare V100 Bowl for
violating team policies
. He appeared in five games but attempted just one pass. It's unclear where his career will go from here.
[+] Enlarge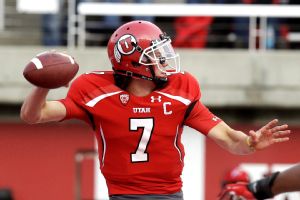 AP Photo/Rick BowmerTravis Wilson so far has been the best Pac-12 QB from the 2012 signing class.
Travis Wilson
Ranking:
No. 39
School:
Utah
Status:
Starter
Comment:
The unquestioned success story (so far) from this class, Wilson is the only starter among the group. He started seven games as a true freshman and the Utes' first nines games in 2013 before a scary head injury cost him the rest of the season. The injury was serious enough that his career was in jeopardy, but it was announced in February that
he would return
. Wilson has thrown for 3,138 yards and 23 touchdowns.
Chase Hansen
Ranking:
No. 43
School:
Utah
Status:
LDS mission
Comment:
Hansen spent the 2012 season with the Utes, but he put his college football career on hold to depart on his LDS Church mission. He is expected to return to the team for the 2015 season.
Josh Kern
Ranking:
No. 44
School:
Arizona
Status:
Converted to tight end
Comment:
After redshirting in 2012, he converted to tight end and played in nine games last season -- mostly on special teams -- without recording a catch.
Shane Dillon
Ranking:
No. 51
School:
Colorado
Status:
Transferred to play basketball (Cuyamaca JC)
Comment:
Dillon left the school in July 2013 to pursue college basketball. He initially announced on Twitter he would play basketball at San Diego in the WCC, but that fell through and he landed at Cuyamaca Junior College in San Diego.
In 27 games in the 2013-14 season
, he averaged 11.9 points and 6.1 rebounds per game.
Wayne Capers
Ranking:
No. 78
School:
Arizona
Status:
Transferred (Western Pennsylvania)
Comment:
Although listed as a quarterback during the recruiting process by ESPN, Capers played defensive back for the Wildcats. He appeared in 11 games as a true freshman, but injuries limited him in 2013 before he
left the program in November
.
Jeff Lockie
Ranking:
No. 105

School:
Oregon
Status:
No. 2 on depth chart
Comment:
With Rodrigues' transfer, Lockie is in position to serve as Mariota's backup in 2014 -- which should allow for plenty of playing time -- and give him a leg up on becoming the starter in 2015. He completed 8 of 13 passes for 57 yards last year without a touchdown and one interception. At Monte Vista High in Danville, Calif., Lockie was crosstown rivals with Kline (San Ramon Valley High).
Austin Apodaca
Ranking:
No. 111
School:
Washington State
Status:
Transferred (Mesa CC)
Comment:
The writing was on the wall for Apodaca even though he was the Cougars' No. 2 quarterback in 2013. He didn't project to ever become the starter in Pullman and decided to transfer in February.
Brent VanderVeen
Ranking:
No. 144
School:
Oregon State
Status:
Competing for backup job
Comment:
VanderVeen redshirted in 2012, and sat at No. 3 on the depth chart in 2013 without throwing a pass. He's currently competing for the backup job with
Kyle Kempt
and Alabama transfer
Luke Del Rio
.
Note:
Arizona State, Stanford and USC did not sign quarterbacks that year.
December, 3, 2013
12/03/13
2:30
PM ET
I've heard another rumor, that you were bitten by a king cobra?
Yeah, I was. But after five days of agonizing pain, the cobra died.
December, 2, 2013
12/02/13
2:30
PM ET
Nobody's ever gone the distance with Creed, and if I can go that distance, you see, and that bell rings and I'm still standin', I'm gonna know for the first time in my life, see, that I weren't just another bum from the neighborhood.
October, 25, 2013
10/25/13
5:30
PM ET
Nine out of 10 doctors recommend the Friday mailbag. The 10th is a loquacious colon and rectal surgeon, so to be honest we don't really care if he hangs out here or not.
Follow the Pac-12 blog on Twitter
.
To the notes.
Swede from Tucson, Ariz., writes:
I'm wondering if the one-game suspension and the two early byes for Arizona destroyed any discussion of Ka'deem Carey's efforts as being a Heisman candidate. He's 1-2 games behind most other RBs at this point, yet still 11th in the country in total yards (and averaging 160 yds/game - best in the country). If that pace can be sustained for the remainder of the season, it's entirely possible he will have the most yards gained (again). What is it that is keeping him from even being considered in the Heisman discussion?
Ted Miller
: Carey's case has been hurt by the reasons you mention, as well as Arizona losing two games. You'll notice that the top
Heisman candidates almost
exclusively play for highly ranked teams.
But Carey could get back in the race, particularly if Florida State and Oregon falter with their previously perfect QBs posting poor performances.
Regardless, I think Carey could enter the discussion if he posts big numbers and leads the Wildcats to three consecutive victories, which would include a win over Pac-12 South Division rival UCLA on Nov. 9.
If Carey still led the nation in rushing and the Wildcats were 7-2 and nationally ranked, he'd start to raise eyebrows.
To really extend this, if the Wildcats end up winning the South Division and he leads the nation in rushing at the end of the regular season, the odds would get better for him to get an invitation to New York.
Carey needs a lot to happen to get into the discussion, including for other top guys to slip. But it's far from inconceivable.
In my mind, he's the best running back in the country.
---
Koosh from New York writes:
There are so many cliches when referring to two quarterback systems "two quarterbacks means you don't have ONE quarterback", etc. But I find that it is mostly about confidence. See Jim Harbaugh at Stanford and at the Niners. As a former quarterback, he knew that a confident quarterback was a winning quarterback and spoke effusively about both of them at every chance he got. Which brings me to my question, even though [
Jared Goff
] has had some turnovers, Sonny Dykes has created a quarterback controversy at Cal where the ONLY thing going for them this season was that their freshman phenom was putting up video game-like numbers. Why put that kind of doubt into an 18 year old's head? For the first 3 games, I thought our offense could win almost any game for us. Since [
Zach Kline
] has gotten into the mix, my optimism has waned considerably and I don't think it is a coincidence.
Ted Miller
: It's a tough situation at Cal, and Sonny Dykes is looking for answers. One of them might be changing quarterbacks.
Will that hurt Goff's confidence? Perhaps. It would be understandable if it did. But the sort of QB who's going to lead Cal out of the Pac-12 basement would use a demotion as motivation to get better. You cannot underestimate how important resolve and mental toughness is in football, particularly at a highly scrutinized position like quarterback.
If Goff pouts or becomes gun-shy and obsessed with making mistakes and loses his confidence, he's probably not the right guy to lead Dykes' offense. My impression of Goff is he won't do any of those things. He'll just focus on what went wrong and try to get better.
The simple fact is Goff's performance slipped once the Pac-12 schedule started.
As Jon Wilner pointed out
:
Goff in [3] non-conference games: 7 TDs, 4 INTs

Goff in [4] conference games: 2 TDs, 3 INTs.
Is Kline the answer? No idea. But the preseason competition was close enough that Kline probably deserves a shot, particularly with things going as poorly as they are on both sides of the ball.
Of course, a coach has to know his players. It's in his best interest to know who needs his confidence consistently massaged and who responds better to tough love. It's a fine line. My feeling is that a coach can provide the unvarnished truth to a player in one-on-one meetings, but should spare the rod when talking to the media.
I haven't read any quotes from Dykes that seemed to throw Goff under the bus.
---
Matt from Washington, D.C. writes:
What are your thoughts on UW's up-tempo offense thus far? I understand that this is where much of college football is headed, but at some point shouldn't UW play to its strengths, especially at receiver? (i.e. getting the ball to ASJ and
Kasen Williams
more) I feel like I've seen enough screen plays to Mickens and
Kevin Smith
to last all season.
Ted Miller
: The biggest problem with Washington's offense isn't growing pains due to the new up-tempo style, it's
Keith Price
's thumb.
Pick up a football and throw it. Now imagine your thumb is working at about 50 percent. Not good.
The Huskies had a horrific performance at Arizona State, but otherwise the offense has been good, including the losses to Stanford and Oregon, which have the two best defenses in the Pac-12.
I think the chief issue in Tempe was Price's thumb. It will be interesting to see how well he throws against Cal on Saturday. I'm sure Price and coach Steve Sarkisian are both looking forward to the bye next week before playing host to Colorado.
But I do hear you: There is something to be said for targeting Kasen Williams and
Austin Seferian-Jenkins
more. Based on what Sarkisian has said of late, I think he agrees with you.
---
Eric from Somerset, Colo., writes:
You guys are morons! I kid. I kid, because I love. Yes, AZ looks to be the better team against my Buffs. But! IF CU can put together a complete game - they've shown solid spurts in all phases at times this year, which has been lacking for a while - give Sefo some time, get Adkins and Powell going. Have Gillam stalk Carey the entire game, since it's at home, with a black-out (for cancer) at homecoming, there may be a little MikeMac Magic in the air, and they steal a win. If so? Is it a fluke, or do you guys see them pulling off two more wins and getting bowl eligible for the first time in nearly an eternity? Oh...we all remember the glory days (at least those of us over 40, who were there). Go Buffs!
Ted Miller
: The Buffs need three more wins to become bowl eligible, so I rate that as a long shot, particularly with the schedule ahead -- six consecutive games with no bye, including three on the road.
As for your specific take on the meeting against Arizona on Saturday... maybe. Stranger things have happened. If the Buffs can slow down Carey and force
B.J. Denker
to throw, that might invite trouble for the Wildcats, though Denker has been passing much better of late. Further, the greatly improved Wildcats defense might be missing two key pieces: spur LB
Tra'Mayne Bondurant
, who is out, and bandit safety
Jared Tevis
, who is highly questionable.
Still, I've got the
Wildcats winning decisively
, as does Kevin. There's a reason Arizona is favored by nearly two touchdowns on the road.
There is no question Colorado is vastly improved. Yet I'd rate the chances 50-50 whether the Buffs can get two more wins down the home stretch of the season and finish 5-7. The most favorable opportunity to pick up win No. 4 is on Nov. 16, at home against struggling California. Otherwise, each of the other five foes at present own winning records, so the Buffs will have to post an upset as a likely big underdog.
The Buffs are young and they are playing hard under Mike MacIntyre. There is reason for optimism for the future. Even a 4-8 finish would represent a significant step forward from the woeful 1-11 performance last year.
---
Wat from Parts Unknown writes:
The claim that Oregon has been the
most consistently dominant team
in the country is a strange one. FSU has won games 41-13, 62-7, 54-6, 48-34, 63-0 and 51-14. Baylor has won games 69-3, 70-13, 70-7, 73-42, 35-25, 71-7. Neither of those are far removed from Oregon's 66-3, 59-10, 59-14, 55-16, 57-16, 45-24 and 62-38. Other than some attempt to parse the relative merits of 4-3 Washington, 3-3 Boston College and 2-4 Kansas State, that is a pretty equal rate of dominance. Especially considering that ASU had a larger margin of victory over UW than UO did. You guys on the west coast might not want to acknowledge it, but Baylor is the #1 offensive team in the country (in points and yards and by a large margin) and FSU has the largest scoring margin in the country. Further, FSU has the most impressive wins of the 3, over 5-2 Maryland and 6-1 Clemson. It is fine to prefer Oregon over FSU and Baylor, but don't base it on false claims of "most explosive", "most weapons", "fastest", "best offense", "best scheme" etc. because all of those are factually false based on actual numbers and statistics against similar opposition. Instead, go with something that is actually true, such as how Oregon has earned it by finishing in the top 10 every year since 2008 and winning 2 consecutive BCS bowls. But when you do, don't complain about the SEC pulling the same "track record" argument also. But don't complain about the SEC's unquantifiable and sometimes demonstrably false "toughest, deepest conference/best defenses/best up front" propaganda while trying to contrive nonsense to artificially elevate Oregon over FSU and Baylor.
Ted Miller
: The Pac-12 blog appreciates your note and the effort it took. For that reason, we are not going to go item by item and point out how you cherry-picked several things, such has Florida State's scoring margin being all of 0.6 points higher than Oregon's, or not accounting for the differences between playing at home and on the road. Or that Baylor is eliminated from the "consistently dominant" argument by winning only by 10 at Kansas State, where it trailed entering the fourth quarter.
Further, we won't tweak the idea of including Maryland, which just lost by 24 points at Wake Forest, as an "impressive" win.
(Would you pick Maryland over Tennessee? Of course you wouldn't. Or, for that matter, would you pick Boston College or Kansas State to beat Washington, which has whipped Boise State, Illinois and Arizona? Of course you wouldn't).
I continue to think that Oregon has the "most explosive", "most weapons", "fastest", "best offense", "best scheme" based on what I've seen this season, and I'm far from alone on that. There is a reason both polls have Oregon ranked No. 2 behind Alabama and the Ducks are getting the second-most No. 1 votes.
All that said, there is no question the most impressive performance so far this year by any team was Florida State's dominant win at Clemson.
Could you make an argument that FSU has been just as "consistently" dominant as Oregon? Absolutely.
Could you make a sound argument that FSU deserves to be ranked No. 1? Sure.
But I also think the assertion that Oregon has been the most consistently dominant team this year doesn't quite reach the realm of strange.
Strange would be claiming that Oregon quarterback
Marcus Mariota
is so detail-oriented that he couldn't stand the idea of trash falling in between a trash can and its plastic liner in a hotel meeting room so he got on his hands and knees and fixed the liner and replaced the trash in the bag.
Oh... wait. That's true
.
---
Jeff from Eugene, Ore., wrties:
If you were lucky enough to be me, would you rather go to College GameDay or sleep in.
Ted Miller
: That you even ask this makes me question whether this is the real Jeff from Eugene.
Everybody knows that if you sleep in and miss GameDay when it's on your campus, Corso will haunt you dreams, playing the role of Jacob Marley, and give you the full-on Ebenezer Scrooge treatment.
Three ghosts of College Football -- past (Knute Rockne), present (Nick Saban... eeeek!) and future (Scott Frost) -- and lots of traumatic experiences later, and you will see the error of your ways and never contemplate missing GameDay again.
You. Have. Been. Warned! Potential Impostor Jeff From Eugene!
October, 23, 2013
10/23/13
2:30
PM ET
Where we are from, he said, stories are factual. If a farmer is declared a music virtuoso by the state, everyone had better start calling him maestro. And secretly, he'd be wise to start practicing the piano. For us, the story is more important than the person. If a man and his story are in conflict, it is the man who must change.
October, 3, 2013
10/03/13
10:15
AM ET
A few storylines to keep an eye on in Week 6 in the Pac-12. (Really? Week 6 already?)
[+] Enlarge

AP Photo/Nati HarnikUCLA signal-caller Brett Hundley will lead the Bruins into Utah on Thursday night.

50 for five? Oregon set a school record last week by scoring at least 50 points in four consecutive games. This week it faces a Colorado team that appears to be stronger than last year's but still has some holes on both sides of the ball. Sans De'Anthony Thomas, the Ducks had little trouble negotiating Cal -- and mother nature -- en route to a 55-16 win. Is a fifth straight 50-plus-point game in the cards?
Kicking it: Great stat from our friends at the Pac-12 offices: "Entering last weekend's play, Pac-12 teams were 186-of-188 on PATs (.989). However, weather conditions in the Pacific Northwest last weekend wreaked havoc on the kickers as high winds and rain contributed to a combined six missed extra-point attempts in games in Corvallis, Eugene and Seattle. While kickers struggled with extra points last weekend, combining for 38-of 45 (.844), they did have considerable success from further out as they connected on 8-of-9 field-goal attempts (.889)." What's the takeaway? Don't try to understand kickers.
Nine in a row: UCLA has both of its bye weeks in the rearview mirror and will play nine consecutive games to close out the season, starting tonight with a trip to Utah. Quarterbacks (and their offensive coordinators) take center stage in this matchup. UCLA's Brett Hundley and Utah's Travis Wilson are both off to fantastic starts. And UCLA offensive coordinator Noel Mazzone was the OC for Dennis Erickson at Arizona State. Erickson is of course now the OC at Utah.
Quick starts? There are lots of intriguing storylines in the Washington-Stanford matchup. For starters, it's a pair of top-15 teams, which is always exciting. But the Huskies have outscored opponents 38-0 in the first quarter and are yet to trail in a game this season. Stanford is outscoring teams 37-12 in the first frame. This kicks off the first of three straight games for the Huskies against ranked opponents, who are home to No. 2 Oregon next week and at No. 22 ASU on Oct. 19.
Irish x 3: The Sun Devils travel to Arlington, Texas, to take on Notre Dame -- the first of three games between the Irish and Pac-12 teams. Notre Dame will host USC under the lights on Oct. 19 and then close out the season at Stanford on Nov. 30. The Sun Devils are trying to become the first team to beat USC and Notre Dame in consecutive weeks. It has happened only 13 times that a team has played USC and Notre Dame in back-to-back weeks.
Raids a'plenty: Washington State travels to Cal in a showdown of the Air Raid vs. the Bear Raid. Cal coach Sonny Dykes, of course, learned his offensive philosophies from working under Washington State coach Mike Leach at Texas Tech and was his GA at Kentucky.
Quarterback change? Cal, which has gone with true freshman Jared Goff as its signal-caller this season, released its depth chart this week with an "or" between Goff and redshirt freshman Zach Kline. Dykes said he felt Kline deserved to get some reps, and both quarterbacks took reps with the first team offense this week. Does it mean Goff is out? Not necessarily. Goff said he's fine with the competition -- despite averaging 329.2 yards per game. Goff was 3 of 6 for 11 yards and lost a pair of fumbles in unfavorable weather at Oregon. Kline stepped in, making his collegiate debut, and was 18 of 37 for 165 yards with a touchdown and an interception.
Arms race: Half of the Pac-12 quarterbacks rank in the top 25 of Total QBR heading into the week: Marcus Mariota (2), Kevin Hogan (5), Brett Hundley (11), Travis Wilson (16) and Keith Price (21) are all in action this week. Sean Mannion (22) is on bye. Four of those QBs are going head to head with Wilson and Hundley tonight and Hogan and Price on Saturday.
Catching on: Per the hard-working folks of Arizona State's media relations office, ASU's Jaelen Strong is off to one of the best starts of any ASU wide receiver in school history. Through his first four games, he has more catches and yards than any other receiver. So far he has 31 catches for 433 yards and two touchdowns. Lenzie Jackson and Jon Mistler had four touchdowns through their first four games, but Strong is way out in front in catches and yards. He faces a Notre Dame defense that gives up 364 yards per game.
Taking a breather: Arizona, Oregon State and USC are on a bye this week. The Trojans return to action for the first time without Lane Kiffin when they host Arizona next Thursday. Oregon State travels to Pullman to take on Washington State on Oct. 12.
August, 12, 2013
8/12/13
11:30
AM ET
A noble spirit embiggens the smallest man.
July, 9, 2012
7/09/12
4:17
PM ET
Most college programs make it a point to bring in at least one quarterback in every recruiting class due to the importance of the position. With Oregon's unique offense and the fact that the quarterbacks in Chip Kelly's system are in the open field more than most, the Ducks have always tried to follow this rule.
With a number of young signal callers on the roster, the Ducks are being even more selective than usual in issuing scholarship offers to quarterbacks in the class of 2013.
When
Anthony Jennings
(Marietta, Ga./Marietta) opted to commit to LSU in early June, the Ducks began looking at other quarterbacks that would be a good fit in Eugene. The next quarterback to earn an offer from the Oregon coaching staff was
Johnny Stanton
(Rancho Santa Margarita, Calif./Santa Margarita Catholic).
Pac-12 Teams Can Load Up At WR
PAC-12 SCOREBOARD
Thursday, 9/3
Friday, 9/4
Saturday, 9/5