Oregon Ducks:

Wisconsin Badgers
November, 15, 2013
11/15/13
5:30
PM ET
Happy Friday.
First of all, a big thank you to all Kansas State fans who contributed ideas for my "flip" visit to Manhattan, Kan. My mailbag overfloweth with perspective and suggestions. Dinner at CoCo Bolos last night was solid, as was breakfast at The Chef. If you see me in "Aggieville" tonight, don't hesitate to say "hello."
Follow the Pac-12 blog on Twitter
.
To the notes.
Ian from Salt Lake City:
Why has
Marcus Mariota
dropped nigh completely from the Heisman radar? I understand the loss to Stanford and playing poorly is a huge portion of that, but it seems to me that people, especially the media (not you or Kevin obviously), have fallen in love so much with
Jameis Winston
and
Johnny Manziel
that they brush aside Mariota like a fly. Both Mariota and Manziel lost games to their biggest competition, Mariota is putting up pretty comparable numbers to Winston with less interceptions, and Mariota is a proven winner, so why no, relatively speaking, love?
Ted Miller
: There are three types of overreaction in college football. There's media overreaction, there's fan overreaction and, third, there's fan overreaction to media overreaction.
Do you define "dropped completely from the Heisman Trophy radar" as
falling from No. 1 to No. 3
in media polls? Or
also here
. Do you define Mariota getting brushed aside "like a fly" after he posts his worst game of the season in a loss that knocks his team -- apparently -- out of the national title hunt?
Have I fallen in love with Jameis Winston? Yes. I'm man enough to admit that I am in love with Winston. I swoon at his stratospheric potential. I love the way he taken a program known for its NFL talent and mercurial performances and made it the nation's most consistently dominating team. Clemson's overwhelming performance against a very good Georgia Tech team on Thursday reminded us just how impressive the Seminoles' win in Death Valley was.
That said, if Mariota plays appreciably better than Winston and Manziel over the final three games, he still might win the Heisman. At the very least, the sophomore will get invited to New York for the ceremony.
There was an understandable and justifiable demotion of Mariota in every Heisman poll after the Ducks offense sputtered against Stanford. Three big performances, however, will background that. And if Stanford loses to USC, three big performances likely would give him another shot in the Pac-12 title game.
Those games will give him space to be evaluated over the totality of the season. They will also his toughness, which I think is being overlooked or played down after the Stanford game, to shine. Mariota should be saluted for even being out there because he was clearly playing on one good leg, and Stanford realized early on that he was not going to be a factor on designed runs or even scrambles.
By the way, Mariota still is the nation's
No. 1 rated QB
and has yet to throw an interception. (Throwing that in, Ian, to quell some media overreaction so your fan overreaction to media overreaction might re-react toward a more realistic place).
---
Paul from Vancouver, Wash., writes:
Ted I am a very loyal Oregon Duck fan and was very disappointed with our loss at Stanford. That being said I think a few different bounces of the ball and the end could have played out differently. Regardless, true champions find a way to deal with adversity and we, the Ducks, did not adapt and overcome. My comment/question is this. I agree Stanford has a good team but I think there overall offensive balance is questionable. The ground game is awesome but there passing attack is average at best and tends to be liability. If Stanford gets put behind in a game and has to abandon their ground and pound game plan, they struggle, which is what happened against Utah. I believe in a game against a team that can play with them physically that Stanford will have issues due to their lack of a decent passing attack.
Ted Miller
: I hear you. In fact, I think both Kevin and I have questioned Stanford at times about its middling passing game, which has shown flashes but not advanced as much this season as we anticipated it would in August. The Cardinal ranks last in the Pac-12 in passing offense with just 183 yards per game.
And yet.
Even though Stanford QB
Kevin Hogan
is not putting up big numbers, he ranks 17th in
ESPN Stats & Information's total quarterback rating
. Hogan is running the Cardinal offense efficiently, even if he only ranks fifth in the conference by the old school pass efficiency measure.
Coach David Shaw has said he would never throw if he knew he'd gain four yards every run. The Cardinal is averaging 4.8 yards per run.
Hogan has thrown well at times, and his 8.4 yards per attempt ranks third in the conference. He's accounted for 15 touchdowns -- 13 passing -- and protects the football.
And there's always this annoying tidbit: Shaw is 31-5. His Stone Age, antiquated, hopelessly conservative, 1970s football has Stanford winning 86 percent of his games.
Is Stanford the sort of team that makes a 14-point deficit look like nothing? No. Did Utah mute the Cardinal for three quarters? Yes, though I think the Utes success on offense was a bigger story in that game.
Could a team like, say, Alabama thwart Stanford because it is as big and physical as the Cardinal? Maybe.
One of the things I really wanted to see this season was for them to try.
---
Tony Jones from Chandler, Ariz. writes:
Ted, I've been keeping an eye on the Jeff Sagarin rankings the last couple of weeks, waiting for verbal pitchforks to be hurled from Sun Devils fans ranting about how ASU is barely getting a sniff in the AP (21st), USA Today (22nd) and BCS (19th) polls while hanging out in the Top 10 in Sagarin's metrics (currently 9th). So when I saw your piece discussing the Championship Drive Ratings and Football Power Index, I was curious to see where ASU ranked. The Sun Devils rank higher in both the CDR (6th) and FPI (7th) than in Sagarin's wizardry. I'm an Arizona alum, so it makes little difference to me, but should ASU fans be Michael Crowing about where they are in the BCS and going all in with their disrespect cards? BTW, I think it's also interesting that the Wildcats are ranked 24th by Sagarin and 28th in the FPI, but are 44th in the CDR. Much bigger disparity than the Sun Devils.
Ted Miller
: Kevin has Arizona State
18th and I have them 19th
. And both of us have noticed how the Sun Devils rank higher with the computers, most notably the Championship Drive Rating, ESPN Stats & Information's complex metric that measures a team's resume.
But I also know why the Sun Devils are being held back due to purely human reasons.
No. 1: The controversial ending against Wisconsin. No. 2: The loss to Notre Dame.
Those are not "bad" losses. But those two results tie the Sun Devils to the wagons of the Badgers and Fighting Irish, and both provide drag.
The officiating implosion at the end of Arizona State's win over the Badgers means voters don't feel comfortable elevating the Sun Devils decisively over the Badgers, who in fact rank ahead of ASU in both polls. Voters feel further justified doing so because the Sun Devils lost to the Fighting Irish, who are presently unranked after losing to Pittsburgh.
This is a case of Arizona State's marquee win -- Wisconsin -- not earning them the poll respect it typically would, and that is understandable to a certain degree. The Badgers feel like they might miss out on an at-large invitation to a BCS bowl game because of that loss, one that they put an asterisk beside.
Yet, as I typically think when reading questions like this: Just keep winning. If the Sun Devils win the rest of their regular season games, including a Nov. 23 date at UCLA, they would jump into the top 10. And if they win the Pac-12 title game and Rose Bowl, they might finish in the top-five.
---
Ron from Maricopa, Ariz., writes:
This article I believe is incorrect
. Colorado received a waiver for playing two FCS games and theoretically they can go to a bowl if they win out. Two games are doable: Cal and Utah. USC is probably too much. But Buffs should be motivated this week for at least the possibility of a bowl.
Ted Miller
: Correct. If Colorado wins its final three games -- California, USC and at Utah -- it will become bowl eligible.
And that certainly would be an amazing accomplishment for the Buffaloes in their first season under Mike MacIntyre.
---
Kevin from Oklahoma City writes:
I know there is still plenty of season left and lots can change but out of curiosity if ASU were to win out and Stanford suffers an upset somewhere along the way, allowing Oregon to take the north...who would host the title game? Would Oregon get to host based on overall record?
Ted Miller
: The team
ranked higher in the BCS standings
would host. That almost certainly would be Oregon. (
Answer is the same from last week
!)
September, 20, 2013
9/20/13
5:30
PM ET
Welcome to the week 4 mailbag. It will be done in sanskrit.
Follow the Pac-12 blog on Twitter
. It's this new Internet thing that just might work out.
To the notes!
Scott from Norfolk, Va., writes:
Todd Graham really does seem like a great fit at ASU and he really did seem to bring about a very positive and much-needed cultural overhaul to the program. That said, doesn't his
contract extension
and raise seem a little premature? He's great so far, but "so far" is only 15 games, in which he's 10-5. Dennis Erickson was 12-3 in his first 15 games. I have to imaging this increases Graham's buyout (though I haven't seen direct mention of it, perhaps you can inform us as to whether that's true?), so isn't ASU unnecessarily limiting its options down the road here? Or am I overreacting and this is par for the course (and it's only fair that if coaches are now getting fired after two years they should also get raises on the same time scale)?
Ted Miller
: I see this as a renewal of vows, Arizona State and Graham making it clear to everyone they are happy -- at present -- with each other (and let's also note the same can be said for AD Steve Patterson, whose contract was also extended).
Of course, we all know college contracts often end up getting broken, one way or another. A coach can leave for a big-money job, at which point the new school often picks up the buyout tab, or boosters can get so worked up about a surprising downturn that the school decides to eat the contract and move on. And, yes, sometimes extensions bite a school in the butt -- see Colorado with Dan Hawkins and Iowa with Kirk Ferentz, two coaches who got big-money extensions that proved too expensive to buy out when things went south.
This new contract isn't a big risk for either party. Graham's current contract runs through 2016, this new one runs through 2018. He wasn't given a 10-year deal that could expose Arizona State should the Sun Devils start losing two years from now. As for Graham,
his buyout of $1.5 million isn't terribly big
. Chip Kelly's buyout at Oregon was $3.5 million.
Another interesting detail, though, is Graham is forbidden from taking a Pac-12 job through the life of the former contract. If I were a Pac-12 AD, I 'd always try to get that written into a head coach's contract. It's a good way to protect program secrets. Not saying any Pac-12 program would ever have any.
But, yes, if Texas wanted to hire Graham, it could easily handle the buyout, even though this extension is intended to prevent Graham's name from getting aggressively thrown into the rumor mill.
Why now? Well, you might have noticed the rumor mill already is starting to grind. From the ASU perspective, just about everything Graham has done thus far with the Sun Devils has been positive, and that's not just about winning.
Kevin, as you know,
spent a lot of time with Graham and his staff last week
. I think the picture he paints is of a highly functioning coaching staff with a strong, driven, organized leader running the show.
I know media members aren't allowed to write nice things about Graham. Kevin's and my problem is we actually have spent enough time with him to actually know what we are talking -- and writing -- about.
---
Sam from Sammamish, Wash., writes:
I am noticing some chippiness of late between long-time conference allies, the Pac-12 and the Big Ten. Here is a link to a story about Sark thinking on
the fly about where to practice on Friday prior to the game in Chicago
. What the story neglects to mention is Northwestern University decided to deny UW access to its practice fields less than 24 hours prior to arrival because it would give their Big Ten brethren Illinois an unfair disadvantage. Add this questionable gesture or lack thereof to the Wisconsin/ASU officiating debacle and methinks there may be some outright animosity building up?
Ted Miller
: The Rose Bowl conferences are business partners, but that doesn't mean they aren't rivals who desperately want to win and claim superiority. That sometimes involves gamesmanship, which is what it appears Northwestern did in this instance.
Here's what coach Steve Sarkisian
said on the matter
:
"It's an unfortunate situation. I don't think there's a whole lot of love lost right now between the Big Ten and Pac-12 right now, quite honestly, especially after the Arizona State-Wisconsin game. So it is what it is. Pat Fitzgerald and I exchanged some comments, and we're fine. I don't know where it's going to go from a conference level. It was unfortunate, but in the end, I think it was a positive. It just kept lending to, there's no distractions for us on this team. If we have to walk through the streets of Chicago to a park in downtown Chicago with a light pole in the middle of the field to practice, we'll do it. And our guys didn't skip a beat. It actually worked out really well for us. It's not a big deal for us anymore. We've moved on."
Oh, well. I've got a really high regard for Fitzgerald, so he gets a pass from me. Sark and Huskies fans might feel differently.
The bottom line is Washington beat Illinois 34-24 and the Pac-12 is 3-2 versus the Big Ten. So pffft to our friends from the Midwest.
---
Bill from Portland writes:
What are the odds of USC and Texas meeting in the Holiday Bowl, and if they did, would those be some of the hottest hot seats in college football? P.S. How crazy is it that in the same year it is a good possibility that USC, Texas and Nebraska may be looking for new coaches at the same time?
Ted Miller
: Those certainly are some A-list jobs that might open up by season's end. Suffice it to say, there's already plenty of chatter about how those potential openings might go.
It's certainly not that long of a shot that the Trojans and Longhorns could play in the Holiday Bowl -- or the Alamo Bowl for that matter -- for the first time since their epic national title game after the 2005 season, albeit in far different circumstances. Of course, both teams will need to climb a bit in their respective conference's pecking order to make it happen, particularly 1-2 Texas.
That said, I'm not sure either team would embrace the idea, though both would like an invitation to a quality bowl game. After all, the theme of most advance stories would be: Look how the mighty have fallen!
---
Lee from Ripon, Wisconsin writes:
You are so incredibly stupid it is beyond belief.
To compare a judgment call (pass interference) with a failure of the game officials to call a play by the rules defies basic logic
. Of course basic logic is obviously beyond you. But when you make statements that are factually incorrect, you really display your stupidity. The Pac-12 is the only major conference that uses officials from its league for home nonconference games. The other conferences have the game officials in essence travel with the visiting team. The game officials that worked the ASU at Wisconsin game in 2010 were from the Pac-12. The referee was the same individual who worked the Ohio State at Cal game Saturday night. It was NOT a Big Ten official who missed the pass interference call that you are basing your fallacious argument on; it was a Pac-12 official. If you weren't so fricking lazy you would have checked this out prior to making a factually incorrect statement; it is called research. I will be sending this email to the president of ESPN and suggest that they fire your sorry butt. An individual too fricking lazy to do basic research and as a result base an "argument" (what you stated doesn't meet the definition of a sound argument, but obviously the explanation of what qualifies as a sound argument is way beyond your severely limited mental capacity) isn't qualified to be a sports reporter. You aren't even qualified to be a dog catcher, or a member of the Bush cabinet. Hell, you aren't even qualified to be a Pac-12 football game official.
Ted Miller
: Thank you for your interest in the Pac-12 blog. We value your input. Please press one for customer service, two for new accounts ...
Lee, you are correct. I am stupid and lazy. That has never been so clear until this week when many Wisconsin fans showed up to help become smarter-er. But, to be honest, your world of Badger sophistication frightens and confuses me. I read "factually incorrect" and I want to bury my face into my blankie. I read "fricking lazy" and "research" and I want to know, "Where did these highfalutin concepts get created...
The Kollege Klub
?"
But there is one thing I
do
know.
That referee
Bill LeMonnier
led a
Big Ten crew on Sept. 18, 2010 inside Camp Randall Stadium
for Arizona State's visit to Wisconsin.
I guess I'm just lucky my computer is connected to the Internet-S.
---
Don from Palo Alto, Calif., writes:
Ted --Please pass this on to Kevin -- seems every time I try and click on "send email to Kevin" it displays your smiling face. Is this part of your evil scheme?I wanted to commend Kevin on his very fine profile of Todd Graham. It was well written, informative and unflinching. As a Stanford fan, and Stanford having not played ASU since 2010, I had kind of lost track of the program (although certainly the Graham hire made news). So with the game coming up this week, it was time to get into Graham and the program a bit, and Kevin's piece filled out everything very nicely. Pac-12 blog rocks!
Ted Miller
: I have many evil schemes. This is not one of them, though now I'm sort of wishing it were. A guy can never have too many evil schemes, right?
Yet just two seconds ago, I was gazing at Kevin's Clooney-esque mug.
Did you click here
? There are two places to send your Pac-12 mail, one to me and one to Kevin.
Typically, if you are angry and want to insult us, those notes should go to Kevin. If you want to write how great the Pac-12 blog is, those notes go to me.
---
Jesse from Portland writes:
I know of your long gripe with the word, "Natty." However, an Oregon player first invented that word. And since it has gone global in it's usage, though originating in Oregon, we claim that word. If you actually took the time to visit every single sports forum and blog, you would quickly see that this word is used by every single fan nationally describing the NCG. It has become a universal word and has so for three years now. Get with the times. You are getting old. The only people who hate that word are Oregon haters, cause they know a Duck invented it. And because it was first invented by a Oregon player, we are NOT going to to stop using that word, not now, not ever! We are the only Pac-12 team to go to a Natty in the last eight years. And we are projected to make another one this year. So we have every right to use that word. So Natty, Natty, Natty, wish you were at the Natty. Natty is here to stay. Both now, forever and into all time. It is a Oregon thing, going to a Natty. And unless you are a Duck, you just cannot understand. You Natty old reporters ... don't like the Natty? Well ... go Duck yourself then. Natty times are here to stay!
Ted Miller:
(A sigh ... and then a slow clap ... everyone in the coffee shop slowly stands and joins in).
September, 16, 2013
9/16/13
2:30
PM ET
Yeah, do you have the Beatles' White Album? Never mind, just get me a glass of hot fat. And bring me the head of Alfredo Garcia while you're out there.
September, 12, 2013
9/12/13
9:00
AM ET
Both Ted and Kevin went 9-1 last week, both missing on picking USC to beat Washington State.

For the year, Kevin is 18-2 and Ted is a miserable 17-3.
STANFORD at ARMY
Kevin Gemmell
: The Cardinal thrive on efficiency, and they were very efficient in their season opener. Army is hardly the test San Jose State was. It makes its living by running the ball, averaging 329 yards on the ground through the first two weeks. Guess which team loves for teams to run at them? …
Stanford 38, Army 7
.
Ted Miller
: Army is not going to win this football game, but on a week when we remember 9/11, let's tip our cap to those guys. I'm sure they'll compete hard and make sure Stanford comes back west knowing it played a football game. …
Stanford 35, Army 10
.
FRESNO STATE at COLORADO
Gemmell
: The Buffs probably lose this one. It was a nice couple of games. They got a little momentum, doubled their win total from last season and generated a little excitement early in the rebuilding process. Fresno State has some weapons. Then again, as Ben Bradlee famously said during the Watergate investigation: "[Bleep] it, let's stand by the boys." …
Colorado 31, Fresno State 28
.
Miller
: Colorado has already shown it's a better football team than it was in 2012. Better will make this one closer than last season -- way closer. But Fresno State might be the nation's best non-AQ team. …
Fresno State 38, Colorado 30
.
TENNESSEE at OREGON
Gemmell
: Had he taken the Colorado job, Butch Jones would have had to wait two more weeks to get blown out by the Ducks. At least now he gets it out of the way sooner. Look for those little mistakes Oregon had last week to disappear as the Ducks return home. …
Oregon 48, Tennessee 17
.
Miller
: There is a level of intrigue for this game based on the Volunteers having a great offensive line and the Ducks being somewhat questionable at linebacker. Is that enough to keep it close? Probably not. …
Oregon 44, Tennessee 20
.
OHIO STATE at CALIFORNIA
Gemmell
: The Buckeyes showed some depth against San Diego State last week when
Braxton Miller
went down. That doesn't bode well for a Cal defense that is rife with injuries right now. The Bears can put up points. No one is disputing that. Stopping people is the bigger priority right now. …
Ohio State 38, Cal 27
.
Miller
: The Buckeyes are going to pile up rushing yards, whether Miller plays or not. So can the Bears pile up passing yards to match them, score for score? Maybe for a little while, but not for four quarters. …
Ohio State 40, California 21
.
WISCONSIN at ARIZONA STATE
Gemmell
: Welcome to the desert, where the temperature at kickoff is expected to be a toasty 102 degrees. But it won't be the heat that burns the Badgers. It will be ASU's precision efficiency, which is amplified when
Taylor Kelly
plays at home. In eight career home games, he has 19 TDs to three INTs and is completing 74.2 percent of his throws. …
Arizona State 35, Wisconsin 24
.
Miller
: But it's a dry heat! My question is whether the Sun Devils defense will be able to stand up to the relentless power-rushing attack of the Badgers. My guess is both teams will be pretty darn worn out by the end of the game. Kevin thinks the UCLA-Nebraska game was the toughest pick this week. This was it for me. …
Arizona State 24, Wisconsin 23
.
OREGON STATE at UTAH
Gemmell
: Two weeks ago, I said I would pencil this in as an Oregon State win. Pencils have erasers. The Beavers have all sorts of issues on defense, and the Utes are playing with a confidence we've rarely seen since they joined the league. I think
Sean Mannion
and
Brandin Cooks
have a big day, but I think
Travis Wilson
& Co. have a bigger day. …
Utah 31, Oregon State 27
.
Miller
: This feels like a HUGE game for both teams. As in, neither will accomplish its goals this season if it loses. I like the matchup with a more mature Travis Wilson against the injury-riddled Beavers defense, but I also think Mannion and Cooks have an edge versus the Utes' questionable secondary. The edge for the Utes is playing at home. …
Utah 38, Oregon State 35
.
UTSA at ARIZONA
Gemmell
: The Wildcats still haven't put it all together. But, once again, their schedule allows for tweaking and growing.
Ka'Deem Carey
's return was as spectacular as expected, and the defense continues to show signs of improvement. I suspect we'll learn more about the Wildcats when they open league play on Sept. 28 against Washington. For now, they'll continue to tweak their way to another win. …
Arizona 42, UTSA 21
.
Miller
: I'm with Kevin. I'm ready to see Arizona get tested. The Wildcats' big goal in this game is fleshing out a passing attack that has been poor to middling in the first two games. …
Arizona 48, UTSA 17
.
BOSTON COLLEGE at USC
Gemmell
: A whole week for
Cody Kessler
to take the first-team snaps might do wonders. But, for now, if the Trojans do win, it will continue to be on the coattails of the defense, which has been outstanding, and that's getting lost in all of this quarterback mess. …
USC 31, Boston College 17
.
Miller
: Forget Lane Kiffin for a moment. What about the players? Do they have pride? Or are they ready to wave a white flag on their season and their head coach? I think we'll see USC bounce back, but I'm far from certain of it. …
USC 24, Boston College 17
.
SOUTHERN UTAH at WASHINGTON STATE
Gemmell
: The worst thing in the world would be an emotional letdown. Don't see it happening. The offense gets back on track this week and the defense continues to improve in Year 2 under Mike Breske. The Air Raid should be in full effect this week. …
Washington State 48, Southern Utah 10.
Miller
: Washington State is going to win this game, but the Cougars need to get their offense back in sync. That means enough running game to keep a defense honest and more than 300 passing yards. We'll see both on Saturday. …
Washington State 51, Southern Utah 13
.
UCLA at NEBRASKA
Gemmell
: By far the toughest game to pick this week. It all comes down to which defense can better contain the other's quarterback. I think the bye week was a good thing for the Bruins, though this week will certainly be emotionally trying with the death of receiver
Nick Pasquale
. They have on film what they did right and wrong versus a mobile quarterback from the Nevada game. I think they put that film to good use. …
UCLA 36, Nebraska 31
.
Miller
: Both teams have good offenses, but I think the UCLA defense is better. Further, I like
Brett Hundley
to take control in the fourth quarter and
Anthony Barr
to make some game-changing plays against
Taylor Martinez
. …
UCLA 40, Nebraska 31
.
WASHINGTON at ILLINOIS (in Chicago)
Gemmell
: This is the next big test for the Huskies: Can they be as productive on the road? They come off the bye week healthy and rested, and the return of
Austin Seferian-Jenkins
gives
Keith Price
another outstanding weapon. Looking for the Huskies to take a big step forward. …
Washington 35, Illinois 24
.
Miller
: If the Huskies play like they did against Boise State, they will roll. I expect them to. I also expect Seferian-Jenkins to have a big game, both catching the ball and blocking for
Bishop Sankey
against a middling defense. …
Washington 41, Illinois 20
.
September, 10, 2013
9/10/13
7:00
PM ET
The Pac-12 will establish its national identity on Saturday. Simple as that.
Every Pac-12 team plays
. No byes this week, my friends. There's one conference game, Oregon State at Utah, that is critical to both teams. Eight of the nonconference foes are unbeaten at 2-0. Six of those teams are from AQ conferences, including four matchups with the Big Ten. Three are against ranked teams. Fresno State, which is visiting Colorado, is the equivalent of 28th in the AP poll. Three Pac-12 teams are underdogs.
Three teams are traveling across multiple times zones. Six teams will be televised on either ABC, ESPN, Fox or Fox Sports 1.
It's a big weekend, folks. It's "measuring stick"weekend.
[+] Enlarge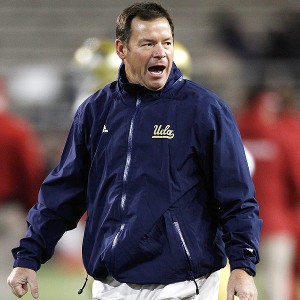 William Mancebo/Getty ImagesJim Mora Jr. leads the Bruins into Lincoln, Neb., in a big game for the Pac-12 and the Big Ten.
Sure, Stanford (Army), Washington State (Southern Utah) and Arizona (UTSA) aren't playing marquee matchups. But nine other Pac-12 teams can make a resonating, national statements about the trajectory of their seasons if they win on Saturday.
The underdogs are Colorado, California, which plays host to No. 4 Ohio State, and UCLA, which visits No. 23 Nebraska.
Colorado is looking to redeem itself for a white-flag performance at Fresno in 2012, a humiliating 69-14 defeat that wasn't even as close as the final score indicates, seeing that it was 35-0 after one quarter. If the Buffs pull the upset, it would establish the Pac-12 as a patsy-less conference with no easy outs.
Cal nearly won at Ohio State a year ago, more than physically matching the Buckeyes, who would go undefeated. That game, in fact, is probably why there's a lot of skepticism -- cough, cough -- about how good the Buckeyes actually are. The good news is Cal is at home. The bad news is the Bears nearly lost there a week ago to Portland State, an FCS team.
Perhaps the most meaningful game for the conference is the Bruins-Cornhuskers matchup, mostly because both teams are ranked. Last year, UCLA prevailed as an underdog, 36-30, in Week 2, and that victory immediately gave the Bruins and new coach Jim Mora national legitimacy and presaged a turnaround season in Westwood. The Bruins also are dealing with the shocking death of receiver Nick Pasquale, who was hit by a car over the weekend.
A victory by the 16th-ranked Bruins could push them close to the nation's top 10 and set them up for a 5-0 start before getting the most arduous road double in the country this fall: at Stanford, at Oregon on back-to-back weekends starting Oct. 19.
UCLA's South Division rival, unranked Arizona State, is favored by 5½ points over No. 20 Wisconsin, which is interesting. While many still seem to question second-year coach Todd Graham's crew, Vegas apparently does not. But lines only mean so much. The one thing missing from the Sun Devils strong 2012 campaign was a victory over an A-list foe. The burly Badgers are an A-list foe.
Speaking of favorites, Oregon is giving 27½ points to an SEC team, Tennessee. That's a pretty substantial sign of respect. But, of course, it also establishes an expectation. If the Ducks win, say, 28-17, there will be more than a few smirks in SEC country and among some media folks who fawn on the conference. Style, which Oregon typically has in abundance, matters in this one.
Washington has struggled on the road of late, going 3-10 away from Seattle the past two seasons. Further, Illinois (2-0) might be better than expected; so it's not about style points for the Huskies. It's just about winning and maintaining the positive momentum the program ignited with the opening win over Boise State. Of course, an impressive victory could push the Huskies into the nation's top 15.
USC could use some style -- any at all on offense. The visit from Boston College looked like a walk-over for the Trojans in the preseason, but now it feels like a must-win for coach Lane Kiffin. It's difficult to imagine USC's season turning around after a 1-2 start, which could doom Kiffin.
Then there's Oregon State's visit to Utah. In the preseason, the Beavers looked like a decided favorite for this one, but then they lost their opener to Eastern Washington. Meanwhile, the Utes have surged, getting surprisingly good play from true sophomore quarterback Travis Wilson. An Oregon State win likely would restore confidence and make the Eastern Washington loss look more flukish. A Utah victory would make the Utes look like a bowl team and inspire an edit of preseason expectations.
Finally, there's the three teams playing lesser foes. We have three words for each of you: Don't blow it.
If the Pac-12 wins eight of these 10 nonconference games, it would substantially boost the major preseason storyline for the conference: The Pac-12 is as deep in quality as it has been in years and is in the running for the mythical title of nation's best conference.
But if it wins just five or six games, the measuring stick would be broken in half. The perception of the conference would sink, and there would be little chance to salvage it. At least until the bowl season.
September, 9, 2013
9/09/13
8:00
PM ET
Here's a quick look at Week 3 in the conference. All games are on Saturday and times are ET.


No. 16 UCLA (1-0) at No. 23 Nebraska (2-0), noon, ABC
: Series tied at 6-6. UCLA won 36-30 last year in the Rose Bowl. With 4,014 career passing yards, sophomore QB
Brett Hundley
needs 74 yards to move into UCLA's top-10 list, passing former Bruin and 1967 Heisman Trophy winner Gary Beban (4,087 yards). In the season-opener, Hundley connected with 10 different receivers. In last year's win over Nebraska, the Bruins had 653 yards in total offense (344 rush/309 pass).

No. 5 Stanford (1-0) at Army (1-1), noon, CBS Sports Network
: Series is tied 5-5. Army won the last meeting 17-13 in 1979. Stanford senior FS
Ed Reynolds
had a game-high 12 tackles (9 solo) to go with an interception in Stanford's 34-13 victory over San Jose State. His interception extended Stanford's streak of consecutive games with a takeaway to 25, the longest streak in the nation. Stanford's current streak of being in the top five of the AP poll for three consecutive ranking periods is one week shy of the school's best of four weeks achieved during the 1940 season.


Fresno State (2-0) at Colorado (2-0), 2 p.m., Pac-12 Network
: Colorado leads the series 4-2, but Fresno State stomped the Buffaloes, 69-14, last year. In that game, Colorado was outgained 665 yards to 278. The Bulldogs rolled up 288 yards rushing. It was 35-0 after the first quarter, and it was 55-7 at the half. So, yeah, the Buffs should be motivated. Junior WR
Paul Richardson
grabbed 10 receptions for 208 yards in the season opener, then tallied 11 receptions for 209 yards in the win over Central Arkansas. It's the first time in Pac-12 history that a receiver has posted back-to-back games of 200 or more yards receiving. The Buffs are looking to start the season 3-0 for the first time since 2008.


Boston College (2-0) at USC (1-1), 3 p.m., Pac-12 Network
: USC leads the series 3-0. The Trojans last beat BC 24-13 in the 2009 Emerald Bowl. The Washington State pass defense held USC to 54 yards on 11 completions (4.9 ypc), while limiting All-American
Marqise Lee
to 27 yards on seven catches. Trojans coach Lane Kiffin named
Cody Kessler
the starting QB on Monday. The Trojan defense is playing well. It held Washington State to 7 yards rushing and now leads the nation in rushing defense (allowing 15.0 ypg) as well as sacks with 11 (5.5 per game)


Tennessee (2-0) at No. 2 Oregon (2-0), 3:30 p.m., ABC/ESPN
: Oregon leads the series 1-0. It won 48-13 at Tennessee in 2010. In that game, the Ducks trailed 13-3 before scoring the final 45 points. Through two games, the Ducks have posted five 100-yard rushing performances -- two by
De'Anthony Thomas
, two by
Marcus Mariota
and one by
Byron Marshall
. Mariota is the first Oregon QB to rush for 100 or more yards in back-to-back games. Eight of Oregon's nine scoring drives last week against Virginia were accomplished in under two minutes. That's 17 of 19 scoring drives this season in less than two minutes (the other two drives were 2:11 and 3:08).


No. 19 Washington (1-0) at Illinois (2-0), 6 p.m., Big Ten Network
: Washington leads the series 5-4. The Huskies won the last meeting 52-14 in Champaign. Illinois beat Washington in the 1964 Rose Bowl. The Huskies have now appeared in back-to-back AP polls for the first time since the 2003 season. Senior QB
Keith Price
has 56 TD passes in his career, most in school history, and ranks 25th all-time in the Pac-12. Junior RB
Bishop Sankey
has rushed for 100 or more yards in five of the last six games. He's gained 368 yards over his last two games.


Southern Utah (2-0) at Washington State (1-1), 6:30 p.m., Pac-12 Network
: First meeting between the two programs. With its 10-7 win over Southern Cal, Washington State snapped an eight-game losing streak to the Trojans. It was the Cougars' first win in The Coliseum since 2000. WSU leads the Pac-12, and is sixth in the FBS, allowing just 72.8 passing yards per game.


No. 4 Ohio State (2-0) at California (1-1), 7 p.m., Fox
: Ohio State leads the series 6-1, including a 35-28 win last year in Columbus. Cal freshman QB
Jared Goff
has thrown for 930 yards in two games. His two-game total is just eight yards shy of the Pac-12 record two-game total of 938 yards set by former Cal Bear Pat Barnes in 1996. Barnes posted 435 yards vs. UCLA, then followed with a school-record 503 yards vs. Arizona. The last time Cal hosted a nonconference foe ranked among the top five was No. 4 Nebraska in 1998 (lost, 24-3).


Oregon State (1-1, 0-0) at Utah (2-0, 0-0), 10 p.m., Fox Sports 1
: Oregon State leads the series 9-6-1, including a 21-7 win in Corvallis last year. Oregon State's junior QB
Sean Mannion
threw for 372 yards and four TDs in the win over Hawaii. It was fifth time he's thrown for 350 or more yards in a game, while it was the sixth time he's tossed three or more TD passes in a game. The Utes set a school mark for points in a quarter with 35 in the second of the 70-7 win over Weber State. This is the second time in school history Utah has amassed 100 points in the first two games (1973; 29-22 loss at Texas Tech, 82-6 win vs. UTEP). Sophomore QB
Travis Wilson
has connected on 31-of-47 for 566 yards and 5 TDs this season. His 202.2 passing efficiency rating ranks eighth in the FBS and second in the Pac-12.


UTSA (1-1) at Arizona (2-0), 10:30 p.m., Pac-12 Network
: First meeting. After serving a one-game suspension and missing the first quarter, junior RB
Ka'Deem Carey
rushed 171 rushing yards on 16 carries (10.7 ypc) and 2 TDs, including a 56-yard TD run on his first carry of the season. Carey has 31 rushing TDs, second on the school's career list. (UA record is 44 by Art Lupino, 1953-56). Junior S
Tra'Mayne Bondurant
added his FBS-leading third interception of the season with a pick he returned 52 yards for a TD, his second return this season for a score.


No. 20 Wisconsin (2-0) at Arizona State (1-0), 10:30 p.m., ESPN
: Arizona State leads 2-1, but the Badgers won a 20-19 thriller in 2010. Arizona State is 8-0 vs. the Big Ten at Sun Devil Stadium. The Sun Devils committed just one penalty for 5 yards in their season-opening win over Sacramento State. ASU led the Pac-12 last season with just 55 penalties (4.2 per game) for 454 yards (34.9 ypg). Junior QB
Taylor Kelly
completed 23 of 31 passes for 300 yards and a career high-tying five TDs in the blowout win over Sacramento State. He has a streak of 102 straight pass attempts without an interception dating back to last year, which currently stands fourth nationally. His touchdown passes of 16, 41, 24, 33 and 26 yards, all went to five different receivers. Dating back to the final three games of the 2013 season, Kelly has gone 76-of-102 (.745) with 13 touchdowns and zero interceptions on 1,005 yards.
January, 8, 2013
1/08/13
7:12
AM ET
These are the final 2012 power rankings.
If you don't like where you finished in the power rankings, you should have played better.
See the pre-bowl-season power rankings here
.
1. Stanford
: Oregon received a higher final national ranking, and you could make a decent challenge in favor of the Ducks. They didn't get upset by Washington, didn't play a lot of close games and beat a top-five team in the Fiesta Bowl. But, on Nov. 17, the Cardinal went to Eugene and took care of business. Stanford is the Pac-12 champion, and Oregon is not. Ergo, Stanford sits atop the power rankings. And 2013 looks pretty darn good, too.
2. Oregon
: The cherry on the top of another special season for Oregon is the return of coach Chip Kelly. And we're of the mind that, if not for the slip against Stanford, Oregon would be sitting atop college football this morning after a fine evening of frolic in South Florida. The Ducks and Stanford will be national title contenders again in 2013. And guess which two teams are going to top the first 2013 power rankings?
3. Oregon State
: The loss to Texas in the Valero Alamo Bowl was baffling. The Beavers were a superior team that seemed to be looking for ways to lose in the fourth quarter. The quarterback carousel needs to be resolved. But the Beavers still won nine games, and their 6-3 conference record overcomes UCLA because of a head-to-head win on the road. Nice bounce back after consecutive losing seasons.
4. UCLA
: Yes, the Bruins flopped in the Bridgepoint Education Holiday Bowl against Baylor, but it's impossible not to see Year 1 under Jim Mora as a success, made even more notable by USC's flop. Like last season, the Bruins won the South Division, but this time they earned it.
5. Arizona State
: The Sun Devils won their final three games for the first time since 1978. That's how you go into an offseason with optimism. We hear a lot about "culture change" from programs with new coaches. The Sun Devils' culture change under Todd Graham was made manifest by what happened on the field.
6. Arizona
: The Wildcats did better than expected in Year 1 under Rich Rodriguez, and the season would have been a complete success if not for what happened against that team from up north. That loss hurts, but quality wins over Oklahoma State, USC and Washington, as well as an overtime game with Stanford, show this team competed better than in recent years.
7. Washington
: The Huskies finishing 7-6 against a brutal schedule probably was close to preseason expectations. But the two-game losing streak to end the season, which included a dreadful meltdown in the Apple Cup to Washington State, quashed the momentum a four-game winning steak from Oct. 27 to Nov. 17 had built. Perhaps that will make the Huskies hungrier in 2013, when they have a nice array of talent returning.
8. USC
: The Trojans' season was a complete disaster. USC started out at No. 1 but turned in a white flag performance while losing a sixth game in the Hyundai Sun Bowl to a middling Georgia Tech team. The Trojans were eclipsed by rivals UCLA and Notre Dame while wasting the much-ballyhooed return of QB
Matt Barkley
. Coach Lane Kiffin will be sitting on one of the nation's hottest seats in 2013.
We've been over this a few times
.
9. Utah
: The Utes' move up in class from the Mountain West Conference is proving tougher than some imagined. Utah missed out on playing in a bowl game for the first time since 2002, and there were issues on both sides of the ball. The Utes need an upgrade in talent and overall depth, sure, but consistent quarterback play would be a good place to start. Therein lies hope with promising freshman
Travis Wilson
.
10. California
: A dreadful 3-9 finish ended Jeff Tedford's tenure in Berkeley after 11 seasons. In early October, after consecutive wins over UCLA and Washington State, it seemed as though the Bears might be poised for a rally. Alas, they lost their final five games, including a horrid performance in a 62-14 drubbing at Oregon State. Sonny Dykes has enough returning talent to produce significant improvement in the fall.
11. Washington State
: New coach Mike Leach's season was bad on the field and off, but it ended on a notable uptick with an Apple Cup win over Washington that included a comeback from an 18-point fourth-quarter deficit. Still, 3-9 took a bite out of the enthusiasm Leach's hiring initially generated.
12. Colorado
: A horrid 1-11 finish that was capped by a controversial firing of Jon Embree after just two seasons. The Buffaloes are probably the worst AQ conference team over the past two seasons, and that is the considerable mess new coach Mike MacIntyre was hired to clean up. Of course, MacIntyre put together an impressive turnaround at San Jose State, so he looks like a good choice to bring the Buffs back to respectability.
January, 3, 2013
1/03/13
10:00
AM ET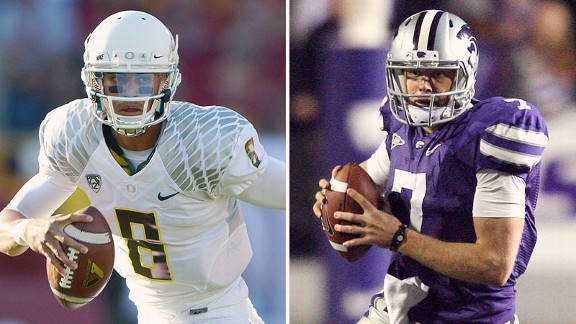 USA TODAY SportsWith quarterbacks Marcus Mariota and Collin Klein, the Fiesta Bowl won't be lacking in star power.
SCOTTSDALE, Ariz. -- The Tostitos Fiesta Bowl on Thursday night? Forget the corn chips; this matchup is about something else.
It's the Regret Bowl. The What Might Have Been Bowl. It's the Can the Mayans Make the Apocalypse Take Out Only Nov. 17 Bowl.
If Nov. 17, when No. 4 Oregon and No. 5 Kansas State both lost their only game of the season, were wiped away, this Ducks-Wildcats showdown likely would have been for the national title.
So, yes, when the Ducks and Wildcats turned on ESPN during the past month or so and watched reports on Alabama and Notre Dame, they often were nicked by a pang of regret, no matter how philosophical a pose their respective coaches tried to establish in the locker room.
Regrets? Yeah, both teams have a few.
"Yeah, a little bit, I'm going to be honest with you," Oregon quarterback
Marcus Mariota
said. "It's one of those things you have to learn from. We lost at the wrong time."
Of course, denial can come in handy. Alabama-Notre Dame? Who are they?
"I think this is the best two teams in the nation in this game right here," said Kansas State receiver
Chris Harper
, who transferred from Oregon. "I know Notre Dame and Alabama have their game, but I think this is the best matchup."
It's certainly a good matchup. No other bowls -- other than that aforementioned matchup in South Florida -- matches top-five teams. You have plenty of star power, with Kansas State QB
Collin Klein
, a Heisman Trophy finalist, and Oregon running back
Kenjon Barner
and Kansas State linebacker
Arthur Brown
, both All-Americans. Then there's celebrated Ducks redshirt freshman quarterback Mariota, who was first-team All-Pac-12 and will be near the top of many 2013 preseason Heisman lists.
And then there are the coaches. Kansas State coach Bill Snyder, the septuagenarian program builder, and Oregon's Chip Kelly, the wise-cracking mad scientist of offense, both would make just about everyone's top-10 list of college football coaches. An added dimension of intrigue is the possibility that Kelly may be coaching his last game as a Duck, as he's being eyeballed by a number of NFL teams.
Said Kelly, "I do not know what the future holds. I do know we have a football game [Thursday] night, and I'm going to be there."
Kelly's crew is playing in its fourth consecutive BCS bowl game. It lost its first two, including here to Auburn in the national title game after the 2010 season, but beat Wisconsin in the Rose Bowl last year. Kansas State is playing in its first BCS bowl game since 2003, and it has lost its past two bowl games.
So there doesn't seem to be much question about how hungry the Wildcats are to end their season with a victory.
"It would be huge," said Klein, who is 21-4 over the past two seasons. "We talk about finishing all the time. We haven't been able to finish the last two years. To be able to do that is very important to us."
Part of Kelly's coaching philosophy is that every game is the same -- a Super Bowl! -- because your preparation should always be your best. Yet the Ducks want to maintain their perch among college football's elite. A Fiesta Bowl victory likely would cement a 2013 preseason top-five ranking because the Ducks have a lot of talent coming back next fall.
"We have to make a statement to the rest of the country," Ducks offensive lineman
Kyle Long
said.
As for keys, you hear the usual from both coaches: turnovers, tackling, special teams, etc. But turnovers seem to be even more notable than usual in this one, at least based on the teams' performances this season.
Kansas State has the third-fewest turnovers (10) in the FBS this season and has forced the eighth-most (31). Oregon is tied for first in turnovers forced with 38, including 24 interceptions. The Ducks turned the ball over 19 times, second-fewest in the Pac-12.
Klein had three interceptions in the Wildcats' 52-24 loss to Baylor.
"When we've turned it over, we've struggled," Snyder said. "When we haven't, we've played reasonably well."
Sure, both teams wish they were playing for a national title. But the winner of this game will finish ranked in the top four. So that's better than 116 other FBS teams. Not too shabby, even if it includes a dose of what might have been.
Kelly was asked what he'd learned after playing in four consecutive bowl games.
"I think you learn really how hard it is to get there," he said. "That's the one thing I think as a team, as a staff, as a group of players, to not take it for granted. It's a truly special thing to be able to play in a BCS game."
Of course, it's more special to win one.
December, 28, 2012
12/28/12
10:30
AM ET
SCOTTSDALE, Ariz. -- There is a school of thought, now apparently subscribed to by a handful of desperate NFL teams, that if that uber-suave, hirsute gentleman from those wildly entertaining Dos Equis beer commercials revealed his true identity, he would rip off a bearded mask and reveal Chip Kelly.
Is Kelly the most interesting man in the world?
Pause for a moment before chortling over our potential hyperbole, for Kelly has packed a lot into his 52-game tenure at Oregon, including 45 victories.
[+] Enlarge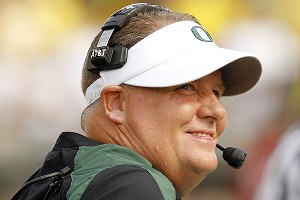 AP Photo/Don RyanChip Kelly doesn't often discuss his life with writers, but when he does, his answers are revealing.
He has run with the bulls in Pamplona. He has led the Ducks to three Pac-12 titles and four BCS bowl games. He has done humanitarian work in Africa. He has produced Oregon's first Rose Bowl victory in 95 years. He has visited U.S. troops in Iraq and Afghanistan.
Kelly, 49 and single, is also fiercely private. He has never cooperated with any truly in-depth "This is your life, Chip Kelly!" story, which is exceedingly rare for a high-profile coach. Nearly all his close friends are back in New Hampshire, where he's from and where he went to college.
Kelly doesn't like glad-handing boosters, something often viewed as a prerequisite for being a college coach. He particularly dislikes talking to reporters, and he goes to great lengths to make sure they understand.
The Dos Equis guy says, "Stay thirsty, my friends." Kelly would say, "Stay away, annoying hangers-on."
Yet the vast majority of Ducks fans not only love all the winning, they love Kelly for his wiseacre, smirking self. They chant "Big Balls Chip!" inside rocking Autzen Stadium to celebrate Kelly's penchant for going for it on fourth down, going for 2 and launching onside kicks at surprising times.
He tells fans, "Shut up!" for cheering behind him during an ESPN postgame interview, and they love him more. A Twitter page,
Chipisms
, celebrates not only Kelly's amusing or insightful wisdom -- "I saw the 'Feel Sorry for Yourself' train leaving the parking lot & none of our players were on it, so that was a good sign" -- but also for his snark.
Inquiries that Kelly doesn't like might get one-word answers, clichéd responses or snappy rejoinders that belittle his inquisitors. Questions that engage him, however, receive full and thoughtful treatment. Consider this response from an ESPN story on Kelly's trip to Africa, when he worked with adolescent girls who had no idea who he was.
"The real heroes are the little girls in Africa who are trying to better themselves so they can help their families," he said. "When I hear a coach say, 'We're grinding.' I'm like: You're sitting in a room with air conditioning watching videotape. That's not grinding."
There seem to be three facets to Kelly. His standoffish public face, the detail-obsessed coach and the Renaissance man determined to drink life to the lees away from the game. Even the hard-driving, "win the day" side of Kelly can loosen up behind closed doors; those who work with him frequently cite his sense of humor.
"He [jokes around] all the time," said offensive coordinator Mark Helfrich, a leading candidate to replace Kelly should he bolt for an NFL job. "It's not: 'Aha, he smiled! Isn't that amazing?' It's daily. We have a lot of fun."
Further, while Kelly's offense almost always runs like a finely tuned machine, plenty of, er, interesting things have been interspersed with winning during Kelly's tenure. Drama has not been lacking over the past four seasons.
His first game as Oregon's head coach remains his worst: A 19-8 loss at Boise State. Not only did the Ducks gain an embarrassing 152 total yards, but Kelly's star running back LeGarrette Blount punched a Broncos player afterward, bringing the hot light of controversy to his team's feckless performance.
Some thought Kelly was in over his head. He answered that by becoming the first Pac-10 coach to lead a team to an outright conference championship his first season.
Oh, and in a sign of interesting things to come, when a season-ticket holder wrote Kelly demanding a refund for his expenses incurred after attending that disastrous trip to Boise, Kelly quickly fired off a note with a personal check for $439.
Heading into 2010, starting quarterback Jeremiah Masoli was suspended after he was involved in the burglary of an Oregon fraternity house. Losing a star quarterback typically would damage a team's chances, but all Kelly's team did was finish undefeated and play for the national championship, losing 22-19 when Auburn kicked a last-second field goal.
The NCAA came calling during the 2011 offseason, wanting to know details of Kelly's and the program's dealings with street agent Willie Lyles. A distraction? Nope. Oregon won the conference a third consecutive year and the Rose Bowl against Wisconsin.
Kelly then nearly left for the Tampa Bay Buccaneers. His quarterback, two-year starter Darron Thomas, had already opted to leave the program, which again threw into question the Ducks' prospects. But Kelly returned and so did the winning, with redshirt freshman
Marcus Mariota
earning first-team All-Pac-12 honors while leading the Ducks to a No. 4 ranking and a Fiesta Bowl berth opposite Kansas State.
Yet he arrives at the Fiesta Bowl amid swirling rumors that he's about to leave for his pick of available NFL jobs. Asked about his NFL ambitions this week, he gave a 235-word answer that essentially said "no comment."
"My heart is to win the day, and that's it," he concluded. "I know everybody wants to hear a different answer, and I know at times when I don't give you guys the answer you guys want, then I'm being evasive. I'm not being evasive. My job is to coach the University of Oregon football team, and I love doing it. And that's what I'm going to do."
So the question will linger for a coach who at the very least is currently the most interesting man in college football: Will the Fiesta Bowl be his last day to win for Oregon?
September, 6, 2012
9/06/12
7:15
AM ET
Here are some of the storylines to keep an eye on in Week 2.
1. Who can rebound
? Washington State, Cal and Colorado will all look to get in the win column this week after disappointing debuts. Each has something specific it needs to work on in Week 2. The Bears need to find a way to get off the field on third down, Colorado needs to find a running game, and Washington State needs to find a little confidence (positive rushing yards wouldn't be bad, either). And even though Stanford won last week, there was a vibe around the team that a 20-17 against San Jose State isn't going to cut it. And they are right. After this week's game against Duke, USC comes to town and then a big road trip to Washington. Cal has its big matchup with Ohio State looming as well. A lot needs to be sorted out for these four teams in Week
2. Super schedule
: Some huge measuring-stick games this week against out-of-conference, BCS-conference foes (seven total). UCLA will see what they really have in
Brett Hundley
when he sees a Nebraska defense that won't be as generous as Rice. And we'll see if Arizona State and Arizona are the real deal when they take on Illinois and Oklahoma State, respectively. While it was nice to see all three win in Week 1, the big question now is whether they can all sustain it with the competition level being increased dramatically. And there are a couple more nonconference games we should mention ...
3. What about the Beavers
? Mike Riley joked that so far this season feels like the training camp that would never end. As last week's game against Nicholls State was re-routed because of Hurricane Isaac, we're still not sure what we're getting with Oregon State. We know they want to run the football, and
Storm Woods
is the guy to do it. At question is whether they'll have success against Wisconsin. It's tough to open the year against a ranked opponent, and Riley called this one of the biggest nonconference games in school history. Also eager to see how much progress
Sean Mannion
has made and how OSU's passing attack led by
Markus Wheaton
stacks up against the Badgers. By the way, big ups to OSU, which will have volunteers from the American Red Cross at Reser Stadium to take donations that go to victims of Hurricane Isaac. Classy gesture.
4. What about the Huskies
? Grrr ... the SEC. They win national championships. They dominate the rankings. Their fans come to our blog and troll with impunity. Grrr. How well will the Huskies represent the conference when they travel to Baton Rouge? Washington showed a lot of inconsistency against San Diego State, particularly on offense. And losing running back
Jesse Callier
for the season certainly doesn't help the situation. But when the Huskies were clicking, it was
Keith Price
connecting with
Austin Seferian-Jenkins
(nine catches, 82 yards) and
Kasen Williams
(six catches, 75 yards, 1 touchdown). That trio will have to have a monster game to pull off a shocker against the No. 3 team in the land.
5. Desert defense
: Some interesting matchups when you look at Arizona and Arizona State's competition -- particularly at the quarterback spot. How will the Wildcats fare against Oklahoma State freshman quarterback
Wes Lunt
, who actually saw less field time last week than
Marcus Mariota
? The Sun Devils might or might not face Illinois starting quarterback
Nathan Scheelhaase
, who has been out with an ankle injury. Head coach Todd Graham said they are prepping to face Scheelhasse, though there's a good chance (depending on which update you read at any particular hour) the Sun Devils could be seeing
Reilly O'Toole
.
July, 31, 2012
7/31/12
4:00
PM ET
We've told you about the
preseason Pac-12 media poll
, which projected things as most folks believed it would. But what about all the other media polls out there for teams that cross paths with Pac-12 teams this fall?
Don't worry. We are here to help.

The Pac-12 has dates with the preseason SEC (LSU-Washington) and Big Ten (Wisconsin-Oregon State) favorites, but there also is plenty of mediocrity on the nonconference slate this season. There's only one game between the conference and the ACC (Duke-Stanford) and Big 12 (Oklahoma State-Arizona). There's two between the Pac-12 and SEC because Missouri (Arizona State) switched its affiliation away from the Big 12.
And it's clear the Big Ten, the Pac-12's Rose Bowl rival, is still the chief partner for quality nonconference action. There also are dates with Illinois (Arizona State), Ohio State (California) and Nebraska (UCLA).
There also are seven dates with the Mountain West Conference: Colorado State (Colorado), Fresno State (Oregon, Colorado), Nevada (California), Hawaii (USC), San Diego State (Washington State) and UNLV (Washington State).
BYU and Notre Dame, as Independents, aren't in preseason media polls. FCS teams aren't included
Arizona
: Toledo (first in MAC West Division); Oklahoma State (fourth in Big 12)
Arizona State
: Illinois (fourth in the Big Ten Leaders Division); Missouri (fourth in SEC East)
California
: Nevada (second in Mountain West); Ohio State (second in Big Ten Leaders Division);
Colorado
: Colorado State (eighth in Mountain West); Fresno State (third in Mountain West)
Oregon
: Arkansas State (second in Sun Belt); Fresno State (third in Mountain West)
Oregon State
: Wisconsin (first in Big Ten Leaders Division)
Stanford
: San Jose State (third in WAC); Duke (last in ACC Coastal Division)
UCLA
: Rice (fifth in Conference USA West Division); Nebraska (first in Big Ten Legends Division; Big Ten champs); Houston (first in Conference USA West Division)
USC
: Hawaii (seventh in Mountain West), Syracuse
Utah
: Utah State (second in WAC)
Washington
: San Diego State (fifth in Mountain West); LSU (first in SEC West, SEC champs)
Washington State
: UNLV (ninth in Mountain West)
Pac-12 Teams Can Load Up At WR
PAC-12 SCOREBOARD
Thursday, 9/3
Friday, 9/4
Saturday, 9/5