Oregon Ducks:

Willie Lyles
June, 28, 2013
6/28/13
8:46
AM ET
You know the final scene of the classic 1978 horror film "Halloween," when Dr. Loomis thinks he has gunned down inexorable slasher Michael Myers, knocking him through a second-story window into the yard below? Only when he looks down after consoling Jamie Lee Curtis -- "Was that the boogeyman?" she asks -- he sees ... nothing.
Cue eerie piano music.
Now substitute the Pac-12 and college football nation for Curtis, the NCAA for Dr. Loomis and the Oregon Duck for Myers.
Cue eerie piano music.
After the NCAA ruled on Oregon's infractions case Wednesday, we now know the Ducks' football program is alive and well, as its penalties were relatively minor and included no postseason ban. That favorable verdict essentially announced the Ducks as national title contenders in 2013 ... again.
[+] Enlarge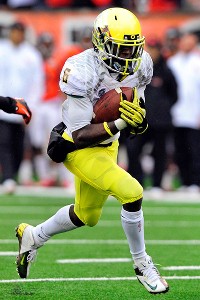 Steve Dykes/Getty ImagesDe'Anthony Thomas is one of many reasons the Ducks are considered contenders in 2013.
The Ducks are not only alive, saddled with a single scholarship deduction the next two years after already surrendering one last season, but their recruiting might actually improve. That's despite a handful of restrictions handed down by the NCAA, including a reduction in official visits and evaluation days.
For the past two-plus years, Oregon has recruited under a cloud of uncertainty. A-list recruits who followed the news would know that the NCAA was investigating the program, which brought into play the specter of a potential postseason ban and crippling scholarship reductions. Those, a recruit might reason, could make a college career less enjoyable. And if those recruits didn't follow the news and know of that dark cloud over Eugene, other schools competing for the affections of those said recruits would make sure to let them know.
As in a rival recruiter noting: "Hey, I know Oregon is on a roll, but look at how USC fell after the NCAA did its thing. Do you really want to play for a team that's on the slide, one that might not be able to play in bowl games while you are there?"
That was the sort of thing Oregon athletic director Rob Mullens was referring to Wednesday when he talked of Ducks football coaches battling "plenty of negative recruiting" during the 27-month investigation.
Oregon's latest recruiting class from February ranked 26th, fairly low for a team that had finished ranked in the top five three consecutive years. It was 18th the year before and 14th in 2011, the latter class being signed before news of the Willie Lyles inquiry broke.
It's fair to assume that the NCAA ruling might ease some worries among top recruits who were uncertain if they wanted to give Oregon a serious look. And if Oregon rolls this fall under new coach Mark Helfrich, that would ease concerns about the post-Chip Kelly transition.
That latter point is all Oregon can ask for after this NCAA ordeal: to be judged for the program itself and what it does on the field.
The program that Kelly left behind, by the way, looks pretty salty, and we're not going to even mention a new, blingy football operations center that is a further upgrade for already sparkling facilities.
The Ducks, who welcome back 15 starting position players from a team that finished 12-1 and ranked No. 2 in the nation behind Alabama, are laden with star power on both sides of the ball.
On offense, there's quarterback
Marcus Mariota
, a Heisman Trophy candidate, and running back/receiver
De'Anthony Thomas
, also a Heisman candidate. Three starters are back on the offensive line, and each is an All-Pac-12 candidate.
Josh Huff
leads a solid crew of receivers, including multitalented tight end
Colt Lyerla
.
The defensive line is big, athletic and deep. The secondary is among the nation's best, with the elite cornerback tandem of
Ifo Ekpre-Olomu
and
Terrance Mitchell
.
Questions? Linebacker, kicker and running back depth. And, of course, the coaching transition.
Yet that transition doesn't seem so big when you consider that eight of nine assistants are back from a staff that has been notable for its continuity. Helfrich knows his team and its culture, and he intends to maintain the vast majority of the practices, principles and routines that have become the foundation of a four-year run of 46-7.
Kelly's promotion from offensive coordinator worked out well, just as the promotion of Mike Bellotti from offensive coordinator did before him.
The Oregon juggernaut showed no signs of abating on the field, so many were eager to see the NCAA defenestrate it, a la Dr. Loomis.
But the Duck got up after the NCAA ruling, set its bill into an evil grin and let out an eerie, "Quaaaaack!" And it's a lot quicker than Michael Myers.
June, 25, 2013
6/25/13
4:30
PM ET
And on the 27th month, the NCAA shall speak on Oregon, Chip Kelly and L'Affaire de Willie Lyles.
And those pronouncement will produce... what?
Will the sanctions prove harsher than expected, thereby poleaxing the Ducks off their newfound perch among the nation's elite? Or will the sanctions prove manageable, perhaps causing discomfort but not ending the Ducks' quasi-dynastic run in the Pac-12?

We shall see. Folks in Eugene have been consistently optimistic, and it would rate a surprise if Oregon is hammered. Still, you never know with the NCAA.
The NCAA's Division I Committee on Infractions (COI) will announce its findings in a teleconference with reporters at 11 a.m. ET. The man who shall describe the Ducks' sanction fate will be Gregory Sankey, associate commissioner of the SEC.
SEC? Uh oh. (Of course, we kid!)
The committee's full report will be released to the media 30 minutes before the teleconference.
Oregon's troubles began in March 2011 when Yahoo! reported the Ducks made payments to dubious Texas-based scouting service operator Willie Lyles, who had close ties to several Ducks recruits, most notably running backs LaMichael James and Lache Seastrunk. Things got murkier when it was discovered that Oregon apparently received very little of value for its $25,000.
Yet the NCAA rules on the use of scouting services at the time were vague enough that Oregon could claim it was operating in a gray area. This became one of the complicating elements as the school attempted to negotiate a summary judgment with the NCAA. That and the fact Lyles had significant relationships with several other schools, schools that had not been hit hard by NCAA sanctions.
Oregon agreed to seven major rules violations, and in October offered to self-impose several penalties, including the loss of three scholarships over three years, recruiting limitations and two years of probation.
The COI, however, rejected the attempt to reach a summary judgment, which forced Oregon officials, including former coach Chip Kelly, to appear before the committee in late April in Dallas.
"We have been informed by the NCAA that the Committee on Infractions report on the University of Oregon will be released tomorrow," the Oregon athletic department wrote in a statement. "Until we have received and reviewed the report we will not comment."
Oregon will have 15 days in which to file an appeal if it is unhappy with the ruling.
As for the severity of the penalties, it's difficult to guess, but Rob Moseley of the Eugene Register-Guard makes a good point here:


In a statement that accompanied the October 2012 summary disposition proposal, the Ducks acknowledged that "errors were made and that we will improve" but also that "our coaches did nothing to intentionally gain unfair advantages."

The NCAA's enforcement staff -- essentially the prosecutor, while the Committee on Infractions was judge and jury -- agreed during the summary disposition attempt that "the violations were not intentional in nature." But it also argued that the Ducks nevertheless had "an obligation to ensure that the activities being engaged in comply with NCAA legislation."
"Intention" matters, and finding a lack thereof is good for Oregon.
It's also notable that the NCAA enforcement staff didn't yoke Oregon with the dreaded "lack of institutional control" charge, instead going with the less worrisome "failure to monitor."
On the other hand, Oregon may fall under repeat violator status due to a 2004 case that was ruled a major violation after assistant coach Gary Campbell, who is still on staff, had improper conduct in the recruitment of running back J.J. Arrington.
Oregon folks would contend the NCAA taking more than two years to resolve this matter is a penalty in itself, with the glacial pace of an investigation allowing a dark cloud of the unknown to shadow the school for an extended period of time.
That dark cloud of the unknown, however, will be removed Wednesday. Whether it gives way to a tornado of sanctions or sunny skies -- or something in between -- remains to be seen.
May, 22, 2013
5/22/13
5:40
PM ET
Oregon decided this week to release its formal
notice of allegations
from the NCAA concerning the Willie Lyles investigation, which it received Dec. 5.
Yes, the school is notoriously tardy with releasing information to the media.

The notice, released in response to public-records requests and first reported by
The Register-Guard
, follows reports that Oregon already met with the NCAA Committee on Infractions (COI) on April 20.
Much of what is included mirrors what was in a summary disposition that Oregon submitted to the NCAA last October. In other words, there's not really any new information here because Oregon wouldn't have had a COI hearing if it hadn't previously received a notice of allegations.
A couple of interesting notes from the Register-Guard:
The notice released today states that "all of the alleged violations set forth in the document attached to this letter are considered to be potential major violations of NCAA legislation, unless designated as secondary." None is designated as such; Oregon argued in the summary disposition proposal that violations related to the use of scouting services should not be considered major.
The notice of allegations does note that Oregon is subject to penalties under repeat-violator rules. The most recent allegations began within five years of the Ducks' most recent major violation, the J.J. Arrington letter of intent scandal, which was resolved in 2004.
According to the Dec. 5 letter, Oregon was to submit a response to the notice of allegations by Jan. 4, and was invited to appear Feb. 23 at an initial meeting of the Committee on Infractions at which the UO response would be considered
The NCAA, even more opaque and glacially paced than Oregon, will not comment on ongoing investigations. It is not known when a decision might be announced, but the odds are good the NCAA will rule before the 2013 season.
But, as with all things with the NCAA, you never know.
You can read the
Register-Guard story and the document itself here
.
April, 16, 2013
4/16/13
8:00
AM ET
Oregon and the NCAA agree: The football program
committed major violations
in connection to the Willie Lyles case, The Oregonian and Portland, Ore., television station KATU reported Monday.

The disagreement, however, that prevented Oregon and the NCAA from reaching a summary judgment is this, from The Oregonian:
Oregon and the NCAA, however, reached an impasse late in 2012 while attempting to agree on the severity of one violation concerning the Ducks' $25,000 payment to Texas-based talent scout Willie Lyles. The Ducks believe the impermissible "oral reports" delivered from Lyles constitute a secondary violation; NCAA enforcement officials believe them to be another "major violation."
It makes sense that's at issue, although the Pac-12 blog is of the mind that this impasse was more about the NCAA's committee on infractions (COI), which demanded a hearing, than the NCAA's enforcement staff, which seemed to be in accord with Oregon.
The strength of Oregon's position is the way the NCAA reacted to other recent cases, as well as the gray area with NCAA rules on recruiting services.
The strength of the NCAA's position is that it can do what it wants, then justify it after the fact, such as when
former Miami athletic director
Paul Dee said about USC's Reggie Bush, "High-profile athletes require high-profile compliance," which he just spun together for reporters because it doesn't exist in the NCAA rulebook.
Still, there is good news for Oregon from these reports, and it might be more important than what led the story:
However, the documents also state NCAA enforcement staff said they had "no finding of lack of institutional control and no finding of unethical conduct," key points when it comes time for punishment to be considered, KATU reported. Oregon is expected to appear before the NCAA's committee on infractions sometime this year.
"Lack of institutional control" and "unethical conduct" are the killers when it comes to penalties. Those quash postseasons and handfuls of scholarships. Of course, these documents are dated, so it's possible, if unlikely, the COI could up the ante.
Further, Oregon's case is probably helped by the program's big news this year: The departure of coach Chip Kelly to the Philadelphia Eagles.
Violations connected to Lyles came on Kelly's watch. He's gone. That should soften the eventual blow to some extent.
To show you the university's thinking, it "proposed to self-impose a two-year probation for the football program and a reduction of one scholarship for each of the next three seasons."
It wanted to be whipped by a wet noodle three times.
Yet even if you doubled that -- four years of probation and two scholarships for each of the next three seasons -- you're not talking about a major hit to the program. Signing just 23 and maxing out at 83 scholarships for the next three years won't knock the Ducks out of the nation's top 10.
January, 16, 2013
1/16/13
7:30
PM ET
All indications are that Mark Helfrich will be promoted from Oregon's offensive coordinator to head coach, but athletic director Rob Mullens isn't showing his cards just yet.
During a news conference Wednesday after Chip Kelly suddenly decided to reverse course and take over the Philadelphia Eagles after saying Jan. 7 he would stay in Eugene, Mullens said there will be a full-on coaching search, meaning he will adhere to university policies and procedures as well as a state law that requires him to interview at least one minority candidate.

"We don't have a leader in the clubhouse," he said. "We will be interviewing multiple candidates."
Just don't bet against Helfrich getting the job.
Mullens admitted that he was as shocked as many fans about Kelly's reconsideration of the Eagles. Mullens said Kelly called him at 7:15 a.m. Wednesday to tell him of his change of heart.
"He said, 'I've thought long and hard over the last 10 days and I'm going to take the Eagles opportunity,'" Mullens said. "He said he's always been intrigued by the challenge of the NFL and this was the right time, and he didn't know if there would be another opportunity like this and he felt like he needed to do it."
Mullens said his impression was that Kelly simply had a change of heart since Jan. 7 and that Kelly had not engaged in a second, secret round of negotiations with the Eagles.
Mullens said the "timing was less than ideal," but he wouldn't be rushed into making a hire.
As for the popular idea among Oregon rivals that Kelly is leaving to escape NCAA sanctions, Mullens said, "I don't think that was a factor in his decision."
It was reported in mid-December that Oregon will have a
hearing in front of the NCAA committee on infractions
, likely this spring, after it failed to obtain a summary disposition from the NCAA for the investigation of the school's use of scout Willie Lyles. The odds that something new happened in that investigation between then and now are close to zero. That inquiry is in the exact same place it was on Jan. 7, when Kelly wanted to stay in Eugene.
Mullens seemed a bit frustrated with how things went down, but obviously Kelly's unprecedented success made the specter of other opportunities luring him away an annual reality for the program.
"Hey, it is what it is. We're here, moving forward," Mullens said. "We're not going to worry about what happened. He made a decision that was best for him. We wish him well. He's been great for Oregon football, and we're moving on."
January, 16, 2013
1/16/13
1:00
PM ET
Chip Kelly is not one to do things the conventional way, even leaving Oregon for the Philadelphia Eagles. He plays football by a different tempo and he lives by a different tempo. When you think he will zig, he zags. And he has a flair for the dramatic.
The big news on Jan. 7 was that Kelly had
turned down his NFL suitors
, including the Eagles. He didn't feel the need to comment then, which might be telling as to his reversal of course that would send shock waves across the Pac-12 and college football less than 10 days later.
Kelly went for the double shocker. It was shocking to learn he had decided to stay at Oregon after a flurry of interviews following a Fiesta Bowl victory over Kansas State. And now, three weeks before national signing day, it's shocking that ESPN's Chris Mortensen broke the news of his departure to the Eagles.
[+] Enlarge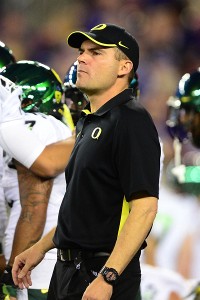 Mark J. Rebilas/USA TODAY Sports Ducks offensive coordinator Mark Helfrich, the heir apparent to Chip Kelly, doesn't have head-coaching experience.
Every indication
is that offensive coordinator Mark Helfrich will be promoted to replace Kelly after the school negotiates some bureaucratic hiring hoops, as Oregon has a state law requiring public universities to interview at least one minority candidate for head-coaching positions. That was the word a year ago when Kelly nearly left for the Tampa Bay Buccaneers, and
USA Today has already reported
the passing of the torch to Helfrich in the event of Kelly's departure.
Kelly was 46-7 over four seasons at Oregon, leading the Ducks on their most successful run in program history. The Ducks have played in four consecutive BCS bowl games, winning the past two, including their first Rose Bowl victory since 1917. Oregon has finished ranked in the top five for three consecutive seasons.
Kelly doesn't owe any more to Oregon. That success is enough. Fans shouldn't feel bitter or betrayed. Sure, the NCAA may shortly impose sanctions on the program over Kelly's involvement with street agent Willie Lyles. That is a black mark. But it's unlikely those penalties will be harsh enough to erase the brilliance that came before.
For Kelly, 49, this is an opportunity to test his considerable football acumen at the highest level. While he is known for his innovative, up-tempo, spread-option style of offense, know that Kelly is all about winning. He will adapt to his personnel and the differences in the NFL game. He won't, say, have his $18 million quarterback running the option 15 times a game.
And if things don't work out in the NFL, Kelly will have his pick of college jobs. It will be like Nick Saban's ill-fated tour in Miami. There's little risk for him in taking his NFL shot.
As for Oregon, there will be questions. While Helfrich will bring system and program continuity and should be able to retain a significant number of Ducks assistant coaches, including defensive coordinator Nick Aliotti, he's not Kelly, nor does he have head-coaching experience.
Helfrich has been a quarterback coach at Boise State, Arizona State and Colorado -- he was the Buffs' offensive coordinator, too -- before Kelly hired him in 2009.
"He's really smart, really intelligent," Kelly said at Fiesta Bowl media day when asked why he made Helfrich his first offensive coordinator. "He brought a different perspective to our staff, because he had a different background. He wasn't a spread guy. I wanted to bring someone in who wasn't going to tell us what we already knew."
When asked what advice he'd give to Helfrich if he became a head coach, Kelly said he'd give him the same advice former Oregon coach Rich Brooks gave Mike Bellotti and Bellotti gave him: "Be yourself. You can't be someone else."
While Helfrich has a lighter touch -- more of a polished, people person -- than Kelly, that could mean little on the field and in the locker room. The question will be whether he can command the same respect and dedication that Kelly did. Can he maintain the Ducks' "Win the day" culture that was as efficient and productive as any in the country?
After the Fiesta Bowl win, Oregon's
players were asked
about Kelly potentially leaving and Helfrich taking over. They seemed uniformly confident that Helfrich would be up to the task.
"Expect the same," All-American running back
Kenjon Barner
said. "Nothing will change."
Said offensive lineman
Kyle Long
, who is expected to be an early-round NFL draft choice this spring: "Seamless transition. [Kelly and Helfrich are] cut from the same tree. I'll tell Duck Nation right now, Coach Helfrich is a brilliant coach. Great relationships with his players and other staff members. We all love Helf."
Kelly certainly left his successor a strong hand. The Ducks welcome back 15 position-player starters next fall, including star redshirt freshman quarterback
Marcus Mariota
. When the 2012 season ended, the Ducks were widely viewed as a top-five team in 2013, perhaps as high as No. 2 behind two-time defending national champion Alabama.
While it's nice to have a good team coming back, Kelly's successor also will inherit high expectations. Ducks fans are no longer satisfied with a top-25 team that plays in a nice bowl game. They expect Pac-12 championships. They expect to compete for national titles. And more than one loss is a disappointment.
If the 2013 Ducks go 10-3, a record that was outstanding before Kelly arrived, there will be immediate grumbling.
While Oregon fans are probably wringing their hands with worry, fans of 11 other Pac-12 teams are elated, most particularly those at Oregon State and Washington, the Ducks' most bitter rivals. Kelly had built a juggernaut, even if it was toppled atop the conference this fall by Stanford. Now there is an opportunity to change the balance of power in both the Pac-12 North Division and the Northwest.
When it was reported that Kelly was returning to Oregon nine days ago (Kelly had not talked about it), college football retained its West Coast equilibrium. There seemed to be renewed clarity, at least in the short term.
His departure leaves an uncertain void. While many believe Helfrich can capably fill that void, the uncertainty will remain until toe meets leather and the Ducks continue to produce the fancy-pants, winning product that Kelly brought to Eugene.
January, 7, 2013
1/07/13
8:05
AM ET
Chip Kelly was gone, off to the NFL. It was Cleveland. Then Philly.
And then he wasn't
.
Kelly's second deep NFL flirtation -- recall last winter's "did-he-or-didn't-he?" with Tampa Bay -- ended with him back at Oregon, back atop the Pac-12's present superpower.
Why did Kelly stay? He has yet to comment, which is telling. He feels no need to announce no change, though he is completely aware it's major news. The Pac-12 blog believes, according to no sources whatsoever, that Kelly returned to his cavernous Eugene home Sunday and cranked up the Sinatra and sang along: "I did it myyyyyy waaaaaayyyy!"
Kelly is 46-7 overall at Oregon. He's led his team to four consecutive BCS bowl games, winning the last two. He won 12 games this year by at least 11 points. It's fair to say he's pretty good at leading a football team.
The immediate reaction in some quarters to Kelly's return -- other than surprise from just about everyone -- is that Kelly can't keep doing it like this, both with NFL folks and with Oregon.
Both sides, it is reasoned, will get tired of the fickleness. Does Kelly want to be Oregon's coach? Or does he want to be something else? He must decide!
No, he doesn't. Kelly can do what he wants as long as he keeps winning with panache. When everyone knows you are one of the best living football coaches, you can write your own ticket. Kelly could announce tomorrow that all Oregon fans will be required to change their underwear every half-hour and all underwear will be worn on the outside so Ducks officials can check, and everyone would go, "OK!"
Oregon fans might wish he'd just tell the NFL folks he's not interested, but they get over their frustration when they see he and his staff outcoach a Kansas State team that is as well coached as any in the nation.
NFL teams might get tired of being led on, but they get over that when they see the discipline, focus and offensive magic Kelly produces.
Let me make something clear: Kelly would be successful in the NFL. Of that I have almost no doubt. The analysis you keep hearing about his present systems not working in the NFL is superficial bunk. Kelly's "systems" are all about winning games. Give him Tom Brady, and Kelly would no longer call designed runs for his QB. He'd line up with three fullbacks tomorrow if that helped him win the day.
So know this, too: The NFL will be back. And Kelly is likely to talk to them. At some point, a team might foster an interview that wins Kelly over. But that hasn't happened yet and he, again, remains the Ducks coach.
As a result, Oregon's quiet recruiting season might get a bit louder. Expect some major prospects who were awaiting Kelly's plans to come a-calling.
The other layer to this is the NCAA. One of the potential harrumphs over Kelly leaving would have been expected NCAA sanctions over L'Affair de Willie Lyles. He would have looked like the second-coming of Pete Carroll, who bolted USC ahead of severe penalties.
Some might read into this Kelly's confidence that the sanctions won't be severe, and that's not unreasonable. But it also shows Kelly isn't one to run away from a potential problem. At least, not yet.
Oregon will be ranked in the preseason top five next year. It welcomes back eight starters on offense, including QB
Marcus Mariota
, a budding Heisman Trophy candidate, and seven on defense. The biggest questions are at linebacker, running back and offensive guard. If the Ducks avoid a postseason ban, they will be national title contenders. Again.
The allure of coaching that team kept Kelly in Eugene. That means nothing for 2014 and beyond. Yes, this could become an annual dance between Kelly and various suitors, one that fans breathlessly follow on Twitter -- "He's gone!" "He's staying!" -- as they learn to mock the term "sources."
It might be emotionally exhausting and generally frustrating for Ducks fans, but this is the annual tax a team pays for having a coach whom everyone else want to lead their team.
December, 28, 2012
12/28/12
10:30
AM ET
SCOTTSDALE, Ariz. -- There is a school of thought, now apparently subscribed to by a handful of desperate NFL teams, that if that uber-suave, hirsute gentleman from those wildly entertaining Dos Equis beer commercials revealed his true identity, he would rip off a bearded mask and reveal Chip Kelly.
Is Kelly the most interesting man in the world?
Pause for a moment before chortling over our potential hyperbole, for Kelly has packed a lot into his 52-game tenure at Oregon, including 45 victories.
[+] Enlarge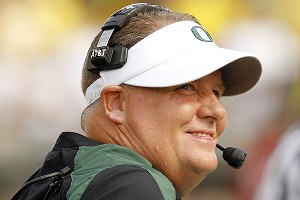 AP Photo/Don RyanChip Kelly doesn't often discuss his life with writers, but when he does, his answers are revealing.
He has run with the bulls in Pamplona. He has led the Ducks to three Pac-12 titles and four BCS bowl games. He has done humanitarian work in Africa. He has produced Oregon's first Rose Bowl victory in 95 years. He has visited U.S. troops in Iraq and Afghanistan.
Kelly, 49 and single, is also fiercely private. He has never cooperated with any truly in-depth "This is your life, Chip Kelly!" story, which is exceedingly rare for a high-profile coach. Nearly all his close friends are back in New Hampshire, where he's from and where he went to college.
Kelly doesn't like glad-handing boosters, something often viewed as a prerequisite for being a college coach. He particularly dislikes talking to reporters, and he goes to great lengths to make sure they understand.
The Dos Equis guy says, "Stay thirsty, my friends." Kelly would say, "Stay away, annoying hangers-on."
Yet the vast majority of Ducks fans not only love all the winning, they love Kelly for his wiseacre, smirking self. They chant "Big Balls Chip!" inside rocking Autzen Stadium to celebrate Kelly's penchant for going for it on fourth down, going for 2 and launching onside kicks at surprising times.
He tells fans, "Shut up!" for cheering behind him during an ESPN postgame interview, and they love him more. A Twitter page,
Chipisms
, celebrates not only Kelly's amusing or insightful wisdom -- "I saw the 'Feel Sorry for Yourself' train leaving the parking lot & none of our players were on it, so that was a good sign" -- but also for his snark.
Inquiries that Kelly doesn't like might get one-word answers, clichéd responses or snappy rejoinders that belittle his inquisitors. Questions that engage him, however, receive full and thoughtful treatment. Consider this response from an ESPN story on Kelly's trip to Africa, when he worked with adolescent girls who had no idea who he was.
"The real heroes are the little girls in Africa who are trying to better themselves so they can help their families," he said. "When I hear a coach say, 'We're grinding.' I'm like: You're sitting in a room with air conditioning watching videotape. That's not grinding."
There seem to be three facets to Kelly. His standoffish public face, the detail-obsessed coach and the Renaissance man determined to drink life to the lees away from the game. Even the hard-driving, "win the day" side of Kelly can loosen up behind closed doors; those who work with him frequently cite his sense of humor.
"He [jokes around] all the time," said offensive coordinator Mark Helfrich, a leading candidate to replace Kelly should he bolt for an NFL job. "It's not: 'Aha, he smiled! Isn't that amazing?' It's daily. We have a lot of fun."
Further, while Kelly's offense almost always runs like a finely tuned machine, plenty of, er, interesting things have been interspersed with winning during Kelly's tenure. Drama has not been lacking over the past four seasons.
His first game as Oregon's head coach remains his worst: A 19-8 loss at Boise State. Not only did the Ducks gain an embarrassing 152 total yards, but Kelly's star running back LeGarrette Blount punched a Broncos player afterward, bringing the hot light of controversy to his team's feckless performance.
Some thought Kelly was in over his head. He answered that by becoming the first Pac-10 coach to lead a team to an outright conference championship his first season.
Oh, and in a sign of interesting things to come, when a season-ticket holder wrote Kelly demanding a refund for his expenses incurred after attending that disastrous trip to Boise, Kelly quickly fired off a note with a personal check for $439.
Heading into 2010, starting quarterback Jeremiah Masoli was suspended after he was involved in the burglary of an Oregon fraternity house. Losing a star quarterback typically would damage a team's chances, but all Kelly's team did was finish undefeated and play for the national championship, losing 22-19 when Auburn kicked a last-second field goal.
The NCAA came calling during the 2011 offseason, wanting to know details of Kelly's and the program's dealings with street agent Willie Lyles. A distraction? Nope. Oregon won the conference a third consecutive year and the Rose Bowl against Wisconsin.
Kelly then nearly left for the Tampa Bay Buccaneers. His quarterback, two-year starter Darron Thomas, had already opted to leave the program, which again threw into question the Ducks' prospects. But Kelly returned and so did the winning, with redshirt freshman
Marcus Mariota
earning first-team All-Pac-12 honors while leading the Ducks to a No. 4 ranking and a Fiesta Bowl berth opposite Kansas State.
Yet he arrives at the Fiesta Bowl amid swirling rumors that he's about to leave for his pick of available NFL jobs. Asked about his NFL ambitions this week, he gave a 235-word answer that essentially said "no comment."
"My heart is to win the day, and that's it," he concluded. "I know everybody wants to hear a different answer, and I know at times when I don't give you guys the answer you guys want, then I'm being evasive. I'm not being evasive. My job is to coach the University of Oregon football team, and I love doing it. And that's what I'm going to do."
So the question will linger for a coach who at the very least is currently the most interesting man in college football: Will the Fiesta Bowl be his last day to win for Oregon?
December, 23, 2012
12/23/12
6:58
AM ET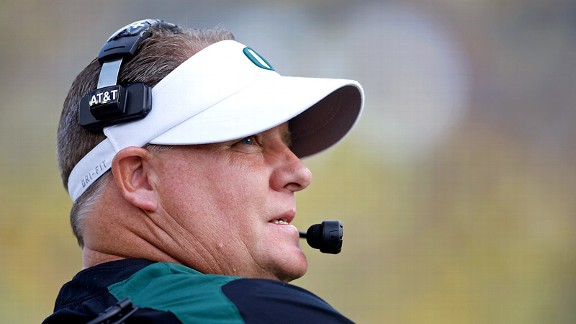 Kevin Casey/Getty ImagesThe future for Oregon and Chip Kelly might depend on a big NCAA decision.
Some say the end is near.
Some love to say the NCAA is going to destroy Oregon.
November, 20, 2012
11/20/12
12:00
PM ET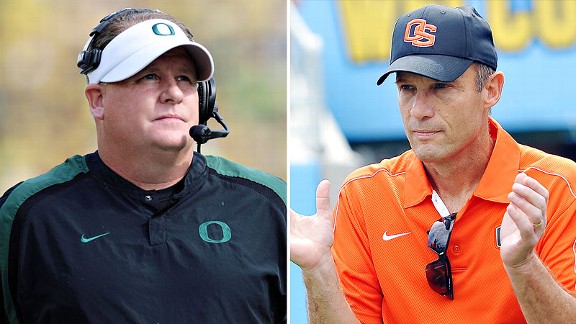 US PresswireOregon coach Chip Kelly and Oregon State coach Mike Riley face off Saturday in the 116th Civil War.
The 2012 Civil War between Oregon and Oregon State doesn't match the 2000 game, when both teams were ranked in the top 10 for the first time in the rivalry's history, or the 2009 game, when the winner-take-all stakes were a Pac-10 title and a Rose Bowl berth. But it's pretty darn big.
The 116th Civil War, the seventh-oldest rivalry game in college football, in Reser Stadium on Saturday (3 p.m. ET, Pac-12 Network) approaches the 2000 game in terms of both teams' rankings, the first time in the series that both were ranked in the top 10. Oregon was fifth and Oregon State eighth in that game, won 23-13 by the Beavers. This go-around, Oregon is again fifth and the Beavers 15th in the
latest BCS standings
.
There is no Rose Bowl on the line for Oregon State, as there was in 2008 and 2009, but the Beavers can play a spoiler role while boosting themselves in the Pac-12 pecking order.
Oregon still harbors hopes of slipping into the national title game, and the Ducks will win the North Division if they beat the Beavers and Stanford loses at UCLA on Saturday. Then Oregon would play host to UCLA on Nov. 30, with -- at least -- a Rose Bowl berth at stake.
And even if Stanford beats UCLA to win the North, an Oregon victory over the Beavers likely would earn it an at-large berth to a BCS bowl game, probably the Fiesta Bowl, where they could end up playing the Big 12 champ, likely Kansas State.
Oregon State? While its postseason destination is most likely the Holiday Bowl, ending a four-game losing streak in the rivalry series would be significant. It would certainly stem the momentum that has been decidedly in the Ducks' favor since an obscure coach from New Hampshire by the name of Chip Kelly arrived as the team's offensive coordinator in 2007.
While the 2008 and 2009 Civil Wars were big games with big implications, the 2010 and 2011 games were all about the Ducks. They were coronation events, as Oregon earned berths in the national title game and the Rose Bowl. The Beavers, meanwhile, were sucking on lemons, suffering through back-to-back losing seasons.
That had some Beavers fans grousing about coach Mike Riley and his staff. It wasn't only about a program backtrack. It was about what was happening 45 minutes to the south in Eugene. It's no fun losing games, but when you are losing, it's much worse when your rival is thriving.
Beavers fans saw Kelly -- smug, smirking, standoffish, annoyingly brilliant -- and felt they were getting left behind.
But we all know things can change quickly in college football. The Beavers are on a clear uptick. While both teams have a lot of talent coming back in 2013, it's Oregon that now has some question marks.
Will Kelly be lured away by an NFL offer? More than a few NFL sorts believe he will have his pick of jobs this offseason.
And what about the NCAA investigation into L'Affair de Willie Lyles? At some point penalties will be handed out. While those penalties are not expected to be crippling -- despite the uninformed blather coming from some people -- they certainly won't help the Ducks maintain their perch atop the Pac-12.
Just imagine how the next couple of months could go for Oregon State fans: 1. A Civil War victory over Oregon, ending a four-year losing streak in the series and the Ducks' three-year run of conference titles; 2. Kelly leaves Eugene for the NFL; 3. NCAA sanctions for the Ducks.
Let's just say more than a few Beavers fans would be high-fiving each other. And there would probably be more than a few
Washington Huskies
fans trying to get in on that action.
Or ... or ...
Oregon beats the Beavers for a fifth consecutive time, finagles its way into the national title game and then beats, say, Alabama for the school's first national title. Then Kelly announces he's staying in Eugene "for life" and the NCAA gently slaps the Ducks' wing.
So, yeah, there's a lot going on here.
Still, amid all these possibilities and speculations, good and bad for both programs, there is only one thing that either can control: Saturday's game.
Yes, it's pretty darn big.
Pac-12 Teams Can Load Up At WR
PAC-12 SCOREBOARD
Thursday, 9/3
Friday, 9/4
Saturday, 9/5