Oregon Ducks:

tyson coleman
June, 5, 2014
6/05/14
9:30
AM ET
During the next few weeks, we're going to go through Oregon's roster, position by position, examining what talent was lost to graduation or the NFL and what that leaves the Ducks with in 2014.
We're into the defense now, moving through the front seven. Today, we examine the strongside linebackers.
Who was lost after the 2013 season:
Boseko Lokombo
(graduation)
Lost production:
63 tackles, 7 TFL, 3 sacks, 7 quarterback hurries, 1 interception
Who returns in 2014:
redshirt junior
Tyson Coleman
, redshirt sophomore
Oshay Dunmore
, sophomore
Torrodney Prevot
, redshirt senior
Mike Garrity
, sophomore
Johnny Ragin III
, incoming freshman
Justin Hollins
, incoming freshman
Jimmie Swain IV
Statistics of returning players:
45 tackles, 3 TFL, 2.5 sacks, 1 quarterback hurry
Outlook:
This will be one of the biggest question marks going into the season. Replacing Lokombo is no easy task, and while there are plenty of options, it's still a hole in the defense that needs major attention. Coleman didn't play in the spring game, which gave more game reps to Dunmore and Prevot, but the competition still seems to be pretty wide open.
The biggest question is how the Ducks will replace the quarterback pressure that Lokombo alone provided last season -- he led the team with seven quarterback hurries while also recording three sacks. But with the group the Ducks have now, it seems unlikely that just one of these guys will be able to produce what he did.
The linebackers, as a whole, should be better than they were a season ago, but the key to how much better they can be is how much the strongside position can produce. If Coleman or Prevot can step in and really provide the pressure on quarterbacks that the Ducks need, then this could be a very scary group.
Other spring position reviews:
April, 4, 2014
4/04/14
11:00
AM ET
It might be a very different looking
Oregon
team that takes the field next fall … and not because of the uniform changes (though, those are sure to be something different). Instead, the guys wearing those uniforms might fill them out a bit differently.
[+] Enlarge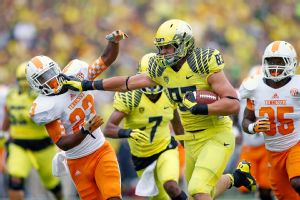 Jonathan Ferrey/Getty ImagesOregon is hoping the weight gained by player like Johnny Mundt will not affect the team's speed advantage.
Through this winter, several players went through some significant weight changes by making minor tweaks in the strength and conditioning program. But coach Mark Helfrich is hoping that the weight gains aren't just shown physically but in how the players take the field, as well.
"Hopefully a lot of that is confidence," Helfrich said. "Just that edge of you feeling a little better about yourself, you're moving a bit more, you're physically bigger. It's just you're coming into the play with more confidence and that's a big deal."
Defensive lineman
Sam Kamp
put on the most weight of any player, packing on another 29 pounds and fellow lineman
T.J. Daniel
added 22. Not to be outdone, the offensive linemen packed on more than 100 pounds as a unit, with guard
Doug Brenner
leading the way with 26 pounds and
Matt Pierson
,
Cameron Hunt
and
Elijah George
all bulking up at least 20 pounds.
"I think we've kept our speed and athleticism," center
Hroniss Grasu
said. "The added weight gain is just there to get us more physical and blowing the defensive line off the ball where we lacked that toward the end of the season."
But it wasn't just the big men making significant changes. Tight end
John Mundt
packed on 20 pounds and in the linebacker group, guys like
Tyson Coleman
,
Joe Walker
and
Tyrell Robinson
all put on at least 15 pounds.
Quarterback
Marcus Mariota
is up to 218 pounds and hopes to be at 220 for the start of the 2014 season, while both leading backs made some important changes --
Byron Marshall
lost six pounds (down to 201 pounds) while
Thomas Tyner
added 14 pounds and is up to 215.
With all of the weight gain the main concern would be that the high-powered offense the Ducks feature might be lacking some of that Oregon speed, but the players have tried to keep up their speed with the added weight. Mundt said that one of the focuses was finding that sweet spot for each player at which he stayed as fast as possible but got as big as possible.
"We were all pushing each other in the weight room and in conditioning," Mundt said. "We've all gotten better and stronger, so that's a good thing. … I think we have more strength and size across the board, but we're still moving fast."
Added bulk is certainly going to benefit this team,and as long as each guy can still move the same, the only teams struggling with the weight gain with be opponents. In May, if a player doesn't appear the same when he takes the field for the spring game, it's not the uniform, it's the guy in the uniform.
February, 26, 2014
2/26/14
12:30
PM ET
The first day of spring practice is more than a month away, but it's never too early to take a look at what Oregon must do this spring to be a championship contender in the fall.
We'll be doing different countdowns looking at players, position groups and position battles over the next month, and we're starting this week with the five position groups that need to improve the most. Yesterday the safeties saw themselves at No. 4, today we moved up the defense a bit to the linebackers.
No. 3:
Strongside linebacker
2013 review:
The Oregon linebackers were stout in the middle of the field considering the amount of talent and number of reps they needed to replace from the previous season. They were good in run support as opponents only averaged 3.8 yards per rush, but there is certainly room for improvement. The Ducks held opponents to 100 rushes of 0 or negative yardage, and while that sounds like a solid number (averaging eight rushes of 0 or negative yardage per game), it ranked No. 97 nationally. By comparison, Tulane led the nation in opponent rushes of 0 or negative yardage with 172. And about a third of the time, opponent rushes went for at least five yards, which placed the Ducks at No. 23 nationally.
Why they must improve:
The linebacker corps as a whole returns plenty of talent and experience in
Tony Washington
(60 tackles, including a team-high 12 tackles for a loss and a team-high 7.5 sacks),
Derrick Malone
(team-high 105 total tackles) and
Rodney Hardrick
(65 tackles including three for a loss). However, where they'll need someone to step up is at strongside linebacker after losing
Boseko Lokombo
(63 tackles, seven tackles, team-high seven quarterback hurries). The Ducks will be looking to replace both its strongside defensive end and its strongside linebacker, so when opposing offensive coordinators look at the Oregon defense, there will be an evident hole in terms of experience. The Oregon defense up front is going to need to become stout quickly as it faces Michigan State and its talented rushing attack in Week 2. Last season running back
Jeremy Langford
emerged for the Spartans, averaging 4.9 yards per carry, so in order to slow his attack, and every other tough running back they face this season, the Ducks will need to find someone to step in at strongside linebacker.
Tyson Coleman
saw limited action last season, tallying 21 tackles, and he'll likely compete with
Torrodney Prevot
(14 tackles) to fill the shoes left by Lokombo.
The countdown:
August, 28, 2013
8/28/13
5:30
PM ET
Just because a position is questionable in the preseason doesn't mean it's not answerable.
Questionable: Oregon is replacing three A-list linebackers. Dion Jordan was first-team All-Pac-12 and the third overall pick in the 2013 NFL draft. Kiko Alonso and Michael Clay were both second-team All-Pac-12, with Alonso getting picked in the second round of the draft. Clay was cut this week by the Miami Dolphins.

The lone returning starter is
Boseko Lokombo
, who only ranked 10th on the team in tackles last year.
Answerable: Lokombo, a fantastic all-around athlete, has been a dominant playmaker during preseason practices, and the Ducks have five other linebackers with significant playing experience.
With the first official depth chart out,
Tony Washington
, as expected, will step in for Jordan at the position listed as defensive end opposite
Taylor Hart
, though everyone and their grandmother knows the Ducks defense is a base 3-4 and Washington will be an outside linebacker opposite Lokombo.
Juniors
Rodney Hardrick
and
Derrick Malone
, who were injured during spring practices, are the starters inside.
The three new guys are hardly green. Washington started twice for Jordan last year and finished with 20 tackles. Malone had one start and finished with 41 tackles, which ranked eighth on the team. Hardick had 11 tackles.
Depth? Backup
Tyson Coleman
, who can play inside and outside, had 34 tackles last year, and
Rahim Cassell
had 19. In fact, it wouldn't be surprising if the Ducks played nine linebackers against woeful Nicholls State on Saturday.
Still, Lokombo is the one to watch. The 6-foot-3, 232-pound senior could play his way into the early rounds of the NFL draft next spring if his production equals his potential this fall.
"He's a guy who is almost limitless from a potential standpoint," Oregon's first-year coach Mark Helfrich said. "We expect huge things from him. But he needs to be more consistent."
Lokombo had 39 tackles last year, with 4.5 tackles for a loss, two sacks and two interceptions. Look for the sack numbers, in particular, to go up. Lokombo is powerful -- 500 pound squat -- and fast, though he's more quick than a 40-yard dash guy. He started all 13 games last year and the native of Congo has seen action in 40 since arriving at Oregon from Abbotsford, British Columbia four years ago.
He doesn't seem too worried about the new starters surrounding him.
"Some of them already played a lot last year," he said. "They are ready to take on their roles. It's next man up and that's that."
It also helps that Oregon's defensive line and secondary are both among the best units in the Pac-12, with the secondary widely considered as good as any in the nation.
The Ducks 2012 defense was very good. This one might still be able to match it, even with a question at linebacker.
Said Helfrich, "We have a lot of unproven guys, but a bunch of guys who have played to this point in camp really hard and really well."
August, 30, 2012
8/30/12
10:00
AM ET
There are many differences between the Oregon Ducks current approach under Chip Kelly when compared to former head coach Mike Bellotti. Many of them are glaring, but the one that goes largely unnoticed is the fact that Kelly is keeping the emerging local talent home.

Kelly and the Ducks have benefited from a rise in high school All-Americans from with the Oregon borders, but keeping that talent in state hasn't always been easy for the Ducks.

Needless to say, Oregon is far removed from football-dominated states such as Georgia, Texas, California, Ohio and Florida.
July, 26, 2012
7/26/12
10:00
AM ET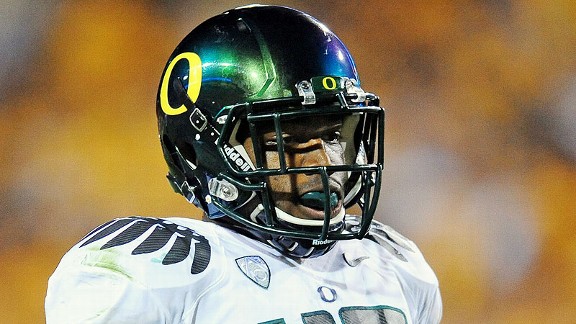 Mark J. Rebilas/US PresswireSenior Michael Clay is the unquestioned leader of Oregon's linebacker corps after registering 102 tackles as a junior in 2011.
The
Oregon Ducks
have been steadily improving their talent level at every position, but the biggest jump in talent level might lie at the linebacker position.
While there have been a few Ducks linebackers who have gone on to the NFL, they have been few and far between historically. That's started to change recently, as the program has seen a significant rise in talent level, sending Casey Matthews, Spencer Paysinger and Josh Kaddu on to the NFL in the past two years.
This year's crop of linebackers may be among the strongest groups yet, as the Ducks return three upperclassmen that could all challenge for all-league accolades. There is plenty of young talent waiting in the wings and this season should provide those players plenty of opportunity to get more game experience.
July, 25, 2012
7/25/12
10:00
AM ET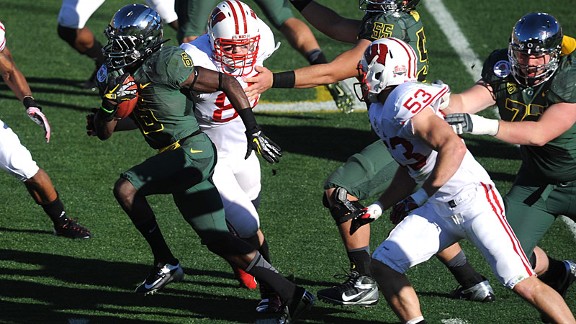 Kelvin Kuo/US PresswireDe'Anthony Thomas fulfilled his five-star hype, and then some, as a freshman in 2011 and could be a Heisman Trophy candidate this season.
Oregon Ducks
fans have been witness to one of the greatest rises in college football history over the past two decades. The Ducks have risen from cellar dwellers to one of the hottest names in all of college football. The facilities, the uniforms and the Nike connection have all played a big role in the Ducks' rise to the top of the Pac-12.
Along with the success and the increased exposure nationally has come a major boost in recruiting elite athletes to come to Eugene. It isn't always the high school All-Americans that turn into college stars. Oregon has made a living finding "diamonds in the rough" that have helped build a powerhouse.
There have been some big names in the recruiting world who chose to play their college ball in Eugene, but how many of them have lived up to the hype?
To continue reading this article you must be an Insider
July, 5, 2012
7/05/12
6:08
PM ET
While Oregon will never be confused with Texas, Florida, Georgia or California in terms of football talent, the talent pool has become deeper in recent years.
After a tough, in-state start under Chip Kelly, the Ducks have begun to keep the top recruits in state under the fourth-year head coach. Kelly came to Oregon with East Coast connections and swung for the fences in his first year as head man at Oregon. As things have moved forward, Kelly has made a point to lock up the top in-state talent before anything else.
Under Mike Bellotti, Oregon rarely signed the top in-state players. While there were elite players such as Troy Polomalu and Ndamukong Suh, you can't blame the former staff for ignoring the thin talent pool inside the state.
To continue reading this article you must be an Insider
Programs Most Desperate for a Quarterback
PAC-12 SCOREBOARD
Thursday, 9/3
Saturday, 9/5