Oregon Ducks:

Texas A&M Aggies
March, 13, 2014
3/13/14
12:30
PM ET
The new College Football Playoff is supposed to encourage schools to schedule better nonconference games, as teams try to beef up their schedule strength to earn one of the playoff's coveted four spots at season's end.
On Thursday, Texas A&M and UCLA
announced that they'll play each other
during the 2016 and 2017 seasons.
Other schools have announced future marquee nonconference opponents, including Texas A&M vs. USC, Notre Dame vs. Texas, Alabama vs. Michigan State and LSU vs. Oklahoma.
Here are five other nonconference games I'd like to see in the future:
[+] Enlarge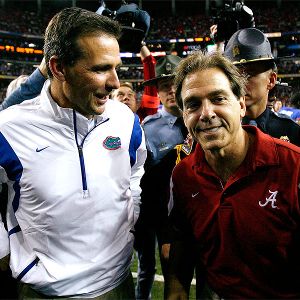 Kevin C. Cox/Getty ImagesUrban Meyer and Nick Saban have faced off for SEC titles, but their current teams, Ohio State and Alabama, have played only three times in history.
1. Alabama vs. Ohio State
: Alabama's Nick Saban and OSU's Urban Meyer dominated the SEC when Meyer was coaching at Florida, combining to win five BCS national championships from 2006 to 2012.
When Meyer was still coaching at Florida, the Crimson Tide and Gators played in two of the most anticipated SEC championship games. The No. 2 Gators beat the No. 1 Tide 31-20 in 2008, and then the Tide turned the tables on No. 1 UF with a 32-13 win in 2009.
Alabama and Ohio State have played only three times in history, with the Tide winning each time, most recently in a 24-17 victory in the 1995 Citrus Bowl.
2. Texas vs. Texas A&M
: Perhaps the biggest casualty in conference realignment, Texas and Texas A&M haven't played each other since the Aggies bolted the Big 12 for the SEC after the 2011 season. Sadly, there are no plans for the in-state rivals to play again in future regular seasons.
The Aggies and Longhorns played each other 118 times from 1894 to 2011, with their annual meeting traditionally being played on Thanksgiving Day. UT won nearly twice as many games as the Aggies (76-37-5), including nine of the last 12 meetings.
With former Louisville coach Charlie Strong taking over at Texas, and Kevin Sumlin building the Aggies into an SEC powerhouse, the game would also pit two of the sport's best African-American coaches against each other.
3. Oregon vs. Baylor
: Two of the game's most explosive offenses -- and two of its best-dressed teams -- would undoubtedly light up the scoreboard if they ever played. In fact, the contest would probably look more like a track meet.
Under coach Art Briles, the Bears have become the Ducks of the Southwest, with their hurry-up, spread offense and myriad flashy uniforms closely resembling what Chip Kelly and then Mark Helfrich built at Oregon. The Bears and Ducks follow the same blueprint on offense: play fast and score fast.
We hoped to see this matchup in the Tostitos Fiesta Bowl last season, but alas, it didn't happen. Oregon and Baylor have never met on the gridiron.
4. Michigan vs. USC
: Two of the sport's traditional heavyweights have faced each other eight times in the Rose Bowl Game Presented by Vizio, but only twice during the regular season -- in 1957 and 1958.
The Trojans won the last three meetings in the Rose Bowl, 32-18 in 2007, 28-14 in 2004 and 17-10 in 1990. USC has won six of the past seven meetings overall and holds a 6-4 advantage all-time.
We might have seen this matchup during the regular season if a Big Ten/Pac-12 scheduling partnership hadn't fallen apart in 2012.
5. Georgia vs. Florida State
: UGA coach Mark Richt was a longtime assistant under legendary FSU coach Bobby Bowden before taking over the Bulldogs, and he recently poached defensive coordinator Jeremy Pruitt off the Seminoles' staff.
The Bulldogs and Seminoles go head-to-head for a lot of recruits every year, and Florida State coach Jimbo Fisher upgraded his roster by effectively recruiting South Georgia and Atlanta.
The Bulldogs and Seminoles have played 11 times and only once since 1984 -- UGA defeated FSU 26-13 in the 2003 Sugar Bowl. Georgia leads the all-time series, 6-4-1.
October, 14, 2013
10/14/13
5:00
AM ET
1. The last unbeaten team in the SEC East is Missouri, and who saw that coming? As much as I have made of head coach Gary Pinkel revamping his team's practice and training methods, I missed another big reason for the Tigers' success. In its 41-26 victory at No. 7 Georgia, Missouri started 11 seniors, eight of them fifth-years. That's how Auburn won the BCS in 2010. It's a simple plan for success. The hard part is signing the right guys, developing them, keeping them healthy and contributing, and not losing them to the NFL.
2. Think about the most recent round of realignment. In most cases, conferences took teams that, based on history, would struggle to compete against their new opponents. Utah and Colorado in the Pac-12? Missouri and Texas A&M in the SEC? But look at what has happened. Utah just beat No. 5 Stanford. Missouri and Texas A&M have played better in the SEC than they did in the Big 12. No, it's not because the Big 12 is tougher. Those programs, infused with new income and a new incentive to compete, have stepped up their games. Sue me -- even Colorado is better.
3. We pointed out last week that as well as Oregon quarterback
Marcus Mariota
has played, he hasn't played with a game on the line, because the No. 2 Ducks have been too dominant. Through five games, Mariota hadn't even thrown a pass in the fourth quarter. At No. 16 Washington on Saturday, Oregon began the fourth quarter with a 31-24 lead. From that point on, Mariota went 5-for-6 for 75 yards and a touchdown, and rushed five times for 33 yards and a score. Oregon won, 45-24. He has been the best player in college football over the first half of the season.
October, 6, 2013
10/06/13
7:10
PM ET
ESPN Junior 300 defensive tackle
Daylon Mack
(Gladewater, Texas/Gladewater) has a new top four.
June, 28, 2013
6/28/13
10:45
AM ET
2013 may be the season of the quarterback in college football, because a lot of good ones are coming back.
In the SEC, there's Alabama's
AJ McCarron
, Georgia's
Aaron Murray
and Texas A&M's
Johnny Manziel
, who won the 2012 Heisman Trophy. Louisville has
Teddy Bridgewater
, and Clemson offers
Tajh Boyd
. In the Pac-12, there's UCLA's
Brett Hundley
, Stanford's
Kevin Hogan
and Arizona State's
Taylor Kelley
.
But the best one coming back is Oregon's
Marcus Mariota
.
How so? Well, for one, that was the assignment: Make a case for the best quarterback in your conference being the best in the nation.
But it's not too difficult to make Mariota's case.
As a redshirt freshman, he ranked seventh in the nation in passing efficiency. He completed 68.5 percent of his passes for 2,677 yards with 32 touchdowns and six interceptions. He also rushed for 752 yards and five touchdowns, averaging 7.1 yards per carry.
He threw a touchdown pass in every game and one interception in his final seven games. He was named MVP in the Fiesta Bowl after leading a blowout win over Big 12 champion Kansas State, which capped a 12-1 season and a final No. 2 ranking for the Ducks.
He earned first-team All-Pac-12 honors after leading an offense that ranked second in the nation in scoring (49.6 PPG) and fifth in total offense (537.4 YPG). The Ducks scored 11 points per game more than any other Pac-12 team.
The 6-foot-4, 196-pound Honolulu native is an extremely accurate passer who might be the fastest quarterback in the nation -- see his 86- and 77-yard runs last season. Against USC on the road, he completed 87 percent of his passes with four touchdowns and zero interceptions. He tied a school record with six touchdown passes against California. He rushed for 135 yards at Arizona State.
Of course, his 2012 numbers aren't mind-blowing. A lot of that isn't his fault. Oregon blew out so many opponents -- average halftime score of 31-9 -- that it didn't require many plays from behind center after the break. For the season, Mariota threw just 24 passes and rushed eight times in the fourth quarter, compared to 227 passes and 71 rushes in the first half.
Manziel, for the sake of comparison, threw 62 passes and rushed 33 times in the fourth quarter. Bridgewater threw 86 passes and rushed 13 times in the fourth.
The good news is folks are probably going to see a lot more of Mariota this season. With running back Kenjon Barner off to the NFL, the Ducks might skew more toward the passing game after being run-centric under Chip Kelly. New coach Mark Helfrich, who was the Ducks' offensive coordinator and quarterbacks coach last year, is expected to throw the ball around more because he has an experienced quarterback and a strong, experienced crew of receivers.
That means more numbers for Mariota as he leads a team in the national title hunt. The potential combination of stats and wins might be enough to get Mariota to New York in December for the Heisman Trophy ceremony.
April, 3, 2013
4/03/13
2:30
PM ET
Chip Kelly isn't terribly big. He's not notably loud, either. Nor is he typically expansive. Who he is, however, is -- was! -- the presence most often cited as transforming Oregon's football program from good to great. So his absence from the Ducks' first spring practice Tuesday was impossible to ignore.
Yet it's a tribute to the culture Kelly sought to create that it appears his players did a pretty darn good job of doing just that. Mostly.
"At first, a lot of the guys were talking about it," quarterback
Marcus Mariota
said. "It's a little different. But by the end of practice, it was good. Kind of the same. Once we got rolling, it was the same old game of football."
New coach Mark Helfrich, who was promoted from offensive coordinator, admitted to reporters that his first practice sans Kelly was "weird, at points." But Oregon moves too fast to stop for navel-gazing. It's "next man in" when a player or coach leaves or goes down, and so it will be for the beginning of the Helfrich era.
[+] Enlarge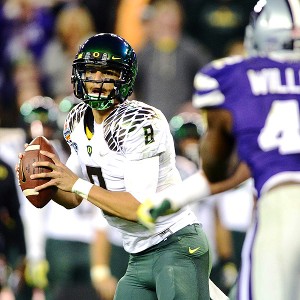 Mark J. Rebilas/USA TODAY SportsAs a redshirt freshman, Marcus Mariota quarterbacked high-flying Oregon to a No. 2 final ranking.
Without a doubt, the transition from Kelly to Helfrich is the point A of the Ducks' 2013 story. There's no question about point B, either: Mariota.
Somewhat lost in the regional shuffle of the Kelly-to-the-NFL talk and the national hullabaloo over Texas A&M's
Johnny Manziel
's brilliant Heisman Trophy season was Mariota's extraordinary performance as the Ducks' redshirt freshman starter.
Mariota was in the cockpit for a team that finished ranked No. 2 in the nation after whipping Kansas State in the Fiesta Bowl. He piloted an offense that ranked second in the nation in scoring (49.5 points per game) and was fifth in total offense (537.4 yards per game).
Individually, he ranked first in the Pac-12 and seventh in the nation in passing efficiency. In the Conference of Quarterbacks, he earned first-team All-Pac-12 honors after completing 68.5 percent of his throws for 2,677 yards with 32 touchdowns and six interceptions. He also rushed for 752 yards and five touchdowns, averaging 7.1 yards per carry.
He also got better as the year went along, despite the competition being decidedly tougher. As Rob Moseley of the Eugene Register-Guard
pointed out
, "[Mariota] had 11 touchdowns, four interceptions and a 152.74 rating in the first month of the season, and 21 touchdowns, two interceptions and a 171.10 rating after that."
That efficiency number would have ranked third in the nation. Further, keep in mind that Oregon's tendency to stomp opponents into submission by halftime meant Mariota was either on the bench or handing off during most fourth quarters.
While Mariota isn't the only reason many see the Ducks as national title contenders again in 2013, despite Kelly's departure, he is the biggest. The 6-foot-4, 211-pound Honolulu native is a seemingly unflappable player who combines A-list speed with notable passing accuracy.
There is little Mariota didn't do well in 2012, so the idea of him improving can foster many pleasant thoughts among Ducks fans. And there are areas in which he can improve. Mariota said his offseason focus has been footwork. New offensive coordinator Scott Frost, promoted from receivers coach, believes Mariota's established strengths can become even stronger.
"I think we can clean some things up and be even more efficient," Frost said. "There are some things we want to tweak to help him have more of an opportunity to impact the game. We wouldn't trade him for anybody. We think he can do some amazing things and win a lot of games. We're going to feature him as much as we can."
With the Ducks welcoming back their entire cast of receivers and being questionable at running back, it's almost certain Mariota will throw more next season. That will mean more opportunities for him to put up big numbers. If he hangs up impressive stats while the Ducks continue to roll up wins, Mariota will gain the esteem of Heisman Trophy voters.
Mariota, the Fiesta Bowl MVP, isn't a guy who seeks out the spotlight, but he also doesn't seem to be afraid of it.
"My parents raised me to handle whatever comes at you," he said. "I'm looking forward to it."
Then he added, "I'm really looking forward to spring practices."
That sounds very Chip Kelly. Or maybe we now should say that it sounds very Oregon.
November, 11, 2012
11/11/12
6:04
PM ET
After Alabama lost at home to Texas A&M on Saturday, Oregon climbed to No. 1 in both the AP and the coaches' poll, the latter poll counting in the BCS standings.
The Ducks are also expected to be No. 1 in the Harris Poll, which will be released later today.

The top three in both polls is the same: Oregon, Kansas State and Notre Dame, the three remaining unbeaten teams. Alabama is No. 4 and Georgia No. 5 in the AP poll, but their order is reversed in the coaches' poll.
Oregon was an overwhelming No. 1 in both polls, earning 45 of 60 No. 1 votes in the AP and 44 of 59 with the coaches. Kansas State got 14 No. 1 votes in both polls, and Notre Dame got one No. 1 vote in both polls.
While Oregon is in control in the polls, it still is projected to be behind Kansas State in the BCS standings, which will be released tonight. The Wildcats are ranked higher by the computers, which make up 1/3 of the BCS formula.
Oregon's computer ranking should go up substantially over the next three weeks, as it plays ranked teams Stanford and Oregon State the next two weekends before playing a presumably ranked team in the Pac-12 title game.
But it doesn't really matter: Ranked No. 1 or No. 2, that means the Ducks would play for the national title for the second time in three years.
As for the rest of the Pac-12 in the AP poll, Stanford was 14th, Oregon State 15th, UCLA 17th and USC 21st.
October, 19, 2012
10/19/12
3:05
PM ET
ROSENBERG, Texas -- ESPN 150 tight end
Derrick Griffin
wasn't too busy on Thursday night as he and his Rosenberg (Texas) Terry teammates cruised to a 30-0 win over Bay City (Texas) High School. Griffin, who caught three passes, made them count, as two of them were for touchdowns.
[+] Enlarge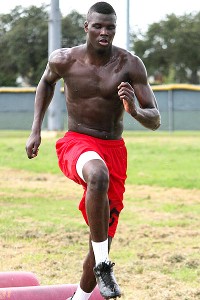 Sam Khan Jr./ESPN.comTexas A&M commit Derrick Griffin, the top 2013 TE prospect, said he's still looking at other schools.
Lining up at receiver for the Rangers, Griffin works hard to stay focused and stay involved for his team, which operates in a run-heavy offense and was playing its third-string quarterback Thursday because of injuries to the first two sustained early in the season.
But when his time comes, Griffin is ready to deliver.
To continue reading this article you must be an Insider
Pac-12 Teams Can Load Up At WR
PAC-12 SCOREBOARD
Thursday, 9/3
Friday, 9/4
Saturday, 9/5