Oregon Ducks:

Taylor Hart
April, 2, 2013
Apr 2
12:00
PM ET
An issue that seems to arise every year in recruiting is which players Oregon chooses to pursue and sign on the defensive line. It always seems to be a source of worry for fans and recruiting pundits alike.
While Haloti Ngata isn't walking through the tunnel at Autzen Stadium anymore, the Ducks have equipped themselves nicely with a patchwork defensive line over the past few years.
To continue reading this article you must be an Insider
March, 21, 2013
Mar 21
10:00
AM ET
With the loss of Taylor Hart, Wake Keliikipi and Ricky Heimuli after the 2013 season, reloading the defensive line is one of the Ducks' primary objectives in the next 10 months. The Ducks landed a standout group of defensive linemen in the Class of 2012 and all of them should be heavily involved in 2013. With three or four spots in the 2014 recruiting class likely to be filled by defensive line prospects, the Ducks are eyeing a large group of targets.
Here are a few names to keep an eye on throughout the 2014 recruiting cycle:
DE Lorenzo Featherston (Greensboro, N.C ./Page):
The 6-foot-7, 215-pound ESPN Watch List member has high interest in the Ducks and fits the profile of what Oregon has looked for in defensive lineman in the past few years. Of course, Chip Kelly and Jerry Azzinaro are gone, but Featherstone maintains the athleticism and range that would make him an ideal fit for the Ducks' drop-end position. Featherstone hopes to get a visit from the Oregon staff during the spring evaluation period. An impressive spring could lead to Featherstone receiving an offer from one of his favorite programs. Michigan, North Carolina, North Carolina State and Tennessee have all offered and are the main programs in pursuit.
To continue reading this article you must be an Insider
February, 14, 2013
Feb 14
7:10
AM ET
Oregon is done with the 2013 class and is in early pursuit of the Class of 2014. Like they did under Chip Kelly, the Ducks are going to take their time and do their due diligence in evaluating recruits with Mark Helfrich at the helm.
The Ducks will still make the same in-depth inquiries about recruits with the potential to earn an offer, but it appears the 2013 recruiting cycle taught them once and for all, that waiting until it's too late can cost a program in a big way. A number of recruits have the Ducks near the top of their lists, and with 2014 being an important class, expect them to be more aggressive than usual in their attempt to replace players they could lose after 2013.
To continue reading this article you must be an Insider
January, 24, 2013
Jan 24
8:00
AM ET
Only after a few years can a recruiting class truly be measured. And while there were plenty of success stories in Oregon's Class of 2009, several players who signed with Oregon and never made an impact.
To continue reading this article you must be an Insider
December, 27, 2012
12/27/12
10:00
AM ET
As the bowl season approaches, we're going to be looking a little closer at each game. We'll go down the Big 12 bowl schedule in chronological order.
TOSTITOS FIESTA BOWL
No. 5 Kansas State (11-1) vs. No. 4 Oregon (11-1)


Where:
University of Phoenix Stadium, Glendale, Ariz.
When
: Thursday, Jan. 3, 8:30 p.m. ET
TV
: ESPN
About Kansas State
: Bill Snyder's boys proved they could get over a painful Baylor loss. With the Big 12 title in the balance, K-State thrashed Texas with a second-half surge to win the Big 12 title on its home field. K-State made the first 10 games of the season look pretty easy, even with close wins over Oklahoma and Iowa State on the road. The Wildcats largely controlled both games but blew out a whole bunch of 7-5 Big 12 teams like West Virginia, Texas Tech and Oklahoma State. The Wildcats have a great case as the best K-State team ever, even though a painful loss to Baylor cost them what looked like a really likely shot at a national title after reaching No. 1 in the BCS for the first time ever after a win at TCU. This was K-State's first Big 12 title since 2003 but the first time it's truly been the Big 12's best team throughout the regular season since 1998.
About Oregon
: The Ducks are all about go, go, go and this season's been no exception. The run-heavy offense didn't miss a beat without LaMichael James and Darron Thomas. We'll talk about the Ducks trio more a little later, but Oregon nearly reached the national title game for the second time in three years before a painful overtime loss to Oregon's super offense's kryptonite: Stanford. The Ducks hadn't scored fewer than 42 points all season. Stanford held them to just 14 in an overtime loss the same night K-State lost to Baylor. The teams were No. 1 and No. 2 in the BCS on Nov. 17, poised to block the SEC from playing for a seventh straight national title, but the loss also cost Oregon a bid to the Pac-12 championship and a second consecutive Rose Bowl berth. Instead, the Ducks are headed to the desert where they lost to Auburn in the title game two years ago. The Ducks are 4-1 against top 25 teams, but haven't played anyone ranked higher than No. 13, which was Stanford. Those four wins, though, came by an average of almost 29 points.
Wildcats to watch
: In case you missed the second half of the Wildcats' win over Oklahoma State, Heisman finalist
Collin Klein
is K-State's offense. Receiver
Chris Harper
and running back
John Hubert
are fine talents in their own right, but Klein is the man who makes it all go. When he's out or plays poorly like he did against TCU and Baylor (performances that ultimately cost him the Heisman Trophy), K-State can look very, very average offensively. Linebacker and Big 12 Defensive Player of the Year
Arthur Brown
has led one of the Big 12's best defenses along with cornerback
Nigel Malone
and big-time pass-rusher
Meshak Williams
.
Ducks to watch
: How many players on any team ever have had three different players earn legitimate Heisman hype at some point during the season? Scatback
De'Anthony Thomas
was an early-season splash before slowing with limited touches as the season moved forward, though
Kenjon Barner
emerged as the team's best back throughout the season. In the middle of the season, though, quarterback
Marcus Mariota
landed on a few ballots with some big games, too. Barner is the team's best player, ranking fifth nationally with 1,624 rushing yards, but Mariota's passer rating of 165.36 is higher than every Big 12 quarterback but
J.W. Walsh
. Linebacker
Michael Clay
racked up 92 tackles and fellow backer
Kiko Alonso
led the team with 12 tackles for loss (two defensive linemen,
Dion Jordan
and
Taylor Hart
, combined for 20.5), but let's be honest: It's all about the offense on this squad.
Did you know?
Because of expansion quirks, there have been six Big 12 teams to play in this game in the past five years. No Big 12 team won the game from 2001-08, but the league is 3-1 in the game in the past four seasons, including huge wins over No. 10 Ohio State and No. 4 Stanford over that stretch. (There were also rumors of a win over a five-loss team from somewhere in the Northeast, but I don't know anything about that.)
More on the Big 12 Bowls:
September, 29, 2012
9/29/12
11:19
PM ET
SEATTLE -- After a wacky week of football at CenturyLink Field, it looked like the
Washington State Cougars
might make things interesting against No. 2 Oregon. Then came the second half and ultimately another Oregon blowout,
51-26
. Here's how it all went down Saturday night in Seattle.


It was over when
: Oregon's
Avery Patterson
jumped a
Connor Halliday
ball intended for
Gabe Marks
and returned it 34 yards for a touchdown with 7:20 left in the third quarter. The play put Oregon ahead 37-19 and sucked the life out of any WSU comeback.
Offensive game ball goes to
:
Kenjon Barner
carried 20 times for 195 yards and three touchdowns. He had scoring runs of 22, 10 and 80 yards. He also caught three passes for 37 yards and another score.
Defensive game ball goes to
: Oregon's
Taylor Hart
came up huge with a pair of big sacks in the first half when the issue was still in question. He finished with four tackles, three of them solo. As a unit, Oregon's defense registered seven sacks.
Stat of the game
: 18 -- The Ducks opened the third-quarter with an 18-play drive that spanned 76 yards and ate up 6 minutes, 21 seconds of clock, ending with a 4-yard
De'Anthony Thomas
run. Very un-Oregon, but it was the kind of drive that was needed to deflate an excitable Cougars squad coming out of the locker room. It was Oregon's longest drive (by number of plays) since a 19-play drive last season against LSU.
What it means for Oregon
: The Ducks could use a bit of adversity after coasting through their first four games. They responded admirably -- on both sides of the ball -- in the second half. A hungry Washington team visits next Saturday.
What it means for Washington State
: The Cougars did better than a lot of other teams have done in 30 minutes against the Ducks. But ultimately youth, and pass-protection issues, doomed them in the second half. Still much work to be done.
August, 30, 2012
8/30/12
10:00
AM ET
There are many differences between the Oregon Ducks current approach under Chip Kelly when compared to former head coach Mike Bellotti. Many of them are glaring, but the one that goes largely unnoticed is the fact that Kelly is keeping the emerging local talent home.
Kelly and the Ducks have benefited from a rise in high school All-Americans from with the Oregon borders, but keeping that talent in state hasn't always been easy for the Ducks.
Needless to say, Oregon is far removed from football-dominated states such as Georgia, Texas, California, Ohio and Florida.
To continue reading this article you must be an Insider
August, 17, 2012
8/17/12
10:00
AM ET
Nearly two weeks into Oregon fall camp, there is plenty of speculation as to who has the upper hand in the position battles and who has put themselves in position to see the field early on.
All eyes are on the ongoing quarterback battle between sophomore
Bryan Bennett
and redshirt freshman
Marcus Mariota.
When it comes to discussing his team, Ducks head coach Chip Kelly plays everything close to the vest. There is no greater example of this than when it comes to who will be given the keys to his high-flying offense.
To continue reading this article you must be an Insider
July, 3, 2012
7/03/12
10:00
AM ET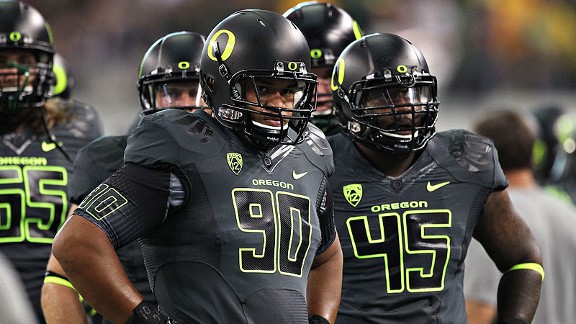 Matthew Emmons/US PresswireRicky Heimuli (front), a highly touted defensive tackle in the 2010 class, is expected to take a big step up on Oregon's defensive line this season.
After a nice run of NFL talent along the defensive front from 2002-05, the
Oregon Ducks
took a number of hits with recruits failing to qualify or not showing up on campus for a variety of reasons. When new defensive line coach Jerry Azzinaro arrived in 2009, things began to change in Eugene. While the talent has been building in recent years, the defensive line was the one glaring weakness when comparing Oregon to the likes of SEC powers Auburn, LSU and Alabama.
The Ducks have excelled at nearly every position outside of DL in recent years. The linebackers have been key in helping the Ducks to high sack totals, but 2012 looks like the season it all comes together up front for the Ducks. The depth, size and talent are at an all-time high in Eugene, as key returners are back for another go around and a number of impact newcomers will be entering the fold.
After losing Kenny Rowe, Brandon Bair and Zac Clark from the 2010 BCS runner-ups, the defensive line stepped up last year and kept the Ducks among the elite. Now that they have another year under their belts, look for Oregon's front line to make a big impact in 2012.
July, 2, 2012
7/02/12
11:00
AM ET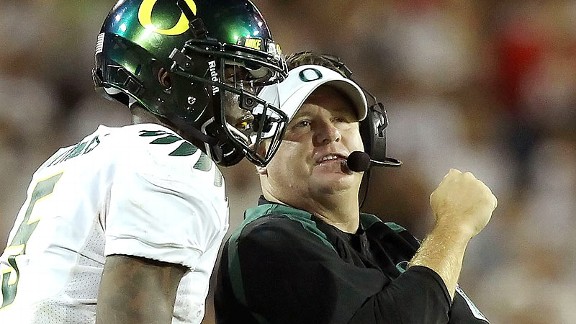 Christian Petersen/Getty ImagesChip Kelly has done a good job of keeping continuity on his coaching staff since taking over as Oregon's head man in 2009, which is a big reason behind the Ducks' sustained success.
When thinking about the Oregon football program, most tend to think of the flashy uniforms, the facilities and the ties to Nike as being the big reasons for the rise of the Ducks. Those things have played a huge part in Oregon's success, but the most commonly overlooked part of the equation is the continuity of the coaching staff in Eugene.
Sure, head coach Chip Kelly has only been in Eugene since 2007 and is entering his fourth season as the face of the program, but for the most part Oregon's staff has been together longer than most. In an era where coaches use schools as stepping stones and successful coaching staffs rarely have more than a couple of years together, the Ducks have a level of chemistry among the coaching staff that has helped fuel their meteoric rise to the top.
Head coach:
Chip Kelly is entering his sixth season at Oregon and his fourth as head coach. While his name is tied to nearly every job that comes open, Kelly turned down the Tampa Bay Buccaneers job this past offseason. Kelly has been a part of the greatest streak in Oregon history. His record as head coach is 34-6 and the overall record of the Oregon program since his arrival is 53-13.
Mature Decision By Marcus Mariota