Oregon Ducks:

Sefo Liufau
June, 25, 2014
6/25/14
9:00
AM ET
It's time to start our preseason position reviews. Please, hold your applause until we are finished.
Here's how we do this: We provide three evaluative categories: "Great shape," "Good shape" and "We'll see."
Hint: You'd prefer your team to be in "Great shape."
"We'll see" doesn't mean you're going to stink at said position. It means just what it says -- we'll see because there's no way at present to know.
You can
review last year's rankings here
.
And away we go ... starting, of course, with quarterback.
GREAT SHAPE

Oregon
: Junior
Marcus Mariota
is -- again -- a leading Heisman Trophy candidate and a two-time first-team All-Pac-12 performer. He would have been an early-round NFL draft pick this spring if he'd opted not to return. The Ducks have some questions at receiver though.

UCLA
: Junior
Brett Hundley
is the conference's No. 2 Heisman Trophy candidate. While Arizona State's
Taylor Kelly
eclipsed him for second-team All-Pac-12 last fall, Hundley's tremendous upside is why he has NFL scouts eagerly awaiting his entering the draft.

Arizona State
: As noted, Kelly was the Pac-12's No. 2 QB last season, which means he was one of the nation's best at the position. It also helps his cause that he's got WR
Jaelen Strong
, an All-American candidate. However, Kelly does need to take fewer sacks -- you could say the same for Hundley -- and throw fewer interceptions.

Oregon State
:
Sean Mannion
ranked second in the nation with 358.6 yards passing per game in 2013 and is also an NFL prospect. Life might be just a bit harder in the passing game without
Brandin Cooks
.
GOOD SHAPE

Stanford
:
Kevin Hogan
, a third-year starter, had a good but not great sophomore season while leading the Cardinal to the Pac-12 championship. He was mostly efficient and showed a good touch downfield, but he made some surprisingly bad decisions and needs work with his intermediate passing game. He's got a good crew of veteran receivers coming back, which bodes well for him.

Washington State
:
Connor Halliday
threw for a bunch of yards (4,597) and TDs (34) last season, but he also tossed way too many interceptions (22). Part of that was an inconsistent O-line and a neglected running game. The good news is he's in his third year under Mike Leach and has a strong crew of returning receivers. Of all the Pac-12 QBs, he might make the biggest climb this season.

USC
:
Cody Kessler
didn't put up big numbers last season and didn't beat Notre Dame or UCLA but significantly improved after Lane Kiffin was fired. Like Kelly, he's got an A-list target coming back in WR
Nelson Agholor
. We expect Kessler to thrive with a new, up-tempo scheme under Steve Sarkisian.

Utah
: Utah received good news yesterday when 16-game starter
Travis Wilson
was medically cleared to play. When healthy, Wilson has been a solid performer with good upside. He'll have to fight off a challenge this preseason from Oklahoma transfer
Kendal Thompson
though.

California
:
Jared Goff
averaged 292 yards passing per game as a true freshman. That's good. But the Cal offense struggled to do much else but throw the ball between the 20s -- hence a conference-worst 23 points per game. He had just 18 TD passes on 531 attempts. Still, he flashed potential and has a very good crew of receivers coming back.

Colorado
:
Sefo Liufau
became the Buffaloes' starter at midseason and often played like the true freshman he was. Furthermore, he won't have
Paul Richardson
serving as a safety blanket and making big plays for him. Still, Liufau's baptism by Pac-12 fire provided some seasoning that was evident this spring. The Buffs feel pretty good about having a returning starter behind center.
WE'LL SEE

Washington
: While
Cyler Miles
flashed potential last season coming of the bench for Keith Price, logging a road victory at Oregon State in his first start, he also had
an off-field issue that has muddied the waters at QB for the Huskies
. It remains to be seen how quickly Miles emerges from Chris Petersen's doghouse, and if he can beat out
Jeff Lindquist
and
Troy Williams
.

Arizona
: The Wildcats have
no clear frontrunner in their QB competition
. That's the bad news. The good news is the performances this spring were generally solid. Rich Rodriguez believes he's got a couple of guys who can win games for him. He's just not sure which guy is No. 1 between
Jesse Scroggins
,
Connor Brewer
,
Anu Solomon
and
Jerrard Randall
.
February, 24, 2014
2/24/14
7:00
PM ET
Spring has sprung in the Pac-12
, with Stanford starting spring practices this week and several schools following suit next week.
Ergo, we break down where teams stand with each position group, starting with quarterbacks.

Arizona
: The Wildcats probably have the most wide-open QB competition, with four guys having a legitimate chance to replace the departed
B.J. Denker
. Three are transfers from big-time programs: senior
Jesse Scroggins
(USC), sophomore
Connor Brewer
(Texas) and junior
Jerrard Randall
(LSU). The fourth, redshirt freshman
Anu Solomon
, was one of the biggest stars in the 2013 recruiting class. Don't expect much to be settled by the end of spring, though coach Rich Rodriguez might at least allude to some sort of pecking order. Or a top three.

Arizona State
: The Sun Devils are strong at QB with senior
Taylor Kelly
, a third-year starter who has put up big numbers the past two seasons, and junior
Mike Bercovici
, a big-armed backup -- perhaps, in fact, the best backup in the Pac-12. That's why
Michael Eubank
opted to transfer to Samford in Birmingham, Ala. It will be interesting to see which of the youngsters on the roster emerge as a No.3, a guy who might challenge Bercovici in 2015.

California
: It seems unlikely that sophomore
Jared Goff
will be unseated, particularly after
Zach Kline
opted to transfer. Goff was uneven last season -- his entire team was -- but flashed plenty of potential. He and a talented crew of receivers should get better this spring. The big question might be whether anyone challenges senior
Austin Hinder
for the backup job.

Colorado
: Sophomore
Sefo Liufau
is solid as the returning starter. He took some lumps last season but also flashed plenty of promise -- as both a player and leader. After him, there's junior college transfer
Jordan Gehrke
, a redshirt sophomore, the likely backup. Depth is a problem, at least this spring. As the
Boulder Daily Camera noted
, "Five quarterbacks have left the CU program either to transfer to other schools or give up the sport entirely since the start of spring football last year. A sixth completed his eligibility last season." That's why the Buffs added walk-on Trent Sessions to the roster. He worked with the equipment staff last year.

Oregon
: The Ducks probably feel pretty good about their third-year starter, junior
Marcus Mariota
, a leading 2014 Heisman Trophy candidate who would have been a first-round pick if he'd entered the 2014 NFL draft. The competition for the backup spot, however, will be interesting because Mariota is almost certain to enter the NFL draft after the season. Sophomores
Jeff Lockie
and
Jake Rodrigues
are 2A and 2B, with Lockie first off the bench as the backup in 2013, but Rodrigues the more physically talented player as a runner and passer.

Oregon State
: Like their friends to the south, Oregon State is fortunate its 2013 starter,
Sean Mannion
, decided to return instead of entering the NFL draft. Mannion's chief focus will be finding some receivers to replace the production of the departed
Brandin Cooks
. The battle for the backup job also will be interesting between sophomore
Brent VanderVeen
and redshirt freshman
Kyle Kempt
. Of course, their battle might not resolve things much for 2015, with incoming Alabama transfer
Luke Del Rio
joining the fray after sitting out a season.

Stanford
: It seems unlikely that two-year starter
Kevin Hogan
will be challenged for the starting job this spring, even though he had some ups and downs in 2013, but there is no lack of talent battling for the backup job. Junior
Evan Crower
was the backup in 2013, but redshirt freshman
Ryan Burns
is a big-time talent. As is incoming freshman
Keller Chryst
, who officially will arrive in the fall but, as a Palo Alto resident, figures to hang around spring practices.

UCLA
: Heading into his third season running the offense,
Brett Hundley
gives the Bruins one of the best starting quarterbacks in the nation. He's a proven dual threat and leader who will be refining his game this spring and building chemistry with his receivers. After him, however, things are a bit iffy, in large part because of the 2013 preseason transfer of
T.J. Millweard
to Kansas. The chief competitors for the backup job are
Jerry Neuheisel
, the 2013 backup, and redshirt freshman
Asiantii Woulard
, with Woulard being the guy with the most future upside. Of course,
there is another QB out there
some UCLA fans might be thinking about.

USC
: The returning starter facing the most formidable challenge to his starting job this spring is probably
Cody Kessler
, even though Kessler played well in the second half of the 2013 season. With the transfer of
Max Wittek
, touted redshirt freshman
Max Browne
, at the very least, sets up to be a high-quality backup next season. But plenty of folks think Browne has a legitimate shot to unseat Kessler, particularly with new coach Steve Sarkisian taking over.

Utah
: There's still no final word on the long-term health issue that might end QB
Travis Wilson
's career, and anything decisive might not come for weeks. If Wilson gets cleared, the good bet is on him returning to the starting job. If not, a spring competition will begin between
Adam Schulz
, who stepped in when Wilson went down, and redshirt freshmen
Conner Manning
and
Brandon Cox
. In the fall, dual-threat QB
Donovan Isom
arrives.

Washington
:
Keith Price
, a three-year starter, is gone, but the Huskies seemed fairly set at QB with sophomore backup
Cyler Miles
appearing plenty capable of stepping into the cockpit this spring. In limited action last season, Miles completed 61 percent of his throws for 418 yards with four TDs and two picks, and he also showed good mobility, rushing for 200 yards. The pecking order at least seemed set, that is, until Miles got into some
off-field trouble that threatens his status for spring practice
and perhaps beyond. If Miles is still suspended, that means opportunity comes knocking for sophomore
Jeff Lindquist
or redshirt freshman
Troy Williams
to make an impression.

Washington State
:
Connor Halliday
will be a senior, three-year starter and the Cougars' top leader in the third season running Mike Leach's "Air Raid" offense. He figures to put up huge numbers this fall with a strong crew of receivers. His 2013 backup, sophomore
Austin Apodaca
, opted to transfer, perhaps believing that redshirt freshman
Tyler Bruggman
had the inside track to the starting job in 2015. Depth is a bit of a question, with the No. 3 this fall likely being true freshman
Peyton Bender
.
January, 8, 2014
1/08/14
4:00
PM ET
It's never too early to start looking ahead to what's in store for next year's college football season. Per usual, we've got you covered.
Three major pieces are out today -- including one from our very own Ted Miller -- who looks at
some of the questions
that will sear on our brains until kickoff 2014.
One major point Ted brings up is the return of so many big-name quarterbacks -- specifically how loaded it is in the Pac-12.
Nine starters from 2013 are returning in 2014 -- headlined by potential first-round draft choices
Marcus Mariota
of Oregon and
Brett Hundley
of UCLA. But also back are
Taylor Kelly
(ASU),
Jared Goff
(Cal),
Sefo Liufau
(Colorado),
Sean Mannion
(Oregon State),
Kevin Hogan
(Stanford),
Cody Kessler
(USC) and
Connor Halliday
(Washington State). We still need to see what the long-term diagnosis is for Utah's
Travis Wilson
.
Don't be shocked if a few quarterback competitions "open up," maybe at Stanford, USC or Washington State. But don't be shocked, either, if experience wins out.
Adam Rittenberg also takes a look at
some players to watch in 2014
-- including Mariota, Hundley and UCLA's
Myles Jack
. Digging a little deeper in the conference, there are some extremely bright defensive stars to keep an eye on, including USC's
Addison Gillam
and Arizona's
Scooby Wright
. Washington's
Shaq Thompson
could also emerge as a candidate for defensive player of the year.
Finally, Mark Schlabach offers up
some bold predictions for 2014
. Notable here is that he predicts an SEC team won't win a national championship, and that
Jameis Winston
will win a second consecutive Heisman Trophy. Though Mariota and Hundley should be right up there in terms of preseason hype. Recall, the preseason favorite hasn't fared well the last few years. Andrew Luck gave way to Robert Griffin III, Matt Barkley stumbled to
Johnny Manziel
and Mariota slipped to Winston.
The next seven months should provide plenty of fodder.
November, 14, 2013
11/14/13
10:15
AM ET
Some storylines to keep an eye on this week in the Pac-12.
[+] Enlarge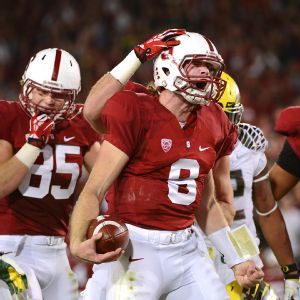 Kyle Terada/USA TODAY SportsKevin Hogan and Stanford control their North Division fate and play a dangerous USC team on Saturday.
North race
: Stanford is in the driver's seat. If it wins this week against USC and next week against Cal, the Cardinal will lock up the North Division and advance to the Pac-12 championship game for the second straight year. Oregon's best chance is for Stanford to lose one of those two games and the Ducks win out to finish with an 8-1 conference record.
South race
: Arizona State and UCLA are in the same position as Stanford. If either team wins out, they will be the South Division champ. We have to wait one more week for these teams to meet, and both need to keep focus this week with a pair of dangerous North Division teams coming to town. Arizona State hosts Oregon State and UCLA hosts Washington. This is one of those "you have to earn it weeks" because of the league's nine-game schedule. USC is still in the hunt but must beat Stanford.
Bowl checkup
: Right now the Pac-12 has eight bowl-eligible teams: Stanford, Oregon, Oregon State, Washington, Arizona State, UCLA, USC and Arizona. This week could provide some jockeying for bowl position and prestige. Colorado and California are officially out of bowl contention, and Washington State and Utah are still in the hunt with four wins each. Both have tough road draws this week -- Utah at Oregon and Washington State at Arizona -- and the stage is set for some good drama in Pullman, Wash., next week when Utah and Washington State square off in a game that could determine the postseason fates of both teams. Each needs to win two of their last three to become eligible.
North vs. South
: This is a big weekend for determining which division is truly the strongest from top to bottom. Right now the North holds a slight edge, going 8-7 against teams from the South. But all six games this week feature North vs. South teams -- Washington is at UCLA, Washington State is at Arizona, Oregon State is at ASU, Stanford is at USC, Cal is at Colorado and Utah is at Oregon. The South is home for five of the six games.
All eyes on L.A.
: Two huge games in the City of Angels this week with Stanford heading to USC and Washington coming down to UCLA. Both games have huge implications on the divisional standings. If USC wins, it keeps pace with UCLA and Arizona State. If the Cardinal win, they move one step closer to a second straight North title. Stanford has won the last four matchups and five of the last six. The last three have come down to a touchdown or less. Washington, meanwhile, looks to break its road blues. The Bruins are coming off a confidence-boosting road win at Arizona. We're also curious to see what
Myles Jack
brings, if anything, for an offensive encore.
All eyes (also) on Arizona
: Speaking of huge games. Oregon State heads to Tempe to take on an Arizona State team looking to steal the South Division crown from UCLA. ASU still has a one-game advantage in Pac-12 play, so a loss wouldn't be devastating (losing to Washington would hurt UCLA's chances more). But the trip to Pasadena next week is obviously going to be very telling. In Tucson, the Wildcats are looking to better their bowl standing while the Cougars are hoping to take another step toward bowl eligibility. It's 12-straight 100-yard rushing games and counting for Arizona's
Ka'Deem Carey
.
Someone has to win, right?
California and Colorado are the only two teams still seeking a conference victory. Both teams have true freshmen starters at quarterback with
Jared Goff
at Cal and
Sefo Liufau
at Colorado. Speaking of true freshmen, keep an eye on Colorado linebacker
Addison Gillam
, who already holds the school's record for tackles by a freshman with 86. Cal hasn't won a conference game since topping Washington State on Oct. 13, 2012. Colorado hasn't won a league game since topping, well, Washington State on Sept. 22, 2012.
Bounce back:
This is the first time we've had to include Oregon in a bounce-back category. But the Ducks were pretty much manhandled in the loss to Stanford last week. It was a low-output performance from the offense, and the defense couldn't get off the field. But the Ducks are still in contention for the North, though Oregon fans should be USC fans this weekend, and their shot at a BCS at-large game is still very much in play. Utah needs to find a way to snap its three-game slide. The Utes are winless since the victory over Stanford, and haven't won on the road this year. Like Stanford, Utah has a very physical front. But rehabbing at Autzen, especially with Oregon coming off of a loss, is going to be a tall order.
No more breathers
: The bye weeks are done. All 12 teams are in action this week and next week. In Week 14, only California has an open date, but that's because its season will be over.
Giving back
: ASU is known for embracing its military ties, and here's a head's up on something cool it is doing: As part of Sun Devil Athletics' annual Salute to Service football game against Oregon State, fans can purchase a ticket to donate to an active military member or veteran, and SDA will match every donated ticket with a second ticket.
November, 5, 2013
11/05/13
2:30
PM ET
I'm friends with the monster that's under my bed; get along with the voices inside of my head.
November, 3, 2013
11/03/13
10:15
AM ET
Five things we learned in the Pac-12 from Week 10:
When consistent, ASU is really good: The Sun Devils picked up their first road win of the season with an extremely impressive 55-21 win over Washington State on Thursday night. Here's the kicker ... running back Marion Grice didn't get in the end zone! Quarterback Taylor Kelly was dominant, completing 22 of 31 passes for 275 yards and five touchdowns. He also ran for 66 yards and two scores, giving him seven on the day. Since dropping a 37-34 game to Notre Dame, the Sun Devils have outscored Colorado, Washington and Washington State 162-58. If the Sun Devils can maintain this consistent, high level of play, the rest of the Pac-12 South will be hard-pressed to keep pace. As for the Cougs, after a 4-2 start, they have dropped three straight, and the defense has given up at least 52 points in all three losses.

[+] Enlarge

Kirby Lee/USA TODAY SportsUSC is 3-1 under interim coach Ed Orgeron, who celebrated Friday's win in Corvallis with the band.

The Trojans aren't done yet; the Beavers might be: Despite everything that has happened to USC, the Trojans are a factor in the South Division. They need to win out and probably get a little help along the way, but after a fairly convincing 31-14 road win over Oregon State, the Trojans look like a team to be reckoned with down the stretch. Since the Lane Kiffin firing, USC is 3-1 under Ed Orgeron. Conversely, Oregon State suffered a big setback and is now an even longer shot to win the North Division. There is still hope, but the Beavers also need to win out and hope for some help.

Colorado is gritty: Say what you want about the wins and losses, but Colorado is a tougher team than it was last season. UCLA won 45-23, and the final score isn't particularly shocking. But the Buffs led midway through the second quarter, and true freshman quarterback Sefo Liufau looked very poised on the road, going 25-of-36 for a touchdown and zero interceptions. They matched UCLA's physicality and even showed a bit of swagger -- be it from receiver Paul Richardson or Liufau. Culture change takes a long time. But we are starting to see the makings of a team that isn't satisfied with being pushed around. On the flip side, good performance from UCLA to get back on track. Brett Hundley looked like he was still a little uncomfortable with his young offensive line, but he looked stronger. If the Bruins can survive a trip to Arizona and home date with Washington, Nov. 23 is high noon with ASU coming to town.

About those Cats: Arizona has won three in a row, including back-to-back road games to become bowl-eligible for the second straight year under Rich Rodriguez. A fine accomplishment, considering everyone they lost in the offseason through injury, graduation or attrition. Quarterback B.J. Denker turned in another steady performance, completing 24 of 38 passes for 261 yards with a touchdown and no interceptions. But he's also emerged the past couple of weeks as a solid complementary runner to Ka'Deem Carey. Denker rushed for 44 yards and three touchdowns in the win over Cal. Carey, meanwhile, continues to shred defenses. Although he didn't reach the end zone against the Bears, he rushed for 152 yards, giving him 1,072 for the year. A big date with UCLA awaits next week. Can't overlook the performance of Cal, either, which sold out to stop the run early and showed a lot of life. Kenny Lawler finally had that breakout game with three touchdown catches, two of them spectacular.

South rising? The early disparity between the North and South seems to be shrinking. The South scored two major victories this week with USC's win at Oregon State and ASU's win at Washington State. Arizona's win over Cal was expected, but again, we give the Bears credit for the strong showing. As it stands, the North still holds a two-game edge over the South with an 8-6 record. Oregon is the only team to be perfect in inter-division play. Stanford, ASU and Oregon State are all 2-1. It stands to reason that the North is still probably considered the stronger division with Oregon and Stanford ranked in the top five. But the South has made a strong play of late with its depth, which includes five of six teams at .500 or better.
November, 3, 2013
11/03/13
12:54
AM ET
On Thursday morning, the best thing Week 10 had going for it was that it was right before Week 11. It was seven more days of watching the water boil till we could get to the Oregon-Stanford showdown -- the game we've been speculating about and talking about and writing about and blogging about and message-board-flaming about for the past nine months.
[+] Enlarge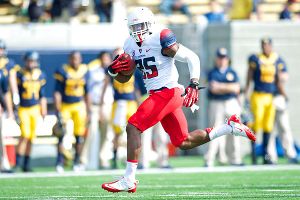 Matt Cohen/Icon SMIKa'Deem Carey rushed for his 11th straight 100-yard game in Arizona's win over Cal.
Week 10 was supposed to be filler material; B-roll compilation highlights; a stop-gap to sate us before the game we all want to see. But as it turned out, Week 10 was pretty darn entertaining. For what little buck there was, there was decent amount of bang.
Nothing was particularly earth-shattering or landscape-altering. But there was just enough entertainment value and drama to remind us why we tune in to every Pac-12 game. Not just the ones with ranked teams.
Taylor Kelly
was nothing short of brilliant with his seven-touchdown performance in Arizona State's victory Thursday at Washington State. It wouldn't be a Halloween game without something scary happening. And the scary happening in Pullman was that the Sun Devils scored 55 points and
Marion Grice
didn't have a single touchdown.
USC took its Corvallis curse and shoved it right down Oregon State's front seven as
Silas Redd
and
Buck Allen
combined for 273 rushing yards. The Trojans are now 3-1 since the coaching change.
California gave Arizona a scare and was an onside kick away from making things really interesting. But
Ka'Deem Carey
did what Ka'Deem Carey does best and rushed for his 11th straight 100-yard game -- tops in the FBS.
And UCLA got back to form against a Colorado team that came to play. The drama in Pasadena, Calif., wasn't breathtaking, but Colorado quarterback
Sefo Liufau
looked extremely poised, and there was a sense that, even down 18 points in the fourth quarter, the Buffs believed they could win. And yes, even in defeat, it's nice to see a little swagger out of the Buffs. I like seeing Liufau, a true freshman, shove back when
Anthony Barr
, a probable top-five draft pick, was penalized for excessively slamming the quarterback. I like the entire Colorado offensive line rushing to its quarterback's defense. And I like that Barr came right back and hit Liufau on the next two plays.
The Sun Devils look like the team to beat in the South, but USC and Arizona have climbed back into the hunt and UCLA isn't going to go gently -- especially after knocking off some of the rust from its two-game losing streak to Stanford and Oregon.
We can pretty much eliminate Oregon State from the race in the North after it lost another conference game. Combined with the loss to Stanford, the Beavers are in a pretty deep hole. It's not impossible, but they'll have to run the table over their final three games against ASU, Washington and Oregon, plus get a little help along the way.
However, the next Pac-12 game to be played will feature the Nos. 2 and 5 teams in the country. The speculation will soon come to an end and will be replaced with actual results. Said results could be a 21-point Oregon win or a three-point Stanford victory. Neither would be completely shocking.
The Ducks and Cardinal have split their past four meetings, with each team winning once at home and once on the road. The Cardinal got the better of the rivalry last year in one of the most thrilling games of the 2012 season. Two years ago in Palo Alto, Calif., it was the Ducks who dominated with a 23-point victory.
The wait is almost over. We can officially stop looking over the horizon and focus on the game that could have massive Pac-12 and BCS implications.
But before we do, a tip of the cap to Week 10. Thanks for making things fun. We're glad we stuck around to watch.
October, 31, 2013
10/31/13
10:15
AM ET
A few storylines to keep an eye on this week in the Pac-12.
Light week: Only four games on the Pac-12 docket this week, including one on Thursday (Arizona State at Washington State), one on Friday (USC at Oregon State) and two on Saturday (Arizona at California and Colorado at UCLA).

Let's go bowling: Three teams, Oregon, Stanford and Oregon State, are already bowl bound. Four others sit on the precipice and as many as seven others are still in the hunt (note, because of the 13-game schedule, USC needs seven wins to become bowl eligible). Arizona State, Arizona and UCLA can all become bowl eligible this week.

[+] Enlarge

AP Photo/Elaine ThompsonBishop Sankey is one of four Pac-12 backs who average at least 100 yards a game.

1K club: Washington running back Bishop Sankey became the Pac-12's first 1,000-yard rusher this season and has 1,162 yards on the year. Arizona's Ka'Deem Carey (920 yards) probably will break through this week against a Cal rush defense that yields an average of 189.1 yards per game. Carey leads the league with 153.3 yards per game, one of four backs who average at least 100 yards per contest (Sankey, 145.2; Tyler Gaffney, 110.8; Byron Marshall, 109.9).

Scoreboard, baby: The Sun Devils have the top two scorers in FBS football in running back Marion Grice (15.4 points per game) and kicker Zane Gonzalez (11.4 ppg) and rank sixth in the nation with 45.4 points per game. Four times this year they have posted 50 or more points. That's the most since the 1973 team. Worth noting, too that Oregon State's Brandin Cooks is third nationally in scoring, making it a hat trick for the conference.

Rubber arm: Washington State quarterback Connor Halliday is on pace to set single-season school records in pass attempts and completions. Through eight games he has completed 273 passes on 428 attempts. Gabe Marks has been the primary recipient with 59 catches for 655 yards. But eight different WSU receivers have 20 or more catches.

Remember, Reser: The Beavers have won three straight over USC in Corvallis, but the Trojans' defense, though injury-depleted, is having a fine season. The Trojans have held six of their eight opponents to fewer than 300 yards. They'll be tested by an Oregon State passing attack that, despite a loss last week to Stanford, is still one of the best in the nation. Cooks leads the FBS with 10.6 receptions per game and 157 yards per game. USC is tied for the conference lead with 27 sacks, which might not bode well for an Oregon State team that gave up eight sacks to the Cardinal last week.

Off and running: The aforementioned Carey is 80 yards shy of reaching 1,000. When he gets there, he'll be just the third Arizona running back to post multiple 1,000-yard rushing seasons. He has rushed for at least 100 yards in 10 straight games, which is the longest active streak in FBS. But it was quarterback B.J. Denker who led the Wildcats in rushing last week, posting 192 yards on 15 carries.

Where's the points? Cal, still winless in conference play, is giving up a league high 44 points per game and scoring a league low 22.9 points per game. Moving the ball isn't a problem. The Bears rank sixth in the league in total offense, averaging 468.4 yards per game. But they have only scored 20 touchdowns on the year, second worst only to Colorado's 19. Receivers Chris Harper and Bryce Treggs have combined for 112 catches for 1,387 yards, but just six touchdowns -- five from Harper.

Back to basics: The Bruins are looking to snap a two-game slide after dropping back-to-back road games at Stanford and Oregon. Keep in mind the Bruins have played 32 freshmen this year -- including 17 true freshman. Last year they played 26, including 12 true. Through the first five games, quarterback Brett Hundley averaged 293.8 passing yards per game, was completing 68 percent of his throws with 12 touchdowns to four interceptions. In the last two weeks he averaged just 128 yards and completed 63 percent of his throws with two touchdowns to four interceptions. The more comfortable he gets with his young, reshaped offensive line, and the fact that he's not playing two of the top teams in the league, should help him bounce back.

Explosive potential: The Buffs rebuilding process has yet to produce a conference win. But that doesn't mean Colorado can't be explosive. Wide receiver Paul Richardson has 50 catches and 914 yards with seven touchdowns, and he's sneaking up on some Colorado single-season marks. He has six plays of 50 yards or longer this season. Freshman quarterback Sefo Liufau is 1-1 as a starter and is completing 59 percent of his throws with two touchdowns and an interception.
October, 17, 2013
10/17/13
10:15
AM ET
A few storylines to keep an eye on this week in the Pac-12:
1. Title game rematch
: UCLA and Stanford will face each other for the third time in the last 10 months. Only this time it's the Bruins who are the higher-ranked team, coming in at No. 9 after Stanford slid to No. 13 following its loss at Utah. Remember all of those side-to-side swing passes that Dennis Erickson and Utah used to keep Stanford off balance? Remember who worked for Erickson at ASU? Yep, Noel Mazzone. And UCLA loves to hit its receivers in the flat. Keep an eye on what happens after the second-half kickoff, as well. The Bruins are outscoring opponents 71-0 in the third quarter this year. Stanford has a 12-game home winning streak -- third longest in the nation -- and is 10-1 at home against ranked opponents since 2009. Stanford hasn't lost consecutive games since the middle of the 2009 season.
[+] Enlarge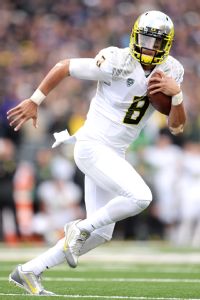 Allen Kee/ESPN ImagesMarcus Mariota and the Ducks are expected to be one of the top two teams when the BCS standings are released on Sunday.
2. BCS time
: The first Harris Poll of the season was released Sunday and featured four Pac-12 teams in the top 25: Oregon (2), UCLA (9), Stanford (12) and Washington (25). The first BCS standings will be released this week -- which comes on the heels of the announced selection committee for the College Football Playoff that starts next year. We're all expecting Oregon to be in one of the top two spots. Question is, where will UCLA or Stanford land?
3. North vs. South:
Two more critical North versus South showdowns this week with UCLA traveling to Stanford and Washington heading to Arizona State. The UCLA-Stanford game takes center stage for obvious reasons. But Washington-ASU has all the makings of a thriller. This is one of those 50-50 games that either team needs to win to show they belong in the upper tier of the Pac-12. The quarterbacks,
Keith Price
and
Taylor Kelly
, are obviously the mechanisms that make their teams go. But Washington running back
Bishop Sankey
(899 yards) has rushed for at least 125 yards in five of six games and ASU gives up almost 170 yards per game on the ground. Look for him to probably break 1,000 for the season by the final whistle. On the flip side, ASU's
Marion Grice
already has 15 total touchdowns. He had 19 last year, so look for him to eclipse that mark in the next couple of games.
4. Making up is hard to do
: Colorado will face Charleston Southern this week as a makeup for the Sept. 14 game against Fresno State that was canceled because of severe rain and flooding in Colorado. Charleston Southern is a perfect 7-0 on the year and is receiving votes in the Sports Network FCS College Football Poll. The Buffs are looking to get to 3-3 for the first time since 2010. And they are making a change at quarterback with
Sefo Liufau
stepping in after going 18 of 26 for 169 yards and a touchdown and two interceptions in relief against Arizona State.
5. No. 5?
The Cougars are looking for their fifth win for the first time since 2007. Tough draw, however, this week with a trip to Oregon. The Ducks are averaging 56.8 points per game and are second in the country in total offense with 630.5 yards per game.
6. Taking care of the ball
: Speaking of Oregon, quarterback
Marcus Mariota
, the Heisman frontrunner through the first half of the season, continues to impress with turnover-free performances. Though his completion percentage is down from last year, he hasn't thrown an interception in 165 pass attempts this year -- which extends a streak dating back to last season of 233 attempts. His last interception was against Stanford. During that stretch, he's completed 100 passes for 1,724 yards and 17 touchdowns. Receivers
Josh Huff
and
Bralon Addison
have 27 catches each for a combined 1,054 yards and 11 touchdowns.
7. Rebuilding the brand:
Nothing can unite the USC fan base like a win against Notre Dame. Better yet, a win
at
Notre Dame. The Trojans won their first game of the Ed Orgeron era and look to follow it up against the Irish. Neither team is ranked, but the names carry a lot of weight. This is a game that could re-energize the Trojans moving forward.
Marqise Lee
and
Morgan Breslin
have both practiced and it's looking like both will play. That should be a huge boost after getting running back
Silas Redd
back last week.
8. Momentum building?
What do the Utes do with their big win over Stanford? Do they keep the momentum rolling? They have to go on the road for four of their next six -- including leaving the state for the first time this season when they travel to face Arizona. The Wildcats are still looking for their first conference win, though quarterback
B.J. Denker
had a strong statistical performance in the loss last week to USC, completing 28 of 44 passes for a career high 363 yards and four touchdowns.
9. Who needs a running game?
The Pac-12's top two passing offenses square off with Oregon State's trip to Cal. OSU quarterback
Sean Mannion
has six straight games of 350 passing yards and the Beavers lead the conference with 433.2 passing yards per game and 25 passing touchdowns. Cal averages 371.3 yards in the air -- second in the league, but just 11 passing touchdowns, third worst. The Bears can move it, they just haven't been able to convert yards into points.
10. No off week:
For the second straight week, all 12 schools will be in action. This was supposed to be a bye week for Colorado, but the Charleston Southern game fills the void. Next week Arizona State and Washington State are on bye. It will be the first of two byes in three weeks for the Cougars, who will have opened the year with eight straight games following this week's matchup with Oregon.
October, 16, 2013
10/16/13
2:30
PM ET
But humanity doesn't want to die. As a species, we have evolved to survive. And the way we do it is by straining and straining and, at last, every few generations, giving birth to genius. The one who invents the wheel. And light. And flight. The one who builds a city, a nation, an empire.
October, 14, 2013
10/14/13
2:30
PM ET
I am going to go with the balloon animal display. For the kids. And then when she comes close to check it out, guess who is the broken man, haunted past? How about you?
August, 27, 2013
8/27/13
11:30
AM ET
You don't ask to be part of G.I. Joe. You get asked.
Programs Most Desperate for a Quarterback
PAC-12 SCOREBOARD
Thursday, 9/3
Friday, 9/4
Saturday, 9/5