Oregon Ducks:

Rob Mullens
June, 28, 2013
6/28/13
8:46
AM ET
You know the final scene of the classic 1978 horror film "Halloween," when Dr. Loomis thinks he has gunned down inexorable slasher Michael Myers, knocking him through a second-story window into the yard below? Only when he looks down after consoling Jamie Lee Curtis -- "Was that the boogeyman?" she asks -- he sees ... nothing.
Cue eerie piano music.
Now substitute the Pac-12 and college football nation for Curtis, the NCAA for Dr. Loomis and the Oregon Duck for Myers.
Cue eerie piano music.
After the NCAA ruled on Oregon's infractions case Wednesday, we now know the Ducks' football program is alive and well, as its penalties were relatively minor and included no postseason ban. That favorable verdict essentially announced the Ducks as national title contenders in 2013 ... again.
[+] Enlarge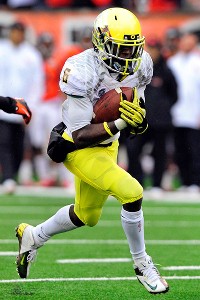 Steve Dykes/Getty ImagesDe'Anthony Thomas is one of many reasons the Ducks are considered contenders in 2013.
The Ducks are not only alive, saddled with a single scholarship deduction the next two years after already surrendering one last season, but their recruiting might actually improve. That's despite a handful of restrictions handed down by the NCAA, including a reduction in official visits and evaluation days.
For the past two-plus years, Oregon has recruited under a cloud of uncertainty. A-list recruits who followed the news would know that the NCAA was investigating the program, which brought into play the specter of a potential postseason ban and crippling scholarship reductions. Those, a recruit might reason, could make a college career less enjoyable. And if those recruits didn't follow the news and know of that dark cloud over Eugene, other schools competing for the affections of those said recruits would make sure to let them know.
As in a rival recruiter noting: "Hey, I know Oregon is on a roll, but look at how USC fell after the NCAA did its thing. Do you really want to play for a team that's on the slide, one that might not be able to play in bowl games while you are there?"
That was the sort of thing Oregon athletic director Rob Mullens was referring to Wednesday when he talked of Ducks football coaches battling "plenty of negative recruiting" during the 27-month investigation.
Oregon's latest recruiting class from February ranked 26th, fairly low for a team that had finished ranked in the top five three consecutive years. It was 18th the year before and 14th in 2011, the latter class being signed before news of the Willie Lyles inquiry broke.
It's fair to assume that the NCAA ruling might ease some worries among top recruits who were uncertain if they wanted to give Oregon a serious look. And if Oregon rolls this fall under new coach Mark Helfrich, that would ease concerns about the post-Chip Kelly transition.
That latter point is all Oregon can ask for after this NCAA ordeal: to be judged for the program itself and what it does on the field.
The program that Kelly left behind, by the way, looks pretty salty, and we're not going to even mention a new, blingy football operations center that is a further upgrade for already sparkling facilities.
The Ducks, who welcome back 15 starting position players from a team that finished 12-1 and ranked No. 2 in the nation behind Alabama, are laden with star power on both sides of the ball.
On offense, there's quarterback
Marcus Mariota
, a Heisman Trophy candidate, and running back/receiver
De'Anthony Thomas
, also a Heisman candidate. Three starters are back on the offensive line, and each is an All-Pac-12 candidate.
Josh Huff
leads a solid crew of receivers, including multitalented tight end
Colt Lyerla
.
The defensive line is big, athletic and deep. The secondary is among the nation's best, with the elite cornerback tandem of
Ifo Ekpre-Olomu
and
Terrance Mitchell
.
Questions? Linebacker, kicker and running back depth. And, of course, the coaching transition.
Yet that transition doesn't seem so big when you consider that eight of nine assistants are back from a staff that has been notable for its continuity. Helfrich knows his team and its culture, and he intends to maintain the vast majority of the practices, principles and routines that have become the foundation of a four-year run of 46-7.
Kelly's promotion from offensive coordinator worked out well, just as the promotion of Mike Bellotti from offensive coordinator did before him.
The Oregon juggernaut showed no signs of abating on the field, so many were eager to see the NCAA defenestrate it, a la Dr. Loomis.
But the Duck got up after the NCAA ruling, set its bill into an evil grin and let out an eerie, "Quaaaaack!" And it's a lot quicker than Michael Myers.
January, 16, 2013
1/16/13
7:30
PM ET
All indications are that Mark Helfrich will be promoted from Oregon's offensive coordinator to head coach, but athletic director Rob Mullens isn't showing his cards just yet.
During a news conference Wednesday after Chip Kelly suddenly decided to reverse course and take over the Philadelphia Eagles after saying Jan. 7 he would stay in Eugene, Mullens said there will be a full-on coaching search, meaning he will adhere to university policies and procedures as well as a state law that requires him to interview at least one minority candidate.

"We don't have a leader in the clubhouse," he said. "We will be interviewing multiple candidates."
Just don't bet against Helfrich getting the job.
Mullens admitted that he was as shocked as many fans about Kelly's reconsideration of the Eagles. Mullens said Kelly called him at 7:15 a.m. Wednesday to tell him of his change of heart.
"He said, 'I've thought long and hard over the last 10 days and I'm going to take the Eagles opportunity,'" Mullens said. "He said he's always been intrigued by the challenge of the NFL and this was the right time, and he didn't know if there would be another opportunity like this and he felt like he needed to do it."
Mullens said his impression was that Kelly simply had a change of heart since Jan. 7 and that Kelly had not engaged in a second, secret round of negotiations with the Eagles.
Mullens said the "timing was less than ideal," but he wouldn't be rushed into making a hire.
As for the popular idea among Oregon rivals that Kelly is leaving to escape NCAA sanctions, Mullens said, "I don't think that was a factor in his decision."
It was reported in mid-December that Oregon will have a
hearing in front of the NCAA committee on infractions
, likely this spring, after it failed to obtain a summary disposition from the NCAA for the investigation of the school's use of scout Willie Lyles. The odds that something new happened in that investigation between then and now are close to zero. That inquiry is in the exact same place it was on Jan. 7, when Kelly wanted to stay in Eugene.
Mullens seemed a bit frustrated with how things went down, but obviously Kelly's unprecedented success made the specter of other opportunities luring him away an annual reality for the program.
"Hey, it is what it is. We're here, moving forward," Mullens said. "We're not going to worry about what happened. He made a decision that was best for him. We wish him well. He's been great for Oregon football, and we're moving on."
January, 2, 2013
1/02/13
11:20
AM ET
SCOTTSDALE, Ariz. -- The overwhelming sentiment at the Tostitos Fiesta Bowl is the game will be Chip Kelly's last as the Oregon head coach before he fills one of the seven new NFL vacancies. If that is so, the equally overwhelming sentiment is that offensive coordinator Mark Helfrich will step into Kelly's spot atop the program.
Kelly, clearly anticipating the NFL questions, has fought off all inquires on the matter by saying he is only focused on the Fiesta Bowl on Thursday. He has emphasized that the NFL talk is not a distraction to him or his team, and that he and his players have not addressed it.
His players have been on message, too.
[+] Enlarge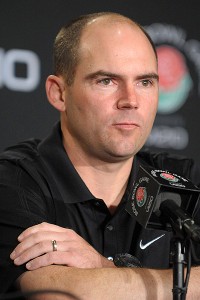 Kirby Lee/Image of Sport/USA TODAY SportsMark Helfrich was a quarterback coach at Boise State, Arizona State and Colorado, before joining Oregon in 2009.
Said linebacker
Michael Clay
: "He doesn't talk about it. No body talks about it."
And offensive lineman
Kyle Long
: "There isn't really a lot of talk about that. You can control what you can control. What we can control is our attitude, our effort and our preparation."
And quarterback
Marcus Mariota
: "Whatever happens, happens. Coach Kelly will make a decision that is best suited for him. Whatever he does, this team will support him."
And center
Hroniss Grasu
: "He's our head coach right now. That's the only way I can look at it. I will play for whoever is our head coach right now. Right now, it's Coach Kelly. I won't look too far ahead."
As for Helfrich, he also is staking out a "wait-and-see" position: "I don't think [Kelly leaving for the NFL is] a slam-dunk like everyone else does. I hope he stays at Oregon forever," he said.
It's important to note there have been no concrete reports of contact with NFL teams, and Oregon athletic director Rob Mullens said he's received no courtesy calls from an interested NFL team. It's plausible -- and very, very Chip Kelly -- that Kelly's non-denials emerge from his enjoyment in making the media awkwardly tap dance in front of him.
Still, if Kelly's departure is just days away, it is reasonable to get an early measure of Helfrich, who has been a quarterback coach at Boise State, Arizona State and Colorado -- he was the Buffs' offensive coordinator, too -- before Kelly hired him in 2009.
"He's really smart, really intelligent," Kelly said of why he made Helfrich his first offensive coordinator. "He brought a different perspective to our staff, because he had a different background. He wasn't a spread guy. I wanted to bring someone in who wasn't going to tell us what we already knew."
When asked what advice he'd give to Helfrich if he became a head coach, Kelly said he'd give him the same advice Rich Brooks gave Mike Bellotti and Bellotti gave him: "Be yourself. You can't be someone else."
Which is interesting in itself, because Helfrich is different than Kelly. Very different.
"Coach Kelly is the yin and he's the yang," Ducks senior running back
Kenjon Barner
said. "Coach Kelly is on you. He knows what he wants and he's going to get it out of you. Coach Helf is kind of that guy who brings you along smoothly, rather than rough. Good cop, bad cop. Sometimes they switch roles."
That said, continuity is a big reason to promote Helfrich. Oregon has a team culture, system of practicing and schemes on both sides of the ball that have been working fabulously over the past four years with Kelly. Helfrich wouldn't be expected to change much. Further, he'd likely be able to retain some of the Ducks' staff because Kelly probably will need to hire veteran NFL coaches to offset his lack of professional experience.
Still, Helfrich, as Kelly would advise, is unlikely to transform into a Kelly clone. He's worked with a number of successful coaches, so he'd likely put his own stamp on existing systems.
"You take a little bit of everybody with you," Helfrich said. "I've learned a ton from Chip."
While some players seemed -- for obvious reasons -- uncomfortable with the topic, there was a strong undercurrent of support for Helfrich, and not just with offensive players.
"He's a great guy and knows what he's doing," linebacker Michael Clay said. "Everyone respects him on the team and around the league. I think he'd do a great job as a head coach."
Helfrich is certain to be a head coach at some point. The big question to be answered after the Fiesta Bowl is whether that ascension is just days away.
Pac-12 Teams Can Load Up At WR
PAC-12 SCOREBOARD
Thursday, 9/3
Friday, 9/4
Saturday, 9/5