Oregon Ducks:

Philadelphia Eagles
January, 17, 2014
1/17/14
5:30
PM ET
Happy Friday. This is the Mailbag.
Follow the Pac-12 blog on Twitter
. It makes trolling SO MUCH EASIER!
To the notes!
(Two exclamation points and we haven't even started! Wait … three!)
Eric from Hollywoodland, Calif., writes:
I understand that the Pac-12 won a pretty major NFL draft battle in keeping the marquee QBs (Hundley, Mariota, Mannion and oft unmentioned Kelly), but why is one of the prevailing storylines STILL "SEC SO GOOD. SEC LOSES SO MANY PLAYER EARLY. ONLY SEC CAN RECOVER FROM SUCH LOSS??" Correct me if I'm wrong, but my Pac-12 educated brain tells me that
12 teams losing 25 players
(2.083/team) might be even worse
than 14 teams losing 28 players
(2/team), right?
Ted Miller
: Well, the SEC lost 32 players last year and the Pac-12 lost only 10.
And then the NFL draft happened
-- 63 SEC draft picks vs. 28 for Pac-12 -- which, by the way, became the grounds for the Pac-12 blog believing the
SEC might slide in 2013 while the Pac-12 might rise
.
My feeling is the Pac-12 will do well in this year's draft, probably finishing a respectable distance behind the SEC. But it's a pretty clear recent trend that the SEC provides the most talent to the NFL among the major conferences.
However, it's also notable that the Pac-12's
2013 NFL rookie class was pretty darn salty
, with former Oregon Ducks LB Kiko Alonso and California WR Keenan Allen being named defensive and offensive Rookies of the Year, and a number of other former conference standouts making a significant mark.
---
Erik from Portland writes:
With [Steve] Sarkisian talking about USC going to an uptempo attack, shouldn't there be concern about whether or not the defense will be able to hold up? Aliotti alternated players constantly to keep them fresh. SC doesn't have the numbers or depth at any position (especially DL and LB) to do that.
Ted Miller
: It will be a concern. It's simple math: Uptempo offenses possess the ball for shorter periods of time, which means more plays for your defense. More plays for your defense means more tired players if you aren't regularly shuffling in quality backups. USC doesn't have a lot in the way of quality backups.
One of the more impressive things about USC's defense under Clancy Pendergast this year was it attained some outstanding numbers while pretty much playing only 13 guys regularly.
Will the Trojans be deeper on defense next year? Perhaps, but only slightly so. Bottom line: Because of NCAA scholarship sanctions, USC will have no more than 72 players on scholarship in 2014, which is 13 fewer bodies than other teams are permitted.
But guess what? Sarkisian knows this. And he's a smart guy. I suspect he will pick his moments and not go all-in. I'm fairly certain USC won't be 100 percent no-huddle, uptempo next fall, particularly with a lead. I think his goal will be to control the tempo and find times to get an opposing defense off balance.
Of course, Sarkisian's desire to adopt an uptempo offense at USC is a long-term plan, at least until his philosophy changes considering this was his first year going that way. This is USC's last recruiting class that will be limited. So, starting in 2015, there should be more fresh body reinforcements.
---
Gee from Seattle writes:
Can the SEC or any other conference put three or even four teams in the playoff next year? If so, how did this come about? Shouldn't the system allow for at least three conference champions and perhaps one at large?
Ted Miller
: There are no limits on teams per conference in the four-team playoff, nor are there specific requirements for selection. The goal of the selection committee will be to pick the four best teams. Not the most deserving -- the four best.
So, yes, if a consensus from the committee is that three -- or four! -- of the best teams in the nation come from the SEC or any other conference, they will be selected.
But know that the committee also won't be eager to do that. For one, if you pick, say, three SEC teams, there's the possibility of rematches, which the committee will know fans don't like to see -- see the unpopular LSU-Alabama national title game after the 2011 season.
My guess is we're probably going to see plenty of four-team playoffs with two teams from once conference, most likely the SEC, but three will be highly unlikely.
---
Scott from Homewood, Calif., writes:
Ted, was wondering about
your final top 25 poll
. Aren't you getting away from your stance of "strength of schedule should mean something" by putting Clemson so high and ahead of Stanford? Yes, Clemson won their last game against a good Ohio State team and Stanford lost their last game to a better Michigan State team. When you look at the schedules, though, they are worlds apart. Name another ranked team that Clemson beat. There are 0 such wins. Stanford beat six ranked teams. Clemson got beat by double digits in its two losses. Stanford lost their three games by single scores and two were against ranked teams. Do you really think Clemson would win on a neutral field, and if you were on the playoff committee, would you really slot Clemson ahead of Stanford looking at the seasons of both teams?
Ted Miller
: I see your point. I do almost always prioritize quality wins.
The combination of a head-to-head win and strength-of-schedule is why I ranked Stanford ahead of Oregon in my final poll, even though this didn't happen in either the AP or coaches poll. The Cardinal had a lot more quality wins than Oregon, including the best one -- the Ducks themselves.
But you asked about Clemson.
Part of my ranking Clemson sixth is pretty simple: My final position on Clemson is it was an elite team in 2013. It was the same justification I used earlier in the year to rank Oregon No. 2, even though the Ducks didn't post a quality victory until winning at Washington on Oct. 12.
Now, I didn't give Clemson the benefit of the doubt much of the season. I had them ranked 13th heading into the bowl games. I jumped them up because I consider the win over Ohio State impressive.
Clemson lost two games by decisive margins, yes, but they were to Florida State, which won the national title, and South Carolina, which finished ranked fourth. Further, I watched the South Carolina game, and it was a lot closer than the deceiving final score. Clemson seemed like the better team, outgaining the Gamecocks, but it lost the turnover battle 6-0.
6-0! I bet Tigers fans were ripping their eyes out watching that.
Further, Clemson beat Georgia while Georgia was still Georgia -- fifth-ranked and an elite team that hadn't yet suffered epidemic injuries. Georgia beat South Carolina the week after losing to Clemson.
Clemson, by the way, has now beaten two top-10 teams in a row in bowl games: LSU in 2012 and Ohio State this year.
(If I had a quibble with my own ballot, in fact, it would be that I ranked Clemson sixth and Oklahoma seventh. At the time I put the ballot together, I considered Oklahoma's losses worse -- Texas and Baylor -- and the Sooners' best win -- Oklahoma State -- was devalued when the Cowboys lost to Missouri in the Cotton Bowl. I could go either way on that, because the Sooners beating Alabama in the Sugar Bowl was very impressive.)
---

Kevin from Orange County, Calif., writes:
Regarding the Wazzu meltdown in their bowl game, why not mention the Stanford/UCLA game? Around two minutes left in the game, Stanford up 17-10 and inside UCLA 10-yard line and UCLA with no timeouts. ... Instead of going to the knee three straight times and guaranteeing a win, Shaw decides to run and try to score. The only way UCLA has a chance is a Stanford turnover or Stanford scores quickly and gives UCLA enough time to score themselves and get an onside kick (UCLA/Utah situation at the end of game). My point is why is Shaw getting a pass for his stupid play-calling at the end of that game if Wazzu is second-guessed?
Only difference seems to be that Stanford won and Wazzu lost.
Ted Miller
: You might have guessed this, but the bold and italics for the final sentence were supplied by me.
It is true. When a strategy works, it rarely gets criticized. And when it fails, it does.
Remember Chip Kelly's shocking onside kick early in the second quarter against Stanford in 2010, with the Cardinal leading 21-10? It was a game-changing moment. It was pure genius.
And we would have thought Kelly had lost his mind if Stanford had recovered and then driven for a 28-10 lead. We would have typed, "Just as Oregon seemed to have gained momentum after a terrible start, Kelly tried to get too fancy and he handed the game to Andrew Luck and Stanford. It's clear that Kelly is in over his head as a head coach and is never, ever, ever going to be successful."
Well, the last part was just me pouring it on.
Also, understand that the Pac-12 blog's consternation over the end game wasn't just about clock management. It was about yielding a 22-point lead, playing horrendous fourth-quarter defense and coughing up the ball two times in the final two minutes.
It was a total package of meltdown.
---
Eric from Culver City, Calif., writes:
Am I a bad person for finding these Chip Kelly quotes hilarious
? Do media folk find him condescending, or is there a small amount of joy in getting slammed by a master? I mean, who wouldn't want to get insulted by Don Rickles?
Ted Miller
: Some might find him condescending, but my feeling is most reporters enjoyed working with Kelly.
Yes, he could be biting. But typically he was biting when someone asked him either: 1. A stupid question; 2. A question that he didn't want to answer. Asking the latter is often part of the reporter's job, and the truth is a biting answer is more fun than him saying, "No comment."
Further, most of his best quips aren't biting. They're him having fun. News conferences with NFL coaches are typically drab affairs. Any added color is appreciated.
As in, "This team is not going to fall for the banana-in-the-tailpipe trick."
Erroneous!
It seemed New Orleans stuck a banana in the Eagles' tailpipe.
April, 16, 2013
4/16/13
8:00
AM ET
Oregon and the NCAA agree: The football program
committed major violations
in connection to the Willie Lyles case, The Oregonian and Portland, Ore., television station KATU reported Monday.

The disagreement, however, that prevented Oregon and the NCAA from reaching a summary judgment is this, from The Oregonian:
Oregon and the NCAA, however, reached an impasse late in 2012 while attempting to agree on the severity of one violation concerning the Ducks' $25,000 payment to Texas-based talent scout Willie Lyles. The Ducks believe the impermissible "oral reports" delivered from Lyles constitute a secondary violation; NCAA enforcement officials believe them to be another "major violation."
It makes sense that's at issue, although the Pac-12 blog is of the mind that this impasse was more about the NCAA's committee on infractions (COI), which demanded a hearing, than the NCAA's enforcement staff, which seemed to be in accord with Oregon.
The strength of Oregon's position is the way the NCAA reacted to other recent cases, as well as the gray area with NCAA rules on recruiting services.
The strength of the NCAA's position is that it can do what it wants, then justify it after the fact, such as when
former Miami athletic director
Paul Dee said about USC's Reggie Bush, "High-profile athletes require high-profile compliance," which he just spun together for reporters because it doesn't exist in the NCAA rulebook.
Still, there is good news for Oregon from these reports, and it might be more important than what led the story:
However, the documents also state NCAA enforcement staff said they had "no finding of lack of institutional control and no finding of unethical conduct," key points when it comes time for punishment to be considered, KATU reported. Oregon is expected to appear before the NCAA's committee on infractions sometime this year.
"Lack of institutional control" and "unethical conduct" are the killers when it comes to penalties. Those quash postseasons and handfuls of scholarships. Of course, these documents are dated, so it's possible, if unlikely, the COI could up the ante.
Further, Oregon's case is probably helped by the program's big news this year: The departure of coach Chip Kelly to the Philadelphia Eagles.
Violations connected to Lyles came on Kelly's watch. He's gone. That should soften the eventual blow to some extent.
To show you the university's thinking, it "proposed to self-impose a two-year probation for the football program and a reduction of one scholarship for each of the next three seasons."
It wanted to be whipped by a wet noodle three times.
Yet even if you doubled that -- four years of probation and two scholarships for each of the next three seasons -- you're not talking about a major hit to the program. Signing just 23 and maxing out at 83 scholarships for the next three years won't knock the Ducks out of the nation's top 10.
April, 3, 2013
4/03/13
2:30
PM ET
Chip Kelly isn't terribly big. He's not notably loud, either. Nor is he typically expansive. Who he is, however, is -- was! -- the presence most often cited as transforming Oregon's football program from good to great. So his absence from the Ducks' first spring practice Tuesday was impossible to ignore.
Yet it's a tribute to the culture Kelly sought to create that it appears his players did a pretty darn good job of doing just that. Mostly.
"At first, a lot of the guys were talking about it," quarterback
Marcus Mariota
said. "It's a little different. But by the end of practice, it was good. Kind of the same. Once we got rolling, it was the same old game of football."
New coach Mark Helfrich, who was promoted from offensive coordinator, admitted to reporters that his first practice sans Kelly was "weird, at points." But Oregon moves too fast to stop for navel-gazing. It's "next man in" when a player or coach leaves or goes down, and so it will be for the beginning of the Helfrich era.
[+] Enlarge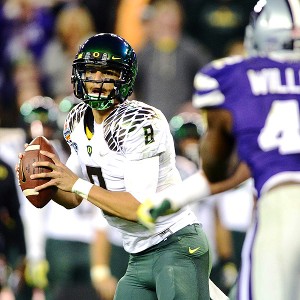 Mark J. Rebilas/USA TODAY SportsAs a redshirt freshman, Marcus Mariota quarterbacked high-flying Oregon to a No. 2 final ranking.
Without a doubt, the transition from Kelly to Helfrich is the point A of the Ducks' 2013 story. There's no question about point B, either: Mariota.
Somewhat lost in the regional shuffle of the Kelly-to-the-NFL talk and the national hullabaloo over Texas A&M's
Johnny Manziel
's brilliant Heisman Trophy season was Mariota's extraordinary performance as the Ducks' redshirt freshman starter.
Mariota was in the cockpit for a team that finished ranked No. 2 in the nation after whipping Kansas State in the Fiesta Bowl. He piloted an offense that ranked second in the nation in scoring (49.5 points per game) and was fifth in total offense (537.4 yards per game).
Individually, he ranked first in the Pac-12 and seventh in the nation in passing efficiency. In the Conference of Quarterbacks, he earned first-team All-Pac-12 honors after completing 68.5 percent of his throws for 2,677 yards with 32 touchdowns and six interceptions. He also rushed for 752 yards and five touchdowns, averaging 7.1 yards per carry.
He also got better as the year went along, despite the competition being decidedly tougher. As Rob Moseley of the Eugene Register-Guard
pointed out
, "[Mariota] had 11 touchdowns, four interceptions and a 152.74 rating in the first month of the season, and 21 touchdowns, two interceptions and a 171.10 rating after that."
That efficiency number would have ranked third in the nation. Further, keep in mind that Oregon's tendency to stomp opponents into submission by halftime meant Mariota was either on the bench or handing off during most fourth quarters.
While Mariota isn't the only reason many see the Ducks as national title contenders again in 2013, despite Kelly's departure, he is the biggest. The 6-foot-4, 211-pound Honolulu native is a seemingly unflappable player who combines A-list speed with notable passing accuracy.
There is little Mariota didn't do well in 2012, so the idea of him improving can foster many pleasant thoughts among Ducks fans. And there are areas in which he can improve. Mariota said his offseason focus has been footwork. New offensive coordinator Scott Frost, promoted from receivers coach, believes Mariota's established strengths can become even stronger.
"I think we can clean some things up and be even more efficient," Frost said. "There are some things we want to tweak to help him have more of an opportunity to impact the game. We wouldn't trade him for anybody. We think he can do some amazing things and win a lot of games. We're going to feature him as much as we can."
With the Ducks welcoming back their entire cast of receivers and being questionable at running back, it's almost certain Mariota will throw more next season. That will mean more opportunities for him to put up big numbers. If he hangs up impressive stats while the Ducks continue to roll up wins, Mariota will gain the esteem of Heisman Trophy voters.
Mariota, the Fiesta Bowl MVP, isn't a guy who seeks out the spotlight, but he also doesn't seem to be afraid of it.
"My parents raised me to handle whatever comes at you," he said. "I'm looking forward to it."
Then he added, "I'm really looking forward to spring practices."
That sounds very Chip Kelly. Or maybe we now should say that it sounds very Oregon.
March, 4, 2013
3/04/13
10:41
AM ET
On Jan. 4, Oregon, fresh off its second consecutive BCS bowl victory, was at an all-time high. Then, while riding that wave of emotion, it watched Chip Kelly transformed into Hamlet -- "To go or not to go, that is the question..."
Kelly was certain to leave for the NFL before he wasn't. And then -- poof -- he was gone, off to coach the Philadelphia Eagles. Hey, a guy can change his mind.
If Kelly had stayed, the big spring and fall question for the Ducks was what do they need to do to make the proverbial next step. Seeing that they had finished ranked No. 2 in 2012 and played for a national title in 2010, the singular step that needed to be taken was winning a national championship.
[+] Enlarge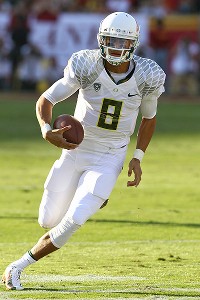 AP Photo/Bruce SchwartzmanEven with Chip Kelly's departure, the Oregon Ducks are still in pretty good shape with talented starting quarterback Marcus Mariota.
Kelly knew this and thought about it a lot, though that's not the sort of thing he'd admit. While Kelly always preached laser-like focus on the task at hand, let's just say that he didn't turn away from a TV set when Alabama was playing. He knew the team -- and the conference -- that needed to be overcome.
Now, with Kelly cracking wise at reporters on the East Coast, the question becomes slightly less ambitious and more general for the Ducks, who open spring practices on April 2: Can new coach Mark Helfrich & Co. sustain what Kelly built?
Of course, anybody who has paid more than passing attention to the Ducks of recent vintages knows exactly the three-word phrase that will meet all such inquiries: Next man in.
The program is -- wisely, most believe -- following a formula that has worked before. Rich Brooks begat Mike Bellotti, who begat Kelly, who begat Helfrich. That pattern would seem to position well new offensive coordinator Scott Frost, who was elevated from receivers coach. Bellotti, Kelly and Helfrich each was the Ducks' offensive coordinator when he was promoted to the corner office.
Still Frost, who knew how things would fall if Kelly bolted, felt an ambivalence during Kelly's NFL flirtation and eventual elopement.
"It was just an interesting ride," Frost said. "I think all of us were a little bit torn on the whole thing. We've had such a great amount of success here that part of us didn't want to see anything change. We wanted to keep it status quo and see how long we could do this thing. Everybody loved Chip and how the program was running. But at the same time, change is inevitable, and it's given me and some other guys more opportunity and responsibility."
The hand Helfrich and Frost inherited is pretty darn strong. The Ducks have 16 starters returning from a 12-1 team, including eight from an offense that ranked second in the nation -- first among AQ conference teams -- with 49.5 points per game. Topping that list of returning starters is quarterback
Marcus Mariota
, a short-list Heisman Trophy candidate.
Still, it's not unreasonable to think some players might be shaken at Kelly's departure. After all, he had a pretty big personality.
"During our time here, we've lost players people didn't think we could replace and our message has always been it's the next man up. Do the job," Frost said. "It would have been hypocritical of us not to treat [Kelly leaving] the same way. We're approaching it the same way we ask the players to approach it when we lose a key piece. Step up, do your job and go forward 100 miles an hour."
Along that very line, Helfrich and Frost well know that one of their chief tasks is sustaining the culture around the program. While the coaches need to be themselves and not try to ape Kelly, it does help that Kelly took only one full-time assistant with him to Philly -- D-line coach Jerry Azzinaro. There's plenty of continuity, both in terms of scheme and the day-to-day operation, procedures and philosophies of the program.
"The culture is already built," Frost said. "It isn't like we have to start from the bottom. We're excited about that. We'd be fools to try to change much at all because of the success we've had."
The same goes for Frost now coaching quarterbacks. It's long been a position of strength for the Ducks, and Mariota might be the most talented player the Ducks have ever had at the position, at least since Joey Harrington, circa Y2K. There was little Mariota didn't do well in 2012, when he earned first-team All-Pac-12 honors as a redshirt freshman, ranking seventh in the nation in passing efficiency.
"I think we can clean some things up and be even more efficient," Frost said. "There are some things we want to tweak to help him have more of an opportunity to impact the game. We wouldn't trade him for anybody. We think he can do some amazing things and win a lot of games. We're going to feature him as much as we can."
The Ducks' offense under Frost won't change, but it will evolve. For one, there's good reason to believe Oregon will throw more in 2013, with Mariota and his entire cast of receivers back.
And, as good as the offense was last fall, it did have a bad game -- a 17-14 home loss to Stanford.
"I give Stanford credit," Frost said. "That game kept us out of the national championship game. There's always room to fix things and get better."
Oregon's improvement on defense -- a combination of scheme and talent -- has bolstered it as a national contender. The question that looms among Oregon skeptics is whether the Ducks' offense can roll up big numbers against a big, fast and well-prepared defense. Like Stanford. Like Alabama.
To find out, the Ducks first need to solve Stanford, a team they'd taken to the cleaners the previous two years.
The word in Eugene, post-Kelly, Spring I? Change is good. Of course, there are plenty of things many are going to miss with Kelly no longer around.
Offered Frost: "I could make some sarcastic remarks to you if you want me to."
January, 24, 2013
1/24/13
5:30
PM ET
Before we focus forward, we're going to look back with team-by-team season reviews.
We continue today in reverse alphabetical order.
OREGON (12-1, 8-1)
Grade
: A

MVP
: Quarterback
Marcus Mariota
went from being the Ducks' biggest preseason question to first-team All-Pac-12. He ranked first in the conference and seventh in the nation in passing efficiency, completing 68.5 percent of his throws for 2,677 yards with 32 TDs and just six interceptions. He also rushed for 752 yards and five TDs, averaging 7.1 yards per carry.
What went right
: A lot. When a team finishes ranked No. 2 in both major polls, tying the school's best-ever final ranking, it's difficult to cast things in a gloomy light. The only way to have done any better was to win the national championship. The Ducks were dominant on both sides of the ball, ranking second in the nation in scoring offense (49.54 ppg) and 25th in scoring defense (21.62 ppg). Most games were over at halftime. Other than the lone loss to Stanford, no team was within 11 points of the Ducks. In fact, eight of 12 foes went down by at least three TDs. The Ducks vanquished their top rivals, Oregon State and Washington, in dominant fashion, and won a second consecutive BCS bowl game, this time topping a top-five Kansas State team decisively, 35-17, in the Fiesta Bowl. What went right? Just about everything, other than ...
What went wrong:
Nov. 17. That's the evening Stanford went into Autzen Stadium and shut down the Ducks' previously unstoppable offense in a 17-14 overtime win. There were plenty of "what ifs?" in that game. What if
De'Anthony Thomas
turned around and provided a chip block on
Devon Carrington
, which would have turned a 77-yard Mariota run to the Stanford 15-yard line into an early TD? What if the officials had ruled
Zach Ertz
didn't have control of that 10-yard pass that tied the game at 14-14 with 1:35 to go? What if kicker
Alejandro Maldonado
hadn't missed a 41-yard field goal in overtime that set Stanford up for the easy winner? That loss did two things to the Ducks' season: 1. It made Stanford the North Division and the Pac-12 champion; 2. It prevented the Ducks from playing Notre Dame for the national championship, a game that most figure the Ducks would have won fairly easily. So, as good as the season was, there are some regrets. Oh, and Chip Kelly bolting to the Philadelphia Eagles is probably a downer for many fans.
2013 outlook
: The Ducks have 15 position player starters coming back. By every early account, this team will be ranked in the preseason top-five. So Oregon will begin Year 1 under new coach Mark Helfrich as a national title contender. Again. If Mariota improves, which is typically something you'd assume a guy would do as a second-year starter, he will become a leading Heisman Trophy candidate. His offense will have plenty of other weapons, including Thomas (running back/receiver), receiver
Josh Huff
and tight end
Colt Lyerla
. Three starters are back on the offensive line, including both tackles and All-Pac-12 center
Hroniss Grasu
. The biggest question is replacing running back
Kenjon Barner
. The defense has a few holes. It loses defensive end
Dion Jordan
and linebackers
Michael Clay
and
Kiko Alonso
, but the entire two-deep in the secondary is back and there's plenty of experience on the defensive front. The big issue is replacing Clay and Alonso, an elite tandem. It also might help to figure things out at kicker. The schedule is forgiving. The Ducks probably will be favored in every game they play. The redletter date, of course, is at Stanford on Thursday, Nov. 7. That game could have national title implications. Expectations will be extremely hire in Year 1 for Helfrich.
January, 19, 2013
1/19/13
6:00
AM ET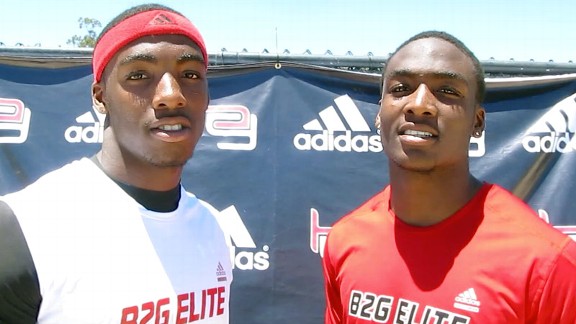 Blair Angulo/WeAreSC.comSan Diego twins Tyree Robinson (left) and Tyrell Robinson are on an official visit to USC this weekend.
There is a silver lining in most situations -- sometimes you just have to take a step back and look around. For the Oregon Ducks and their fans, it has been hard to find that since head coach Chip Kelly and assistant coach Jerry Azzinaro left for the Philadelphia Eagles.
January, 16, 2013
1/16/13
7:30
PM ET
All indications are that Mark Helfrich will be promoted from Oregon's offensive coordinator to head coach, but athletic director Rob Mullens isn't showing his cards just yet.
During a news conference Wednesday after Chip Kelly suddenly decided to reverse course and take over the Philadelphia Eagles after saying Jan. 7 he would stay in Eugene, Mullens said there will be a full-on coaching search, meaning he will adhere to university policies and procedures as well as a state law that requires him to interview at least one minority candidate.

"We don't have a leader in the clubhouse," he said. "We will be interviewing multiple candidates."
Just don't bet against Helfrich getting the job.
Mullens admitted that he was as shocked as many fans about Kelly's reconsideration of the Eagles. Mullens said Kelly called him at 7:15 a.m. Wednesday to tell him of his change of heart.
"He said, 'I've thought long and hard over the last 10 days and I'm going to take the Eagles opportunity,'" Mullens said. "He said he's always been intrigued by the challenge of the NFL and this was the right time, and he didn't know if there would be another opportunity like this and he felt like he needed to do it."
Mullens said his impression was that Kelly simply had a change of heart since Jan. 7 and that Kelly had not engaged in a second, secret round of negotiations with the Eagles.
Mullens said the "timing was less than ideal," but he wouldn't be rushed into making a hire.
As for the popular idea among Oregon rivals that Kelly is leaving to escape NCAA sanctions, Mullens said, "I don't think that was a factor in his decision."
It was reported in mid-December that Oregon will have a
hearing in front of the NCAA committee on infractions
, likely this spring, after it failed to obtain a summary disposition from the NCAA for the investigation of the school's use of scout Willie Lyles. The odds that something new happened in that investigation between then and now are close to zero. That inquiry is in the exact same place it was on Jan. 7, when Kelly wanted to stay in Eugene.
Mullens seemed a bit frustrated with how things went down, but obviously Kelly's unprecedented success made the specter of other opportunities luring him away an annual reality for the program.
"Hey, it is what it is. We're here, moving forward," Mullens said. "We're not going to worry about what happened. He made a decision that was best for him. We wish him well. He's been great for Oregon football, and we're moving on."
January, 16, 2013
1/16/13
1:00
PM ET
Chip Kelly is not one to do things the conventional way, even leaving Oregon for the Philadelphia Eagles. He plays football by a different tempo and he lives by a different tempo. When you think he will zig, he zags. And he has a flair for the dramatic.
The big news on Jan. 7 was that Kelly had
turned down his NFL suitors
, including the Eagles. He didn't feel the need to comment then, which might be telling as to his reversal of course that would send shock waves across the Pac-12 and college football less than 10 days later.
Kelly went for the double shocker. It was shocking to learn he had decided to stay at Oregon after a flurry of interviews following a Fiesta Bowl victory over Kansas State. And now, three weeks before national signing day, it's shocking that ESPN's Chris Mortensen broke the news of his departure to the Eagles.
[+] Enlarge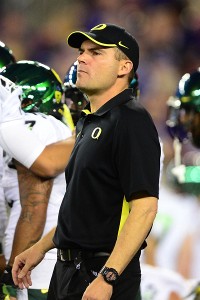 Mark J. Rebilas/USA TODAY Sports Ducks offensive coordinator Mark Helfrich, the heir apparent to Chip Kelly, doesn't have head-coaching experience.
Every indication
is that offensive coordinator Mark Helfrich will be promoted to replace Kelly after the school negotiates some bureaucratic hiring hoops, as Oregon has a state law requiring public universities to interview at least one minority candidate for head-coaching positions. That was the word a year ago when Kelly nearly left for the Tampa Bay Buccaneers, and
USA Today has already reported
the passing of the torch to Helfrich in the event of Kelly's departure.
Kelly was 46-7 over four seasons at Oregon, leading the Ducks on their most successful run in program history. The Ducks have played in four consecutive BCS bowl games, winning the past two, including their first Rose Bowl victory since 1917. Oregon has finished ranked in the top five for three consecutive seasons.
Kelly doesn't owe any more to Oregon. That success is enough. Fans shouldn't feel bitter or betrayed. Sure, the NCAA may shortly impose sanctions on the program over Kelly's involvement with street agent Willie Lyles. That is a black mark. But it's unlikely those penalties will be harsh enough to erase the brilliance that came before.
For Kelly, 49, this is an opportunity to test his considerable football acumen at the highest level. While he is known for his innovative, up-tempo, spread-option style of offense, know that Kelly is all about winning. He will adapt to his personnel and the differences in the NFL game. He won't, say, have his $18 million quarterback running the option 15 times a game.
And if things don't work out in the NFL, Kelly will have his pick of college jobs. It will be like Nick Saban's ill-fated tour in Miami. There's little risk for him in taking his NFL shot.
As for Oregon, there will be questions. While Helfrich will bring system and program continuity and should be able to retain a significant number of Ducks assistant coaches, including defensive coordinator Nick Aliotti, he's not Kelly, nor does he have head-coaching experience.
Helfrich has been a quarterback coach at Boise State, Arizona State and Colorado -- he was the Buffs' offensive coordinator, too -- before Kelly hired him in 2009.
"He's really smart, really intelligent," Kelly said at Fiesta Bowl media day when asked why he made Helfrich his first offensive coordinator. "He brought a different perspective to our staff, because he had a different background. He wasn't a spread guy. I wanted to bring someone in who wasn't going to tell us what we already knew."
When asked what advice he'd give to Helfrich if he became a head coach, Kelly said he'd give him the same advice former Oregon coach Rich Brooks gave Mike Bellotti and Bellotti gave him: "Be yourself. You can't be someone else."
While Helfrich has a lighter touch -- more of a polished, people person -- than Kelly, that could mean little on the field and in the locker room. The question will be whether he can command the same respect and dedication that Kelly did. Can he maintain the Ducks' "Win the day" culture that was as efficient and productive as any in the country?
After the Fiesta Bowl win, Oregon's
players were asked
about Kelly potentially leaving and Helfrich taking over. They seemed uniformly confident that Helfrich would be up to the task.
"Expect the same," All-American running back
Kenjon Barner
said. "Nothing will change."
Said offensive lineman
Kyle Long
, who is expected to be an early-round NFL draft choice this spring: "Seamless transition. [Kelly and Helfrich are] cut from the same tree. I'll tell Duck Nation right now, Coach Helfrich is a brilliant coach. Great relationships with his players and other staff members. We all love Helf."
Kelly certainly left his successor a strong hand. The Ducks welcome back 15 position-player starters next fall, including star redshirt freshman quarterback
Marcus Mariota
. When the 2012 season ended, the Ducks were widely viewed as a top-five team in 2013, perhaps as high as No. 2 behind two-time defending national champion Alabama.
While it's nice to have a good team coming back, Kelly's successor also will inherit high expectations. Ducks fans are no longer satisfied with a top-25 team that plays in a nice bowl game. They expect Pac-12 championships. They expect to compete for national titles. And more than one loss is a disappointment.
If the 2013 Ducks go 10-3, a record that was outstanding before Kelly arrived, there will be immediate grumbling.
While Oregon fans are probably wringing their hands with worry, fans of 11 other Pac-12 teams are elated, most particularly those at Oregon State and Washington, the Ducks' most bitter rivals. Kelly had built a juggernaut, even if it was toppled atop the conference this fall by Stanford. Now there is an opportunity to change the balance of power in both the Pac-12 North Division and the Northwest.
When it was reported that Kelly was returning to Oregon nine days ago (Kelly had not talked about it), college football retained its West Coast equilibrium. There seemed to be renewed clarity, at least in the short term.
His departure leaves an uncertain void. While many believe Helfrich can capably fill that void, the uncertainty will remain until toe meets leather and the Ducks continue to produce the fancy-pants, winning product that Kelly brought to Eugene.
January, 16, 2013
1/16/13
9:51
AM ET
By
RecruitingNation
| ESPN.com
Chip Kelly will be
heading to the NFL
after all, leaving Oregon to take over the Philadelphia Eagles.
January, 7, 2013
1/07/13
8:05
AM ET
Chip Kelly was gone, off to the NFL. It was Cleveland. Then Philly.
And then he wasn't
.
Kelly's second deep NFL flirtation -- recall last winter's "did-he-or-didn't-he?" with Tampa Bay -- ended with him back at Oregon, back atop the Pac-12's present superpower.
Why did Kelly stay? He has yet to comment, which is telling. He feels no need to announce no change, though he is completely aware it's major news. The Pac-12 blog believes, according to no sources whatsoever, that Kelly returned to his cavernous Eugene home Sunday and cranked up the Sinatra and sang along: "I did it myyyyyy waaaaaayyyy!"
Kelly is 46-7 overall at Oregon. He's led his team to four consecutive BCS bowl games, winning the last two. He won 12 games this year by at least 11 points. It's fair to say he's pretty good at leading a football team.
The immediate reaction in some quarters to Kelly's return -- other than surprise from just about everyone -- is that Kelly can't keep doing it like this, both with NFL folks and with Oregon.
Both sides, it is reasoned, will get tired of the fickleness. Does Kelly want to be Oregon's coach? Or does he want to be something else? He must decide!
No, he doesn't. Kelly can do what he wants as long as he keeps winning with panache. When everyone knows you are one of the best living football coaches, you can write your own ticket. Kelly could announce tomorrow that all Oregon fans will be required to change their underwear every half-hour and all underwear will be worn on the outside so Ducks officials can check, and everyone would go, "OK!"
Oregon fans might wish he'd just tell the NFL folks he's not interested, but they get over their frustration when they see he and his staff outcoach a Kansas State team that is as well coached as any in the nation.
NFL teams might get tired of being led on, but they get over that when they see the discipline, focus and offensive magic Kelly produces.
Let me make something clear: Kelly would be successful in the NFL. Of that I have almost no doubt. The analysis you keep hearing about his present systems not working in the NFL is superficial bunk. Kelly's "systems" are all about winning games. Give him Tom Brady, and Kelly would no longer call designed runs for his QB. He'd line up with three fullbacks tomorrow if that helped him win the day.
So know this, too: The NFL will be back. And Kelly is likely to talk to them. At some point, a team might foster an interview that wins Kelly over. But that hasn't happened yet and he, again, remains the Ducks coach.
As a result, Oregon's quiet recruiting season might get a bit louder. Expect some major prospects who were awaiting Kelly's plans to come a-calling.
The other layer to this is the NCAA. One of the potential harrumphs over Kelly leaving would have been expected NCAA sanctions over L'Affair de Willie Lyles. He would have looked like the second-coming of Pete Carroll, who bolted USC ahead of severe penalties.
Some might read into this Kelly's confidence that the sanctions won't be severe, and that's not unreasonable. But it also shows Kelly isn't one to run away from a potential problem. At least, not yet.
Oregon will be ranked in the preseason top five next year. It welcomes back eight starters on offense, including QB
Marcus Mariota
, a budding Heisman Trophy candidate, and seven on defense. The biggest questions are at linebacker, running back and offensive guard. If the Ducks avoid a postseason ban, they will be national title contenders. Again.
The allure of coaching that team kept Kelly in Eugene. That means nothing for 2014 and beyond. Yes, this could become an annual dance between Kelly and various suitors, one that fans breathlessly follow on Twitter -- "He's gone!" "He's staying!" -- as they learn to mock the term "sources."
It might be emotionally exhausting and generally frustrating for Ducks fans, but this is the annual tax a team pays for having a coach whom everyone else want to lead their team.
January, 3, 2013
1/03/13
11:51
PM ET
GLENDALE, Ariz. -- The
Oregon Ducks
donned new T-shirts after their
35-17 victory
over Kansas State in the Totitos Fiesta Bowl. "Won the Day" those shirts said, obviously playing off the program's mantra under Chip Kelly: Win the day.
Oregon certainly did that against the Wildcats.
Both teams ran 70 plays. Oregon gained 385 yards. Kansas State 283. Kansas State led the nation in turnover margin this year, but it lost that battle to the Ducks 2-0. The Wildcats had the second-fewest penalty yards per game in the nation this season, but they had seven flags for 57 yards versus five for 33 for the Ducks. The Wildcats were widely viewed as the nation's best on special teams this season, but they yielded a 94-yard return on the opening kickoff to
De'Anthony Thomas
and missed a field goal while the Ducks were 2-for-2.
Senior quarterback and Heisman Trophy finalist
Collin Klein
was outplayed by Ducks redshirt freshman
Marcus Mariota
.
So Oregon won the day -- night, actually -- but the use of the past tense hints at something else, of a mission accomplished and completed. That has an ominous suggestion for Oregon fans. That feeling, of course, arises from the fact that Kelly is about to interview with at least three NFL teams, according to various reports, and many believe this was his last game at Oregon.
He and Oregon won the day and now he will move on.
Kelly fought off questions about his NFL aspirations during the weeks leading up to the game, saying his entire focus was on the Fiesta Bowl. He opened up a bit after the victory, noting that he will talk to his agent David Dunn on Thursday night or Friday morning to get an update on where things stand.
"I was getting my hair cut on Wednesday and saw my name on the bottom of ESPN, which I thought was funny because I haven't talked to anyone," he said. "I'll sit down and talk with Dave. I've said I'll always listen. That's what I'll do. ... I'll listen and we'll see."
Kelly is expected to interview with the Cleveland Browns, Philadelphia Eagles and Buffalo Bills. It's possible we'll know Kelly's plans by the end of the weekend.
Ducks fans chanted "Four more years!" at the end of the game. Kelly's four years atop the program -- two Rose Bowls, a national title game and a Fiesta Bowl -- have been the most successful in program history by a wide margin. The Ducks are headed for their third consecutive top-five ranking and figure to be top-five in the 2013 preseason, whoever their coach is.
The postgame interviews focused less on the Ducks' dominant performance in all phases and more on Kelly and offensive coordinator Mark Helfrich, who is expected to replace Kelly should he leave.
Oregon players paid tribute to both.
"[Kelly] means everything," said running back
Kenjon Barner
, who gained 120 of his 143 yards in the second half. "Without him, I wouldn't be the running back that I am. Sitting with him in meeting rooms is a lot different than sitting in any other meeting room that I've ever been in because it's not just about football, it's about life. He teaches you life lessons as a man, so he means a lot to me."
But Barner also added that Helfrich is ready to take over.
"If that does happen, expect the same," he said. "Nothing will change."
Said offensive lineman
Kyle Long
: "Seamless transition. They're cut from the same tree. I'll tell Duck Nation right now, Coach Helfrich is a brilliant coach. Great relationships with his players and other staff members. We all love Helf."
Said Helfrich about potentially becoming the Ducks coach: "We'll cross that bridge. ... Whatever happens, happens."
Helfrich coaches the Ducks quarterbacks, and his star pupil had another great game. Mariota, who won game MVP honors, completed 12 of 24 passes for 166 yards and two touchdowns with no interceptions. He also rushed eight times for 62 yards and a score.
"He's a great young player," said Kansas State linebacker
Arthur Brown
, an All-America. "He has a bright future."
Both these teams suffered their only regular-season loss on Nov. 17. The Ducks lost in overtime to Stanford, which won the Rose Bowl. Alabama also has one loss, but it's playing unbeaten No. 1 Notre Dame for the national title. Kelly was asked where he thought his team ranked.
"I don't know," he said. "I don't have a vote. I don't want a vote. This is my favorite team, so I vote us No. 1."
As for whether he's about to leave his favorite team, Kelly left few clues. He called his oncoming interviews a "fact-finding mission."
"I want to get it wrapped up quickly and figure out where I'm going to be," he said.
He's not the only one.
A program and an enraptured fan base is holding its collective breath. They are hoping Kelly will be winning more days for years to come.
Programs Most Desperate for a Quarterback
PAC-12 SCOREBOARD
Thursday, 9/3
Saturday, 9/5